In this post, I will review the best chatbot builders that you can use immediately. We will discuss chatbot features, pricing, and hopefully, you will make a final choice to speed up your business!
Chatbots took the market by surprise (or it may seem that way) bringing a significant boost to its efficiency. The statistics are surprising. For example, over 80% of visitors who engaged with the chatbot, had a positive experience. There are many more statistics that confirm that chatbots are great tools, but since you are reading a post about best chatbot builders – you already know that.
With introductions behind us, let's jump right to it!
Disclaimer: In this post, you will see affiliate links. If you purchase a product or service through them I will receive a commission at no additional cost to you. I have affiliate links only to the products that I have personal experience with and can recommend them.
Best Chatbot Builders
In this section I will go over my top pics of chatbot builders that are available. Most of them provide you with various trials so you can see for yourself what will fit you best!
Landbot (Best Drag and Drop Choice)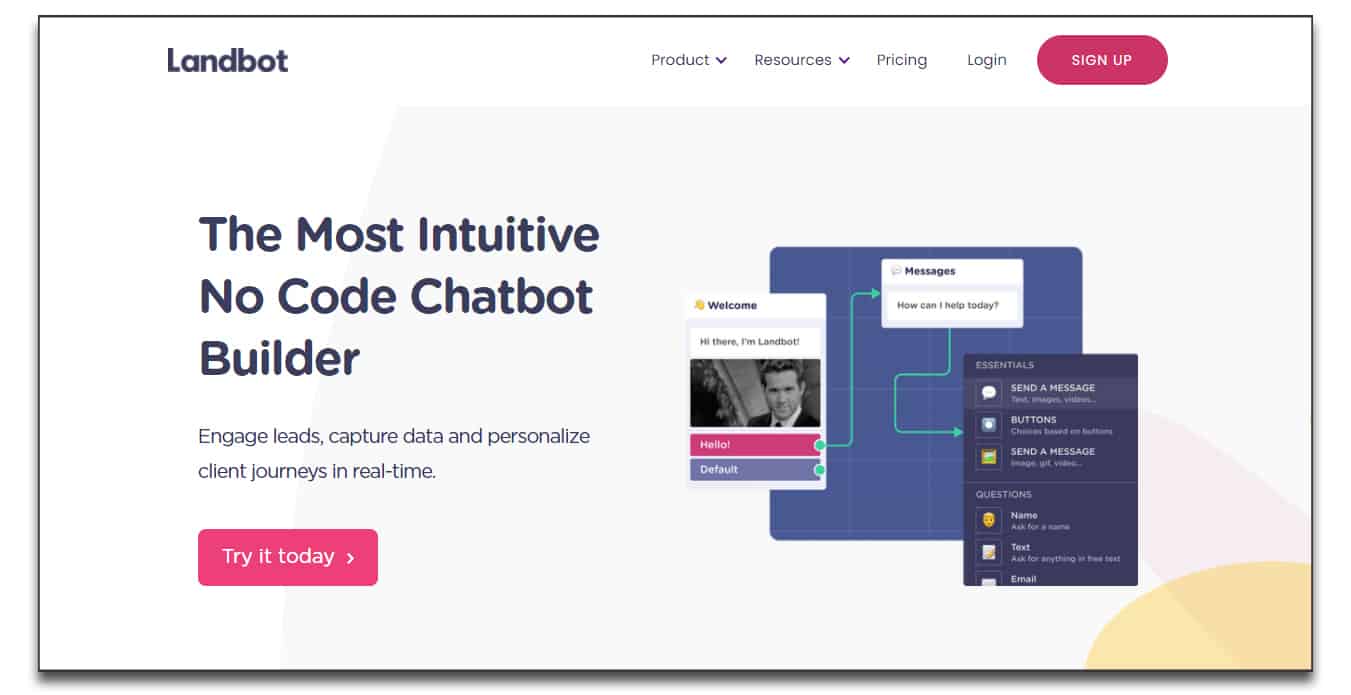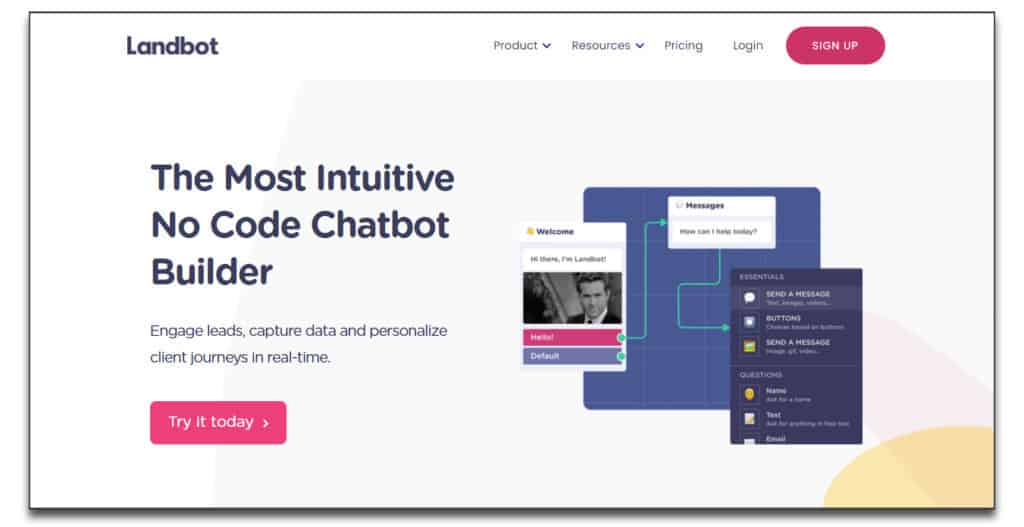 Landbot is a chatbot builder that lets you to create conversational tools with ease. Their interactive chatbots allow you to engage visitors and turn clicks to sales.
I wrote an extensive Landbot Review, with Examples and Pricing, check it out.
Although Landbot's chatbots are designed for websites (unlike many of the others in this review), they also support some messaging systems.
Regardless of where you use Landbot, they make it easy to piece together your chatbot with their drop-and-drop editor. By piecing together blocks, you can create interchangeable message sequences to connect with users.
Plus, you can test your chatbot in-house before you send it live to your customers.
Landbot also lets you create chatbots in several languages, though they don't offer multi-language support. Instead, you can build chatbots in different languages for your users to engage with.
Landbot Pricing
Landbot's pricing includes a free tier to get you started with their basic features. This includes integrations with Slack and Zapier, plus 100 chats per month. Paid pricing plans range from 30€ to 100€ per month.
Don't forget to check the detailed Landbot review with examples that I've prepared for you.
Chatfuel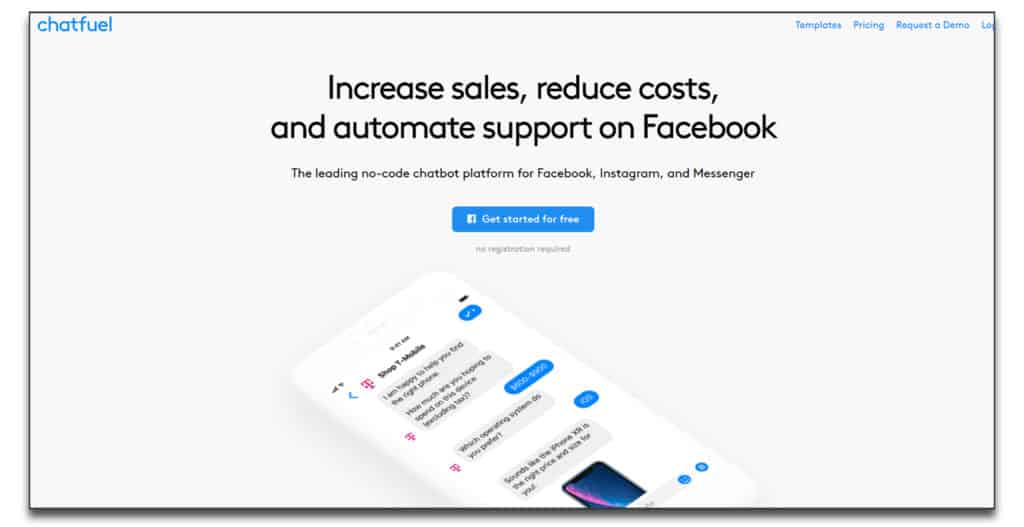 The builder from Chatfuel is one of the best chatbots in our review if you use Messenger and Telegram. This easy-to-use chatbot app is powered by AI to help you convert viewers into customers.
With Chatfuel's system, you have access to tons of built-in options to review, such as:
Ready-made templates
Keyword-driven automated replies
Quick answers to FAQs
The ability to sell products through Messenger
Automated data collection
Not to mention, Chatfuel makes it painless to reuse your messages later on. Even if you don't need this tool now, it will become helpful as your business grows.
Plus, Chatfuel also tracks data metrics such as sends, opens, and click-throughs, so you know where you can improve.
With these automated options at the ready, you can make it easy for your customers to connect with your business – and offer you theirs – no matter your experience level.
Chatfuel Pricing
Chatfuel's chatbot builder includes a free version for up to 5,000 subscribers. The only catch is that your customers will see Chatfuel branding when they talk to your bot.
Chatfuel's paid pricing plans start at $15 per month. These include more users, better data metrics, and priority customer support. Chatfuel also offer a Premium pricing plan – but you'll have to contact the company for a quote.
Hellotars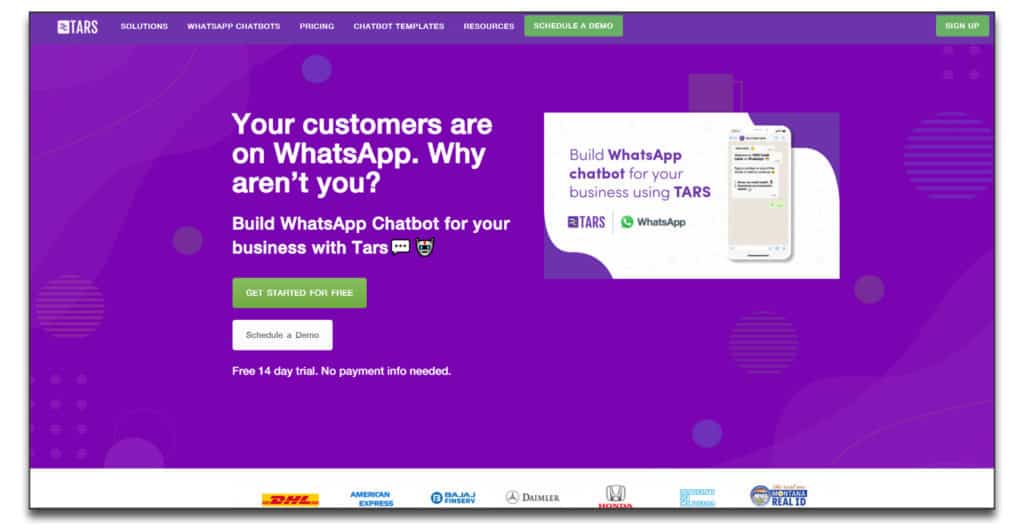 HelloTars is one of the most expensive chatbots in our review. Although they offer plenty of options, their services are geared toward larger clients.
With the HelloTars chatbot builder, you can build your own chatbot from scratch to suit your needs. Setup is quick and simple with their drag-and-drop chatbot builder.
Or, you also have access to their full library of pre-built templates. You can choose templates based on industry to best suit your needs.
In higher-tiered pricing plans, you can also integrate HelloTars with sites such as Google and Zapier. Whether you need to add in you calendar or tie your chatbot to your CRM, they make it easy to drive conversions.
One of the unique aspects of HelloTars is that each chatbot conversation comes with its own URL. Thus, rather than using your landing page builder to collect leads, your chatbot can do it in-house.
These "conversational landing pages" can increase your conversions by double, according to HelloTars.
HelloTars Pricing
This chatbot builder offers a free version for a limited time.
If you're ready to upgrade, HelloTars' paid pricing plans range from $499 to $899 per month. They also offer a custom package if you contact the company with your specifications.
MobileMonkey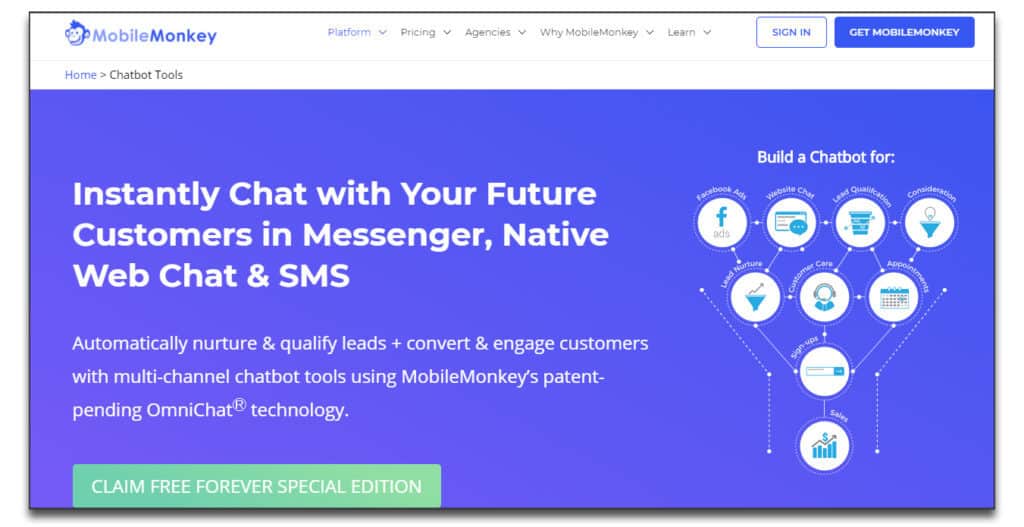 MobileMonkey is one of the best high-converting chatbots for small-to-medium businesses. Unlike other chatbot builders in our review, MobileMonkey is designed to integrate seamlessly into your marketing strategy.
From ad campaigns to drip marketing, MobileMonkey wants to take you to the next level. Their chatbots can help drive conversions and push product out the door.
It does this with a variety of conversion tools, such as:
Built-in chatbot forms
Marketing automation abilities
Lead magnets and capture forms
SMS marketing
Plus, MobileMonkey's simple, yet effective, templates are available at every pricing tier. This means you can spend less time on design and more time converting clicks to customers.
Not to mention, MobileMonkey integrates with other products, including Stripe and PayPal, via their open API.
And, although their chatbots are designed to work in Facebook Messenger, you can also integrate bots in other messaging services, as well. These include Slack, Telegram, WhatsApp, Skpe, and more.
MobileMonkey Pricing
MobileMonkey's chatbot pricing plans include a "Free Forever Edition." This plan includes all the basics you'll need to get started.
But, if you want more bang for your buck, you can review MobileMonkey's other pricing plans run from $21.75 per month to $299 per month.
Botsify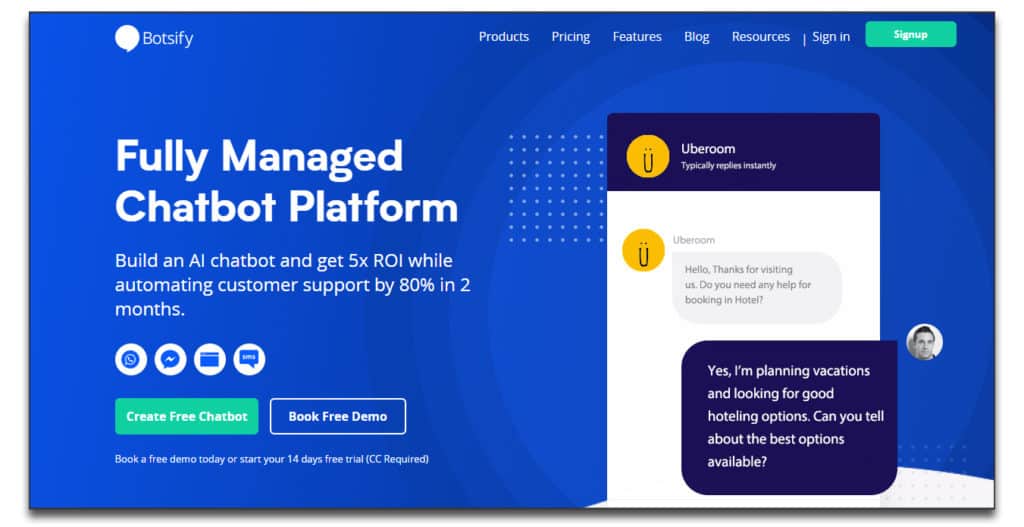 Botsify's chatbot is another great option in our review. This AI-based builder is one of the best for Slack, WhatsApp, and Messenger users. Furthermore, you can embed Botsify directly into your website or SMS service.
With Botsify, you can enjoy a great automated customer service agent at low pricing rates. Their platform can handle tasks such as:
Creating custom data fields for customer data collection
Acting as a customer service or sales chatbot
Transferring customers to a live agent
Multiple languages (via Google Translate)
Botsify is built for user ease. It comes with pre-set templates based on industry, such as hospitals, travel, and hotels. You can even address FAQs with a quick, pre-built design.
Furthermore, with Botsify "Story Tree," you can review your chat flows on a single page.
Plus, if you want to integrate your chatbot builder with other services and websites, they offer that option, too! The platform supports integrations with WordPress, Shopify, and even Amazon Alexa, among others.
Botsify Pricing
Botsify offers a free, basic pricing plan for small-time users. Or, you can opt in for a paid Botsify pricing tier, ranging from $49 per month for their Personal Plan to $499 per month for their Business Plan.
Collect.chat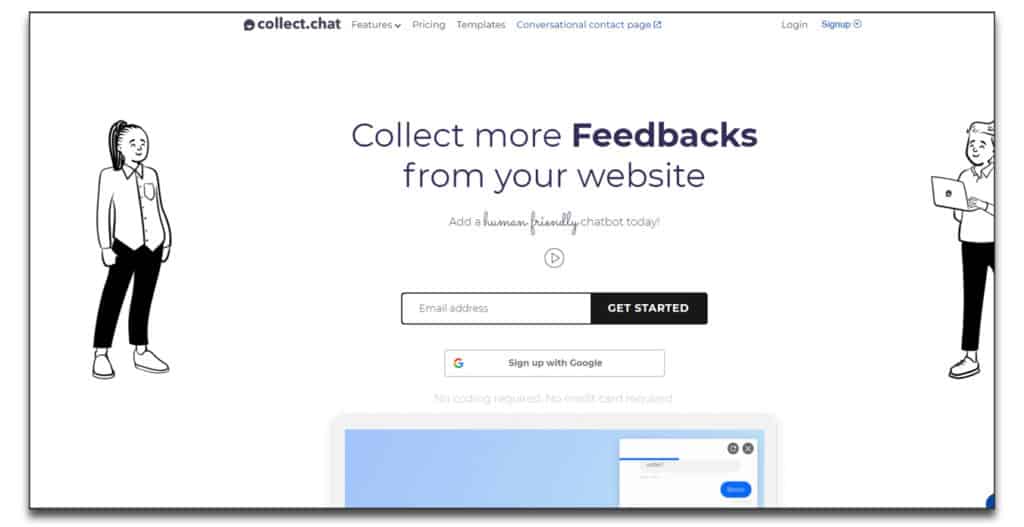 Collect.chat is one of the best chatbot builders for all-around functionality. Their platform is jam-packed with features to automate your marketing funnel.
For instance, Collect.chat lets you review user data, collect orders, and capitalize on leads in the same platform.
Furthermore, you can use their system to:
Build bots with a drag-and-drop editor
Insert personalized question templates
Take advantage of their email developer
Plug into WordPress
Service users in multiple languages
You can even add videos, images, and GIFs to relate to your users!
Plus, with their built-in dashboard, you can examine analytics, such as inquiries and replies. You can also use their appointments and meetings system to organize your day.
Collect.chat is a rarity on our review list in that you can install and build the bot using either landing pages or HTML code. For those users who are savvy with technology, this increases your customization options.
And, once you're up and running, Collect.chat's system is automated 100%.
Collect.chat Pricing
Collect.chat includes a free pricing plan for their basic chatbot service. Paid tiers start with their Lite plan for $24 per month and range up to $99 per month for Plus features.
Collect.chat also includes an Unlimited pricing plan for $299 per month.
Acquire.io
Acquire.io is a live chat software that can help you streamline customer conversations. Whether your users come to you for sales, support, or onboarding, you can do it all in their native program.
Acquire.io is one of the more comprehensive chatbot builders in our review when it comes to native tools. They offer a multitude of features, including screen share, built-in audio, and native video.
You can use these with their code-free chatbot builder and custom workflow tools. Additionally, their co-browse and screenshare features let you interact via customers' browsers.
Acquire.io also boasts an extensive analytics system that lets you view:
Knowledgebase stats
Chatbot performance
Response times
Complete customer profiles, including notes, timelines, and user data
Not to mention, if you need to integrate with other systems, they offer dozens of options. CRM software, email marketing services, landing page builders, and more are included in their list of easy-to-access integrations.
And, for the more technologically savvy, you can access their APIs to add more features.
Acquire.io Pricing
Acquire.io's pricing is based on a customized quote. They offer a quick form for you to fill in on their website. All you need to provide in your name, business email, and a phone number to get started!
ManyChat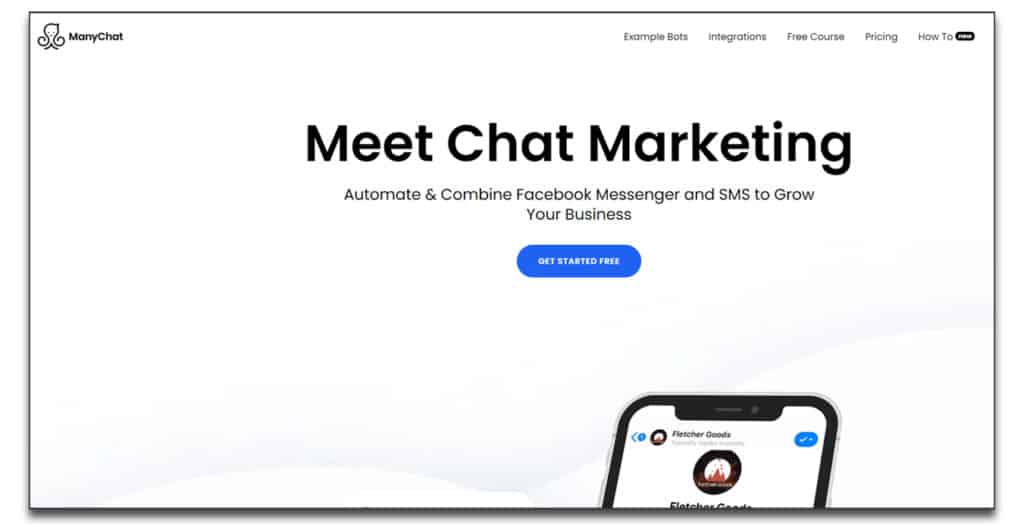 ManyChat is one of the best builders if you're looking for a top-notch Facebook Messenger chatbot. In fact, ManyChat is a Facebook marketing tool to help users attract a brand following.
But, due to their native Facebook integration, they do require your business to maintain a Facebook page to user their service.
This platform makes it easy to get started with their drag-and-drop visual builder. Like many of the other chatbots in this review, you don't need any coding knowledge to design an effective bot.
In fact, even an inexperienced user can have a chatbot up in less than five minutes!
With ManyChat's service, you can define automated messages, set common keywords, and automate your chatbot funnels. You can also use their built-in CRM to store customer data for your other marketing platforms.
Plus, their CRM is advanced enough to let you take actions such as:
Tagging and categorizing users
Book appointments
Sell products
Convert leads with personalized conversations
Not to mention, ManyChat integrates with a variety of other platforms. These include Google, email marketing services, and other CRM and ecommerce services.
ManyChat Pricing
ManyChat offers a free chatbot builder with unlimited subscribers and basic tools. They also allow you to build your own pricing tiers based on how many subscribers you'll need, ranging from $10 to $145 per month.
Streamlabs Chatbot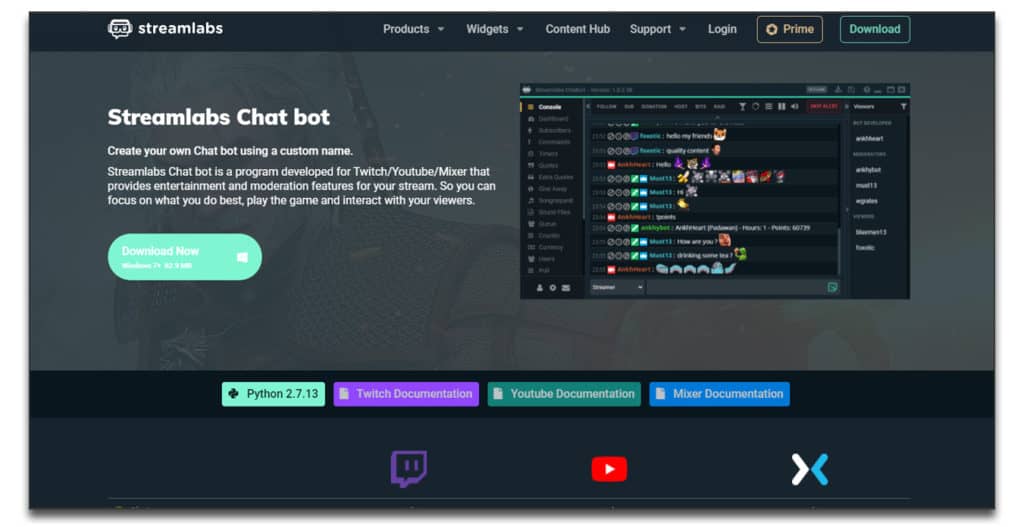 Streamlabs' Chatbot (formerly Ankhbot) is the only 100% free chatbot builder in our review. It's also the only platform geared toward gamers and the gaming niche.
Many of its prime users enjoy Streamlabs in Twitch, YouTube, and Facebook Gaming. Their chatbots can be accessed in Streamlabs OBS (SLOBS, for short) or as an external app.
Streamlabs' Chatbot is easy to use from front to back. The chatbot works with gamers and streamers to let them focus on their games while being creative for their audiences.
With Streamlabs, you can manage your channel's title and game selection with ease. Plus, their advanced functionality lets you engage and entertain viewers mid-stream.
Their extensive communication tools include:
Built-in commands
Sound effects (SFX) and song requests
Loyalty points
Built-in mini games
Moderation capabilities
Plus you can take polls, accept bets, and even post messages on an automated timer.
Streamlabs Chatbot Pricing
Streamlabs' basic chatbot feature is free for everyone, forever. Users can enjoy their services anytime and from almost anywhere to engage with their audiences and build their gamer brand.
Streamlabs also offers a variety of other services for gamers that do cost. To get started, you'll have to login via your gaming account and contact Streamlabs one-on-one.
SurveySparrow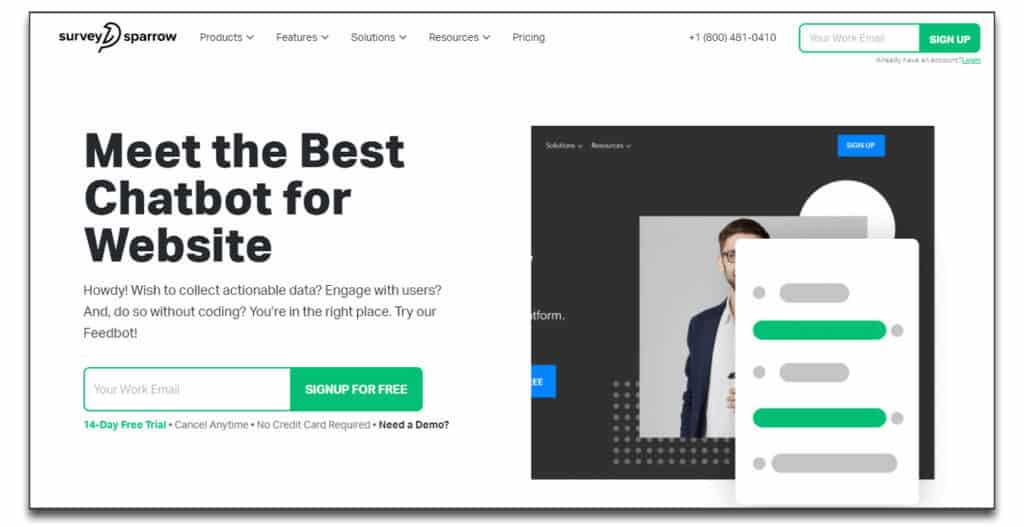 SurveySparrow is a popular online survey tools in use by a variety of organizations. But, they also offer a dual-functionality chatbot builder. Not only can you answer questions and assist visitors, but you can also collect data, too. (Imagine that!)
With SurveySparrow's builder, you can create chatbots and workflows in minutes. You don't need any programming knowledge to build or place your bots.
Plus, once your chatbot is ready, you can place it anywhere on your website. You can even design them to trigger on certain actions, such as:
Clicking certain pages
Scrolling around for a set amount of time
Preparing to click out of your window
SurveySparrow's chatbot is especially useful for data collection. Their inline-embedded bots can ask questions and store information for later.
Plus, you can take advantage of conditional logic branching to direct the flow of conversation. By skipping over irrelevant data, you can get to the meat of your customers' questions and concerns.
Not only does it make it easy to generate leads, but you can create a fun, easy experience for your users.
SurveySparrow also comes with several integrations to make the process easier. Whether you need CRM software, messenger platforms, or ecommerce abilities, they've got you covered.
SurveySparrow Pricing
You can get started with SurveySparrow's free trial for up to 14 days. They also offer a basic version of their chatbot for free. Paid pricing plans start at $19 a month.
This concludes our list of the best chatbot builders, you might want to also check my guide on 10 Best LiveChat Software or a review of many landing page builders.
FAQ
Why do I need a chatbot?
Chatbot can significantly improve your customer engagement rate while you costs will be just a couple of USD a month. You are looking at return on investment that you never seen before.
Are chatbot builders simple to use?
Yes. "No-Code" movement made is very simple for all of us. Drag and drop what you need from a chatbot and get yours ready in few minutes.
Do I need any coding knowledge to install a chatbot?
No. No coding knowledge is needed at all. Chatbot builders will do all the heavy lifting for you.
What is better, live chat or a chatbot?
On the first line you should have a chatbot and as the second line of communication a live chat software.
Will I see analytics of the interactions?
Yes. Chatbot builders will provide you with detailed interface where you will see clicks, leads, time spent with chatbot and other metrics.
What types of chatbot are there?
Welcome bots, customer support chatbots, cart abandonment chatbots, exit intent bots, product bots and many others.