Database software is a necessity. With the amount of data is we receive every day and focus on customer approach and personalization, you have to choose wisely when hunting for the best database software.
The data storage market is growing rapidly, and it's no wonder when over a hundred zettabytes of data are generated every year. To give you an overall perspective, a zettabyte is a trillion of gigabytes.
No wonder the worldwide database management system market is worth $65bn and growing.
In this post, I will review some of the best database software on the market. So without further ado, let's get into it!
Best Database Software
The choice of your final tool will of course hugely depends on your preferences and business need. The goal if this section is to provide an overview of the available database software solutions with their main features and pricing.
Knack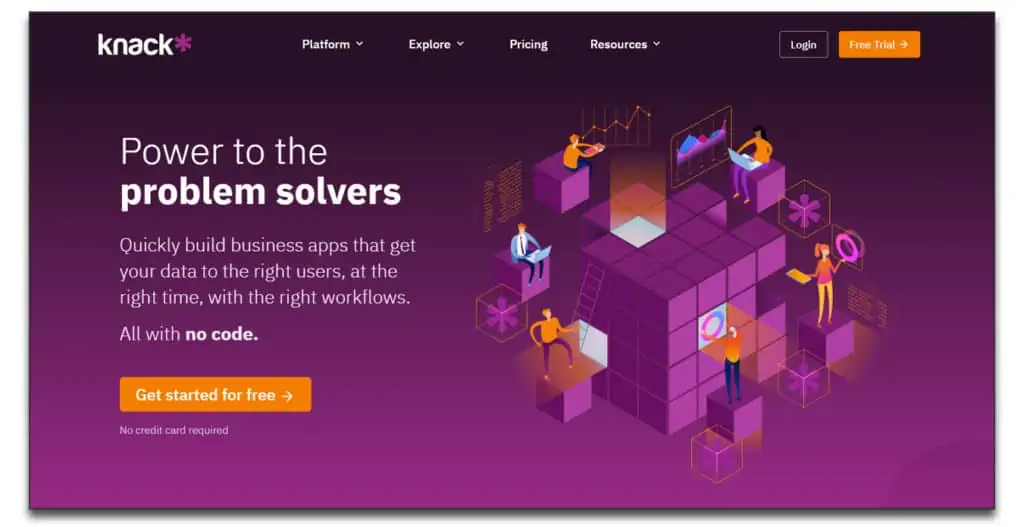 If you're looking for reliable database software, it doesn't get much better than Knack. Created in 2010, this is regarded as one of the best platforms on the market. By using this online tool, you can connect, structure, and extend data without any need for coding.
The database management software is first used to create basic columns. Here you can input data such as email, address, name, phone number, and other related info. Now, you can connect this information by merging it with different platforms. Knack has an amazing API that allows you to integrate the tool with Zapier and other popular software.
Another great feature allows you to add custom equations and formulas. All of this is done within a simple interface that anyone can use. There is no need for coding or any advanced knowledge. If that wasn't simple enough, the platform also provides 39 templates that you can utilize depending on a company's needs.
As such, you can modify the layout and other functions based on company size and industry. You can pinpoint the areas of need and work on them. Knack allows you to do project management, sales, meetings, purchase orders, and so on.
Knack pricing
This software has 3 different plans for its users: Starter ($39 per month), Pro ($79 per month), and Corporate ($179 per month).
Microsoft SQL Server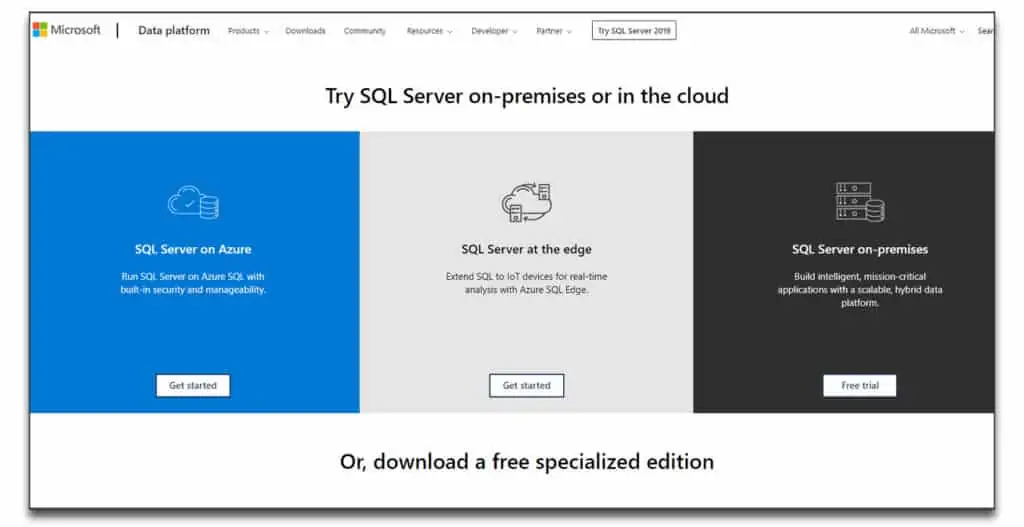 You've probably heard of Microsoft SQL Server. It is one of the best database software for small businesses on the market. It will provide assistance when storing and retrieving several requests at the same time.
This is one of the best database software if you want to use basic, unprocessed data and turn it into usable information. What's better you can use it on any device or platform. There is also a free database software version (free trial, to be precise) that you can use to check its basic features.
With its improved processing of queries, you are able to leverage adaptive queries as a way of improving how they work. Then, they can be used within the SQL database as well as the SQL server. Among others, this will also help with the corrections. You can find the troublesome query execution and fix it on the spot.
Among the tool's biggest pros is its ability to create numerous designs and tables. You can also check the data without syntax. It is also great if you're setting up a new database. Microsoft SQL Server allows you to identify names with its Template Explorer features.
As one of its biggest flaws, I have to mention troublesome data maintenance. It might also take you some extra time when executing longer queries.
Microsoft SQL Server pricing
Microsoft SQL Server has 7 plans in total. The simplest ones are free, while the most expensive ones will cost you $13,748 for a one-time purchase.
MySQL
This is a great platform that usually comes as free database software, given that hosting providers often package MySQL with their pricing plans. It is an open-source database system that is used by professional as well as newbie web designers.
Perhaps the best thing about this customer database software is its scalability. This makes it great for larger companies or companies that are about to experience enormous growth. It is also a very safe platform, preventing outside breaches. On top of that, the company provides its users great technical support, which includes the prevention of cyberattacks.
It is one of the simplest tools on the list (which is the reason for its popularity), making it easier to develop, deploy, and manage some of your most important apps. With MySQL, it will be easier to recover data. Even if you don't have any experience, you can learn programming basics when using the platform. The data development process can be modified in order to adjust to application size.
Among its biggest flaws, it is worth mentioning dependence on plugins. If you restart the tool, the queries will not respond. Lastly, it isn't the best tool for Linux.
MySQL pricing
Users can choose between 3 plans: MySQL Standard Edition ($2,000 one-time purchase), MySQL Enterprise Edition ($5,000 one-time purchase), MySQL Cluster CGE ($10,000 one-time purchase).
Teradata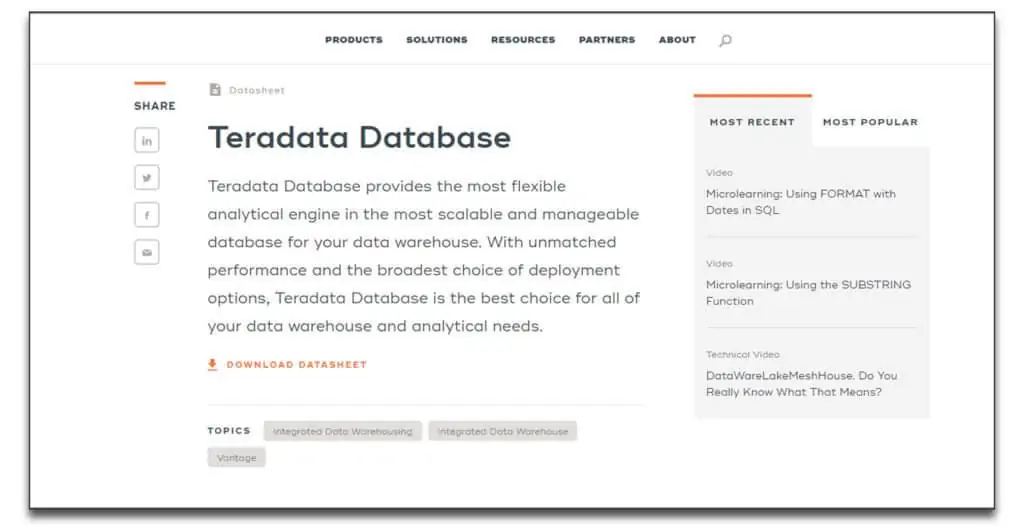 One of the oldest database programs on the list, Teradata provides a plethora of great features. It has an amazing processing speed that would allow users to import and export all their data. The online database software can be used for very complex queries, and it will make data warehousing management a breeze.
Teradata's parallel processing allows better data integration and analytics. The program is very flexible, and it can be used for any type of analysis. You can deploy the platform wherever you want. Keep in mind that Teradata can be accessed within the company premises or from the cloud.
The tool is very efficient and fast, even compared to some other platforms on the list. It will churn out outputs quickly while managing several queries simultaneously. The platform is also very fast when distributing large databases. Most companies use it to efficiently track and collect data. You can also perform scanning of the table at a fast pace.
Like every other platform on the list, Teradata comes with its set of drawbacks. Its GUI is dated, third-party apps do not work that well, and it is much more expensive than some other alternatives.
Teradata pricing
By answering a few questions, Teradata will provide you the exact pricing.
IBM DB2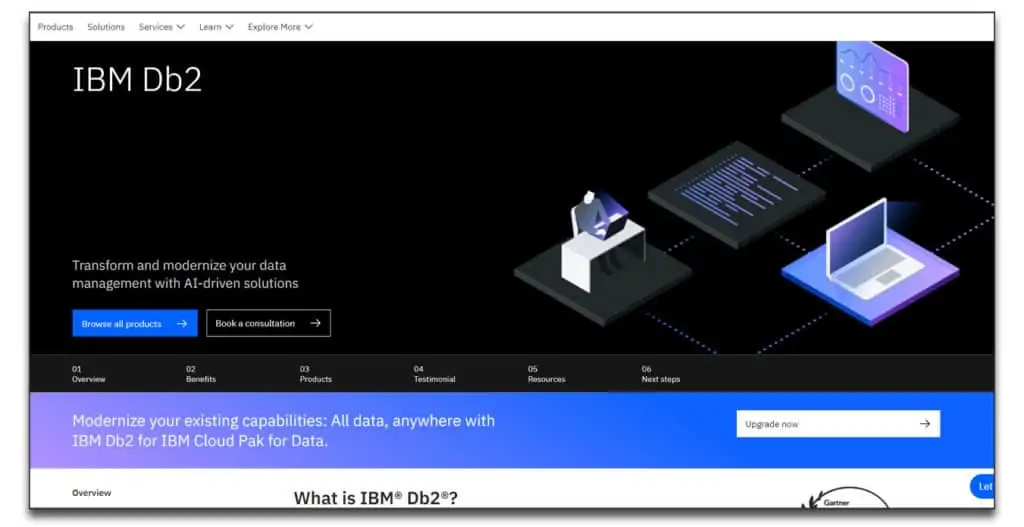 As one of the best database software, IBM DB2 can be used for data lake, data warehouse, operational database, and fast data. It shows its true colors when you have a major workload on your hands.
IBM DB2 has great XML support that would allow you to reduce the time and resources needed for XML data. The platform's Task Scheduler is a great statistical tool, and it can also be used for redoing tables and indexes without any extra interactions. You can perform this action while doing other stuff.
The platform supports cloud as well as private environments. It will be much easier to perform data segregation due to easy partitioning. The administration through commands is really smooth, and it includes Control Center/Data Studio and CLI.
If you wish to deploy a platform quickly and easily, IBM DB2 is just the thing for you. You can integrate it with various apps, it is great for different types of workloads, and it comes in several languages. Its security features are really amazing, and it is a very stable platform.
Unfortunately, while it has great support, you will need to pay for it if you want to get things done immediately. The software is also getting more and more expensive each year.
IBM DB2 pricing
There are 3 pricing plans to choose from Community Edition, Standard Edition, and Advanced Edition. While Community Edition is free, you have to contact the company to get a quote for the other two.
Altibase
Altibase is software that scales both vertically and horizontally. It is an open-source platform with very high-performance features.
Altibase has 3 types of deployment, which include on-disc, in-memory, and hybrid. Its architecture is very fast and user-friendly. With its immense sharding-out capabilities, you can scale the database much better.
The database management software can be used in several languages. Among others, it supports Java, C, C+, and so on. Altibase will give you all the required tools and it has all the necessary features for enterprise-grade apps.
With its regular health checkups, you can ensure maximum availability and performance. The company provides great support to all users.
Among its weak points, it is worth mentioning that you cannot access the tool via mobile device. If you don't properly configure data operations, it will slow down performance. There is also a notable lack of a GUI management feature.
Altibase pricing
This is completely free database software.
Improvado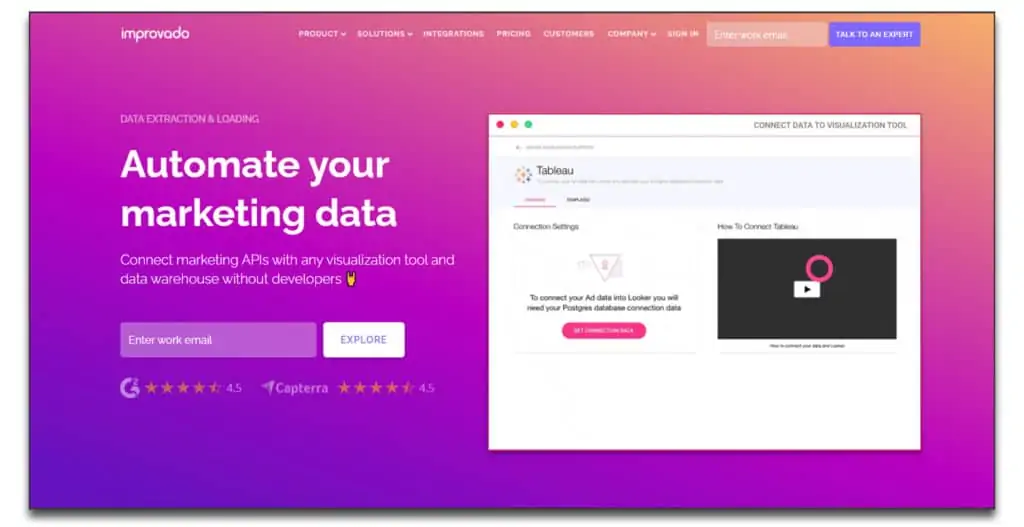 If you're looking for software that will allow you to aggregate numerous marketing data for different-sized companies, it doesn't get better than Improvado. The marketing solution is very scalable and flexible, which gives your company numerous options.
The software can be integrated with various tools such as Facebook, Google AdWords, Salesforce, Twitter, MailChimp, Excel, and so on. The software is very cost-effective as it will allow you to save money on hiring a programmer. There is also an amazing support team that will help your guys if they encounter any issues along the way. What's even better, with this software, you will be able to automate reporting.
Among its best features, experts often mention the ability to migrate data as well as to quickly duplicate the database. Its clean interface is very easy to use, and there is a side-by-side comparison for various data that will allow companies to simplify decision-making processes.
The analytics feature is especially great. While this is a robust feature, you will rarely notice any errors.
Improvado pricing
You will have to leave your data and ask for a quote for pricing.
Amazon Relational Database Service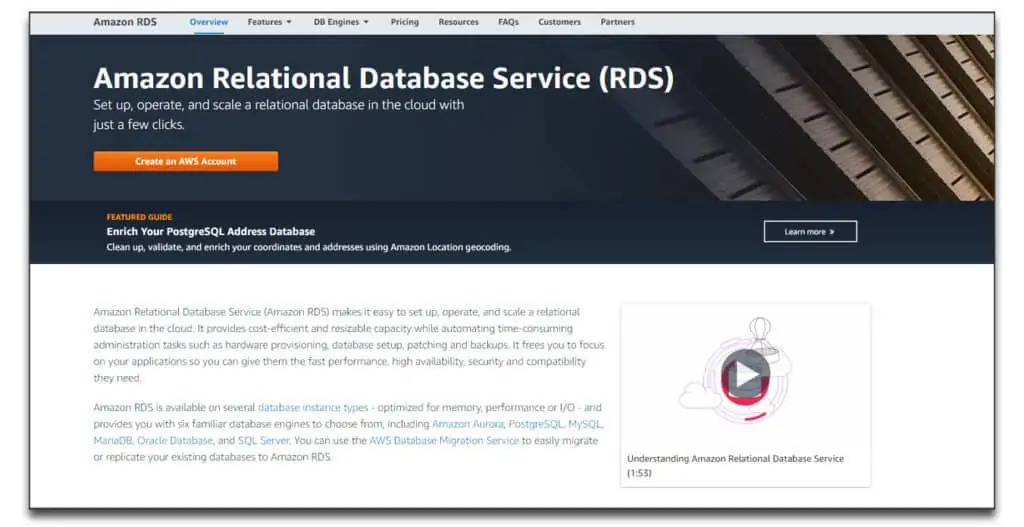 With Amazon Relational Database Service (or Amazon RDS), you have a very flexible, highly-scaling tool at your disposal. The platform allows you to increase storage based on your needs, and it is especially popular among data scientists and digital companies.
Almost anyone can use this tool, which led to its rise in popularity. It can be great for heavy workloads that are performed within a single system. The great thing about Amazon RDS is that you will only pay for the resources that you have used. The tool allows you to easily access MySQL, Microsoft SQL, and Oracle databases.
While anyone can use the tool, it is perhaps the most popular option among seasoned programmers. There are lots of features and controls that you can utilize, and the company provides all its customers with great support if anything goes awry.
In terms of drawbacks, it is worth mentioning the absence of physical servers. As such, clients are unable to access server logs. It is somewhat pricier compared to other DBMS's
Amazon Relational Database Service pricing
As mentioned, the database software is somewhat free to use. You will only have to spend on the resources.
Oracle RDBMS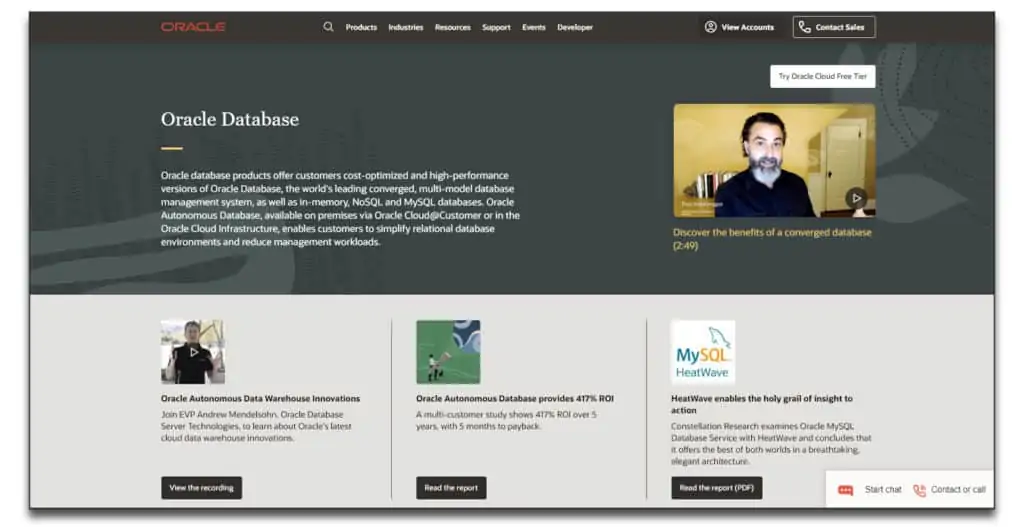 Oracle RDMBS has great database technology that can be utilized on a high business level. You can store it either in-house or on the cloud. The pluggable database will reduce the issues with data consolidation. They will also reduce how much resources you spend. In terms of performance, the online database software can hasten query execution.
The tool is very efficient. It doesn't require that much space, and it has amazing security features. Whether you use it on your own PC or an amazing supercomputer, the software will give you the same efficiency.
Clients can create partitions that would allow them more data control. Complex queries can be nicely optimized. Oracle RDMBS can be integrated with numerous platforms, which would increase its functionality. You can combine it with other apps to get access to more advanced technologies.
In terms of the design, the platform looks a bit old. When there are larger stored procedures, the software tends to lag.
Oracle RDMBS
Oracle RDMBS price tends to vary based on several factors. So, it is best if you contact them directly and ask for a quote.
EMS SQL Manager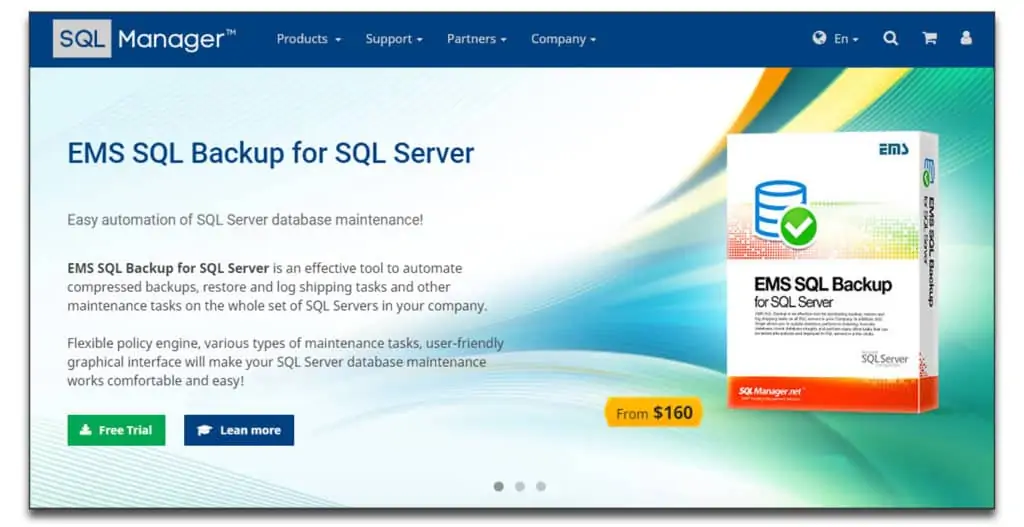 With this tool, you can create various components from one point. It is especially great for the creation of data analytics, and it has robust support for vendors. That way, you can use it to service all of the company's database activities.
EMS SQL Manager allows you to export and import various data, in different formats, without missing a beat. A customer can use it for all MySQL versions from 4.1 to 5.7. An interesting thing about EMS SQL manager is that it can be used to monitor your current database system. The software is integrated with several SQL software.
The software's biggest drawback is that it gets progressively slower when you're working with several database objects. If you decide to provide access to several users, things can get complicated really quickly.
EMS SQL Manager pricing
EMS SQL Manager is completely free for download.
Why use a database software?
If you are still wondering what can database software do for you, here are a couple of areas where it will definitely improve your efficiency.
Scalability
The main and obvious reason is the possibility to scale your business without getting lost in all the clients (and other data). This is the main reason why you are getting database software, to prevent any bottlenecks in the future.
Security
Another critical feature is the security of the data. You would be surprised how many businesses are using various excel sheets to store extremely valuable clients' data…just for them to leak.
Integration
Database software can be integrated with various platforms and tools that you are already using. This will increase the efficiency and make the job of your team a bit easier.
Redundancy
Your database will make sure that you do not have the same data multiple times in various entries. It will connect them or just keep them under one ID – making sure that you do not have several versions of the same thing.
FAQ
What is database software and examples?
Database software is a program that stores and manages data. It can be integrated directly with others tools and you can manage user access making sure that your valuable data are safe at any time.
Is Excel a database software?

Excel is rather a data analysis tool than a database software, as it lacks the main database software function which I described in this post.