Market research tools should always be a first step that you do before you make any kind of a decision. They will help you navigate through digital markets, uncover hidden potential or prevent you from going into a market that would be extremly difficult.
The online audience is growing, that is brining a lot of opportunities while at the same time new competitors are entering the markets daily.
To analyze and compare various markets and its participats, you should use one of these tools – or better yet, a combination of the tools.
Best Market Research Tools
Below are some of the most in-depth and popular research and analytical tools. A lot of them are completely free to use or have a trial account that you can try out. Tools are reviewed based on their application.
Google Trends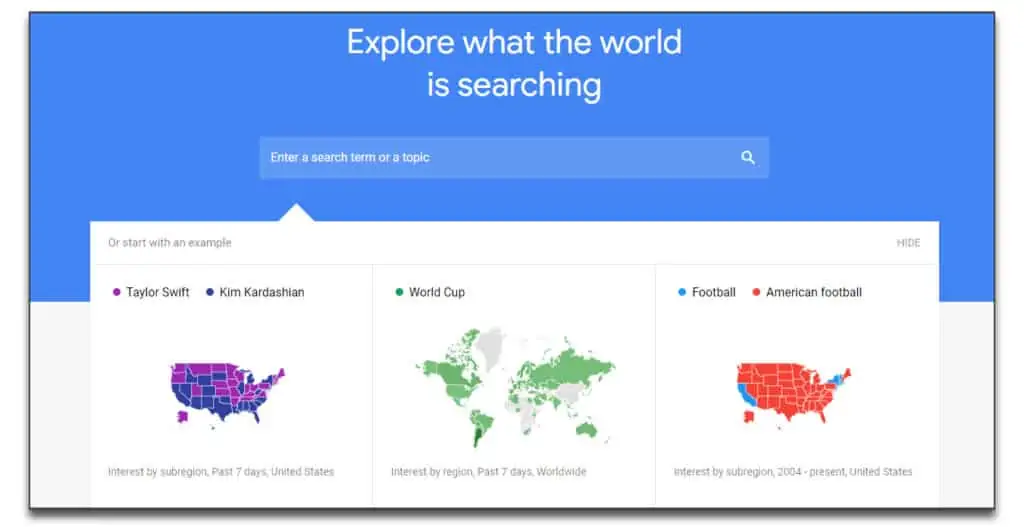 Google Trends is one of the best free market research tools. It is very simplistic, free, and you don't need any special knowledge to use it.
This tool allows you to see what people are searching for within Google as well as YouTube. Once you input a phrase, you have several filters at your disposal that will allow you to refine the search. For example, you can filter results based on location, category, type of search, and time period.
You also have some other neat features, such as related topics and related queries. Lastly, you can compare this query with another one and see how they've been trending. Users can share the data or export it in CSV format.
Although one of the best market research tools, it does have one flaw. It doesn't actually show the volume but only the trend for a specific keyword. In other words, how a phrase has fluctuated over time. Nevertheless, this information will still be very valuable for most users.
When you open the homepage, you can also see some of the global trending topics and news.
Google Trends pricing
Google Trends is completely free.
Google Keyword Planner (Google Keyword Tool)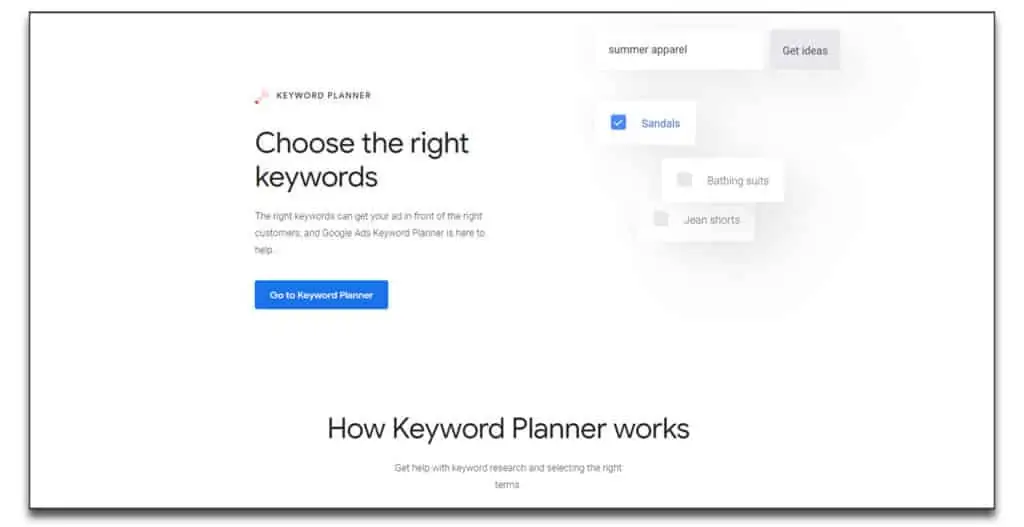 Google Keyword Planner is a market research software that every website owner should use. It gives us a deep insight into consumer behavior and what people are browsing.
The tool can be a bit troublesome, especially if you have no experience running a website or performing search engine optimization. In order to use it, you will have to create a Google Adwords account. The great thing about this software is that it's completely free.
People can utilize the Planner for their marketing campaigns. It shows you the average monthly volume of searches for specific phrases. What's even more important is that you see the competition for that keyword. By searching for queries with high volume and low difficulty, an SEO expert can be very successful during the optimization campaigns.
The tool is also great for PPC. It shows you the lowest and highest bids for paid ads. That way, you will be able to find just the right keywords to bid on. Perhaps the biggest issue with this platform is that it tends to be inaccurate. You can only see the approximations, but not the real numbers.
Google Keyword Planner (Google Keyword Tool) pricing
Google Keyword Planner is completely free.
SocialMention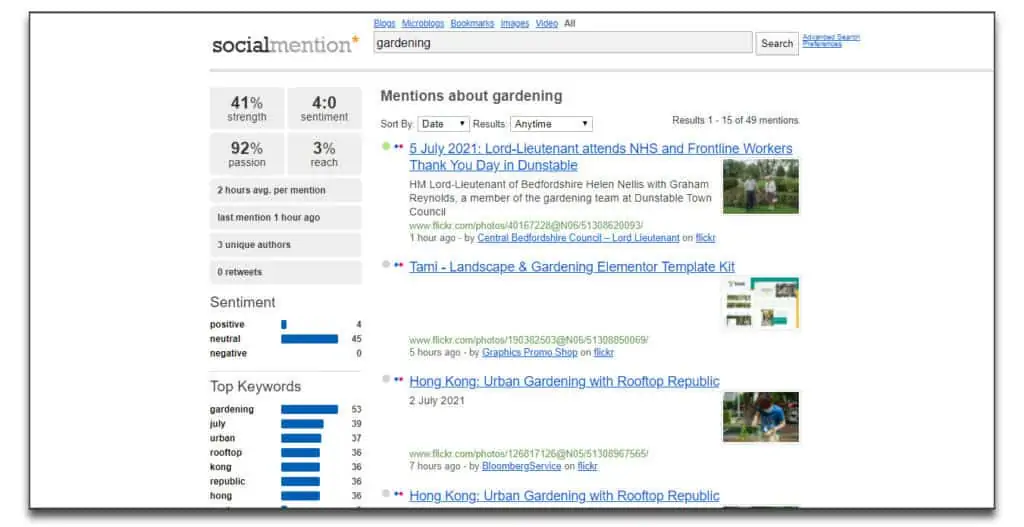 Most companies don't have the time and resources to perform thorough marketing analyses. This is where SocialMention comes into play.
This is a great yet simplistic market research tool. Once you go to the SocialMention website, you will see an empty bar where you can type in a query. When you enter a search, the tool will return a list of results directly copied from the web.
The excerpts will also show how the phrase is used within an article. If you wish, you can go directly to a site that published the piece by clicking on a link.
What's even better is that there is a breakdown of data to the left. Here, you can see things such as top hashtags, sources, top users, top keywords, sentiment, how many authors mentioned used the term, etc.
SocialMention is especially good for smaller websites and influencers. It is a good way to track your mentions online and see what people think about your brand. There is also an option of exporting the data. A user can create a CSV file with sentiments, top keywords, top users, and top hashtags.
SocialMention pricing
SocialMention is one of the best free market research tools, and there is no limit as to how much you can use it.
Survey Monkey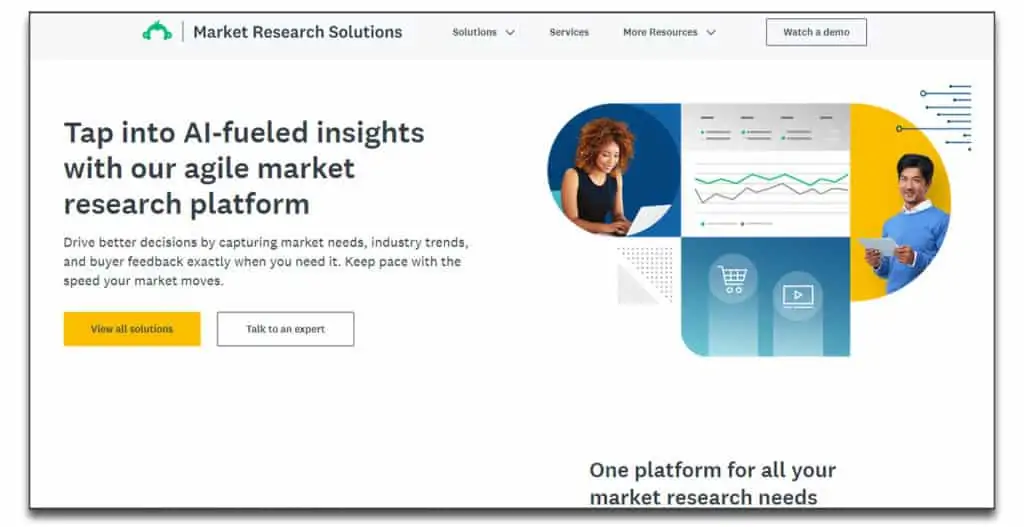 Survey Monkey is an incredible software that can be a great ally for companies that rely on questionnaires. It provides a lot of valuable data regarding consumer preferences. The tool has an industry tracker that monitors product fluctuation over time and customer segmentation data.
As you can guess from its name, the platform is great for creating surveys. Through them, you can learn what customers think about a company as well as its products and services. It provides a high level of survey customization with short answers, true or false format, as well as multiple-choice questions.
Survey Monkey allows you to create personalized templates so that you don't have to make the same questionnaires over and over again. Lastly, a company can do all of this in full anonymity without disclosing the source of a survey.
Unfortunately, most of these features are behind a paywall. The free version doesn't give you that much freedom to customize. Also, users would need to subscribe if they wish to ask more than 10 questions. Depending on your business needs, this might not be worth it.
Survey Money pricing
Companies can choose between several version of the product: Free, Advantage Annual ($32 per month), Premier Annual ($99 per month), Standard Monthly ($99 per month), Team Advantage ($25 per user per month), Team Premier ($75 per user per month), Enterprise (contact for a quote).
Gartner
In terms of marketing research and business support, there aren't many companies as prominent as Garter.
This is an enormous international company that works with more than 14,000 organizations. They operate in 100 countries, making them one of the most influential businesses within the market research industry.
Among others, Garter has created its own market research software. According to the company, these tools would allow you to stay ahead of competitors while simultaneously focusing the organization's resources in a more productive way. With this suite, a business can reach its goals and quotas by relying on an unbiased research methodology.
Here are some of the things that the Garter platform can provide: marketing maturity assessment, consumer and culture insights, digital IQ index, peer insights, magic quadrant, data tools, digital transit map, hype cycle, etc.
Basically, with Garter, you can check and analyze every aspect of a market. The tools can be of great help to small, medium, and large organizations.
Garter pricing
If you wish to use Garter software, you will have to contact the company for a quote.
Statista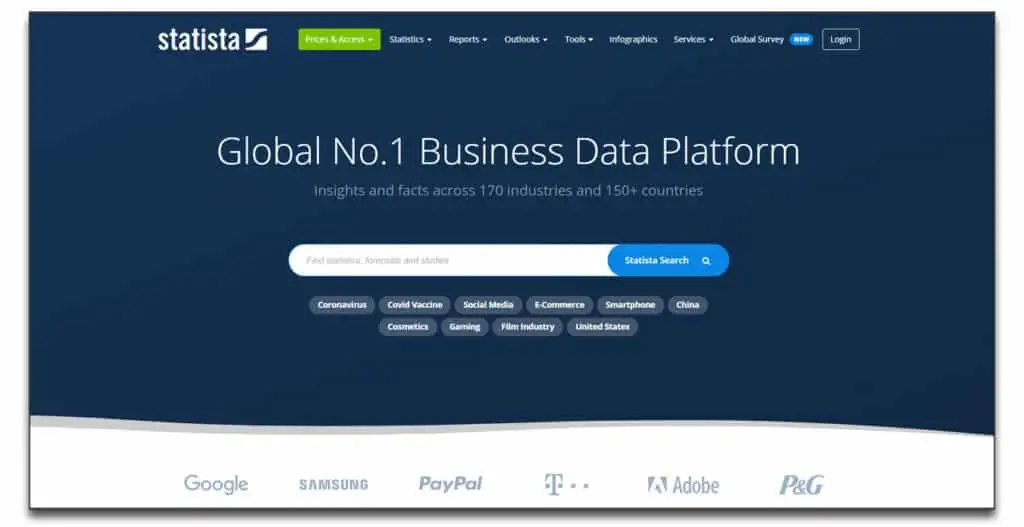 Statista is a website that can scrape data from various reputable web sources. The main focus is on reports and similar data. What's great about the platform is that it can break down this information so that it can be used by marketers and researchers.
With Statista, you are able to find various statistics, forecasts, and studies published on the Internet. The company offers a few tools, including Publication Finder (helps you find various studies published online), Company DB (breaks down financial figures of various organizations), and Business Plan Export.
Not only does Statista provide a lot of relevant data, but it will also show it in charts and reports. The platform always puts emphasis on the latest information. Another neat feature allows you to access industry-related data. With it, you can check the latest studies and statistics that pertain to your market.
Statista pricing
Everyone can use the free version of Statista. However, if you wish to access some specific data, you will need to go with the paid version. A person can choose between 3 plans: Basic Account (free), Single Account ($39 per month, paid on an annual basis), Project Account ($1,950 one-time payment that gives you 30-day access).
Qualtrics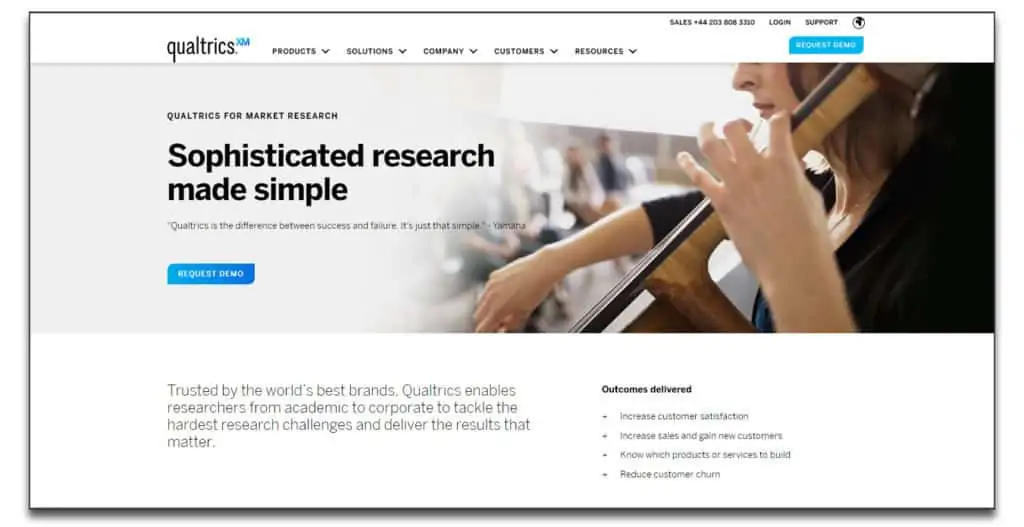 If you need an online survey tool that would allow you to create highly customizable questionnaires, Qualtrics could be a good choice.
The tool is very easy to use regardless of your proficiency level. It also allows you to track opinions over a prolonged period of time, which is great for most companies. Qualtrics can also be used to send RSVPs for meetings and to collect various important data.
Another amazing feature is its reporting. The platform has a crosstab functionality with various options. A lot of businesses use it for knowledge transport. On top of it, the company has an excellent customer support team.
While it has lots of great features, Qualtrics has a few drawbacks as well. For example, the tool has issues with open-ended responses. Its customization oftentimes feels limited, and you might also experience issues when adding contacts into directories. Besides that, it is a very interesting platform that is worth your time.
Qualtrics pricing
In order to use the tool, you will have to get an annual subscription. Its plans go from $1,500.
FreeLunch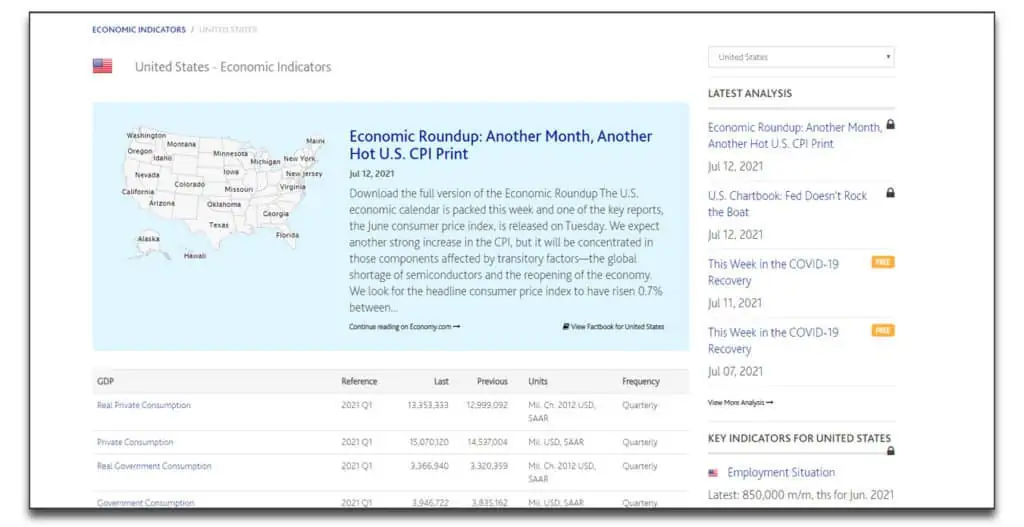 This platform is one of the best market research software for economists. It provides individuals and companies with data from all around the globe. With the FreeLunch platform, you can focus on particular industries and demographics, although the tool shows its full potential for US-based businesses.
You can use it to access comprehensive demographic data. It will show how different categories of consumers utilize their money which, in turn, would also help your organization market products and services within a region.
FreeLunch has an interactive map, which can be used to access economic indicators of various countries. A person can learn more about the local GDP, prices, labor, trade, government, market, and other relevant factors. Lastly, you are also able to read studies and forecasts for that specific country.
This information is updated on a daily basis providing you with the latest knowledge and reference. You can also observe daily changes for particular values and indicators, which is great for economists who are researching macroeconomics.
FreeLunch pricing
This software is free.
Answer The Public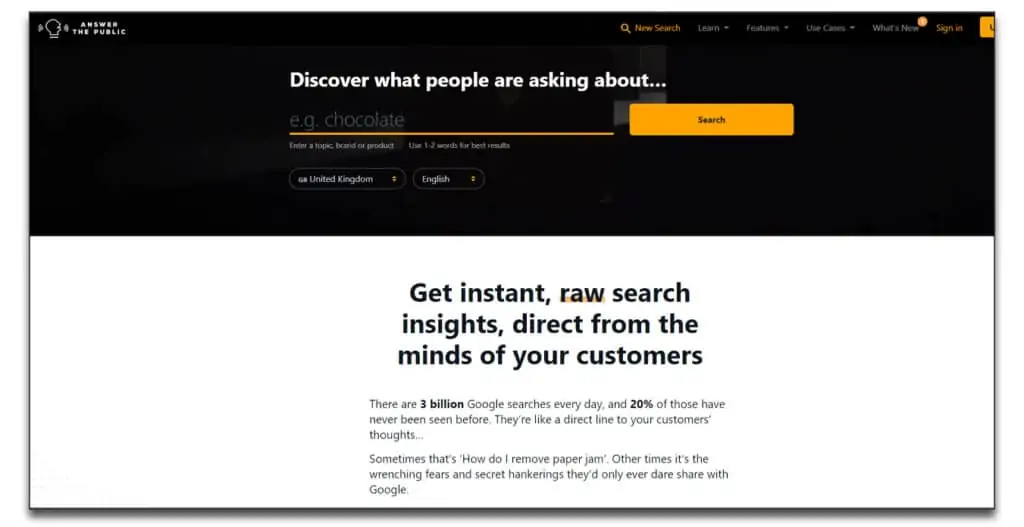 Probably the best-looking market research tool, Answer The Public is a comprehensive software that allows you to learn everything about a particular query. While this program is mainly used by marketers, it can be interesting to just about anyone.
All you have to do is type in your search query in the bar. Prior to that, make sure to set up language and country. Once you enter the keyword, the tool will give you a list of all the questions on the web that have that phrase. There are also sections involving prepositions and comparisons.
If you scroll down, you can also see a categorization based on letters. With this software, you can learn just about anything there is regarding a particular keyword and how people are using it online. If you wish, there is an option to export this data in a CSV file so that you can refer to it later on.
Answer The Public pricing
If you wish, you can use the platform without paying. However, there are also 3 paid plans: Monthly ($99 per month), Annual ($79 per month), and Enterprise ($399 per month).
Tableau Public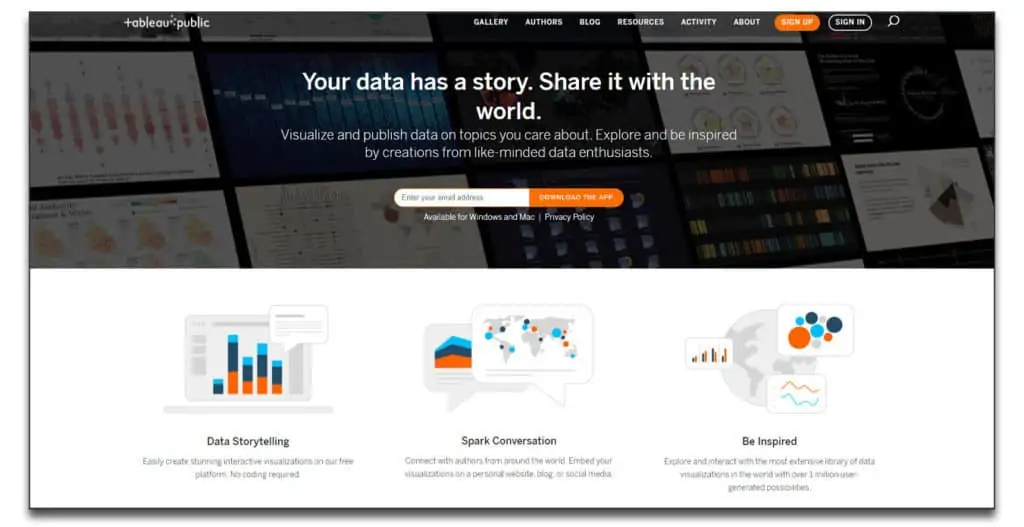 Tableau Public is a free visualization software. You can use it to create interactive visuals in an easy and quick way. Tableau Public can also be used to connect numerous authors from different geo locations. The tool has an enormous library that grants you access to data visualization. It generates more than 1 million possibilities based on extrapolated user feedback.
Tableau Public is a great way to visually represent data. The software is especially great for teams and business meetings. It is a free tool with several great features. For example, businesses can use it to analyze user behavior.
What's really interesting is that you can get some great exposure by simply using the platform. When you create visuals, they will be shared by numerous Tableau Public users all over the world, which will also give free advertising to your business. As such, it can be amazing for people working within the graphic and digital world.
Tableau Public puts focus on community. Everyone can start using it because of its simplicity and the fact that it's free. Unfortunately, the platform also has a few flaws. Some of the users have voiced their concerns regarding privacy. There are also limited data source connections, and the tool lacks automation.
Tableau Public pricing
A person can go with several plans: Free and Tableau Creator ($70 per month). If you are a company, there are several different plans and add-ons you can choose from.
Free Market Research Tools
In this list, there is a wide range of market research tools that are free to use, or have a trial that you can take advantage of.
If you need just an overview of the market to create a comparison or to settle on a niche – the free versions of the market research tools will be more than enough to get this done.
Why do you need to use a market research tool?
To get somewhere, you must first know where you want to go…and plan your route.
Failing to plan is planning to fail.
Market research tools are the only way to get a grasp of the market sentiment and potential audience. That of course is essential in shaping your business plan and go-to-market strategy.
Otherwise, you do not really know what you are doing, and will be just wasting time and other resources.
Market Potential
First of all, with help of these tools, you can estimate how big of the market you are actually dealing with. A niche that may have sounded great may have just a few searches, and vice versa – a crazy idea that you had might prove itself to be an awesome market segment.
In addition to that, you will be able to find out which countries and demographics should you be targeting. This will immensely help you when deciding on your marketing strategy and budgeting it.
Competition
If the great niche that you found is already occupied by many high authority websites and business, that does not necessarily mean that you have to leave it – all depends on your expectations and resources. But this is definitely valuable information that will help you pave the way forward.
Market Research Tools FAQ
What are the best tools for market research?
Depends if you are looking for a free or paid version, I would start with Google trends.
Why are market research tools important?
They allow you to make an educated estimate of the market difficulty and its potential.