What is the best landing page builder? In this post, I will go over more than 21 landing page builders, software, tools whatever you want to name them. To help you choose the best one!
We will also go over some of the main questions for landing page tools as give some tips on how to choose the best one for your needs.
Disclaimer: You may come across an affiliate link, if you would decide to purchase a service or product I would receive a small commission that is completely free to you, meaning there is no additional cost for you.
Best Landing Page Builders
Below are landing page builders that are the best on the market. You can browse through features and pricing. There is no ranking or particular order, all have their great advantages.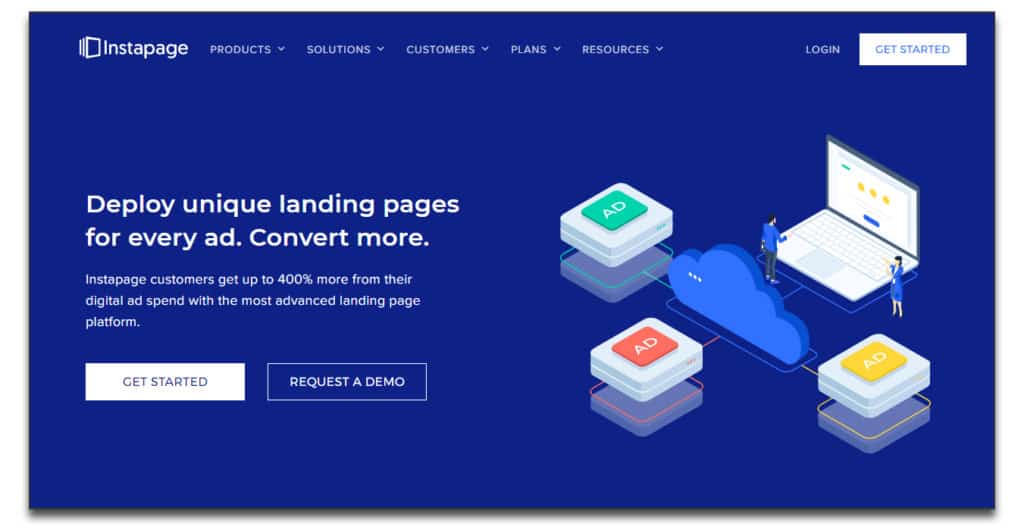 Instapage is one of the best landing page builders if you're looking for a beginner software. They serve all sizes of business, from freelancers to corporations. Thus, they have plenty of options to suit every need.
Instapages Main Features
Getting started with Instapages takes only a minute – you can set up your first page in ten minutes or less. And, with over 200 mobile-compatible templates, there's no need to learn to code!
From plugins to designs to integrations, this platform is designed to be easy to use. But, if you want to code your own landing pages, Instapage includes that option, too!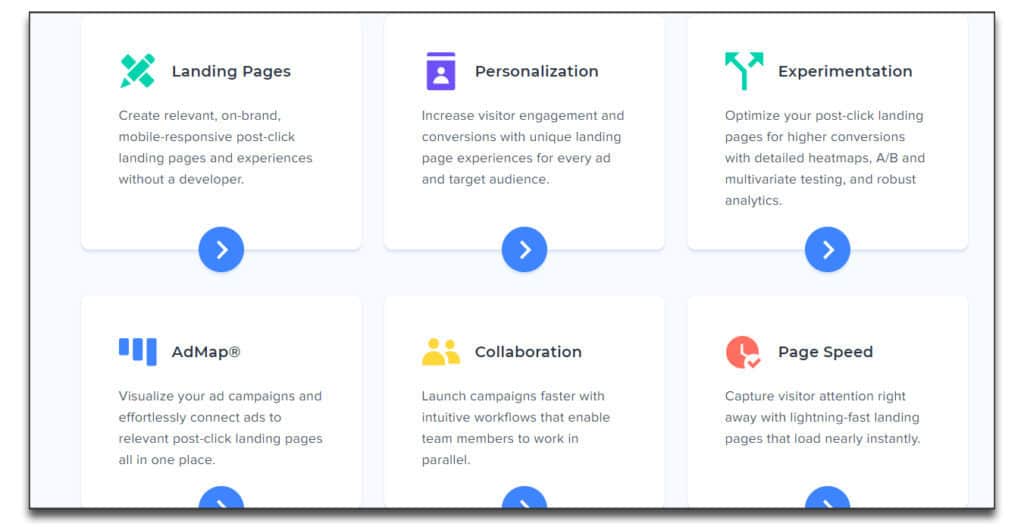 This website offers a drag-and-drop editor to make building your landing page a breeze. Every template is customizable so you can personalize your pages for your business. For instance, every pricing plan includes up to 5,000 different fonts – and that's only the start! Instapages also includes a huge Bigstock Image Library so you can spice your pages your way.
With Instapage, you can also keep in contact with your customers. For instance, you can send confirmation messages to individuals once they've signed up. By opening this channel of communication, you ensure that you stay fresh in their minds.
If you're looking for even more features, check out their:
SEO optimization tools
Unlimited A/B testing
Dynamic Keyword Insertion
Website and software integrations
Expansive security features (at higher tiers of service)
Instapage Pricing
Instapage's Business plan started at $149 per month with annual pricing. This package comes with standard features, such as:
Post-click experience creation
A robust analytical suite
Integrations with social media, email automation, and website builders
Or, the Enterprise plan for this landing page builder offers more features, such as WordPress integration. To get your free quote, you'll have to contact Instapage's customer service.
Leadpages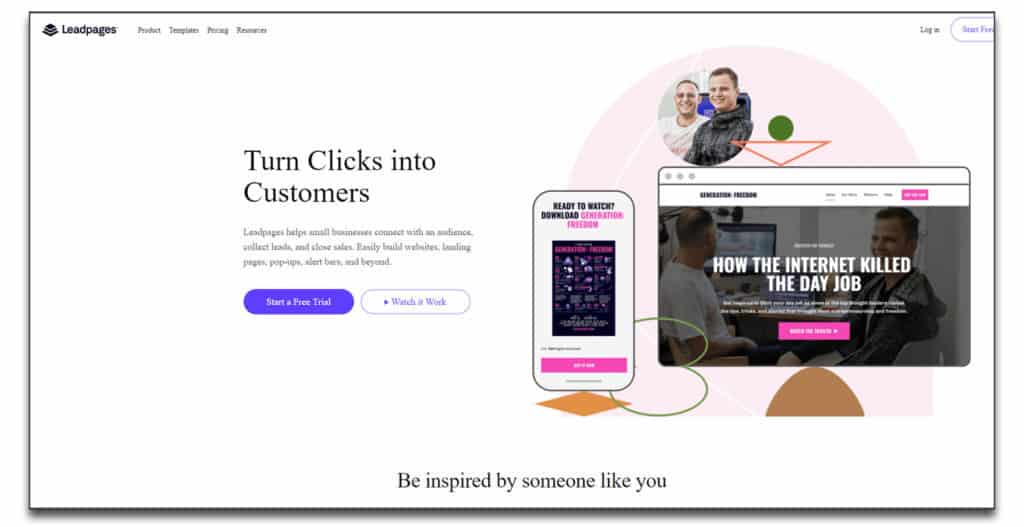 Leadpages is one of the best landing page builders if you're looking for an inexpensive pick. But, with Landing Pages, you don't have to compromise quality at a lower price.
Leadpages Main Features
Leadpages offers plenty of options to make building a basic landing page simple. Their full array of features includes:
CRM software
Lead capture and digital marketing tools
Email integrations
Dynamic Text Replacement (DTR)
160 templates
Leadpages also includes the ability to create an unlimited number of mobile-compatible pages. Furthermore, you can take advantage of A/B testing if you're stuck between two designs. By using these side-by-side comparisons, you'll be able to determine what works – and what doesn't.
Leadpages is an excellent landing page builder if you're looking for WordPress integrations. This makes it easy to build classy, simple landing pages within your site. Additionally, Leadpages includes several social media integrations to promote your site.
All plans come with options such as:
High-speed loading
Facebook Ad Builder
Unlimited landing pages, pop-ups, and mobile pages
SEO functionality to improve your site
Of course, such a low price and wide range of features come with a catch: the user interface is clunky and outdated. As a result, the page editor requires a little more finesse to use.
Unfortunately, this means that many of their landing pages don't look as polished as some of their competitors. But, this plan is still great for those who aren't ready to graduate to the next level yet.
Leadpages Pricing
Leadpages start their pricing plans at $25 per month (paid once per year) for a basic plan. The Pro plan includes many more features at $48 per month. The Advanced Plan costs $199 per month for a full range of services and expanded capabilities.
If Leadpages sounds like the best landing page builder for you, you can start with their 14-day free trial.
Carrd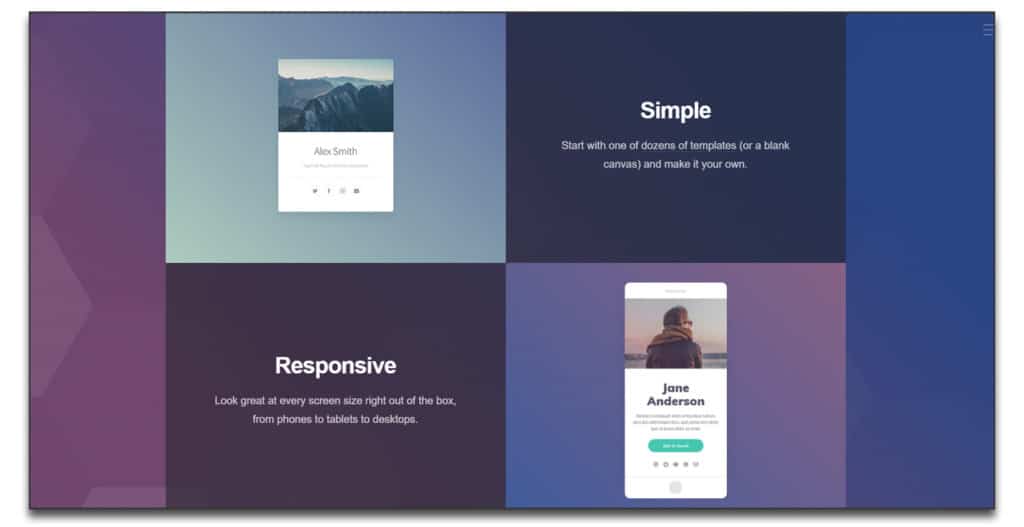 Carrd is one of the best landing page builders if you're looking to have your page up now – for free. In fact, this site is so quick, you don't even need to sign up to get started! (You'll have to sign up when you're ready to publish your page, though).
Carrd Main Features
Carrd's free landing page builder allows you to build a single-page website. This is perfect for individuals and companies looking to get started on their first site. Their templates are sleek and simple, and the editor is easy to use in any browser.
While Carrd does restrict your themes and editing abilities, the published pages are tight. Additionally, you edit your work in the sidebar, rather than dragging and dropping pieces. While this setup can take some adjusting, setting up your website in columns keeps your site in a line.
This simplistic method for setting up your site may curb your landing page abilities. But, it also means that your pages will turn out looking professional – and functional – every time.
As with any free landing page builder, there are a few other kinks to watch out for. For instance, Carrd offers only limited customization options even in their Pro plan.
Additionally, the free version doesn't allow users to use certain "standard" options, like:
Google Analytics
Third-party integrations for payment programs
Build forms
On top of all these restrictions, creating a single page isn't a realistic website goal. Thus, this builder is best for people who are experimenting with their landing page.
Carrd Pricing Plans
Carrd is free for up to three single-page websites and minimal features. The Pro-Lite plan allows you to access more pre-built templates for a mere $9 per year. But, if you want more editing and customization abilities, the $19 per year Pro Standard plan is your best bet.
ClickFunnels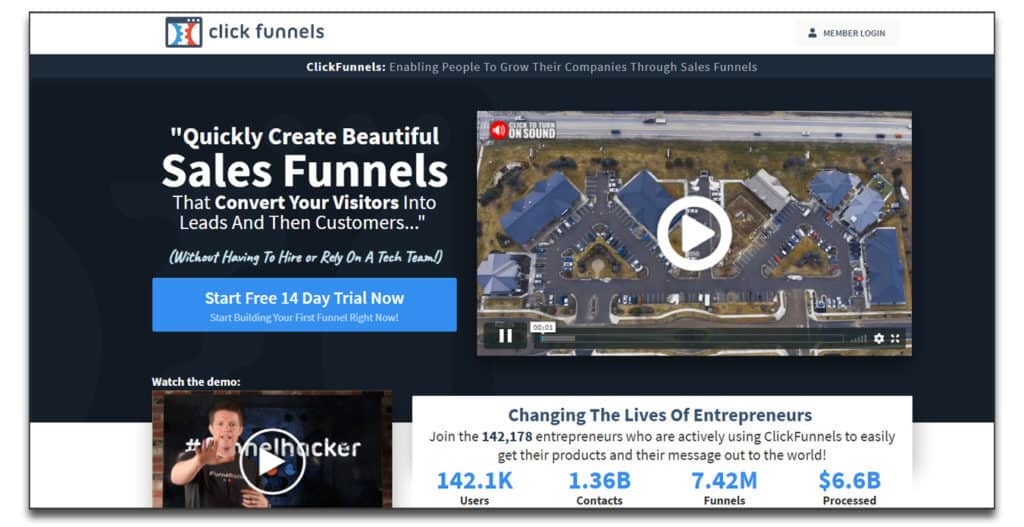 ClickFunnels is one of the best landing page builders if you're looking for a sales funnel tool. While this website is less of a landing page builder and more a marketing software, it will get the job done – especially if that job is converting clicks to sales.
Clickfunnels Main Features
ClickFunnels lets you create a wide variety of pages and sales funnels, such as:
Landing pages
Product launch pages
Membership websites
Lead generation forms
ClickFunnels offers a drag-and-drop page editor to make designing your pages a breeze. You can select from a template or build your own to customize start to finish. (You can even build a shopping cart widget to promote one-click upsells!)
Once your landing page is up, ClickFunnels will even walk your guests through the sales funnel. This makes it easier for potential sales to make it from Point Click to Point Buy. Additionally, ClickFunnels follows up with your customers after the sale goes through. This allows you to keep a point of contact with potential future buyers after the initial sale.
This website is perfect for those who need a landing page to sell products, services, and more. To get started, all you have to do is select your ideal sales funnel, pick a theme, and include your logo. After that, you use the editor to customize a few elements, and your funnel is ready to go live!
Clickfunnels Pricing
ClickFunnels offers a 14-day free trial of their landing page builder to test out their tools. If you're ready to take the plunge right away, you'll have to buy one of their packages:
Their starting package costs $97 per month for basic features
Their Platinum plan starts at $297 per month for expanded features
Their TwoCommaClub plan serves as an "Enterprise" plan for large companies at $2,497 per month
Divi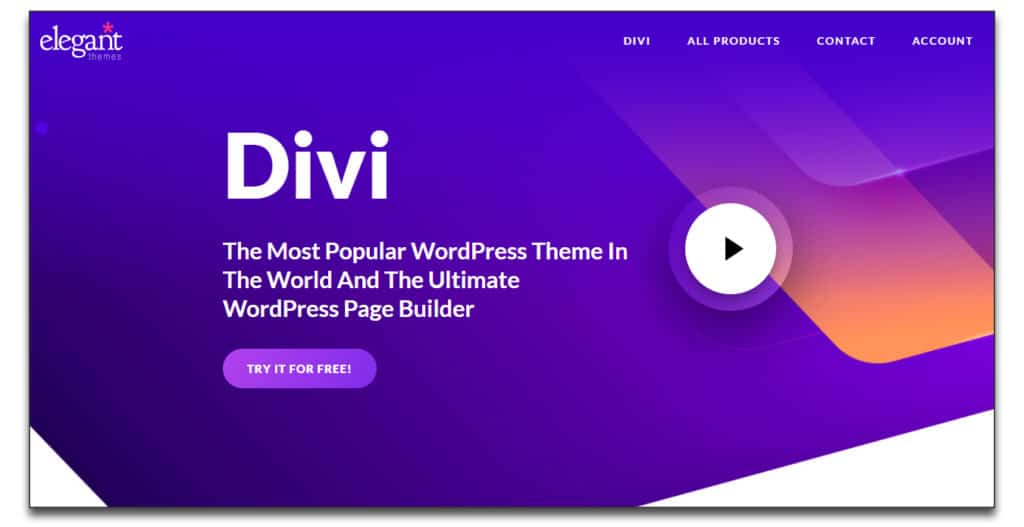 Divi is an excellent landing page builder if you also want WordPress abilities. In fact, Divi itself is a WordPress theme, so building your landing pages in-site is simple. This theme comes from Elegant Themes so everyday people can edit their site to their needs.
Divi Main Features
Divi is great for building both landing pages and full websites at an affordable price. This modern builder offers a powerful drag-and-drop editor with dozens of pre-designed templates. You also have access to dozens of design options for nigh-unlimited customization.
In fact, Divi allows you to bundle both pre-designed elements and layouts with your own touch. By adding in such customizations, they expand your ability to personalize your brand. All this is possible with a few clicks. As long as you're working within WordPress, building your landing page is a breeze.
You can use Divi to:
Change the color, font, and text style
Include images and animation
Enjoy advanced effects and filters
Create a dynamic, responsive layout
Divi does come with some downsides for the price. For instance, while the editor lets you make your page yours, it can become glitchy on complex designs. In fact, the sheer number of options can be overwhelming if you don't have a solid idea of where you'd like your website to go.
Additionally, Divi offers no A/B testing to compare potential designs. Furthermore, there are no included email or marketing features. Compared to some of the other editors on the list, this may be a dealbreaker at the price.
Divi Pricing
Divi starts at a reasonable $70 per year for a whole host of features. But, if you want the full package, you can buy lifetime access to Divi for a one-time fee of $199. (This option is best if you intend to use Divi for at least a few years to "offset" the cost).
Elementor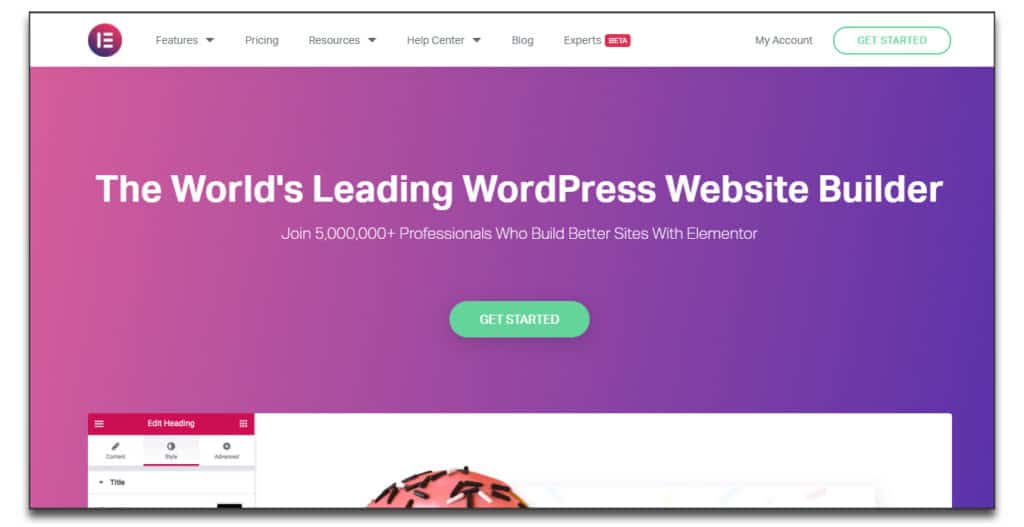 Elementor is another excellent landing page builder if you're looking for WordPress compatibility. In fact, with over 5 million users, this landing page builder is one of the best plugins for your WordPress site.
Elementor Main Features
Elementor is an interactive open-sourced software that allows you to customize your page. For instance, you can add and edit:
Layout and design
Colors and fonts
Forms and marketing products
Videos and images
Furthermore, because the site is open-sourced, individuals can code customer themes or add-ons. This applies an extra layer of personalization to your page.
In fact, the site even comes with a pop-up builder designed around your landing page. All these elements come together to make it easy to stay on brand and convert clicks to cash.
Additionally, Elementor is perfect for those ecommerce merchants who need landing pages. Whether you want to sell a product, an online course, or an opportunity through a webinar, there are integrations to make monetization easy. The site comes with a built-in WooCommerce page builder to make online access easier.
To get started, all you have to do is select from one of 300 templates and choose where to add – or edit – first. Or, you can start from scratch if you already have your brand idea in mind.
Bonus: this site enables "Responsive Editing." This means you can check out your page on several devices before going live.
Elementor Pricing
Elementor offers a free version of their landing page builder with 30 widgets to get started. If you like what you see there, you can upgrade to one of their other plans, such as their:
Personal Plan, which includes full features and supports for one site at $49 per year
Plus Plan, which includes full features and supports for three sites at $99 per year
Expert Plan, which includes full features and supports for 1,000 sites at $199 per year
GetResponse
GetResponse is one of the best landing page builders if you're looking for an all-in-one tool. As a marketing and automation software, this is an excellent option if you need a wider range of services. Furthermore, by using a site with a large email marketing base, you can expand your reach even further.
GetResponse Main Features
GetResponse is a landing page builder for those who want a suite of marketing abilities as well as landing pages. This site comes with thousands of templates and a wide selection of stock photos to get you started.
Once you've picked your ideal template, their easy-to-use editor makes building pages simple. You can adjust your fonts, colors, and upload images such as logos to customize your page to your needs.
Additionally, for every landing page you build, GetResponse offers:
A/B testing to analyze the effectiveness of your designs
Lead-capturing forms
Integrations with GetResponse email marketing
PayPal buttons to take payments
Webinar creation to push products or monetize your site
Furthermore, GetResponse comes with built-in analytics and several integrations to better your business. It all happens one page at a time! Whether you need advertising software, social media connections, or website plugins, GetResponse comes with many options.
But, it's important to note that GetResponse is first an email marketing website. Thus, the landing page builder tools come as an afterthought to many other tools. As a result, the system can sometimes be limiting or buggy in its abilities.
Get Response Pricing
GetResponse starts at $15 per month for a basic email plan. While this option does include unlimited landing pages, it caps your page views at 1,000 per page. Thus, for full features and capabilities, you'll have to move up the pricing ladder at a cost of:
$49 per month for a Pro plan
$165 per month for a Max plan
$1,199 per month for a full-service Enterprise plan
HubSpot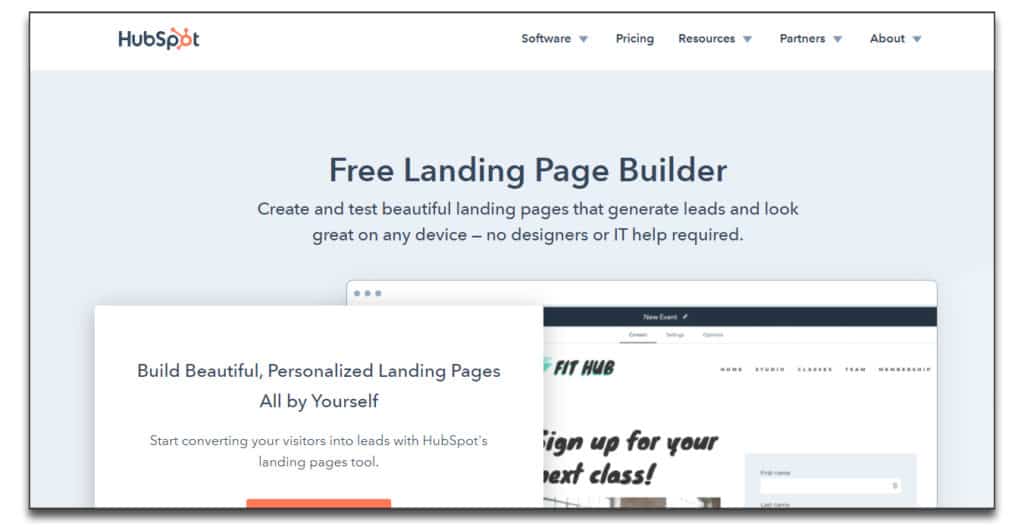 HubSpot is one of the best landing page builders if you're looking for a full suite of features from one of the most reputable names in the SaaS world. From digital marketing tools to CRM services, this website does it all – or pretty darn close.
Hubspot Main Features
As a company that specializes in SaaS and B2B marketing, it's no surprise that HubSpot offers a landing page builder as well. Like everything they do, their software packs a powerful, feature-filled punch. Not only that, but their site is super easy to use.
HubSpot makes it simple to get started with a set of onboarding videos and written tutorials. Once you're past the initial stages, all you have to do is select one of their hundreds of templates. Then, you can edit and alter to your heart's content.
HubSpot offers an enormous library of features, such as:
Responsive pages
Personalized content and designs
Lead-capturing tools such as pop-ups, live chat, and even conversational bots
A/B testing
Full-service customer support and a library of tutorials
SEO and content strategy tools
But, like all good things in life, there is a catch: HubSpot's landing page builder is best suited for larger clients. This is due to the massive number of features in the software, which leads to steeper prices.
Additionally, to use the builder, you have to be a customer of HubSpot's Marketing Hub. (Note that their landing page builder is not included in their free version of Marketing Hub). This option may also suit you if you're already a HubSpot customer, as you won't have to pay any extra to use the feature.
Hubspot Pricing
You can buy HubSpot's Marketing Hub at three tiers. These are set according to email marketing abilities. Each of these plans includes a landing page builder:
The Starter plan costs $50 per month
The Professional plan costs $800 per month
The Enterprise plan starts at $2,400 per month
KickoffLabs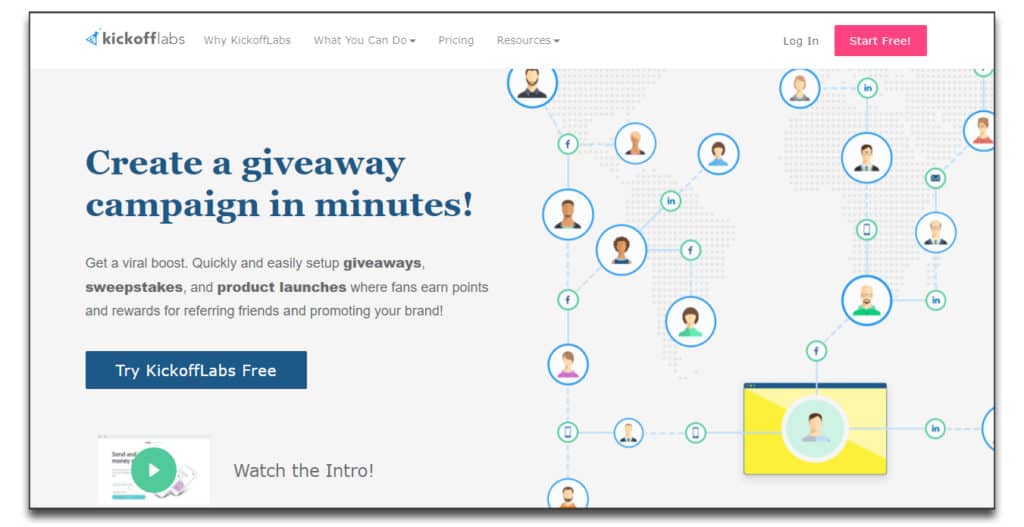 KickoffLabs is a great landing page builder if you want to promote competitions and giveaways. While this site isn't for everyone, it serves its purpose well. (And it boosts your website traffic potential to boot!)
KickoffLabs Main Features
KickoffLabs is a landing page builder for those who want to advertise promotions such as:
Popup contests
Referrals
New products
Giveaways and other promotions
This site is designed to help businesses promote new products and services. Sometimes, a giveaway is the best way to do that.
Getting started with KickoffLabs is not quick, since you have to create a campaign with a target goal. You also have to choose how you plan to gather your leads – this is where your first landing page comes into play.
But once you get to this step, designing the landing page itself is quick and painless. Before you launch, you can take advantage of the site's A/B testing to compare your designs for the best results. You'll also be able to view your page analytics afterward. Additionally, you can examine real-time performance to see where you can improve.
One of the most important features of KickoffLabs is their fraud protection. This prevents customers and scamsters from taking advantage of your giveaways.
Unfortunately, KickoffLabs does have some limitations as a landing page builder. For instance, the number of campaigns and visitors is capped per landing page. So, you may run out of visits before you're out of giveaways.
Furthermore, this website offers only minimal customization and integration features. This can compromise your ability to personalize your giveaways or link back to other sites. But, for a quick, basic landing page site, KickoffLabs serves its purpose well.
Kickofflabs Pricing
Prices start at $19 per month for the Hobby plan, which includes one campaign and 2,000 unique visitors per month. If you need more features, you can scale up all the way to the Enterprise plan for $199 per month.
Lander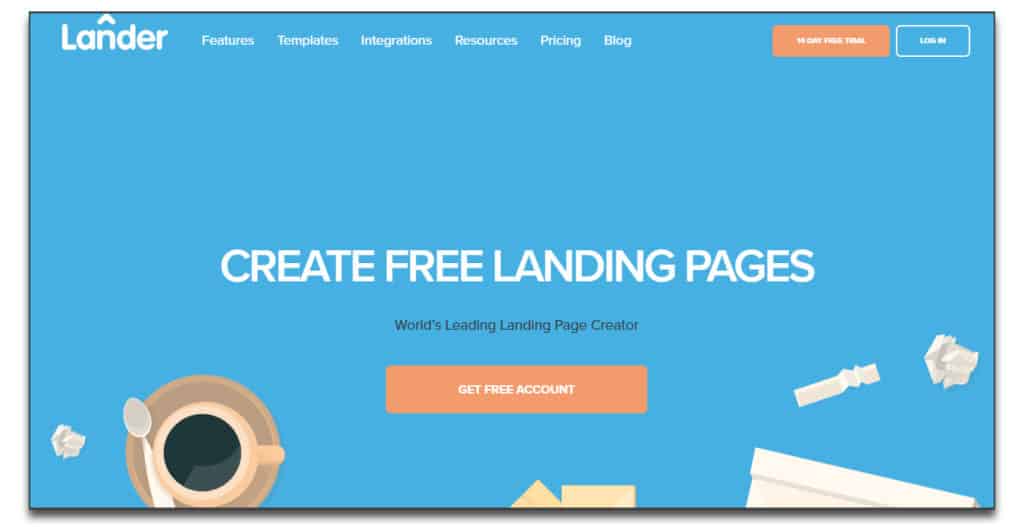 Lander is one of the best landing page builders if you're looking for free tools to start your website off right. As a software with 1.5 million users, they've made a name as a cheap, professional alternative to their competition.
Lander Main Features
Lander is another drag-and-drop landing page builder designed for small businesses. While this site isn't rich in features, its low price makes it an attractive option for startups.
You start with one of over 100 pre-made templates and then make changes with their tools, such as:
Dynamic Text Replacement (DTR)
Auto-filled forms
Fonts and colors
Confirmation and thank-you pages to go with your landing pages
If these tools don't provide enough of a personal touch, Lander even includes custom code editing. Then, once your landing pages are ready to go, you can A/B test your designs to analyze your results.
Lander offers various integrations to customers, although functionality can be hit-and-miss. But, the option to add sites such as Google Maps to guide customers to your own events may be attractive to some.
Furthermore, Lander even includes email marketing integrations and tactics. For instance, you can set up third-party emails to send welcome and thank-you notices through your account. Whether you're building new relationships or forging new ones, this can be an invaluable addition to your business.
Lander Pricing
Like many landing page builders on this list, Lander includes a free 14-day trial to test the features. If you're ready to get started with a business-sized plan, you can look at their paid options, such as their:
Basic Plan, which includes 5,000 monthly visitors and three domains for $16 per month
Professional Plan, which has 25,000 monthly visitors and ten domains for $83 monthly
All plans are tiered around the number of monthly visitors to your pages. Larger plans also increase the number of custom domain names you can use for your business.
Landing Lion (Now Makeswift)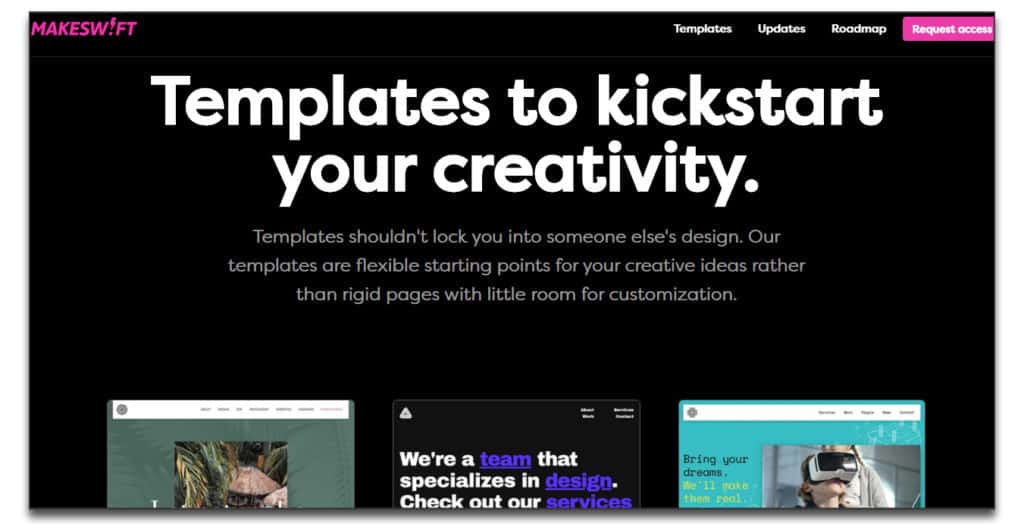 Landing Lion is one of the best landing page builders if you need a free service that doesn't skimp on the goods. Whereas some of the other editors on this list remove features in favor of lower prices, this platform straddles the middle ground.
Landing Lion Main Features
Landing Lion's impressive list of features starts with the basics. For instance, you get access to:
A full drag-and-drop editor
A/B testing and after-launch analytics
Integrations with major sites such as HubSpot, MailChimp, and Salesforce
SEO optimization tools
Landing Lion's page builder allows you to edit their customizable templates with ease. Furthermore, their mobile-responsive landing pages come out glossy and professional. Thus, you maximize your earning potential while minimizing your time input.
Once the landing page is live, you can even take advantage of their session replay feature. This allows you to watch lead interaction on your pages after the fact to see where you succeeded and where you can improve.
Additionally, Landing Lions includes some not-so-common features for a landing page builder. For instance, all plans and pages come equipped with SSL certificates. This provides you – and your customers – with peace of mind for their internet security.
Furthermore, all plans let unlimited users enjoy a single account. This means you can use the features on several landing pages across many campaigns at once.
Landing Lion Pricing
We should note here that as of March 2020, Landing Lions has relaunched as Makeswift. This new website is a code-free building platform looking to redefine web design. All Landing Lions customers will have to migrate to the new system to use their accounts.
But, the future of the site's success is uncertain, and for now, users have to apply to try out the site. Thus, for pricing and joining, you'll have to contact Makeswift for a quote.
Landingi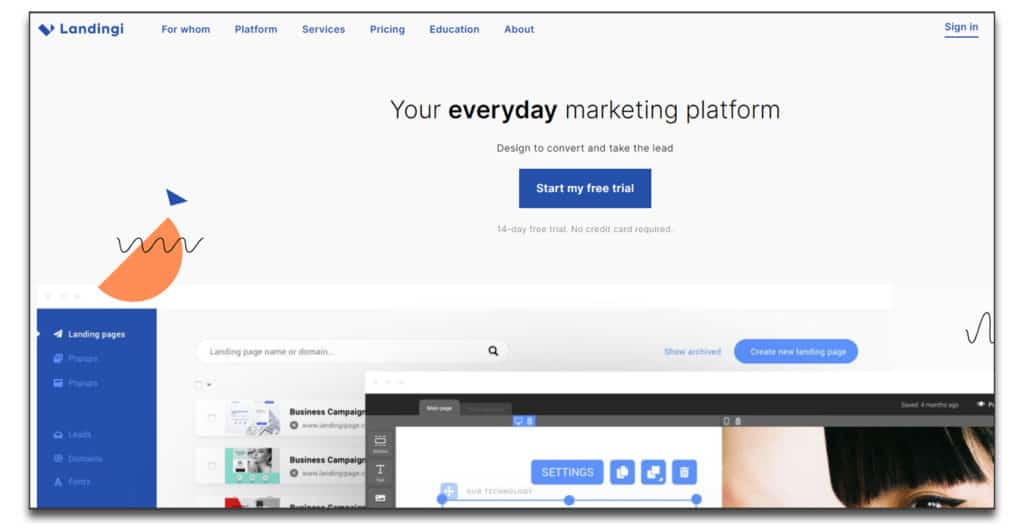 Landingi is one of the best landing page builders if you're looking for a small business solution. But, it's not only small businesses who enjoy the company's products. In fact, Landingi is used by giants in their industries – Sony Music and PayPal, to name two.
Landingi Main Features
Landingi is a builder that allows you to create expert landing pages with no IT or coding experience. There are several features in place to make this possible, such as:
Over 100 customizable templates
A drag-and-drop editor
Analytical tools
Marketing supports and integrations
Besides page design, there are many plugins and forms of which you can use in your creation process. Whether you need a signup page, a countdown timer, or a product purchasing form, Landingi has the tools you need to design your ideal landing page.
Landingi also has an unusual option: you can call the company and have them build your landing page for you. This sets them apart from the competition and gives you a fallback in a pinch.
Furthermore, this site includes Organic Rank Optimization to help your on-page SEO. Additionally, they offer a "Quality Score Optimization" to show you how you're doing.
Unlike many competitors, Landingi doesn't limit your plan based on the number of pages or domains. Instead, each package includes extra or expanded features, such as:
A/B testing
Page builder automation
Integrations with MailChimp, Salesforce, and others
Landingi Pricing
To get started with Landingi today, you can take advantage of this landing page builder's free 14-day trial. But, if you're ready to take the plunge, check out their Core Plan at $29 per month. If you need full-service options, you may also want to consider the Automate plan for $79 per month.
All of Landingi's plans come with unlimited landing pages, cloud hosting, and more. Thus, you can get your first professional page up as soon as possible and get that dough rolling in.
Launchaco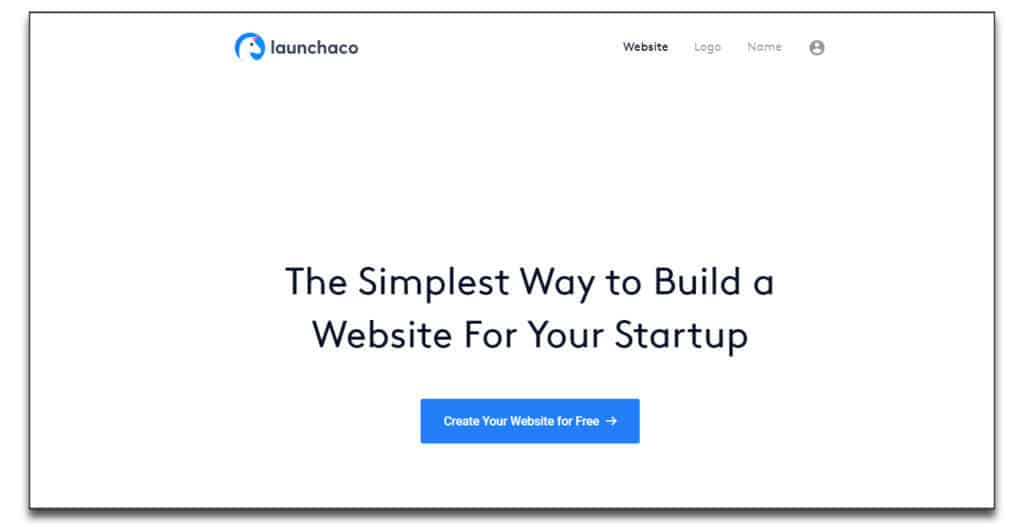 Launchaco is one of the best landing page builders if you're in the market for a software geared toward startups – particularly if you're looking for a free service. Of course, nothing free is ever truly free, as the free plans adds Launchaco's branding on your pages.
Launchaco Main Features
In this age of high-tech innovation, simplicity can be a welcome relief. Sometimes, you need a quick, modest landing page to get the job done. And, while landing page builder and editor is basic, that's exactly what Launchaco offers.
Launchaco is a landing page builder that is easy to use and requires no account. Their smooth visual editor makes editing a fast, professional landing page a breeze.
When you get started, you enter the name of your company, and then select what you're building. This site allows you to choose between various websites, apps, and open-sourced projects.
Then, you pick your font styles and enter basic information such as your logo and headings. The entire process is quick and easy, and only takes minutes to get your first page up and running.
Unlike its competitors, this site sets itself apart by adding HTTPS encryption on all plans. Plus, even in the free builder, you have access to Google Analytics and unlimited landing pages.
But, even in the paid plans, this builder comes with a few restrictions. While you can build a landing page in minutes, you're limited to a few styles and options. But this also means that it's difficult to design a poor page – making Launchaco ideal for beginners.
Launchaco Pricing
Launchaco offers a free plan with unlimited websites, Google Analytics, and a Launchaco subdomain. Note that this plan does include some marketing from Launchaco itself. This means your landing page will have ads added after you publish your design.
If you want to get rid of these ads, Launchaco's Premium plan costs a measly $50 per year – that comes out to less than $5 per month. Besides the basic features, this plan includes:
No Launchaco branding
Your own URL
Downloadable websites
MailChimp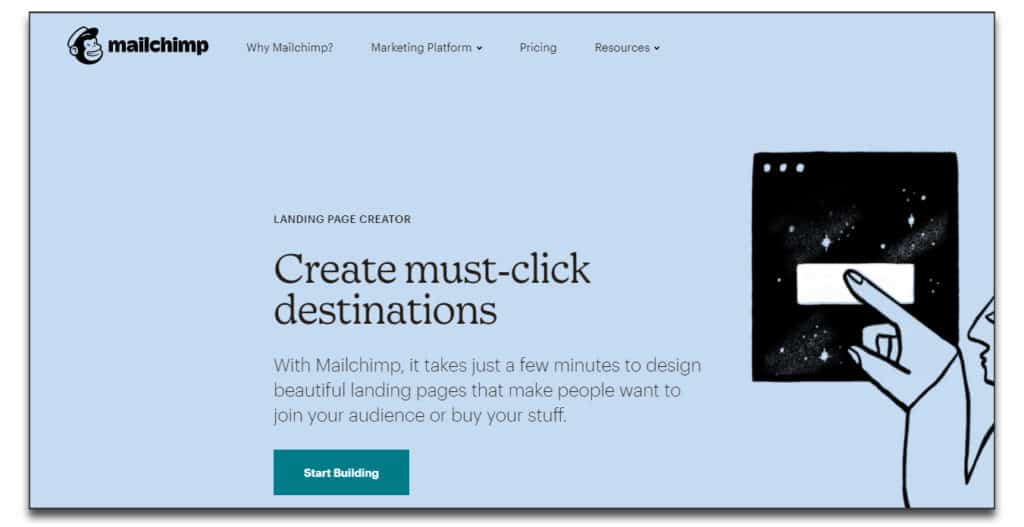 MailChimp is one of the best landing page builders if you're looking for a free service that comes integrated with your email automation tool. Better yet, they're builder comes standard on all plans. Thus, you don't have to upgrade your subscription if you're already paying for email automation.
Mailchimp Main Features
MailChimp's landing page builder is another simple tool that's designed to get the job done. While the design options are limited, keeping it simple helps you create and publish pages faster.
Furthermore, you can build unlimited landing pages for free. Whether you want to test design ideas to see what works or have fun with a few pages, MailChimp is perfect for:
Personal use
Startups and small businesses
Freelancers and entrepreneurs
MailChimp's landing page builder includes 10 themes to get you started off right. Each landing page suites a specific function to help you down the building funnel.
For instance, some of these pages are built to accept payments. Others are better for generating leads or promoting your business or products.
When you're ready to edit the page itself, you can personalize your site via a block building system. This drag-and-drop editor allows for more customization while ensuring your site turns out with a professional polish. And, this system requires no coding skills. Thus, even beginners can enjoy the process without learning HTML.
In more advanced packages, you unlock more features, such as:
A/B split testing
Email marketing
Custom branding abilities
Automation features
Mailchimp Pricing
MailChimp offers a free email marketing plan which includes their landing page builder. If that doesn't provide enough in the way of features, you can upgrade to:
The Essentials plan for $9.99 per month
The Standard package for $14.99 per month
The Premium plan for $299 per month
But, if all you're after is a landing page and split A/B testing, the Essentials plan has you covered!
ShortStack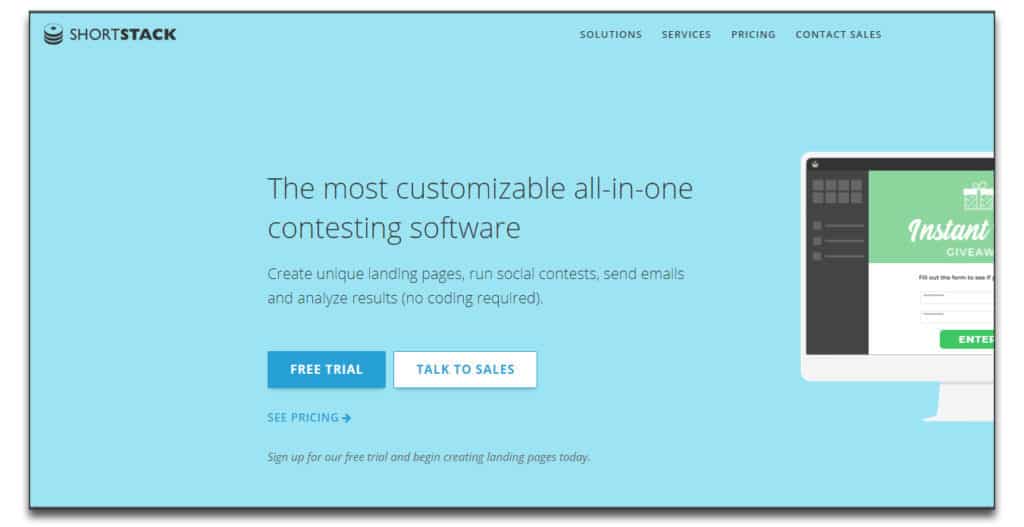 ShortStack is one of the best landing page builders if you're looking for interactive pages. This platform is geared toward those who need an online site to promote their business.
ShortStack Main Features
ShortStack fills a specific niche in the landing page builder market: capturing leads. You can use this site to increase your conversion rates and generate interest in your business.
In fact, ShortStack claims to increase your viewership by 83% on any of your pages! Their built-in lead generation tools also help you capture information for future promotions.
ShortStack offers a simple editor and email marketing tools to help you achieve this goal. Their site includes features such as:
Customizable CTAs
Integrations with Shopify, Google Analytics, and MailChimp, to name a few
Campaign and email analytics tools
ROI tracking
Basic client management tools
Besides all these, ShortStack includes a fraud detection system. This helps prevent repeat entries and other fraudulent activities.
Their landing page builder itself is rather easy to use. A drag-and-drop editor makes customizing your pages simple, no coding experience required. Plus, they include several templates to start your creative process. Better yet, all their templates have mobile responsive capabilities.
But their builder is also mundane, with few options and not a lot of personalization allowed. While this isn't a problem for contest creation pages, it does limit the site's uses.
ShortStack Pricing
ShortStack's pricing starts at $29 per month for 2,000 entries. But, this option includes branded logos. Their Business plan comes logo-free and adds more features, views, and entries for $99 per month.
The Business plan includes a free trial for 14 days, if you're not sure this is the right landing page builder for you.
Systeme.io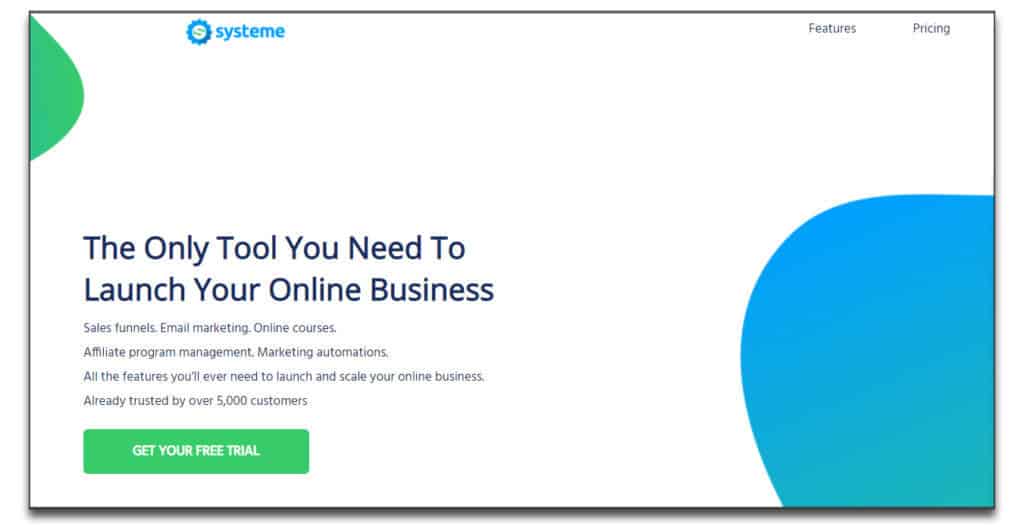 Systeme is an excellent landing page builder for those seeking a marketing platform that helps businesses scale up. This site is perfect for bloggers, online stores, and those new to building sales funnels.
Systeme.io Main Features
Systeme is an all-in-one platform that combines affordability with intuitiveness. Rather than focusing on landing pages, this site includes a host of features to help businesses grow. Thus, if you're looking for a cheap solution that doesn't skimp on features, this platform might be for you.
As an example, you can use this platform to build and promote your sales funnels from within. This includes going beyond building landing pages – you can bulk up your entire site.
For instance, Systeme offers evergreen webinar and blogging abilities, right there onsite. Or, you can focus on the plethora of marketing and customer conversion tools at your disposal.
Whether you want to build your affiliate program base, upsell or cross-sell your products, or integrate with other platforms, Systeme can help you do it.
This platform also includes email marketing and automation solutions as well. You can use Systeme or integrate with another system to connect with your customers. For instance, you can send out newsletters or build ongoing email campaigns. Better yet, each account allows you to send unlimited emails!
Additionally, Systeme offers several features to assist with your landing pages, such as:
Pre-designed templates inspired by various industries
A drag-and-drop editor
A/B split testing for instant results
Default mobile-responsive pages
Full-service customer support
Systeme.io Pricing
Systeme is an affordable platform for businesses that need a little more than the basics. Plans start at $27 per month for 5,000 contacts and extend to $97 per month for 15,000 contacts. Or, if you're not sure about this landing page builder, you can always take advantage of their 14-day free trial.
Themify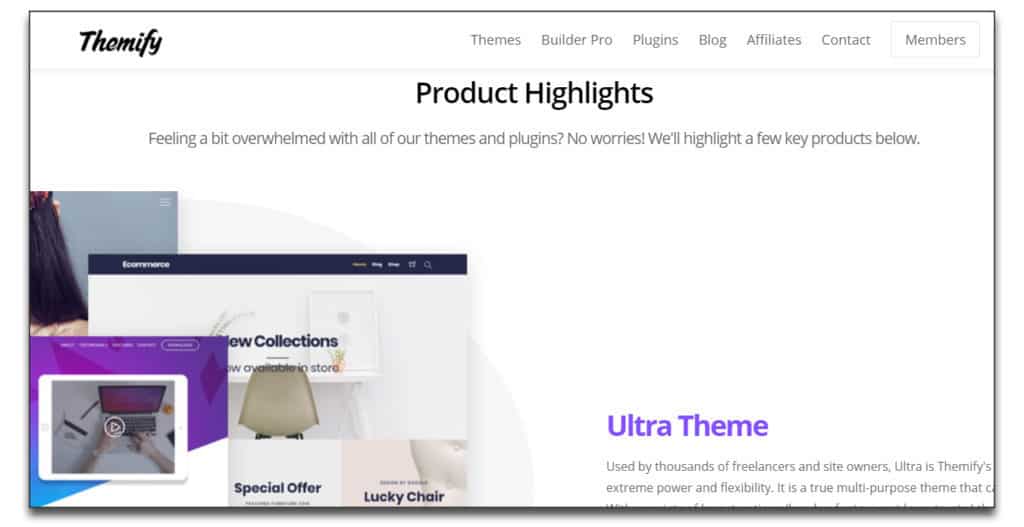 Themify is another great option if you're looking for a WordPress-based landing page builder. While the setup of this site is unusual, this route might save you some money in the long run – if you know what you want.
Themify Main Features
Themify operates like Elegant Themes (see Divi above). In essence, it's a WordPress theme that allows you to build landing pages. The difference is, with Themify, you don't buy a single, set theme – you buy several at a time. This makes the landing page builder a plugin option that integrates with the various themes, rather than being an all-in-one platform.
To get started with Themify, you have to choose your plan (a package of one theme or up to 42 themes) and install the plugin. Once you're ready to edit your first page, you can use the visual editor to create custom landing pages for your site.
The editor for Themify is much simpler than Divi's, which makes it easier to use but restricts functionality. And, although you have more themes to choose from, you have fewer design options. This is partly a function of the more basic editor.
That's not to say that you don't have creative freedom, though. Rather, your options are more constrained than some of their competitors. But if this is your first time building a landing page, or if you only need a simple design, Themify might be a good choice.
Themify Pricing
Themify's pricing tiers based on the number of themes and features you're looking for. A basic package with minimal tools and a single theme costs only $59 per year, for instance.
But if you need more than that, you'll have to pay. The "Master Club" plan includes 42 themes and basic photoshop files. You'll also get access to 12 plugins and 25 builder add-ons, for $89 per year. If you prefer to buy lifetime access, you can do that, too – for a one-time fee of $249.
Ucraft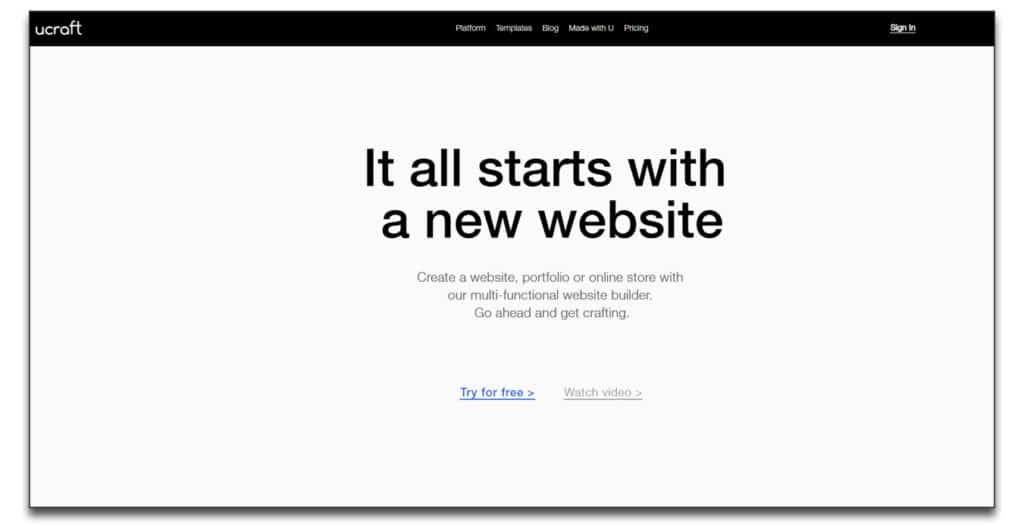 Ucraft is one of the best landing page builders if you're looking for a built-in website builder. While the plethora of features makes this option a little pricey, for those looking beyond simple landing page capabilities, Ucraft may be a good option.
Ucraft Main Features
This user-friendly landing page builder is so much more than a single webpage design tool. For instance, Ucraft offers ecommerce and blogging tools that make it easier to connect with and promote to your customer base. These come with plenty of customizations available so you can make your website "you."
Ucraft also integrates with many tools to connect your account cross-platform. Google Analytics, Intercom, and Zendesk Chat top the lengthy list of possible integrations. If you have trouble getting any of these set up, you can always contact their 24/7 live chat support for help.
A Ucraft subscription also buys you access to several apps to support your business. For instance, their SEO tool lets you add page titles, images, and other optimizations. You can also use their Pages app to rearrange your website if you're unhappy with your first design.
When it comes to the landing page builder itself, Ucraft provides a host of features, such as:
A drag-and-drop editor
A library of mobile-responsive themes
A built-in logo maker
A "Designer Tool" to customize your templates from Point A to Point Z
Additionally, Ucraft provides SSL encryption on all plans. Thus, you know that your pages – or website – are safe from fraud and bad website traffic.
Urcraft Pricing
Ucraft does offer a free plan so you can test out their features, landing page builder included. But, this plan comes with Ucraft branding and a max of 15 landing pages.
If you're ready to dive in, their paid plans start at $10 per month for basic tools. For $21 per month, you can add expanded ecommerce capabilities. The full kit and caboodle will run you $69 per month through their "Unlimited" plan.
Unbounce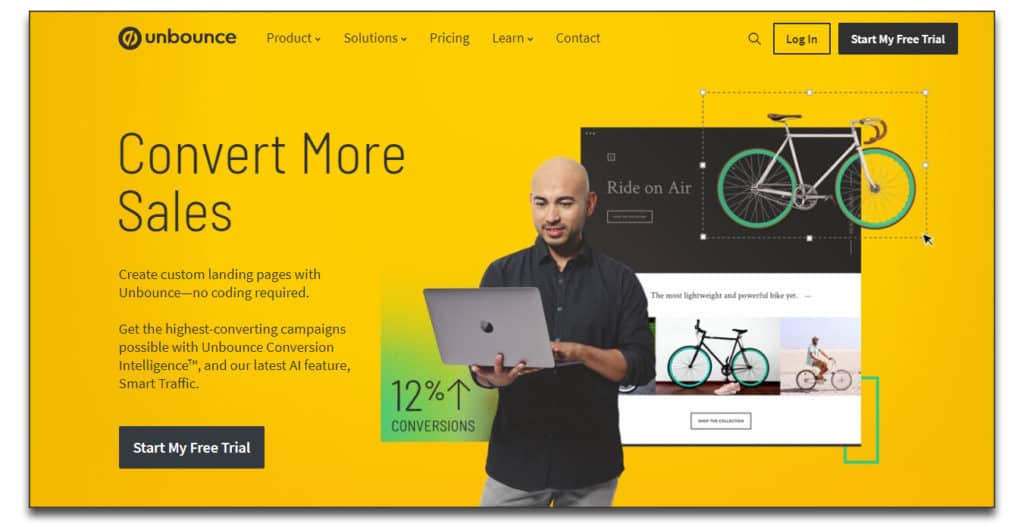 Unbounce is one of the best landing page builders on this list, hands-down. While this platform may take some time to get used to, once you've converted, you'll likely not bounce again. (Pun, pun, pun!)
Unbounce Main Features
Unbounce is an intuitive, AI-driven website that helps you build the best landing pages you can. Best of all, there are no coding skills required!
This platform is packed full of features – so much so that it's safe to say, this is not a beginner's software. But, if you're looking to generate real cash in your business, Unbounce is an excellent tool to get you there.
Besides a powerful, dynamic drag-and-drop editor, Unbounce offers 125 mobile-responsive templates. You can even select templates for specific industries and businesses. From coffee shops to nurseries, Unbounce has got you covered.
One of the best features Unbounce provides is their split A/B testing tool, which is one of the best in the business. They offer a robust analytics dashboard to give you a clear picture of how your pages perform.
This platform also includes plugins and easy form creation in their list of features. The integration options for this landing page builder are impressive, too, ranging from WordPress to Salesforce.
Outside of the landing page builder, Unbounce offers other tools such as:
Lead generation tools
Custom domains
Dynamic keyword insertion
Automated SSL encryption
Client management programs
Unbounce Pricing
Unbounce is not the cheapest option on this list, but the list of features makes the price worth it. This is especially true for those who are generating real returns on their leads.
Plans start at $72 per month for up to 500 conversions, 20,000 visitors, and a single custom domain. To expand your business, you can move up the ladder until you reach the "Scaling" plan at $270 per month.
Wishpond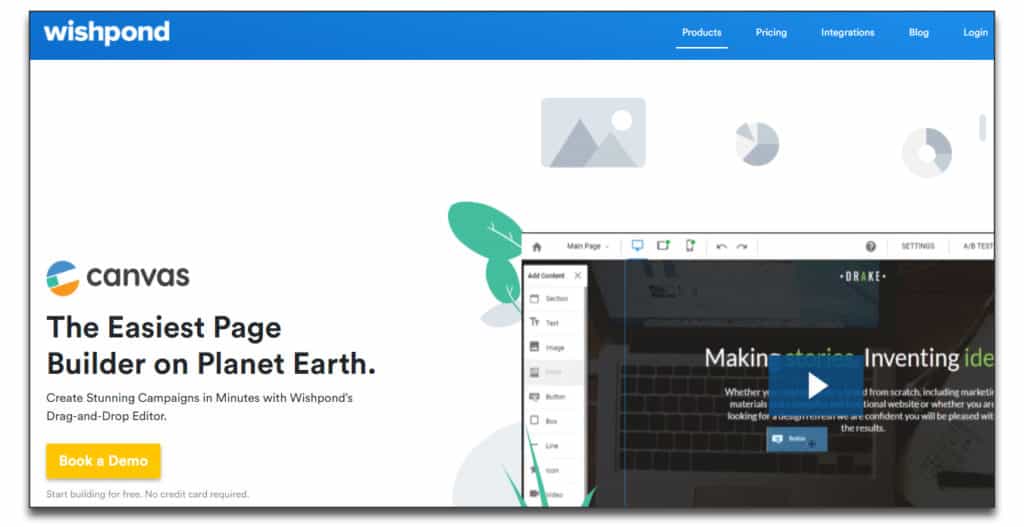 Wishpond is an excellent landing page builder if you want an intuitive service that creates a professional product. As a fast-growing name in the SaaS space, they're G2 named them a High Performer in 2019.
Wishpond Main Features
Wishpond is another landing page builder built around converting clicks into customers. They do this by giving you several pre-made templates that you can edit with your information. You then add in the information that you want to collect – and Wishpond goes and gets it for you. (It's not quite that simple, but you get the idea).
With their drag-and-drop editor, it only takes a few minutes to get started with your first page. Or, if you need more personalization, you can use their advanced tools to code the HTML and CSS yourself.
Wishpond provides a third alternative for those who need advanced tools but aren't comfortable with coding. Their team is available to their customers to help you run your campaigns and contests. They're even available to help you design your pages.
This is one of the perks that, while not exclusive to Wishpond, is not common in the landing page builder space, which sets them apart from the competition.
Wishpond includes all the basic necessities in the landing page space, such as:
Easy integrations
Marketing automation tools
Responsive templates
A library of resources to help you use the site and design a professional-looking page
Wishpond Pricing
Wishpond's pricing starts at $75 per month in its "Starting Out" plan. Their prices increase up to $299 per month in their "Rapid Growth" plan.
Each of these allows you to use the core apps, such as their landing page builder, email marketing, and forms. The main difference among these plans is how many leads you can capture – anywhere from 1,000 to 1 million per month.
If you want to test their landing page builder for free, you can also take advantage of their 14-day free trial.
Wix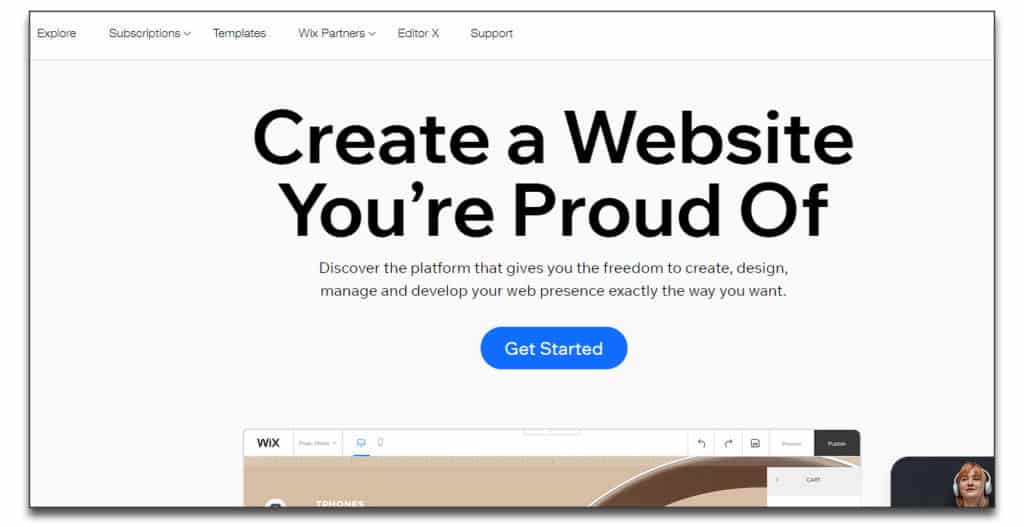 Wix is one of the best landing page builders if you want a landing page you can expand on later – no coding required. As a well-known website builder, Wix has all the tools you need to get started with your first landing page.
Wix Main Features
Wix is not the fanciest option on this list. But, if you're looking to get started with your first website or landing page, it will more than do the trick.
With Wix, all you have to do is start with one of their many landing page themes. Select your preferred template, click Edit, and get ready to start building.
The software's editor is easy to manipulate, even for beginners. You can edit text and font, add items such as icons, embeds, and forms, and run basic editing on your photos. You can even build a store or blog right in your page – if you intend to expand into a much larger website over time.
And, because this site is built for beginners, they even offer a Google Docs-style revision history so you can undo many changes at a time. This prevents you from losing any progress on your site while not setting decisions in stone.
But, because this is a platform designed for beginners, the features are a little basic. While this isn't a problem for anyone starting out if you plan to expand in a year or two, prepare to make the switch. Often, scaling businesses outgrow this software's website abilities.
Wix Pricing
Wix starts at $13 per month for a basic plan, which is best for personal use. If you want a plan with more features and bandwidth, check out their $17 per month Unlimited plan, or expand to their $39 per month VIP plan.
Wix also offers special features for those looking for an ecommerce or business website. These plans include the ability to accept online payments and start at $23 per month for a basic package.
What is a landing page?
The landing page is arguably the most important page on your website. As the name suggests, it is the first page that the visitor sees when he/she lands on your site.
Its importance is critical. If you landing page looks lousy, loads too long, is hard to navigate – visitors will leave forever.
But, if your landing page the well designed, you will be achieving great conversion rates on the goals that you have.
The design of the landing page requires constant testing and tweaking. There is always something to improve.
While you will be building the other aspects of your online presence, the landing page will still remain the most important one.
What is a landing page builder?
Landing page builders, or landing page tools, landing page software are all the same thing. Since we established why landing pages are the key to your business let's talk about how a landing page builder can help you.
Landing page tools are a service provided to you by a third party that allows you to easily create a website. You do not need any prior knowledge of coding or design. The platforms will give you all the tools and support to have your landing page ready in a couple of clicks (literally).
This software allows you to switch your landing page design instantly. No need to hire specialists and designers, you can have a landing page designed completely changed in a matter of minutes.
Why Do You Need Landing Page Software?
To make your life easier. If you are like me, your goal is to do business not to design webpages. So you want to spend minimal amount of time on that and focus on your main goals.
For people like us, landing page builders are a saver. If you would go an order a webpage from a freelancer or a company you will probably get into thousands of dollars for that.
With landing page builder tools you pay a couple of dollars a month and you are good to go.
In short, they save time, save money, and allow you to focus on what is really important for you.
Who Can Use Landing Page Tools?
Anybody. Yes, it is that easy. You do not need no prior knowledge of design or any kind of coding background. Sing in and start making fantastic landing pages in no time.
As mentioned before, this is particularly well fitted for those who need to focus on other goals.
If you plan on doing any kind of business online, it should not be your goal to spend time on coding, but rather using the right tools to get the business going.
How To Choose The Best Landing Page Builder?
Everyone is looking for something a bit different, to perfectly meet his/her needs and goals. Still, there are some shared aspects that a great landing page builder tool should have. We will go over some of them
Limit on Landing Page Number
Go only after tools that have no limit on the number of landing pages that you can create.
There is no reason for that limit and you need to have options to constantly tweak, test, and improve your sites while having a chance to return to the previous versions.
Multiple Users / Team Collaboration
It is possible that you will need to invite a team member to collaborate with you on your landing pages. For these cases, you should look for an option of multi-user use. That means that you would just add additional people to your existing package with no further issues.
Template Variety
When you are starting a new landing page design is always a great help to have a suggestion of how the design can look like. This is why you need landing page templates in your builder.
There is no need to take them as they are, all of them are highly editable. But it is much easier to start from some kind of design and tailor it to your needs, rather than stare at a blank page for hours to figuring out what to do.
Third Party Integrations
Integration of email marketing services, webinar platforms, SEO plugins all this plays an important tole in your final decision. You want to touch as less code as possible, so one click integration will your life much easier.
What are the advantages of using a landing page builder?
In this section, we will go over a couple of tips on the main benefits of using a landing page builder.
Focus on what matters
As we discussed before, the landing page builder allows you to focus on your business instead of coding and design.
These platforms will take the work from you and help you create designs that will make your visitors concentrate on the call to action that you put in from of them.
This way you can test, tweak, and improve your metrics in the most important goals, rather than learn how to program and design a website.
Third Party Software Integration
All the landing page builder platforms will allow you to connect your page to a wide variety of third party tools that you may use. Emails, SEO tools, Webinar services, eCommerce platforms etc.
Again, there is no coding work included. No need to hire a specialist to help you set it up. You can easily do everything yourself.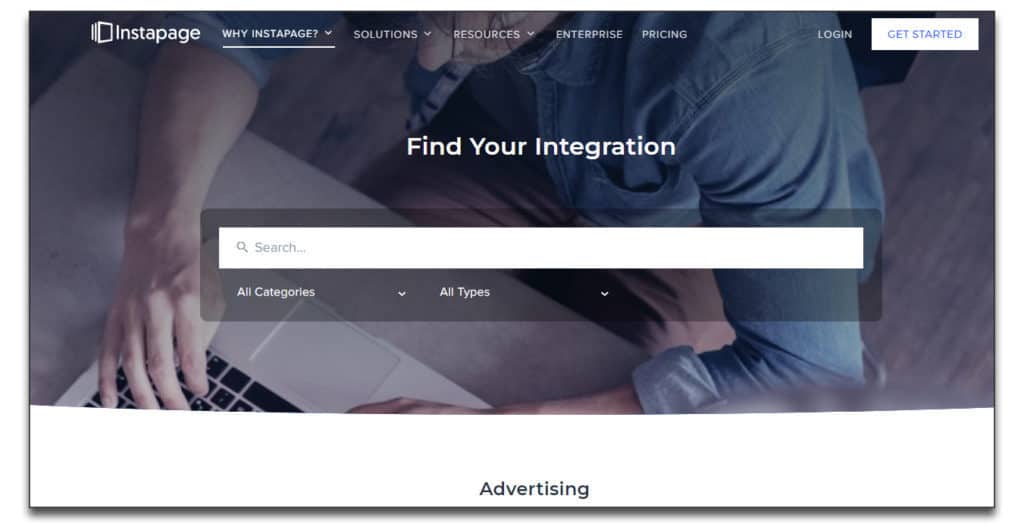 Just to give you an idea, Instapage (number one on my list) has a full search section dedicated to integrations. Below, they have a full list of apps that they can integrate with.
As before, in this case landing page builders are making your life easier so you can focus on your main goals.
Testing
As in everything, testing is the key. You need to constantly tweak, update, and change your offer and design to make sure that you are not leaving money on the table.
Landing page builders will make this as easy as possible. As opposed to the creation of a different website and technical issues with swapping an existing and new one – landing page tools will make all work seamlessly.
Create new designs, swap them when needed, check analytics, and then swap back or tweak further. What would take hours/days, can be done with few clicks with landing page builder platforms.
Branding
This is an obvious must. There has to be 100% flexibility on what you brand and how. Logos, colors, favicons, tags, categories, domain name, etc. Great landing page builder (as the ones in my list) will allow you to do that with no limitations.
Branding is very important as it allows your users to feel that the page is unique and not just an automatically generated lander that is there to get their data and spam them (or something of that sort).
Mobile Friendly
Over 50% of search is now done through mobile, so it is critical to make sure that the landing page builder (and your landing page) provide mobile-friendly solutions.
Most of them do, just make sure that you final result works on mobile. How? Just open your domain in mobile and you will see.
Subdomains
Let's assume that you have domain.com, you create a landing page for it and now you decide to have shop.domain.com too. Does your landing page builder allow you to create landing pages for subdomains? It should, but better to check.
Trial Period
Vast majority of landing page builders will offer you a trial period. Make sure to take advantage of it.
This way you can try the service, check for all the features and make you decision. Most importantly you will have the time to confirm if the landing page builder tool of your choice sits well with you.
Page Analytics and Reporting
You can improve only things that you can measure. Make sure that the reporting that you get is sufficient.
While a lot can of course be done with Google Analytics, it is much easier to do A/B testing with built-in reporting in the landing page building software.
Support
Make sure that you are happy with the support you will be receiving. When you are on a deadline, filling a ticket and waiting for a response is just not enough.
While it is great to have a knowledge database and suggested answers, sometimes you just need a live support representative to help you immediately.
Custom Code
Sure, we are using a landing page builder to NOT code at all. But sometimes you need that freedom to enter a Google Analytics code or any other code snippet.
You might be interested in
FAQ
What is the best landing page builder?
Check the post to find what you are looking for. My suggestions is right at the top.
Are landing page builder tools easy to use?
Yes, that is why they are so popular
Can I use landing page builder software with no IT experience?
Yes, the tools that I list here will help you make great pages without any coding experience.
Why do I need a landing page builder?
They do not require coding experience, very easy to use and easy to change what you need. Helping you create a great landing page in no time.
Why are landing pages important?
Landing pages are the first thing the visitors sees. It is important to keep his/her attention or convert this visit into something meaningful. To achieve all that, you need a good landing page (and landing page builder will help a lot).