Digital signage software is an essential tool to manage your various "digital points" in your network. In our day and age it is becomming increasingly difficult to image an actual printed advertisment. Digital signange has transformed the industry making it much more efficient.
In this post I will go over main software that will help you to manage your digital assets, we will also discuss main features and compare prices.
What is digital signage?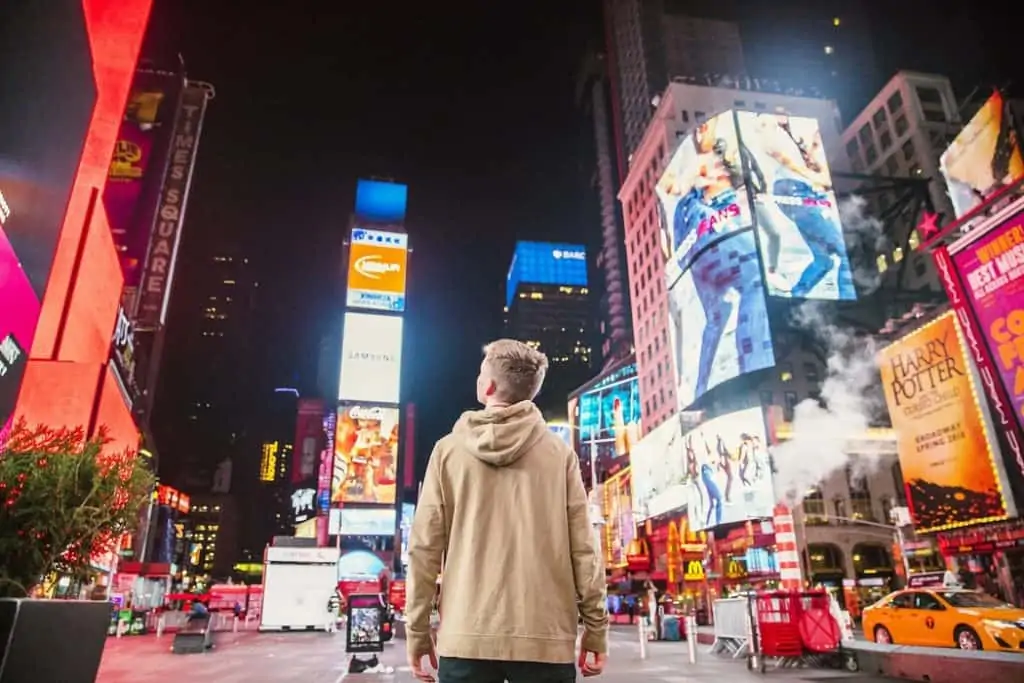 Digital signage is a specific segment of electronic signage. It uses a wide array of visual digital technologies as LCDs, LED, e-paper, projections, videos etc.
The apllications are nealy limitless. Advertisments, maps, weather predictions, in store discount announcements, promotions, restaurant menus…
Everything that was previously on paper – can be digitalized through digital signage.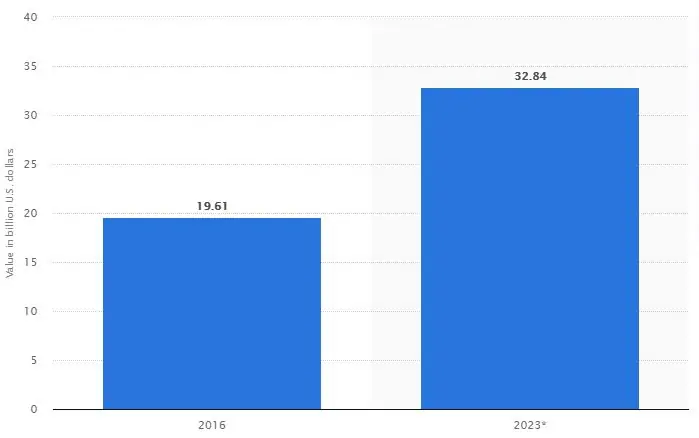 So it it no a suprise that the digital signage market is growing rapidly, and will replace all the printed media that you can find in shopping malls, on highways and other locations.
Best Digital Signage Software
Below i will go over some of the best digital signage platforms that I managed to find. The goal of this review is to give you the overall understanding of which tools you should shortlist for further testing and analysis.
Yodeck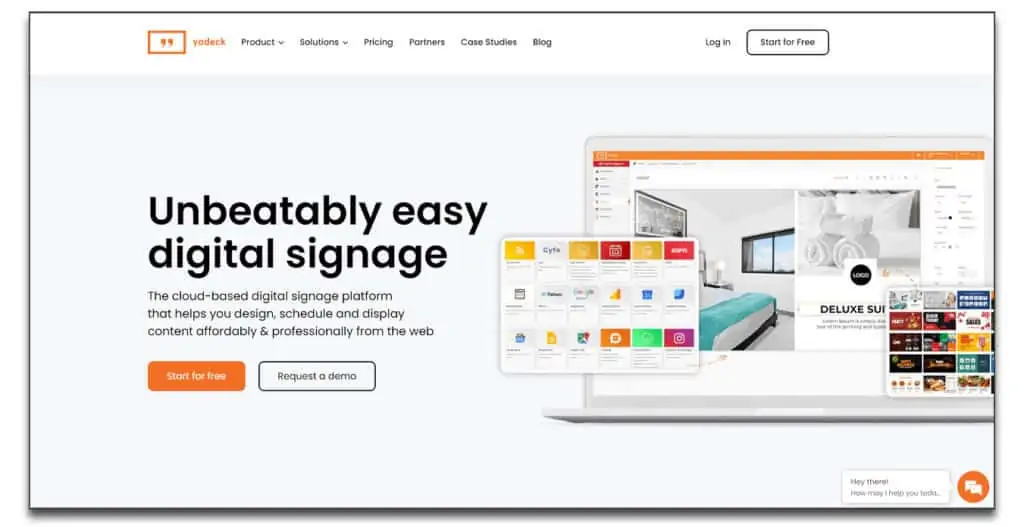 If you're looking for top digital signage software, it doesn't get much better than Yodeck. Not only does this platform have great features, but it is also really easy to use. You can access it via the internet as it is stored on the cloud. Yodeck is great if you need to scale the processes, and it has a wide variety of features that will help you every step of the way.
The digital signage solution is really fast and reliable. Everything about this platform is available on user's demand. It has all the functionalities you would otherwise find in a digital signage system. The software has audio and video compatibility, as well as numerous widgets that will assist you along the way. You can utilize the tool whenever you wish to stream content from third-party channels. Of course, this includes some of the biggest TV stations in the world.
On top of everything, it is pretty simplistic and can be used by anyone. You can choose from several templates or add your own.
Perhaps the biggest drawback of this cloud-based digital signage tool is that the world map is really enormous. It takes so much space on the dashboard, which can turn out to be a problem. Also, its free plan can be quite confusing.
Yodeck pricing
Clients can choose between 3 subscription modes: Standard ($7.99 per month), Pro ($9.99 per month), and Enterprise ($12.99).
NoviSign
The digital signage software can be utilized for numerous processes. It has a vast client list and a pretty straightforward interface. Furthermore, the templates are really versatile, and you can use the intuitive scheduling services as an additional perk.
Some of the company's bigger clients are Disney and Hilton. The very fact that more than 20,000 people are using this cloud digital signage software tells you enough about its quality. You can use NoviSign to create top-tier displays by relying on pre-made templates that you can customize as you see fit.
What's even better about these templates is that you can order them based on the industry. For example, you can get templates for retail or restaurants. That way, you can create just the right display that will properly represent both your company and industry. All of this can be done without any technical knowledge.
The signage software has a very easy and straightforward interface. It can be split into 3 different sections: Playlists, Screens, and Creatives. You can easily integrate various data into displays by relying on RSS feeds, numerous apps, and widgets. There are also some nice options that will allow you to customize images and text.
Last but not least, I need to mention NoviSign scheduler. The tool's Playlist feature is really incredible as well, allowing you to pull in content and systemize it like you would with Spotify.
NoviSign pricing
Cloud digital signage system comes in 3 plans: Evaluation (free), Business ($20 per month), and Partner (contact for a quote).
OnSign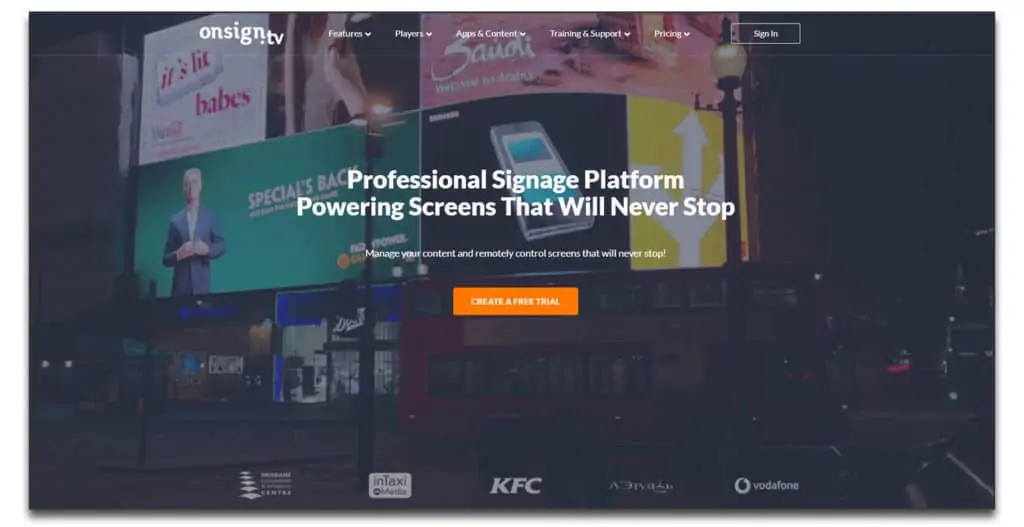 As one of the top digital signage companies, OnSign will provide you with all the features you could ever need. The program is very simple to use. It is straightforward, user-friendly, and can be utilized on numerous operating systems. The tool is based on a drag-and-drop system that makes everything a breeze.
Cloud-based digital signage software is a bit more expensive than it should be. At least, based on its features. As mentioned, the platform goes on various operating systems, such as Chrome OS, Android, Phillips, Windows, macOS, Linux, Samsung SSP, and so on.
When you access OnSign, you can see a long list of players that the platform is compatible with. You can also check the hardware you would need to use these players. Anyway, before you start using the tool, it is much better to check this list so you see if the platform can fit well with your current equipment.
OnSign is one of the best digital signage software if you're looking for user-friendliness. It relies on numerous free apps that allow the platform to display various information. This includes sports results, weather forecasts, time in different zones, etc. You can also utilize it for the creation of your own apps in HTML5.
OnSign pricing
The company offers two plans: Professional ($19.99 per month per player) and Enterprise ($29.99 per month per player).
Hexnode UEM
Hexnode UEM is one of the top digital display solutions for businesses. Over time, it has received several awards as the best Unified Endpoint Management system on the market. You can utilize it for managing corporate-owned devices, but also BYOD, from a single point of entry.
The platform can be accessed on Windows, Mac, Android, iOS, Apple TV, as well as fireOS. It has various features like security management, app management, containerization, and expense management. The great thing about Hexnode is that this is top digital signage in terms of its versatility. The platform quickly adapts to numerous types of business environments.
Among numerous features and functionalities, it has to offer, the platform is famous for its support. Users have access to phone support, chat, email, forum and FAQ, and knowledge base. If that wasn't enough, there is a live representative assigned to every account willing to help you 24/7.
There is little to no risk when using the platform. This is because the company offers a free trial to all potential buyers. As such, you can learn more about the product features and what to expect from the tool.
Hexnode UEM pricing
There are 5 plans in total: Express ($1 per device per month), Pro ($1.8 per device per month), Enterprise ($2.8 per device per month), Ultimate ($3.8 per device per month), and Ultra ($5.8 per device per month).
TelemetryTV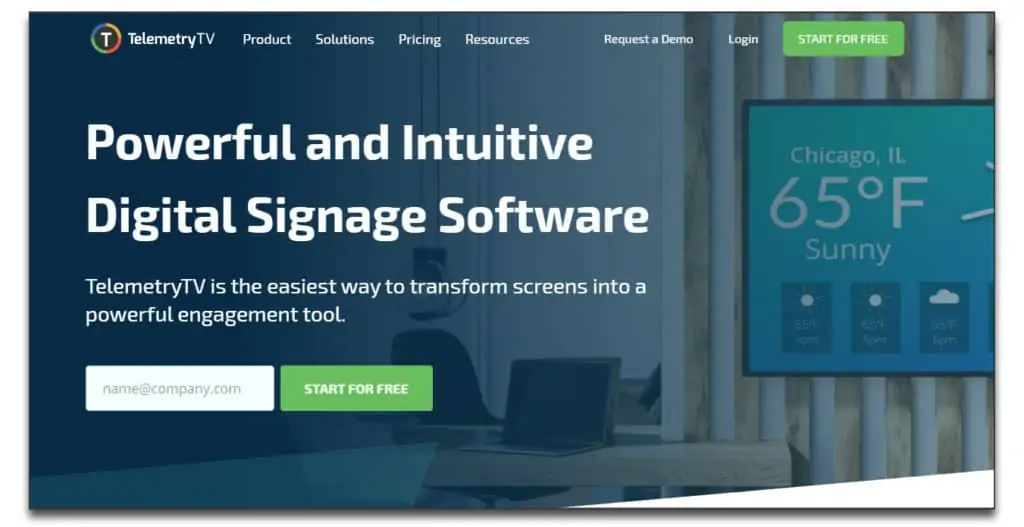 As the best digital signage company in terms of live support, you will never hold online after subscribing to TelemetryTV. What's even better, the tool is very affordable, making it ideal for both companies and individual users.
Its interface is really nice and easy to use. If there is one thing wrong with the platform, that is the lack of third-party apps with the Starter plan. TelemetryTV is one of the better digital signage systems for companies with an undetermined or variable budget. Keep in mind that you'll get this tool for free on one device and for one user.
The first plan gives you a lot of options if you're a mid-sized company. The subscription is for up to 3 users and on a per-device basis. If you decided to go with the second plan, 10 users would be able to utilize the tool, and there will be a few customizable options.
The software can be accessed either via a browser or in the form of a desktop app. Interface for the browser version is really something. It oozes authority and relies on a slick design.
TelemetryTV pricing
There are 3 plans to choose from: Starter ($54 per month), Standard ($280 per month), and Plus ($700 per month).
Viewneo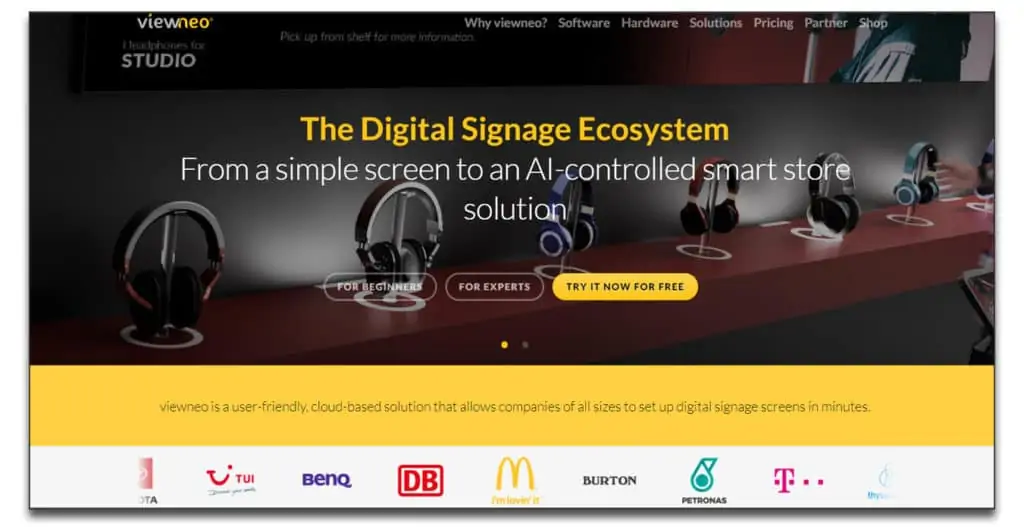 Viewneo relies on Advanced AI technology to deliver the best possible results to its clients. With its user-friendly interface and various features, you should at least consider purchasing the subscription.
The great thing about the software is that it implements hardware solutions. Unfortunately, this also means that the focus is split somewhere between hardware and software, so you won't get the best software experience as with some other platforms.
Viewneo is a modular system that will scale alongside your business. As you go forward, you can remove or add components that you need/don't need. The high level of customization allows you to have just the right tool at a specific time.
Among others, you can mix Viewneo with Pixabay. The integration will give you access to more than 2 million templates, images, and various social media plugins. On top of that, you can monitor the progress with advanced analytics and reports.
Viewneo pricing
There are 2 very different plans for this digital signage software: Professional ($18 per month per screen) and Enterprise ($240 per month; pay an additional $15 per screen).
Reach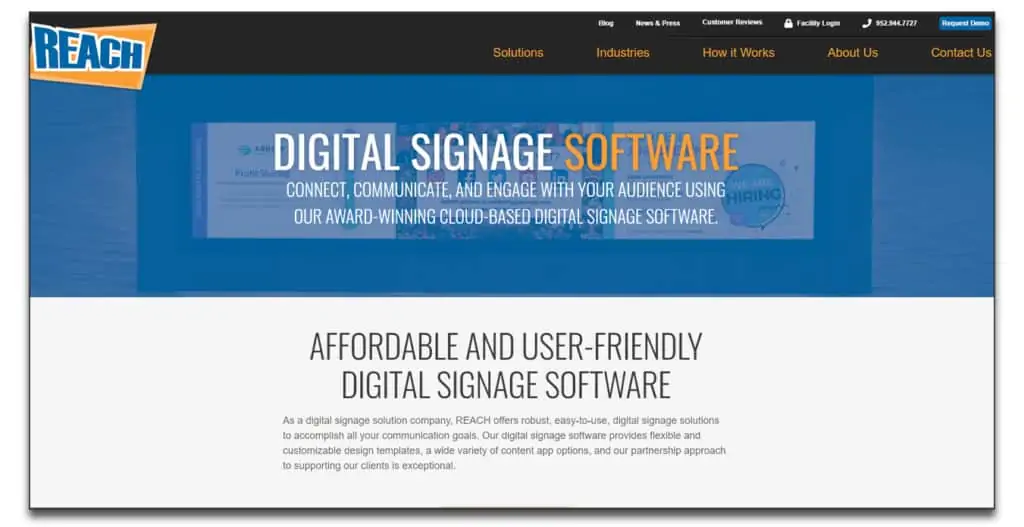 Reach provides a lot of valuable options to its users. According to the company owners, their main goal is to give users a premium experience with their robust but simplistic signage software. You can choose between numerous customizable templates as well as hundreds of different apps.
The platform is especially great for newbies. You don't need any special skills to utilize Reach. At the same time, if you're an advanced user, you will have access to some more advanced features that will also satisfy your needs. So, the tool has something to offer everyone.
You can utilize the software to quickly create messages and add files, and control when and where various files will play. The playlist is rather straightforward, and you shouldn't have much trouble with it.
On top of this, Reach has numerous integrations that will expand its utility. Among its best features, it is worth mentioning scheduling, information directory, social media connections, and so on.
Reach pricing
The company provides 3 paid plans: Basic ($75 per month), Complete ($150 per month), and Movement ($225 per month).
Spectrio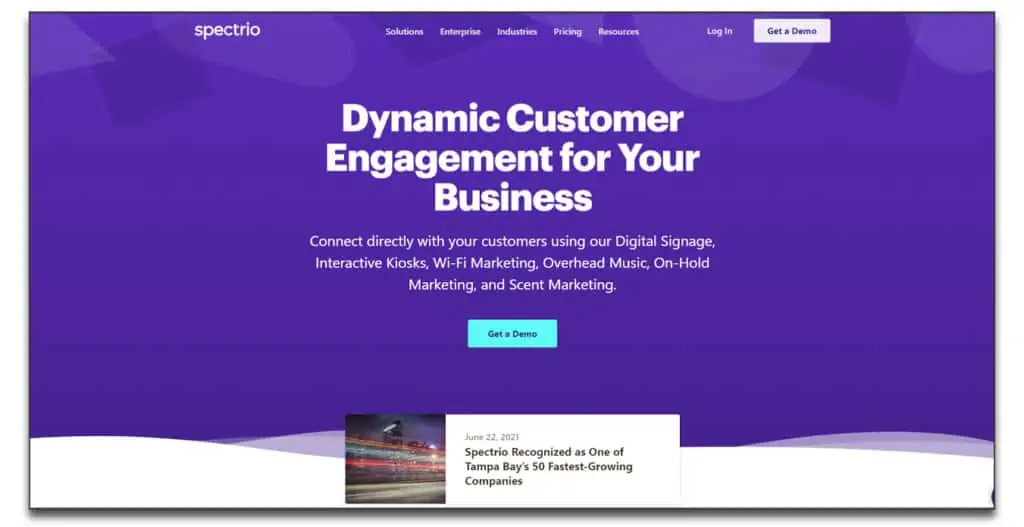 This cloud-based solution is great for displaying digital content. The platform can be utilized for various types of companies and across numerous industries. By using the program, you can communicate with the target audience through blogs, social feeds, videos, and other types of digital content.
What's amazing about this digital signage software is that you can customize content based on your brand's communication strategies. There are numerous apps within Spectrio's app market that will allow you to fine-tune your processes. You can also utilize a visual dashboard for monitoring the run time of social media content. Here, you can access various data such as user engagement.
If that wasn't enough, the tool has some additional functionalities like content scheduling. By utilizing the feature, you can choose when to play the content. The platform also has device monitoring, automatic filtering, SSL data encryption, and built-in analytics.
Spectrio pricing
Spectrio comes with two pricing plans: Business ($99 per month, can be used for 1 to 20 screens) and Enterprise (contact the company for a quote, can be used on more than 20 screens).
QuickESign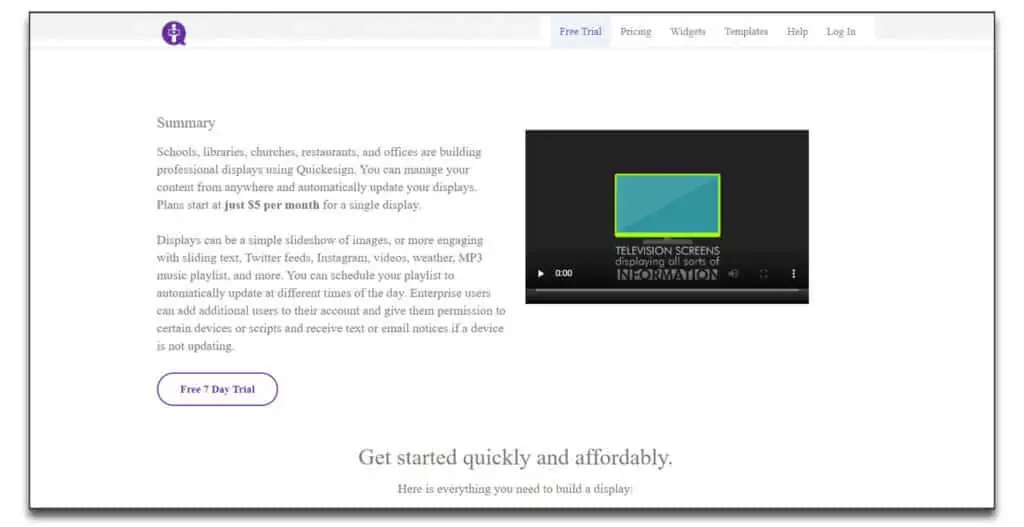 QuickESign is a reasonably priced solution that can be used via Roku, Android TV, and FireTV. It is especially amazing for larger public organizations such as libraries, schools, and churches. However, you can also use it commercially for restaurants and similar enterprises.
The software is rather simplistic. You can rely on its drag-and-drop editor to quickly perform actions within the dashboard. QuickESign can be utilized for videos, data feeds, slide shows, weather, playlists, calendars, just to mention a few.
While the product is really cheap and easy to use, you might encounter several issues when working with it. For example, a lot of users have reported bugs and glitches within the platform. Creating slideshows can be troublesome at first, and you might also encounter some issues with the Zones feature.
QuickESign pricing
The company has a simple pricing model. You pay $5 per month per user.
UPshow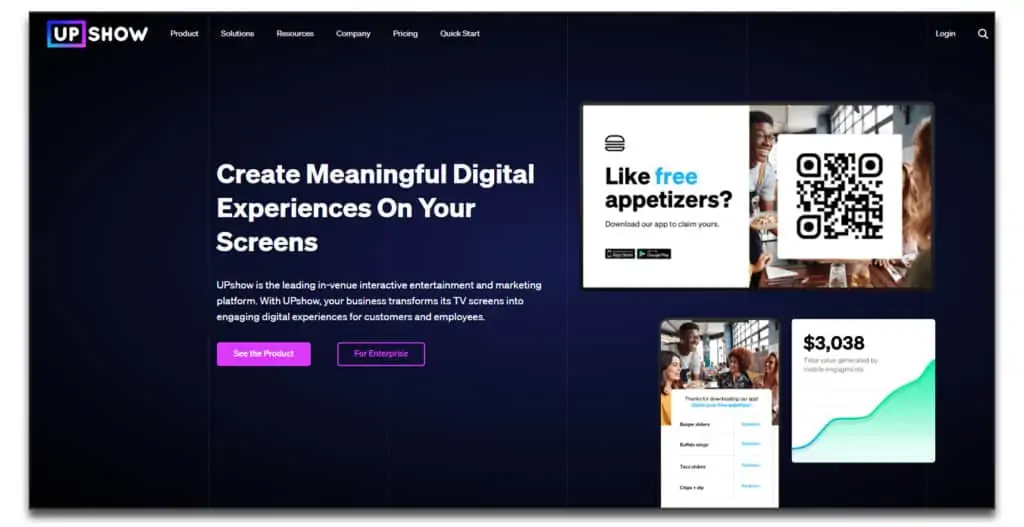 UPshow is a platform that focuses on commercial organizations. It is specifically meant to increase your returns on investments by leveraging existing TVs, which would increase the overall profitability of the brand.
With this platform, you can create a customized digital signage channel that would combine social media content, actionable digital signage, trivia, entertainment feeds, and some other features. UPshow relies on the plug-and-play principle. There is also a cloud-based management portal, which is great for your executives. No matter how big or small your company is, this platform will be a great choice.
Although everyone can use the tool, it is especially great for brands who want to go beyond traditional signage and add more engaging features. In terms of drawbacks, the software is a bit tricky for installation.
UPshow pricing
There are 3 pricing versions available: Quick Start ($50 per month), Standard (contact for a quote), and Professional (contact for a quote).
Why Do I Need a Digital Signage Software
It is not possible to manage a digital signage network without a proper software. Sure, you could have people come to each fo your devices and make the needed changes…but it will just not work and would be increadibly expensive.
Digital signage software allows you to control all your devices from one spot. You can upload content, see errors, monitor clicks and much more – all from one spot.
Main Features
Before making your final pick, you would deffinitely be right to take an advantage of a trial or speak with a sales representative. In this section I will share some of the features that you should look for when making your decision.
Pricing
Make sure that the pricing is not tied to the use of the platform. Or in case it is, that it is at acceptable levels with possible caps. Best choice is a fixed monthly payment – in case you are working with a digital signage cloud platform or one-off (possibly yearly) fee if you are using an on-premise solution.
Reporting
You want to have as much details as possible on your platofrm. Clicks, user engagement flow, uptime, used apps and so on – eveyrthing matters when you will be making strategic decision about moving forward.
Integration
If you are using any tools that you want to have connected (for example CRM, or inventory tools) make sure that nothing stands in the way of integrating them. Digital signage platforms usually provide you the means to communicate with your end-points, so there should be no problem here.
Goes without saying that you need to make sure that all you end-point devices will have no trouble communicating and working with the smart digital signage software platform of your choice.
FAQ
What is digital signage?
Digital signage is a presentation of data on a digital device. LED, LCD, Digital billabords, screens and many more.
What can digital signage solution do for me?
It will centralize the management and upkeep of all your digital points, no matter where they are.