Choosing event management software can be a daunting task. There are so many options out there, and it's hard to know which one is the right one for you.
In this blog post, we will help you understand event management software and how it works with your event planning needs. We'll also give you tips on choosing the best event management software for your event!
Best Event Management Software:
There are event management software platforms for every event budget, so it's worth looking into what you can afford. When starting out with event planning it might be good to start small and work your way up as you get more experienced in the field.
An event manager platform might not seem like a big deal at first, but when you're already registering all your participants there – it is hard to move to another. The platforms listed here can be used to host a physical event, online event, webinar, or anything else that required planning and organization!
Below, I will review some of the best event management platforms that are available.
Attendify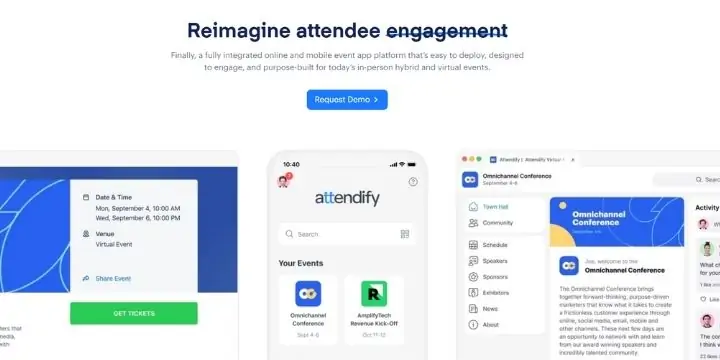 Attendify is a great event management software that utilizes features from various digital marketing and event marketing tools. It is a data-driven event management platform that allows you to plan and execute different types of events. You can use it from one end to another, from online registration to post-event data analysis.
Attendify is a conference and event management software that can be utilized by companies of all sizes. The app can be efficiently used by individual planners, organizers, as well as event companies.
Attendee management is one of its best features. You can access its real-time updates, networking, event registration, collecting user feedback, and so on.
A customer will have access to numerous ROI tools that allow you to analyze how much money you've earned per ticket sold, to check attendee engagement, and for other event reporting.
The management software is also great if you wish to perform sponsorship management. With it, you will be able to perform monitoring, assessment, project selection, and funding. The event management solution relies on a simple drag-and-drop system. Attendify can be used for guest list management, customer management, and badge management.
Probably the worst thing about this event management system is that you cannot add back people that you've previously deleted from the list. So, you will need to be very careful when performing certain processes.
Attendify pricing
Attendify has complex pricing plans. It charges $1,999 per event, and you can also get a customized solution for $4,000.
Eventbrite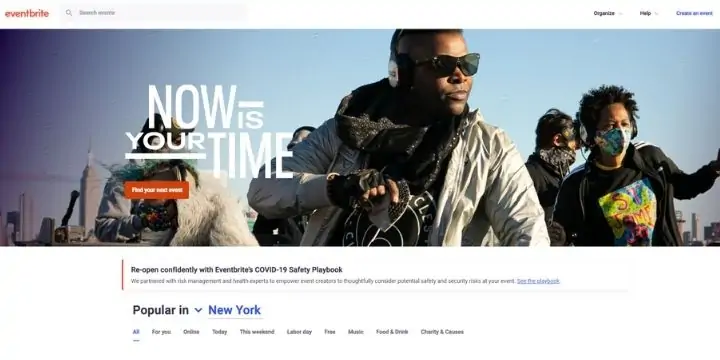 With this event management software, you are able to execute local events on a high level. It is a very complex, sometimes overwhelming event management solution that will allow you to perform various actions from event registration to payment processing.
Among its main features, it is worth mentioning bar code scanning. When you download the event app, you can use the phone to check everyone's ticket as they're about to enter the venue. Event organizers can utilize its dashboard to check sales numbers. Its data analytics is a great way to save time as you try to figure out how profitable the event was.
The great thing about the strategic event management software is that it has a free version. That is, as long as the event was also free for attendees (so the event registration is free). The event management platform sends automated emails to the guest list and you can also use it to perform various online polls.
For payment processing, you can integrate PayPal with the event software. It also allows for a few social media integrations (Facebook and Twitter), as well as integration with Dropbox, Salesforce, and MailChimp. You can also access the dashboard through its mobile app.
Eventbrite pricing
Users have access to 3 plans: Essentials, Professional, and Premium. A user pays based on ticked sold. For the Premium plan, you will have to contact the company.
Eventzilla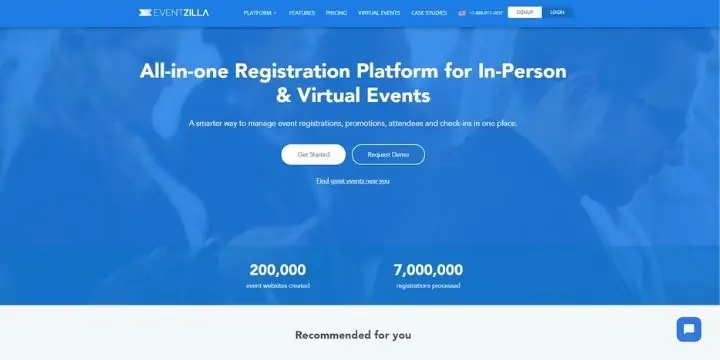 Eventzilla is one of the best event management software for both virtual events and direct events. You can use the platform to eliminate various manual processes and to simplify otherwise cumbersome procedures.
The event planning software can be utilized for promotions, check-ins, online registration, and everything else related to the event planning process. You can use its simple registration forms to hasten the process and increase the conversion.
Managers utilize the software to track numerous tasks and sessions at the same time. You can integrate it with more than 100 different apps thus creating one wholesome dashboard from which you can control everything.
It is one of the better software solutions in terms of customer support. The online registration for attendees will be simplified due to numerous payment options like cash, bank transfer, invoice, credit, and debit cards.
While this event management solution has numerous great features, its text editor could be better. Numerous payment options are great but the interface does need some work.
Eventzilla pricing
Event planners can choose between 3 payment options: Basic ($1.50 per registration), Pro ($1.50 + 1.9% per registration), and Prepaid ($1.50 + 2.9% per registration)
Everwall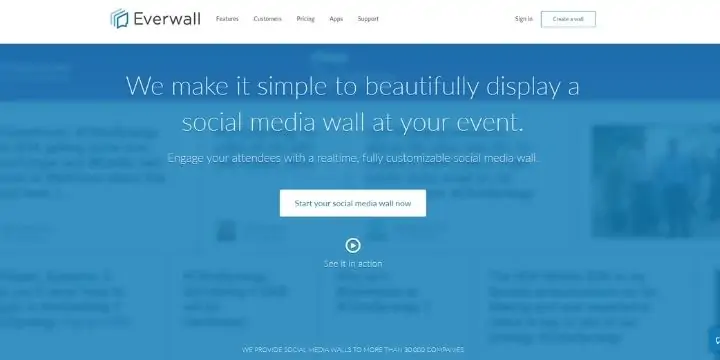 This event management solution is especially great because you can combine event management with social media campaigns. The platform works in real-time, so your attendees will never have to wait for downloads or updates.
Leaderboards are of Everwall's most intriguing features. You can utilize it to rank attendee engagement on Twitter by checking how many times they've mentioned some of the top keywords. You can also use this feature to analyze their followership.
The event management software allows for Instagram and Twitter polling. That way, you can better assess the online event and its success. Event planners can also use this data to improve their future events and event registration rates. If that wasn't enough, there is also a filtering feature that allows managers to eliminate any spammy or unwanted behavior.
With this platform, you can check numerous types of data including the reach and volume. It has a wall builder that would allow you to copy-paste the code in order to embed social media icons.
Everwall pricing
Everwall has two pricing options: Self Service ($39 per event day) and Full Service ($299 per event day + $1,000 setup).
Boomset
This is one of the better software solutions if you need an all-in-one event platform for online event or for a physical one. You can use it for both online events as well as direct ones. The product focuses on sustainability, and it can significantly increase the profitability and control of your events.
You can utilize the event management software for eliminating any delays and errors that occur during the badge and wristband printing. With its advanced facial recognition feature, you will be able to scan all the attendees before they join the venue. This makes the attendee management tool a perfect choice for high-security events.
Among others, Boomset is good for lead retrieval. The staff can gather data about attendees and store them in a virtual dashboard. Smart Sessions is another feature worth mentioning. You can use it to prevent overbooking and other potential booking problems.
At the end of the event, organizers can use all of this data to analyze visitors and process statistics. There are notifications for teams that would help everyone stay on the same page.
Boomset pricing
The event software has 3 versions: Intro ($4,000 per year), Pro ($7,500 per year), and Expert ($15,000 per year).
Fonteva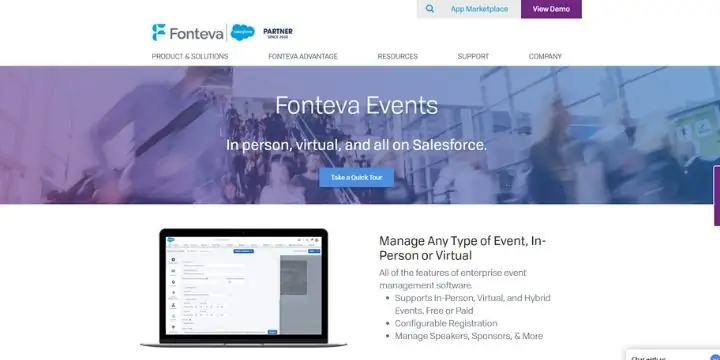 If you're looking for management software that can easily integrate with Salesforce, there aren't many options better than Fonteva. Users can transfer all the data from the event management software into Salesforce that would allow tracking of nuanced financial information. Because of this feature, Fonteva is especially popular among trade associations.
This is one of the best event management tools for tracking transactions. You can utilize the platform to check all the cash inflow, payables as well as receivables. Once the event is over, you can perform a financial analysis. The software is especially great if you need to determine gross inflow and outflow of resources, as well as resource allocation.
When you create events, you will be able to send automated emails to all the attendees. Badge management will give you greater visibility and it will allow you to stand out from the others.
Fonteva is one of the best management systems for companies with lots of stakeholders. There are several different portals you can use to access the platform. Its interface is very simplistic, and it can be utilized by all users regardless of their experience with event registration software.
One of the main critiques of the software is that it doesn't have a free version. Also, its plans are a bit expensive compared to the competition, so if you just want to make a quick online event this might be a bit pricy.
Fonteva pricing
This award-winning platform starts at $175 per user per month.
Whova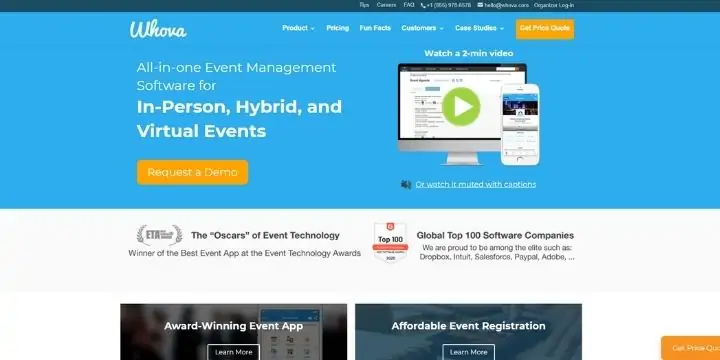 Whova can be used by various event companies regardless of their size. It is very modern, with a simple interface, and you can use it to manage events even if you have no experience with similar software.
Besides the fact that the event management software will save time, it will also increase ticket sales. The virtual tool can be utilized for managing several tasks at once and tracking their progress. It is especially good for larger, international teams as it is cloud-based and provides all the data in real-time.
What makes Whova one of the better event apps is the fact that it will simplify the registration process. You can utilize its numerous features to boost marketing performance. Lastly, it is a great ally for event ticketing.
The award-winning software received its accolades in 2016, 2017, 2018, 2019, and 2020. The platform is utilized by some of the biggest companies in the world including Oracle, Lego, IKEA, US Bank, and so on. With Whova, you can organize various types of events including summits, conventions, conferences, trade shows, association events, and so on.
Whova pricing
You will need to contact the company for a quote.
Tripleseat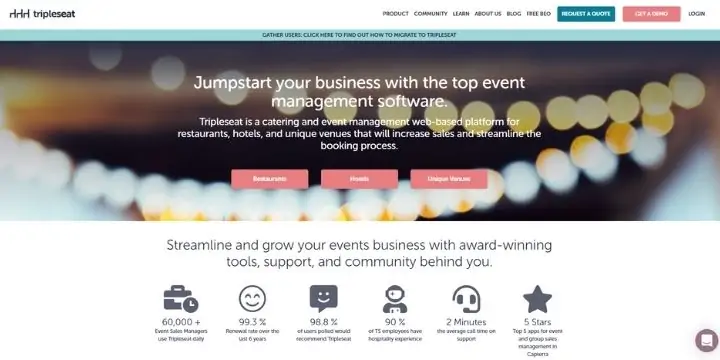 Like most other tools on our list, Tripleseat can be utilized by almost any event organization. However, it has shown the best potential for hotels and restaurants. By relying on this tool, you are able to streamline event management processes.
The event management software has an intricate dashboard that would allow you to track revenues event-by-event. You can check the status of every revenue, creating funnels and leads in the process. All of the data can then be analyzed as a way of increasing efficiency.
With the Smart Suite feature, you are able to create professional proposals that would showcase your company in the best light possible. Tripleseat offers numerous integrations that would increase the versatility of the platform. You can combine the tool with numerous email marketing apps, social media tools, hospitality platforms, etc.
The event management software is incredible for creating documents. You can also utilize it as a way of increasing and refining possible lead sources. Besides using it to manage events, event organizers can utilize the tool to communicate with their team members.
Tripleseat pricing
You will have to contact the company for a quote if you wish to use this management platform.
RSVPify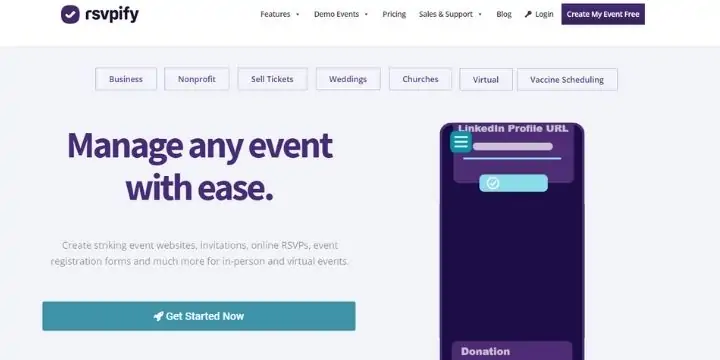 As the name implies, you can use this virtual events app to create RSVPs. What's even better about this management solution is that it's free and easily accessible.
You can improve event planning by relying on one of its numerous features such as intricate dashboard, guest list management, customer QR codes, and seating chart maker.
The tool allows for a high degree of customization. Each message that you create can be customized for a specific attendee. This is especially important for high-tier events where ticket prices tend to be very expensive. Naturally, all of the documents created within this software can be important and exported at any time.
Perhaps the biggest issue with the event management software is that you cannot set up email invitations that easily.
RSVPify pricing
You can subscribe to 3 different versions of the product: Small Events (free for up to 100 invites), Business and Non-Profit ($39 per month), and Enterprise ($499 per month).
Momice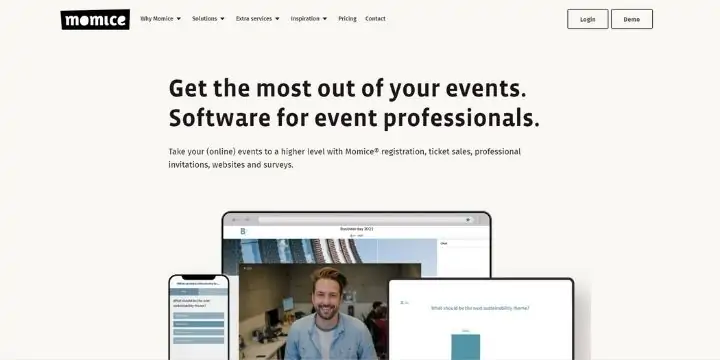 This event software is meant to adapt to your brand needs by aligning with the theme of every event. It can create a highly customizable experience for all the participants. Furthermore, it will help diversify your events from those that the competition is organizing.
Momice has a few noticeable features including automatic event registration, smartphone scanning, GDPR compliance, and account manager module.
The platform can be utilized to create traditional events or a simple online event. Manage them, and measure their performance. A company can use it to sell tickets, but also to create specific lists and tickets based on the type of audience.
As you can see, the platform provides numerous customization options. Among others, you can use it for live polling as a way of measuring attendees' engagement. You can even change the language of these polls in order to accommodate international visitors.
Over time, the users have experienced a few problems with the platform. Some of them were unable to enter the website, while others complained about the customer service.
Momice pricing
The company allows you to create a customized plan based on the number of events and users. The cheapest version starts at $2095.
Why use event management tools?
If you are still wondering why you should use event planning software, here are a few reasons!
When you are making an event for 5 people, there is not really much to plan. If you are planning an event for 100 people or more, event management software can help tremendously. Just imagine how hard the ticketing would be for a location based event. Or how would you have to manually distribute the event information to the users when you create an event.
It is hard to imagine managing ticket sales, registration, payment processing, and event details for 100 people without event management software.
Event management software is a great way to plan the event and organize all of your information in one place. You can create invitations, track payments, send out emails information, distribute tickets, and much more!
Event planning would be quite impossible to manage when you are organizing it for a lot of attendees.
Main Features of Event Planners
Here are some of the main features event management software can offer you:
Event templates – Create invitations, registration forms, and other event details with ease.
Guest lists – Keep track of who is attending your event!
Registration settings – Define how the attendees register for the event as well as what type of information they need to provide in order to register.
Event management software helps you with event logistics, budgeting, and much more!
This is just the main outline.
How to choose amongst event management tools?
The choice of tools is quite wide and here are quick tips on how to choose amongst the wide range of event planning software.
Ease Of Use
First of all, event management software should be easy to use. You need event tools that will help you create invitations, registration forms, and other event details with ease. If it's too complicated, people won't want to go through the trouble of using a tool at all.
Integration
Chances are that you already using a CRM or a marketing automation tool. event management software should be integrated with your other event tools. This way, you can save time and not have to switch between event planning software too often.
Collaboration
No matter if it is an online event or a physical event, there is always more than one person organizing. Event management tools should allow you to collaborate with event organizers, event planners, and other team members.
Event Registration Forms
Most event software will have a wide variety of uses for this feature, but still it is worth mentioning. Event registration is the key aspect of any event (duh!) so you should make sure that the registration forms and event ticketing is perfectly smooth and can be branded.
Reporting and Analytics
Being able to manage your event attendees is key when it comes down to event logistics, so make sure that this feature is available in your event management tool of choice.
You want to just have a glance and know how your event is doing, without a need to dig into analytics to get the data you were looking for accessible from anywhere, even from a mobile app.
What are the 5 C's of event management?
In order to make sure that you picked up the right event software for your virtual events (or physical ones), let's quickly go over the five C's of event management – to make sure you run the best event!.
Concept
Every event starts with a concept, it's the idea that inspires event organizers to put together a gathering around a topic or a theme.
Coordination
Even the greatest of ideas can be botched if your event won't have an organized group of people to execute it. Coordinating an event is crucial in order to have all the event's ducks lined up, and make sure that everything goes according to plan.
Control
From the registration throughout the arrival of the first guest, until the event is finished – everything should be under control. Event managers are not only responsible for organizing an event, but also ensuring that it runs smoothly and without any hitches along the way. So the use of various equipment and tools including attendees registration lists, communication tools, and many others is a must.
Culmination
Another thing that separates a great event from a good one is the culmination. The highest point of the even, the main highlight. If event attendees are not left with a feeling of accomplishment or that they experienced something special, then the event may be considered unsuccessful.
Closeout
Closing of the event is maybe even more important than the opening. It does not mean only the end of an event, but it is a point of discussion, feedback, ideas for the next event, discussing attendee experience, and more.
What is the best event management software?
It is very individual but Attendify and Eventbrite seem to be like solid contenders. But check out some of the other event planners as well. The vast majority of them offer a free trial, so you can test without any limitations.
Conclusion
Conclusion paragraph: We hope these event management software tips have helped you in your search for the perfect event management software. Remember, there are many different types of tools out there and it is hard to tell you which one is best for your needs without knowing what those needs are.
Make sure to test several of the event software tools before settling and I hope that your next event will be a huge success!
Event Management Software FAQ
Why do I need event management software?
It will allow you to keep everything organized and communicate with your teammates, track registration, monitor ticketing, etc.