In this post, I will review some of the best EDI software. If you are not familiar with the term it stands for electronic data interchange.
While you might think that you do not need it, companies with huge volumes of documents flying around would not be able to function efficiently without it.
What is EDI Software?
EDI stands for electronic data interchange. As the name suggests, it is a tool that helps two entities exchange documents.
But why not use email or Slack or something similar? Well, there are 306bn emails sent EACH DAY, now imagine if just a fraction of those contained invoices, order lists, and inventory requests running between suppliers, vendors, wholesalers, logistic companies, etc.
That would be impossible to manage without EDI software. This tool helps you monitor, archive, and organize the flow of documentation between companies. It keeps the communication secure, ordered, and with the whole history of what was exchanged.
Best EDI Software and Platforms
Below you will find the best pick of the EDI software that I was able to put together. These types of tools are usually used on the enterprise level, so while there are some price differences – free EDI software is very difficult to come by. At the end of the day, they have a very important (critical) function, so it is better to make sure that the EDI platform that you are using is secured to the max.
SPS Commerce Fulfillment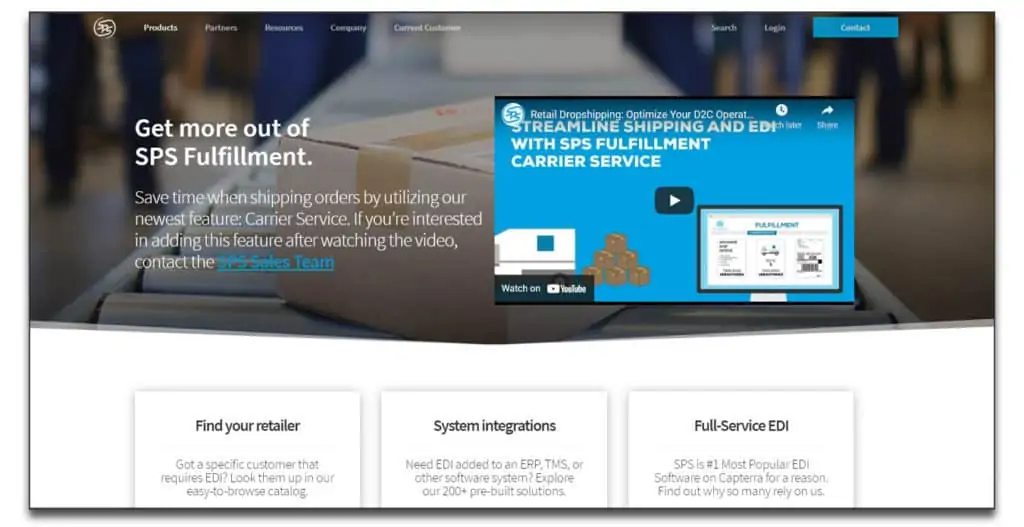 Most experts believe that this electronic data interchange solution is one of the better EDI solutions if you wish to centralize transaction processes. SPS Commerce Fulfillment is an EDI software that gives you a lot of control over data exchange. You can use it for almost any kind of enterprise or organization, including retail stores, eCommerce companies, distributors, and logistics businesses. Needless to say, it is software that can have a major impact on your bottom line by improving internal processes.
SPS Commerce Fulfillment has great features such as status tracking, order management, search functionality, and invoice management. You will have access to a dashboard that allows you to track all of the incoming orders, items that need to be shipped, missing shipments, etc.
Your programmer will have access to this EDI provider's API, thus allowing integration with various other tools. The electronic data interchange solution can be used with Shopify, Microsoft Dynamics, Oracle NetSuite, QuickBooks, and so on. This is one of the best EDI software if you wish to achieve error-free order fulfillment. The company offers its users support via phone, email, and online chat.
SPS Commerce Fulfillment pricing
When it comes to the EDI software cost, the pricing begins at $99. You have to contact the company's sales team for additional information.
Cleo Integration Cloud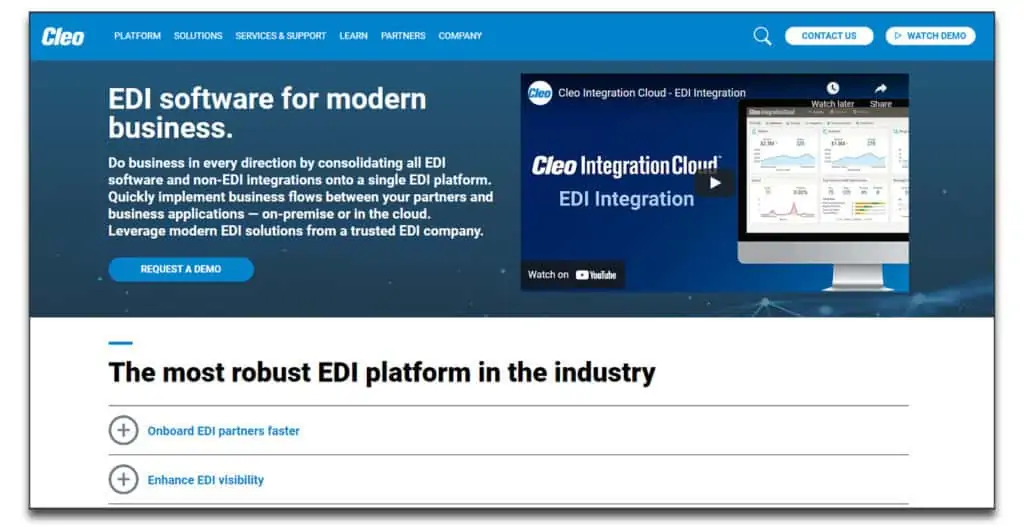 Cleo Integration Cloud is probably one of the best EDI software regardless of the features. It does everything on a very high level allowing you to focus on other aspects of the business. The electronic data interchange tool can connect you with other organizations rather seemingly. The tool comes with premade templates, partner profiles, and connectors.
The EDI software has a customizable dashboard that allows users to create a work environment according to their preferences. With Cleo Integration Cloud, you are able to detect risks as well as potential issues while resolving all these problems as you go.
Cleo Integration Cloud allows you to transform the data so that it is applicable to its destination point. It has numerous filters and an intuitive interface; you can use it to track, follow, and share potential problems with your team as they occur. Like most other EDI providers, Cleo Integration Cloud gives you an API that can be integrated with other software.
Cleo Integration Cloud pricing
Like many other platforms on this list, you can't see the pricing for different plans. However, you can see available features for each one of them. You can choose between Express, Essential, Business, Professional, and Premium plan. They have a lot of differences between them, such as the number of connections and available CIC agents.
Anypoint Platform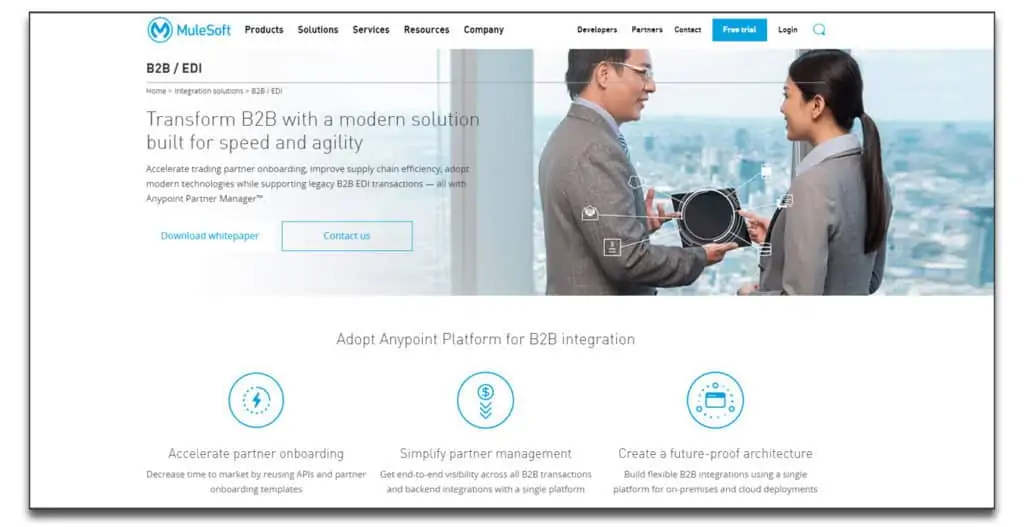 If you're looking for the best EDI software for handling multiple trading networks, it doesn't get better than the MuleSoft Anypoint Platform. This is cloud software that allows you to track all purchases and shipments. Anypoint Platform is highly adaptable and can meet all your needs. While you can use this electronic data interchange solution for any kind of business, it has shown optimal results for financial services, health care, government, education, and retail.
Anypoint Platform is great for organizations that need to solve their end-to-end integration problems. Among others, it allows you to combine data management, application management, and application connection all in one tool. Companies can use the tool to share and receive data by relying on B2B EDI formats like EDIFACT, RosettaNet, X12.
It is one of the best EDI software for API lifecycle management. You can either utilize the existing API or custom-make your own. With Anypoint Platform, you get notifications about every transaction, as they happen, on any device.
Anypoint Platform pricing
Anypoint Platform team doesn't disclose prices publicly. However, it gives potential clients a free trial, so they can check out the tool's features. They have 3 plans: Gold, Platinum, and Titanium. Gold has all the basic features, while Platinum adds higher availability, business groups, and global cloud deployment on top of that. Titanium has all of this, plus advanced data analysis, distribution log management, and search.
Cin7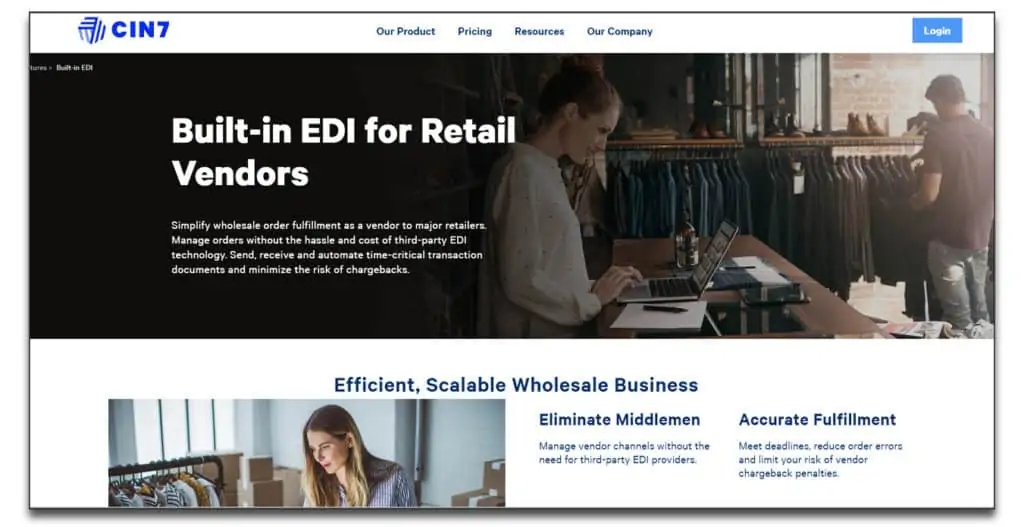 Cin7 is one of these EDI solutions that allows you to manage every aspect of your business. It is a cloud-based service that has powerful features like inventory management, e-commerce, reposting, and point of sale. With this platform, you won't have to use any other software.
The platform is particularly amazing for larger corporations and organizations with numerous warehouses. You can use it to track inventory and determine if you have too much or too little goods in certain places. Cin7 can be used for calculating the sale price as well as the cost price of various items.
With its POS feature, your sales team is able to manage stocks in real-time. All of that can be done while processing cash sales from any device. The EDI software gives retailers an option to manage promotional campaigns and loyalty programs. Like many other tools on the list, this electronic data interchange solution can be used by anyone, but it excels for the fashion industry, furniture, electronics, and appliances.
Cin7 pricing
There are 3 plans to choose from, each one custom-made for a specific size of a company. You can go with Small Business plan ($299), Business ($539), and Advanced ($999).
DELMIAworks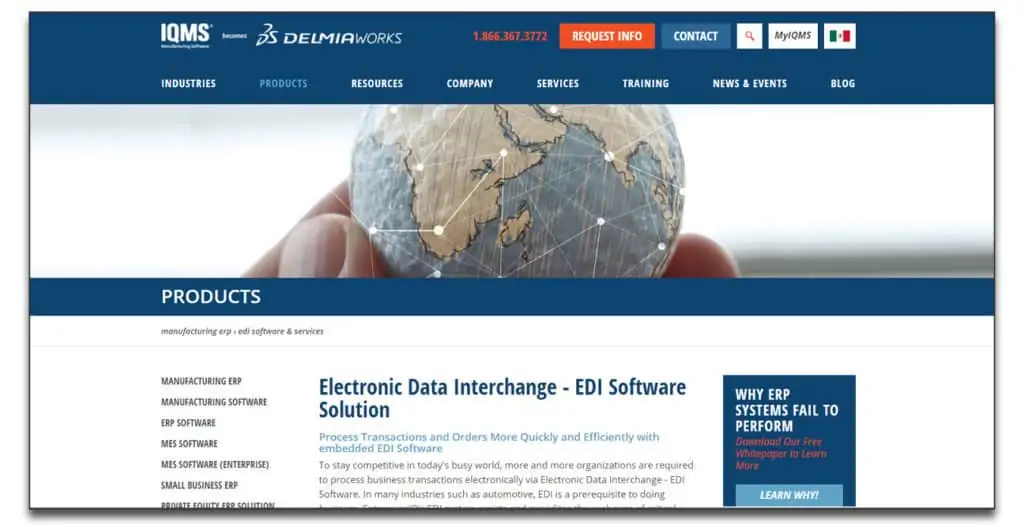 DELMIAworks is one of the best EDI software on the market. It was previously known as IQMS, and it specializes in SMB and large manufacturers within the medical device, aerospace, food, automotive, consumer, packaging, and electronics field.
The platform focuses on end-to-end control and visibility. The EDI providers managed to combine MES, ERP, as well as manufacturing software to create a tool that would be able to track all business activities throughout a supply chain. You can get both cloud and premise-based versions.
DELMIAworks combines various systems into one. You are able to manage manufacturing operations and enterprise resource planning from one and the same platform. A company can also utilize the software for their accounting, purchasing, CRM, business intelligence, product planning, and scheduling, as well as many other functions.
By implementing this EDI solution, you are able to automate your processes, ensuring that the customer gets their delivery on time, every time. With it, you are able to eliminate human errors, increase your plant output by at least twofold, increase overall production efficiency, and increase inventory visibility.
DELMIAworks pricing
The EDI software cost is not shown on the website. Like with many other electronic data interchange platforms, you will have to contact the company to get a quote.
Boomi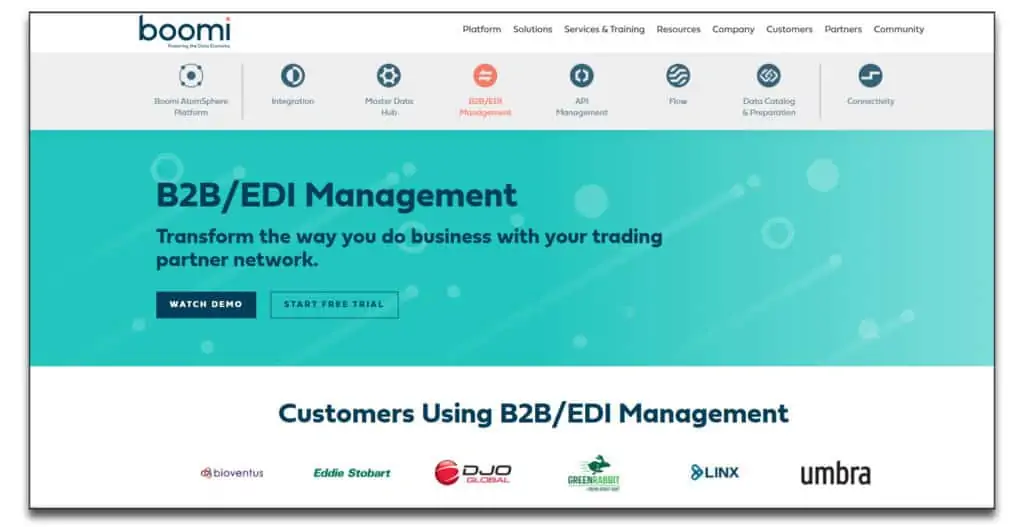 Dell Boomi is a cloud-based platform. It represents one of the premium multitenant integration platforms on the market that would allow you to improve your integrations while also simplifying the management processes. Boomi is great for scaling businesses and will provide a solution to all your app integration needs.
Your company can use the EDI software as a way of centralizing all the data, processes, and apps on the platform. Boomi can be integrated with other software that you're already using in order to link various systems. Some of its best features include data flow recommendations and low-code pricing. However, there are other things to look forward such as multiple data sources, EDI testing, extraction, transformation, and load (or ETL), extensive analytics suite, and cloud deployment.
Boomi's main selling points include extensive integration, flexibility, and ease of use, as well as built-in connections. Over 15,000+ companies are using the platform, and it will also modernize your processes as well.
Boomi pricing
The pricing is available per request. You will need to contact the company beforehand and give them your quote. Keep in mind there is also a demo version that would help you make a decision. All users have the phone and chat support during business hours.
EDI Power Reader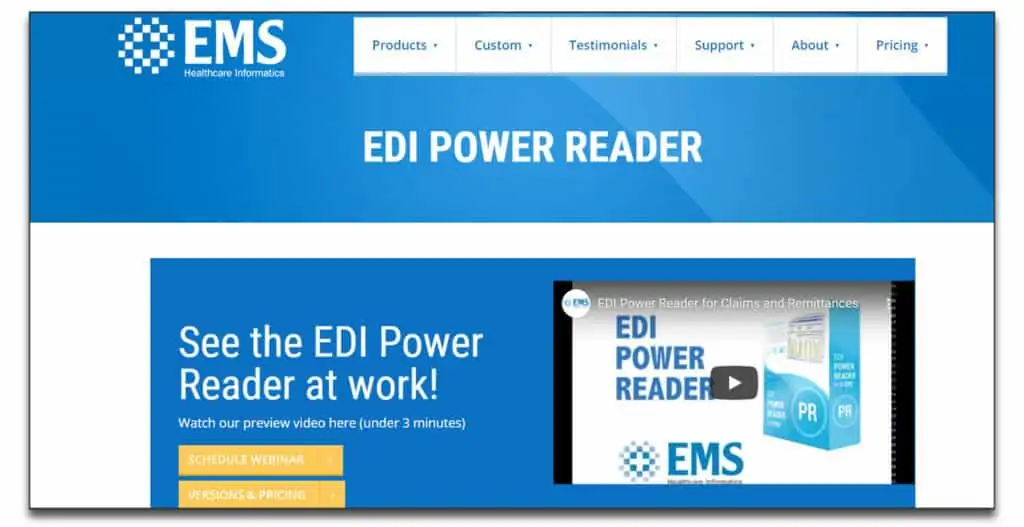 Unlike most other products on the list, this is an on-premise exclusive solution. EDI Power Reader is probably the best EDI software for healthcare organizations. It is great for hospitals, clinics, home care, managed care, pharmacies, labs, RCM billing, and behavioral health.
Like many others, it allows you to have all the company data in one place, easily accessible to all the verified users. With this platform, you are able to search records by relying on its sophisticated query function. Among others, it is a great way to filter rejected claims.
What's great about this platform is that it allows medical workers to view 835 remittance files in a better layout. You can use it to rearrange data according to your liking. There are several filters, such as paid amounts, denial amounts, and so on, that would allow you to create tables according to your priorities. Then, the user is able to view, print, or export the data.
EDI Power Reader pricing
The users can choose between 4 different EDI Power Reader plans: PR100 – EDI Power Reader Single Format ($2,750), PR200 – EDI Power Reader Multi Format ($5,500), PR300 – Reader Enterprise License ($10,750), PR500 – PR Modification (contact the sales team). All of these plans are billed annually.
Celigo Integrator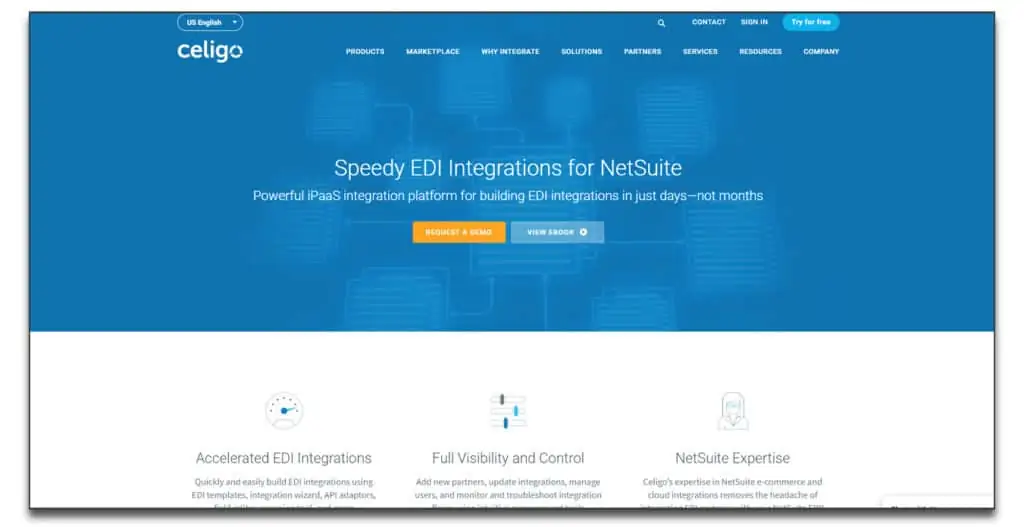 Celigo Integrator is one of the EDI solutions that unifies several tools. The company used SmartConnectors, integrator.io, and CloudExtend to create a platform that would provide businesses with more control over their daily operations. Celigo is a cloud app that makes it easier for companies to streamline their processes.
The app has several nifty features such as pre-built integrations, flow builder, data loader, developer tools, integration app framework, autopilot, error management, and enterprise-grade security. When you pay for a plan, you get access to NetSuite integration, eCommerce solutions, Salesforce integration, EDI solution, high-tech solutions, and banking integrations.
Like any other platform on the list, Celigo is meant to save you a lot of time and money. You can use it to reduce overall costs while growing your sales. It provides an additional layer of security to your transactions, and it will also help the online processes.
Celigo Integrator pricing
You can choose between 4 different plans: Standard ($7,200), Professional ($18,000), Premium ($36,000), and Enterprise ($72,000). All of them are billed on an annual basis.
ConnectPointz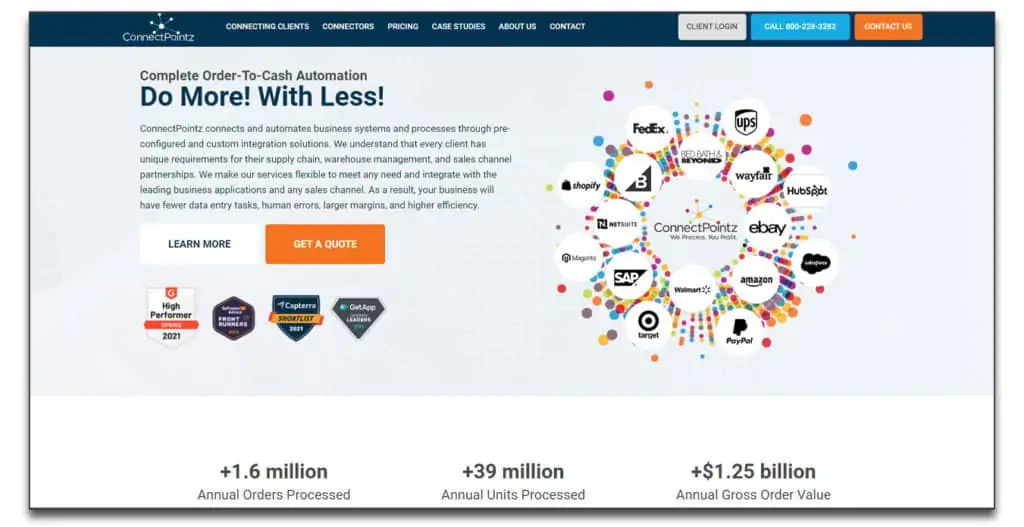 ConnectPointz is one of the better EDI providers for companies of all sizes. With their platform, you are able to manage transactions, inventory, and billing. You can use it to validate and translate data across numerous orders.
Among others, this is a great tool for creating various promotions, reminders and increasing your organization's visibility. The EDIT software can simplify collaboration between team members, create budgets, evaluate capital requirements, and manage cash flow in a more efficient way.
The platform allows various integration solutions. For example, you can use it for SAP integration solutions, integrated retail solutions, QuickBooks integration services, shipping and logistics, ERP system integration, and enterprise integration solutions. The platform provides electronic data exchange and delivery in various formats, as well as automated production reports, shipping, and packaging lists in a format of your choosing.
ConnectPointz pricing
The company has a complex pricing system. There is a specific price per connector as well as for processing orders.
iR*EDI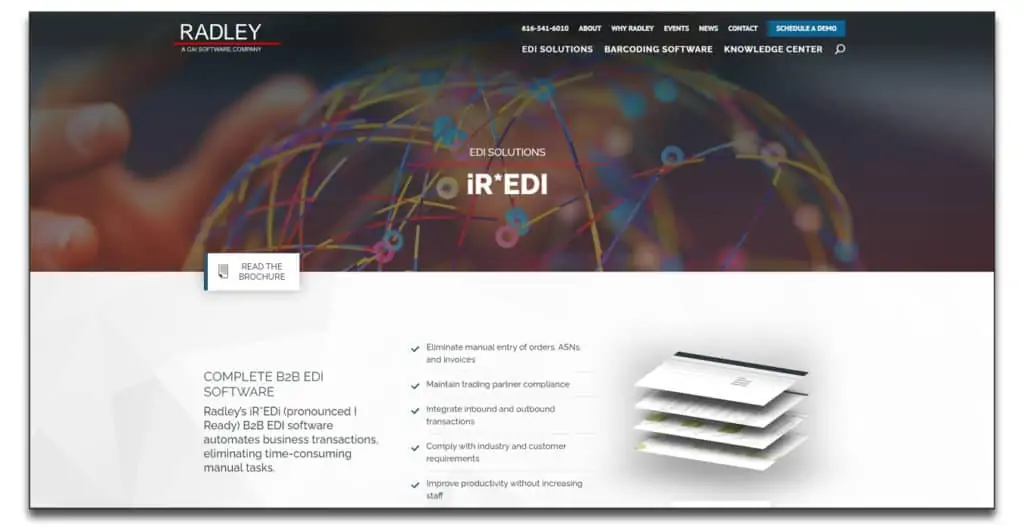 This EDI platform can assist companies with most of their data exchange needs. You can use it for various invoices, purchasing orders, and ship notices sent between various organizations. The platform can do a lot of things for you, such as eliminate manual entry of orders and invoices, help you maintain compliance with your partners, help you maintain industry compliance, adapt to customer requirements, integrate various transactions, increase productivity without increasing overhead costs.
This electronic data interchange solution can be used for collaboration, data recovery, communication between teams and companies, HIPAA compliance review, and many other things. You can use it to view documents in the format of your choosing, to archive files, recall document statics and numbers, define processing and archiving levels, and process transactions. You can either use it on cloud or deploy it on your own premise.
iR*EDI pricing
Like with most tools on the list, you will need to contact the company's sales team in order to get a quote.
EDI Software Summary
Settling on an EDI software is quite a big decision. That is why many providers have demos, webinars, or even trials that should make it easier for you to get acquainted with their tools. You should definitely give a couple of those a try before making the final purchase and company-wide implementation.
FAQ
What is EDI?
EDI stands for Electronic Data Interchange.
What is EDI software?
EDI software help companies to keep track and exchange big volumes of documentation.