Apparel software platforms are tailored (pun intended) to put your retail business to the next level. Let me rephrase it, with the growing volume of orders – you will not be able to function without automatization and that is exactly what these tools will bring you.
The online apparel business is projected to reach $100bn this year, which would be hardly achievable if everybody would use Excel and Google sheets. But jokes aside, apparel software will solve many of the planning and production bottlenecks that will start to surface as you grow.
Best Apparel Software
Below you will find a compiled list of best apparel software platforms, compared based on their main features and prices.
ApparelMagic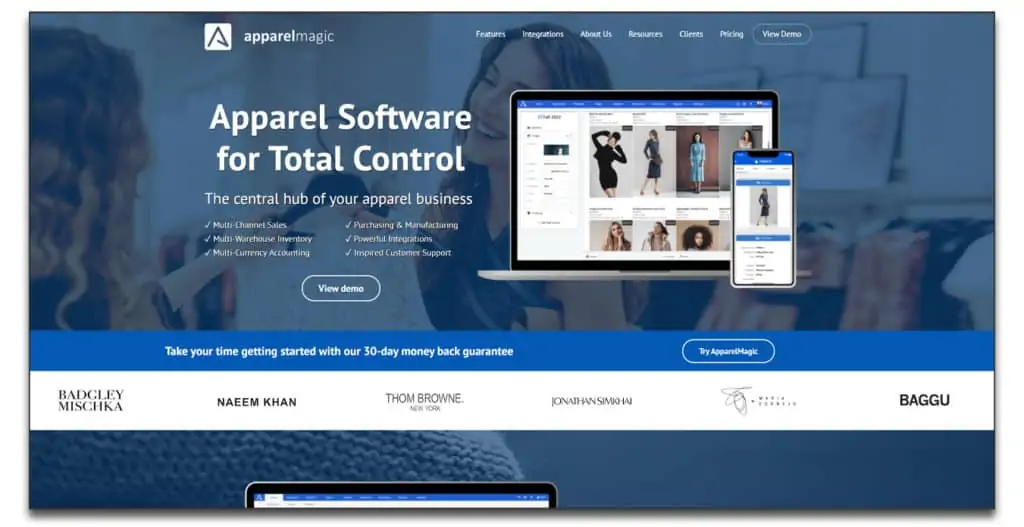 ApparelMagic is one of the best apparel management software on the market. Whether you're a small retailer or a wholesale company, you can benefit from its numerous features. This apparel ERP is meant to streamline your processes, making it easier to manage customers, products, sales, vendors, and other aspects of your business.
The platform is cloud-based, allowing you to access it from anywhere in the world. It is also a great solution for larger teams as they have access to the same data from different devices. Magic Apparels is especially great for its product lifecycle management feature. It provides numerous analytical data that would allow you to modify strategies over time.
The Magic Apparels can be used by any type of fashion company. The customers have access to various support features such as live chat, phone support, forum, and email support. What's interesting is that the company also provides various training. You can access their live online training, webinars, and documentation.
The apparel software can be integrated with other popular applications such as Shopify, QuickBooks Online, ShipStation, etc.
ApparelMagic pricing
Here are the plants for ApparelMagic: Basic ($120), Professional ($225), Enterprise ($495), and Ultimate ($1250). The main difference between them is in the number of users, integrations, and warehouses.
Delogue PLM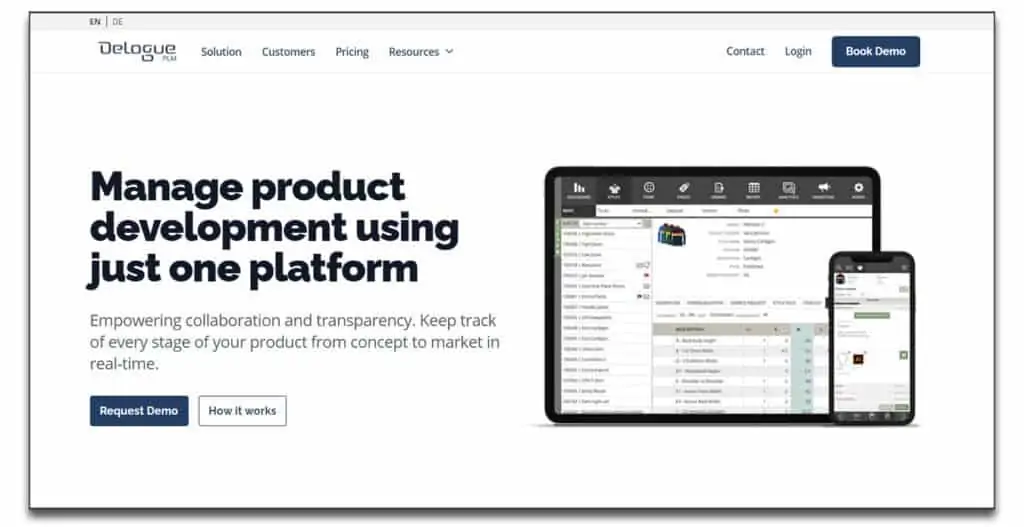 Perhaps the main reason why you should try Delogue PLM is that it's so easy to use. The apparel ERP software allows you to connect various management processes into one. You can use it for planning, buying, designing, financing, marketing, manufacturing, and other things.
Delogue PLM can affect your business in numerous ways by providing increased control and monitoring but also reducing costs and increasing production efficiency. The apparel design software puts all your data in a single source of truth or SSOT. As mentioned, this allows you to automate processes while also having a better overview of everything that's going on.
The platform is deployed on the cloud. A user has full company support in the form of online chat, phone and email support, knowledge base, and forum. As for the apparel software features, you get cataloging, data import and export, material management, presentation tools, fashion illustrations, product and supplier management, and few other things.
The company also provides training for all the users so they can utilize the platform more efficiently. You have in-person training, webinars, documentation, and live online training available to all customers.
Delogue PLM pricing
There are several pricing options paid on a monthly basis: Business plan ($109), Professional plan ($159), and Enterprise (contact the sales team). Besides features, they differ in terms of available users and maximum data storage.
Lightspeed retail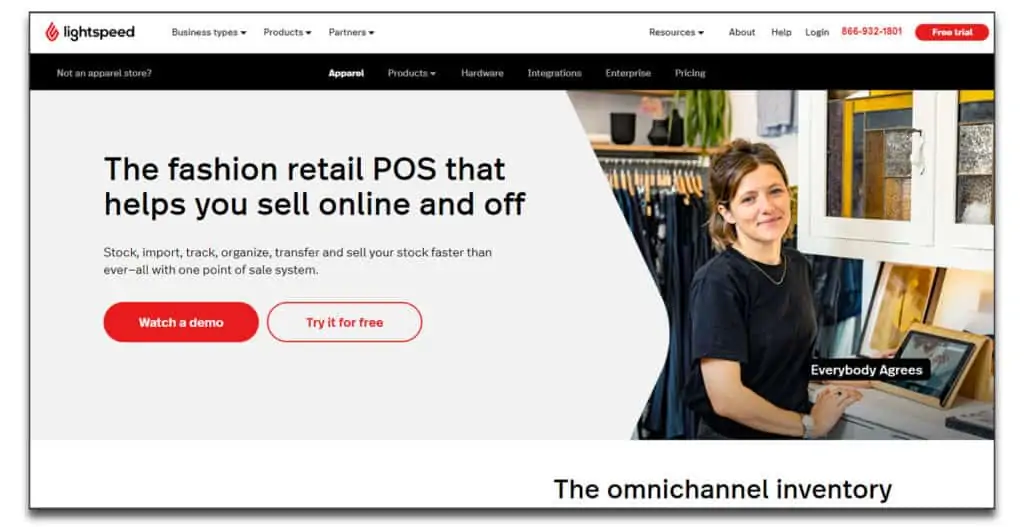 Lightspeed retail is an apparel ERP software that has an extensive analytics suite. With it, you are able to optimize your processes and determine what it is that you're doing wrong and how to correct it. The apparel design software focuses on customers and their needs. By using the tool, you are able to increase conversion and retain customers.
The tool received several awards and accolades in 2002. It is ranked as the top 20 barcoding software, inventory software, and restaurant POS software. A user has access to various features such as bar POS, barcode and ticket scanning, access controls, check-ins and check-outs, cost tracking, customer accounts, and history, channel management, and many more.
You can use Lightspeed retail on almost any device. It can be deployed on Windows; on your premise. It is also suitable for iPhones and iPads. Lastly, this apparel ERP is cloud-based, allowing your whole team to access it at any time, from any spot.
Lightspeed retail pricing
The company has different pricing for retail, restaurants, and golf. For the purpose of this article, we will focus on retail plans. Every next plan adds another feature on top of the previous plan's features. You can opt for Basic ($69), Starter ($99), Standard ($119), Advanced ($169), and Pro ($229).
Orderhive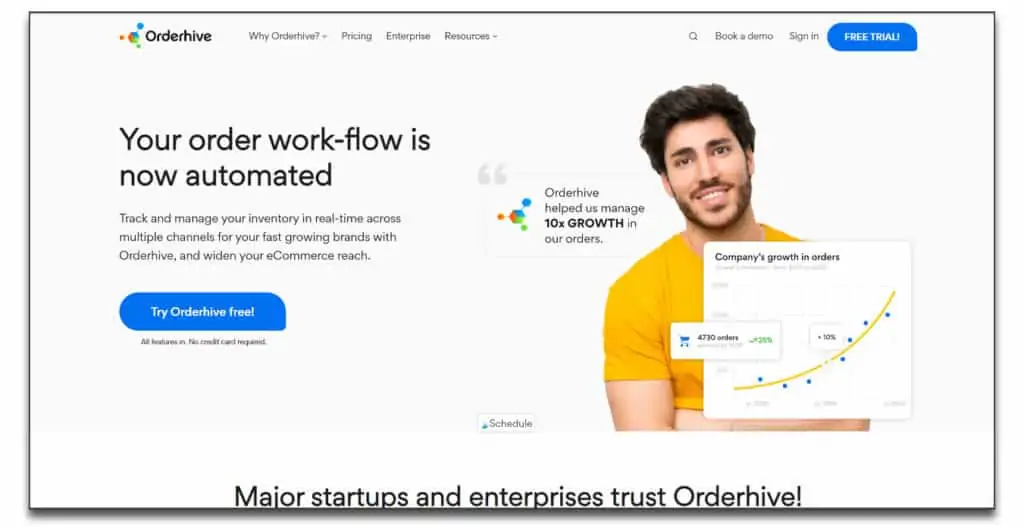 Orderhive is a great platform that would allow you to automate daily operations. This apparel management software is tailor-made for fashion companies regardless of their size. You can use it for your small retail shop, for a larger wholesome business, or even for an online dropshipping website.
One of its main selling points comes in the form of integration. You can connect it to larger web markets and platforms such as eBay, Amazon, and Shopify. The software is flexible and allows for a high degree of customization. You can use it to track shipments, manage and change products, streamline orders, create bundles and offers, and so on.
Like with most similar tools, Orderhive allows you to eliminate human error. You can put all your operations and data in one, easily accessible place. Lastly, the apparel design software is great if you wish to make sales and inventory projections based on the current fashion trends.
Users get access to various features, including air shipping, ground shipping, kitting, forecasting, billing and invoicing, materials management, and so on.
Orderhive pricing
A user has several plans at their disposal, including Free plan, Lite ($45), Starter ($135), Growth ($270), and Enterprise (contact for price). The free plan has the basic features, and with every next plan, you get additional features.
GoFrugal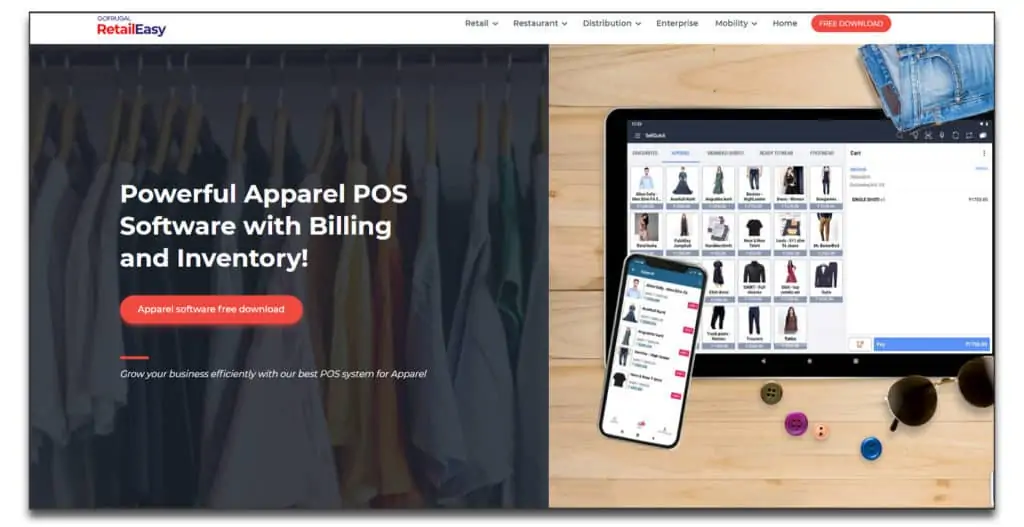 GoFrugal is a software meant to assist apparel stores, restaurants, and distributors. The apparel ERP has earned numerous awards in the past few years. For example, it was a winner of Crozdesk software awards, it was the most recommended platform in 2020 by Software Advice, and so on.
The platform focuses on several main things. It allows you to help customers by speeding up delivery processes. It also provides them with several channels of access and flexible payment methods. The apparel management software also reduces the learning curve for new employees.
In order to use GoFrugal, you don't need some special knowledge. The platform is quite intuitive, and you can set it up within a few days. If that doesn't work, the company provides various types of training that would introduce your team to the software and its features. For example, you can access videos, documents, webinars, but you can also get in-person assistance.
GoFrugal is very flexible in terms of available access. You can use it on Mac, Windows, Linux, Android, iPhone, iPad, and it is also cloud-based.
GoFrugal pricing
You can choose between several plans: Starter ($375), Standard ($625), Professional ($1,500), ERP (contact). The same features are available for every plan, but for cheaper plans, they only come in the form of add-ons.
PatternSmith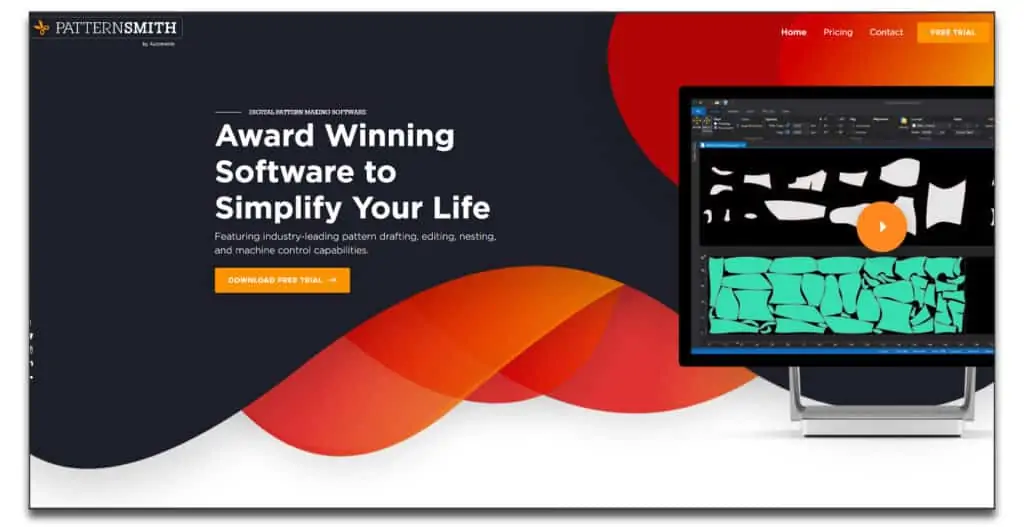 Unlike most other apparel software on the list, PatternSmith has a free trial option. That way, you can see if this platform is the right thing for your clothing company.
The apparel ERP has a lot of neat features. It has a sleek interface that is both intuitive and powerful. This is a Windows-exclusive platform, but you have the option of importing and exporting files. Users have access to embedded help files that would help them when using the software. On top of that, there is a quick guide tutorial.
PatternSmith has a lot of different features. You can utilize it for billing and invoicing, data export and import, inventory, material, and documents management, pattern grading, pattern layout and print, pattern, color, and art storage, and so on.
As the name implies, this is a great apparel design software. It gives you a lot of options when it comes to your products. You also have access to numerous add-ons like HideShot, SpeedLoader, Automatic Nesting, Workflow, Templates, CadShot, etc.
PatternSmith pricing
PatternSmith only has one yearly plan, and it costs $1,000. There are a lot of add-ons, and they all cost extra. This allows you to create a platform based on your likings and required functions.
OnSite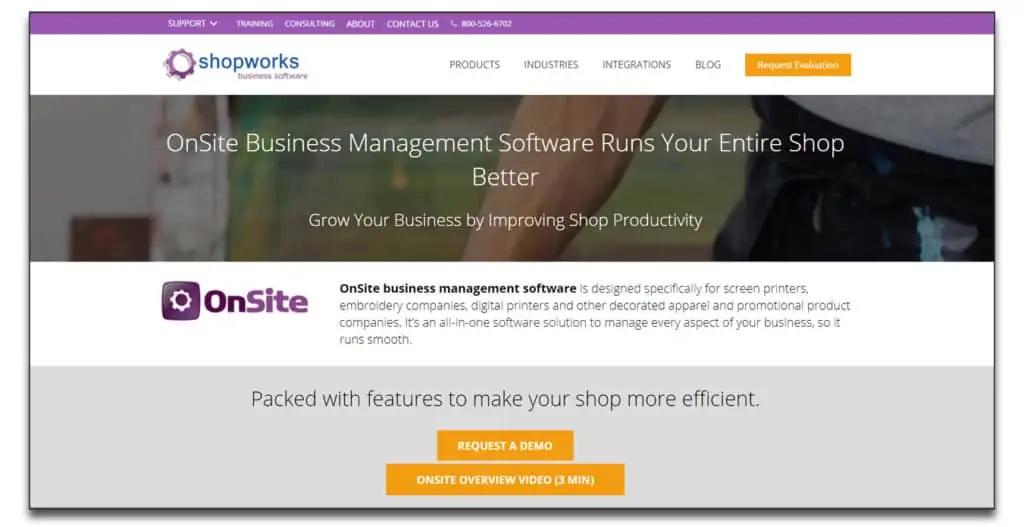 OnSite is an apparel software that provides numerous solutions for fashion businesses. The platform can help you streamline operations, improve scheduling, invoicing, order processing while also reducing costs. A great thing about it is that it allows you to calculate costs based on minor factors such as stitch count or the number of ink colors.
The apparel management software gives you access to various features. This includes general ledger, various financial statements, task manager, keeping track of orders and prospects. It is a great way to manage every aspect of your printing, designing, or embroidering process. You can control and manage artworks and designs, track inventory and stocks, thumbnails, etc.
The software is especially great for its integration features. You can use it with SAGE, OrderMyGear, InkSoft, Shopify, ProofStuff, and so on. Although a bit limited in terms of support (you only have a chat at your disposal), the product is available on the cloud and on-premise.
OnSite pricing
The basic plan starts at $60 per month. There is a free trial, but there is no free version of the product.
Prodsmart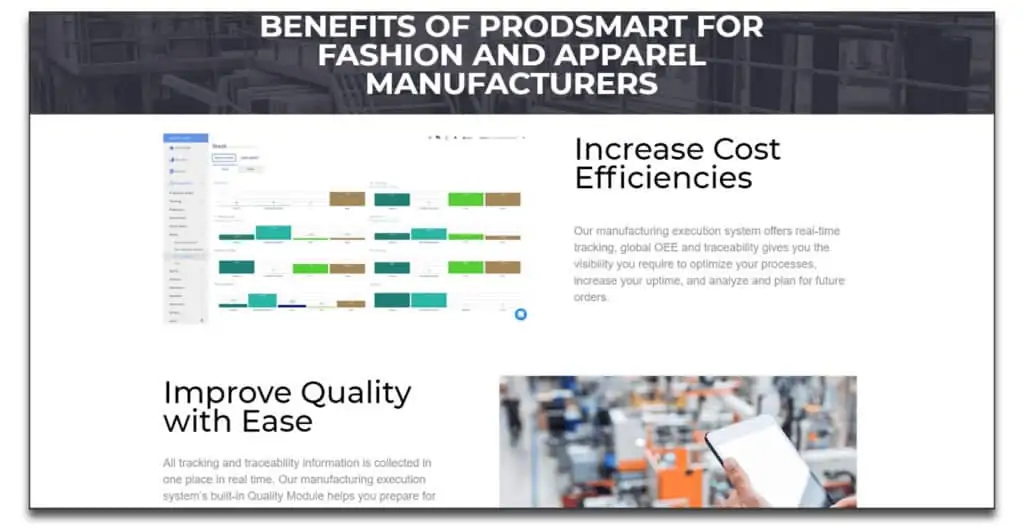 Prodsmart allows you to track and manage everything on the production floor. It is especially great for larger apparel companies that need complete manufacturing solutions. The apparel ERP software has a lot of features such as streamlined quality assurance, comprehensive audit preparation, complete production traceability, real-time and historical data for optimization, and simple, accessible work instructions.
The platform provides SMBs with relevant data. By utilizing this information, the apparel software is able to optimize production processes and improve response time in case of unpredictable events.
Prodsmart can help your organization in many ways. It can increase overall productivity and quality while reducing any waste or scrap that might appear along the way. The tool is great for tracking quality standards, creating feasible schedules, and communicating within a team. Although you can use this tool for the apparel industry, it is also great for furniture, jewelry, textiles, woods, chemicals, electronics, and everywhere else where you have to manage production.
Prodsmart pricing
The core platform costs $600 per month. There are a lot of add-ons that you can include, such as drag and drop scheduler ($300), MES/mobile production tracking ($500), labels and barcode scanning ($100), lot traceability ($400).
PolyPM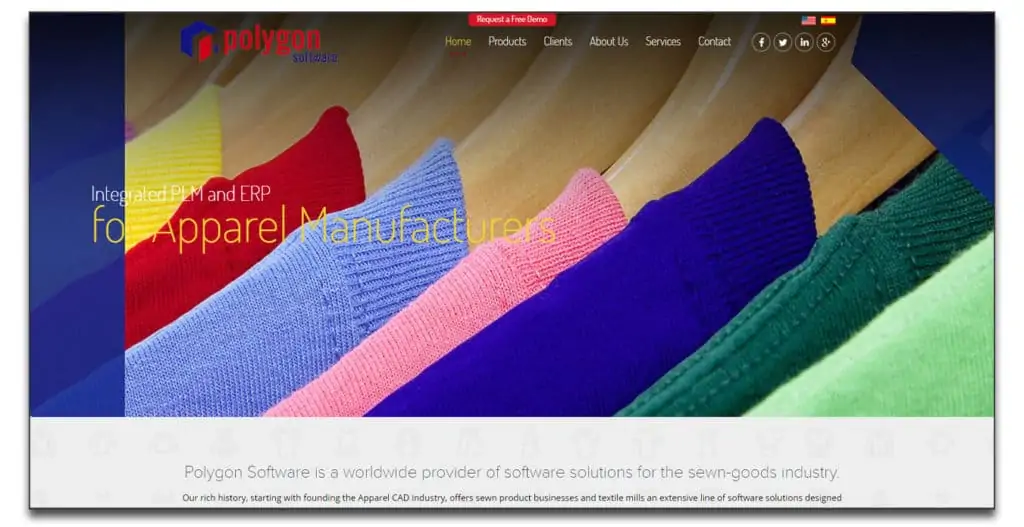 PolyPM is a platform that provides the best results for small and medium textile mills and sewn goods manufacturers. Like any other apparel software tool, it helps you streamline all your processes and centralize the data in one place. The platform gives you lots of different PLM, CAD, and ERP solutions.
Perhaps the main selling point of this apparel ERP software is its flexibility. The tool adapts to your needs, designs, and production processes. While the functions may feel robust at times, you will quickly get used to them due to the platform's sleek and intuitive interface.
Although PolyPM is best-suited for small and medium entrepreneurs, it can also be utilized by larger brands, manufacturers, and distributors. The software should manage all the processes from the initial design phases to manufacturing, distribution, and ultimately, invoicing.
PolyPM can be used on-premises or on the cloud. The users have access to various types of support, including phone and email support, knowledge base, chat, forum, and help desk. Your team can also access different types of training to get acquainted with the platform.
PolyPM pricing
You need to contact the team for pricing options.
Sync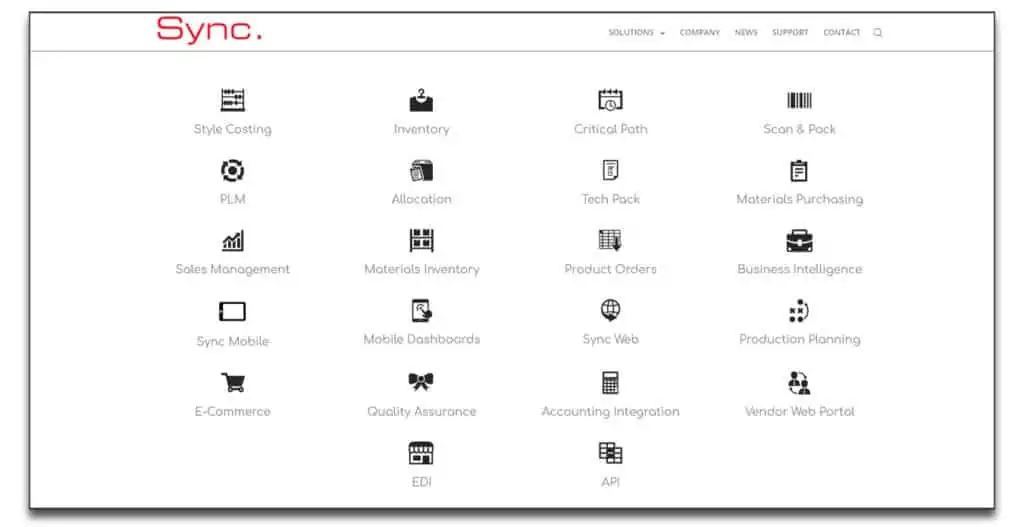 Sync is a comprehensive platform providing your business with all the necessary ERP and PLM solutions. The software has numerous modules that will help you with different processes: inventory, critical path, allocation, sales management, e-commerce, business intelligence, and so on.
You can integrate the software with more than 50 different systems. The list includes Shopify, Magneto, Shipstation, Xero, Sage, FedEx, USPS, etc. It can provide great assistance regardless of your company size or the specific process that you wish to manage.
Clients can use Sync on the cloud or premises. It is available on Linux, Windows, Mac, iPad, iPhone, Android, etc. If you're struggling with any of its features, there are several types of support and training that will help you out.
Sync pricing
Sync plans start at $100 per month. There is no free trial or free version of the product.
Main features of apparel software
It is always a good idea to test out a few options before settling for the final pick and here are just a couple of areas that you should pay attention to when analyzing.
Integration
Make sure that the apparel platform of your choice can integrate with other tools that you are already using. Sometimes you can build various bridges through API, but it is of course better if there would not be a need for that.
Features
In some cases, the platform may feel as feature bloated, with just too many unnecessary options cramping up the dashboard so it takes you 10 clicks to get to a simple function. This is something that you will definitely have to test out.
Analytics
There are some numbers that you want to see immediately and all the time (preferably right on the dashboard), but behind this simplicity, the apparel software should have a robust analytics capacity so you can pinpoint a bottleneck in your business.
You might also want to check the workflow management software post or my post on sales management systems.
FAQ
What is apparel software?
Apparel software is either installed or used only (as a SaaS – software as a service) and takes care of everything associated with managing vendors, inventories, orders, and many other aspects of retail business.
What software is used in the apparel industry?
Apart from other business tools, its industry would use apparel software which you can find in this list along with apparel design software.
What is apparel magic?
It is one of the most popular apparel software, more details in the post.