At some point, Order Management Software becomes a necessity, Excel table will just not cut it anymore!
Success comes with its own set of new problems. One of them being the number of orders that you have to monitor and fulfill.
At one point, this may become a bottleneck that is limiting your business, so you have to solve it quickly. In this post, we will look at some of the best tools for the job!
Best Order Management Software Systems
The OMS below are compared based on their main features and prices.
QuickBooks Commerce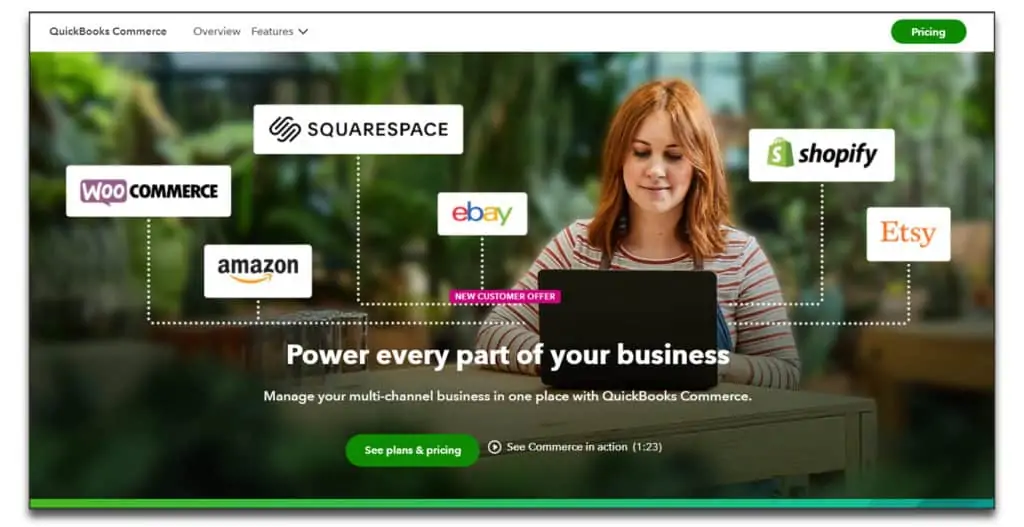 As one of the best work order management software, QuickBooks Commerce offers its users a lot of great features. This accounting system can be used to fulfill, regulate, as well as monitor all your company's orders. All the data is stored on a cloud, and the platform relies on a high degree of automation.
When you use this order management system, you can integrate and sync orders from several sources. QuickBooks Commerce can be utilized for suppliers, customers, inventory, and all orders by relying on its sophisticated, centralized system.
The tracking software allows you to file all your orders in one folder. There are also reminders that help you keep track of when the payments are due (whether we're talking about inward or outward payments).
If you need a low-interest loan, you can find one by relying on this order processing software. There are also features that make cash transactions much easier and allow you to perform your business activity through several channels. You can integrate the platform with some of the biggest eCommerce websites, such as eBay, Amazon, and Etsy.
The order management system software allows employee collaboration, access to sales reports, and it has automated payrolls. You can also use it to hire expert accountants whenever you want. The platform can be used by small business owners.
QuickBooks Commerce pricing
You can choose between 4 plans: Simple Start ($12.50 per month), Essentials ($20 per month), Plus ($35 per month), and Advanced ($75 per month).
Skubana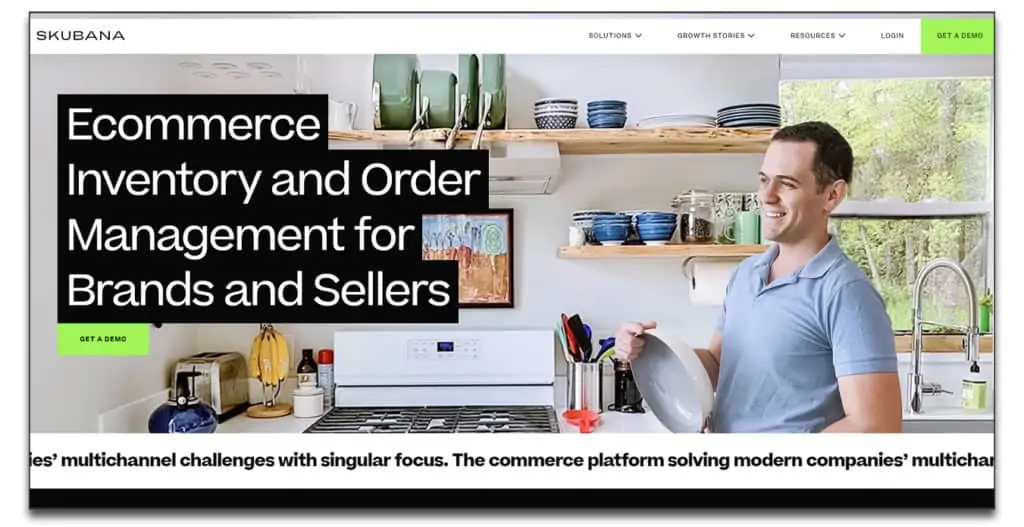 If you need to purchase order management software that will allow you to efficiently work across several platforms, it doesn't get better than Skubana.
This platform is ideal for eCommerce operations. You can use it to centralize all your processes in one place. This includes shipping, order processing, inventory, and so on. Through its intuitive dashboard, you can keep track of products, orders, sales channels, and other aspects of the business.
Like many other order management solutions on this list, Skubana has built-in automation tools. You can use it to check the status of all your orders. There is also POS, forecasts, and you can also use the platform to analyze the best ways to reduce operational costs. The order processing software helps you reduce human error as well.
You can integrate Skubana with Zapier, Scout, SPS Commerce, and so on. Some of its features include omnichannel operations, reporting through several channels, order and inventory recommendations, Amazon multichannel fulfillment, and inventory optimization.
On top of it, the tool shows all the inventory updates in real-time, making it ideal for larger companies with lots of orders. Another interesting function comes in the form of return labels and established automatic shipment.
Skubana Commerce pricing
Although it's not a free order management software, you get a free demo with Skubana. The software costs $1,000 per month for up to 1,000 orders.
Brightpearl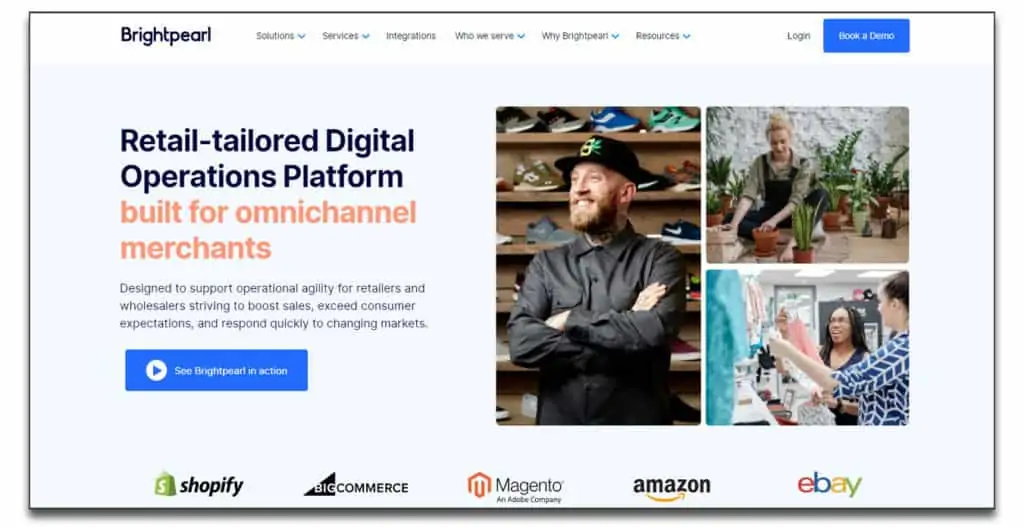 According to many experts, Brightpearl is regarded as the best software for workflow automation. You can use this order management system across numerous channels. It allows you to process orders, manage various operations, track inventory and shipping, etc. Brightpearl also helps you with order management as well as invoicing workflows.
The platform has an incredible level of automation that will assist you with daily operations. You can use it to allocate inventory between various places, redirect orders, and automatically invoice sales orders. There is also an option to impose a set of rules according to your optimal workflow fulfillment.
If some of the items are no longer available, the platform makes automatic purchase orders and distributes inventory across warehouses, making them equally available in several posts. The purchase order management software is great for creating price lists, discounts, credit limits, payment terms, etc.
Some of the tool's main features include an integrated POS app, data-driven reports, clone orders, and custom fields. There is also a free demo allowing you to check all these functions by yourself before committing.
Brightpearl pricing
Brightpearl has two pricing models, and for both of them, you have to contact the company for a quote.
Freestyle Solutions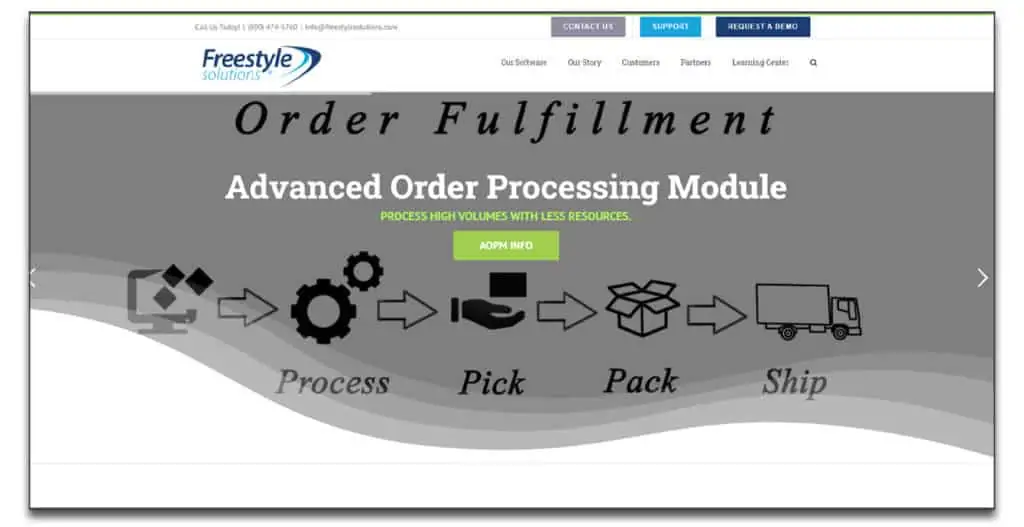 Freestyle Solutions is perhaps the best order management system software for multichannel ordering. It is also amazing for tracking inventory. Like all other tools, it allows you to centralize processes in one hub. You can use it to manage inventory, orders, and everything in between.
Perhaps the best function of this platform is its inventory transfer that can be performed through several channels. The company performs real-time updates, which means there is nothing to interfere with your work.
The work order management software relies on its multichannel order management to attract customers. This software helps you automate and control processes with minimal human involvement. The POS module tracks various orders regardless of their source. With its open API, you can integrate the platform with numerous eCommerce systems and third-party tools. That way, you don't have to hop back and forth between programs.
Its key features include order promotions, order tracking, and status reports. The platform allows automatic synchronization with sales channels, PCI compliant payment gateway, and merchant services. There are also various payment solutions you can utilize as well as a high degree of integration with various shipping software.
Freestyle Solutions pricing
All of the plans are customized, and you have to contact the company for pricing.
Orderhive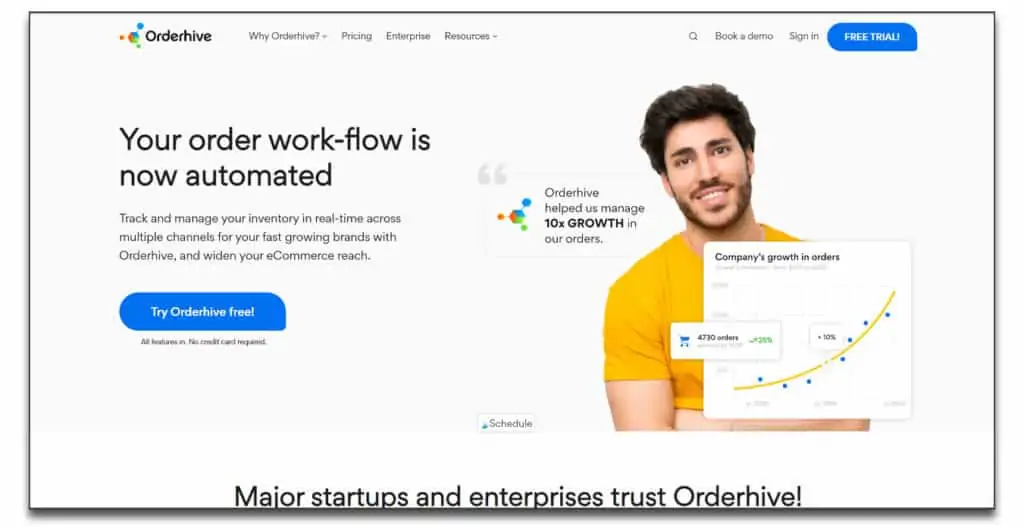 With Orderhive, you have the ability to track and manage orders across multiple channels. You can do the same with inventory and shipping. The order tracking software is especially great for performing a thorough analysis of the business. Given that it's based on a cloud, you never have to worry about storage space for data or future updates.
Clients can use Orderhive to process orders via 3PL, FBA, and dropshipping. You can use the platform for reorders, partial orders, and backorders. There is also a feature that would allow you to prioritize between orders.
Orderhive can be integrated with more than 300 shipping channels. You can also combine it with the various sales software. The order management system software is simply amazing for bulk orders, product scanning, managing return policies, creating custom invoice templates, and many other actions.
Orderhive's best features include analytical reporting, custom views, inventory management, and bulk actions. You can use it to sync both online and offline orders, manage numerous payments and invoices, create custom workflows, create and download invoices and shipping labels, and many other things.
Orderhive pricing
Orderhive is one of the rare free order management software on the market. Besides the free version, there are also 4 paid ones: Lite ($49.99 per month), Starter ($134.99 per month), Growth ($269.99 per month), and Enterprise (ask for a quote).
Oracle NetSuite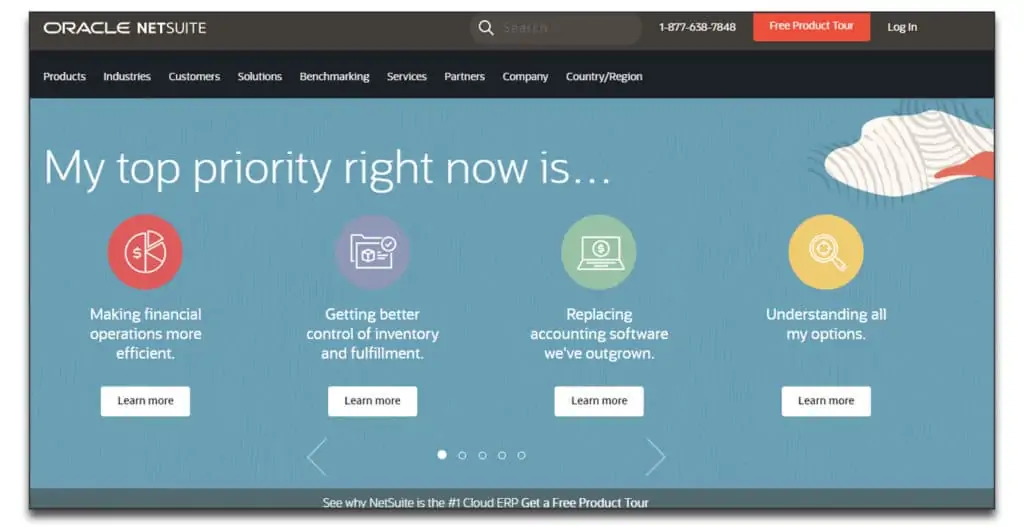 According to many users, Oracle NetSuite is the best product from this software category.
It is a cloud-based platform that allows you to manage and automate orders. With it, you can streamline the majority of the company's processes without having to worry about potential employee errors. The platform integrates financial data, sales, and fulfillment teams.
Some of the more intriguing functions include billing management, advanced invoicing, accounting features, recognition of revenues, managing returns, and so on. Oracle NetSuite is great for forecasting as it allows you to analyze costs and profits.
While this is one of the most wholesome tools on the market, the main reason why you should give it an advantage over other platforms is because of its pricing and promotion features. You can utilize Oracle NetSuite to manage, optimize, and control these processes. All of this will, in turn, help streamline customers, create client tiers, and help monitor past billing.
There is also a great return management function. If you wish, you can integrate purchase order management software with customer support. That way, you can assist your clients at any time.
Oracle NetSuite pricing
The tool doesn't have pricing disclosed, and you have to contact the company for a quote.
Odoo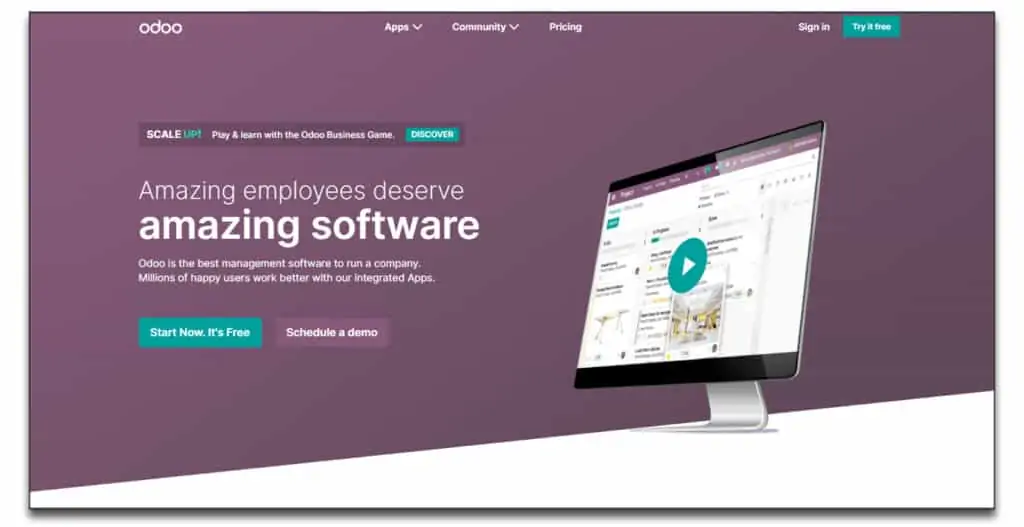 Odoo is perhaps the best tool for tracking and analyzing historical data. The company's clients can use it both for orders and manufacturers. The platform provides numerous solutions for billing, accounting, CRM, ERP, inventory management, order management, and it allows you to automate and centralize all your business processes.
With Odoo, it is possible to scan products by utilizing their barcodes. The order management system is great for companies that have multiple warehouses. Everything is happening in real-time, allowing you to have the most relevant information throughout the day.
Like with some other platforms, Odoo is great for distributing inventory through various warehouses as well as rearranging the inventory based on hierarchy. The platform verifies orders but can also serve for the management of repair and manufacturing orders.
The key features include advanced routing, inventory valuation, automated order replacement, and tracking of business history. The software shows its full potential for dropshipping businesses. You can use it to create custom fields, expiry dates for orders, but you can also add measuring units that can represent every information in the right size/value.
Odoo pricing
Odoo's basic pricing is €12.50 per month per user. The company has various add-ons with variable price tags.
Conexiom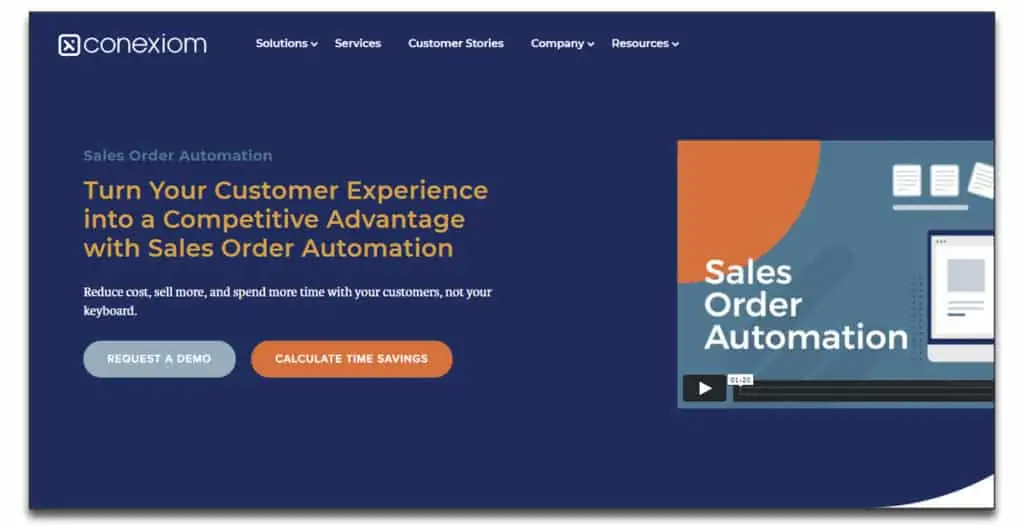 Conexium provides a high level of automation for all your business documentation.
The platform can be used for invoices, orders, as well as shipping notices. It increases the efficiency of all your business processes by providing additional accuracy and speed. By relying on a centralized system, you can easily access all the data and track it in real-time.
Among others, by using Conexiom, you can increase profitability and improve customer experience. The company focuses on three main functions: complex data transformation, touchless transactions, and full data accuracy.
When talking about data transformation, the platform is able to transform very complex and unstructured data into usable information. The transformation can be done regardless of the complexity of data, as well as its variability and format.
Touchless transactions ensure that you're able to reduce costs and sell more products. All of that will reduce your operational costs but also improve customer experience.
Conexiom pricing
You need to contact the company for a quote.
Salesforce Commerce Cloud Order Management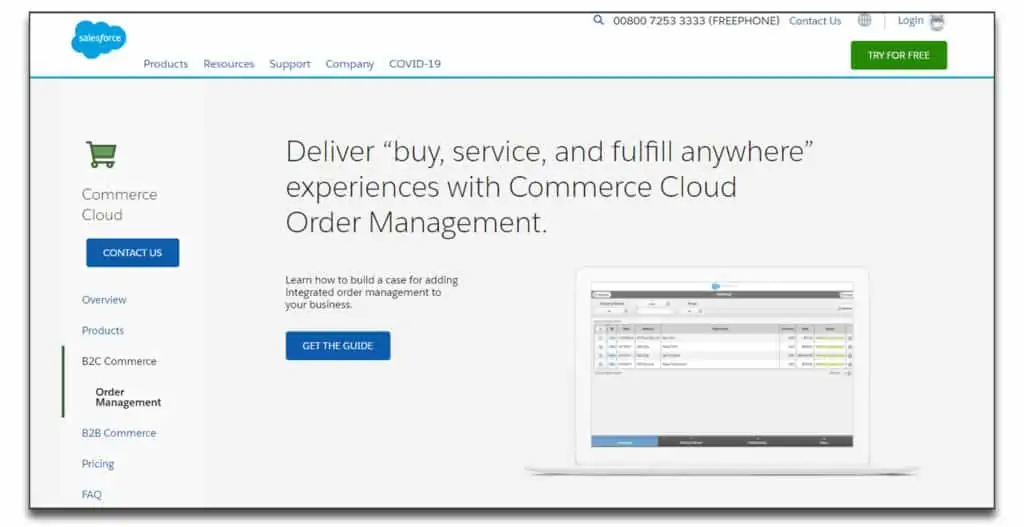 Salesforce is regarded as one of the most comprehensive business platforms ever to be made. One of the things under its umbrella is Salesforce Commerce Cloud Order Management. The work order management software is based on a cloud and allows you to automate and centralize orders and inventory.
The platform focuses on four main features. It helps its customers turn their outlets into distribution centers by shifting their sales online. By doing so, these stores are able to generate higher profits. You can also use Salesforce commerce to improve inventory allocation. By doing so, you are able to reduce fulfillment time, which also reduces the costs for your company.
Salesforce is also great for managing the history and lifecycles of your orders. That way, you can analyze all your previous clients and assess their worth to the company. The last big feature that the platform provides comes in the form of order consistency. You can encode all of your orders whether you wish to do it in a store, online, or via phone.
Salesforce Commerce Cloud Order Management pricing
The platform has 4 pricing models: Essentials (€25 per month per user), Professional (€75 per month per user), Enterprise (€150 per month per user), and Unlimited (€300 per month per user).
Handshake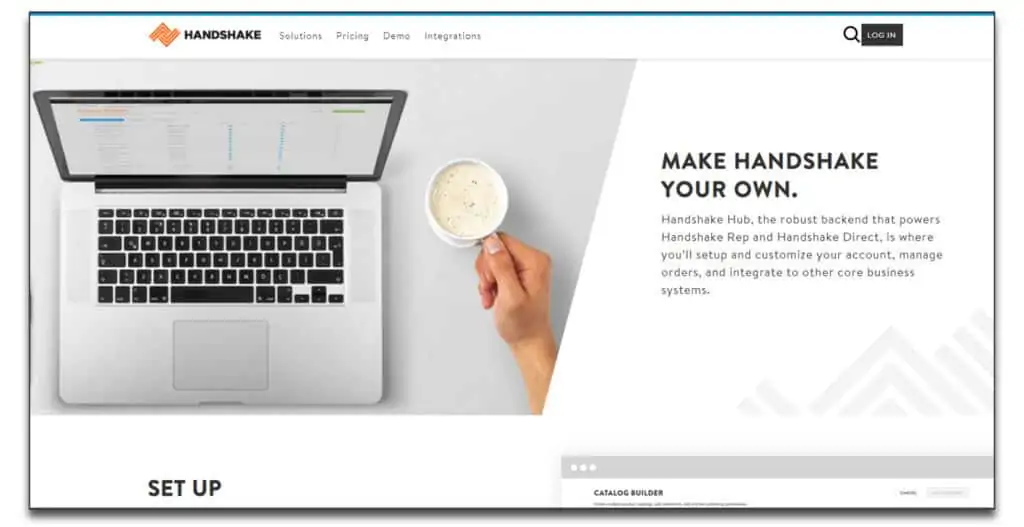 Handshake is one of the best order management solutions for ordering and sales. It can be used by any company regardless of its size or the activity they perform. For example, it is equally great for manufacturers and distributors. The software also doesn't make any difference between traditional retail shops and other online businesses.
The platform provides a dedicated sales representative app that gives the user all the information they'll ever need. All of the orders can be placed quickly with this app. Furthermore, it allows for a high degree of customization and automation.
Handshake pricing
Handshake doesn't disclose its pricing, and they have 3 different plants to choose from.
Order Management Software Features
Here are some of the features that you should be on the outlook for when picking your system.
Fraud Check
Not every system has it, but one of the tested systems will have a fraud check implemented, which is a huge plus.
Payment Gateways
You need to make sure that the OMS of your choice will accept various payment gateways so you are not bound to one provider.
Customer Management
Your OMS should allow your customer not only to order the items from your company but also to comfortably track them and receive information about the newest tracking updates.
Integrations
Make sure that the OMS of your choice integrates with the other systems that you are using. Particularly important is of course warehouse and/or inventory integration.
FAQ
What is an order management system?
It is a tool that allows you significantly expand your operations by monitoring and fulfilling big volumes of orders.
What does order management software do?
OMS monitors your orders, allows your customer to make orders and track them, it can also be integrated with other systems that you are already using
How does OMS work?
Order Management System consolidates orders from all your sales channels and puts them in one place. With integrations to inventory, shipping, CRM and other tools – it makes it significantly easier to run and scale your business