Why do you need a mission statement generator? While it may seem easy, coming up with a good mission statement is a challenge.
In this post, I will go over several mission statement generators that will help you solidify our mission statement. Also, we will discuss what is a mission statement and why do you need it.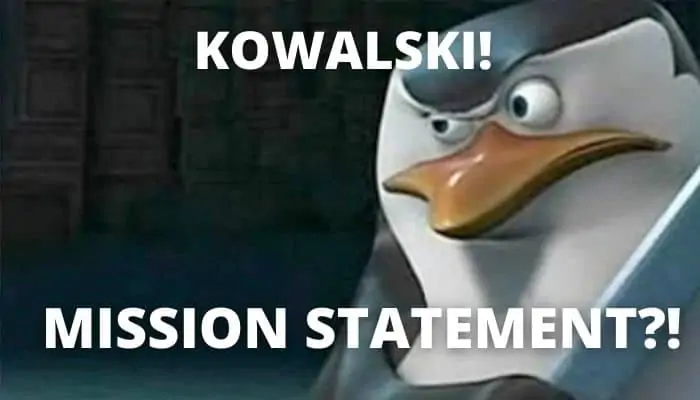 Best Mission Statement Generators
So now when we have all our bases covered, let's have a look at some of the mission statement generators that you can use to create a great mission statement for your company or for you personally. But not only that, while at the end of the post I explain the differences – these tools can also serve as a vision statement generator!
You might also want to check out:
Honeybook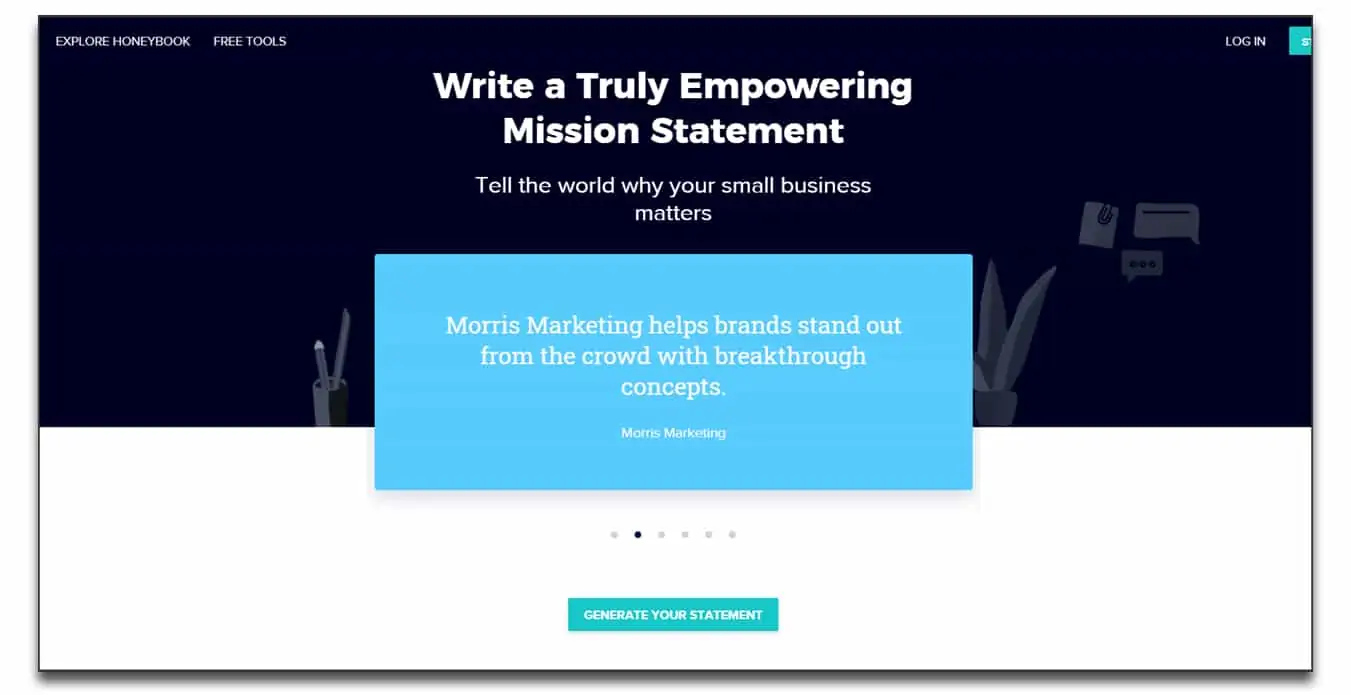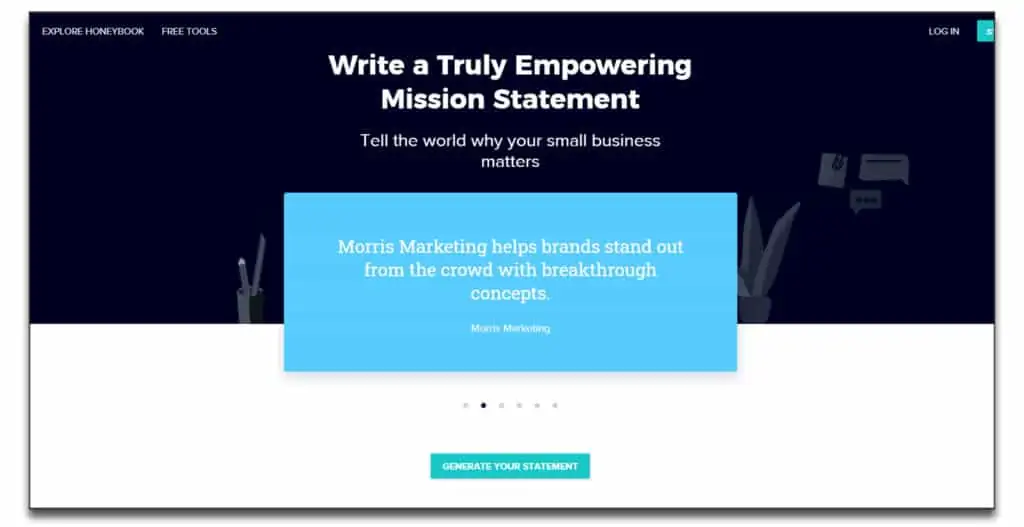 The process is very easy, Honeybook leads you through the whole procedure. You just put in the main points about your brand, chose a type of statement you are looking for (sophisticated, creative etc.) and you are done.
Here are some examples of mission statements from Honeybook:
Our mission at Costofincome is reviewing the best services with energy, vigor and enthusiasm.

*

Costofincome brings enthusiasm and energy to small businesses and individuals by reviewing the best services.

*

Costofincome is dedicated to the highest quality of software as a service reviews delivered with vigor, excitement and liveliness.
Of course, they would need a bit of additional polish, but Honeybook is a simple and efficient mission statement generator that you can use right now!
Almost Anything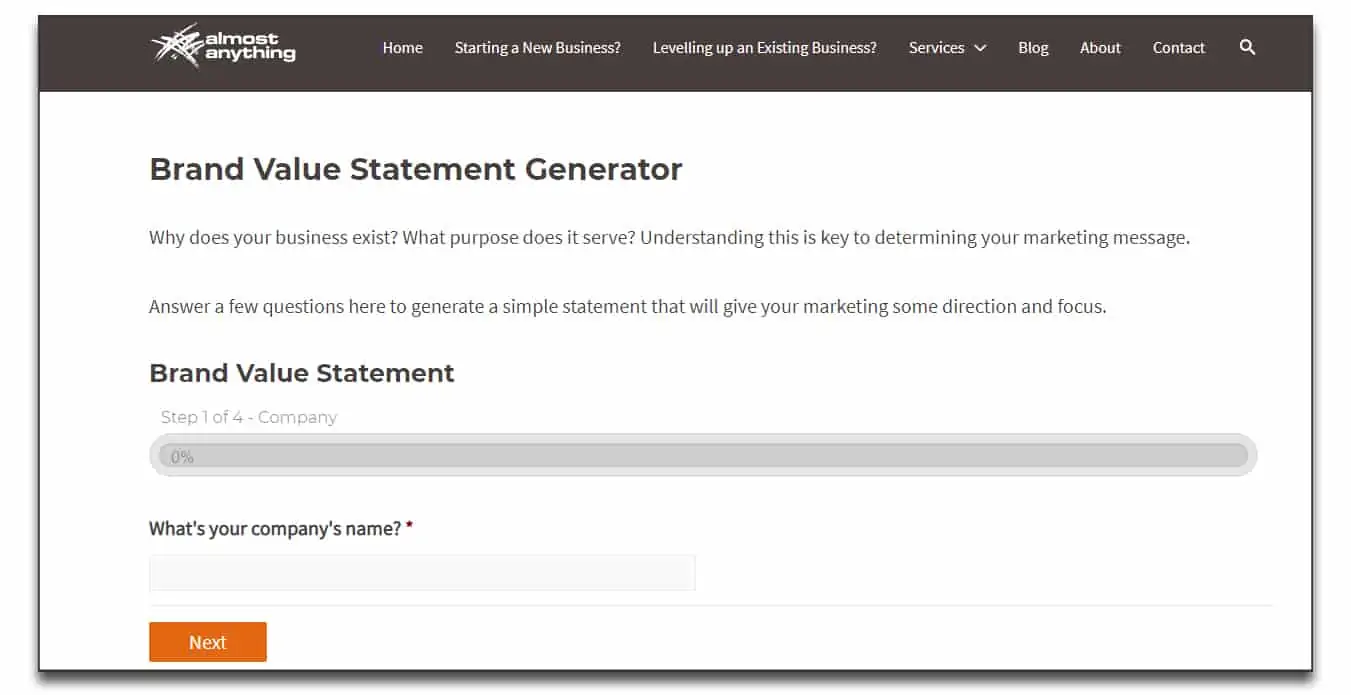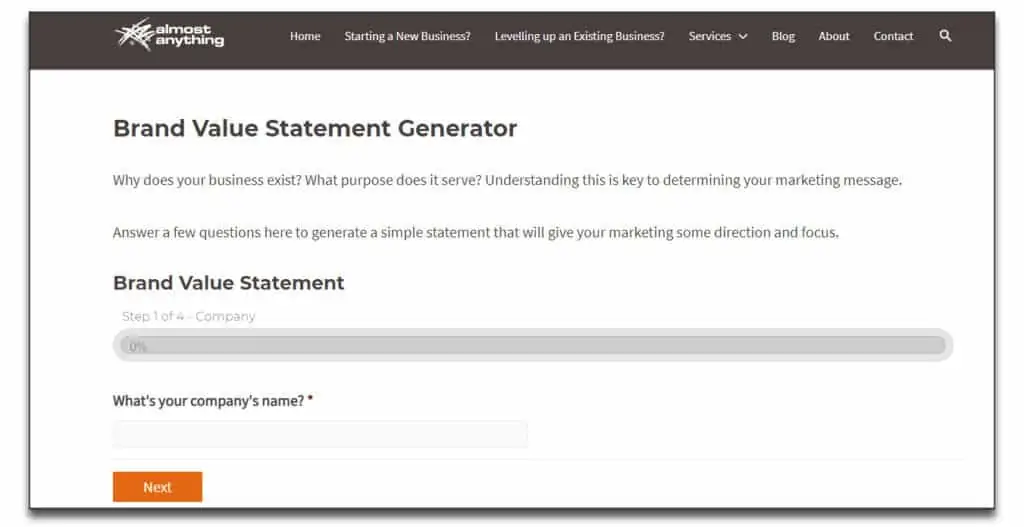 Almost Anything is another pretty good option when it comes to good ideas for your mission statement. You put in the main themes of your brand, values that you stand for and what you do for customers and get a result like this:
Costofincome brings honesty and reliability to SaaS Reviews while helping customers choose the best software.
Quite a good mission statement template start which can be improved further to make it even better.
Joe-Ks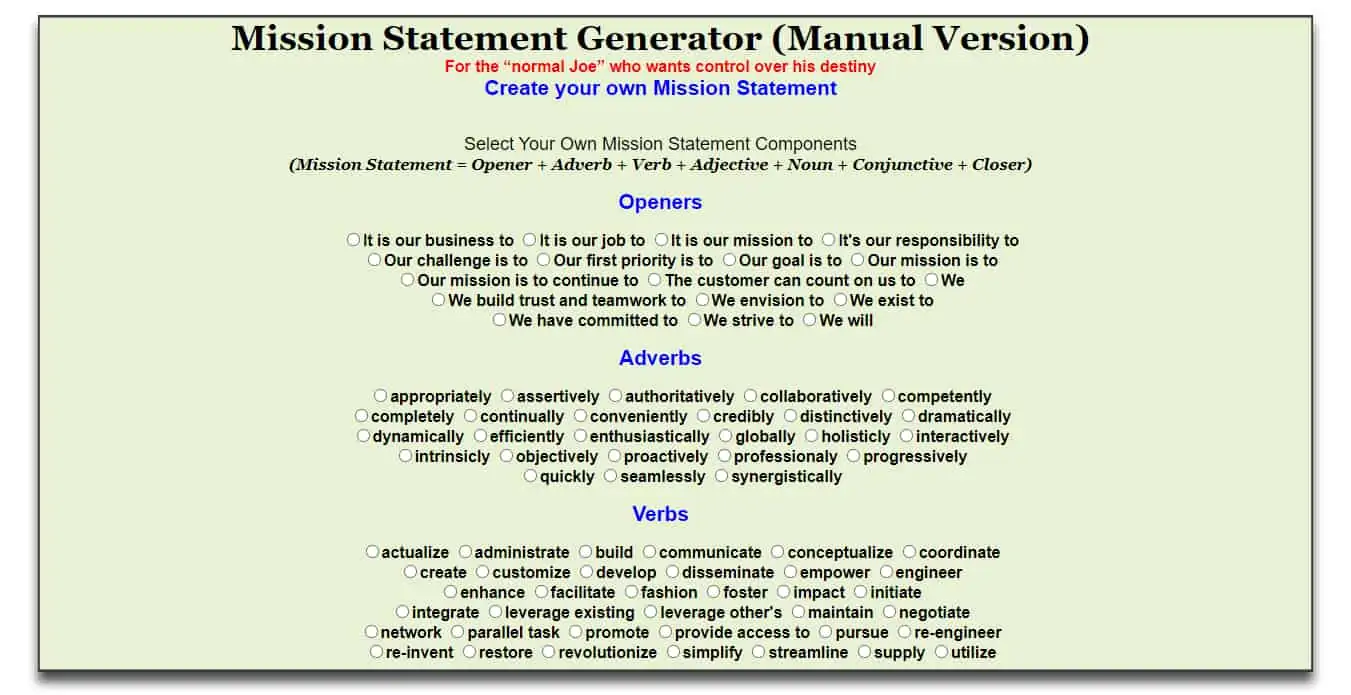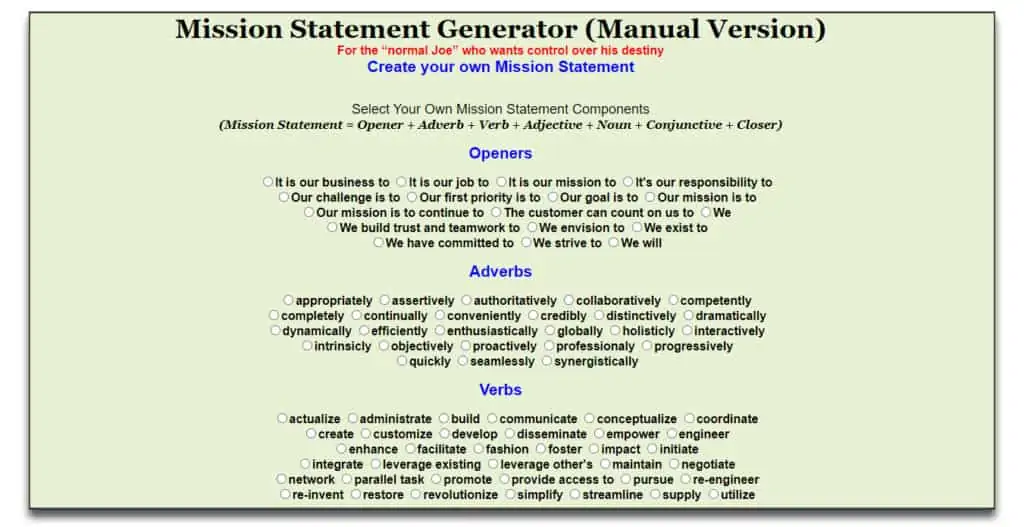 Joe Ks mission statement generator takes on a bit different approach. It will not give you the final result but rather a pre-set menu of choices where you can pick what seems like the best option for you.
The result may be smomething like this:
It is our business to enthusiastically promote customer-directed deliverables and to solve business problems.
You can see that it is very far from perfect. So it will take you quite a bit of editing to get this mission statement to an acceptable level.
NetInsight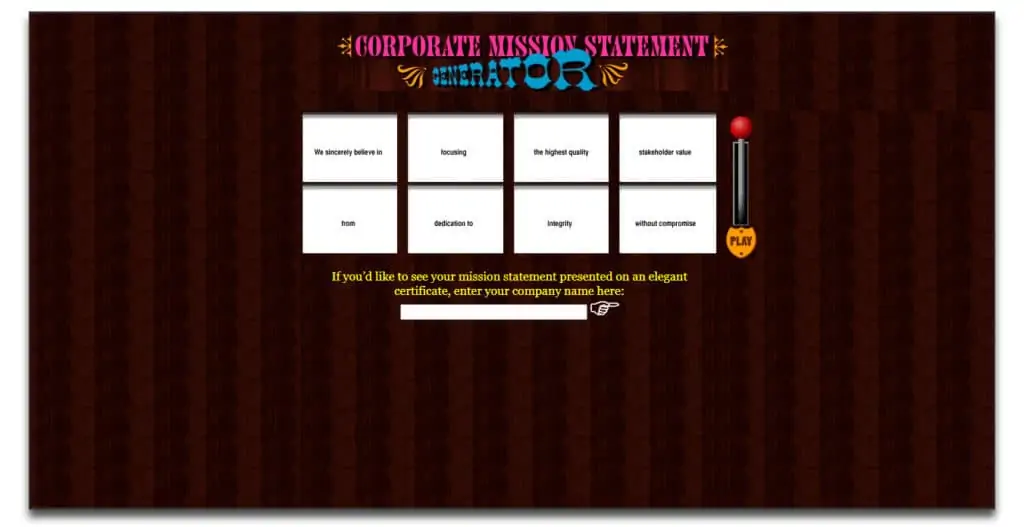 NetInsight is a random mission statement generator. So yet again, it will not deliver you the final result but rather will give you some ideas on where to get started. Here are some examples that this mission statement generator gave to me:
Our goal is to collaboratively and enthusiastically coordinate access to cutting edge and inexpensive products whilst continuing to assertively and quickly initiate advantages for quality technology in order to globally and synergistically supply value-added six sigma programs.
We have committed to assertively and quickly supply access to cost-effective solutions without losing sight of our original goal to professionally disseminate market-driven and innovative benefits.
You can see that they do not make much sense, but as in previous examples – they might help you to get started and evolve this to a more coherent idea.
This is a great tool if you're just starting to scratch the surface of creating a mission statement. It will provide solid guidelines that you can use from this point onward.
Whole Whale
Whole Whale provides fewer modifications than some other apps on the list. But, it is far from being the worst. All you need to do is type in information into 5 boxes, and it will combine these sentences together:
Our mission is to change the world for poor communities by providing higher quality food, providing better electrical solutions, and increase economic growth within the community itself.
Again, this isn't the best mission generator. It provides the general guidelines, but it doesn't necessarily generate ideas by itself. Still, when you read what you wrote, it becomes easier to get a grasp of what you want to do.
So, you might as well try something else on the list.
ComfyChair
If Whole Whale was too streamlined, ComfyChair is just the opposite. The tool cannot be used for any customization. You don't have to input anything or add your own ideas.
Instead, ComfyChair will simply bombard you with various sentences, hoping that one of them will be useful for your business:
1. We can be relied upon to professionally manage advantages for services.

2. Our goal is to continually manage advantages for inexpensive and quality services that we may improve our long-term ability to assertively and reliably build access to innovative and multimedia-based six sigma programs.

3. Our company exists to proactively and enthusiastically facilitate advantages for professional technology.
Regardless of its silly appearance, this tool can actually do some good things for your company.
Although these ideas are shot at you at random, you can still utilize parts of them. They can point you in the right direction, help you find the brand's tone. After that, all you need to do is mold it to your liking.
What is a Mission Statement?
In short, the purpose of a mission statement is to define what do you stand for. Usually, it is a few sentences that describe what is your goal and values.
It may seem easy to create a mission statement, but that is just before you actually attempt to do it.
You probably would have no problem in creating a mission statement if you would have 500 words to describe it. But when you are limited to a sentence or two – that is when it becomes difficult.
Business mission statement
This type of mission statement reflects the goals, values and priorities of your organization or business. The goal is to show your customers, suppliers and employees what is it that you stand for.
It can be utilized by any company regardless of its size. Depending on how you showcase it, this message can become a powerful statement in the future years.
Personal mission statement
The purpose of the personal mission statement is usually to boost your own morale. You create a statement that you constantly get back to, and it helps you to get through challenges and stay on track.
Although a personal mission statement is not the point of this article, it shows you how important these messages can be for your development. Most people don't have well-formulated goals in their lives, so this can serve as your guide in the following years.
Slogan vs Mission Statement
You may wonder what is the difference between a slogan and a mission statement. It is lenght. For example, Google had a slogan that was:
Don't be evil.
but their mission statement is:
Our company mission is to organize the world's information and make it universally accessible and useful. That's why Search makes it easy to discover a broad range of information from a wide variety of sources.
You are sure to see the difference immediately. While the slogan just reflects the overall culture of the company, its mission statement speaks about its goal.
Mission Statement vs Vision Statement
A mission statement is something that you strive to achieve in the mid-term while a vision statement, as the name implies, is a vision of the future of your company's impact.
There is often a lot of overlap between these two. In fact, it can become really confusing at times because, in a way, both of them explain what you want to do.
Generally speaking, you can take the same basis for both of these and redo it a bit. However, when writing a vision statement, you also need to consider how the industry might look in a few years and how you will adapt to this newfound environment.
Mission Statement vs Purpose Statement
A purpose statement is a reason why you decided to do what you are doing. For instance, the purpose statement may be a result of something that you did not like and decided to solve or to make it better
As an illustration let's create purpose, vision, and mission statements for a construction company.
The chain starts with the purpose statement. It could be something like: "Our purpose is to help people get their dream home!"
This would be followed by a mission statement for a construction company that may sound like this: "Our mission is to provide timely affordable construction services to our local community while giving employment to best craftsmen that take pride in their work!"
The vision statement would be "We aspire to disrupt the construction market, by providing on-demand services and un-parallel insight into the construction process of our client's home."
Understanding Mission Statement
Brands utilize mission statements as a way of explaining their values, ethics, culture, fundamental goals, as well as agenda.
This tool can be used for practically anyone associated with the business. It is not necessarily something that will only attract customers. Instead, it can be utilized by suppliers, shareholders, employees, and distributors.
Oftentimes, a mission statement is used to align the goals of different groups. For example, there will be a difference in how suppliers and shareholders view their goals associated with the company. Anyway, with a proper mission statement, you can tell each one of these groups what to expect when establishing a business relationship.
Basically, this message shows the public what the business does, why and how does it do these things. Most people will already know the basics of a company, such as their product and industry, but they might not be acquainted with their owners' and managers' intangibles.
Why do you need a mission statement?
It will help you to get the message across to you or to others. If you would need 15 minutes to explain what your company stands for and what your goal is, nobody would listen.
Similarly, if you would have two pages of text on your webpage describing what are your core goals and values, nobody would read it.
Mission statements help you to:
Concentrate your goals and values into a few sentences.
Communicate quickly to yourself, customers, employees what they can expect from your company.
Create a short message that will present your company.
Show both the action-driven and inspirational side of your business.
Motivate you – in case of a personal mission statement.
A good mission statement should provide a brief explanation of your business. While the explanation needs to be well written, it shouldn't be too presumptuous or too aggressive. It is a tool that can help your market positioning.
Although a mission statement can help your sales, it isn't necessarily a sales tool. Instead, companies use it to present their brand to a wider audience.
Back in the day, regular consumers were not that interested in mission statements. However, nowadays, with the rise of social awareness and responsibility, it has become increasingly important.
How long should a mission statement be?
Some people think that creating a mission statement is nothing more than putting your thoughts, hopes, and ambitions on paper. But, it is much more than that.
It is almost a precise science where you have to get every part right. One of the main considerations is finding the correct length. The message also needs to be very clear.
A lot of experts claim that a mission statement should be easy to digest so that even an 8th grader can read it.
Based on several studies, the most common mission statement length is 15.3 words. Keep in mind that some of the top organizations can do much more with less. Their messages are just below 10 words.
One of the shortest mission statements had 2 words (TED), and the longest one had 235 (UNHCR). So, the variation can be quite noticeable.
Anyway, you shouldn't pay too much attention to the length. While shorter messages generally perform better, your first priority is to get your point across.
Mission Statement Examples
To give you an even better idea of what the mission statement is what should it evoke in you let's have a look at some of them.
Tesla mission statement
It would not be a real Tesla mission statement if they would not try to push the technology to the next level!
"Tesla's mission is to accelerate the world's transition to sustainable energy. Tesla believes the faster the world stops relying on fossil fuels and moves towards a zero-emission future, the better."
Amazon mission statement
As you would expect, Amazon mission statement is very customer-centric.
"We strive to offer our customers the lowest possible prices, the best available selection, and the utmost convenience."
Starbucks mission statement
I am not a fan of their coffee but Starbucks mission statement sounds real good!
"To inspire and nurture the human spirit – one person, one cup and one neighborhood at a time."
Nike mission statement
Nike mission statement has a really nice message – everybody can be an athlete. Because it is more about the state of mind than your body.
"To bring inspiration and innovation to every athlete in the world. If you have a body, you are an athlete."
Google mission statement
Earlier Google mission statement was "Do not be evil" but now it changed to something more fitting their role.
"Our mission is to organize the world's information and make it universally accessible and useful."
Walmart mission statement
Walmart can be seen as a brick-and-mortar Amazon, so their mission statement by Sam Walton is fitting. They want to save your money to improve your quality of life:
The secret of successful retailing is to give your customers what they want. And really, if you think about it from your point of view as a customer, you want everything: a wide assortment of good-quality merchandise; the lowest possible prices; guaranteed satisfaction with what you buy; friendly, knowledgeable service; convenient hours; free parking; a pleasant shopping experience.
What is a mission statement generator and why do you need it?
Now you may see that the mission statement is quite difficult to write. That is when you can use a mission statement generator to help you.
When you are staring at that brand new blank page in your Word document, you might feel stuck and do not know where to start.
A mission statement generator will help you to come up with the final mission statement or ideas that you can further develop.
You would input a couple of variables into the generator and it will show you something to work with.
While it may not give you the final mission statement, you might get a great idea where you can just change the wording a bit and be done with it.
Regardless, I would recommend that you start this task by checking out the competition. Of course, you don't want to copy their statement, but you could consider taking bits and pieces out of it.
For example, in certain industries where companies produce a lot of waste, it is good to emphasize that your business is taking an environmentally friendly approach. This is something that might reduce the negative sentiment that first-time visitors might have.
Keep in mind that most of these generators are better suited for small and medium businesses. Large, international companies usually have their own marketing teams that write these messages.
Some of these corporations will spend years and years, as well as millions of dollars creating messages that will properly represent them in the eyes of the public. Occasionally, these mission statements can become one of the driving forces behind company success.
How To Write a Mission Statement
Focus on the end goal. What are you planning to achieve with the statement? What should it reflect?
Decide on the type of statement. Will this statement be personal or a mission statement for business? Consider the potential uses and relations of this statement.
Consider the purpose of the statement. Is this something that you would use just for yourself, or for example you might want to share it with your team? This will have an influence on the final structure of your statement.
Formulate the goal. Put down in writing the goal you or your company are trying to achieve.
List your strong sides. Where do you excel, what separates you from the rest?
Write down your values. What business, ethical or moral values do you want to hold on to?
Finalize your statement. Now taking all the previous steps into consideration, try to put together a sentence of two that would state who you are, what your values are, and what your goal is.
Summary
While at first, it may seem that you do not need a mission statement, you would be surprised how well it concentrates your effort when you have one.
It might be a mission statement for your company or a personal mission statement – the actual process of creating it, brainstorming what it should include, etc. will make sure that you will clarify what you are actual goals and values are.
Maybe you would like to learn a bit more about marketing attribution?
FAQ
What are the 3 parts of a mission statement?
IT is Key Market, Distinction, and Contribution.
What is a good mission statement?
A good mission statement should reflect your goals, values, and ambitions.
How do you create a mission statement?
You can try to put a couple of sentences together yourself, or use a mission statement generator.