Best Online Legal Services For Small Business, 2022
Why is it important to choose the best online legal services? Well, there are many reasons – the most important being to cover any potential risks that will come along.
When you are starting your business, there are many things that you have to consider, clients, products, vendors, ads…the list never ends.
But sometimes, in the middle of all this chaos, entrepreneurs forget about an important thing – legal issues.
Find legal advice may be difficult and expensive, so it is not a surprise that online legal services are experiencing stable growth.
Best Online Legal Services
Below you may find some of the best legal services that you may find online. We will discuss each of them, and I will also provide a couple of tips in the end of this post.
LegalZoom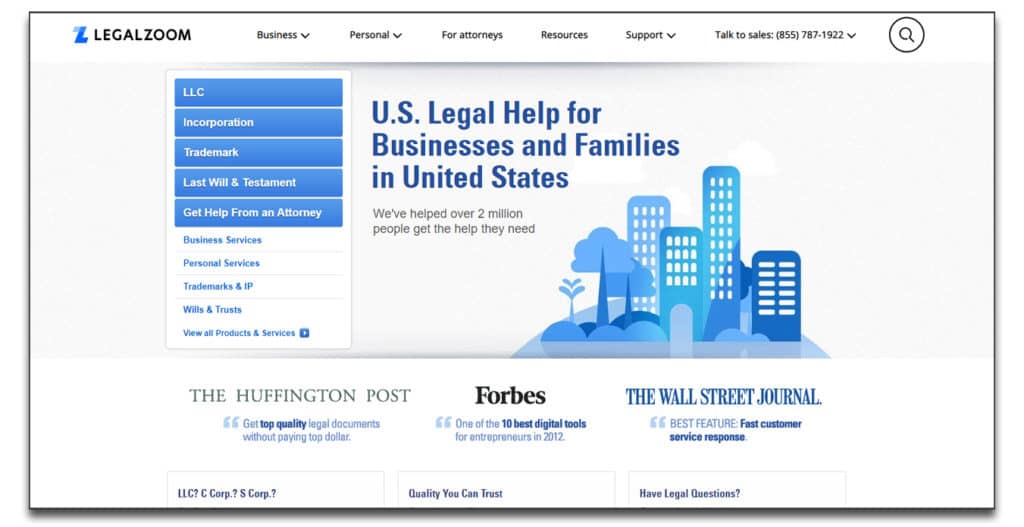 LegalZoom is one of the best online legal services if you're looking for a full-service option. Their website has a global presence, so they're uniquely qualified to deal with both personal and business needs in a variety of sectors.
But it's worth noting up front that LegalZoom is not a law firm – they're a legal service provider. Thus, they can't represent you in a court of law, though they can connect you with lawyers who will.
LegalZoom's document filing and legal services are comprehensive and include:
Attorney consultations for persons and businesses on contracts and legal obligations
Business needs such as formation, licensing, compliance, real estate concerns, and taxes
Familial matters like estate planning, power of attorney, and property leases
Intellectual property rights such as trademark, copyright, and patent registration
Whether you need to draw up business contracts, protect your artwork, or set a will in place to safeguard your family's future once you're gone, LegalZoom can set you up for success.
LegalZoom Pricing
LegalZoom offers both one-time and annual membership pricing.
One-time services range from $29 to over $279 for simple services, with more complex needs costing more. (Note that prices do not include state-specific filing fees.)
Membership pricing starts at $9.99 for individuals and $31.25 per month for businesses.
RocketLawyer
RocketLawyer is one of the best online legal services for all things documents. From setting up an LLC to addressing healthcare issues for businesses and individuals, there's paperwork to cover your rear in any situation.
RocketLawyer curates an extensive library to help businesses and laypersons with legal concerns. And if you can't find what you need pre-made, they offer a document customization tool.
Best of all, their documents take into account state-specific laws and situations. The goal is to make sure your paperwork can stand up in a court of law, if such a case ever arises.
Some of the legal services that RocketLawyer provides include:
New business paperwork, from filing for an LLC to forming a corporation
Marriage licenses and divorce paperwork
Creating NDAs, business and freelance agreements, rental leases, and eviction notices
Reviewing documents for small businesses
RocketLawyer Pricing
RocketLawyer's pricing is tiered for members and non-members. Premium members get tons of perks for $39.99 per month, such as:
Free and discounted attorney services
Legal document creation
Incorporation filing
But if you only need one or two services, you can buy documents for $39.99 apiece or ask a legal question for $49.99. You can also sign up for a half-hour legal consultation for $59.99.
UpCounsel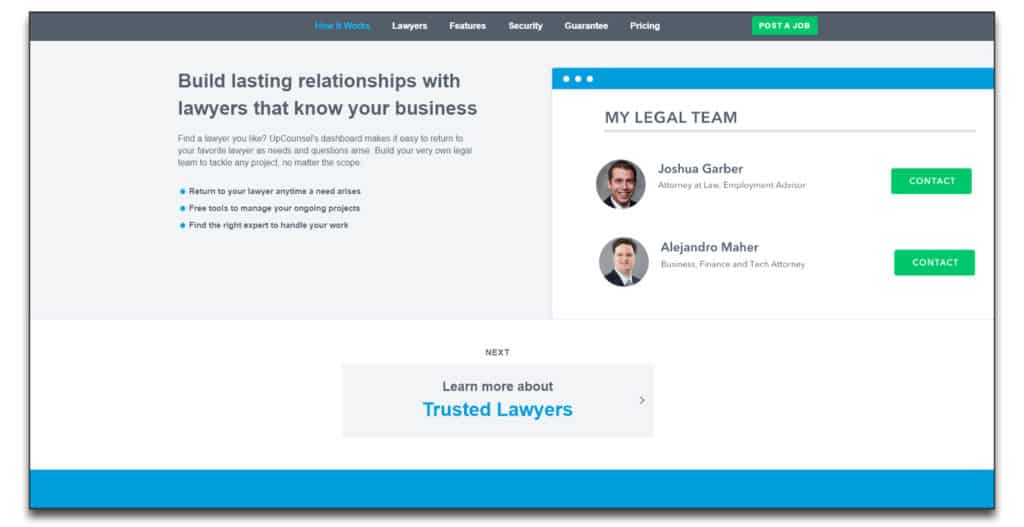 UpCounsel is an online legal marketplace that matches over 5,000 vetted lawyers with prospective clients. Each lawyer is vetted to have at least 14 years of experience, so you know you're getting professional service.
UpCounsel works like other online marketplaces, such as Fiverr or Upwork. Prospective clients can post legal questions and problems at no charge. Then, all you have to do is step back and let the program's AI match your job qualified lawyers. Interested parties can send you proposals and set up a quick consult to see if the fit is right.
All work is hosted through the platform, from posting to payment. Plus, it hosts time-tracked phone calls, spending tracking, and invoices. This ensures that you're protected from hidden fees or poor matches from the get-go.
Due to their structure, UpCounsel is best for short-term consults on matters such as:
Broad strokes legal representation
Business formation
Employment and labor law
Financial law
Intellectual property registrations
Of course, if you find a lawyer you click with, you can negotiate longer-term contracts at your convenience.
UpCounsel Pricing
UpCounsel is free for clients to use – payments are negotiated between clients and lawyers. Fees range from as cheap to as expensive as you're willing to pay for. But like all legal practices, beware: a deal that seems too good to be true may be just so.
Clerky
Unlike the other services on our list, Clerky is for high-growth startups. From hiring to fundraising to filing as a corporation, they're there to back up your new business. Their purpose is to automate the legal side of starting a business so you can focus on growing it.
Some of their services are contingent upon which package you choose (more on that below). For the lifetime package, businesses can take advantages of services such as:
Expedited startup costs and filing
Annual reports and tax reminders
Stock plan adoption and option issuances
A step-by-step hiring process, including offer letters and advisor agreements
But there are some limitations to using Clerky. For instance, beyond their services, they don't provide access to attorneys or legal forms. And all businesses are incorporated as a C-corp in Delaware, as this befits most fast-growing startups. (If you want to incorporate in another state, you'll have to pay extra).
Clerky Pricing
Clerky offers an affordable pricing setup for small businesses. And best of all, you only have to pay when all your documents are finalized!
You can buy each service per-use at prices ranging from $9 to $407. Interested parties can also opt for a one-time payment of $799 to enjoy Clerky's services for life. (Not counting state or federal fees).
LegalMatch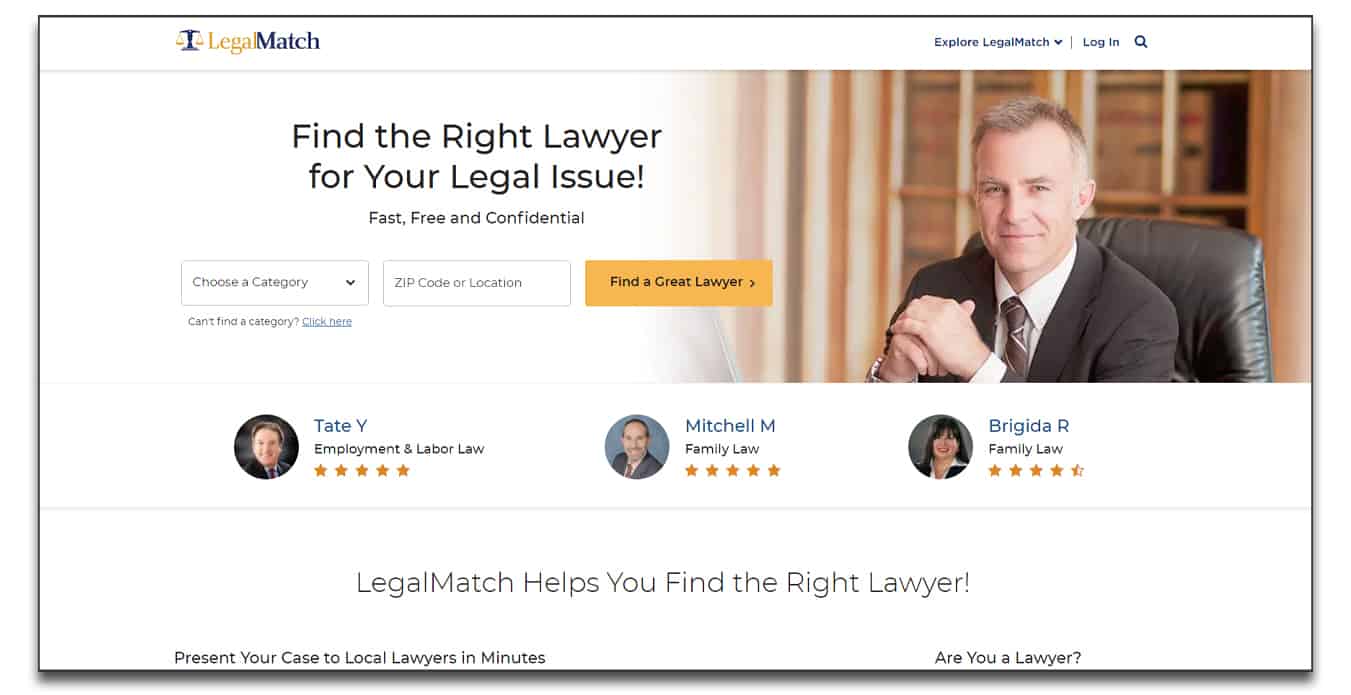 Sometimes, you don't need an online legal service, but an in-person attorney with an office and a stack of law tomes. If that's the case, LegalMatch is a way to connect you with a local professional.
Like UpCounsel, LegalMatch is technically a legal marketplace rather than a legal service. The difference is that you can meet with your lawyer in person if need be – after you've vetted your options.
And, also like UpCounsel, all you have to do is put an ad describing your situation on LegalMatch's forum. You'll also select a category of law to make sure you match with the best practitioner possible, such as:
Family law
Real estate
Employment and business law
Criminal defense
Entertainment law
Intellectual property rights
You can also specify what type of experience you're looking for. LegalMatch uses this information to provide a breakdown of potential rates. (Note that the more experience your lawyer has, the more expensive they will be).
Within 24 hours, local lawyers will respond with proposals, contact details, relevant experience, and client reviews.
And best of all, you're never obligated to sign a contract with lawyers you meet on LegalMatch.
LegalMatch
LegalMatch is free to use as a prospective client. When you connect with potential lawyers, you can negotiate an appropriate fee for your situation.
Incfile
Incfile is one of the best online legal services for those looking to start a business. In fact, they'll help you get started for free!
That's right. Incfile is the only service on this list to include a watered-down package of services for free. (You're still responsible for state fees, of course.)
Plus, no matter which plan you choose, Incfile has a legal library full of free documents. So, if you aren't sure you need their paid services now, you can get started yourself with these – plus their free plan – to see where you stand.
Some of the services that Incfile provides to its clients (depending on the plan) include:
Trademark registration
Free Registered Agent Service for one year
Tax consultations
Filling out and filing documents
Expedited processing times
Lifetime business alerts
Whether you're looking to form an LLC, a non-profit, or a corporation, Incfile is an excellent place to start. And if you don't know which suits your needs, they can advise you on the best route to take, as well.
Incfile Pricing
Aside from Incfile's free package, they offer two paid plans: Gold and Platinum. These include all the features you need to start a business – and then some. Prices start at $149 for Gold and $299 for Platinum (plus state fees), depending on your state and type of business.
LegalShield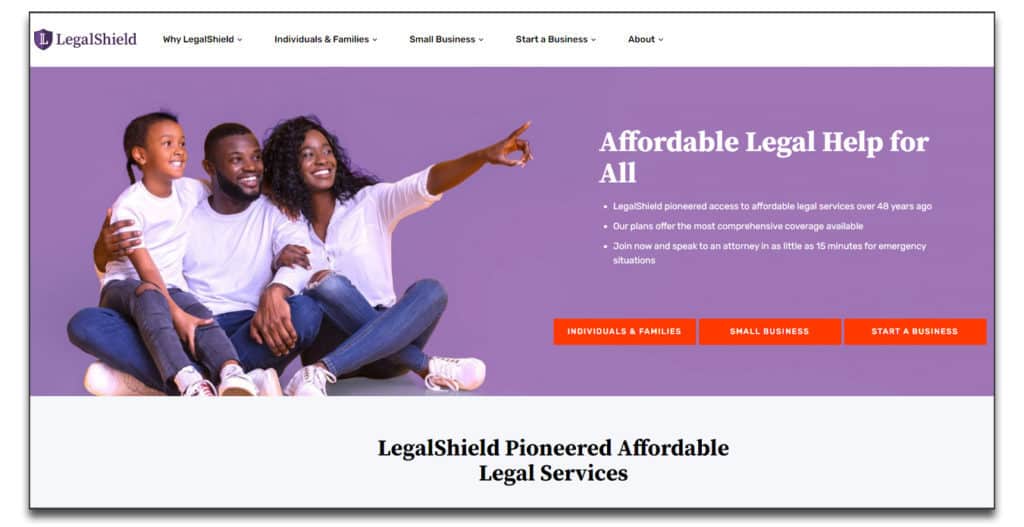 LegalShield is a scalable online legal service for families and small businesses. While they're not ideal for large issues, they serve well for day-to-day legal concerns.
LegalShield's primary offering is regular access to a lawyer and legal reviews. If you have a question, need a trained eye on your legal documents, or even to collect a debt, they can help. They also provide:
General and problem-specific consults
Trial defense support
Intellectual property registrations
Tax-related assistance
And no matter what your concern, lawyers on your case will always work within the same firm. This cuts down on communication and representative issues from the get-go.
But LegalShield does have some limitations. While you have access to unlimited consultations, the site does limit your calls, letters, and document reviews. And be warned: not all law firms that contract with LegalShield provide every benefit listed in each subscription.
LegalShield Pricing
LegalShield offer three membership plans, each with their own pricing tiers.
Personal Plans start at $24.95 per month for yourself, your spouse, and your dependents
Small Business Plans start at $49 per month based on the number of employees
Business Memberships start at $145 per month
You can also pay extra to add a home business supplement for freelancers and contractors.
Avvo
Avvo is a unique service on this list, as it's the only 100% free site to provide general legal help. The emphasis here is on the general – if you need a lawyer, you'll still have to pony up the cash.
In essence, Avvo is a legal directory. Anonymous users post questions in their forum, and qualified lawyers will provide answers. You can also browse past questions to see if others have asked about similar problems.
And in addition to asking questions, you can browse Avvo's free articles, resources, and guides.
While this likely can't solve your concerns full-stop, Avvo can help you decide where to turn next. (Plus, it's always nice to know if you need a lawyer before you shell out for an expensive consult.) The website deals with all manner of topics, such as:
Family law, including prenuptial, divorce, and child custody
Employment concerns
Bankruptcy and debt
Criminal law
Personal injury matters
It's important to note that Avvo does not provide any legal services through its site. But it does also double as a lawyer directory, so you can seek out local assistance via their platform.
Avvo Pricing
Posting questions on Avvo is free of charge, as it does not count as legal representation. If you hire a lawyer from their site, you'll have to negotiate rates one-on-one. (Avvo reports that most lawyers charge $150 to $300 per hour or a flat rate).
Nolo
One way to think of Nolo is like Google for legal problems.
This site provides helpful, basic information on a variety of legal topics. You can also get such as books and documents at cheap prices through their platform. And if you're forming a business, you can contract Nolo to form your LLC.
But if you want full-bodied legal representation, you'll have to click through to the next site. And if you choose to use their site to create your LLC, they outsource the actual formation to third-party lawyers.
Nolo's primary service is their free-to-access articles on everyday legal topics. These are written by attorneys for the layperson to understand. From self-help to business-related content, articles span the expanse of legal concerns.
They also offer thousands of pre-made and DIY forms, documents, and business tools. From day-to-day operations to contracting third-party work, there's a doc for that. Whether you're searching because money is tight or you're not sure if you have a case – or what you need to start a case – Nolo is a great first stop.
And if you can't find what you need, you can use their search directory to find local law firms.
Nolo Pricing
Nolo's pricing depends on which services you want to use. For instance, their directory of informational articles, guides, and lawyer networks are free to access.
On the other hand, forms, books, and software range in price from $25 to $40 or more. And if you want to form an LLC, packages range from $49 to $299 plus state fees.
What is an Online Legal Service?
It is a platform that provides you with various legal templates to help you with the basics and some of the advanced needs when doing business. In addition to that some of them provide you with a variety of attorneys that you can consult your issues with.
In terms of documents they can provide you with:
Incorporation documents.
Trademark application forms.
Last Wills and Testaments templates.
Here are a couple of advantages that make these services so popular so popular:
Price. Online legal services are much easier than your standard legal practice. Makes sense, as they can cover a bigger market with a smaller overhead. This approach of course comes with some limitations but you will be surprised how many issues can they solve for your online.
Ease of use. No emailing, no setting up meetings with lawyers. You go through various services, choose the best that fits your needs and you are good to go. All communication is done remotely, so the time that you save is immense.
Though, you should remember that:
Online legal services do not actually practice law in its classic terms.
They provide you with generic forms that you can edit.
You are not actually hiring an attorney. (Some platforms provide you with an option to consult one of the attorneys on their list).
So while these services are effortless to use and you have a variety of legal documents to choose from (that you can edit to your liking) there are some limitations.
If you really need legal advice (not just documents for your business or a quick consultation with a law specialist) search for a local attorney.
What To Look For In Online Legal Service?
Their Reputation
Make sure that the service of your choice has a good reputation. Check around for the reviews from various sources. Providing online legal services is an interesting niche and many new players have entered the scene. So make sure you had made an informed choice.
Your Needs
Before committing to a legal platform, consider your needs. What stage of your business cycle are you in now? Is it a one-off project or you will need constant help? Can the problem be solved by overall legal advice, a simple template or you need more bespoke services?
Legal environment
Services like LegalMatch can suggest to you a local lawyer – which is a great thing. Keep in mind that the legal environment and the law of the particular country in which you operate (or are expanding to) players a critical role.
Conclusion
As you can see from this article, there is quite a wide array of services that you can choose from.
There are some limitations to the use of online legal services but on the other hand for some situations, they offer unparallel speed and pricing.
Consider your needs that you have now and plan to have soon – that will help you to find the best option for you
FAQ
What are online legal services?
They are online platforms that provide you with templates of legal documents or can connect you with an attorney at your location or a country in which you are interested.
How much do they cost?
Prices vary, but you can get as low as $40 per month.
Is it the same as hiring an attorney?
No, online legal services provide you with documents, support and can connect you with an attorney but it is not the same as using the attorney from the get go.