Social media management tools are a must for any business or brand which is serious about its online presence.
Just imagine that you are planning to buy something from an online store, you g to their Twitter – just to see that the last time they posted was in 2019, not very credible…
Social media are your main channel of communication with your potential and existing audience. Branding, marketing, and overall positioning of your products happen there.
In this post, I will go over some of the best tools that you can use, you will be able to find both free social media management tools and also of course their paid packages. Let's get into it!
Best Social Media Management Tools
Below you will my pick of platforms that will help you to schedule, manage and plan your social media content.
Buffer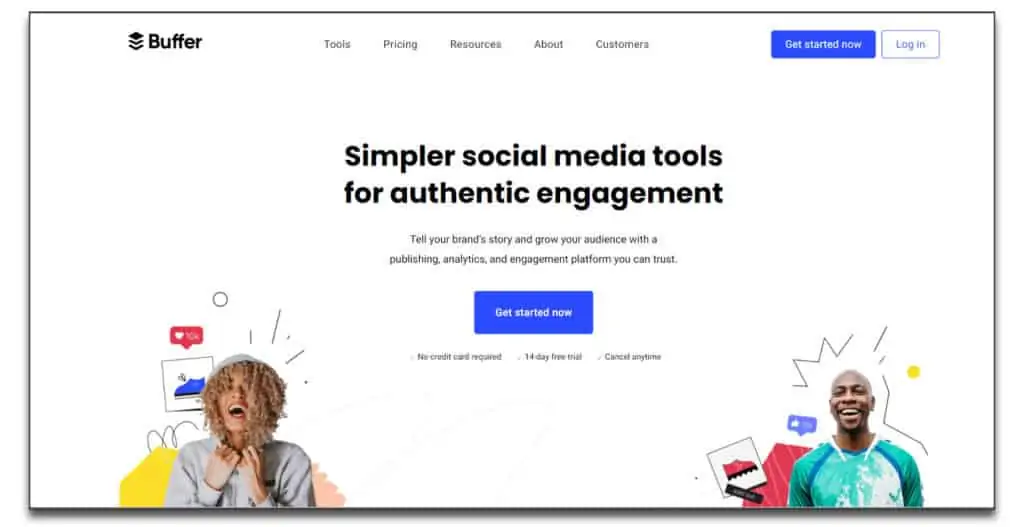 We can't talk about social media management tools without mentioning Buffer. The platform was created way back in 2010, and it represents one of the oldest web tools, not only within its own niche but in general.
With Buffer, you are able to monitor social channels, analyze social media data, and learn more about user posting habits. The software can be utilized for Facebook, LinkedIn, Twitter, Instagram, and so on. Besides your personal computer, you can use Buffer on mobile devices.
While the platform has numerous great features, I need to put emphasis on content scheduling and publishing. It is something that a lot of influencers use as a way of increasing efficiency. Keep in mind that the same piece of content can be shared on numerous social platforms simultaneously when you subscribe to Buffer.
It is also one of the best social media management tools for creating images. There is an extension for Google Chrome that makes it more accessible, and you can also rely on its analytics suite for getting better insights. Buffer is one of those social media management tools with a free plan.
While the platform has various benefits, there are also a few cons you need to be mindful of. For example, its Instagram integration is far from perfect. You also shouldn't use Buffer if you wish to search for hashtags.
Buffer pricing
A client can choose between 4 plans: Free, Pro ($15 per month), Premium ($65 per month), and Business ($99 per month).
Hootsuite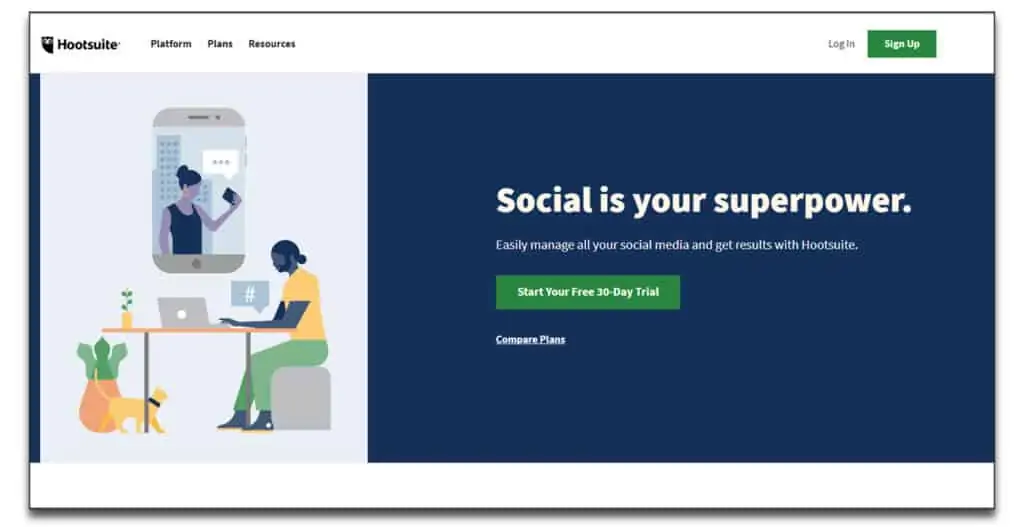 Another giant of this niche, Hootsuite, has been around for quite a while. The platform can be used for numerous social media integration. People rely on it as a way of improving their Instagram, YouTube, Reddit, and Facebook performance.
The great thing about Hootsuite is that it comes with a 30-day free plan. This is more than enough to check some of its basic features. Its best functions include social network spying, monitoring several networks at once, managing customer services, and post scheduling.
The social media management tool can be utilized across several social accounts. It comes with an amazing analytics suite that will provide data for each platform that you use. As you can guess, Hootsuite is great for tracking performance across the board. There are 70 different metrics you can analyze, and once you're done, you can create reports for later use.
If you wish to use the platform on certain apps, you will have to pay extra. The same goes for the platform's URL shortener. Auto-scheduling is not as smooth as with some other tools, and you might struggle when creating thumbnails.
Hootsuite pricing
There are 4 pricing options at your disposal: Professional ($39 per month), Team ($109 per month), Business ($599 per month), Enterprise (custom plan).
Crowdfire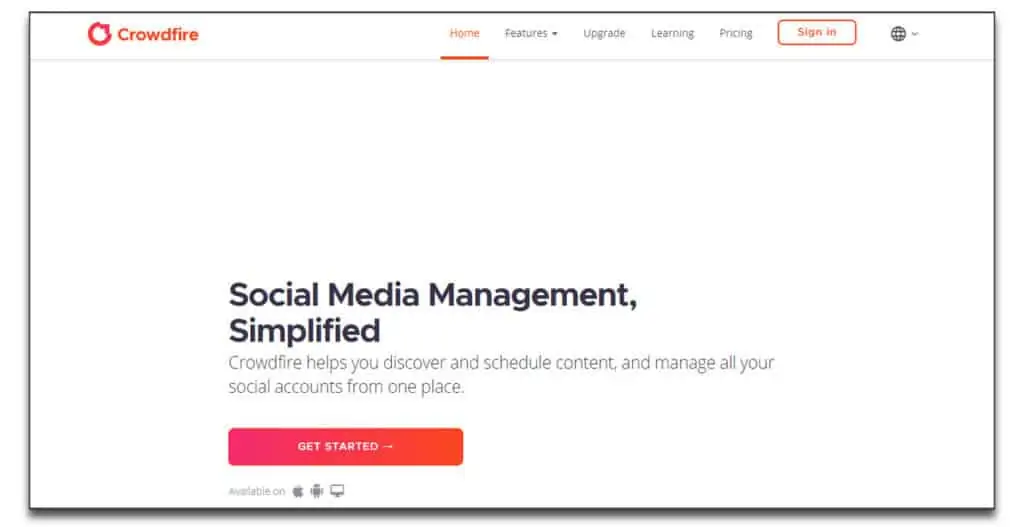 Another older social media platform, Crowdfire was conceived as "JustUnfollow," in 2010. In 2015, the company made a major rebranding change when it renamed it Crowdfire. Nowadays, the company has more than 20 million users, and the number keeps rising. It is especially popular among freelancers, bloggers, artists, and e-sellers, but anyone can use it regardless of account size or industry.
As one of the best social media management tools, it shouldn't surprise us that it has great scheduling, social listening, and content curation functions. With Crowdfire, you can significantly increase your social media engagement within the first few weeks of using it. The analytics suite will help you with this. At the same time, you can utilize social listening as a way of tracking important topics.
You can combine the platform with numerous add-ons. By pre-scheduling content, you rest assured that your posts are published at the same time every day. The program can be utilized for finding relevant content.
When talking about its drawbacks, it is worth mentioning limited blog promotions. The company mostly focuses on quantity so, some of the data might not be as relevant. In terms of recommendations, it will only show content from other members.
Crowdfire pricing
Crowdfire gives you free social media management tools. That is, you can check one account for free, and the top plan comes with a 14-day free trial. After that, there are 3 plans which include: Plus ($7.48 per month), Premium ($37.48 per month), and VIP ($74.98 per month).
Rebrandly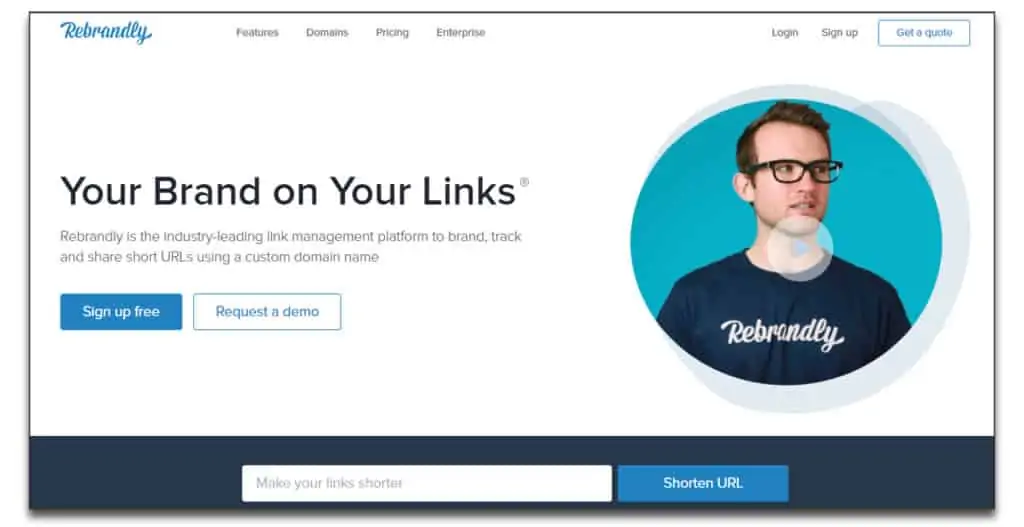 If you're looking for a link shortener, it doesn't get better than Rebrandly. This is a simple tool that can be utilized for shortening your URLs, so it gets easier to share them on social networks. As such, posting will become simpler than ever.
With the app's link manager feature, you can tag all of the links, create custom URLs, redirect links, and even expire them if need be.
While there are lots of ways you can use the tool, it is especially great for bigger influencers or companies that post regularly. Its value increases if the brand works on several networks simultaneously. While still very simplistic, it is much better than its competition and with much more advanced functions.
Among its best features, we need to mention team collaboration options, traffic routing, and link analytics. Like with many other similar platforms, the company offers support to all its users as well as training and knowledge base.
Rebrandly can cause issues in a few situations. For example, it doesn't have the same scheduling function as other platforms on the list. It might also feel a bit redundant if you have some other software.
Rebrandly pricing
A person can choose between 5 unique plans: Free, Starter ($29 per month), Pro ($69 per month), Premium ($499 per month), and Enterprise (contact the company for pricing).
Sendible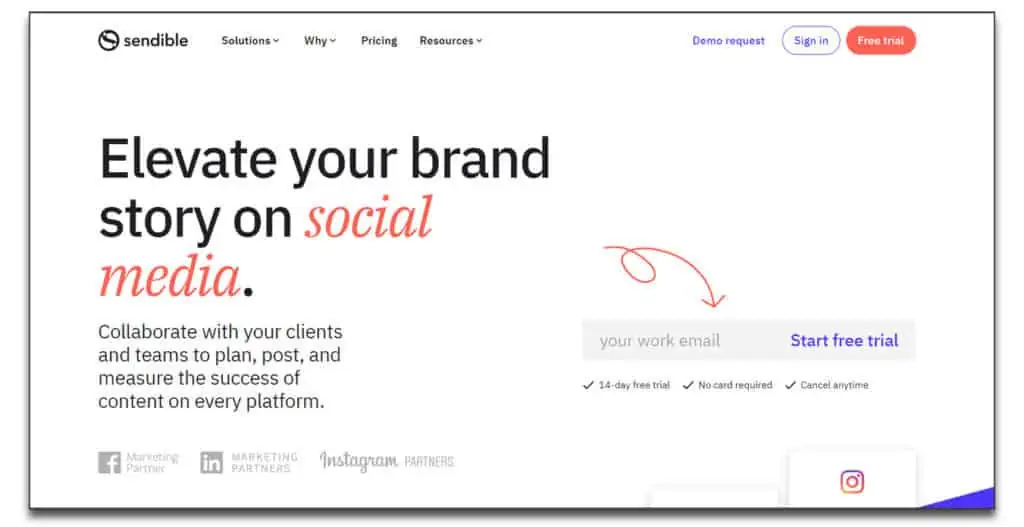 This is definitely one of the best social media management tools that you can find on the market today. Sensible has a plethora of features that are unique for this platform. You can utilize it for measuring return on investment, which is a rare function for this kind of software. Furthermore, the ROI feature is on the dashboard, so you won't have to go through numerous sheets to find it.
You can integrate Sendible with various social media. If you're still not sure about it, there is a 30-day trial that will help you make the right decision. While there are lots of reasons to use the platform, its best features include automatic post scheduling, lead generation, and handling several clients at the same time.
Whether it's a small, medium, or large company, this social media software will be able to provide something of worth. Influencers often use it for previewing their posts before publishing them. With its collaboration function, it is possible to organize and segregate work.
However, there are a few potential issues that you might encounter when working with the software. Its inbox is a bit confusing, and there are issues when you post photos on Instagram. On top of that, it isn't the best tool if you're looking for advanced social media analytics.
Sendible pricing
There are 4 plans you can choose: Starter ($29 per month), Traction ($99 per month), Growth ($199 per month), and Large ($299 per month).
SocialPilot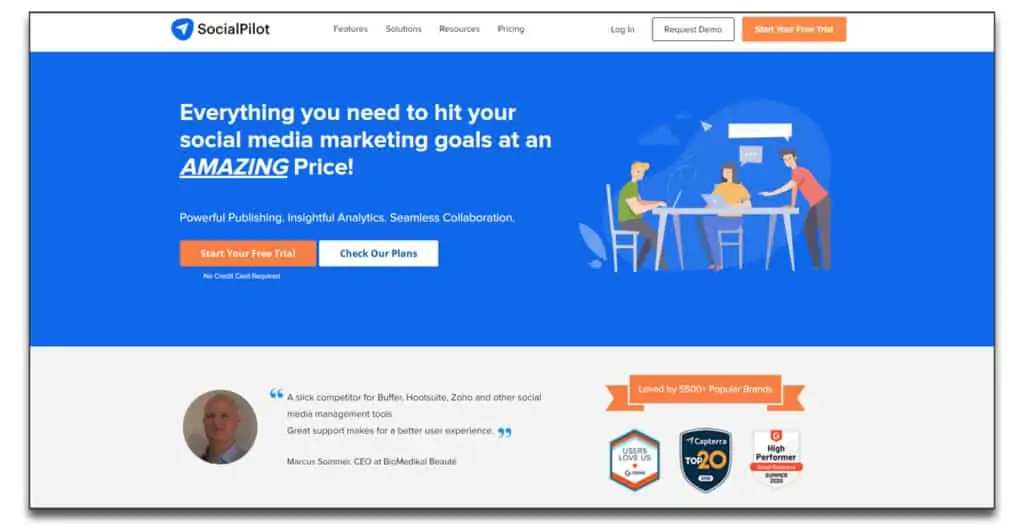 SocialPilot is great for both social media and customer engagement. It has an incredible analytics suite that will allow you to monitor the progress of several social accounts. What's even better, the software is relatively cheap compared to other solutions on the market.
This is one of the best social media management tools if you wish to save time on menial processes. While providing the optimal results for smaller organizations and single entrepreneurs, it can serve businesses of all sizes.
Among its numerous features, its content suggestion function is the unique one. With it, you will never run out of content topics. The software can be customized according to your needs; you get priority support and a user-friendly dashboard.
SocialPilot pricing
You have 3 plans at your disposal: Professional plan ($30 per month), Small Team plan ($50 per month), and Agency plan ($100 per month).
Sprout Social
This program is ideal for all those influencers and companies that want to focus on relationship building. While the platform is a bit more expensive than its competition, it can create enormous value for your organization over time.
Everyone can utilize this tool regardless of the company size. Nevertheless, it has shown the best results when used by enterprise-sized organizations.
Its main features include an organized messaging area (or Smart Inbox), message scheduling, a user-friendly, simplistic dashboard, and a Discovery feature that allows you to find people who mentioned you. There is a 30-day free trial for all new users.
Sprout Social pricing
The company offers 3 versions to potential users: Standard plan ($99 per month), Professional plan ($149 per month), and Advanced plan ($249 per month).
Meet Edgar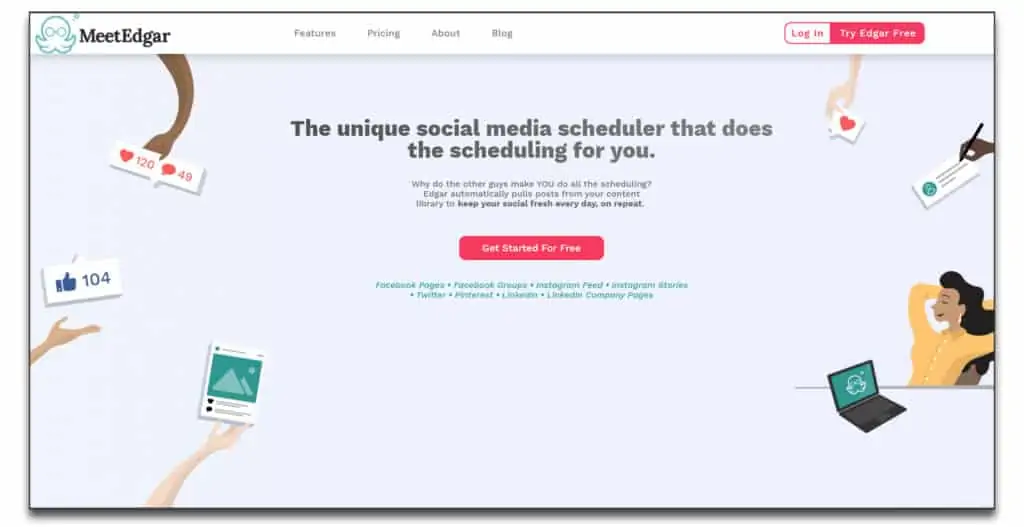 Although it has a funny name, this software is no joke. You can utilize Meet Edgar for numerous social media tasks from scheduling, to repurposing and curating content. Its best feature comes in the form of content topic generation. That way, you always have an influx of new ideas that you can utilize for your social media accounts.
Meet Edgar reduces multitasking and overall time spent on managing several accounts. You can utilize its scheduling functions to post content at the same time each day. Everything is automated and done from one access point.
Not only can the tool provide ideas, but it can also create posts for you. The software works by scraping quotes from various online blogs, and then, you can utilize these results for your own posts. There are several extensions you can try out, such as the ones for Safari, Google Chrome, and Bookmarklet.
Continuous posting is a function specific to this platform. As the name implies, it allows you to post all the time, even when there is nothing to share. The company offers all its users amazing support that usually responds in 48 hours. Lastly, you can utilize the software for A/B testing.
The lack of Pinterest integration will dissuade some of the users from getting the tool. Its high price is another potential issue.
Meet Edgar pricing
Meet Edgar is one of the rare software that increases its price after a certain period of time. During the first 4 months, it will cost $29 per month, and after that, it will cost $49 per month.
CoSchedule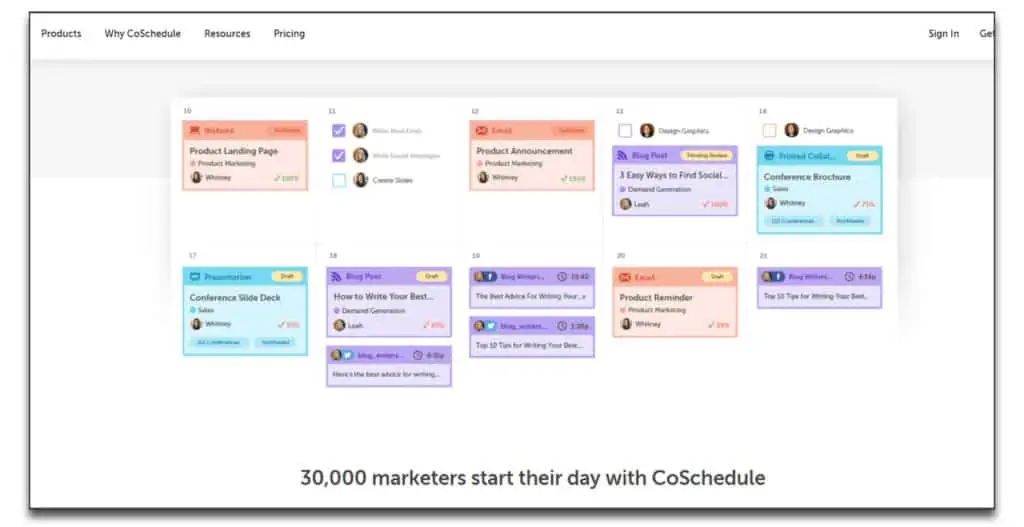 CoSchedule is a platform used by more than 10,000 clients across the world. You can use it as a Google Chrome extension, and there is also a headline analyzer that will allow you to assess all your titles. It is simply incredible for tracking and organizing content, and you can integrate it with various apps.
The software can be utilized in several different ways. Still, it provides optimal results when making case studies. Bloggers use it to a great extent for article creation and tracking. CoSchedule allows you to streamline your marketing processes. You can integrate it with tools such as Google Analytics, Zapier, MailChimp, etc.
Perhaps the biggest critique of the tool is that it isn't intuitive.
CoSchedule pricing
You can choose among 3 pricing options: The Blog Calendar ($19 per month per user), The Marketing Calendar ($39 per month per user), and The Marketing Suite (contact the company for a quote.
Agorapulse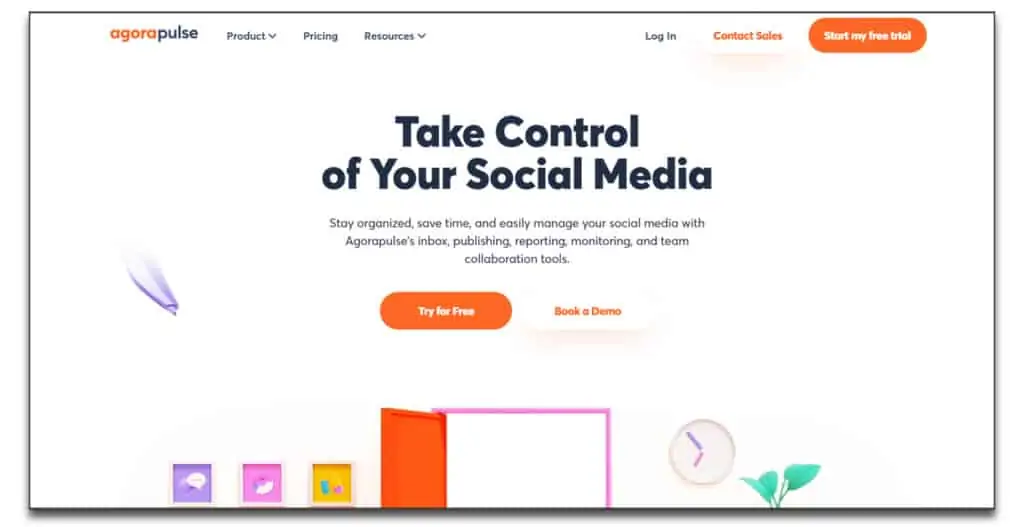 Agorapulse makes it much easier to communicate with other online users. There is a 28-day free trial for new users. The software is especially great for medium companies that have several social media managers.
With its flexible scheduling, you can queue and reschedule posts in bulk. Its social inbox makes it easier to track web mentions and messages. You can also utilize Agorapulse for collaborating with other team members.
Unfortunately, while its features are pretty solid compared to the competition, the tool is really expensive for what it offers. Some other functions are subpar including listening and inbox.
Agorapulse pricing
Clients can go with one of these 4 plans: Medium plan ($99 per month), Large plan ($199 per month), X-Large plan ($299 per month), and Enterprise plan ($499 per month).
Why Do You Need a Social Media Management Tool?
As I mentioned in the beginning, you must keep your social media accounts active to create a positive image of your brand.
Let's add to the equation that you have many social media platforms. Facebook, Instagram, Twitter, LinkedIn, TikTok…just to name a few.
On Twitter, you should post several times a day. At least once every other day on LinkedIn, drop a post per day on Facebook, keep your Instagram influencer juices flowing with several posts per day.
Add this all up…but that is not all. What about time schedules? LinkedIn is consumed during working hours. Instagram before work, on lunch, and after work (same with Facebook). Twitter is consumed throughout the whole day, and the best times to post on TikTok vary a lot.
We are looking at tens of combinations just for a couple of days, what about a social media content plan for a week? You would go crazy scheduling it all manually.
Another issue is keeping track of it all. How did your last post perform? Is your engagement on TikTok higher than on Instagram? Why?
Without using a social media management tool, you would have to manually go through all your social media profiles check analytics and compare it amongst other platforms.
Main Features Of a Best Social Media Management Tool
All the tools in this list will be a great help when managing your social media content. A lot of them can be partially considered free social media management tools as they offer various starting packages which have no time limit. Below are a couple of points to consider when making your final pick.
Usability
While this may seem obvious, ease of use is important. As the chances are that not only you will be working with the tool – you need to get to features that you want in the smallest amounts of clicks possible.
Analytics
You can't improve what you can not measure. Every social media management platform will have analytics of some kind, but the question is if they are enough to show you what really matters.
Dashboard
When you login into your tool, you need to have a quick overview of the situation. Make sure that the dashboard of your social media helper is intuitive and gives you that present situation at a quick glance.
Customization
Some boxes might be more useful than others. That is why an even small level of customization might be helpful. Being able to change things a bit to your linking may help you to navigate the platform more easily. Also, some minor images editing might be also helpful.
Collaboration
If you plan to use the platform just by yourself, this won't be an issue. But if you are looking to expand your capacities and take team members on board – make sure that the tool of your choice will allow for easy administration of multiple users.
FAQ
What are social media management tools?
A social media management tool allows you to schedule and monitors your content through all the social platforms that you are using.
Are there free social media management tools?
Partly. For example, Buffer offers a free package for a limited amount of social media accounts.