Onboarding software had solidified its place in the business world with an unprecedented increase in remote work that is done globally.
Whether you just hired a new employee or you landed a new client, your must make sure that the introduction to the role or the product is swift and immediate.
You do not want your employee to feel lost and you do not want your customer to pointlessly wander around the product dashboard just to cancel their subscription in few weeks – that is why you need onboarding software. If you are on the fence here are a couple of statistics:
Best Onboarding Software
Below you will find some of the best onboard software that is available, you may also be interested in checking my post on HR software for small businesses.
BambooHR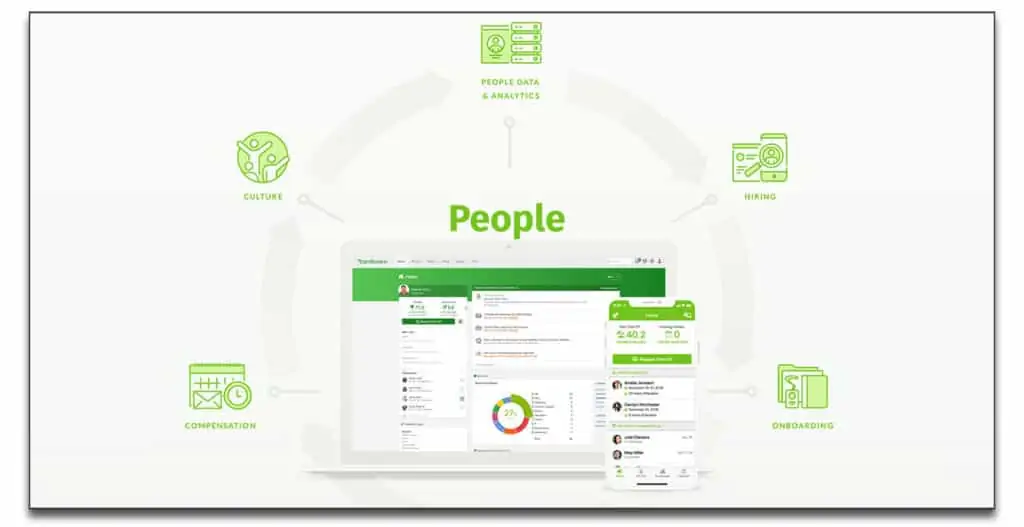 BambooHR is one of the best onboarding software for streamlining the majority of your HR processes. This SaaS is meant to provide complete support to your human resources team. It relies on data analytics, compensation, onboarding, and culture management as its main features.
According to experts, this is perhaps the optimal HR onboarding software if you're looking for something a bit cheaper. Given that it provides a plethora of functions, you won't need any other SaaS for employee management.
BambooHR is especially great for simplifying certain processes. For example, it will send specific onboarding tasks to new members of the team, which they can finish at their own leisure. Every employee can then customize these tasks adding the required time, due date, and location. That way, they can create their own schedule and finish various things without being rushed.
The platform allows you to utilize electronic signatures. What's even better, you won't need any external software or tools for the process. That way, you can also save office material, which is especially great for companies that want to preserve the environment.
Lastly, we need to mention features such as applicant tracking, hiring app, and employee database.
BambooHR pricing
BambooHR offers two price plans: Essential and Advantage. You need to contact the company to get a quote for both of them.
Wrike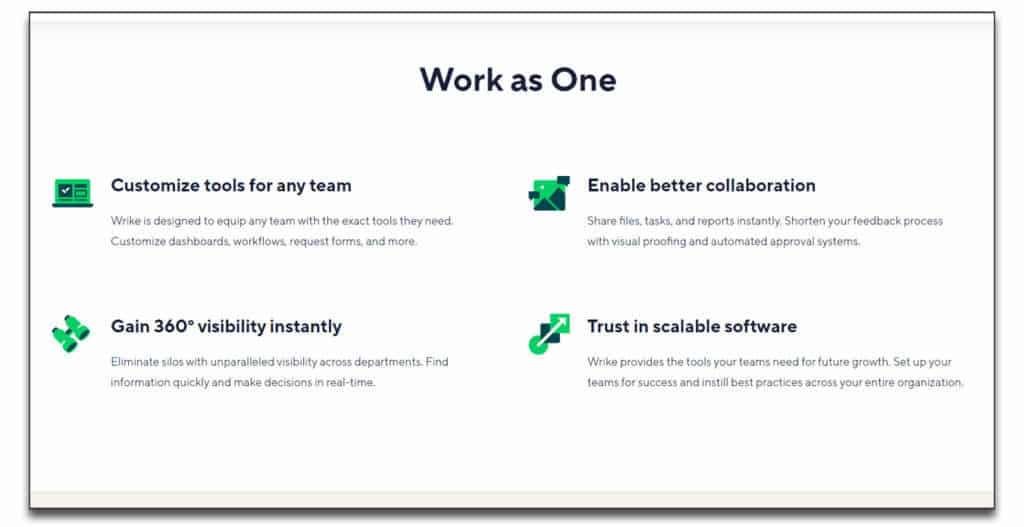 Wrike is among better onboarding solutions for larger online teams. The SaaS is placed on a cloud making it fully accessible via the internet. Wrike is really amazing for teams with more than 20 employees, but it can also be a good investment for smaller enterprises.
A client has access to calendars, Gantt charts, custom dashboards, project management workload view, and real-time updates. The onboarding software helps you automatically assign tasks based on their statuses (if a task is finished, an employee will automatically get a new one). You can also use it for the folder, file, and task structuring.
HR onboarding software allows integration with various tools such as Slack, SalesForce, Dropbox, Adobe Creative Cloud, etc. It also has an open API. In order to protect your company's online data, Wrike has introduced a top-notch security system, which includes physical security, network, and system security, as well as application protection.
Wrike is a customizable software that allows you to scale as your business progresses. Its main advantages come in the form of simplified collaboration between team members. Visual proofing and automatic approval feature will shorten the feedback times making everything that much easier and faster.
Wrike pricing
The great thing about Wrike is that it's free onboarding software. The free plan is simply amazing, and it works great for all types of teams. If you liked the software and want additional features, you can always go with the Professional plan ($9.80 per user per month), the Business plan ($24.80 per user per month), and the Enterprise plan (contact for a quote).
Gusto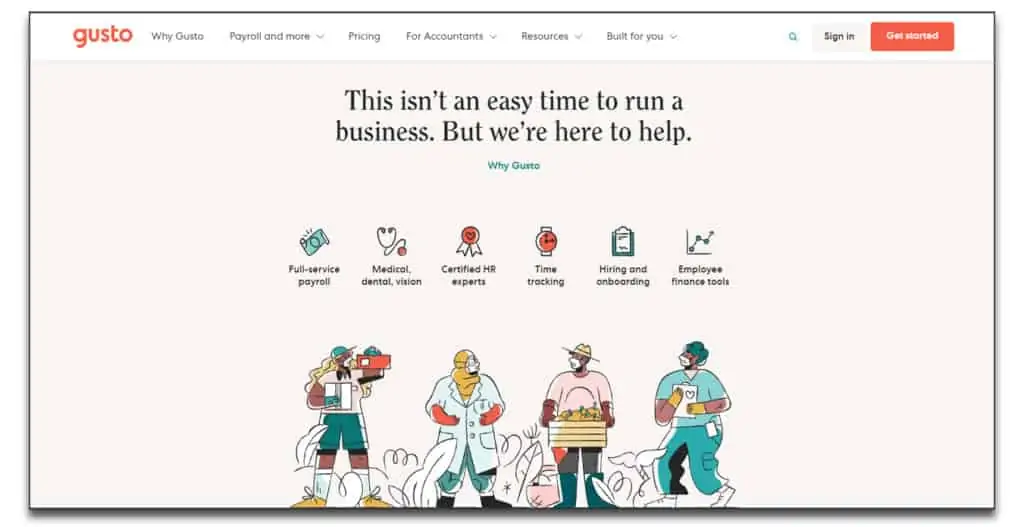 If you never used onboarding applications, Gusto is just the thing for you. Due to its numerous customization features, you will be able to set up the platform however you wish.
Clients can use the SaaS to create quick offer letters for potential employees. There are numerous templates to choose from, which will save you a lot of time on communication going forward. Furthermore, you can customize these templates so that they reflect the brand message.
Gusto is a magnificent employee onboarding software regardless of company size. You can use it for benefits management, payroll management, time tracking, engaging employees and teams, onboarding, and so on.
The provider has placed special emphasis on health coverage. Employees' health and dental costs will be automatically deducted from their payroll at the end of the month. Client companies also use Gusto for health reimbursements, worker's compensations, commuter benefits, and many other perks.
The platform can be integrated with numerous other tools widening its scope of use.
Gusto pricing
You can get 4 different subscription plans: Core ($6 per month per person plus $39 monthly subscription), Complete ($12 per month per person plus $39 monthly subscription), Concierge ($12 per month per person plus $149 monthly subscription), and Contractor ($6 per month per person).
Userflow – User onboarding software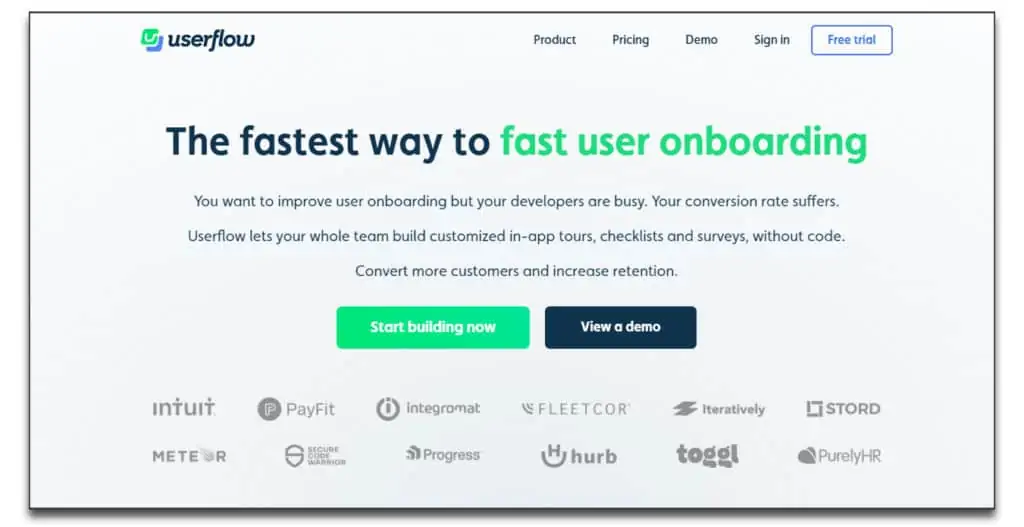 The biggest advantage of this platform is in its ability to onboard users quickly.
Userflow doesn't require vast technical knowledge. In fact, it is a newbie-friendly software. You don't have to install the app, and you can access user flows almost immediately. The platform can be integrated with numerous other apps, thus simplifying and hastening your daily processes.
This is perhaps the best onboarding software if you wish to do things quickly. It relies on its great interface that is very intuitive regardless of your skill level. All you need to do is point and click, and then you can drag and drop the elements as you see fit.
Userflow also has a preview that allows you to check edits before publishing. The platform works very well with all frameworks. As long as the app can run in a browser, you can also access it in Userflow. On top of that, the onboarding software can be used with a single page and multiple page applications. Lastly, you can utilize it to create customized events and user attributes.
Userflow pricing
The SaaS comes in 3 versions: Startup ($200 per month), Pro ($480 per month), and Enterprise (contact the company for a quote).
Trainual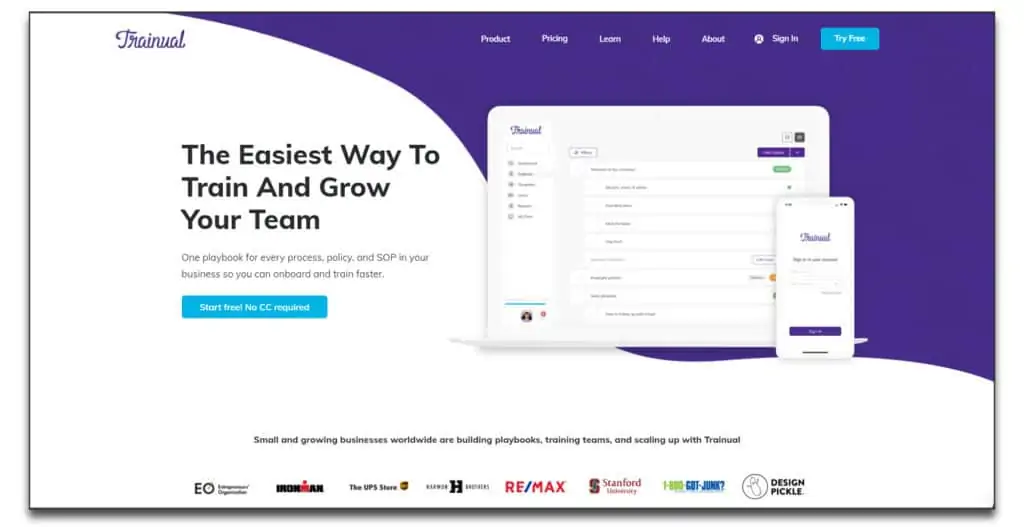 As you can presume based on its name, Trainual is the best onboarding software when you want to introduce new employees to your business environment. The platform has numerous features that will make the transition process as quick as possible. For example, it has asynchronous training with automatic nonfictions meant to help both employee and a manager.
What sets this software apart is its visual aids. You can use GIFS and videos to interact with colleagues. This makes it ideal for younger generations that are used to this type of non-verbal communication. Among others, this will also help your team bonding.
A customer will also gain access to numerous CMS apps and tools that can be integrated with Trainual. In order to simplify processes, you can create business playbooks by relying on more than 150 different templates. You can use the platform in the form of an app, or you can access it via Google Chrome.
Lastly, you can integrate the platform with various work apps. For example, you can use it with Slack, Gusto, Zapier, BambooHR, and so on. So basically, you can use several programs from this list to create an ultimate human resources tool.
Trainual pricing
You can choose between 3 pricing options: Pro ($99 per month), Premium ($149 per month), or you can contact the company for a quote.
Zenefits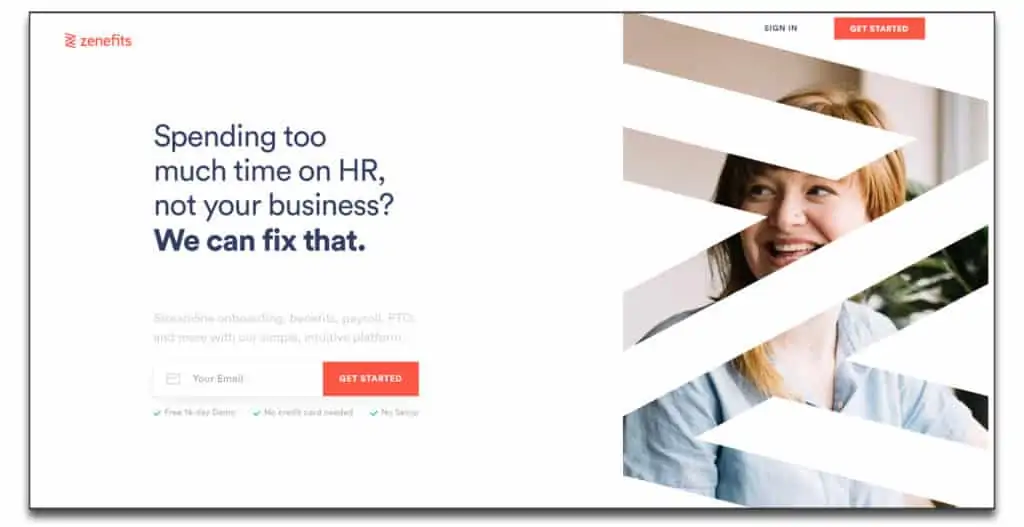 Numerous experts believe that Zenefits is the best HR platform on the market. It is a cloud-based solution that can be used by the whole team regardless of their geolocation. As such, it makes for a great onboarding tool for global companies or brands that rely on foreign freelancers.
The software can be used for hiring new employees. The whole onboarding process is very simplified, and it will take half an hour for a newly-joined prospect to catch up to speed. As soon as you create a task, these professionals will be streamlined.
The majority of companies subscribe to this employee onboarding software because of its benefits package feature. By utilizing this function, you can deduct medical, vision, and dental coverage from an employee's paycheck at the end of the month. That makes Zenefits amazing for reducing human errors.
You can connect this SaaS to your existing human resources system. That way, you won't miss a beat when introducing Zenefits to your daily operations. Lastly, I need to mention features such as account provisioning, time-off tracking, background checks, real-time syncing, and business intelligence.
Zenefits pricing
Businesses can choose between 3 subscription plans: Zen ($21 per month per employee), Growth ($14 per month per employee), and Essentials ($8 per month per employee).
GoCo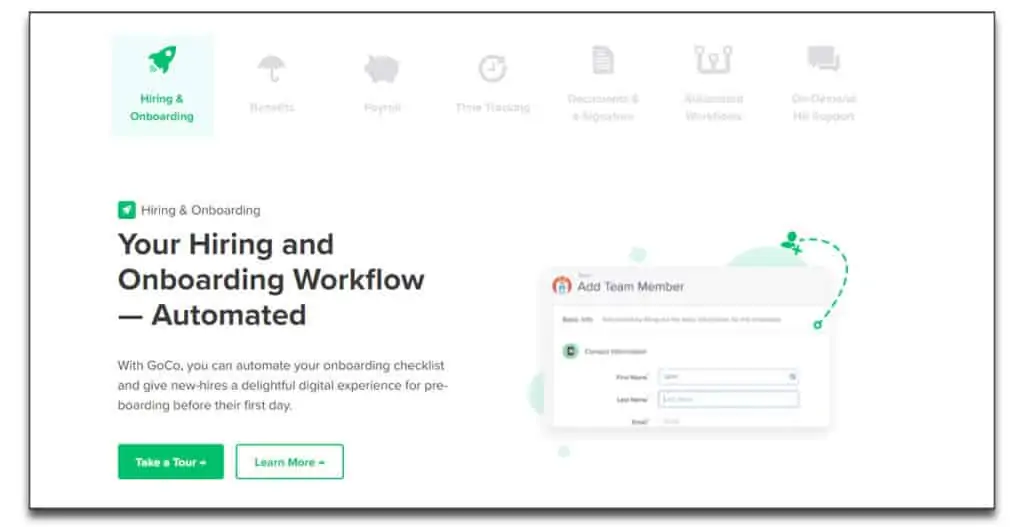 GoCo allows you to combine various HR features, payroll management, and employee benefits in one centralized platform. The software has a very user-friendly interface that can be utilized regardless of your skill level. GoCo is flexible, and it helps companies automate HR workflow, which among others, includes e-documentation, onboarding, PTO, and time-tracking functions.
Of course, most companies will get this software so that they can access its onboarding function. It makes the whole process much easier for both employees and employers, saving a lot of time and money in the process.
With this platform, you can automate every step of onboarding. You can use it to create the initial offer letter, get tax withholding information, and leverage electronic signatures. Once a professional becomes a part of your team, you can use the tool to create customized employee packages, as well as to send them to training and orientation.
A client company has access to numerous features such as onboarding tools, sync capabilities, time-tracking, benefits management, embedded payrolls, and so on. The platform is great for all brands regardless of their size or structure.
GoCo pricing
GoCo starts at $5 per employee per month, but you need to contact the company for quotes.
Lessonly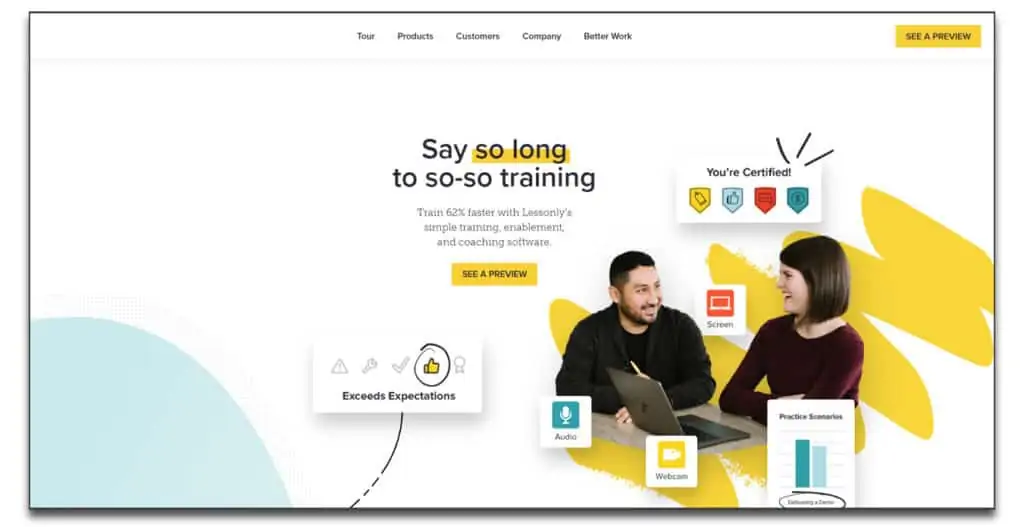 According to Leassonly, you can train new employees 62% faster with this software. You can use its numerous tools to improve employee skills. For example, webcam recording allows you to practice live pitches. Audio recording can be used to enhance your phone skills, while chat features are great for practicing social media sales.
There are 3 main things that your new hires can achieve with the SaaS: hone skills, learn to communicate faster, and measure the impact of their actions. Perhaps the most important function of this platform is its direct feedback feature. With it, employees can get a quick response from their coaches as to what went wrong and how to improve it.
Like many other tools on the list, you can integrate Lessonly with other software. You can use it with Salesforce and Zendesk. You can also access its open API at any time.
Lessonly pricing
The tool comes in two versions: Pro and Pro + Coaching. Whichever you decide to choose, you will have to contact the company for pricing. There are also numerous ad-ons that are charged separately.
ClearCompany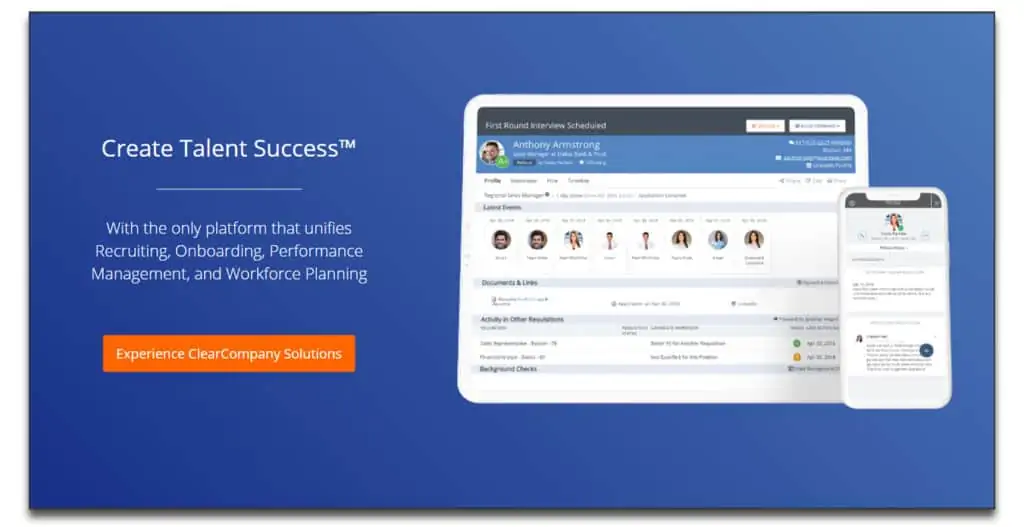 ClearCompany provides its users a complete talent management solution. You can use it for onboarding, tracking applicants, managing performance, as well as to engage employees. Some of its main features include compliance management, performing background checks, e-verify, manage benefits, and numerous other functions.
Its employee portal is amazing for new hires. They can be guided with a customized, step-by-step process that will get them acquainted with your company and internal processes.
SaaS can help your brand in numerous ways. You can use it to align team goals, engage employees and onboard new hires, manage their performance, and create long-term plans. Among others, you can use the software to stay compliant.
ClearCompany pricing
ClearCompany doesn't disclose its pricing on the website. You need to contact them for a quote. The good thing is that there is a demo that would allow you to make a better decision. Clients have modular access allowing them to customize the platform to their liking and choose only the features they need.
Workbright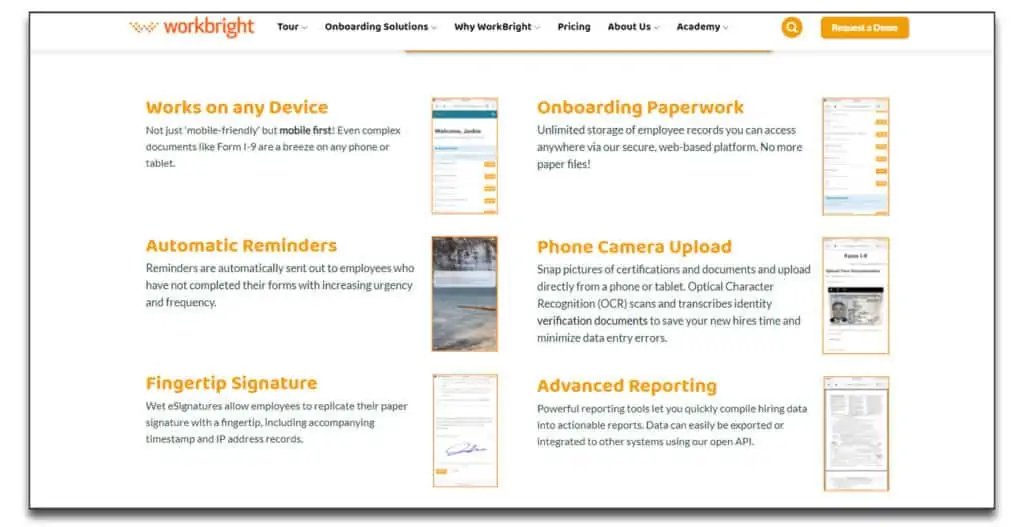 This is one of the best onboarding applications for simplifying internal processes and getting better results from employees. According to the company, their main goal is to completely digitize your operations and turn all your documentation into a paperless library.
Workbright has numerous advantages to it. The platform works on any device, it has automatic reminders that hasten employees who are lagging behind, and it also gives you access to onboarding paperwork. That way, all your documentation will be stored online without any need to do business face-to-face.
In order to sign these documents, employees can create signatures with a fingertip. There is an open API that would allow you to integrate the platform with other tools but also, to export data.
Workbright pricing
Workbright has a pricing system that varies based on the number of employees and contractors that you hire within a year. The lowest plan goes for $158 per month, while the most expensive one will cost you $3,609 each month.
Main Features on Onboarding Software
Some of the tools in this list have a limited free version or a trial, so you can try them all. In this section, I would like to share just a couple of areas to consider when you are picking your onboarding software.
Interface
Ease of use is the most important for both employees and users onboarding. The setup of the onboarding should be very simple, with just the right amount of features that are on your dashboard.
Reporting
You can improve heat you can not measure, and to measure how your new hires and clients are going through the onboarding process you will need clear and comprehensible reporting. The only way how to catch all the bottlenecks and issues is through repeatedly analyzing your existing onboarding funnel – so make sure that the tool that you choose will provide you that.
Customization
when you hire a new person or your just a new user – you want them to keep recognizing your brand anywhere they go. That is why you should have at least minimal customization options in your tools. This will allow you to add colors, branding, and other small changes that will make the onboarding funnel more …your own.
Onboarding Software FAQ
What is onboarding software?
These are tools that will help new employees or clients to understand how things work so when they go through the onboarding funnel they are ready to work or use your tool.
Why do I need employee onboarding software?
When you have a new hire, you need to get them up to speed on the way you work, the systems that you use, and all the processes – onboarding software takes care of that.
Why do I need user onboarding software?
When you land a new client you want to make sure that they do not get lost in all your features and that they can use your platform to its full capacity. User onboarding software will help you to create this process.