Best AI Content Writing Software, 2022
Are you looking for the Best AI article Writing Software? Because I have the list of the best picks right here for you. In this post, I will go over 9+ best ai content generators to pick the one that is right for you.
No matter which platform you are trying to grow on, content is the king. If you do not publish new content, it is the same as if you would not exist at all.
The problem is that everyone is aware of that. Over 4 million new blog posts are published every day. Big sites have tens of editors and a whole copywriters team to cover every possible angle of every keyword.
How can you compete when you are starting? How do you publish tens of thousands of words per week? Ai content generator is here to help.
Best AI Writing Software
Below is the list of the best ai writing software tools that I could find. The list starts with my number one favorite – Jarvis. I consider Jarvis to be on a completely different level than all the other tools. Give it a try. You will see that the texts that Jarvis generates frequently do not even need many corrections and are written coherently in perfect English.
Jarvis.ai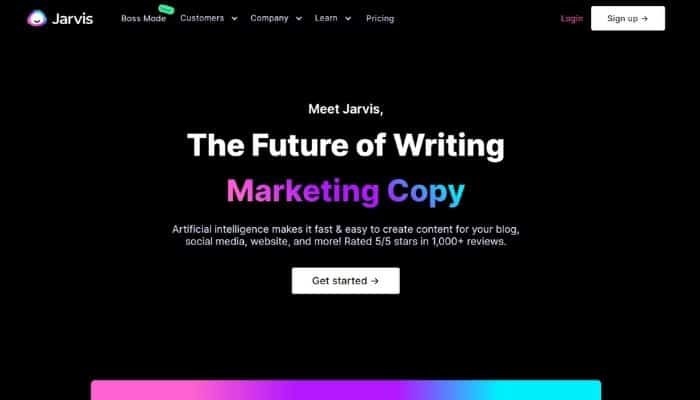 Jarvis is an automated article writing software allowing you to convert simple text into personalized, sophisticated pieces. Whether you need regular articles, product descriptions, or social media posts, this program can help you out.
As one of the best AI writing software, Jarvis can finish sentences as you type. It is a great way to write articles, as the software will generate content according to your style (my readers have 10,000 words for free). You don't even need to have excellent writing skills. Jarvis will correct grammar mistakes and control article length to create quality content without breaking a sweat.
According to AI writing software reviews (and my personal experience), this is the ideal AI article writer to generate bulk content. I even got my readers a special offer of 10,000 words for free. Try it. You will be blown away!
Most importantly, these texts won't be jibberish. You can create high-quality content that will flow naturally and sound as if a real person wrote it. Then, you can post multiple articles on your blog.
The main features of this AI text generator include: lookup function that allows you to identify crucial parts of the text, punctuation, find/replace elements, changing style and font.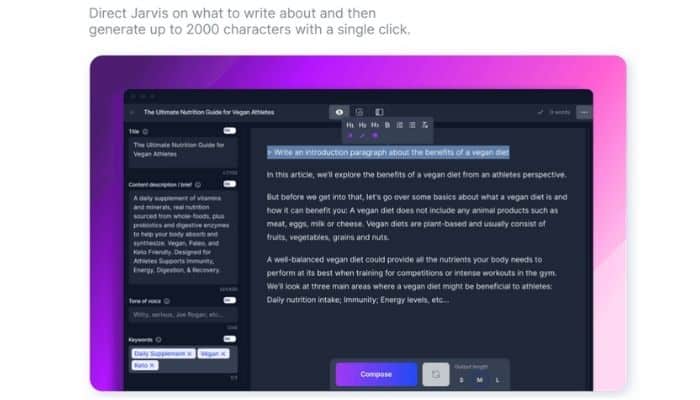 Jarvis.ai pricing
Jarvis has two pricing plans: Starter ($29 per month) and Boss Mode ($119 per month). It is worth noting that AI writing software has a free trial.
Grammarly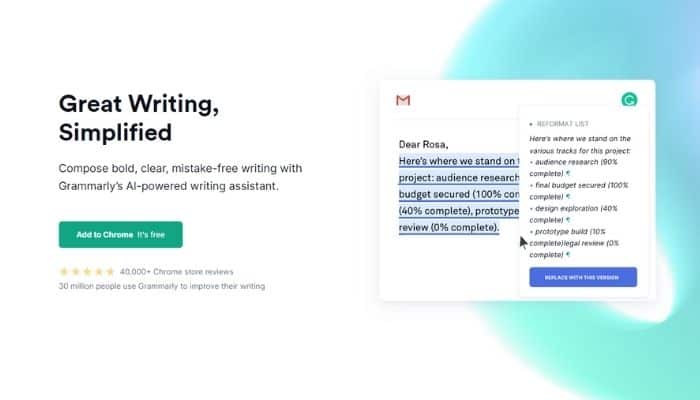 When we mention grammar checking, most people think of Grammarly. This natural language processing tool is a staple among language correction tools. What's even better, you can integrate it with various other software so that Grammarly automatically corrects your writing as you're creating emails and other documents.
The company started working back in 2009, and, by today, they've made quite a name for themselves. In just a few seconds, this tool can discover various mistakes such as excessive use of passive voice, improper punctuation, wordy sentences, etc. What's even better, these are real-time suggestions that appear as your write.
Although it can't be used for multiple languages, it is the best tool for English. Besides US English, you can utilize the assistant software for Australian and UK English. Besides helping you fix articles, the use of Grammarly can help improve your writing game.
The AI writing assistant software relies on NLP (natural language processing) and artificial intelligence to tidy up your writing. Whether you're working in Word, Gmail, Google Docs, its plugging can quickly detect errors and show you how to correct them.
The writing software has several great features worth mentioning. They have fantastic support in several different languages, and the software is easy to integrate. Users can check quality scores at any time, thus allowing you to analyze articles and compare them to each other. This is especially great for companies, enabling them to categorize the employees' writing quality quickly.
Grammarly pricing
The writing assistant has three pricing plans: Free, Premium ($12 per month), and Business ($12.50 per member per month). No matter which plan you choose, you will get unlimited credits. The main difference is in the quality of suggestions.
Rytr.me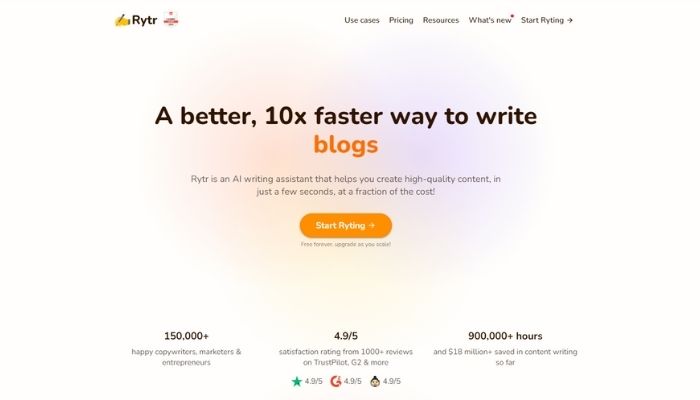 Like many other platforms on the list, this is an AI writing software for online use. The tool relies on a machine-learning algorithm to help you write high-quality content. You can use it for various things such as creating YouTube video titles, product descriptions, landing pages, Google Ads, and so much more.
The article generator relies on published online articles. Its algorithm will go through millions of web posts, improving itself as it goes. By doing so, the AI writer will learn how real people write and will be able to generate articles based on this knowledge.
As one of the best AI article generators, Rytr will check your grammar and punctuation, allowing content marketers to create high-quality articles. You can use it to correct existing articles or utilize it to perfect posts in the future. Its advanced artificial intelligence can also help with style and formatting. All you need to do is set up the required parameters in advance.
Here are some of the tool's main features: grammar checker, tone checker, autocorrect, sentence rephrasing, and formatting.
Rytr.me pricing
Rytr.me has only one pricing plan. The tool will cost you $29 per month.
Peppertype.ai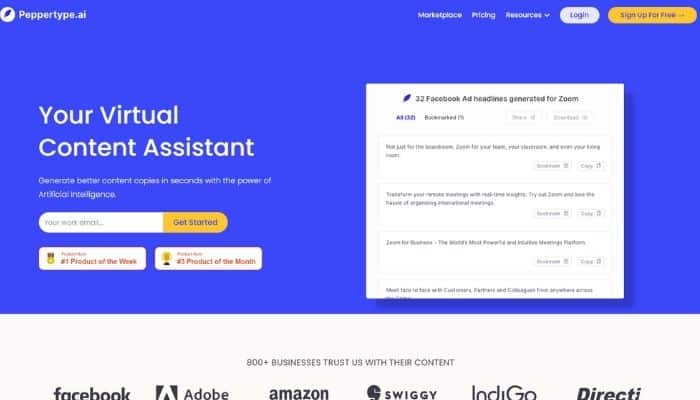 This AI content generator can observe online content and learn from it like other entries on our list. Peppertype.ai is one of the best AI writing tools for companies as it allows them to create articles, Facebook Ads, Google Ads, and other promotional content.
Before you create content, you can build a library consisting of various styles and tones. By choosing options such as "Confident," you can create an authoritative blog post. "Simple" style is excellent when addressing numerous readers, and "Inspirational" can be great when you wish to make your products more desirable.
Peppertype.ai can be of great help during the writing process. It shows its full potential during auto blogging projects, where you have limited time to create that perfect copy. The AI-generated text might not be exactly what you want, but it will save you a lot of time.
According to the company representatives, the AI writer is terrific for various types of marketing such as performance marketing, digital marketing, enterprise marketing, PR, and individual content.
Peppertype.ai pricing
You can choose between three different payment options: Starter Plan ($25 per month), Growth Plan ($165 per month), and Enterprise Plan (contact the company for a quote).
Wordtune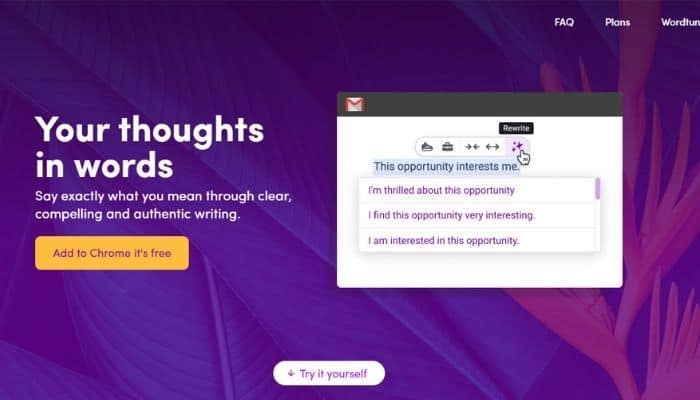 Wordtune is one of the best AI writers for rewriting articles. Furthermore, the company doesn't advertise as a checker but as software that can understand semantics and what you're trying to relay with your sentences. The creators utilize several language models to understand the content better and rephrase it.
By using this content writer software, you can create copies that are more engaging and compelling. What's even better, they will be made for humans, not for machines. Articles that you optimize with this tool will flow naturally as if a human wrote them. The algorithm utilizes NLP technology to achieve this feat.
Keep in mind that the program will still use what you wrote. It will just rephrase it so that it sounds more natural and has a better flow. It doesn't just fix your mistakes, but at the same time, it makes the text much easier to read.
Here are some things that make this AI writer so special: wholly placed on the cloud, works with various other tools, great semantic analysis, advanced paste feature, multi-language word finder, etc.
Wordtune pricing
You can choose between three plans: Free, Premium ($9.99 per month), and Premium for Teams (contact the company for a quote).
Writesonic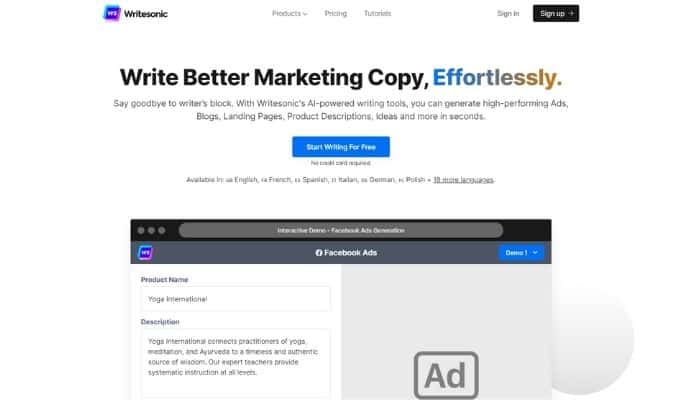 This AI writer helps users create better marketing copies without having to spend too much time or effort. The software works by understanding natural human language and utilizing it to improve your writing. Writesonic can help you generate articles and correct previous posts.
According to users, you should try this tool because it can help you create more engaging and unique copies. You can use Writesonic to split topics into sections. Even better, the program can be great for several different languages, which sets it apart from other similar tools that only correct English.
Unfortunately, not everyone has a good option of the AI writer. Some people claim that the tool is too clunky and missing particular suggestions you would get with other, similar software. Another common criticism is that you need to use credits for every minor correction.
Writesonic pricing
One of the fantastic things about Writesonic is that it gives its users various payment options. You can choose between five plans, including Free Trial, Basic ($15 per month), Professional ($45 per month), Startup ($95 per month), and Agency ($195 per month).
Sapling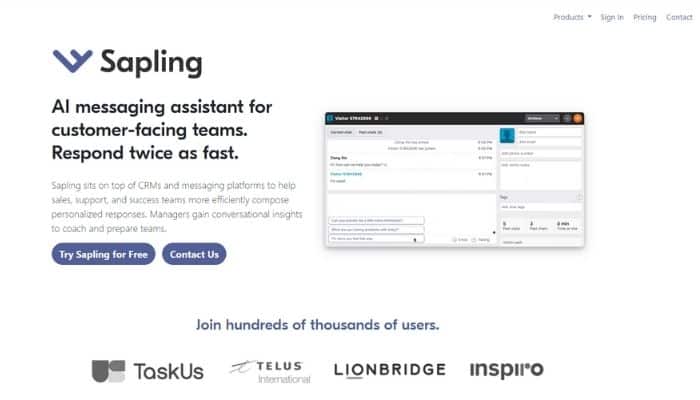 If you need something for support messages and sales, it doesn't get much better than Sapling. This is one of the best AI writer software if you're looking for CRM integration. Sapling is an ideal choice for businesses who want to improve their sales copy while using tools like HubSpot and Salesforce.
When you use this program, you can improve communication within the team but also with stakeholders. Major companies such as Lionbridge and TaskUs use this system o a daily basis.
According to Sapling creators, the AI writer is much better at understanding the English language compared to other popular checkers. It has a great autocomplete function that works as your write. Among others, you can use it as a replacement for chatbots.
Users can utilize its snipper library as long as they have access to the internet. You also get performance reporting, enterprise-grade web protection, and omnichannel support.
Sapling pricing
You can go with People Operations Platform, Essential Modules, and Premium Modules. All of these features and plans are quote-based; you will need to contact the company for pricing information.
Scalenut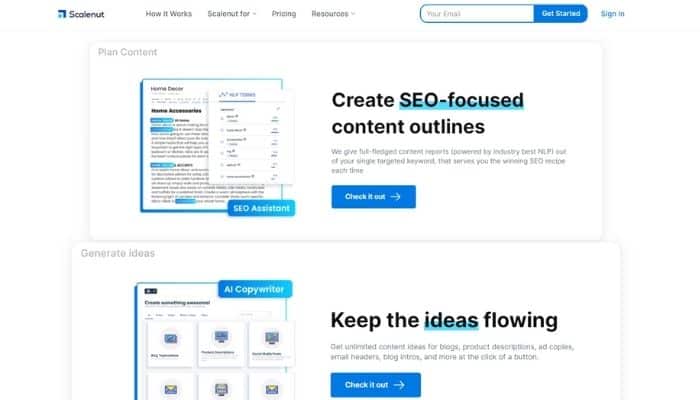 This platform is used for creating end-to-end content. It is especially great for marketers and salespeople. However, it has become popular among authors who want to step up their game in the last few years.
By relying on its machine learning processes, a user can create high-quality, grammatically correct posts. One of Scalenut's exciting features is its SEO assistant. You can use this function to track down popular keywords and perform other analyses. The platform gives you a list of SEO suggestions that would boost your positioning within search engines.
Besides optimizing articles for Google, you can also use Scalenut to create more captivating copies. Whether you're making regular web articles, Facebook and Google Ads, or something else, this software can help you out.
According to some of the reviewers, the great thing about this tool is that it allows you to create both short and long-form posts. On the other hand, people criticize it for not being able to change tone and style.
Scalenut pricing
There are three plans at your disposal: Individual ($26 per month), Growth ($74 per month), and Pro ($112 per month).
Writer.com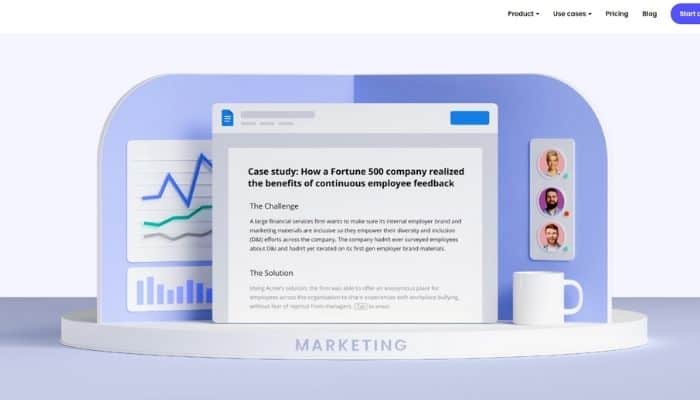 Writer.com is one of the best platforms for improving your web copies. Like many other programs, it relies on machine learning to scour web content and improve its algorithm from this data.
The platform can help users with several things. Besides correcting grammar mistakes, you can adjust assistance so that it fits a specific tone and style. The tool will retrieve numerous suggestions allowing you to tailor your message accordingly. As a result, you can create a unique statement.
Professional writers mainly use Writer.com, but it can provide great assistance to companies as well. It is particularly great for sales and marketing teams, as most of these guys might not be great at content writing.
The tool will make corrections in real-time. It provides various suggestions as you write, so you won't have to backtrack. Depending on the type of suggestion, the word will be marked with a specific color. You can use it for spelling, word choices, punctuation, style, terminology, acronyms, and so on.
Writer.com pricing
Users have four plans at their disposal: Free, Pro ($11 per month), Team ($18 per month), and Enterprise (contact for a quote).
ProWritingAid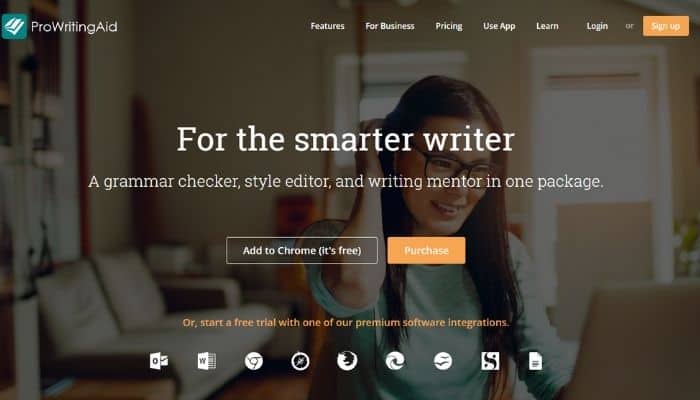 ProWritingAid is ideal for academic writing and editing. The tool allows you to choose between 1,000 different styles to find the right tone for your message quickly.
You can also utilize its reports that allow you to analyze mistakes and learn from them. In that sense, the AI tool is excellent for wannabe writers. Besides thorough suggestions, you can also check related articles. Some quizzes and videos will make the whole process that much better.
This content generator can help you in numerous ways. You can use it to detect vague phrases, redundancies, excessively long sentences, and other issues with your articles. There is a Chrome extension and add-on for Google Docs and Microsoft Office. That way, you can ensure that all your writing is up to snuff.
ProWrittingAid pricing
There are three subscription types to choose from Monthly ($20 per month), Yearly ($79 per year), and Lifetime ($399 for one-time payment).
What Is an AI Writing Software?
AI content generator will allow you to write more and faster. It reads the text you had written, searches for other sources, and compiles it into text that it shows you.
For example, Jarvis has the features of writing a long, medium, or short text with an option for a rewrite.
The capabilities of article writing software do not end there. It can also help you to generate:
Titles
Product descriptions
Video outlines
Introductions
Social media posts
Landing pages copy
Email personalized responses
AI writing software can generate unique copy to solve your content creation time limits or face writer's block.
No need to stare at a blank page anymore. Write a couple of keywords, and AI writing software will auto-generate catchy paragraphs and phrases (Jarvis does this exceptionally well).
What Is The Best AI Writer?
Jarvis.ai is the best. You have to try it to see it. The way it can write perfectly structured sentences on pretty much any topic – is just astonishing.
Sure, if you need to write part of your dissertation or a more sophisticated artificial intelligence is not yet on the level to fully help you. But for any other business needs, it works great.
Jarvis – best AI writing software.
Grammarly – best grammar check tool.
ProWritingAid – best for academic texts.
Is AI Writing Free?
Jarvis has a few thousand words free of charge, but their overall pricing is very accessible, and in the standard package, you are not limited by anything.
Developing an AI writing platform costs money, so while there are free AI writing offers – most serious tools will want you to pay after you have tested the tool enough.
Can Artificial Intelligence Write Articles?
Yes, parts of this text are written in Jarvis. I bed that you can not find which ones. While AI can write articles, it will need a bit of guidance from you.
A headline, a keyword – this will help the AI tool structure the text in the direction you need.
What is an AI writer?
AI writers refer to artificial intelligence writing software. Those are the tools that auto-generate various texts for you.
They read the keywords you provided, search in other public sources for inspiration, and then create original text for you to use anywhere.
AI Content Writing Software
Is there an AI content writing software that would solve your writing problems? Yes. Jarvis is an excellent example of that.
I used it to write 1000 words posts, and I was done in around 20-30 minutes. I just had to reword and edit a couple of things. Otherwise, ai content writing software is sophisticated enough to write a big part of your content.
AI Script Writing Software
AI writing tools go as far as helping you to write plays and scripts. Particularly when you need a long passage that sets the scene, stage, or describes something.
While you let the ai scriptwriting software generate descriptions and other non-critical parts, you can focus on the creative part of the story and shaping the flow of your movie or play.
AI Novel Writing Software
Ai novel writing software can do quite a lot of heavy lifting when writing your next book. Sure, you will still have to write characters and think of the overall idea, but for example, Jarvis has a particular function of creative writing. It can be as bland or as descriptive as you need.
This ai writing tool is a great help when you need to describe something or even write a piece of dialogue that you can later edit.