Livestorm webinar is a browser-based tool built to be efficient and precise. Their software can operate on any device, including PCs, laptops, and smartphones. Furthermore, Livestorm works on any browser, no matter how big your webinar is.
Livestorm is unique in that they believe that their customers should be able to adapt their platform to fill any need. As a result, they don't just offer webinar tools; they offer a whole suite.
For instance, you can run live, automated, or on-demand webinars – but that's only the start. They also include various modules and tools to let you build webinars to fill certain niches, such as:
Training videos
Online courses
Customer product demos
Hiring Sessions
Corporate webinar sessions
And even video podcasts!
In this Livestorm review, we're going to look at their main features, pricing, and customer support. We'll also take an in-depth look at their marketing tools and audience presentation options.
If you are interested I have also prepared a 23+ Webinar Software Platforms Guide.
First up, though, let's quickly cover some of their major pros and cons.
Livestorm Pros
Unlimited webinars on all plans
Live, on-demand, and automated webinars with customizable modules
Team marketing tools
Integrates with over 1,000 third-party apps
Embeddable landing pages
Customer support on every plan
Livestorm Cons
Plans charge per host, which can become expensive on collaborations
Customer support can be slow in some countries as Livestorm operates out of in Europe
Moderate learning curve
Customization flexibility is lacking on registration pages
Main Features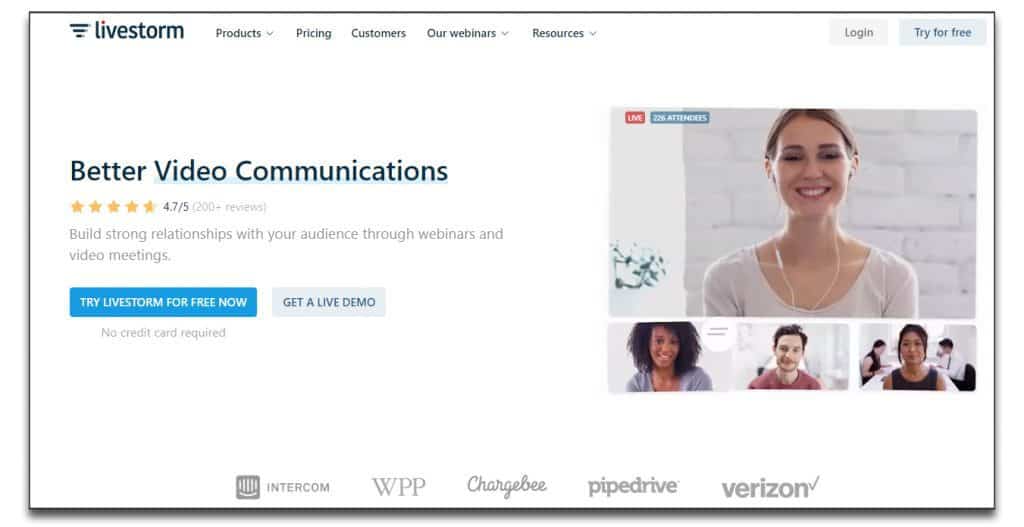 Next up, let's review some of Livestorm's main features (and a few of their selling points).
To support their ability to fill multiple niches, Livestorm webinar is jam-packed with tools, modules, and customizations.
For instance, your account comes with a suite of team integration tools. You can collaborate on webinars and landing pages with co-presenters and moderators. Not only that, but you can communicate with your customers straight from the platform!
When it comes to planning your webinar, you have access to plenty of automation workflow tools. These let you automate your sequences any way you'd like.
And, when it's time to go live, all video is broadcast in HD resolution.
You can also co-host with other presenters, and even other companies and corporations. The only downside is that you'll have to pay per presenter for this option, so it can get expensive.
Livestorm is also unique in that it offers unlimited recording storage on all accounts. This means that you can save as many webinars as you want, for as long as you want. Plus, with Livestorm's extensive automation options, the platform records and catalogues all webinars for you!
And, after your webinars are over, you can use their analytics dashboard to view your performance. They track metrics such as:
Webinar attendance
After-broadcast replays
Source tracking
Participation and engagement metrics such as chat, poll, and Q&A
You can also export this data as a CVS or XLS file to one of Livestorm's 1,000 third-party integrations. They offer one-click integration with email marketers, CRM platforms, and social media, among others.
Livestorm Marketing
No Livestorm webinar review would be complete without a look at their marketing suite. This is another area that the webinar platform goes above and beyond.
With Livestorm, you can send promotions, automate your reminders, and personalize your content. Plus, after every webinar, you can send follow-ups, thank-you messages, and even product offerings.
Livestorm offers plenty of adaptable and customizable themes in their marketing tools. For instance, you have full branding control for landing pages, emails, and even in-webinar.
Furthermore, you can customize all your forms to gather data such as:
Names
Company names
Job titles
Email addresses
Plus, you can embed your registration forms almost anywhere, so you can launch landing pages from your own website. This allows you to promote your webinars and collect data in-house.
And, once you have the data in hand, you can send it straight to your marketing departments. They can then use Livestorm's segmentation and lead management tools to optimize your approach.
Livestorm Presentation and Audience Interaction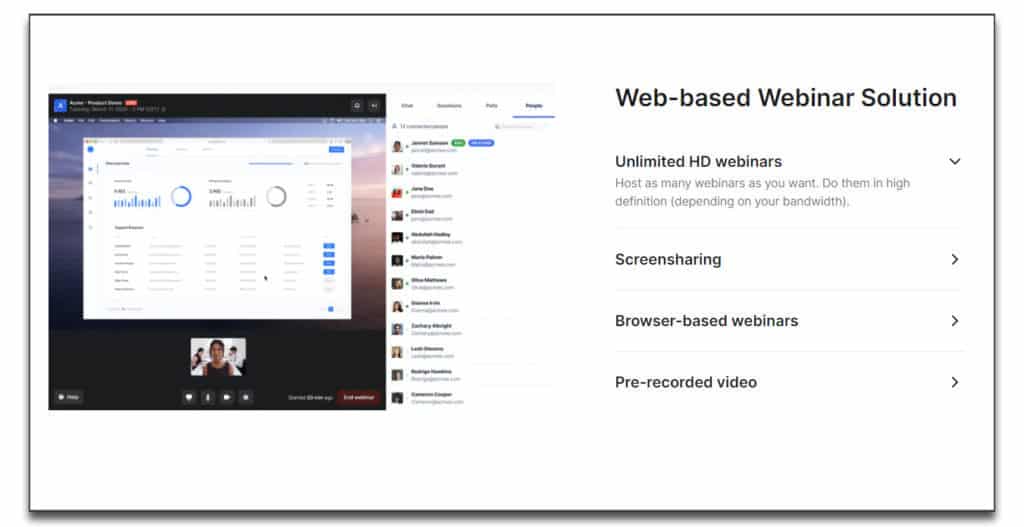 Presentation and audience interaction tools are essential to any successful webinars. Here, too, Livestorm excels with their vast, customizable options.
But, before you get to the presentation, your audience has to join your webinar.
With Livestorm, there is no need to download an app or even create an account. Once your viewers click the registration link, they're in!
At that point, you can take advantage of Livestorm's presentation options to get started. You can make your branded webinars engaging with tools such as:
Screen sharing
Multiple co-presenters
In-webinar slide presentations
Uploaded or shared videos
Furthermore, Livestorm lets you add a variety of call-to-action buttons. These not only involve your audience but can influence them to act and support your brand. Actions may include buying products, downloading additional resources, or engaging their attention.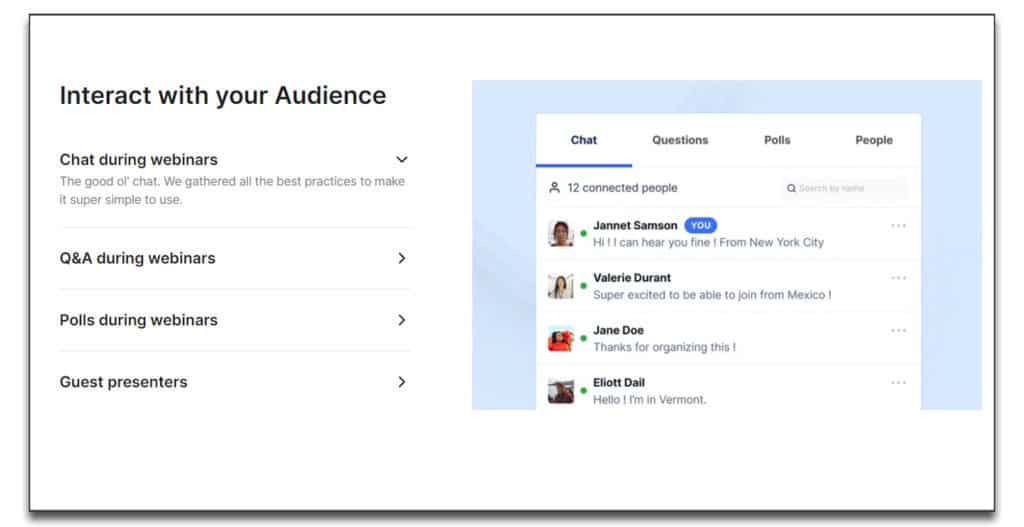 When it comes to audience engagement tools, your options run the gamut from polling and upvotes to live Q&A sections.
You can also invite guests to join you "onstage" to give testimonials, tell their stories, or interact in a face-to-face Q&A.
And, when all is said and done, you can export your webinar to YouTube for future audiences to enjoy. This will give them a similar experience to interacting with you live. Hello, conversions!
Livestorm Pricing
Last up, let's review Livestorm's pricing and customer service.
Unlike some of their competitors, customer support is available on every plan. They include phone, email, and live chat Monday through Friday. Furthermore, they offer support in English, French, and Spanish to make it easy to communicate across languages.
Livestorm does offer a free version of their services. But, they limit your options to 20-minute meetings with 4 co-hosts and 10 viewers. However, you can still enjoy unlimited webinars and moderators.
Those who wish to experience Livestorm in all its feature-packed glory can upgrade any time. Their premium pricing tier starts at €89 per month. This plan includes features such as unlimited registrants and 4 hours per webinar.
Livestorm also offers an Enterprise-grade pricing plan with all premium features, a dedicated training period with Livestorm's experts, and more.
And, for a limited time, Livestorm is offering its plans at steep discounts to those impacted by Covid-19. To get a free quote, contact Livestorm today!