The right mockup generator can significantly increase your conversion rates. In this post, I will guide you through various options to help you pick up the best mockup generator.
We will also discuss why do you need a mockup generator, how it can improve the conversions of your product, and much more!
What is a mockup generator?
If you are looking to buy a digital product or a physical one, what will you pay attention to? Would you buy it purely based on text?
You would not.
Everyone would want to see how the product looks before they pay their hard earned money for it.
So when you have a kick-ass product that you are planning to sell, you would be missing out on a lot of conversions by not showcasing how it looks and functions.
Let's assume that you are selling Tshirts. Can you imagine that somebody would be selling thirts just with description? They would sell nothing!
You will most deffinitely need an image of that thirst, and better yet – have this tshirt on somebody.
The buyers will project themselves onto that person.
In conclusion, in order to sell more online, you need to show off your product or app (or anything else that you are selling) in use, preferably by a person.
This is where a mockup generator comes in, as it helps you to do exactly that.
Why do I need a mockup generator?
Let's get back to our t-shirt example. Imagine that you have 2 t-shirts, with 2 color variations.
In order to present you product, you would need 4 mockups. But you do not know which model or imagine will work best for yoru audience, so you would need to A/B test.
That means at least 2 options for each combination. We are already at 8 mockups.
Sure, with right knowledge of tools you could do it in Photoshop, but it would take you at least 1 hour to create 1 mockup. So we are talking 8 hours at least if you know what you are doing.
Time-saving. Mockup generator does all the heavy lifting for you. You upload your design, and it is automatically distributed amongst different options and instead of 8 hours, you are done in a couple of minutes.
Quality and Variety. Mockup generators offer a lot of options to choose from in perfect quality. That helps you with your A/B testing as now you can suddenly
Format variations. Since you have everything done in a couple of minutes, you may also discover options that you did not consider before. Mockup generators are full of various templates and ideas to help you with product visualization.
Best Mockup Generators
I included both paid and some free mockups generator so you can choose the best mockup generator for your needs.
The screenshots could not fit the whole library that they offer, so it is only a glimpse of what they can do for you.
Placeit – Best Mockup Generator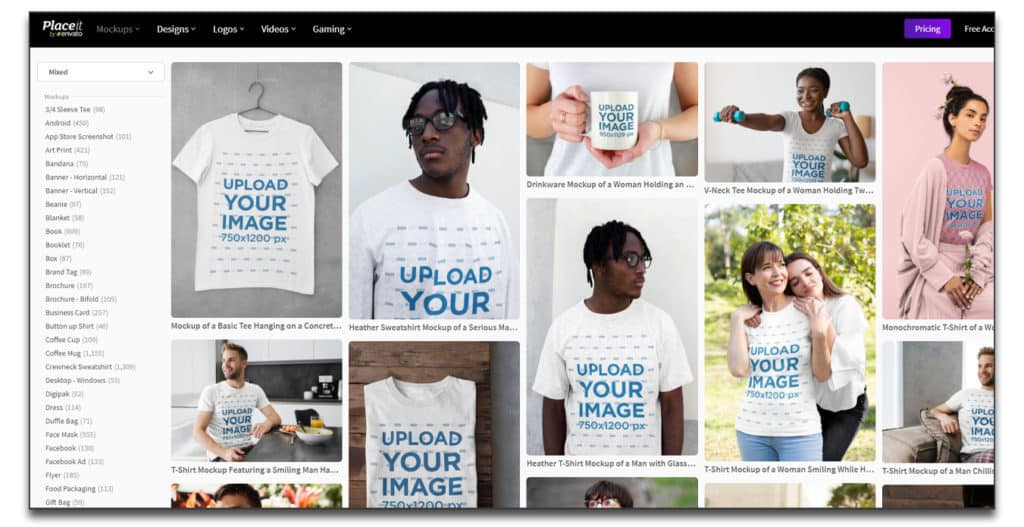 Placeit is one of the original online product mockup generators, established in 2013. Since then, it has also grown to become one of the largest. They boast an impressive library of templates and abilities, including:
Template videos
A logo designer
13,000 mockup templates
Almost 3,000 images
Placeit's enormous library is one of the largest available. While some of their images are dated, they claim to add new pictures and templates every month.
With all these abilities, Placeit's mockup generator can create clothing, mugs, website, book covers, and much more. It can even create specialized designs for virtual reality and Kindle devices.
That said, this platform is often used by professionals who create hundreds of mockups per year. While it's not as expensive as it used to be, Placeit is still one of the pricier generators on the market.
But you can also buy single designs from Placeit. Thus, if you do a few designs a year, it may be worth buying one-time licenses for your mockups.
Placeit Pricing
Placeit offers both annual and monthly pricing for their online product mockup generator. Those who opt for a monthly plan will pay $14.95 for unlimited tools and library access. The yearly plan comes with big savings, though, at $89.69 annually, or $7.47 per month.
Smartmockups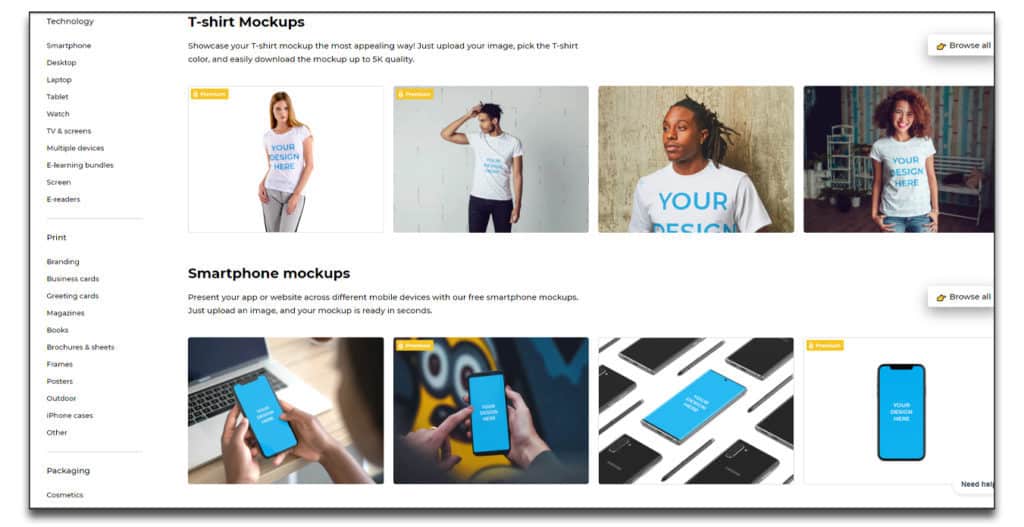 Smartmockups is a clean, intuitive desktop app for casual and professional users. Their UI is well-organized and available for both Mac and Windows devices. Plus, the latest update lets you use Smartmockups in-browser.
With this platform, you can create mockups by category. Your choices include tech, apparel, social media, packaging, and more. You can also upload or construct custom templates for a personalized touch.
Due to its wide capabilities, Smartmockup functions in several roles, including as:
A 3D book cover mockup generator
A T-shirt and clothing mockup generator
A website mockup generator
A mug and other product mockup generator
But one of their strongest selling points is their functionality. In addition to their large library of high-resolution photos, they have hundreds of built-in templates. Plus, their image editor is comprehensive and easy to use.
And, if the website doesn't have what you need, they also offer several integrations. Some of their partnerships include Canva, Dropbox, and Marvel, to name a few.
Smartmockups Pricing
Smartmockups offers a free online mockup generator plan. This tier includes 200 templates and basic features to test the product. For most features and functions, you can upgrade to their Pro tier for $19 per month. Or, if you don't need advanced abilities, their Premium tier is a reasonable $9 per month with annual billing.
Mediamodifier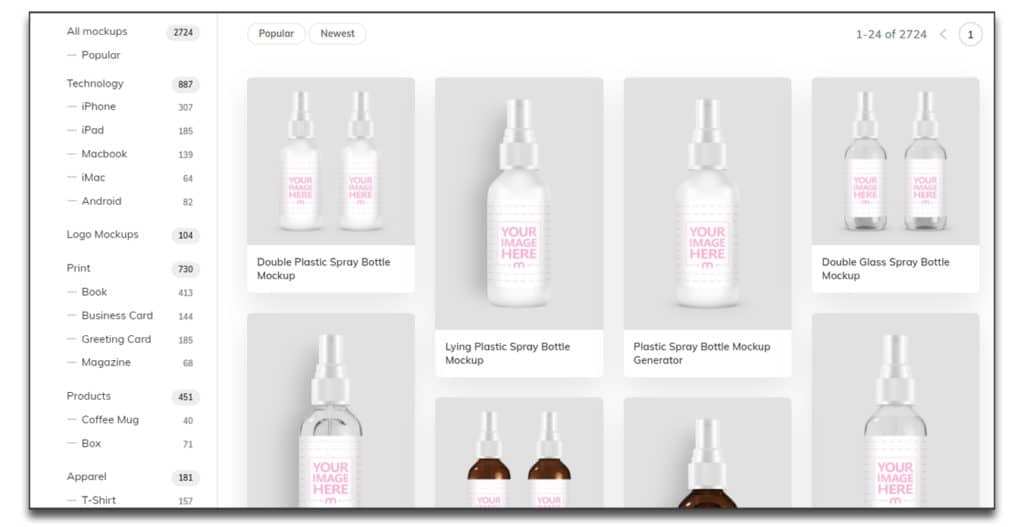 Mediamodifier is an online mockup generator for clothing, book covers, iPhones, mugs, and more. In fact, they offer over 2,000 mockups in a variety of categories.
Using this service is quick and easy, even for beginners. All you have to do is drag and drop your selected mockup onto a template image. (If you aren't sure what images you want to use, you can search their library via their extensive filters).
Next, you can customize and download your mockup in almost any format. Note that some formats, such as PDSs, cost extra and need outside software. But for those who are also heavy Adobe Photoshop users, this can be an invaluable feature.
Mediamodifier Pricing
Mediamodifier offers a free online mockup generator with basic features. While this is a great way to test your ideas, you're also limited in your abilities. For instance, your image download size is restricted. Furthermore, all your pictures will have a watermark stamped over them.
Paid subscriptions start at $9 per month for annual billing. You can also buy a 24-hour subscription for $14.90 to download a single image or set of mockups.
Note, too, that paid subscriptions come with additional features such as customer support. And, if you're unhappy with the service, you can take advantage of their moneyback guarantee.
Mockuper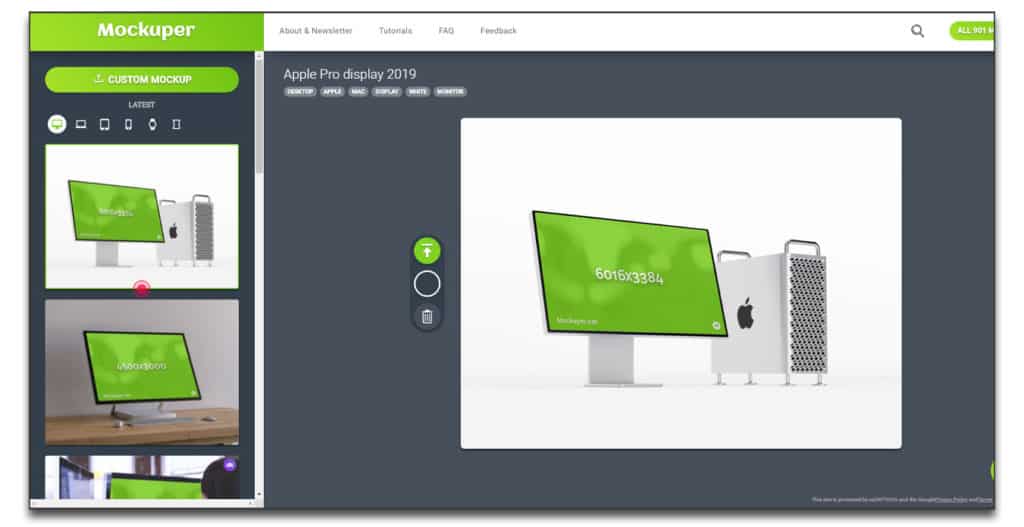 Mockuper is a free online product mockup generator for those who need a quick, easy solution.
All you have to do is select one of 900 templates, adjust your settings, and add your images. Or you can upload a custom template and change the website parameters to your needs.
This setup is so intuitive that even inexperienced mockup artists can complete products in less than an hour. In fact, it's so simple that you can have an image ready to download in as little as two minutes.
And when you're ready to download, you have access to a selection of sizes and formatting options.
But it's important to note that this website is simpler than some of its competitors. Of course, this is to be expected with a 100% free online mockup generator.
But if you need a decent platform that works well with both Android and iPhone, it's a great place to start. Plus, you can use this mockup generator for posters, business cards, book covers, and other similar products.
Mockuper Pricing
Unlike the other online mockup generators on this list, Mockuper is 100% free to use. That means there is no cost to you at any time. Yes, really!
MagicMockups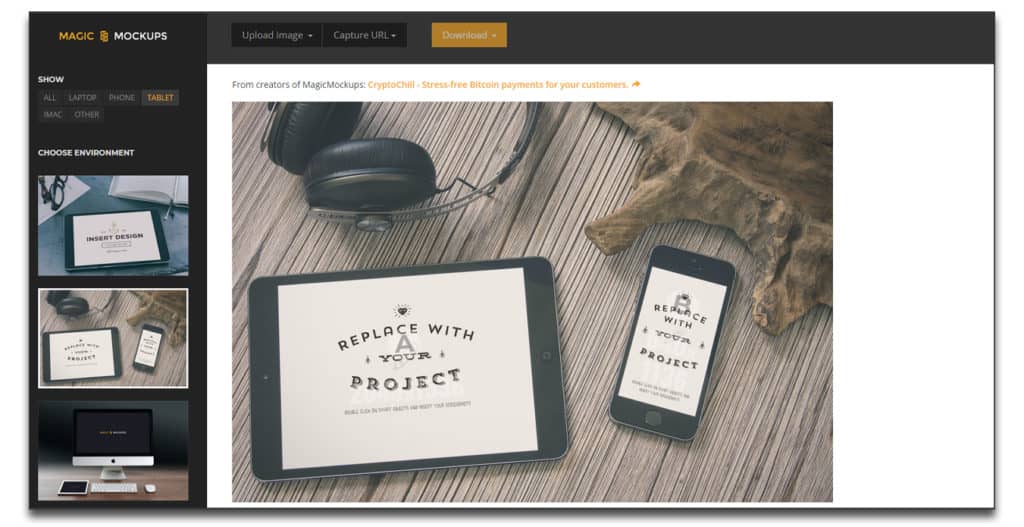 MagicMockups launched in 2014 as a promising 3D book cover and iPhone mockup generator. Unfortunately, the site does not receive regular updates, which means the UI – and template library – have suffered the consequences.
But that doesn't mean you should dismiss this website out of hand.
Despite its flaws, MagicMockups is an easy-to-use 3D mockup generator for basic needs. It can create lifelike mockups in mere moments for personal and commercial use.
We should note, though, that there are no customizable features included with MagicMockups. What you generate from the get-go is what you get at the end – there are no fancy tricks.
But although the site is limited in its functionality, all products still come out with a trim, professional polish.
And one of the best things about MagicMockups is that they don't require attribution. Plus, when you're ready to download your images, you have your choice of file sizes.
MagicMockups Pricing
MagicMockups is a free online 3D mockup generator. There is no cost for using this service – and no attribution or ugly watermarks on your final images.
Mockerie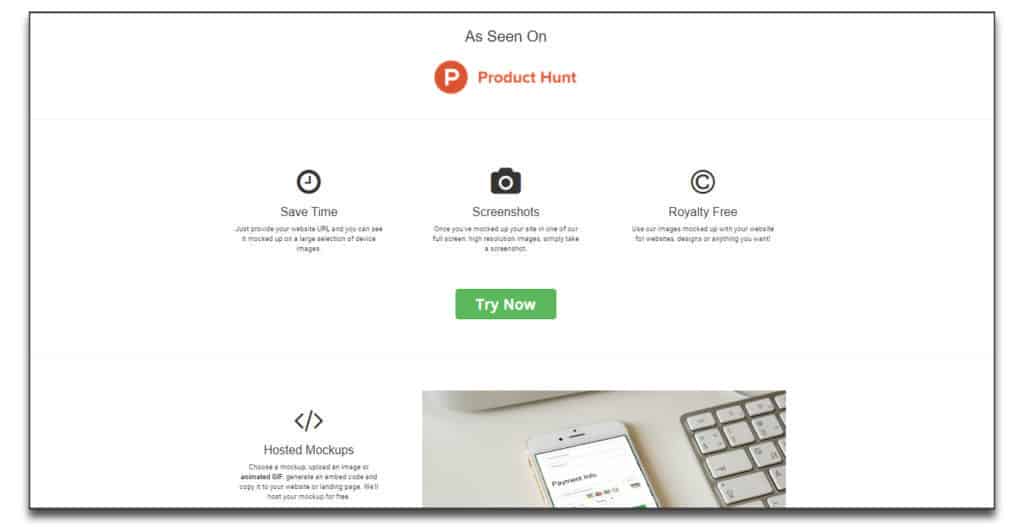 (As Of 3/1/2020 it seems that Mockerie went offline. I will monitor the situation and update the post if anything would change)
Mockerie is a mockup generator website that allows you to create 3D and interactive mockups. While this is a niche product, it offers an interesting spin compared to its competitors.
The interactive feature of Mockerie is unique. To use it, you upload a URL and generate an embeddable mockup. Then, you can put your mockup image on a website of your choice.
And, if your interactive mockup isn't doing the trick, you can even add a filter to your image before download.
This setup is unique and, admittedly, not useful for many people. But if you make your living designing websites and apps – and thereby need plenty of mockups – this can provide an extra element of pizazz.
But Mockerie does come with quite a few limitations. For one, it is a website, Android, and iPhone app mockup generator. This means it offers no product mockups of any kind.
Additionally, their photo library is quite limited. They have less than 400 images of varying quality.
Plus, you have to download their Chrome plugin to save your images.
Mockerie Pricing
Mockerie charges $15 per month for access to their photo library. Considering the limitations of this iPhone mockup generator, that's a bit pricey – especially compared to Placeit and Smartmockups.
MockupsJar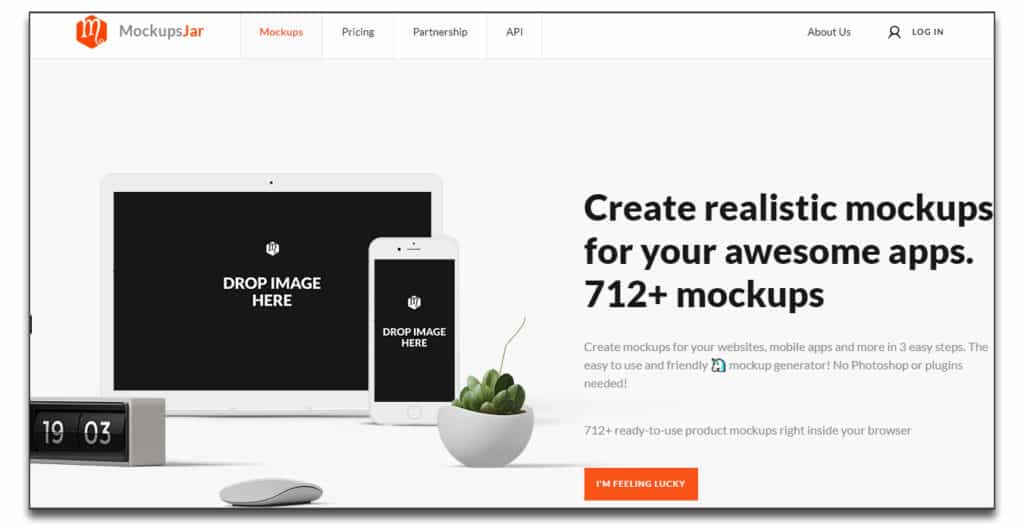 MockupsJar is free online mockup generator – as long as you don't mind watermarks and ads. For beginners or casual users, this is a great platform to start with.
But if you're a professional, it may be better to go with a more advanced service, such as Smartmockups or Placeit. This isn't to say that MockupsJar doesn't have great features for a free mockup generator, though.
To start, it offers over 700 templates on its platform to serve a variety of needs. Whether you need a mockup generator for clothing, books and book covers, websites, and more, MockupsJar can do it.
In fact, one area that this mockup generator excels is with T-shirt and other clothing designs. But if you want eBook covers, you're out of luck.
To use this free tool, all you have to do is upload your image, choose your resolution, and click "Generate." This will give you a 3D rendering of your final product. Then, you can download your image.
It's worth noting, though, that MockupsJar does not come with built-in editing abilities beyond image cropping. Thus, if you want advanced editing options, you'll need a separate software.
MockupsJar Pricing
MockupsJar does offer a free online mockup generator for casual and beginning users. But if you want full features, such as no ads or watermarks, paid plans start at €15 per year.
MockFlow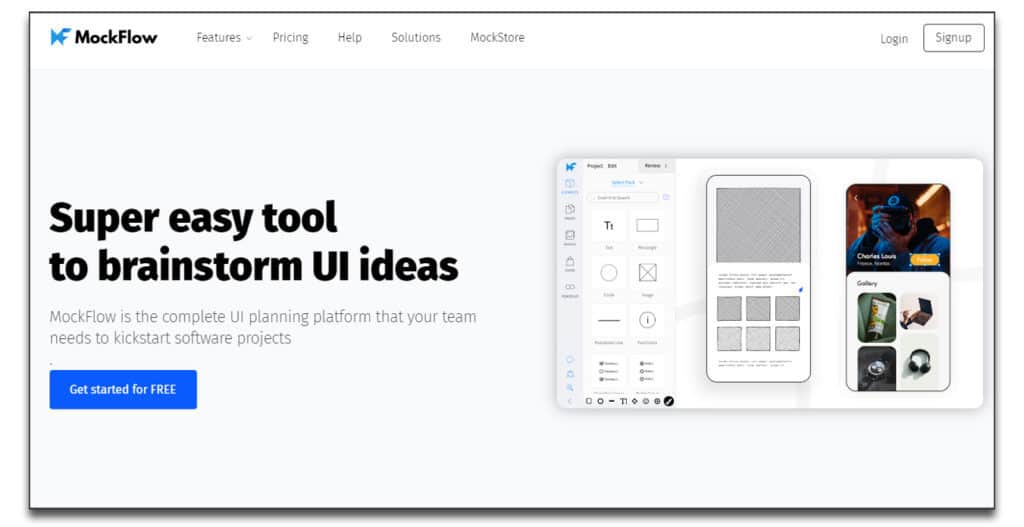 If you're an advanced user, MockFlow is worth a look. But be warned now: this website is not for quick and easy solutions. Rather, it's for individuals who need a more complex app and website mockup generator.
To start, MockFlow comes with six modules. With these, you build the concepts for your apps or websites from scratch. Once you're happy with the design, you can streamline the process for UI approval.
If you don't want to start from a blank sheet, MockFlow offers several templates for both iOS and Android devices. This can speed up product development and get you underway to your fortunes faster.
Whether you start from scratch or with a template, MockFlow makes life easier by including editable pages for:
Customer support
Help centers
FAQs
About Us
But make no mistake: despite all the extra features, this website comes with a steep learning curve.
MockFlow Pricing
If you're just tinkering around, you can enjoy MockFlow's free online mockup generator at no cost. But if you need full product features and support, you'll need to buy a subscription at $15 per user, per month.
Applaunchpad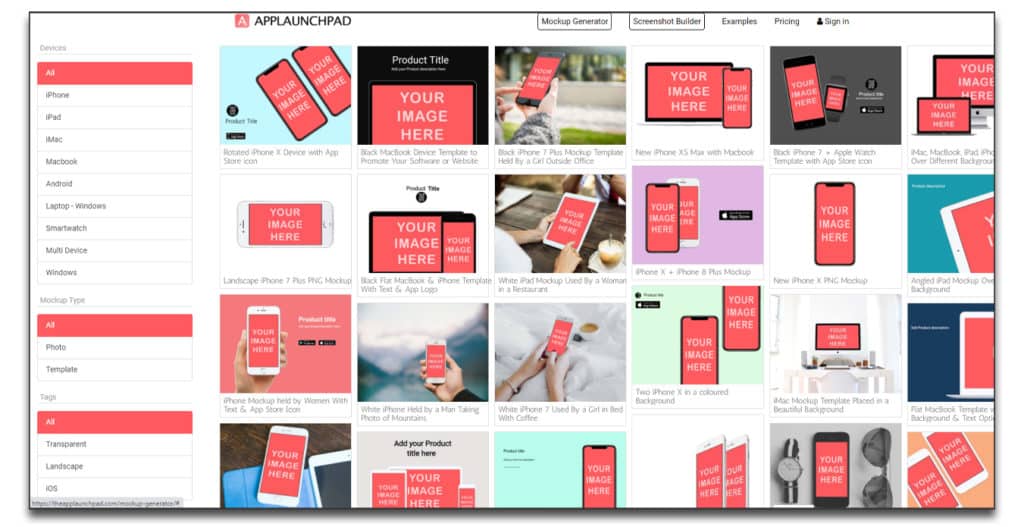 AppLaunchPad is a mockup generator for app designers and developers. Whether you need designs for the App Store, Google Play, or both, this website can do it.
While this makes AppLaunchPad a niche tool, it can be invaluable for designers who want to showcase prototypes.
And, if you need a 3D book cover, mug, clothing, or other mockup generator, AppLaunchPad can do that, too.
With AppLaunchPad, you have access to over 1,000 predesigned templates and device images. You have plenty of editing abilities, too, such as:
Changing colors
Adding messages
Styling your font and background
Uploading and editing images
Uploading device-specific or global screenshots
Of course, you can design your own templates from scratch with these tools, as well. The best part is that you can design an unlimited number of mockups – even with a free account!
Downloading your images, though, is another story.
AppLaunchPad Pricing
This online mockup generator does come with a limited free plan to test the features. But you can only access older devices, as well as a whopping three templates. (Not to mention, all your mockups will have a watermark in the center of the image).
For more templates and features, you can upgrade to a paid tier, starting at $19 per month.
Davinci Apps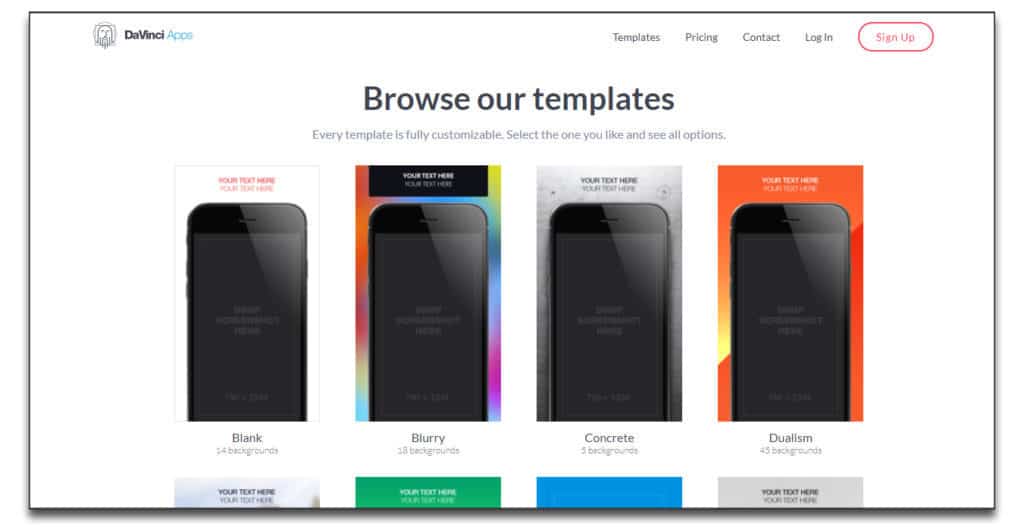 Davinci Apps is another free online mockup generator that serves a niche purpose. If you have an iOS or Android mobile app, then this product is for you.
Unlike the other mockup generators on this list, however, it does not do mug, t shirt, or other common products.
With Davinci Apps, you can build beautiful mockups of your app for either Appstore. To get started with this mockup generator, all you have to do is:
Export your application screenshots
Upload any relevant images to Davinci
Add texts, alter the font, and choose a background
Download mockups for either or both app stores
This process is quick and easy for even the most inexperienced mockup generator users. It cuts down on the time you spend creating a mockup for the store, so you can focus on product development and sales.
Davinci Apps Pricing
Davinci Apps offers a free online demo version of their product mockup generator. But at this "price," you only have access to older devices.
If you want a realistic version of your iPhone mockup generator, you'll need to shell out $99 per year.
FAQ
Are mockup generators easy to use?
Yes. That is their mail goal, to save you time and be easy.
Who can use a mockup generator?
It is a great tools for professional designers and also people who have no experience with design and product creation.
Are free mockup generators good?
I have two in this post, they are ok to a limited extend. So if you need to test some basic, yes. Otherwise, it is better to spend a couple of dollars
What can i use them for?
Clothing, apps, posters, apparel, accessories – there are many applications.