Digitalization has reached every corner of the market and made cold email software the main tool for the success of any business.
If you are not sure if email still works, I have a short answer for you. Yes, It does. In case it works so well that it outperforms Facebook and LinkedIn lead generation 40 times over.
With email, you can reach people who you would never be able to reach personally. That is why cold emails are so wildly popular, as they allow you to generate opportunities on a much larger scale.
In this post, I will discuss the best cold email software and also cover some of the main aspects of sending our cold email – so your campaigns are as successful as possible.
Why Should You Use Cold Email Software?
Let's say that you need to outreach to a group of people. When you are writing an email to 3 people, that is not an issue but what if:
You need to send 200 invites (and follow-up with reminder);
Outreach to 400 potential clients;
Write a proposal to 50 influencers;
Let's add to it that you need to monitor who replied, if they replied and if not – you need to send them an email once again. Doing it in a spreadsheet would take you ages and you would still miss some important leads or responses.
Cold email software, also known as outreach software does all the heavy lifting for you. It will send out the emails, monitor the replies, and also send follow-ups when needed.
There is no need to explain the huge increase in efficiency that this will bring. I can not imagine my work with it.
What Is The Best Cold Email Software?
Let's dive deeper into picking the right outreach software for your campaigns. Below I will list some of the top tools that you can use and also comments on their various features, pros cons, and pricing.
If you need to get emails from your visitors (rather than outreach to your list of leads) you might want to check my post on the best email marketing tools.
Reply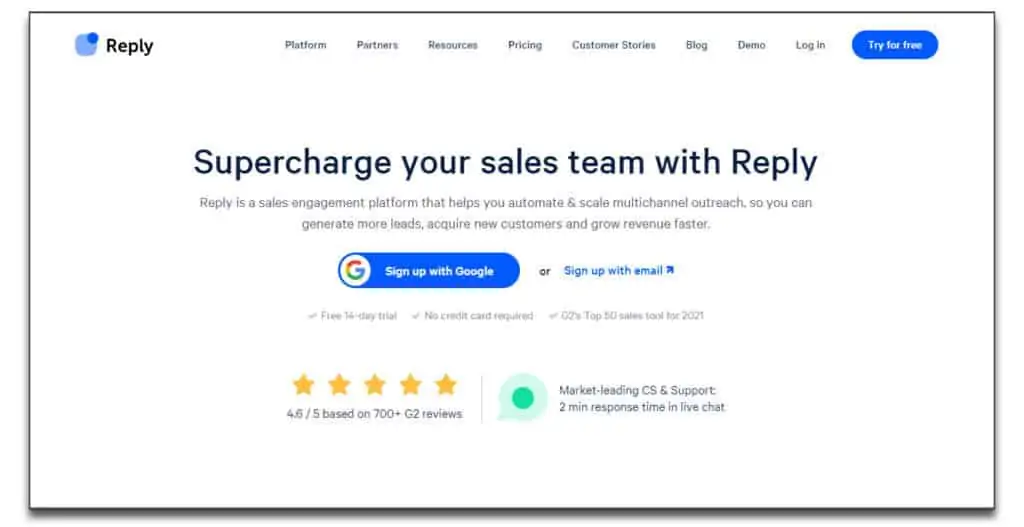 The best feature of this software is the complex reporting system. You are no longer emailing into the void! Instead of waiting to see the impact of your campaign from your site analytics, this software gives you access to all the data about your campaign.
That includes how many people open your message, click the links, and if they dwell on your site. The software will also warn you if you are using dead emails so you can purge your email capture list. The Google Chrome extension is handy for managing replies and follow-ups. You have access to the Reply Academy at all levels, the detailed video tutorials you need to make the most of your software. If you are still unsure, there is a 14-day free trial.


Pros:
Set and forget style software
Extensive analytical data
Multiple log-ins for large teams
Entirely automated campaigns
CRM integrations


Cons:
Aimed at professionals
High learning curve
Expensive compared with other services
Reply.io Pricing
The basic plan is $70 per month for up to 1000 people contacted. For $90 a month, you can contact up to 3000 people.
For $120 a month, you have unlimited contacts.
Hubspot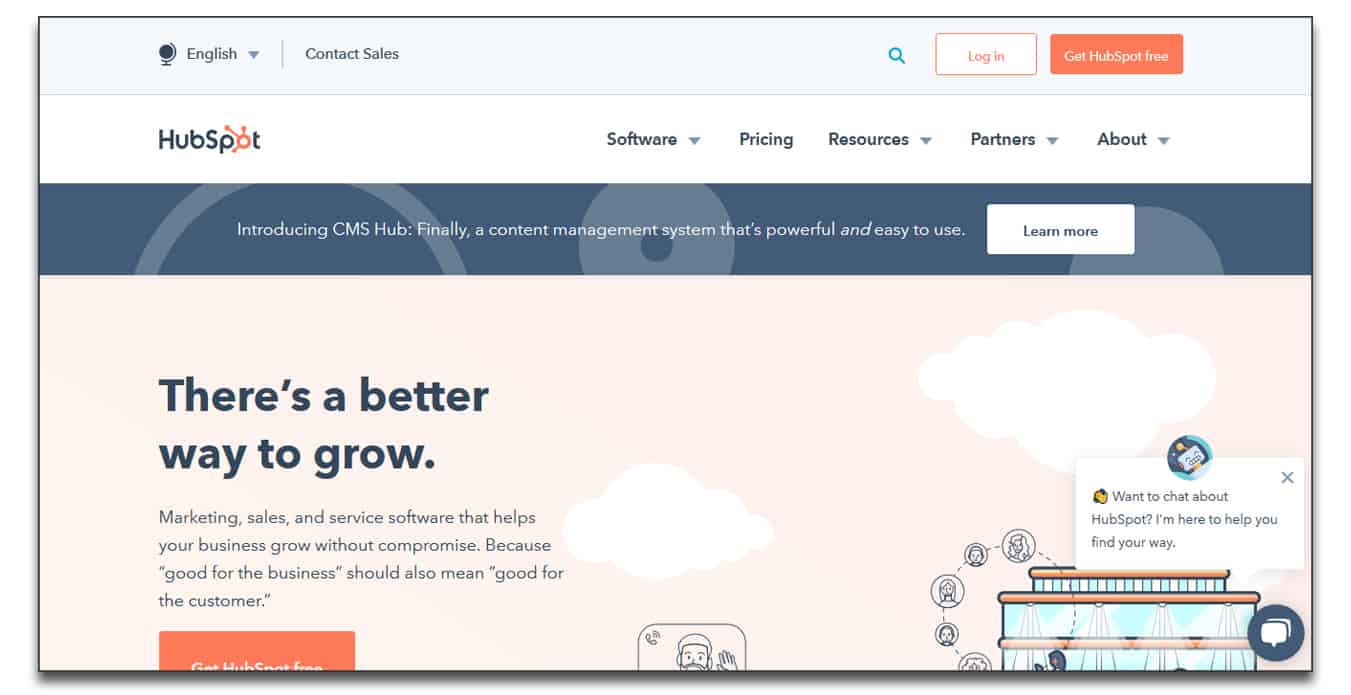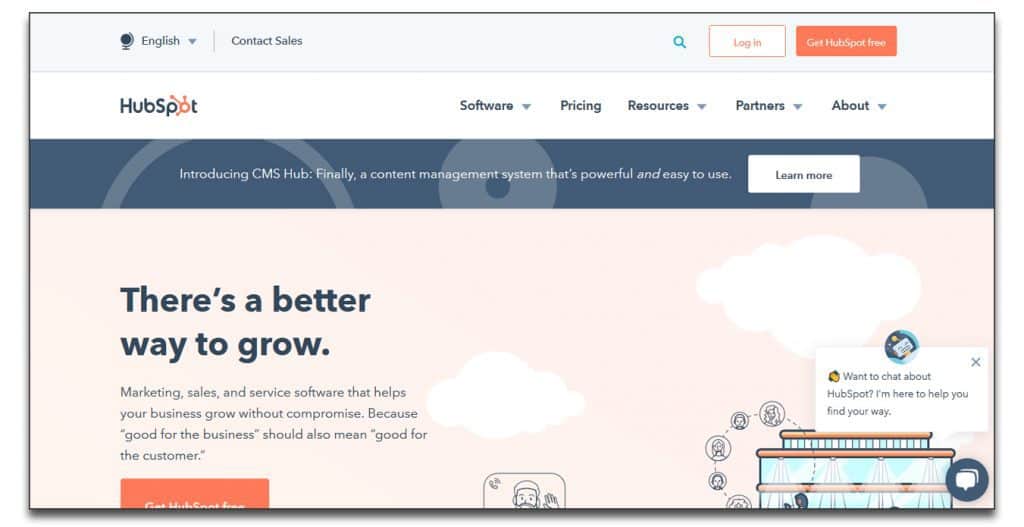 The big advantage of this software is the interconnectivity with other task hubs they offer. The entire suite of software can be used by a large team or a single superuser.
You can manage your social media accounts, web publishing, and view advanced analytics, all with your cold email software. The built-in calendar keeps teams of any size on the same page. Even better, the extensive library of templates and advanced document tracking is great for campaigns of any size.
This is an excellent choice for the highly organized marketers.
Pros:
A library of templates available for users
Baked-in calendar and due date reminders
Live communication software
Detailed changelog for documents
Free webinar sessions for superusers
Cons:
Steep learning curve
The entire utility only available by using multiple apps
No support for A/B testing
Hubspot Pricing
There is a free build available with limited features so you can try it before you buy. For $45 a month (with a yearly plan) you get full access for two users. $450 a month (with a yearly plan) grants 5 licenses, plus advanced analytics and an expanded suite of tools.

The full professional version is $14,400 per year. This is the enterprise level. It grants access to 10 users and unlocks all the professional tools available across all partner apps.

Klenty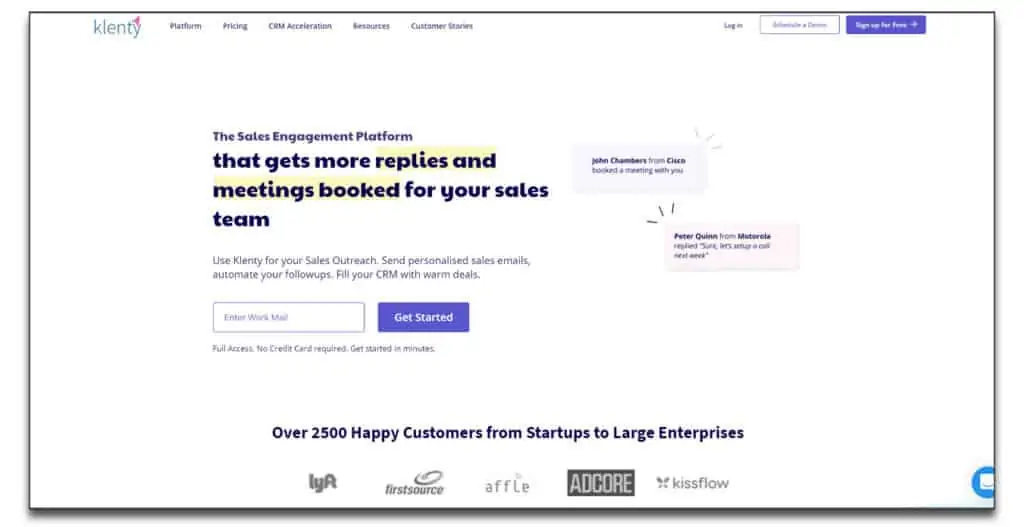 This is the best choice if you or your team struggles to implement a campaign cadence. This software is designed for managing B2B email campaigns. The salesforce outbound process is highly customizable and easy to templatize. Klenty is great for a team looking to scale up their cold email campaign or automate for the first time. At the enterprise level, this campaign can be somewhat expensive, but the price is well worth it for a large-scale campaign. This is the best cold email software for large sales and marketing teams to coordinate their campaigns.
Pros:
Comprehensive mail-merge
Intuitive design
Team-wide message summary screen
Baked-in calling
Advanced CRM integration
Detailed personalization
B2B focused
Cons:
Twilio functionality comes at an extra fee
Limited analytics
Klenty Pricing
The startup plan is $35/month. This plan includes the basic Gmail plugin and mail merge. The advanced outreach plan is $60/month. Pick this plan if you are looking for multi-channel outreach and Slack compatibility.

The enterprise level is $100/month. This is the solution for large-scale campaigns where access to deliverability reports is critical.
Mailshake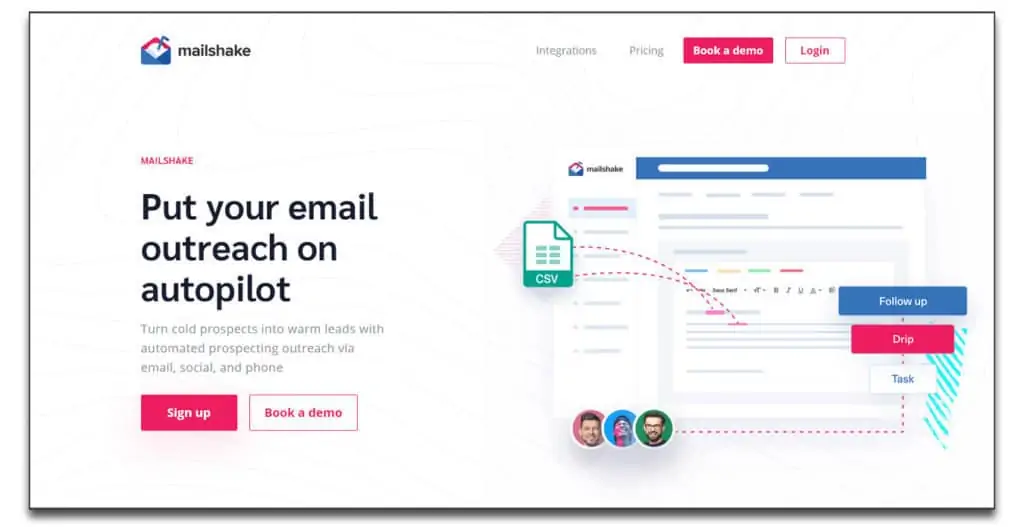 This is one of my top choices because of all the cadence options. You can set follow-ups to trigger after a message is opened, rather than guessing if you have hit your mark. The A/B testing modules give you access to line-by-line customization for your pitches.
Paired with the advanced personalization tools, this software is highly targeted and spam-folder-proof. Best of all, this software integrates with hundreds of other apps via Zappier. The enterprise-level includes an autodialer for cold calling campaigns as well. Mailshake is a great choice if you are looking for focused cold email software for one superuser.
Pros:
Very user-friendly
Support for A/B testing
Zappier integration
Email-finder tool functionality
Unsubscribe alerts
Cons:
No free trial
No live chat or phone support
Not intended for large teams
Mailshake Pricing
The Email Outreach plan starts at $55 / month per user($44 / month with the yearly plan). This plan gives one user access to the core suite of tools for cold email campaigns and Zappier integration. This level supports campaigns with up to 5k recipients.

The Sales Engagement plan costs $99 / month per user($75 / month with the yearly plan). This plan expands your max recipients to 10k. It includes unlimited free autodialer minutes in the U.S.
Smartreach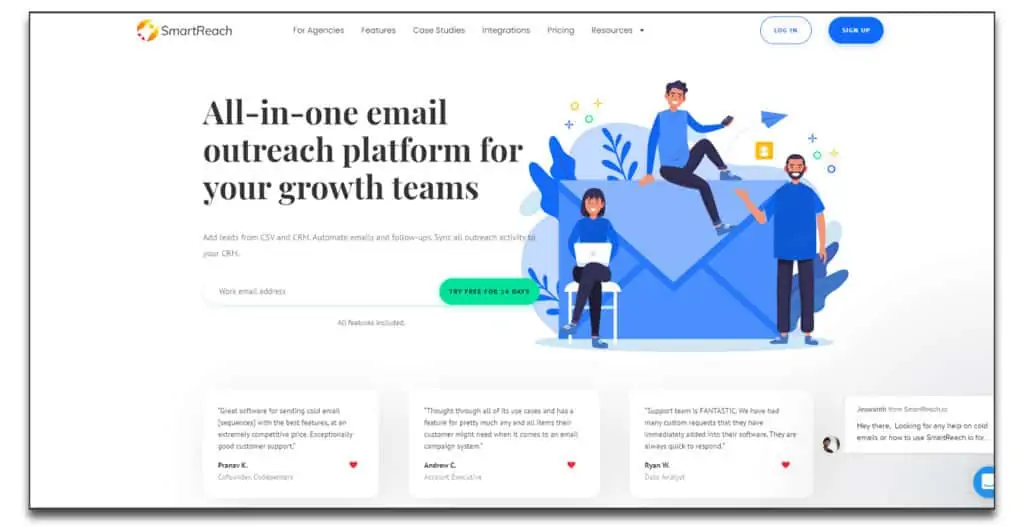 With this software, personalization is everything. You can customize your cadence based on several factors including time-zone and response rating.
The automated set-and-forget features are easy to use. Your campaign will automatically send out follow-up emails based on when the recipient opens their first contact email. Smartreach is a great choice for a marketeer that wants to implement if/then logic in their campaign.
Smartreach also integrates fully with Zappier. That means literally thousands of apps that can easily import and export sales data. For a small team, is this one of the most affordable options, but sacrifices none of the features. If you need 10 or more users, however, you may want to look at a service with team-based login options. That said, this is one of the best options for beginners with room to grow.
Pros:
Personalized pitches
Support for multiple customer avatars
Intuitive design
Support for multiple email platforms
Great for beginners
Highly responsive support team

Cons:
A/B testing only available at Pro level
Limited analytics available


Smartreach Pricing
Standard plan: $24/ month per user. This includes 1000 contacts per month and unlimited replies.
Pro plan: $39/month per user. Your contacts per month expand to 2000 with this plan. The Pro version includes A/B testing, API requests and CRM integration.
Ultimate plan: $59/ month per user. At the ultimate level, your contacts per month are completely unlimited. This level also comes with a live onboarding session for one superuser.
Outreach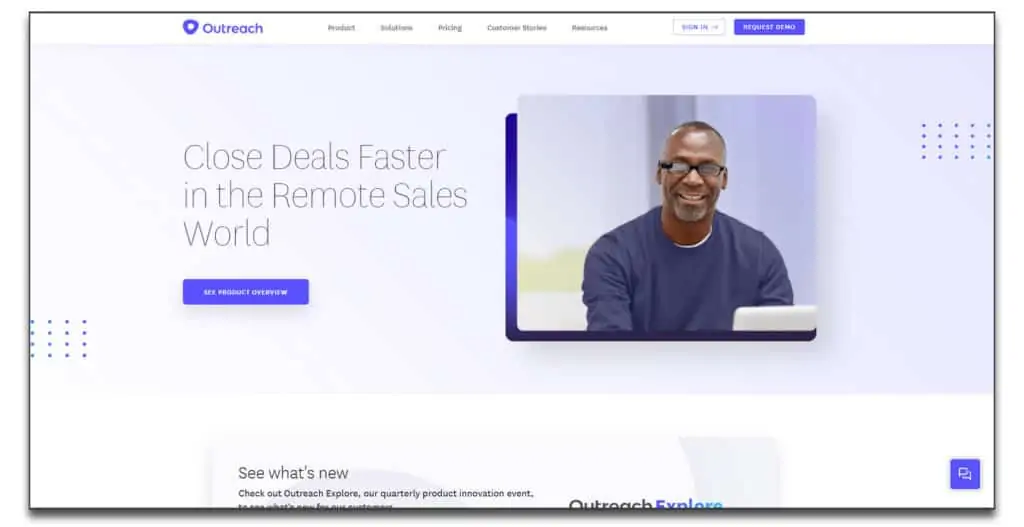 The main feature of this outreach software that I'd like to mention with this software is SMS integration. While some software builds include auto-dialing and phone functionality, none do it as well as Outreach. Your email, phone, and text campaigns can all be managed from one hub.
This software is the best choice for sales and marketing alignment across multiple media platforms. The big catch is the price. Outreach is one of the more expensive services, and they know it. That's why their pricing options have to be requested on their website. Even so, the large price tag may be worth it for some marketing teams.
This tool is designed for a marketeer with a big sales funnel goal who is willing to spend money to make money. They are a big name in cold email software and that reputation is well earned.
Pros:
SMS integration
Calling in multiple countries
Personalized email generation
Live chat support
Salesforce integration
Works with all major email hosts
Cons:
Bulk email waiting period
Unclear pricing

Outreach Pricing
Outreach pricing is not publicly available, but software reviews list their average plans starting at $100/month.
Lemlist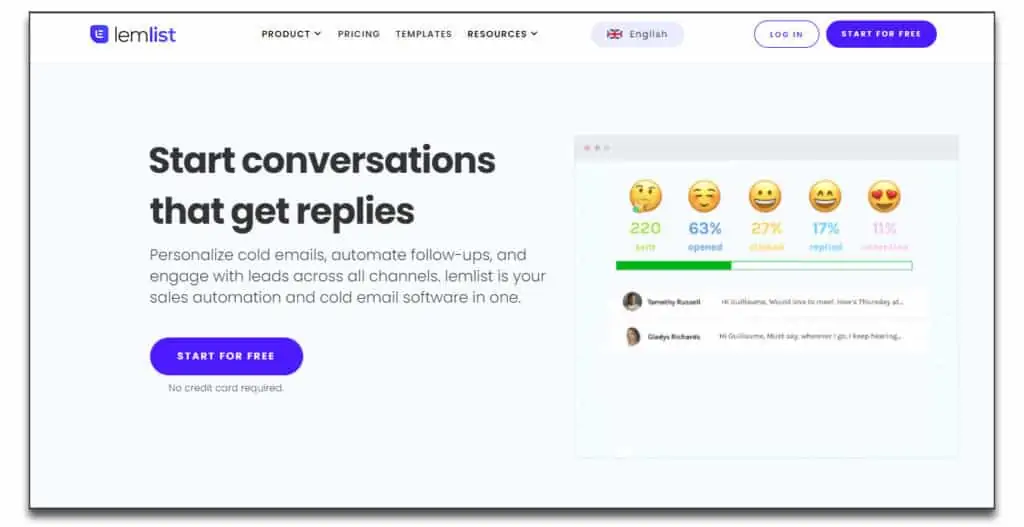 The powerful algorithm powering this outreach software generates custom content for your target. Everything from landing pages to personalized emails.
This program specializes in generating user-specific images and subject lines. You can be sure that ad copy will make it to its target thanks to 'lemwarm', the custom domain warming service. Domain warming keeps your sales communications out of the spam folder, increasing your response rate.
This software is the best choice for a team looking for high engagement campaign support rather than casting a wide net. Best of all, it integrates fully with Hubspot and Salesforce!
Pros:
Highly customizable
Multiple cadences
Domain warming emails
Salesforce and HubSpot integration
A/B testing


Cons:
Cluttered user interface
Closed lists cannot be edited after starting a campaign
Lemlist Pricing
For $29/month per user, you get access to Lemwarm email warm-up. This service helps launch a new campaign and domain using real, trusted accounts to keep your messages out of spam.

Once you have warmed your campaign, the Email Outreach plan costs $59 / month per user. This is the core functionality plan, including support for unlimited cold emailing, A/B testing and API integration.
The Sales Engagement level plan is the enterprise solution, which runs $99 / month per user. This tier is aimed at large teams who want their built-in calendar, video calling and coordination software.
Woodpecker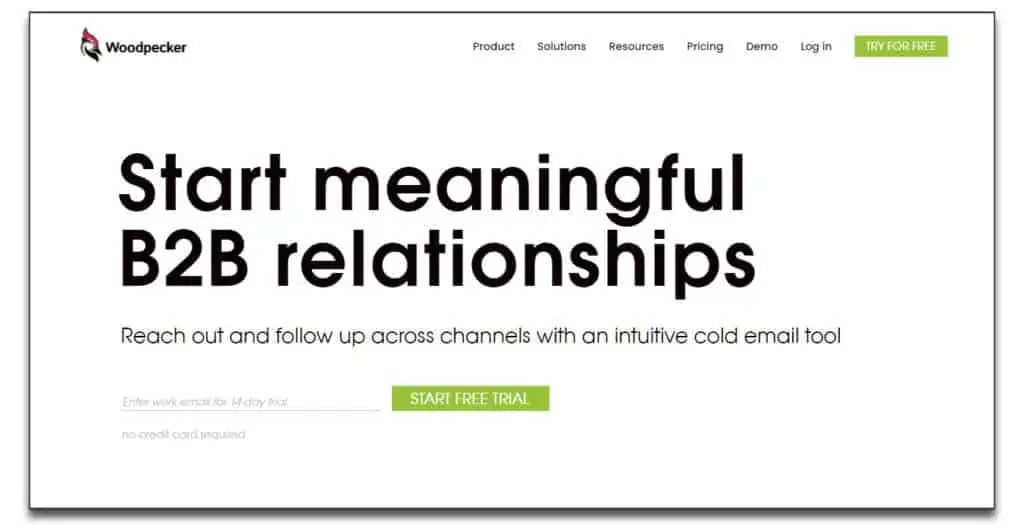 If you are looking for a secure and connected enterprise solution to cold email software, you can't do much better than this. What really shines about this software is that it is constantly evolving. In addition to all the great functions already implemented, Woodpecker continues to grow. The current roadmap promises even more interconnectivity in the future. At the time of writing, it is fully integrated with Salesforce and Zapier, granting access to hundreds of apps to your sales team. It even includes a built-in AI assistant!
Pros:
Anti-spam filter functionality
Expensive for large-scale campaigns
Advanced analytics data
Salesforce integration
Zapier access

Cons:
A limited number of follow-up messages

Woodpecker Pricing
The price is tailored to your needs, so you only pay for what you use.
The main difference between the tiers is the number of emails per day. This is great because you don't have to choose your plan tier for one specific feature.
The first tier is $40-$59 /month per user, depending on add-ons. This plan has 50 contact emails per day.

The next step up is $44-$64 /month per user, with 100 contact emails per day.
The unlimited contact plan costs $49-$59 / month per user.
Saleshandy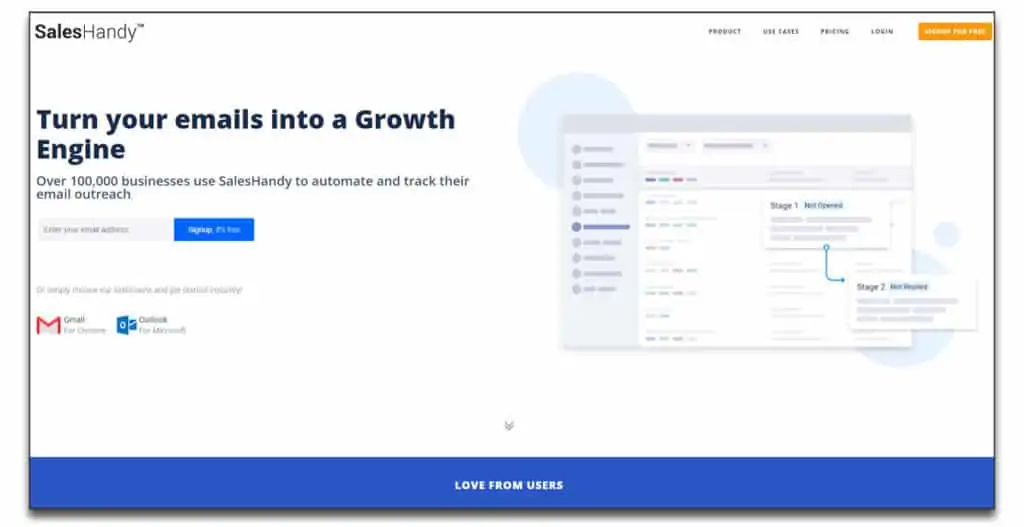 This is a great option if you are looking for a cold email extension for Outlook or Gmail. It does function as a standalone piece of software, but its integrated features are what makes it special.
With one of the lowest prices available at the entry level, this is the perfect choice for a small start-up or a do-it-yourself campaign. There are tons of templates to chose from and great personalization options.
The advanced email tracking tools give you access to core user data including read notifications, bounce alerts, and more.
Pros:
Advanced Email tracking
Free sales templates
Mail merge
Free email tracking
Zapier integration

Cons:
Low email caps
Not optimized for Mac

Saleshandy Pricing
The basic plan: $9/month per user with yearly billing (or $12/month). This tier gets you 200 emails per day, mail merge, a custom domain, and the standard suite of tools for Gmail or Outlook.

The plus plan: $22/month per user with yearly billing (or $27/month). This tier comes with 1500 emails per day. It grants access to automatic follow-ups and advanced cadence scheduling.

The enterprise plan: $49/month per user with yearly billing (or $59/ month). At this tier you have 5000 emails per day and a dedicated account manager.
Yesware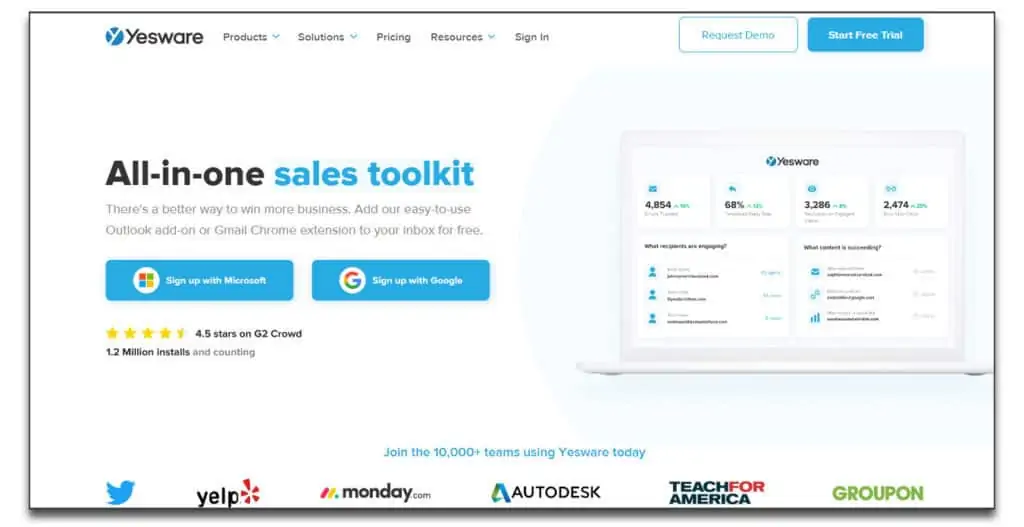 If you are looking for a Gmail or Outlook extension for your cold email campaign, look no further. This is a lightweight extension focused on automatic tracking and sending. The fully integrated calendar function lets you send and receive appointments with clients and the rest of your team. This cold email software is perfect for a small team or superuser looking for a quick, integrated solution.
Pros:
Built-in calendar
User-friendly
Email templates
In-depth analytics
Salesforce integration
Cons:
Only works with Gmail and Outlook
Yesware Pricing
Pro: $15/month per user. The pro version has unlimited email tracking, insights and email templates.
Premium: $35/month per user. The premium version grants access to team-based functions. This includes calendars, shared templates, and unlimited campaigns.
Enterprise: $65/month per user. The enterprise version comes with Salesforce integration for large-scale campaigns.
Main Features of a Cold Email Software
While most of the platforms will be able to deliver your email, the devil is in the details. In this section, I will point out some of the most important features that you should look for in your platform.
Personalization
To make your email campaign a success, personalization is critical. Everybody will ignore an obvious mass email, particularly when you are reaching out to a cold lead. The platform of your choice should provide you with simple personalization options, so you can add variables from your excel sheet (or another file) and use them in your email blast.
Tracking
You can not improve what you do not measure. Is there never enough information when it comes to cold emailing. Yoru cold email software should give you all the details about your list and campaigns. CTR, Open Rates, Bounce Rates, Unsubscribes, etc.
Dashboard
The platform needs to measure all the metrics, but it does not mean that you need to see them all at all times. Look for a clean dashboard with just the main data. The dashboard should so comprehensive that when you log in just glance over it – you should immediately know how your campaigns are doing.
Sequences
Cold emailing is all about campaigns. Mostly so-called "drip campaigns", which means that you keep sending your lead an email in sequences with a pause of several days – trying to persuade them to perform a particular action. Your cold email platform should allow you to set up this kind of campaign, set days between emails, create follow-ups.
A/B Testing
There is no way around it, if you want to improve the results of your campaign – you will have to A/B test. The platform should give you an option to A/B test various subject lines and email bodies against each other within one campaign so you have
Team
Most platforms already have it – but just make sure that the one that you picked allows you to have team members. While it may seem unnecessary now (in case you are doing all yourself) maybe you decide to get some outsources help down the road.
Integrations
When a lead replies to your pitch – you must take immediate action. Depending on the sales, CRM or collaboration platform that you are using, you may want to integrate it directly without using Zapier. So when somebody replies, this reply is immediately assigned to your colleague in Slack or Trello (for example).
Cleanups
Depending on the quality of your email list, you may want to have this additional feature in your outreach platform. The cleanup tool checks your list for emails that are sure to bounce (that are wrong) and allows you to remove them from the list. This way you have fewer bounces and therefore not damaging your SPAM rating too much.
How To Use Outreach Software?
The workflow in most outreach or cold email software is very similar. First, you will have to connect your email account to you will need your pop3 and SMTP details. When this is done you can start creating the actual campaign.
Step 1. Prepare your leads in a .csv sheet. Plan in advance the details that you will need to use. (Name, Email, Title, Company, and other details that can improve the response rate of your lead.)
Step 2. Start a new campaign and upload the list into the otureach software. It might ask you to confir mthe name of the data columns (for personalization later on) and also offer to check the quality of emails in your list.
Step 3. Write you email campaign, create follow-ups, put specify the pauses between emails and do not forget to personalize yoru messages.
Step 4. You might be prompted to check the final look of your campaign. Make sure to check if the personalization features are working properly and if your leads have the correct information in your emails.
Step 5. In your campaign calendar you should be able to see that your outreach campaign is scheduled.
Cold Email Tips
Write shorter emails. The longer the email is, the more it looks like an anonymous mass email.
Stay between 20-30 emails a day. If you have a fairly new domain, sending more might damage your deliverability rate.
If possible do not track link clicks in your emails (only track opens). Tracking link clicks increases the probability of your email going into spam.
Write capturing but not spammy subject lines. You want the recipient to open the email but you do not want them to immediately unsubscribe or throw you into spam.
Avoid using words like, free, buy now, online money, etc. Here is a huge list of keywords that decrease your chance to land in the inbox.
Summary
It is hard to imagine a business which does not use an outreach or cold email software of some sort. In this post I listed the main reasons to use these tools, and also gave some tips how to do it properly.
Test a couple of tools, see how the dashboard feel and what analytics and personalization options you have. Get your list ready and expand your business activity as never before!
FAQ
Why do I need an outreach software or cold email software?
Because it will significantly increase the speed of your business growth through helping you to communicate and follow-up with much more leads than before.
What is a cold email?
An email that is sent to a person who is not yet acquainted with your product, service, offer or company.
What is the best outreach software?
Each business has it own needs but I was very happy with Mailshake (check out the review in this post).
Is cold email software difficult to use?
No. You just upload your leads and write an email campaign. outreach software will do the rest for you.
Why can't I just use a spreadsheet?
It is very time consuming and you will still do a mistake here and there. Outreach software is fast, precise and saves your time that you can use somewhere else.
What do I need to start using an outreach software?
Email account – you will connect it to the cold email tool and you can start sending out email campaigns.