What is an OTT platform and why do you need it? Well, the world is undergoing massive digitalization. Our move to the online environment is unstoppable and the way we consume video media has drastically changed this is where OTT platforms come into the picture.
Cable TV had already thrown the towel in the ring as its users are rapidly decreasing. But they are not disappearing, they are just switching to on-demand platforms. These platforms are referred to as OTT which stands for over-the-top media
Netflix, Hulu, HBO Go, Disney+, and many others are leveraging the fact that all our devices are connected to the internet and are offering us all the imaginable content from our SmartTVs, consoles, cell phones, tablets, and laptops.
OTT had become so popular, that nowadays anybody can take advantage of this technology. So if you ever wanted to create your own "digital television" for a monthly subscription fee – this is exactly for you.
What is OTT Platform?
OTT media services allow you to make your own Netflix (essentially 🙂 ). They provide you with all you need to deliver your video content to any user with a device that is connected to the internet.
You may argue that you can the same with online course platforms, right? Well not exactly. OTT provides your users with an on-demand tv experience.
For example, if you are into gardening, you would use these platforms to create various video series about gardening, planting, tools and get monthly subscriptions from your viewers. In the same manner, as you are watching your favorite shows on Netflix, they would watch your show on your own channel.
The range of tools that OTT platform can offer is very wide:
Analytics, to see what is working.
Global CDNs, to stream content quicker.
Subscriptions, to easily collect payments.
Customizations, to make it your own.
..and many more. They essentially are a one-stop solution that will allow you to focus on your business and content creation rather than a variety of technical things.
Best OTT Platform
In this section, I will cover some of the best OTT platforms that you can start using immediately. They will provide you with a wide range of tools that will allow you to efficiently distribute your content while seamlessly collecting payments from your subscribers.
Uscreen.tv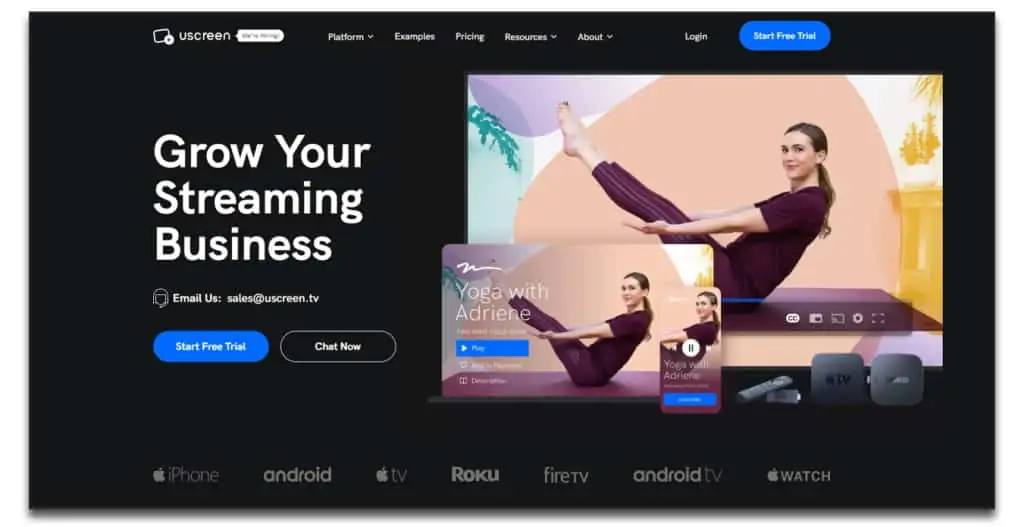 Uscreen is a great all-around OTT platform for beginning video enterprisers. They note that they're popular among health and fitness, faith, and kids' entertainment. As you grow, you may branch out into other OTT platforms – but if you're just getting started, they're a great way to learn to business.
Uscreen's platform is chock-full of features to help you launch and monetize your content, including:
60 days or less launch time
HTML5 Online Video Player with 4K UHD video
SSL certificates and secured payment data
Centralized CRM
Offline viewing
Screen readers and VTT caption support
But Uscreen isn't just about streaming content – it's about building a business. Features such as website and video templates, built-in marketing tools, and community building tools help you build your brand from the ground up.
Plus, they offer tons of monetization options, like fixed price, subscriptions, rentals, and more. And best of all, you keep 100% of your revenue – guaranteed!
In addition, their "Reduce Churn" tool helps increase customer loyalty – while decreasing use of that "unsubscribe" button. But if you do lose users, their "Try Again for Free" feature can entice them back again.
Uscreen.tv Pricing
Uscreen offer three pricing plans:
Basic: $49/month plus $0.50 per subscriber
Amplify: $399/month plus $0.50 per subscriber
Enterprise: custom pricing (plus, you guessed it! $0.50 per subscriber)
Muvi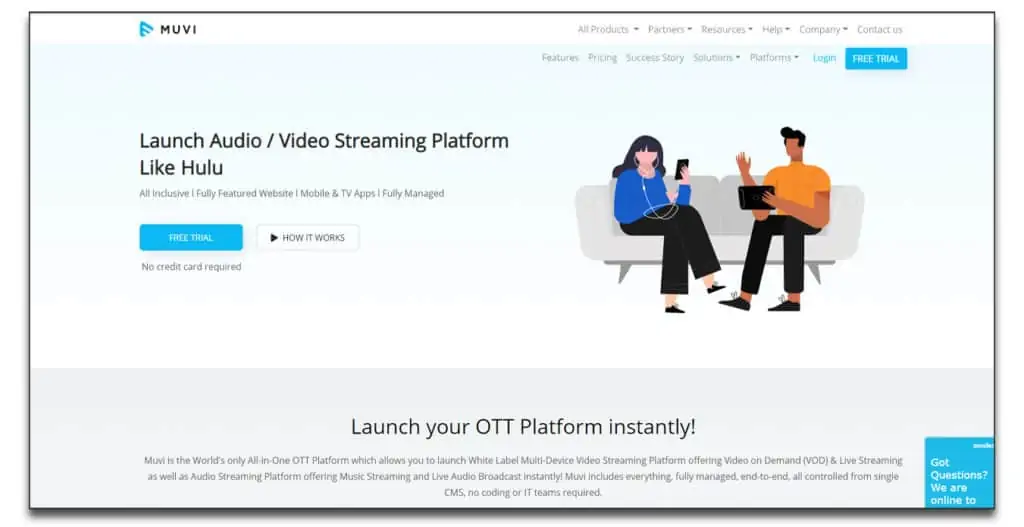 Muvi is a great OTT platform if you're looking for an all-in-one, enterprise-level service. They offer everything from video and audio hosting to live streaming and radio broadcasting.
The goal? To help you build your media empire from the ground up.
To that end, Muvi comes equipped with a robust set of options, including:
Billing and CMS included
Mobile and TV apps
Monetization via PPV, subscriptions, and advertising
Unlimited videos
Geo restrictions
HTML5 online video player
As you can see, Muvi is about more than just video hosting – it's packed with features to help you become a multi-media conglomerate. It's also unique in that you can monetize several types of audio and video in the same place.
Muvi also takes care of the background work that comes with online hosting services. They manage IT, cloud-based storage and servers, security, and more.
Muvi Pricing
Due to Muvi's extensive features, it's also one of the most expensive platforms on the list. They offer five pricing plans:
Standard: starting at $399/month for full features
Professional: starting at $1499/month for premium features
Enterprise: starting at $3900/month for a dedicated server and advanced support
Ultimate: starting at $8900/month for unlimited users and consulting
Black: a customized, all-inclusive package with "a lot of handholding"
Dacast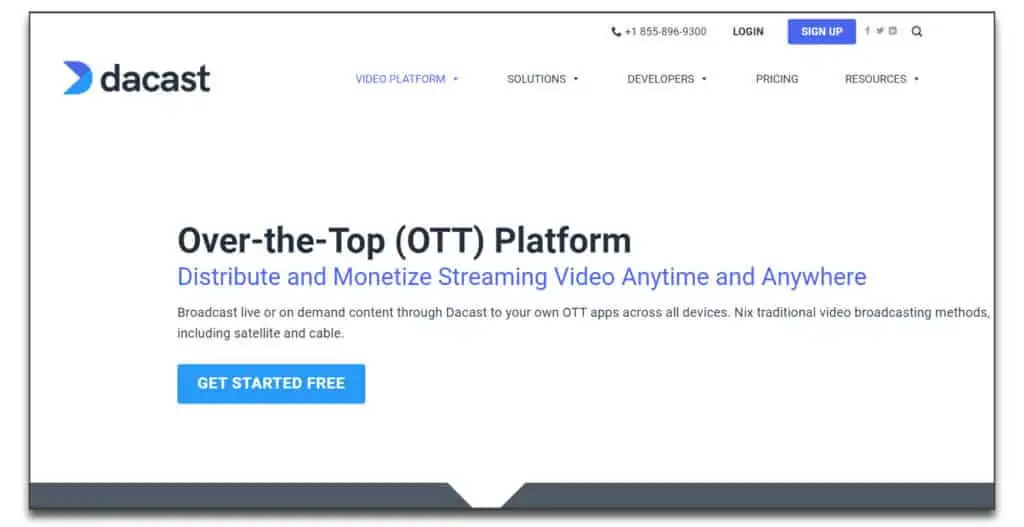 Dacast is an end-to-end OTT platform that provides international access, including to Chinese markets. And with Dacast's HTML5 player, you can host VoD and live streams to any mobile or desktop device in high resolution.
As an all-in-one streaming service, Dacast offers users tons of features, like:
High-quality video via their Akamai CDN
Customizable branding
24/7 customer support
Open API and SDK to develop your own mobile app or OTT platform
China video hosting – and access to over 1.4 billion potential viewers
Aside from these selling points, Dacast's robust Video Hosting Manager lets you easily upload and monetize your content. Plus, their automated workflow builder makes it easy to organize, analyze, and schedule videos.
And with their built-in transcoding options, it's possible to create different renditions of the same video. Not to mention, buffer-free streaming adapts video quality to users' internet speeds.
It's important to note that Dacast is more than a video host; they're also SaaS (software as a service). Once you create your account, you can navigate within the platform to build your video business with internal tools.
Dacast Pricing
Dacast offers four pricing plans:
Starter: $39/month for small audiences
Event: $63/month for one-time or occasional events
Scale: $188/month for businesses
Custom: personalized pricing for high volume users
Brightcove
Brightcove's OTT platform, Beacon, is a giant in the video hosting industry. This enterprise-level behemoth is packed with features for users to scale their brand. But while small-to-midsize companies may be impressed Beacon's abilities, they're best suited toward larger publishers.
For instance, with Brightcove, users have access to advanced content management tools. For instance, you can curate playlists and carousels for your users to enjoy. Multi-bitrate and adaptive bitrate streaming ensures subscribers will enjoy a consistent experience across devices.
At the same time, you can secure your content and limit user devices to ensure fair compensation for your services. And with customized package creation, you can market to segments based on their likes.
Speaking of monetization, Brightcove offers several options, such as:
Subscription video on demand (SVOD)
Advertising-based video on demand (AVOD)
AuthVOD (AUTHenticated video on demand)
Freemium
All the while, a Google Analytics integration provides all the data you need to find weak points for improvement. Beacon also comes with secure storage and content delivery with DRM protection for your peace of mind.
Brightcove Pricing
Brightcove offers three pricing plans: Marketing, Enterprise Comms, and Monetization. For cost information, you'll have to contact them for a personalized quote.
Maz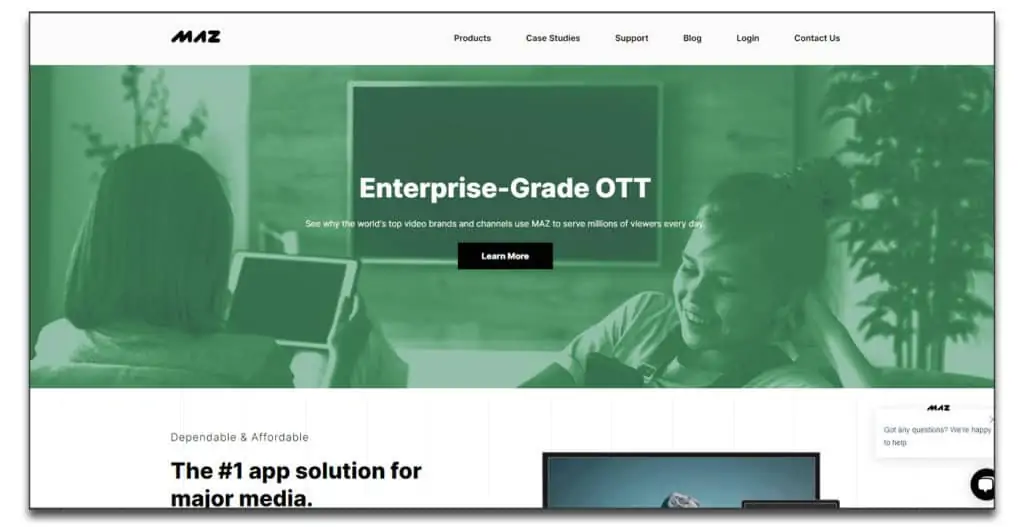 Maz is a highly rated OTT platform that services some of the world's biggest video brands.
But they don't limit themselves: they host everything from small startups to Fortune 500 companies. Some of their most prominent customers include Forbes, Wired, and Bon Appétit.
This all-in-one OTT package helps users every step of the way, including hosting and monetization. You can produce new livestream content, launch new OTT platforms and apps, and build your brand.
Some of Maz's top features include:
Fast launch time – as little as 60-90 days
Live streaming and VoD options
24/7 customer support
Low-latency video hosting
Ease of use, including quick editing, uploads, and dashboard changes
Maz also comes with tons of beautiful templates, ranging from simple to complex. You can customize every aspect, from logos to playlists, to design your brand from the get-go.
When it comes to monetization, Maz offers tons of flexibility. You can implement paywalls, set up ads, and create custom sponsorships. Their goal is to help you rake in the dough however suits your business best.
Maz Pricing
Maz notes that their small-to-midsized business package starts at a flat rate of $1,250 per month to launch on all OTT platforms. These include iOS, Android, Roku, Chromecast, and more. For personalized pricing, contact Maz Support directly.
IBM Cloud Video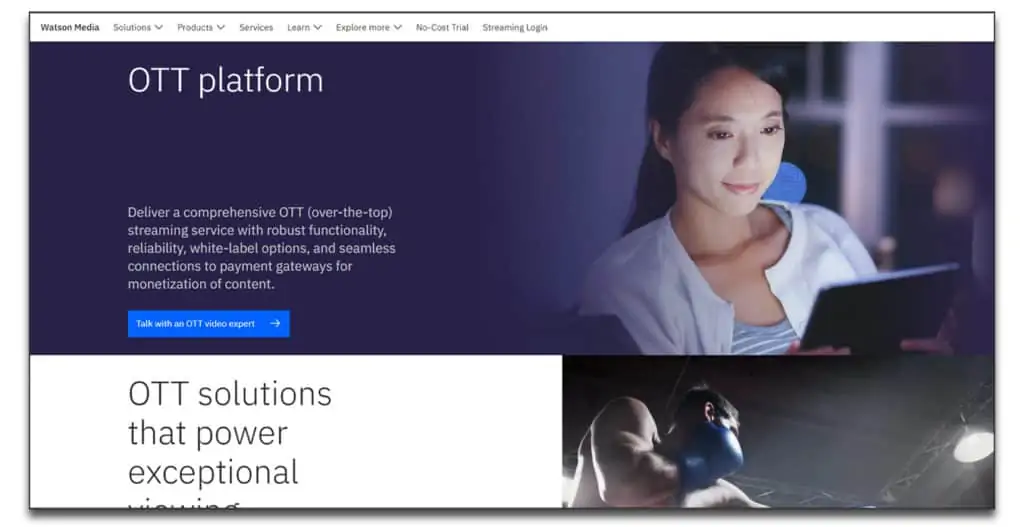 IBM Cloud Video – now IBM Watson Media – is one of the leading live broadcast OTT platforms. As a major tech giant, their service is feature-packed and intuitive to help you manage and monetize your content. Some of their premier features include:
Machine learning abilities with real-time performance measurements
GPU computing
Automated speech-to-text
Multiple CDNs to host content on any device
No caps on bitrate or resolution
But that's not all: they also feature Live Chat and Q&A. You can moderate, manage, and upvote conversations in real-time.
On the backend, IBM offers integrated branding and customizations. You can also turn live broadcasts into VoD for future viewers.
IBM also handles copyright issues as part of your subscription. Via their copyright enforcement service, they seek out and terminate plagiarized content to protect your brand.
However, IBM does limit your viewer hours (with an option to pay for more, of course).
IBM Cloud Video Pricing
IBM Cloud Video offers a 30-day free trial to test drive their streaming services. After that, you can select from one of their four pricing plans:
Silver: starting at $99/month for small businesses
Gold: starting at $499/month for medium-sized businesses
Platinum: starting at $999/month for frequent streamers
Custom: contact for a personalized high-volume, full-bodied service
Vimeo OTT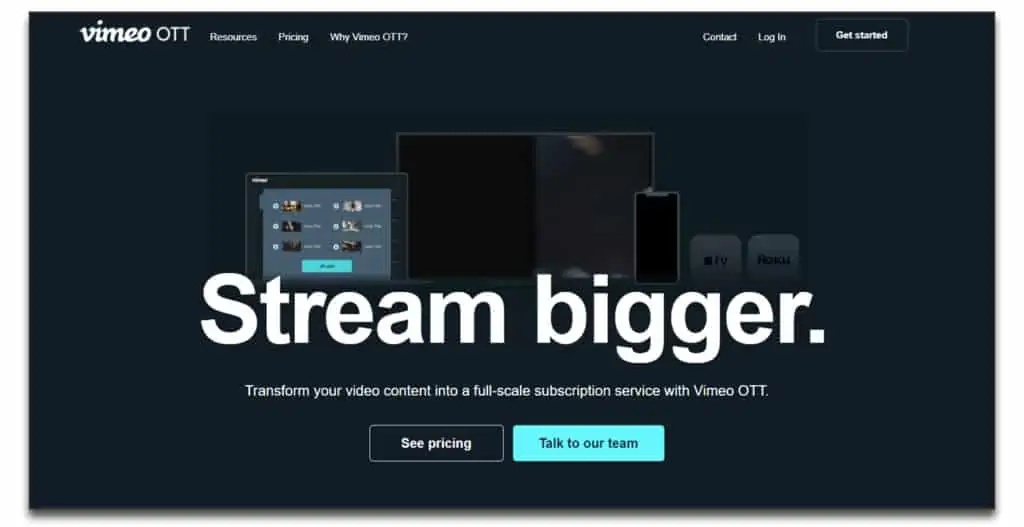 Vimeo's OTT platform is a full-scale subscription service for brands with small-to-mid-size audiences. With its internal video gallery as a backdrop for your work, you can control your video hosting from start to finish.
And best of all, Vimeo does all the tech-heavy lifting for you, so you can focus on your brand.
With Vimeo OTT, you get access to features like:
24/7 customer support
Livestream with auto-archiving
In-app purchases
Live data analysis and insights
Customization tools to brand your content
1080p livestream abilities
Video API to customize your content management system
Vimeo also offers some unusual interaction options like live polls and audience chat. Professional live streaming events can also enjoy Q&A and graphic overlays, as well as live analysis.
Plus, with DRM (digital rights management), you can protect your content and your brand.
When it comes to monetization, Vimeo OTT isn't as diverse as some of the other platforms on this list. It offers two basic models: PPV and subscription sales.
Vimeo Pricing
Vimeo offers three customizable pricing plans:
Starter: $1/subscriber/month for a basic OTT channel
Growth: starting at $500/month for full features
Enterprise: contact for a personalized plan
Additionally, you may have to pay up to $500 per app to stream your content onto OTT and video hosting platforms.
Kaltura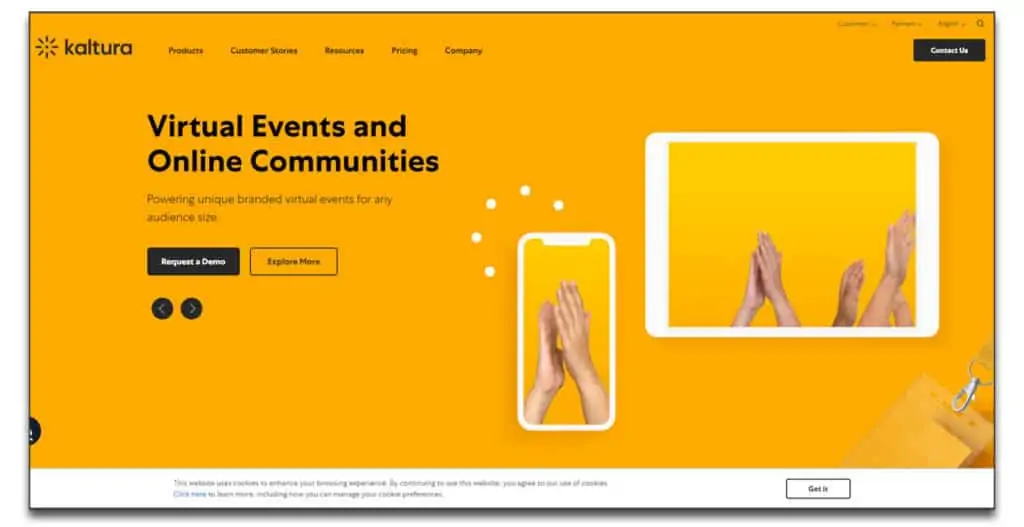 Kaltura is a great OTT platform if you're in the market for a corporate-level, collaborative service. Unlike the other platforms on our list, they focus on training, marketing, and sales in a business setting.
To that end, some of Kaltura's key features include:
Online meetings, virtual classrooms, and webinars
Podcasts and pitch video messaging
Live analytics for both live streaming and VoD
Native cloud TV platform with 99.995% uptime and personalized viewer experiences
Open API for reliable integrations
One of Kaltura's most impressive features is its live analytics. With its dashboard, you can see metrics like video open, interactions, and more. This helps you boost learning, engagement, and conversions – no matter your business goals.
Additionally, you can manage various assets from a single dashboard. Whether you're broadcasting movies, the news, recordings, or other content, Kaltura can handle them with ease. And with their multi-DRM, your brand is protected upfront and when users are offline.
Kaltura Pricing
Kaltura is geared toward larger businesses, so it's a bit pricier than other options on our list. For personalized pricing, contact Kaltura with your video hosting needs.
Wowza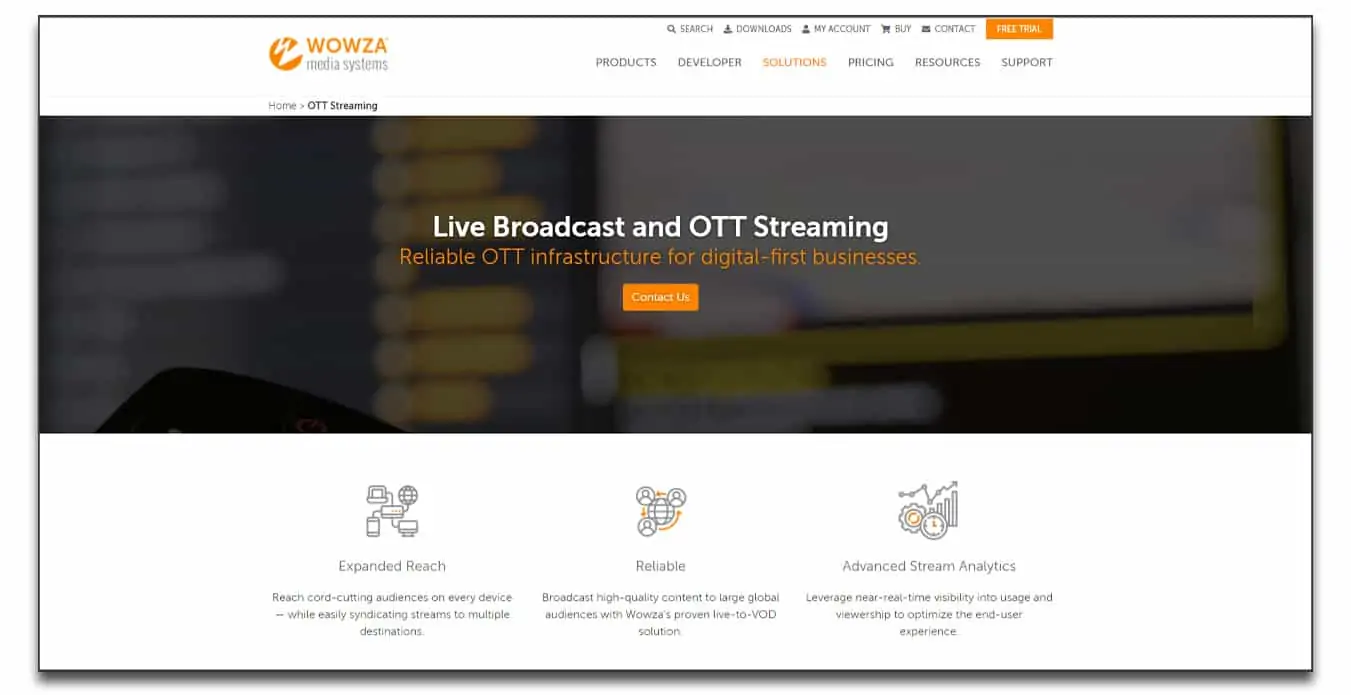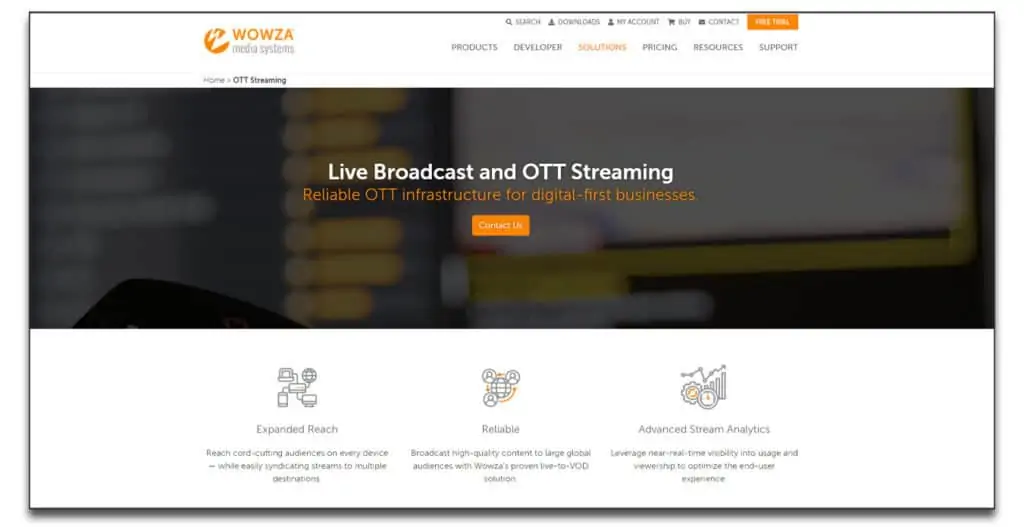 Wowza is a full-service OTT platform for industry players and critical business needs. To highlight the point, it comes with its own CDNs to ensure reliable global content delivery, fine-grained control, and high video quality.
Plus, Wowza offers tailor-made software for live streaming and scaling.
Wowza uses the cloud to enhance its streaming services. Their Streaming Cloud is ideal for live-streaming events with little setup, while their server software offers powerful customizations and video hosting features.
Furthermore, their SDKs and API let you customize your streaming infrastructure for your needs. And with live encoding, you can manage and monitor production from anywhere – even remotely.
Other notable features include:
Closed captioning for live and VoD events
Video paywalls
Video transcoding
DRM technology
Text-to-speech
Adaptive bitrate streaming
Multi-level security
Due to its plethora of features, Wowza offers extensive customer support, starting with onboarding. Their dedicated customer service reps can help you with app development, software questions, and setup.
Wowza Pricing
Wowza offers three pricing plans:
Wowza Streaming Cloud: starting at $85/month for a full-bodied live-streaming service
Wowza Streaming Engine: starting at $125/month for customized cloud streaming
Wowza Clearcaster: contact for a quote for this remote, multi-encoder service
JW Player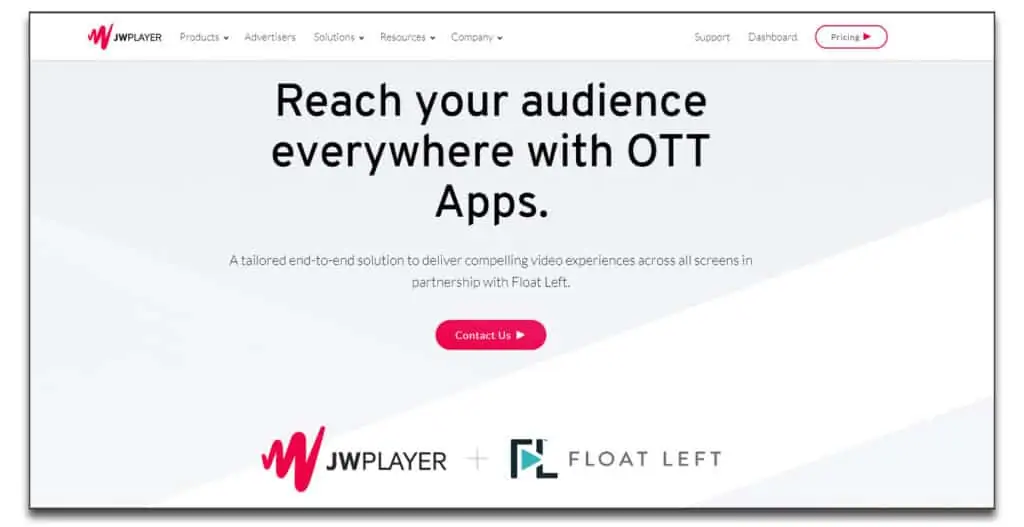 JW Player is an OTT platform for those who want to launch new apps on TV and mobile. If you have dreams of competing with the likes of Vimeo and YouTube, JW Player may be right up your alley.
With JW Player's scalable solutions, you can host, launch, and monetize your content. A customizable video player and APIs help you control your brand from the get-go.
Plus, its HTML5 player uses both HLS and DASH adaptive streaming for a seamless experience. Not to mention, it comes equipped with a powerful recommendation engine to bring engaging content to your users.
And with powerful ad support, you can maximize your dollars across devices and platforms.
Other handy features include:
Native analytics, as well as integrations with Google, Nielson, Adobe, and others
Canned and custom OTT apps launched in just weeks
Mobile SDKs to provide consistent video playback
Built-in support for several video ad networks and services
VR and 360* video streams
JW Player Pricing
JW Player offers a free 30-day trial and three pricing plans for their users:
Free: developers can enjoy full access to APIs and SDKs
Starter: starting at $10/month for basic hosting and 500GB
Enterprise: contact for a customized plan for publishing, broadcasting, and hosting needs
Main Features of an OTT Platform
There are many OTT services that you can choose from. In this section, we will go over some of the main features that you should look for in the platform that will be the best for you.
Interface
Pick a tool that is intuitive to use. You want the most used features to be one click away and the main analytics to be seen on the dashboard. Whether the interface is good or not is very subjective, so you will have to test a couple of platforms before making your final pick.
Monetization
The platform of your choice should provide you with multiple ways to monetize your content. Will it be ad-based? Or maybe just subscriber-based? It is better to have a variety of options so you are not forced into just one monetization model.
Customization
You need to have sufficient options to customize your environment and content to really make it "your own". Brand and the overall feel of your channel add a lot to the whole experience. There is no need for some over-the-top options to tweak every possible color, but some main ones should be included.
Compatibility
The platforms in this list have this sorted out but goes without saying that you need your platform to be compatible with every imaginable device – smartphones, pc, mac, tablets, TVs…
Streaming
It is good to have a healthy variety of options for times when you decide to stream. Q&A, moderation, chat, and other tools will make sure that your streams will be professional and well managed.
Summary
We all like video content. It allows us to consume information without doing much. Just sit back and watch as everything is shown to you.
Demand for video content is increasing and many niches are now able to find their corner with loyal subscribers that are ready to support the creators.
OTT platforms allow you to create your own digital TV channel and run your programs as you like. Above, I listed some of the best platforms out there, but make sure that you test a couple before settling on your final pick.
FAQ
What is OTT?
OTT stands for over-the-top media. It refers to video that is delivered straight to any internet connected device, making cable TV obsolete.
Why should I use OTT platforms?
If you have a great ideas for a video content series – OTT platforms will help you get it to the consumer and take payments. You can just focus on content.
How are OTT platforms better than Streaming services?
OTT provides an on-demand content in a similar way as Netflix or Hulu, while streaming services provide you with a Twitch type of experience.