Project management software is an answer to remote work becoming a norm. Digitalization and tools that developed along with it are brining opportunities to hire colleagues from any country in any time zone.
There is a hickup. How do you manage your project when all of your team mates are in different locations? This is where the project management tools come int the picture.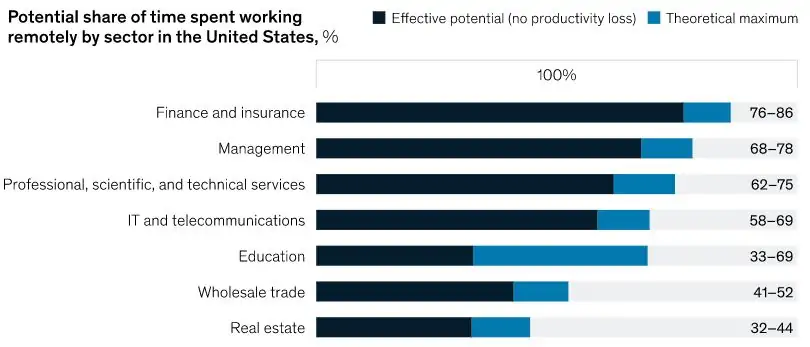 This is just a portion of the research that was conducted by McKinsey showing the percentage of workforce that will be moved to remote in these industries. That will bring a lot of flexibility but at the same time, remote teams have to be properly managed to get the job done!
(you might also be interested in having a look at my post on workflow management platforms)
Best Project Management Software
Below you may find some of the best project management tools that you can find on the market. Reviewed based on their features and pricing.
MeisterTask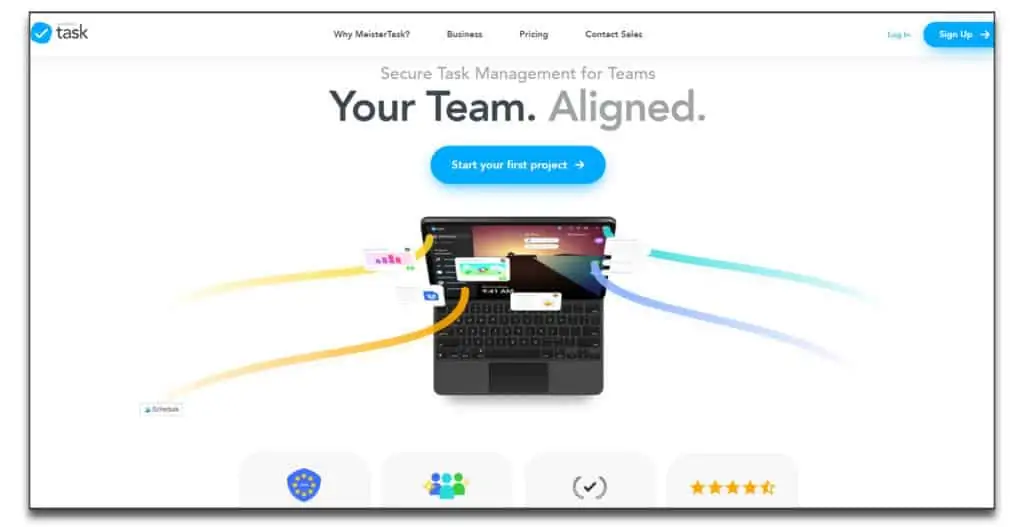 If you're looking for the best project management software, it doesn't get much better than MeisterTask. This amazing platform is based on the kanban structure. It is great for any type of project regardless of its size. The software provides a user with various collaborative features that are very intuitive and easy to use.
You can also customize the PM software to make things easier. The whole platform is web-based, so there is no need to download or update. Companies can use it both on iOS and Android.
There are lots of features that will attract you to this software. It has good security protocols that will protect all your data. MeisterTask has great integrations allowing you to combine the software with Zendesk, Gmail, Dropbox, and so on. You can also use it to create checklists and sublists.
Managers can rely on MeisterTask's predefined workflow to improve teamwork. The project management platform provides amazing automation features, and it is really intuitive even for people who have never used this kind of program. If something goes wrong, you can rely on numerous tutorials to help you out.
However, the program also has a few issues. For example, it isn't compatible with Linux. You also cannot see subtasks right away, and the phone support is only available for better plans.
MeisterTaks pricing
The company offers its clients 4 plans: Basic (free of charge), Pro ($8.25 per month), Business ($20.75 per month), Enterprise (custom plan).
Wrike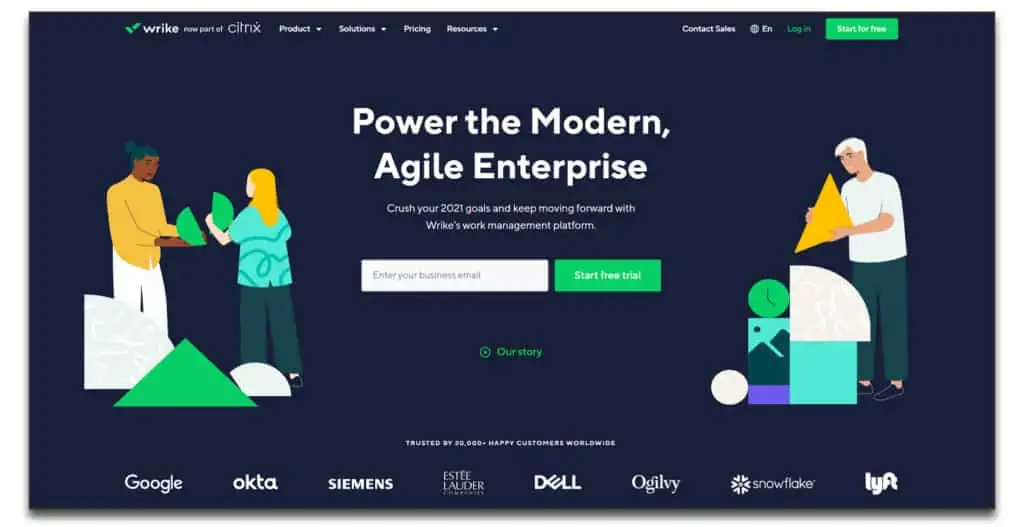 Wrike is among the most popular project management software on the market. It is a team project management SaaS that has a multi-pane UI. It has various features that will help managers track employees, communicate within the team and prioritize projects.
It is regarded as one of the best project management software because of its customization options. Your team has access to an intuitive, modifiable dashboard that tracks all the projects. On top of that, team members can send reports to each other that would expedite the internal processes.
Like with many software on the list, you can use Wrike in several languages. It supports iOS and Android, but not Linux.
Some of its best features include an editor that works under the drag-and-drop principle. You can use the tool to easily prioritize projects and highlight those that are at risk of not being completed. Managers and employees have access to DRF or dynamic request forms that will make your planning much easier and straightforward.
Wrike is one of the best project management programs if you're looking for an all-in-one solution. While the software can be integrated with other tools such as Google Apps and Dropbox, it feels pretty complete by itself. Users can enjoy various automation features, good protection, and 24/7 customer support.
Wrike pricing
Wrike has 4 plans: Free, Professional ($9.80), Business ($24.80), and Enterprise (contact for more info).
BaseCamp
BaseCamp is another great PM software based on the cloud. It has various collaborative features that will make life easier for your team members. Among others, you have a communication section where you can leave a comment and make other notes regarding the project.
The platform allows you to make updates and change the statuses of ongoing projects. A manager can get a rundown of all team communication in email. Given that BaseCamp might feel a bit data-heavy at times, there is a search feature that will help you find what you need.
There are lots of reasons why this is one of the best project management software out there. It allows you to segment work and focus on smaller parts of the task. It doesn't require much integration or additional software.
BaseCamp is especially great for tracking progress. It has amazing scheduling features, ability to create to-do lists and create calendars based on projects. There is also a third-party portal that your clients and other outsiders can access.
Perhaps the biggest issue with BaseCamp is that it doesn't have phone call support. It is also entirely based on the cloud, which might not be suitable for certain businesses.
BaseCamp pricing
You can try BaseCamp for free. Otherwise, it has only one plan that costs $99 per month.
Nifty
This is one of the most popular project management software for companies that prioritize automation. You can use it to centralize all your team operations into one hub. Nifty is great for streamlining communication, tasks, calendar, documents, and meetings.
The software shows a lot of potential for project development cycles. It manages to combine various popular project management features into one platform. All the progress is based on milestones that a manager can easily track. This also allows the segmentation of tasks.
Team project management software can help you with various things such as: setting up goals and timelines, working with other team members on tasks, sharing ideas, getting feedback on these ideas, and sharing various docs.
Nifty is great as it allows teams to perform tasks through either lists or kanban. It also has a great calendar that is Google-integrated. For every project, there is a discussion section that allows you to pinpoint specific problems and discuss how to proceed. Lastly, you can combine this platform with Github, thus allowing cooperation between different teams and departments.
Nifty pricing
Clients can choose between 4 different plans: Starter ($49), Pro ($99), Business ($149), and Enterprise ($499).
Monday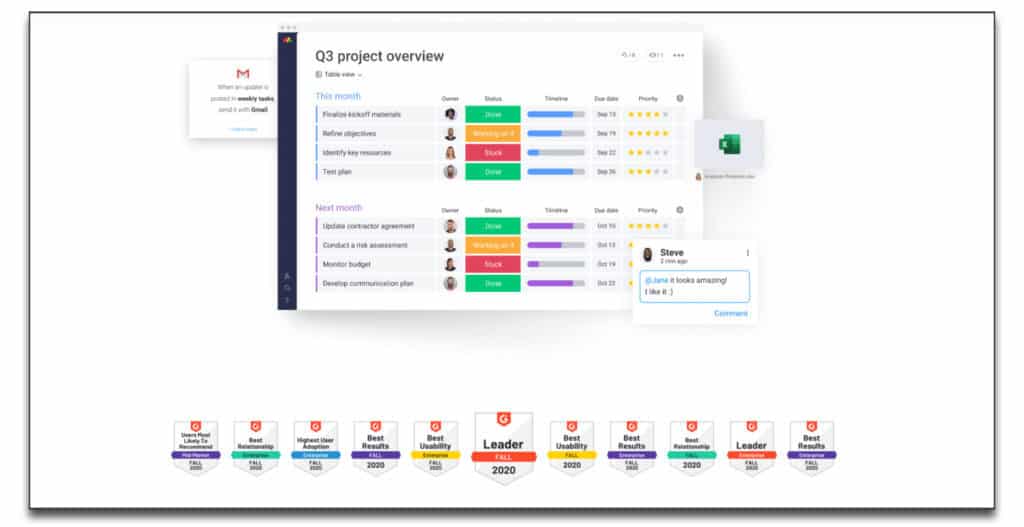 If you ever used project management software, there is a good chance you've heard of Monday. It has one of the nicest, cleanest interfaces that makes it easy to go through projects. While the platform has numerous features, it is relatively easy to get adjusted.
The program is great for creating a personal workflow. You can place focus on the text, location, and time management. All the data is sharable, and you can add notes and docs to make tracking that much easier. Like some other programs on the list, Monday has a portal that allows guests to access the platform.
One of its most interesting features allows you to copy lists. Afterward, you can paste this list, thus completely transferring the data from within. And if you made a mistake, you can easily revert it with an undo button. There are also numerous templates managers can use to make their job that much easier.
The platform's biggest weakness is its price. Furthermore, you will need to pay extra for each new user. The software also feels a bit clunky if you're new to PR software.
Monday pricing
The platform has 4 plans: Basic ($24 per month + $8 per seat), Standard ($30 per month + $10 per seat), Pro ($48 per month + $16 per seat), Enterprise (contact the company).
Hive
Hive is one of the most renowned, best project management software. The platform allows users to switch between project views making it easier to track various segments. Even better, you can choose one of these 4 views: kanban, calendar, gantt, and table.
Managers simply love this tool as it allows them to use various templates. This makes it easier to automate new projects. There are also project roadmaps that make life easier for everybody.
The platform has a great analytics suite that allows you to monitor projects from one access point. Among others, you can check completed projects, amount of work done by individuals, analyze productivity based on workdays, etc.
With Hive Chatbox, you can transfer and attach documents, communicate, and flag potential problems. You can also exchange emails by integrating Outlook and Gmail. Besides these tools, you are also able to integrate various other software, including GitHub, Okta, Salesforce, Google Drive, Microsoft team, and so on.
If you're still not sure about the project management platform, you have a 14-day trial that will allow you to check its features. There is also a special discount for non-profit organizations.
Hive pricing
Hive costs $16 per user per month. There are also various add-ons you can pay for.
Plan.io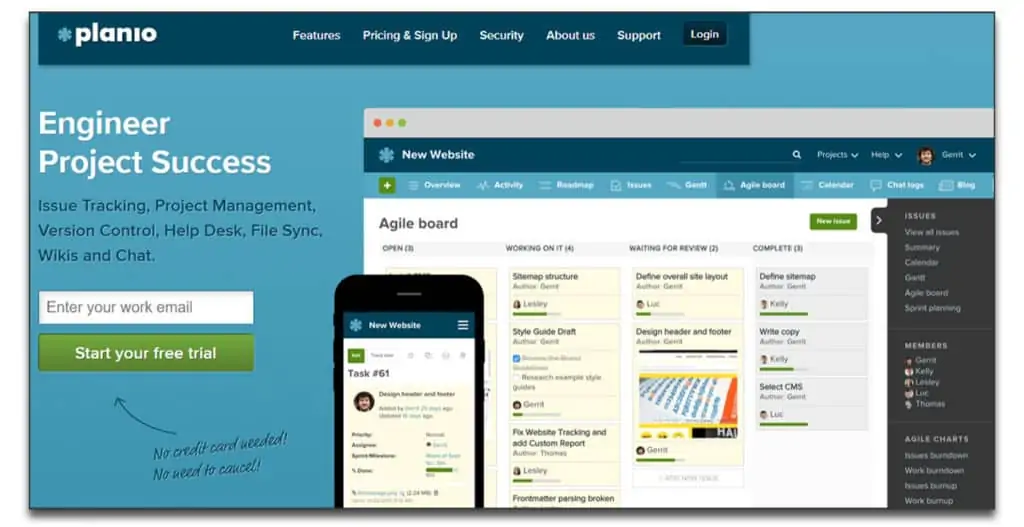 One of the best project management software in the world, Plan.io is unique for its Redmine open-source. It allows you to micromanage projects, track progress, and communicate within a team. You can change the status of projects, their category, priority, people working on them, due date, and so on.
Every employee will be assigned a role during a project. This would give them access (or prevent them) from adding or editing tasks, assigning work, customizing, managing. That way, the main manager can assign numerous other project managers with various responsibilities. If that wasn't enough, the main manager could track the progress with a phone.
The drag-and-drop interface is very popular for these programs, and Plan.io relies on it as well. You have various charts at your disposal that will allow you to monitor progress and team members. A client can also use the platform for repository management. That way, you can assign employees with various roles.
Plan.io is very flexible and easy to access from various devices. You can time-track activities, which is great if you're relying on freelancers. Lastly, there are daily backups that will help you protect project progress.
Plan.io pricing
There are 4 plans to choose from: Silver (19€ per month), Gold (39€ per month), Diamond (75€ per month), and Platinum (149€ per month).
Asana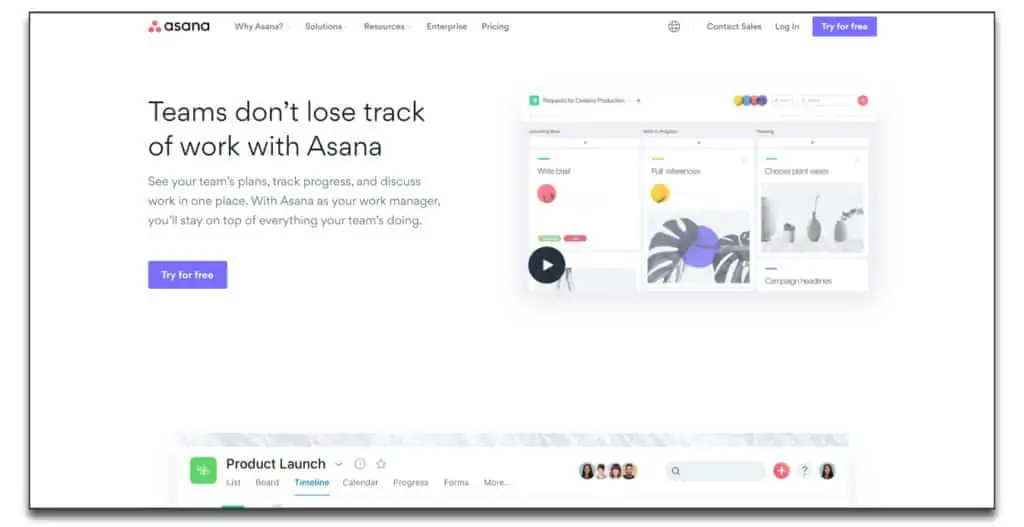 Asana has a few neat features that set it apart from the competition. For example, you can use it to add custom fields. You can focus on specific projects and only track them while omitting everything else from the dashboard.
There are also team pages where all members can share their ideas and feedback. The smart box allows you to get information for relevant projects while avoiding exposure to other information and conversations. The platform can be integrated with MailChimp, Github, DropBox, and various other software.
A user can choose between 50 different templates. There are custom fields for crucial metrics. Managers can also get automatic project updates in the email. With its CSV importer, you can add business files to the platform. If you're having trouble using the software, you can always access training videos or create a ticket.
Perhaps the biggest issue with Asana is that assigning projects can be a bit difficult. There is also no live chat or phone support.
Asana pricing
Customers can purchase one of 4 subscriptions: Basic (free), Premium (13.49€ billed monthly), Business (30.49€ billed monthly), Enterprise (contact the company).
Jira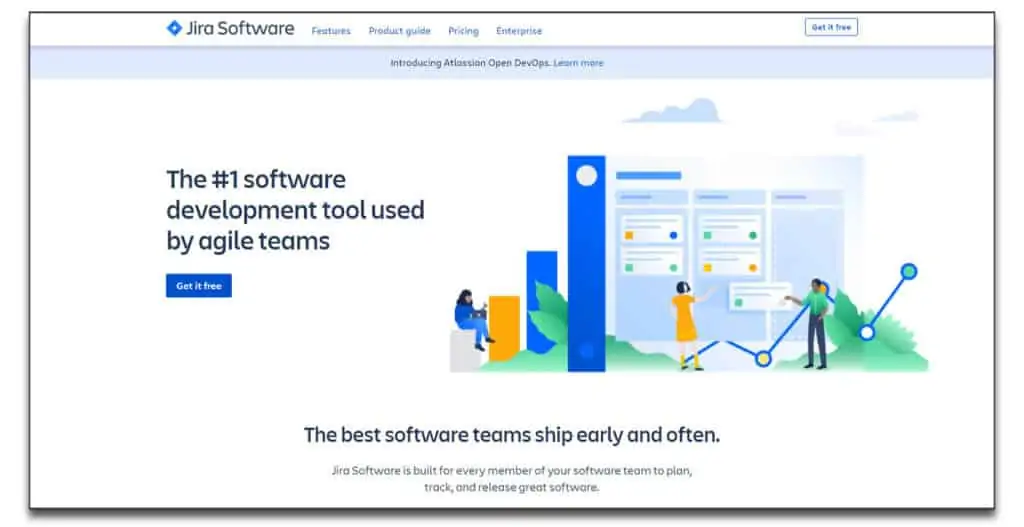 Jira is among the most versatile project management programs. It is great for software companies, but anyone can use it regardless of company type or size. The platform is great for creating custom scrum boards as well as Kanban boards. You also have access to real-time reporting.
The company allows access to all its free features. Up to 10 team members can use the platform, and you can utilize up to 2 gigabytes of free space. There is also community support if anything goes wrong.
Jira allows its clients to track bugs, monitor time invested on various tasks, and analyze the issues. There is also an API that can be utilized to connect with various outside tools.
Jira pricing
Anyone can use basic Jira features for free. This feature is available for up to 10 users. The standard version is $70 per month and $7 per user, the Premium version is $140 per month and $14 per user, and for the Enterprise version, you will have to contact the company.
ClickUp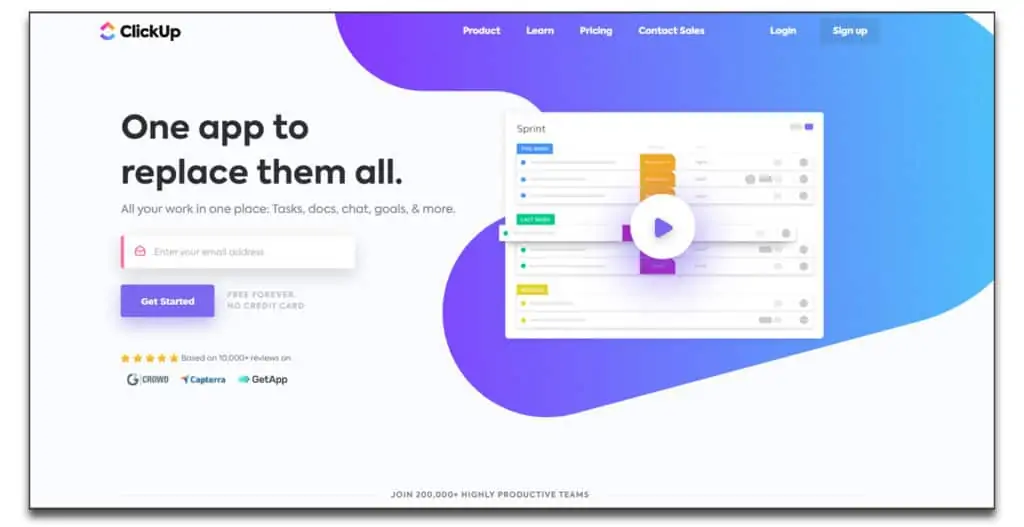 The main reason why you should try ClickUp is because of its multiple problem-solving features. It is an all-in-one platform meant to replace numerous other programs. You can use it for tasks, reminders, timelines, chat, as well as document sharing, and transfer.
ClickUp allows users to customize the dashboard. Furthermore, there are 4 different views you can choose from as well as numerous templates. The great thing about the software is that you can easily migrate all your data from the platform with its import feature.
The platform is completely cloud-based. It has a freemium feature that allows you to make a decision without taking any risk. Everything is focused on clients and their needs. Lastly, the company provides great support that will assist you with all your needs.
ClickUp pricing
Besides its freemium plan, you can also go with the Unlimited plan that charges you $5 per user per month.
What is a Project management system?
These platforms are usually in a form of SaaS. That means Software as a Service, those are applications that are run on a remote server. Secure and accessible from anywhere.
Project management systems allow you to manage your teams and projects efficiently in one place, no matter where you team members are located.
Free Project Management Software – most of the sites on this list will offer either a trial version or a free use of a limited account – which is perfect for smaller teams or when you are just starting out.
Main Features Of Project Management Software
Before you make your final pick, here are some of the areas that you should consider when comparing your options
Reporting and Analytics
You can improve what you cant measure. Make sure that the platform of your choice has a comprehensible and deep set of analytical tools that will allow you to measure efficiency of the work that is being done.
Time Tracking
Even if you are not billing clients by an hour, you need to know how much time did a particular task take. Time tracking will allow you to have an overview of time consumption of each project and output of your team members.
Budgeting and Billing
It is highly efficient to have all your billing and budgeting information right where the project management tools are. This will allow you to plan better and have a clear snapshot of the present and future cashflows.
Team Management
Access, rights, file sharing, responsibilities etc. All these have to be centrally managed so nothing is left to chance. Pick a project management platform which will allow you to manage your team easily.
FAQ
What is project management software used for?
These tools are used to manage teams in a way that will allow the project to be completed before the deadlines.
Why do I need a project management system?
Excel and Google Sheets will take you only that far, you will soon realize that to manage a project properly, you will need a tool that will take care of al the monitoring, reporting and planning.