In this post I will help you choose the best HR software for small businesses, as sooner or later SME companies realize that there must be a more efficient way of managing their growing number of employees.
After all, the focus of the company must be on its clients and not on human resources issues, contracts, recruiting, and so on.
Nevertheless, these areas are extremely important, and having no system in place to handle them is like not taking care of them at all.
Excel table will take you only that far, in this post we will focus on many issues souring the HR software matters. So with introductions behind us, let's get into it!
Small Business Problems
Small businesses often face different challenges than their larger competitors. While all organizations have to deal with payroll and regulatory compliance, the effort required versus a company's resources are skewed to favor corporations. This presents a unique set of struggles for small businesses to overcome.
Let's look at a quick breakdown of three of the biggest small business struggles and their solutions.
(Hint: the right best HR software for small business can help.)
Limited Resources – Like a Lack of HR Staff
Small businesses may not have the money to hire or train an official HR department. But that doesn't mean that certain tasks don't need to be done.
Jobs such as payroll, disciplinary action, hiring, and training must go on. Not having a reliable HR department – or at least a handbook – can make these stressful tasks much worse.
HR software can help by automating some of these tasks and providing guidance in the rest. This gives real people the ability to focus on growing your small business.
Losing Your Most Valuable Resources
As a small business, a good work culture is essential to avoid hemorrhaging your most valuable asset: good employees. Your competitors may offer higher salaries, better benefits, and bigger parties. But a positive company culture and a drive to make your mark can keep your talent around for the long haul.
HR software can help by lowering operating costs and providing a safe place to leave and receive feedback. Plus, your HR department (read: sole employee) will thank you, which means everyone is less stressed all around.
Regulatory Compliance
HR, tax, labor, and industry regulations are in constant flux. This leaves small businesses to balance the same burdens as the big guys – with far less expertise.
HR software can help simply by keeping you organized. With your records in one place – and updated whenever there's a change – you don't have to worry about falling out of compliance.
And, with many platforms calculating tax withholdings, you can keep the IRS off your back, too.
Best HR Software For Small Business
In this section, you will find some of the best HR software for small business, particularly tailored to the specific needs that small business has.
BambooHR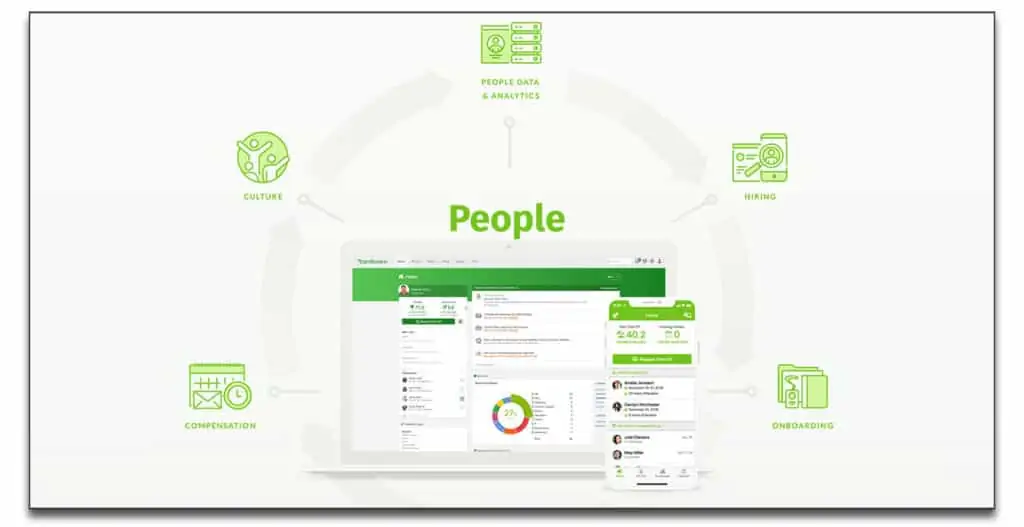 BambooHR is one of the best HR software for small- and medium-sized businesses, with over 1.5 million users to date. This cloud-based HRMS – human resources management system –specializes in areas such as:
Hiring and onboarding
Benefit tracking
Company branding
Gathering and analyzing employee data
BambooHR provides all the HR functionality a growing business needs. Administrators can assign custom access, set policies, manage time-off requests, and generate reports. And what they don't provide internally, you can add with a third-party app integration via their open API.
BambooHR is a great tool from the employee's side, too. They offer an intuitive interface so even your newest employees can learn the ropes. And they make it simple for employees to be self-sufficient during onboarding and training.
Your employees can also use the web portal to access personal data, company documents, and benefits. And their mobile app manages vacation days, time-off requests, and scheduling.
We should note that BambooHR doesn't provide one crucial HR function: payroll. They also don't conduct background checks or give you much in the way of employee recognition. And when it comes to benefits, it considers itself a "file cabinet" more than a benefits administration (BA) tool.
BambooHR Pricing
BambooHR's pricing is not available upfront. To find out more, contact their sales team for a direct quote.
Gusto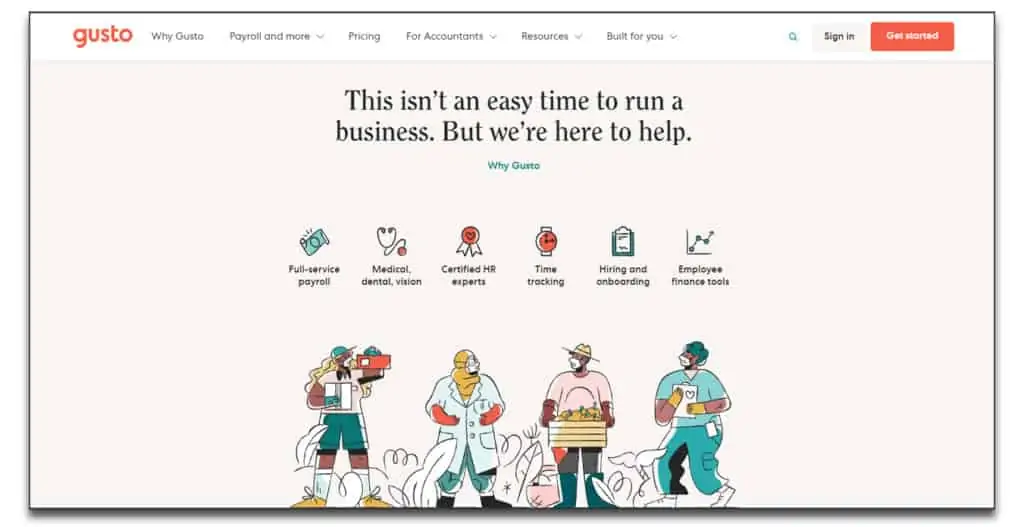 Gusto is a great HR software for startups and small businesses due to its simplified kit. Although the company is known for its online payroll services, it's developed several robust HR features, too.
Even longtime pros will appreciate its payroll setup and data reporting. (Not to mention unlimited email, chat, and phone support!) Plus, it manages compliance for a host of regulatory statutes and agencies, such as HIPAA, the IRS, the Department of Labor, and the ACA.
One of Gusto's great secrets is that it's easy to use even without a dedicated HR department. It walks you through the essential first steps of running a business. 1099 and W-2 prep, benefits sign-up, and even automatic calculation and filing of local, state, and federal taxes are included.
And its benefits administration system is no joke, with comprehensive options like:
Over 3,500 medical, dental, and vision plans
401(k) retirement plans
529 and HSA plans
Workers' compensation, life, and disability insurance plans
Commuter benefits
Best of all, your employees can sign up from your opted-in selections on their own time.
Your employees can also use Gusto to become more self-sufficient in their roles, such as with self-onboarding. They can update personal data, track benefits, and access their year-to-date financial summary.
Gusto Pricing
Gusto offers a freemium plan for businesses who maintain no W-2 workers. (Payroll costs an extra $6 per person, per month.)
In addition to this free plan, they also provide four paid plans starting at $19 to $149 per month. And, as all plans are month-to-month, there's never a contractual obligation to stay.
Namely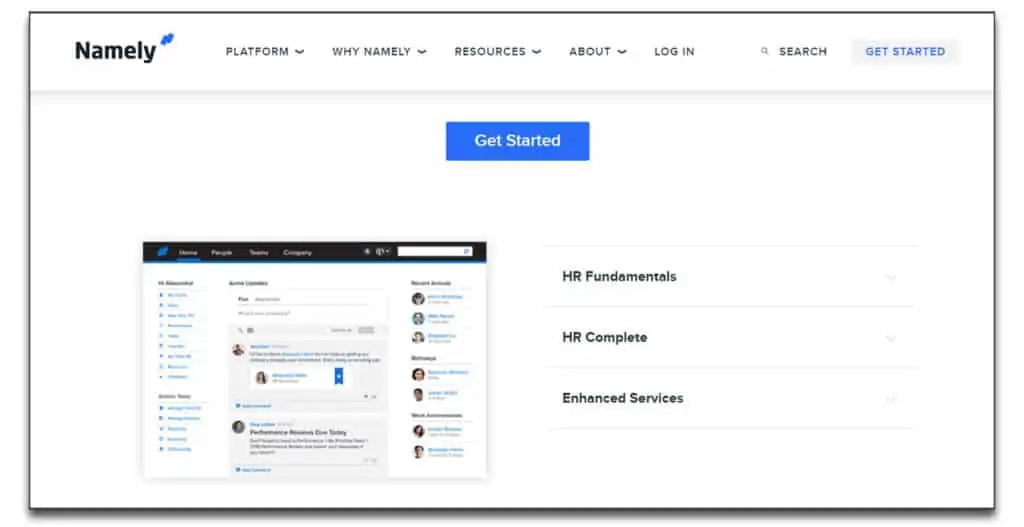 Namely is one of the best full-service HR software for small businesses (though they service larger clients like Vimeo and Mashable, too).
This integrated HR software earns a place at the top of the list because it's almost 100% configurable. Backed by a drag-and-drop editor and backend shortcuts, you can set access levels, assign roles, and integrate with third-party apps.
Plus, you'll enjoy a host of features such as:
Talent recruiting, onboarding, and management
Payroll
Benefits administration
Employee time and attendance
Performance management and goal setting
And the software is easy to use. Employees can use the web portal or mobile app to see pay stubs, time-off requests, and schedules. They also offer enhanced benefits like consultants, identity theft insurance, and a telehealth portal.
Employers will also be able to use their learning handbook and OSHA logs to keep their business compliant. And if there's ever an issue, you can contact your dedicated account manager or live HR advisors for assistance.
But Namely isn't for everyone. Two big sticking points include their lack of an applicant tracking system and international payroll. And, while it can act as its own processor, both payroll and BA modules cost extra.
Namely Pricing
Namely's pricing is not available online. To learn more, contact sales for pricing.
JazzHR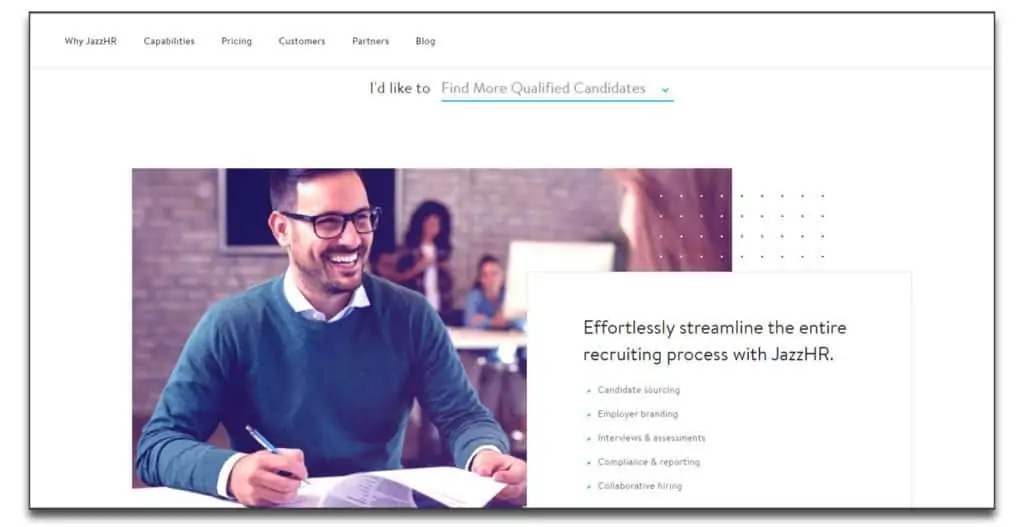 JazzHR, on the other hand, is one of the best strategic HR software for small businesses. With this platform, you can recruit, screen, and hire the best of the best for your business.
JazzHR helps at all stages of the process, from job posting to helping hiring managers conduct effective interviews. They allow you to:
Post jobs on Glassdoor, Indeed, and CareerBuilding
Use social recruiting and employee referral programs
Use their built-in SEO tools
Create custom and automated recruiting stages, including resume screening
Collaboratively vote for and decide upon candidates across teams
Build and host a careers page
When it comes time to conduct in-person interviews, your managers can study up on their skills with their provided interview guides while the site runs background checks. Your managers are also supported with recruitment calendars, offer letter templates, and e-signature capabilities.
But JazzHR is not without its downsides. For one, while it's great for hiring new talent, it has nothing in the way of talent management tools. Plus, their templates can be complicated, and there's no way to highlight your posts on specific boards.
JazzHR Pricing
JazzHR's pricing depends on how often you'll need to use their services.
For $39 per month, you can post up to 3 jobs at once, with additional jobs costing $9 per job, per month
For $299 per month, you gain access to their limitless hiring software
At $399 per month, you can streamline the hiring process and compliance reporting
Zenefits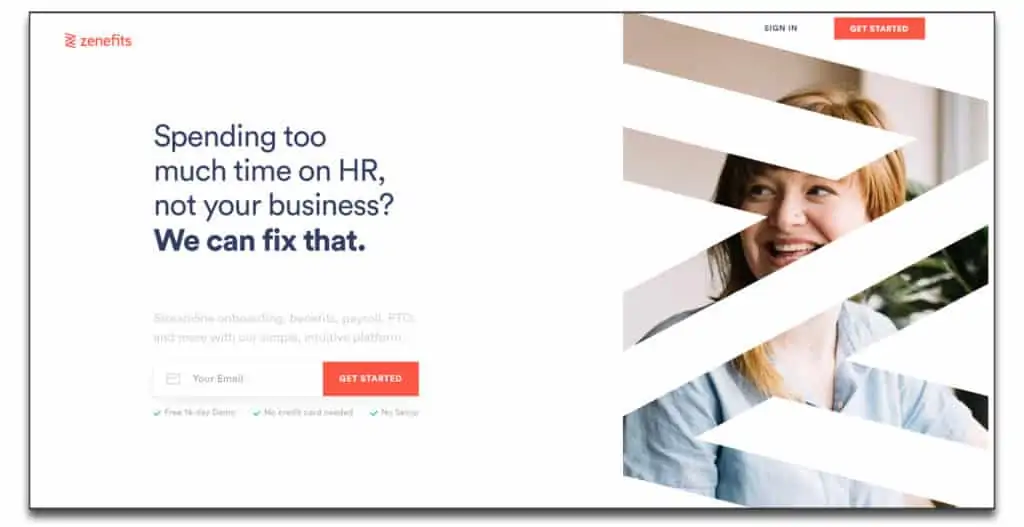 Zenefits started as a free core HR service. Now, it's one of the best HR software for startups and small businesses, trusted by over 400,000 employees worldwide.
Zenefits is an all-in-one platform packed full of features like:
Employee onboarding
Compensation package management
Time tracking, scheduling, and PTO requests
Self-onboarding, benefits selection, and document signing
Payroll (for an extra cost)
Importantly, Zenefits also provides built-in compliance features and safeguards to avoid mistakes. Many of these, such as government filings, are automated from the get-go.
Their benefits administration tools are also quite comprehensive. They include an HR app directory, Electronic Data Interchange, and partnerships with Checkr and Slack, among others. And it's easy to interact with employees regardless of their employment status.
Plus, anything they don't offer in-house can be added with one of their 40+ integrations. And best of all, everything runs on a single database. Thus, any information changes are reflected across your connected apps.
It's prudent to note that Zenefits is not a good fit for heavily regulated industries. While they offer HIPAA and ACA compliance, they're light on features for OSHA, the FDA, and ISO.
Zenefits Pricing
Zenefits offers three basic pricing plans:
Essentials for $8 per employee, per month
Growth for $14 per employee, per month
Zen for $21 per employee, per month
Payroll is not included in any of these plans, but you can add it on for a mere $6 per employee, per month. You can also add extra services at varying monthly costs.
Why Do You Need HR Software?
As we mentioned above, small businesses face challenges that larger organizations don't. This is true even with everyday issues that an HR department can help you overcome…if you have one.
Aside from small business concerns, all HR departments have to reckon with mind-boggling array of duties. From paying employees to providing harassment training, not to mention wading through the murky depths of benefits administration, there's a lot to deal with.
And that's not all. Data reporting – and thus, report generation – is a crucial function of any company. Without an HR department to catalogue every scrap of data it can get its hands on, it can be easy to fall out of compliance, overlook crucial errors, or miss chances for growth.
Not to mention, you don't want to pass over training opportunities for employees who aren't doing their jobs well…or at all.
So, why do you need HR software?
Because these challenges are too much for any one person to handle unassisted. And as a small business, it's likely your HR department is limited to one person at a desk – if it exists at all.
HR software can ease the burden by automating many time-consuming processes, such as onboarding and payroll. Plus, it's easier to stay compliant with fluctuating regulations.
Important Features of Best HR Software For Small Business
When it comes to HR software, there are three basic types. We'll cover each of them here, as well as which features they offer that may be beneficial for your small business.
Core HR Software
Core HR software help businesses with – you guessed it – core HR services. These features keep the organization up and running, such as:
Payroll (sometimes included as an add-on)
Time tracking
Regulatory compliance
Gusto and Zenefits are the two best core HR software for startups on our list because they tick all of these boxes. And, regardless of your industry, you'll encounter these HR hurdles early in your business ventures – so it's best to cut them off at the pass.
Strategic HR Software
Strategic HR software is a fancy term for "talent management" software. These platforms primarily address issues involving:
Recruitment
Training and development
Performance management
Employee advancement
Not every small business needs automated talent management, though there are a lot of factors to consider. If you're a fast-growing business or in a fast-growing industry, it may be worth the cost. For those companies, JazzHR is the best strategic HR software for small businesses on our list.
Integrated HR Software
Integrated HR software puts together functions from both core and strategic HR platforms. The end result is a comprehensive service that can tackle almost any HR conundrum. From payroll to benefits administration, recruitment to time tracking, they do a little bit of everything.
If you're an aggressively scaling small business, or if you suddenly have need of BA services to complement your recruitment efforts, integrated HR software may be for you.
Conclusion
This concludes my post about the best HR software for small businesses. While there are more options to choose from, this should get your main needs covered.
As you can see, from a particular company size it is very hard to justify having an operation where you do not use HR software.
You may also check the other very important tools for any company – workflow management tools.
FAQ
What is HR software?
These platforms provide you with all the tools you need to recruit and manage your employees.
Why does SME business need HR software?
Instead of hiring a whole HR department, use of HR software allows you to save money and be concentrate more on the core of your business.
How to choose the best HR software for small business?
There are several aspects to it, like storage, features and also size of your company. More about it can be found in my post.