In this post I will go over the best workflow management software, we will compare them, check the pricing, and help you choose the best one for your needs!
Our lives are hectic, we are pushing ourselves to be more and more productive. The time of day is limited, it the same 24 hours for everyone – and it is not enough!
For the purpose of this post we will focus on a huge parts of our lives – work.
Being productive, moving forward and professional achievements are just such a big part of our personalities. Not even mentioning that we spend at least 8 hours a day working.
Nobody cares about what you were working on, everybody cares only about which work you finished.
Being busy does not means being productive. You can draw the number 8 all day, will it move you somewhere? No.
Or maybe you created your To-Do list, and it is so big that you have to roll the mouse wheel for 5 minutes to see it all. This will force you into "analysis paralysis". You will not know where to start and you will just get demotivated.
This is where workflow management software comes to save the day. In the sections below you will be able to find the best choices and also read on how to choose the best tool for you and what to look for.
Table Of Contents
Best Workflow Management Software
Below you will find my top choice of workflow management tools that will make sure that you have everything planned right on time and are successfully moving the tasks forward with your team or by yourself.
Monday.com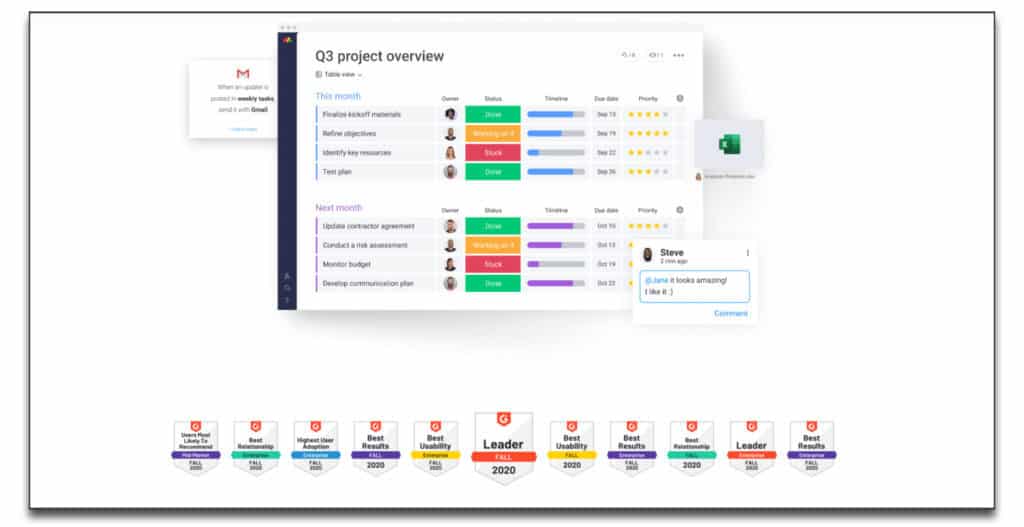 Monday.com is one of the best workflow management software for those who want a streamlined dashboard. This site cuts down on clutter to bring you a clean, structured tool to visualize your goals. And yet, the site is all about personalization, too, so you can work your day, your way.
Getting started with Monday.com's dashboards is easy. To build a new workflow, you add tasks, or "pulses," to your task board. Then, you can clarify steps or projects to complete the task. Once you have your pulses set up, you can:
Add and send out alerts and notifications
Track due dates and hours spent completing tasks
Collaborate with colleagues, bosses, and employees in-platform
Compile many task boards into a single dashboard to track progress
Export files to third-party platforms
Because this business workflow software is built to make life simpler, it doesn't include all the functions you may expect. For instance, financial reporting and automation tools are limited. But they also offer tons of integrations to fill the gaps with third-party platforms.
Monday.com Pricing
Unfortunately, Monday.com's pricing isn't as straightforward as their dashboard.
They offer four pricing tiers with eight pre-set numbers of members per tier. That comes to 32 pricing plans in total, ranging from $8 to $16 per person, per month. Plus, they have a customizable Enterprise plan for larger businesses.
Kissflow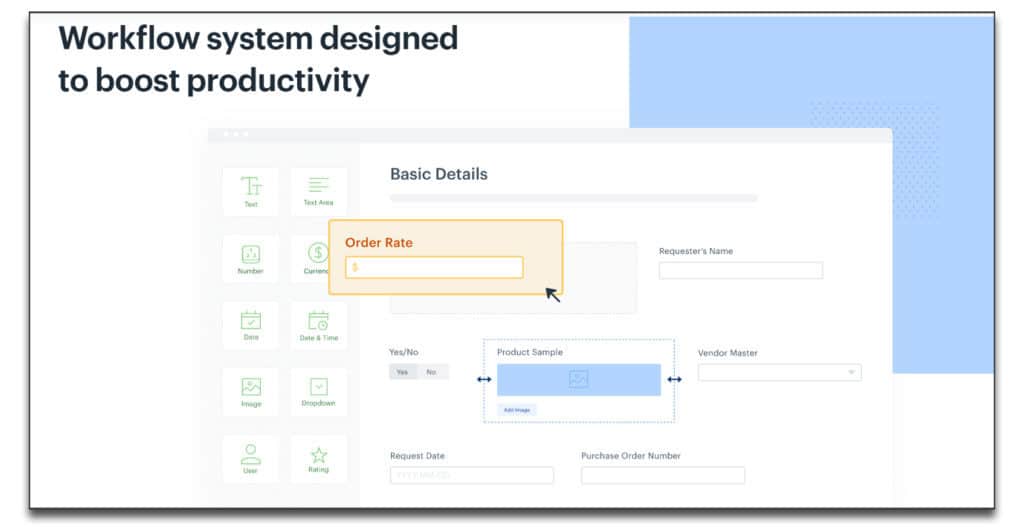 Kissflow is a program that answers the question: what is a workflow software supposed to be? This Enterprise-level option helps users track their workflow and company resources top-to-bottom.
To do so, Kissflow utilizes a vast number of tools and functions, such as:
A drag-and-drop interface
Built-in integrations and open API
Dynamic routing and trigger-based workflows
Customizable workflows with notifications and messaging
Build-from-scratch and template options to cover every department
This project workflow software is more than just that. It's one of the most comprehensive programs on the market for companies who need to stay limber.
Whether you're scaling up, moving sideways, or adjusting your framework as you go, Kissflow is packed with features to make the journey easier.
Perhaps best of all, this cloud-hosted system is mobile-compatible and e-commerce friendly, too.
But because this workflow diagrams software is designed for Enterprise users, it's not a great fit for small business operations. Furthermore, system-based organizations may find their features lacking, compared to human task-oriented services.
Kissflow Pricing
Kissflow offers a free trial for their workflow management software. They offer plans for two different services. Workflow Lite ranges from $0 to $7 per month, plus custom Enterprise pricing. On the other hand, Workflow Suite ranges from $390 per month for 20 users to $1,500+ for 100 users.
Nifty PM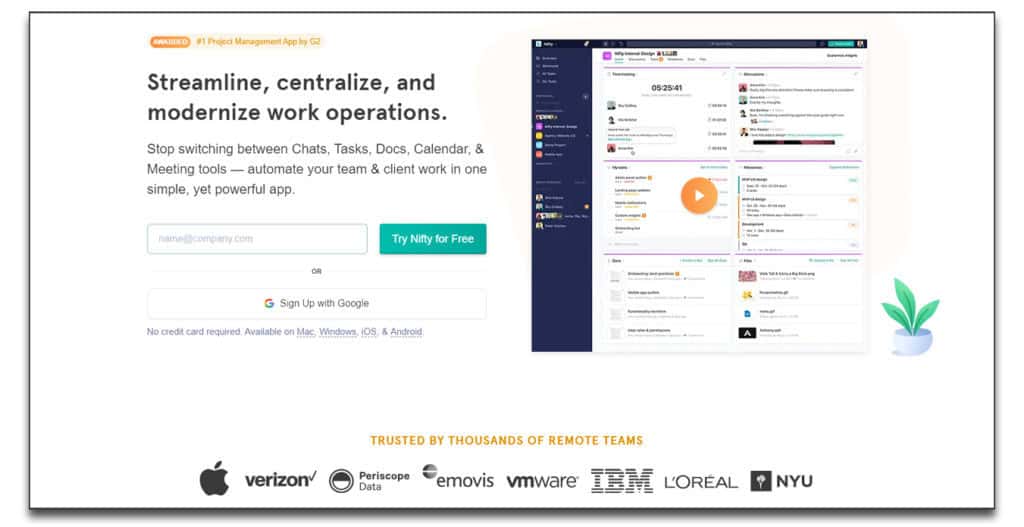 Nifty PM is an automated workflow management software that brings your team together. Whether you're looking for big-picture roadmaps or a daily breakdown, their comprehensive platform provides you with the best of both worlds.
Nifty PM starts off with an intuitive, attractive interface and birds-eye dashboard. From there, your team can communicate in-platform, manage milestones, and even use the workflow software for document creation.
Furthermore, you can enjoy features such as:
Portfolio and project overviews
Automated progress reports
Time tracking and reporting
Open API for business integrations
Plus, Nifty PM makes it easy to share files. You can share – and access – documents and data via desktop, Dropbox, or Google Suite. Users can even generate collaborative documents to share with teams and departments.
And rest assured that this project workflow software keeps tabs on your team's progress, too. This helps keep your business on track – while ensuring your team members aren't overwhelmed.
Nifty PM Pricing
Nifty PM offers three basic pricing plans:
Starter for 10 team members and core features at $39 per month
Pro for 20 team members and additional features at $79 per month
Business for 30 team members and advanced features at $124 per month
If you have more than 30 team members, you'll have to contact Nifty PM for a personalized quote.
Smartsheet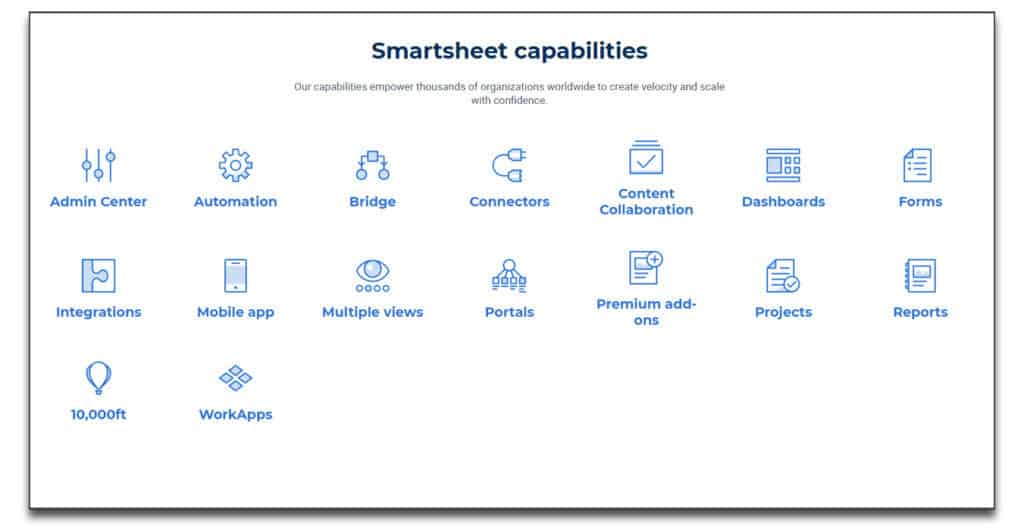 Smartsheet is one of the best workflow management software if you prefer spreadsheet-style diagrams. This app is an award-winning business favorite for its ease of use and attractive layout.
Smartsheet's layout is similar to Excel Spreadsheets – without the formulas. The beauty of this project workflow software is that it performs all business calculations for you. All you have to do is plug in your data.
But don't worry about getting lost amongst your many projects and departments. Smartsheet makes it easy to color-coordinate or even add logos to your projects. Plus, this software lets you view your automated workflow in calendar or card views, so you can keep an eye on your tasks across teams.
Additionally, Smartsheet includes features like:
Real-time notifications and automated alerts
Activity logs and status reports
Critical Path feature to highlight important tasks
Editable, exportable summary reports
Tons of integrations with Microsoft, Google, Slack, and more (plus open API)
But it's also important to note that this is not a workflow diagrams software for beginning users. Its more advanced functions come at both a more advanced price and a steeper learning curve.
Smartsheet Pricing
Smartsheet pricing plans start at $14 per month for a single user. Business plans begin at $25 per user, per month for more advanced features. They also offer a personalized Enterprise plan for corporate users.
Freshservice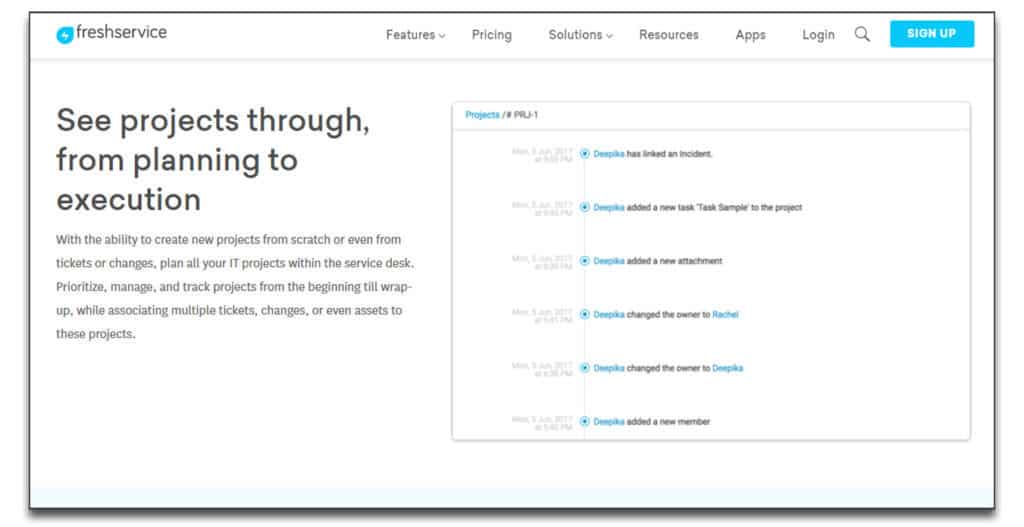 Freshservice is a customer support platform that has branched into automated workflow software. While it's not a comprehensive service for every business, it works well for niches such as IT management.
With Freshservice, you can automate internal processes and reduce manual costs via its Workflow Automator. Its simple drag-and-drop interface and triggered workflows make it perfect for:
Auto-assigning tickets to appropriate parties
SLA violation management
Setting up multilevel approvals
Automating employee onboarding
This software workflow system is also great for tracking changes company wide. Not only can you mitigate risks before they happen, but you can pinpoint where your strategy went wrong. Thus, you can save your company from any potential PR or customer-related issues.
Another great feature of Freshservice is that it's cloud-hosted. This means you don't have to perform any maintenance on the platform. At the same time, you'll still increase your automation capacity.
Plus, because Freshservice is a helpdesk first, you won't need to buy a second platform to manage your customer relations team. That's a win-win!
Freshservice Pricing
Freshservice pricing ranges from $19 per agent, per month to $109 per agent, per month. The more expensive the plan, the more features and abilities you can enjoy. Plus, every plan comes with a free trial, so you can test out the software first.
Admation
Admation is a project tool for marketing teams and creative agencies. It's designed for users who want a full-circle solution for ad campaigns from conception to end game.
Thus, instead of only focusing on your day-to-day, it's packed with tools to carry you to your final product. And it has plenty of workflow tools to help busy agencies manage each and every step along the way.
Some of the most critical features Admation offers include:
An intuitive, data-packed central dashboard
Templates for briefs, resources, and documents
A robust calendar and scheduling system
Timesheets and time tracking
A digital storage system
With Admation, you can plan projects, set up approval workflows, and track both digital and offline assets. This business workflow software makes it easy to manage multiple campaigns, all the while generating reports and hitting deadlines.
And because it encourages and enhances communication, everyone from your bosses to your shareholders are kept in the loop every step of the way.
Admation Pricing
Admation offers four pricing plans: Team, Business, Enterprise, and Agency + Clients. To get a quote for any of these plans, all you have to do is submit a request to Admation via their website.
Admation offers four pricing plans: Team, Business, Enterprise, and Agency + Clients. To get a quote for any of these plans, all you have to do is submit a request to Admation via their website.
Cflow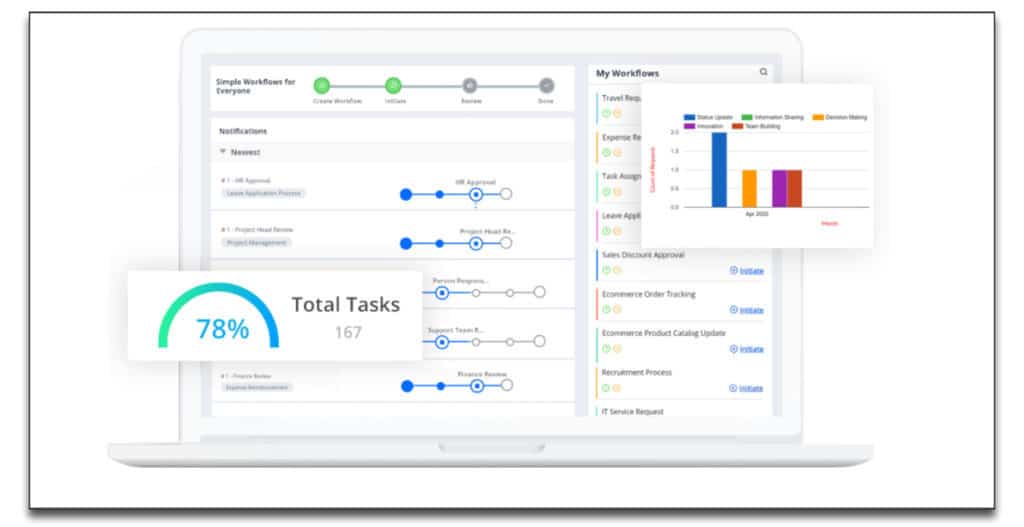 Cflow seeks to provide an automated workflow software to simplify time-consuming processes. This no-code platform is easy to use – it even includes a prebuilt workflow library to help you get started. It's one of the best workflow management software for small businesses.
Cflow gives small businesses a no-frills approach to quickening approval at every level. It can help you automate everything from leave approvals to invoices.
Plus, this platform is full of customization options, such as:
Using your own email domain
Editing included templates, such as workflows and email tempaltes
Opting for web-based, email, laptop, desktop, or mobile forms
Building your own forms from scratch
Cflow also offers basic integrations with Slack, Google, and Microsoft Office, to name a few. Or if you need more apps, you can connect with Zapier.
One of the best things about this workflow software is that it's one of the most user-friendly on the market. This can be a boon for businesses who don't have the time or manpower to teach employees a new system. You can also take advantage of their concierge service to set up automations for you.
Cflow Pricing
Cflow is one of the cheapest software workflow systems on this list. Plans range from $7 to $16 per user, per month. Considering their features, that's not a bad investment!
Unito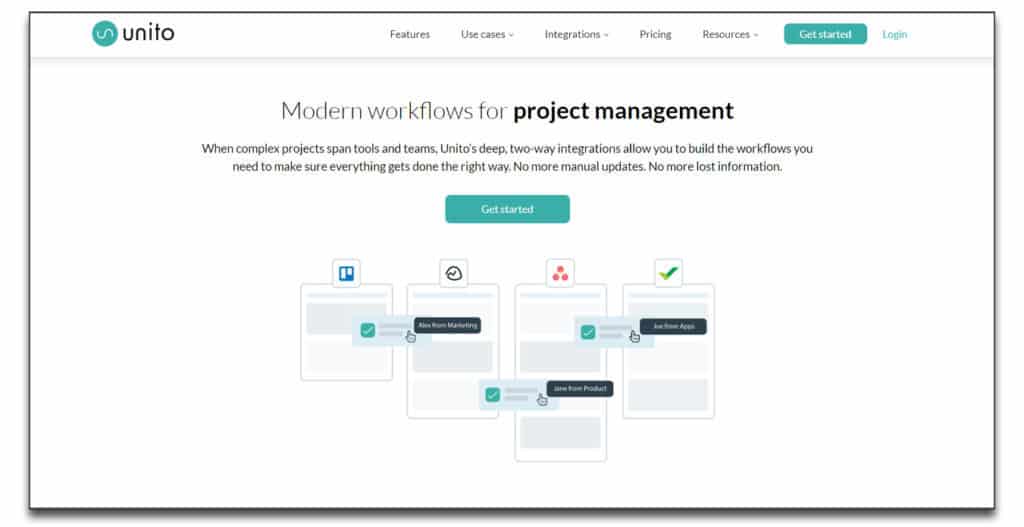 Unito is one of the best workflow management software for two-way platform integrations. If you use Trello, Asana, Zendesk, or any number of other platforms (including many on this list), Unito can – ahem – unite them all.
While it may seem silly to buy a workflow software to bring other platforms together, Unito specializes in what they do. Their drag-and-drop visual workflow builder tap into third-party tools to bring your projects together.
And, because integrations run both ways, your workflows run in the background. This means that your apps can talk to each other without you worrying about losing data in the muck.
And if you need to make changes, edits are only a few clicks away.
One of the most compelling reasons to use this platform is ease for your workers. We all have favorite communication or document workflow software. Unito merely provides a way for everyone to use theirs while maintaining communication.
And because all your tools "talk" to each other, you don't have to worry about missing or doubling up on work.
Unito Pricing
Unito's pricing plans start at $10 per month for five users and range to $769 per month for 150 users. They also offer an Enterprise option for corporate-sized organizations.
ClickUp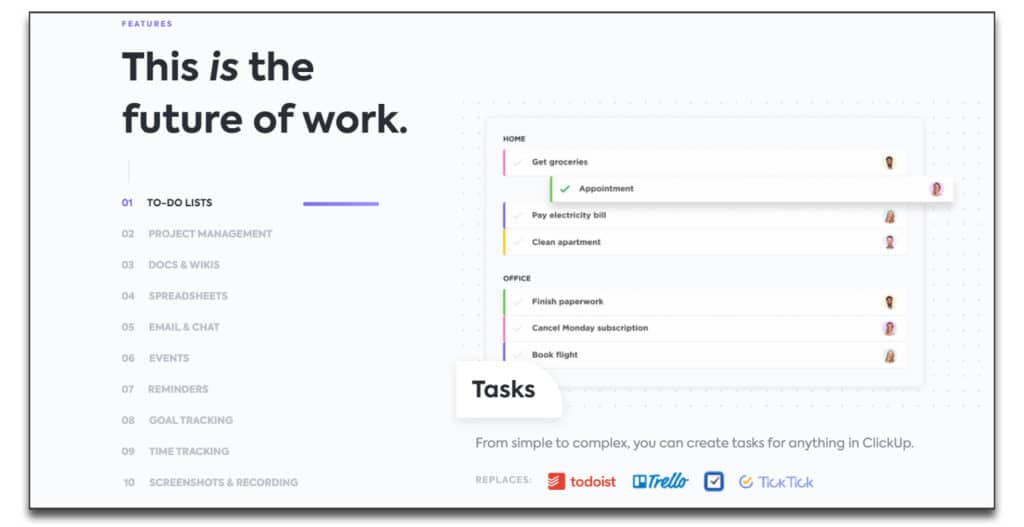 ClickUp is a newer project workflow software on the market – it's only been around since 2016. Its founders designed the software for users who are dissatisfied with being under- or overserved by other workflow tools. If you're tired of paying too much for too little – or paying too much for too-complex systems – then ClickUp may be for you.
ClickUp offers the basics of any business workflow software, such as:
Team collaboration
Task-setting functions
Various updates, alerts, and notifications
Key third-party integrations
When it comes to building your workflows, ClickUp structures things a little differently. They simplify the process by skipping the "company" subset and started with your teams, which then break down into spaces, projects, and so on. This lets you enjoy more customization with less hassle.
Furthermore, ClickUp includes a number of tools for "power users." If you spend a lot of time managing workflows, these can be invaluable. From keyboard shortcuts to saved filters to automatic designations, their configurations can save project managers a lot of time. (And we all know that time is money).
Clickup Pricing
ClickUp is one of only two workflow management software with a free forever plan on this list. While it's somewhat limited, it does allow for both unlimited tasks and members.
Paid plans range from $5 to $9 per member, per month, which also makes it the singly cheapest software on this list. And of course, there's an Enterprise option for users who need the most out of their software workflow.
Connecteam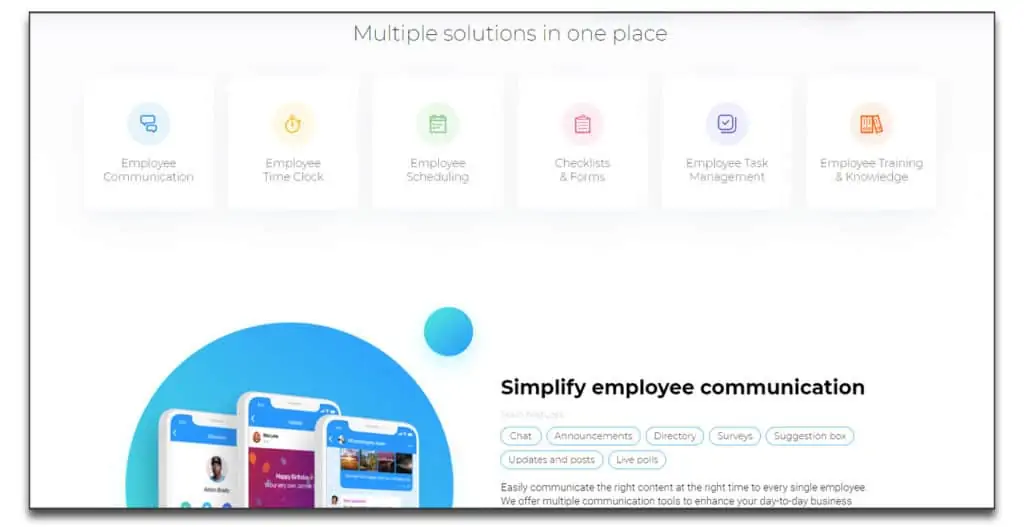 Connecteam is a unique workflow management software that lets you build your own app.
Whether you're looking to improve communication, train employees, or manage your day-to-day, Connecteam can help you build the tools to do so.
With this paltform, you can build an app in as little as 15 minutes. Then, you can start customizing every bit of your employees' experience from the ground up with features like:
Group and two-way chat
Instant notifications and messaging
Image, file, and video sharing
Time management and scheduling tools
Workflow management abilities
Employee training, progress monitoring, and compliance

Connecteam prides itself on giving workplaces the option to go almost 100% paperless. From checklists to phone calls, almost any business function can be automated.

Because of its design and unique abilities, Connecteam is geared toward workers on the go. This includes a wide range of "deskless" employees, such as drivers, field agents, and non-office-based jobs. However, it can be adapted for other needs, too.
Connecteam Pricing

Connecteam offers a "Free for life" plan for their workflow management software.
This tier comes with minimal features. But it can host up to 200 users, which makes it one of the most expansive free plans on this list.

Connecteam's paid plans start at $29 per month for their Basic package and range up to $119 per month." For companies with more than 200 users, you can contact the company for a personalized quote.
Wrike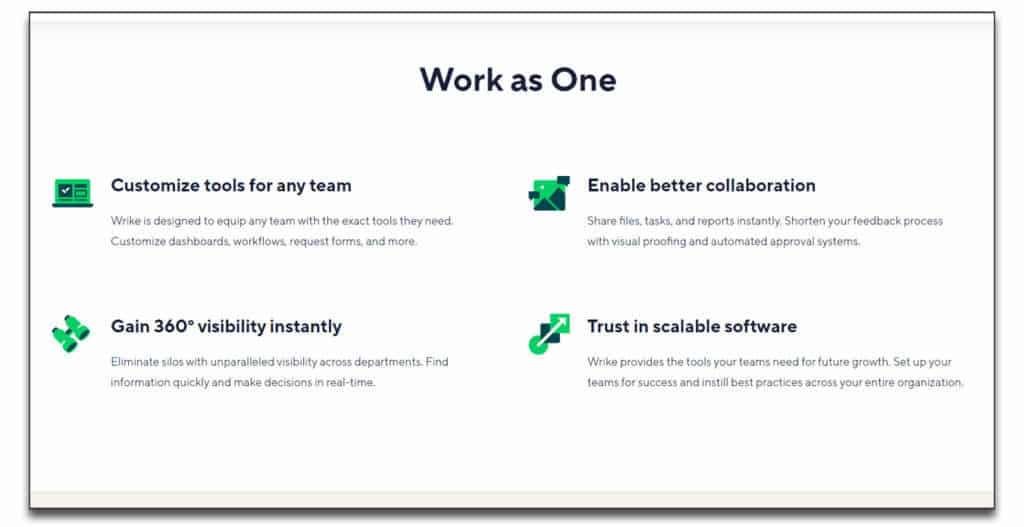 Wrike is one of the best workflow management software if you're a fast-scaling business. It offers tons of configurations, a simple-yet-comprehensive interface, and visual dashboards for unlimited users.
Plus, it's a great automated workflow software if you want to minimize human error in your day-to-day.
Wrike includes plenty of robust features in their platform, such as:
Mobile, web, and desktop apps
Custom request forms and notifications
Advanced KPI and resource management reports
Offline editing for their document workflow software
Progress tracking and performance data
But because Wrike offers so much customization, it does come with a steeper learning curve for some users. However, once you get the hang of it, the software is incredibly easy to use. Its simple workflow hierarchies, multiple visualization options, and time tracking.
And any features that Wrike is missing can be made up with one of over 400 native integrations.
Wrike Pricing
Wrike is the second workflow management software with a free tier on this list. Though it includes basic features and only five users, it's enough for small businesses to get their feet off the ground.
Paid plans start at $9.80 per user, per month, and their Enterprise tier can go up to unlimited users for their largest customers.
Free Workflow Management Software
While it is not on this list in similar detail as other services, Trello has a great limited package that you can try. Unlimited tasks and 10 team members.
While it lacks some of the features of full scale paid packages of other workflow software, Trello is great at organizing tasks, collaborating with your team and moving your projects forward.
Why Do You Need Workflow Management?
The chances are that when you are going grocery shopping, you are making a list. If you are going to the gym, it is highly probable that you a training routine written down. When you are cooking a new dish, you have a recipe in front of you. If you are playing an instrument, you have a music sheet from which you play…
For any activity that we treat seriously, we have a list of points that we need to follow, else we will forget.
Our work, or productive time, is no difference.
Even you are working just by yourself you need to follow a workflow. For instance, just for this post, the tasks may look like this:
| | | |
| --- | --- | --- |
| To Do | Doing | Done |
| Proofread | Finish the main text | Create SW Images |
| Cover image | | |
| Share on SM. | | |
This is just me, working on one small task. My actual workflow board has over 100 tasks that are ranked based on priority and date.
Now imagine that you are working with a group of people. How will you keep track of the tasks that you and your team need to complete?
Very soon you would get lost in it. Tasks would be forgoten just to become critical when it is too late.
That is why workflow management is crucial. Carefully marking down and planning the flow of the work and main tasks, is essential for improved productivity.
What is Workflow Management Software?
This is a type of so-called SaaS platform, also known as Software as a Service.
A group of people was fed up by marking their tasks in a shared excel table and decided to create a tool that would enable others to manage their workflow more efficiently.
This paltforms live on a remote servers, so you can access them from any device anytime. No worries about updates, or downtimes – everything is managed for you.
The main idea of these platforms is to create for you a one stop workflow management solution that you (and your team) could start using immediately.
Inside you will usually find all the special functions and features that you were thinking about when rewriting your tasks for the fifth time in your notes.
Planning is important, but it is not the actual work. This specialized software takes away all the troubles associated with workflow planning and gives you back your time that you can invest into the actual completion of tasks (rather than moving them around in your excel sheet).
Why do you need Workflow Management Software?
With the overall explanation out of the way, let's have a look at why would you need a dedicated tool to get your planning in order.
Can you use an excel table? Sure.
Is it efficient? No.
Workflow software has everything that you needed for your planning and productivity and gives it to you and your team for a low price.
All the interactive, tagging, archiving, and other features are something that you could definitely not be able to do yourself.
Not even getting started on team collaboration. Having one page that everybody has access to, from anywhere and any device is a great thing.
Also, all the rules of interaction are set, so users will have to fill the tables in a way that you want them to – rather than having 5 different types of information that mean the same thing.
As you have seen above, even the simplest of tasks require some degree of workflow management.
When you move to more complex tasks, you will need time tracking, exchanging of files, comments, tags, due dates, team notifications – and this is exactly what these platforms will provide you with.
What to look for in best workflow management software?
Now you know what are the advantages of using a workflow management platform, but how to choose the best option for you? Let's have a look at the main features.
Ease Of Use
The platform just has to be a good fit. Sure, you can get used to anything, but do not hesitate to try 1-2 various trial to create a comparison base which will help you with your decision.
If you will be choosing from of the platforms on this list, the chances are that you can get it right on the first try.
With a lot of users comes better optimization of the interface which makes the dashboard easy to navigate and most of the important functions are just a click away.
Automation
If a task is moved to X, send email Y to team Z. You want to have this type of functions, they will save you (and your team) loads of time.
Even the basic notifications will help a lot, it is much better when you receive a quick message saying that somebody commented or updated your task than to wait for it just to discover that you are the bottleneck.
Collaboration Functions
This is the base of any good workflow management platform – team collaboration.
The ability to have more than one person on your workflow boards goes without saying – that is a must. Rather, check on the possibility to create and delete accounts, what administrative rights you have and can give to other users.
Integrations
We are all using several platforms to communicate, transfer data, etc. If there is a particular one that you would like to have connected to the workflow platform – check if there is an integration for it.
Vast majority of software platforms that I reviewed here will have all the main integrations that you might need. Just make sure that it connects to the other software that your team and you are using.
Calendar and Deadlines
While we discussed the visual side of of the platform in the Ease of use section, it is still worth repeating that the way your tasks look will have an impact on the overall productivity.
You need a clean design that will show what is a priority today and what you can start tomorrow.
Summary
Workflow management is critical for improved efficiency, productivity, and tasks of any complexity.
While very simple workflows can be managed in a spreadsheet, soon you will get lost in the tasks and notice that they are not progressing.
That is a sign of bad planning. Workflow management software helps with that. It provides you with the visualization that you need while at the same time allowing you to mark your tasks and collaborate with your team.
FAQ
What is the best workflow management software?
This is very individual but Monday.com seems to be a popular choice.
Does Google have a workflow tool?
No. Kissflow comes close as a workflow for Google apps, but there is no native workflow tool from Google.
What does workflow management mean?
Managing a sequence of tasks that have to be performed by various members of the team.
What is a workflow diagram?
A chart showing a profession of tasks in time.
Why is workflow management important?
Because it is not possible to efficiently manage several people working on a complex project without it.
What does a workflow management system do?
It gives you all the tools to create, manage and distribute a series of needed tasks amongst your team.
What makes a good workflow system?
Ease of use, integration options, collaboration functions, proper visualization.