Are you planning to create a membership site? If not, you should and with help of these membership site platforms, you can be all done in just a matter of hours (or even minutes).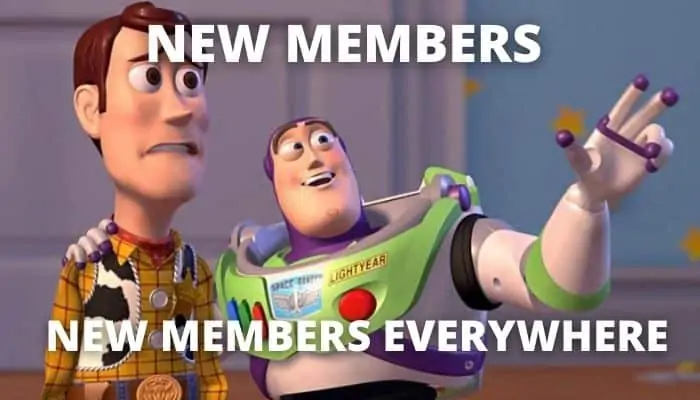 So why are membership sites such a great business model? This is partially explained by great growth in the media sites' subscription model – instead of making a one-off income, you are creating a recurring cash flow stream that grows along with your audience.
Similar model is applied in online courses, and is taken to the next level with membership site software, which si the main topic of this post.
This section will be followed by reviews, and in the end of the post you may find additional information on membership sites and on how to choose the best one for you.
Membership Site Software Platforms
In this section, I will compare the best membership site software and platforms. I am confident that the ones listed below will cover all your needs.
Thinkific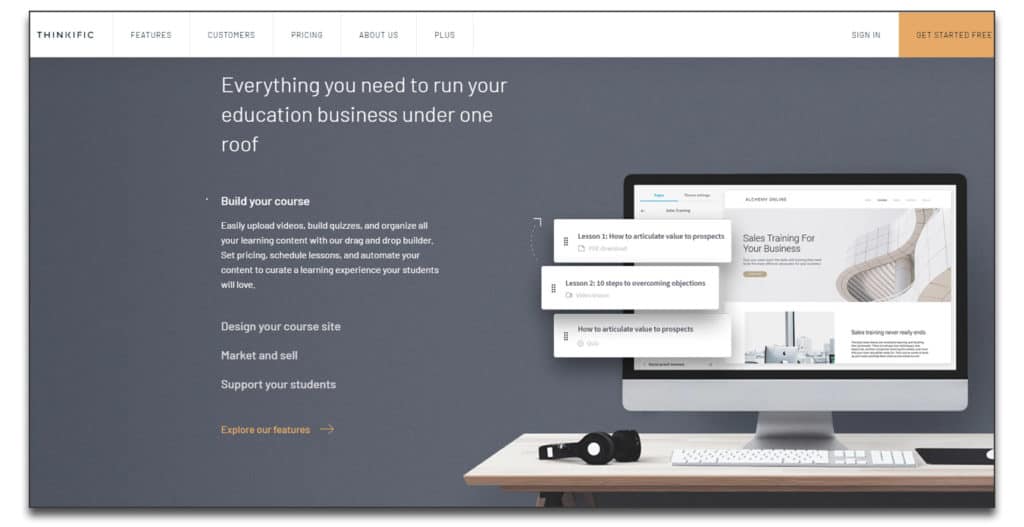 Thinkific is one of the best membership site platforms if you're an eLearning-based business. They offer (almost) everything you need to help you build, advertise, and sell your product.
To get started, you can use their drag-and-drop editor to build your content. Whether you want to design a course, a website, or a course on your website, it's as simple as dragging your mouse.
When it comes to content, you can:
Add documents, videos, quizzes, and schedules
Set up completion tracking
Assign drip content
Use their sorting feature to keep content consistent
Moreover, developers will appreciate unlimited design access. At the same time, digital marketers can enjoy selecting their own domain name.
Plus, there are plenty of advanced features to enjoy, such as affiliate rewards, retargeting campaigns, and external add-ons. And anything Thinkific doesn't offer in-house, you can add via their 1,000 integrations.
Furthermore, each plan lets you tailor memberships to your needs, including free trials, payment plans, and custom offers. You can also restrict access to content based on which plan your users buy.
And did we mention that Thinkific processes over 100 currencies and secure payment portals? Because it does!
Thinkific does fall short in a few areas, though. For instance, it has no native blogging or funnel tools. Additionally, users have to create an account before they pay you, which can knock down conversions.
Thinkific Pricing
Thinkific comes with a freemium plan that includes content hosting, quizzes, and site-building. Paid plans range from $49 to $499 per month, plus a quote-based Enterprise plan.
Kajabi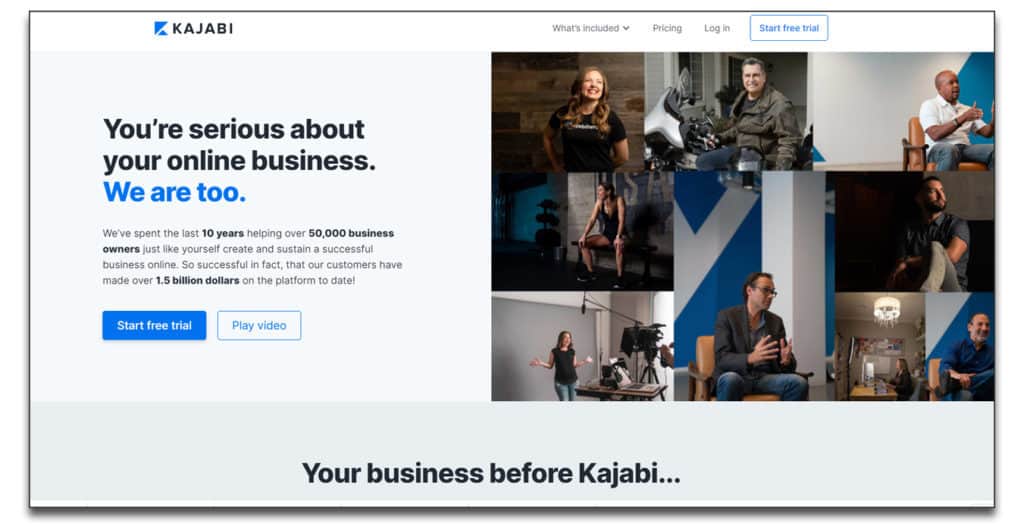 Kajabi is rare in that it's a complete membership site platform. Instead of just designing an eLearning or membership site, you can build a full platform for your brand.
Kajabi makes it easy to build courses, start a podcast, and of course, design a membership platform. It requires no coding knowledge to start – a drag-and-drop editor and premade templates make your job easy.
Plus, their hosting abilities run the gamut from videos to quizzes to presentations. You can assign prerequisite lessons, analyze metrics, and set up private communities.
And, unlike Thinkific, Kajabi also provides plenty of in-house marketing tools, such as:
Automated and scheduled email blasts
User segmentation according to behavior
Event announcements
Upcoming course duty reminders
Plus, with ready-to-use automated pipelines and sales funnels, you can prepare for booming membership from the get-go.
And did we mention their native mobile app for iOS and Android devices?
When it comes to setting up your memberships, there are plenty of options. You can set one-time, recurring, trial, and limited time offers, plus one-click upsells. And when it's time to take payment, Kajabi offers gateways like Stripe and PayPal.
Kajabi Pricing
Kajabi offers three pricing plans, ranging from $119 to $319 per month. While it's one of the most expensive platforms out there, they provide plenty of features. Each plan comes with the basics, including zero transaction fees and unlimited marketing emails.
Podia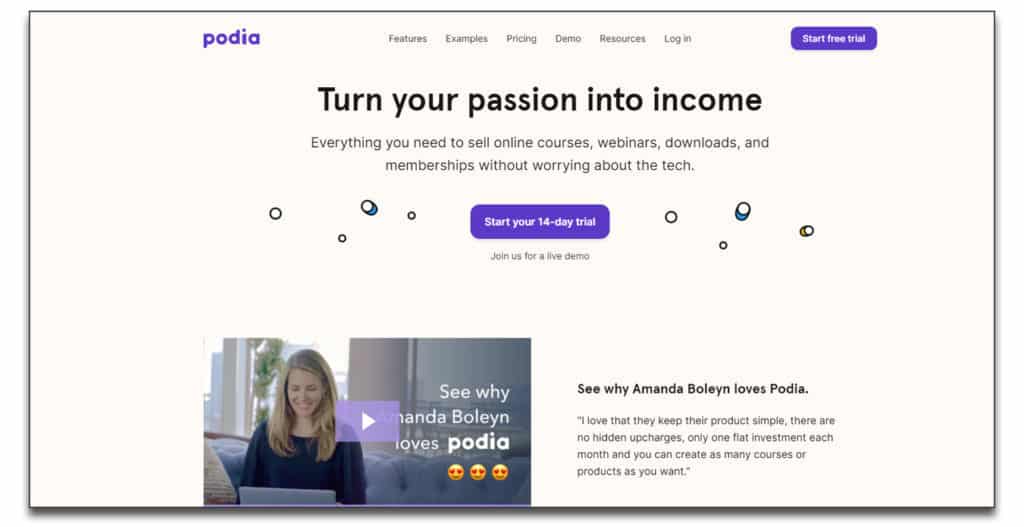 Podia is an excellent service if you're looking to get ahead in digital marketing. This virtual storefront lets you build membership site platforms, eLearning courses, and other marketing content.
And because it guides you every step of the way, you don't have to worry about getting lost in the muck.
Podia gets you started by having you build your site with their easy-to-use builder. Once it's up, you can:
Upload videos, PDFs, quizzes, and other content
Set up your content to drip feed
Schedule new posts
Send out automatic emails.
Then, you can get to work on your marketing. This can include drip campaigns, segmenting, and in-depth tracking. Plus, by sending out free newsletters or one-off content, you'll increase interest in your product. Podia will even set you up with an affiliate program!
Podia also offers plenty in the way of data gathering and usage. You can filter, sort, and export data such as financial data, purchase histories, and customer information. And of course, all this data is available in their comprehensive analytical dashboard.
Of course, every service has its downsides. With Podia, you can't set up learning paths or charge setup fees. Furthermore, there are no options for graded assignments or separate community areas for your members.
Podia Pricing
Podia offers two payment plans: one at $39 per month, and the other at $79 per month. Each comes with reporting, live Q&A, and your own website, amongst other features.
Teachable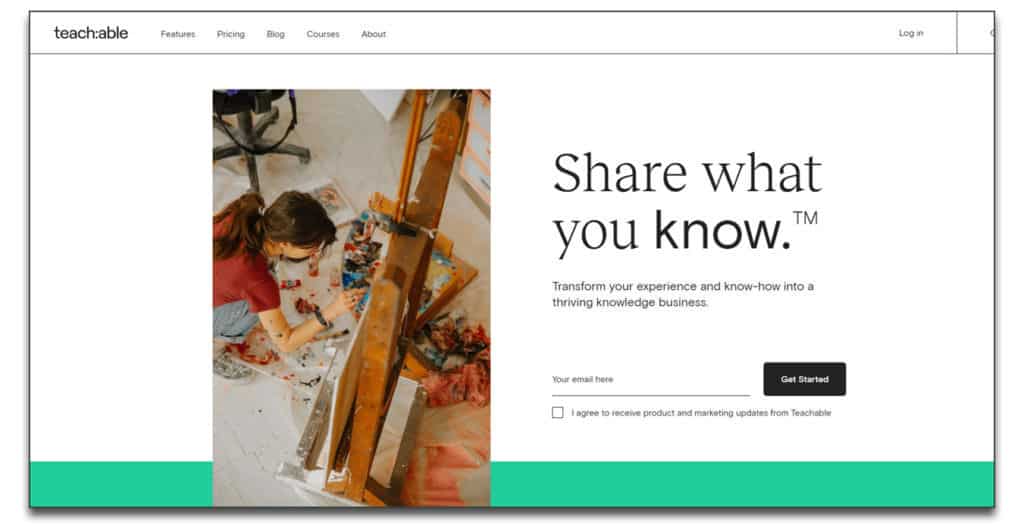 Teachable is a popular membership site platform for people who want to create, host, and sell online content. It's packed full of customization potential so you can build the best site for your needs.
Teachable starts you off with a comprehensive page editor. With this, you can add lectures, coaching sessions, and sales pages. And because Teachable is learning-oriented, you can include additional users to help curate your content.
Teachable allows you to upload all kinds of media, such as:
Quizzes
Certificates
Course compliance tools
Video and audio files
PDFs
Importantly, Teachable places a high priority on data security and monitoring. And because their system auto-updates, you don't have to worry about falling behind the times.
Unfortunately, there are a few issues with Teachable's platform. For instance, there is no option to offer a free trial of your services. Your payment options are further boxed into monthly or annual schemes – no custom or upfront payments allowed.
(But it does process over 130 currencies and PayPal – so that's something!)
Furthermore, you can't create separate pages or divide your content similarly. You also won't be able to curate an individual community for your classes or segments of students. Thus, with this site, everything is delivered in the form of an eLearning course.
Teachable Pricing
Teachable offers three basic subscription plans, ranging from $29 to $299 per month. Each plan comes with unlimited courses and members, payment processing, and more. (Note that the basic plan also charges a 5% transaction fee on top of your monthly payment. Higher tiers are exempt from this charge.)
MemberPress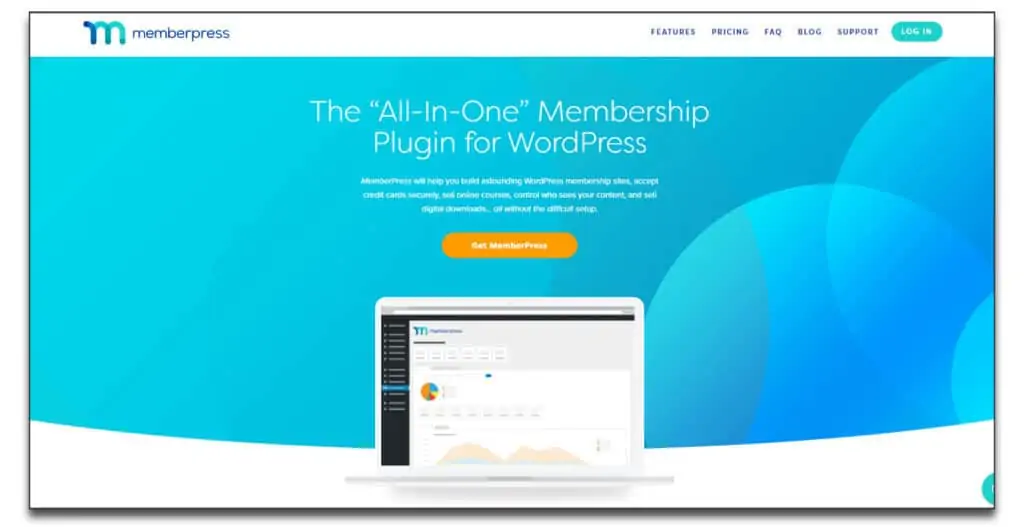 Unlike the previous options on our list, MemberPress is actually a WordPress and LMS plugin. With this platform, you can build WordPress membership sites, create courses, and facilitate digital downloads.
MemberPress is quick and easy to set up. All you need to do is install the plugin, enter your payment details, and add your products. Then, you customize your theme with their editor (or build pages via CSS).
One of the perks of MemberPress is the scale of your control over site-bound activities. You can restrict access to content, include child pages, and set up gated posts. And you can organize your content via both tags and categories.
Another benefit of MemberPress is that you can create forums and social communities for your users. This gives them a place to gather and chat about your content.
And of course, all the data you gather is tracked, analyzed, and spit out in a spiffy little dashboard. This includes financial metrics as well as your marketing activities.
However, it's important to note that if you want to build a full-on membership site platform from scratch, MemberPress may not be your best bet, as you'll have to piece your site together with tons of integrations. But if you already have a WordPress site up and running, it's a great way to make the conversion.
Memberpress Pricing
To get started with Memberpress, all you have to do is select a pricing plan ranging from $149 to $349 per year. Then, you follow the directions to download the plugin.
(If you're nervous about such a pricey commitment, don't worry – they also offer a 14-day moneyback guarantee.)
AccessAlly
Hosted membership site platforms are great for most people – but not for everyone. If you want to make the most of your potential, that's where a membership plugin like AccessAlly comes into play.
AccessAlly is different from "traditional" membership plugins in that it includes LMS (learning management systems) as well as membership management. And of course, there's plenty to admire about their marketing tools, as well, such as:
Easy checkout pages
1-click upsells
Cart abandonment tracking
Coupon codes
AccessAlly is also unusual in its flexibility in membership management tools.
For instance, you can let users pay on their schedule, such as one-time, monthly, or annually. Plus, you can design tiers with gated content or offer free or reduced-price trial periods.
And because it's a membership site platform, you can add content like quizzes, certificates, and assignments. You can also restrict content access based on a members' subscription tier or course progress.
Furthermore, members have more control over their plans than some other sites. This includes the ability to upgrade, downgrade, or cancel their memberships at any time.
AccessAlly Pricing
If this sounds too good to be true, for some, it is. AccessAlly is an expensive plugin, ranging from $99 to $129 per month.
Plus, you'll want to consider the cost of website hosting, themes, and video storage. This can add up to a very pricey membership site in a hurry.
But for some, the extensive customizations and complete site control are worth the cost.
Wild Apricot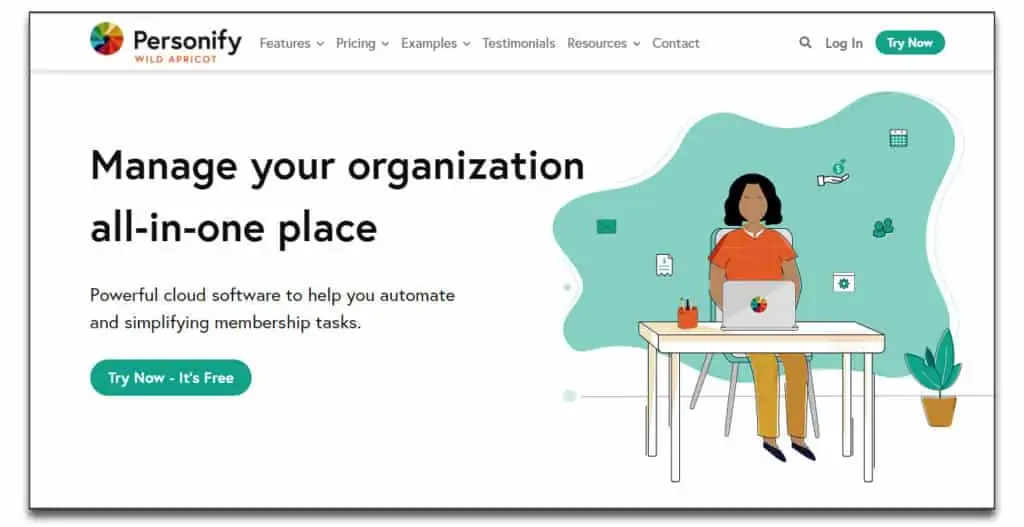 Wild Apricot is one of the best membership site platforms if you're a small business or nonprofit. This cloud-based tool lets you create, curate, and manage:
Membership sites
Events
eCommerce platforms
Club-based websites
Community platforms
Because it automates tons of tasks, Wild Apricot is best suited for those who don't need a ton of control. This group includes bloggers, nonprofits, clubs, and other ventures. (In other words, if you want to earn some serious cash as an eLearning guru, Wild Apricot isn't for you.)
With Wild Apricot's drag-and-drop builder and theme library, you can build device-compatible sites in a jiffy. Possible pages include:
New member applications
A news blog
Site and member directories
Event listings
Gated content
Product pages
When it comes to navigating their site, Wild Apricot offers a mobile app that lets you handle day-to-day functions. Tasks such as contact management, site editing, member check-in, and payment processing are easy to access via mobile portals. Your users also have a separate mobile app they can use to sign up and check into events.
Plus, their built-in email system is fairly comprehensive. You can enable auto-reminders, search contacts, build targeted campaigns and check your performance data, and more.
Speaking of: when users sign up for your site, all their data is uploaded to the cloud. This makes it easy to build (and search) a comprehensive database of customer information.
Wild Apricot Pricing
Wild Apricot offers eight pricing plans, ranging from $40 to $600 per month. They also offer a freemium plan that allows for up to 50 contacts, but it doesn't include a mobile app or online store.
Mighty Networks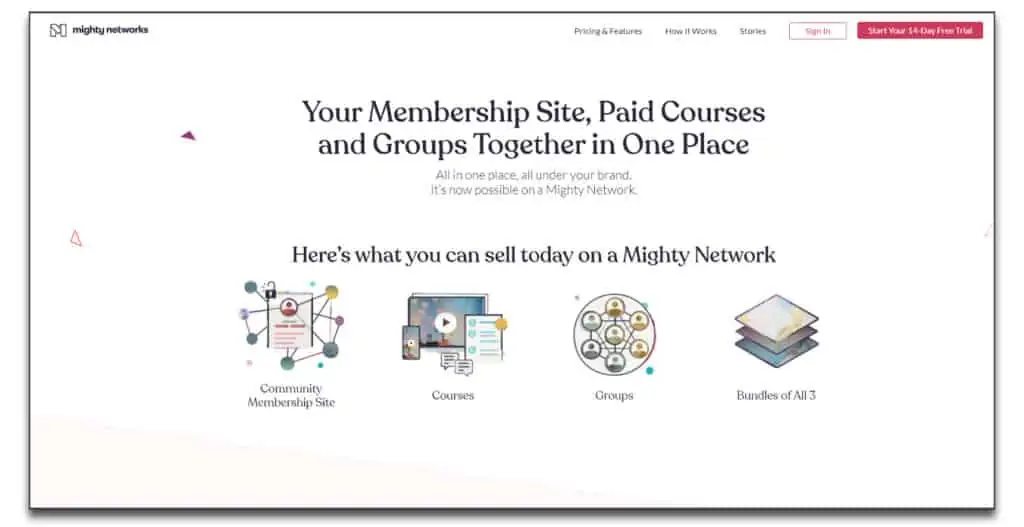 Mighty Networks is an unusual membership site platform centered around engagement and community. Plus, their platform is a joy to use, as it's clean and simple on both the backend and user access points.
The idea behind Mighty Networks is to curate something like a premiere social media group. But unlike social media, you can curtail content, target notifications, and create subgroups. Plus, you can even determine if search algorithms will index your content or not.
And most importantly, you get to set standards and charge for community access.
Mighty Networks is packed with best-in-class features, such as the ability to:
Create posts, articles, polls, and questions
Curate free and paid groups
Manage a community directory
Facilitate direct messaging
Encourage and lead live chat events
Plus, you can create online courses with content structuring and progress tracking. However, it's not a suitable eLearning program for advanced educators. Chiefly, it has no support for assignments, video or audio hosting, or gated content.
Furthermore, there are limited design options for certain types of pages. Not only that, but it offers no PayPal support for payments.
That said, Mighty Networks does offer unusual flexibility in their payment options. For instance, you can charge one-time, monthly, or annually for subscriptions. Free trials are optional, and you can gate content such as courses and special groups.
Alternatively, you can charge for community access, group access, and courses separately. This provides the greatest monetization potential with minimal hassle.
Mighty Networks Pricing
Mighty Networks offers a free pricing tier for basic community features, though it does charge a 5% transaction fee. Paid plans range from $28 to $98 per month with variable transaction fees.
Wix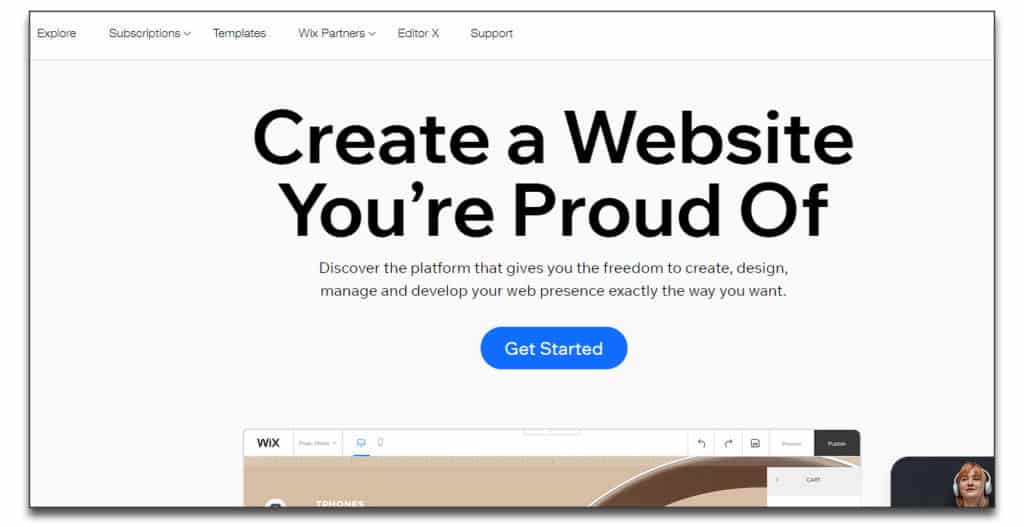 Wix is a great platform if you want to get started with your own website. This is often a first stop for online content creators, as you can create, design, and develop a website cheap (or free).
And, because you can set exclusive gated content, it even meets our standard for a membership site platform, too!
With Wix, you can use one of 500 pre-designed templates to get started. Whether you want a blog, online store, web app, or – yes – a membership site, it has what you need to get started. Some of the key features Wix offers include:
A customizable domain name
SSL certifications
Data collection and reporting
Email and SMS messaging
Bundled membership services
Over 250 integrations
SEO tools
Email marketing and lead generation tools
On the membership side, Wix provides options such as free trials, subscription tiers, and discounts. You can also set up your site to have recurring or one-time payments, exclusive services and content, and a members-only section.
And, when it comes to accepting payments, Wix dabbles in a bit of everything. Available methods include PayPal, Stripe, the built-in "Wix Payments" gateway, cash, digital cards, wallets, and more. And payments can be accepted in over 40 currencies, so you can do business around the globe.
Wix Pricing
Wix offers three tiers with membership abilities, ranging from $23 to $49 per month. (Though if you don't want to process payments, you can create a free membership area on their free site. Win-win! … except for your pocketbook.)
How To Create a Membership Site?
Essentially there is one main choice to be made either we self-hosted (which would usually mean a WordPress membership site plugin or use one of the more sophisticated platforms on this list.
The plugins that are ready to power your WordPress site are definitely of very high quality, but they might require a bit more coding knowledge and essentially you are completely administering the site yourself (along with security breaches that may happen).
With membership site platforms you might have slightly less freedom of possible edits and code changes, but the amount of settings is level of security will generously outweigh this issue.
I would go with a platform option, here the next steps are pretty easy. You would just make a final choice of your membership platform register and start setup up
How To Select Best Membership Site Platform?
The final choice of your preferred platform will depend on your needs and your individual situation, but in this section I tried to touch on a couple of points that are applicable to any situation.
Integration Options
Chances are the you are using an email autoresponder, re-marketing platform or a CRM. If you want to integrate some of your tools direction into the membership platform, make sure it is available so you do not have to use Zapier for everything.
Membership Tiers
This is pretty much a market standard for all the serious membership site providers, but just make sure that the settings of the tiers that your platform allows are in line with your overall business strategy.
Available Tools
The services in this list are rich with various tools for every occasion. Evergreen courses, marketing, lead management, member management, etc. Before you subscribe for a tool that should help you with any other aspect of marketing – make sure to check if your membership site software already has this functionality and save some money.
Community Area
If you are looking to create a lively community of members who are engaging with each other actively, discussing the topic of your site, and helping each other – this is definitely a great option to have. Most hosted membership services on this list have it.
Hosted Vs WordPress Membership Site
As mentioned before, with hosted membership site solution you will have higher security, and many additional tools at your disposal. With WordPress plugins (though they are of great quality) you will have more freedom in code editing and overall settings of the site but will have to spend more time on the site management with potential risks.
Executive Summary
In this post, I have listed the 10 best membership site platforms and platforms for you to choose from. We went through hosted membership platforms but also gave space for WordPress plugins.
This is also the first main choice you will have to make. Either install a plugin on your site or go for a hosted option and outsource all of the worries. The cons and pros of this decision were listed above.
FAQ
Why should I start a membership site?
Apart from being very popular amongst the users, they are also highly profitable as they provide you with a long-term recurring cash flow.
Hosted Or WordPress membership site?
Read the section in this post about this exact topic. I am more inclined towards hosted – as security, uptime and other tools are available there with less responsibility for me.
Is it difficult to set up a membership site?
No, it is very easy. You can have your site ready in a matter of minutes with use of one of the membership site software platforms.