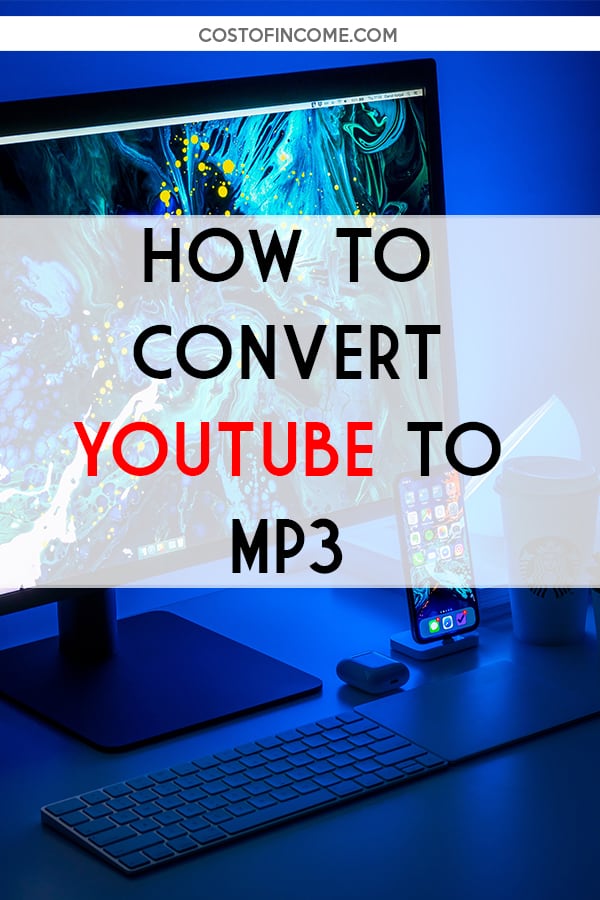 YouTube to Mp3 Converter is needed when you want to get the audio from the YouTube video. So you can listen to it on the go, or somewhere where there is no internet or wi-fi.
I suppose there is no need to present YouTube as a platform. For me, Youtube is great as I can find interesting people discussing topics that I want to know more about. Technical issues, investment, business strategies, and even motivation – somewhere out there is a great channel that will tell you what you need to hear.
When writing this post about YouTube to mp3 converters I did a bit of research and YouTube-related facts are staggering. For example, did you know that over 2 billion people use Youtube? Or that 500 hours of video are uploaded every minute?
No wonder that you can find videos for every occasion and need.
This is where YouTube to MP3 converters come to the rescue.
With them, you can download Youtube videos (here you can find more on how to download Youtube videos or convert them to MP3, therefore having them available on each of your devices both online and offline.
Words of warning, YouTube makes its money from ads that they show you when you are on YouTube. Also, YouTube tries its best to protect the copyrights of its publishers. Therefore you might want to check their Terms of Service which are pretty strict and what you can and can not do.
How do Youtube To MP3 converters work?
It is an application in the browser or installed, which allows you to put in the link to the YouTube video you like from which it will create an audio file that you can move to another device.
It is very important to note that YouTube has a strict policy concerning what you can and can not do with its content.
Main Features of Youtube To MP3 Converter.
Here are some of the aspects of a good YouTube to mp3 converter. It may not check all the boxes but you will have an idea what to look for!
Batch download – that means that the YouTube converter will allow you to put it several YouTube videos and download them one by one. Not a critical feature but quite useful if you have many things to convert to mp3.
Conversion formats – MP3 seems like a universal format to convert YouTube videos, but maybe you need a YouTube converter for mac or something else. Make sure that the converter of your choice allows that.
Quality – this is one of the most important features. You do not want your file to be of bad quality so that you have to struggle to listen to it later. Make sure that the Youtube converter that you chose provides a sufficient sound quality. Make a test run for example.
Speed – you do not want to wait hours for a video to complete its conversion. So the speed of the conversion from youtube to MP3 or other audio formats is very important.
How to download YouTube videos without any software?
Check some of the downloaders and converters that you see below. They are browser-based and will allow you to do exactly that.
What Is The Best YouTube To MP3 Converter?
Below you may find some of the most popular converters. There are many options. The main difference is the price and also the quality and format in which your audio is converted. Or other features that the tools have.
4K Video Downloader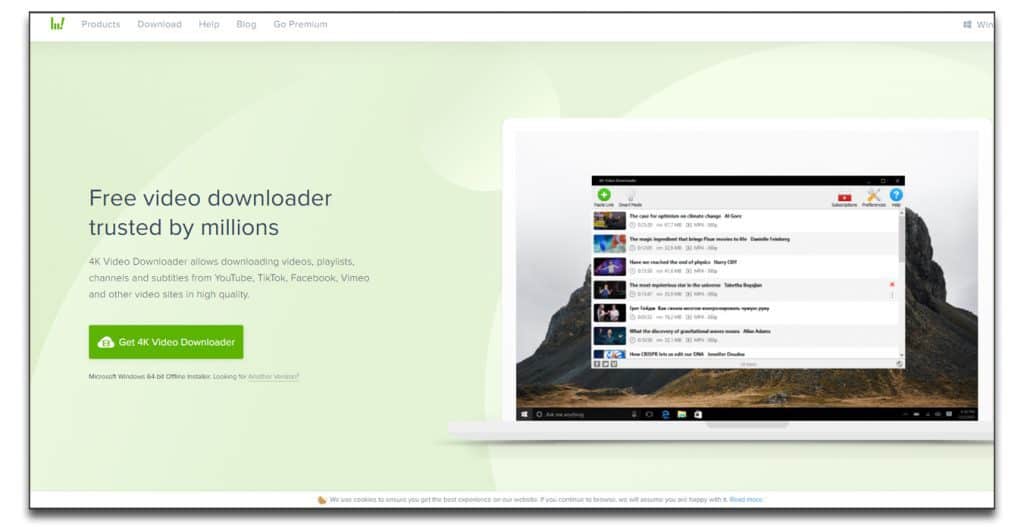 4K Video Downloader is one of the best Youtube to MP3 converters online. The converter platform can download several file types, from MP3 to OGG.
Furthermore, you can extract information from your downloaded files from one format to another. For instance, 4K Video Downloader functions as an FLV and CDA to MP3 converter as well. Users also have a wide range of video quality choices, from HD 1080p and 720p to 4K and 8K resolution.
The service is easy and simple to use, although it has a few extra steps compared to some other converters. This is due to the fact that the app is primarily geared toward downloading entire videos.
Additionally, the MP3 converter doesn't only work for YouTube. Websites and apps such as TikTok, Facebook, and Vimeo work with the converter program as well. This allows you to download videos from all your favorite sources (within the terms and conditions, of course).
Moreover, not only can you download files from YouTube, but you can add subtitles and annotations as well. This service is available in over 50 languages.
Furthermore, this program advertises services for macOS, Windows, and Linux systems. This makes it easy to download, convert, and enjoy files on almost any device, from your laptop to your iPad. However, 4K Video Downloader is not currently compatible with Android devices.
To use the program, all you have to do is follow a simple series of steps:
Copy the video's URL
Click "Paste URL" in the converter
Select "Extract audio" and choose your preferred file type
Click "Extract" and save the video to your preferred destination
4K Video Downloader has both a free and a licensed version. The free version includes the majority of features offered by the program, including the ability to download up to 24 videos per playlist. If you want longer playlists, you'll have to buy a license key.
4K YouTube to MP3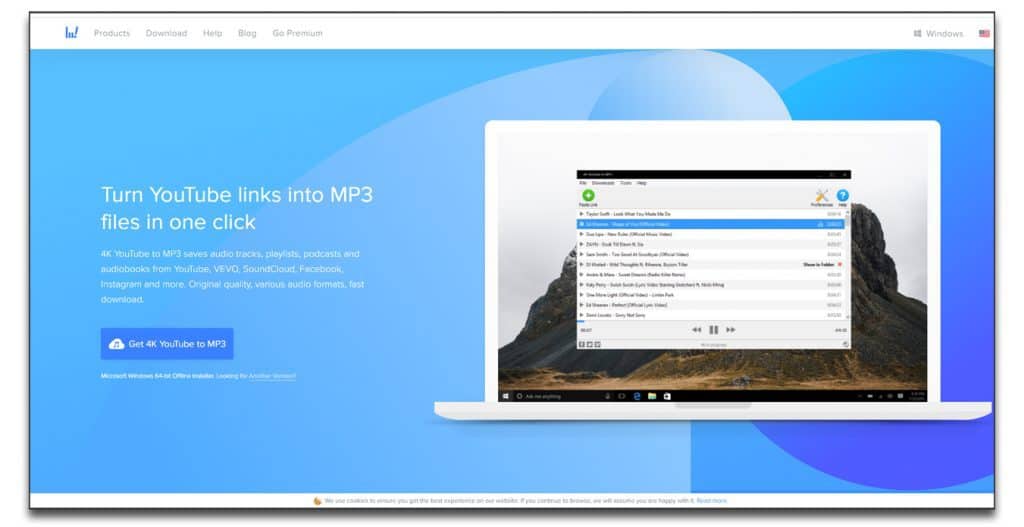 4K YouTube to MP3 is a converter program from the makers of 4K Video Downloader (listed above). Like its sister site, 4K YouTube to MP3 converter is simple and easy to use, with a few tweaks to the design. Furthermore, this converter functions cross-platform on macOS, Windows, and Ubuntu systems.
The main difference between the two platforms is that 4K YouTube to MP3 specializes in stripping pure audio from YouTube files. As a result, the second difference comes to light: the size potential of your downloads.
Users can select file sizes as large as audiobooks to download in the same quality as the original file. Furthermore, you can select your preferred bitrate when you download your files. This ensures you don't compromise download speed for file quality on the other end of the process.
As the two converters share a parent company, they function in a similar manner. All you need to do is to drag and drop the URL into the program, select your location and preferred file type, and ta-da!
As a YouTube to MP3 converter, this online platform also offers a unique option to YouTube Premium subscribers: the ability to save songs and audio from Premium and Original series on the site. Once you have downloaded to your device, you can use the native player to enjoy music, podcasts, and more.
Despite the name, you can download the audio from files on sites such as Flickr, Twitch, and Tumblr. Besides MP3, this converter works for OGG and M4A files, as well.
If you're looking for a converter for everyday needs, this platform has everything you need for free. Users who want more features can purchase the premium version for a one-time license fee. However, it's not necessary to enjoy all that this system has to offer.
aTube Catcher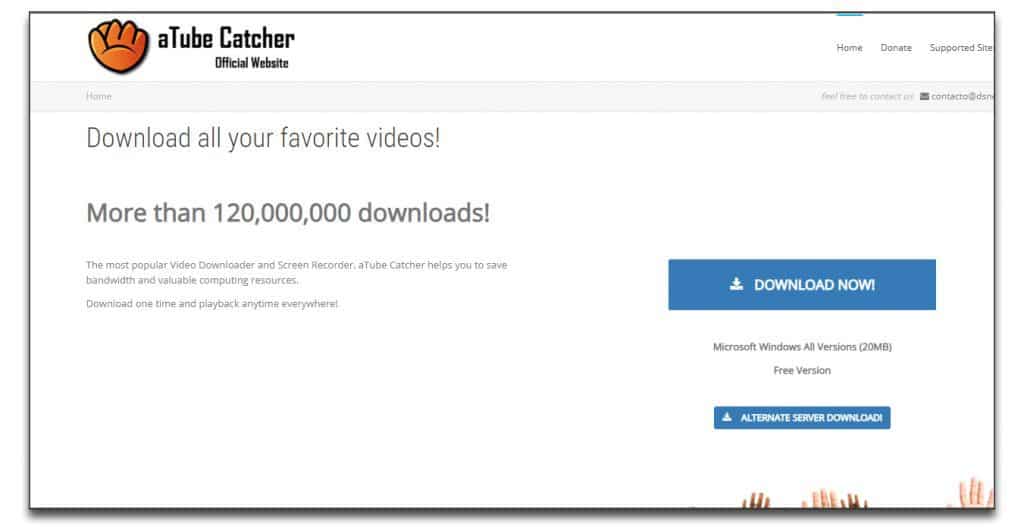 aTube Catcher is the best MP3 converter for those who need a free online service that covers the basics. The program has all the tools any level of user may need from beginning to expert and everything between. This makes this YouTube to MP3 converter suitable for almost anyone.
Furthermore, the website and converter come in several languages. This allows users from all over the world to access their favorite music and podcasts. But, it's important to note that this converter works best with Microsoft Windows.
One of aTube Catcher's best features is the sheer number of conversions available. Among many other formats, aTube Catcher functions as an:
MP4 to MP3 converter
MOV to MP3 converter
OGG to MP3 converter
TikTok to MP3 converter
Another great feature is the multi-device compatibility. Many converters (including aTube Catcher) work with computers, tablets, and smartphones. However, this converter also works with devices such as GPS units, DVDs, VCDs, and others.
Moreover, aTube Catcher can record and convert your computer, television, or phone screen. This lets you record videos and conferences, such as webinars, movies, Skype or other teleconferencing calls, and more.
When it comes to downloading your files, you can pull from YouTube, Vimeo, Facebook, and a host of other sites. This MP3 converter can even take your YouTube playlists to batch download your files. Furthermore, you can download a copy of the software onto a personal device to make using your new tool simple and easy.
While this versatile software is technically free, it does come with a cost: Mexican laws govern the terms and conditions. This can limit some features and downloading capabilities depending on local ordinances. Thus, it may be wise to read through the terms first to ensure the software is available for your purposes.
AVC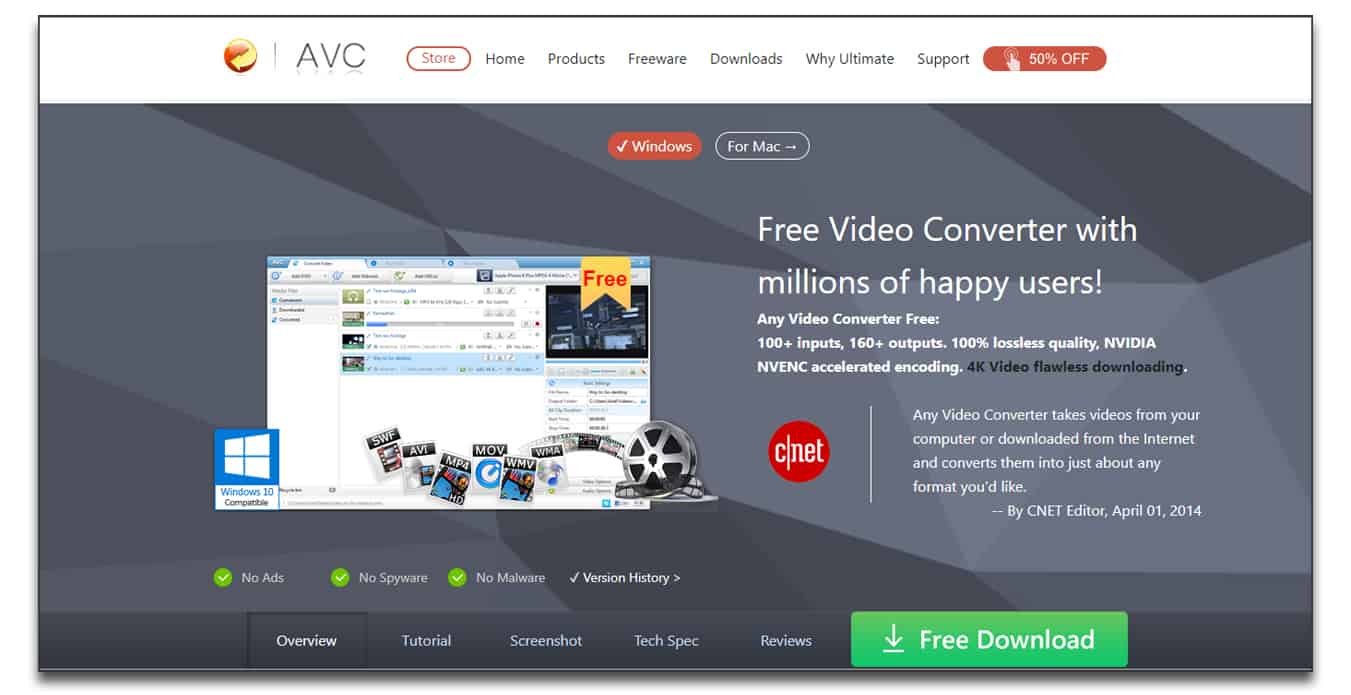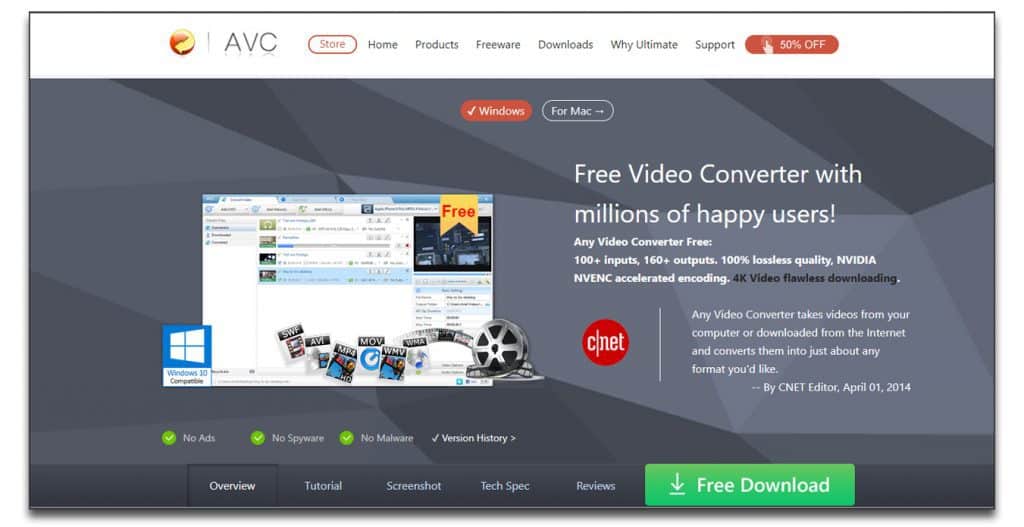 Any Video Converter, abbreviated as AVC, is the best YouTube to MP3 converter online. This software can handle any file format you throw its way and spit it out in whatever new format you need.
Additionally, the basic package of Any Video Converter's MP3 software is completely free for users. This makes it not only versatile but accessible for everyone. It offers an intuitive interface and quick conversion rates, as well.
Besides being user-friendly, the software advertises itself as malware, spyware, and advertisement-free. These features work to protect your computer from unwanted viruses.
Any Video Converter lists their supported video inputs and outputs so you can check that your needed file types are available. Amongst the options include an MOV, FLV, CDA, and M4R to MP3 converter, to name a few.
Because this converter does so much more than simple YouTube to MP3 file conversions, it's a larger software than some users may expect. As a result, we recommend checking your download during setup. This may help you avoid installing any optional, unnecessary software.
Due to the sheer capabilities of the program, there is no one-click conversion option. But, the process is still rather simple. All you have to do to download your favorite videos to audio is paste the URL into the software, select your output format, and click "Convert Now."
Once your files are on your device, you can edit your videos, from frame rates to visual and audio quality. If you elect to buy the premium version of the software for $50, you gain access to even more capabilities, as well as lifetime updates and customer support.
One of the biggest upsides of the paid Any Video Converter is the ability to record video screens in live time. This allows you to record movies, webinars, and live video conferences. The premium software also has ready-to-use DVD templates.
ClipGrab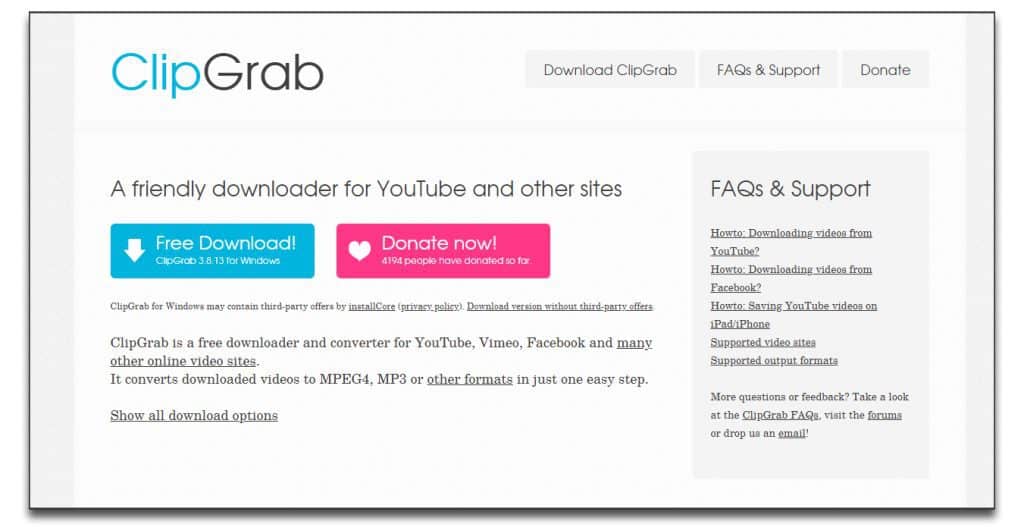 ClipGrab is an unusual player in the free online YouTube to MP3 converter world. It is a well-designed program that makes downloading files as easy as clicking a button.
What sets this converter apart is the built-in engine that lets you search within the program. This cuts out having to switch browsers or windows to download your videos. All you have to do is search, select, and click.
Furthermore, you can set the program up to download videos when you copy a link to your computer's clipboard. This eliminates the need to interact with the program itself.
But, if you want to pull videos directly from the source site, you can do that too! This ease and versatility make it one of the best MP3 converters out there, hands-down.
This program supports several input and output formats. However, it does not support some of the more complicated conversions.
For instance, it can function as an OGG to MP3, MPEG4 to MP3, or an FLV to MP3 converter. On the other hand, this program does not work as a MIDI to MP3 or AMR to MP3 converter, unlike some of the other options on the market.
Users can also choose the quality of their downloaded files. This allows customization for transferring files to devices with small memories. If you prefer to download your videos at the highest quality, you can also elect not to convert the format at all.
One last thing to note about ClipGrab is that this YouTube to MP3 converter comes with the optional Opera browser. Some users may find this useful for their needs, while others may decide they don't want the extra software. If you're in the latter group, it's easy to skip the extra software altogether – just pay attention when it comes time to download!
Converto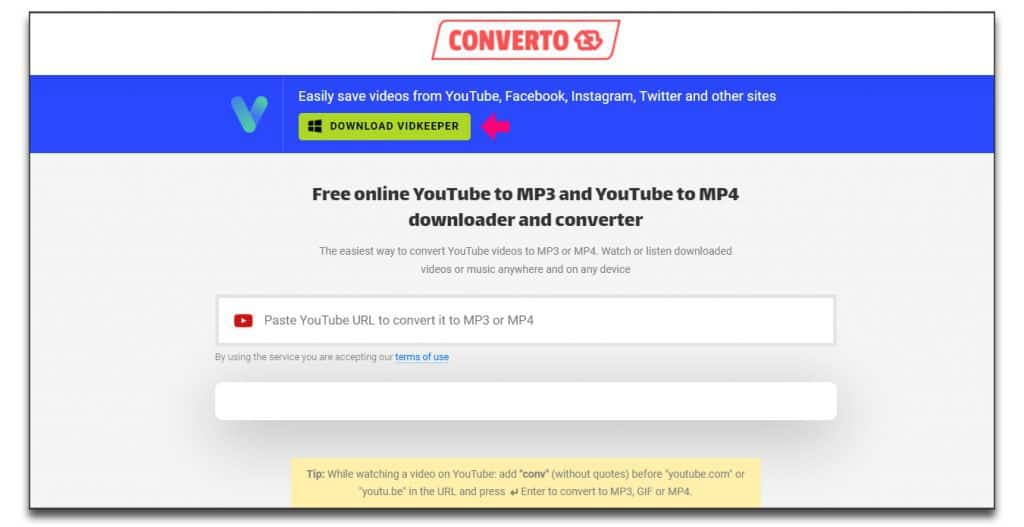 Converto is a rare 100% free conversion program that is safe and easy to use. It is also one of a handful of converters that you can use in-browser, rather than via software download. Moreover, the website is available in 10 different languages for international users.
As a whole, Converto is one of the best YouTube to MP3 and MP4 converters if you're looking for basic functionality. This site operates best for personal use, rather than commercial or large-scale downloads.
One of the greatest strengths of Converto is the amount of customization that you can apply. For instance, you can:
Download files in either MP3 or MP4 formats with a single click
Edit the filenames and ID3 tags
Use Converto to automatically add album covers
Splice and edit videos
Adjust the quality of your downloaded videos after they're saved
Furthermore, Converto offers an incredibly high conversion speed from YouTube in particular. This makes it a great choice for anyone who is looking to download primarily from YouTube. However, the program works well with several other video sites, such as Dailymotion.
Because this online YouTube to MP3 converter is entirely free, it does have a few downsides. While there are no advertisements on the front page of the site, the interface itself is clunky and unintuitive. Furthermore, there is no easy way to batch download files. This makes it unappealing if you're looking for large-scale use.
Moreover, Converto does not allow conversion if a video is not listed in the public domain. This means that you can't use Converto for any file that's not found on the internet, such as some movies, CDs, and other "hard copy" media. Thus, if you're looking for a converter for CDA to MP3 or MIDI to MP3, you'll have to go with different software.
Free YouTube to MP3 Converter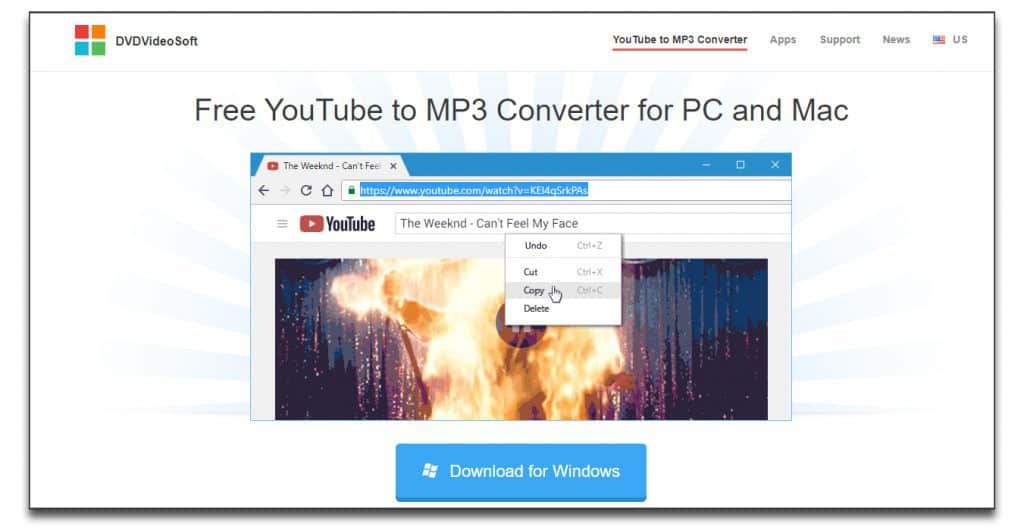 Free YouTube to MP3 Converter is a software that works with Windows and macOS systems. The program allows you to to download and convert your favorite music at the click of a button.
For YouTube users, it's one of the best MP3 converter options, as the program is designed to work within YouTube. Not only does it convert your music, but it includes the album artwork as well, so you don't have to worry about losing your music in the shuffle.
However, because it's a free site, there is one big, unfortunate downside. Namely, the initial installation bundles adware from ByteFence. To avoid this being an issue, you'll have to be hands-on during setup and watch for extra bits. This involves being proactive in selecting which pieces you need to download and which you don't.
Once Free YouTube to MP3 Converter is on your system, operation is easy and quick. While it doesn't have some of the complex options offered by a few competitors, this means that you don't have to mess with software setup after download.
All you need to do is use the built-in drop-down menu to select how and where you would like your files to download. After that, getting your new music is as simple as pasting the URL and clicking "Download." All desired files will download and convert in a single process, rather than step-by-step.
Free YouTube to MP3 converter is a rare program that does exactly what the name suggests at the price it states. It's simple, easy to use, and offers only basic functionality – exactly what its users should expect.
While this may seem limiting, the lack of bulk means the software can do its job fast and well. There is no need to worry about bogging yourself down with extra options if all you need is music on the go.
Freemake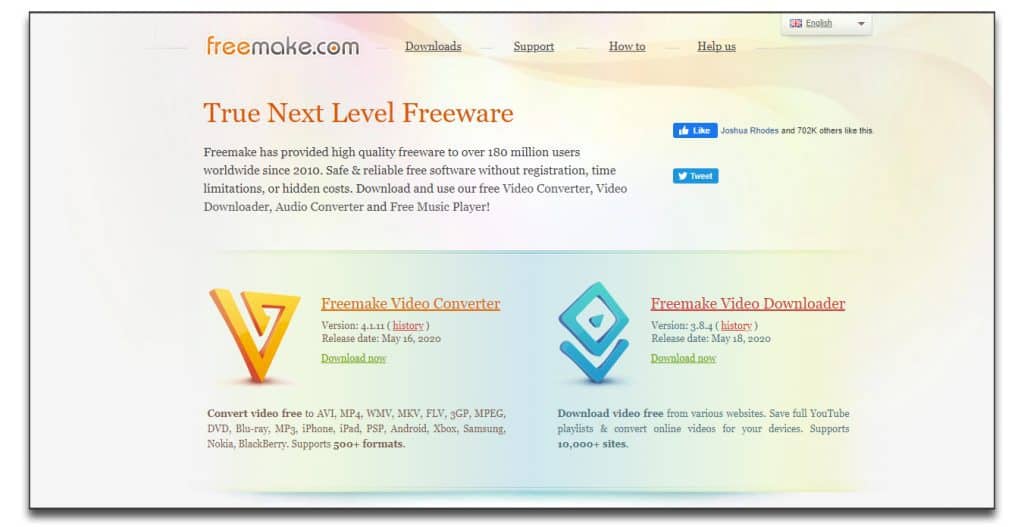 Freemake is one of the best MP3 converters available, in use by almost 90 million people around the world. You can use the platform to search for music, convert videos, and edit your downloads in a single location.
While this converter has a heavy emphasis on YouTube to MP3, it's not limited to a single platform. Currently, sites such as Dailymotion, Facebook, and Vimeo are also supported.
Moreover, Freemake does not limit its abilities to a single use. You can use Freemake to burn DVDs and VCDs, embed videos, and even edit the clips you download. The platform even allows you to include videos and subtitles in your download options.
Furthermore, unlike several of its competitors on this list, Freemake offers conversions for a broader range of files. A few of the more complex capabilities include AMR, MIDI, AAC, and MOV to MP3 converter. This platform even functions as an MP3 to M4R converter.
The number of options included with both the free and paid versions of Freemake is a considerable leap over some competitors. For instance, you can batch download up to 500 clips at a time into 4K and HD files. If you have slow bandwidth, you can even limit download speed on your end. This can help you avoid overloading your internet.
Additionally, this platform allows you to unblock videos on locked platforms or videos. Examples include those found on explicit sites or sites with parental controls. This can be useful if you're downloading videos across international borders.
On the whole, this YouTube to MP3 converter is one of the best downloadable options out there. This is especially true when considering the platform has a features-heavy free version. For a mere one-time payment of $9.95, you can upgrade to the full version for even more features and the removal of the built-in watermark.
MediaHuman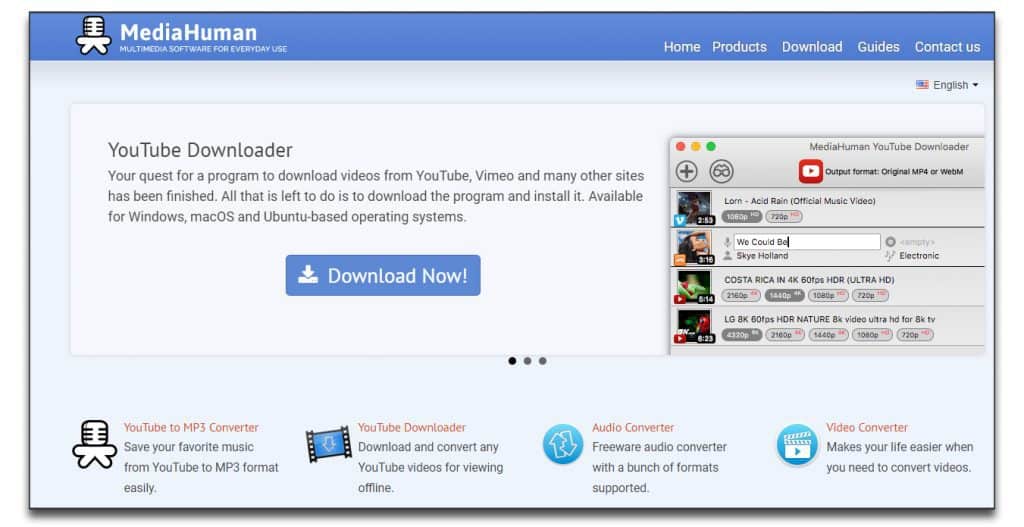 MediaHuman is a well-rounded media system built to work for macOS systems. Their services lean toward Apple-based products, such as iTunes. Recently, they have expanded their compatibility to work with Windows and Linux systems.
Like many of its competitors, MediaHuman emphasizes its YouTube to MP3 converter. But, that is not the limit of its capabilities. This program works within sites such as Vimeo, Dailymotion, and even iTunes. Downloading videos is easy – all you have to do is use their drag-and-drop system. Or, if you prefer, you can one-click to add files to your download playlist.
Besides to the usual formats, applicable download abilities include an:
FLV to MP3 converter
AMR to MP3 converter
M4P to MP3 converter
AAC to MP3 converter
MP3 to M4R converter
Furthermore, MediaHuman offers an in-house search engine for song lyrics. This makes it easy and simple to keep all your musical media needs in one browser, rather than hopping from window to window.
This YouTube to MP3 converter also includes a few unusual extras. One such example includes its dock-based voice recorder for Mac computer systems. Additionally, MediaHuman comes with Collagerator. This is a photo collage software that allows you to make collages with photos you upload.
Moreover, MediaHuman has a built-in "MediaTube," which lets you watch YouTube videos without the aggravating parts of the YouTube experience. This system allows you to run videos without Adobe Flash, advertisements, or video comments.
These impressive features come bundled in a completely free package. But the downside is that you have to download each free product from the website by itself. There is no "one size fits all" application for these services. On the other side, this system allows you to select exactly which features you're interested in without sacrificing hard drive space to the rest.
Wondershare UniConverter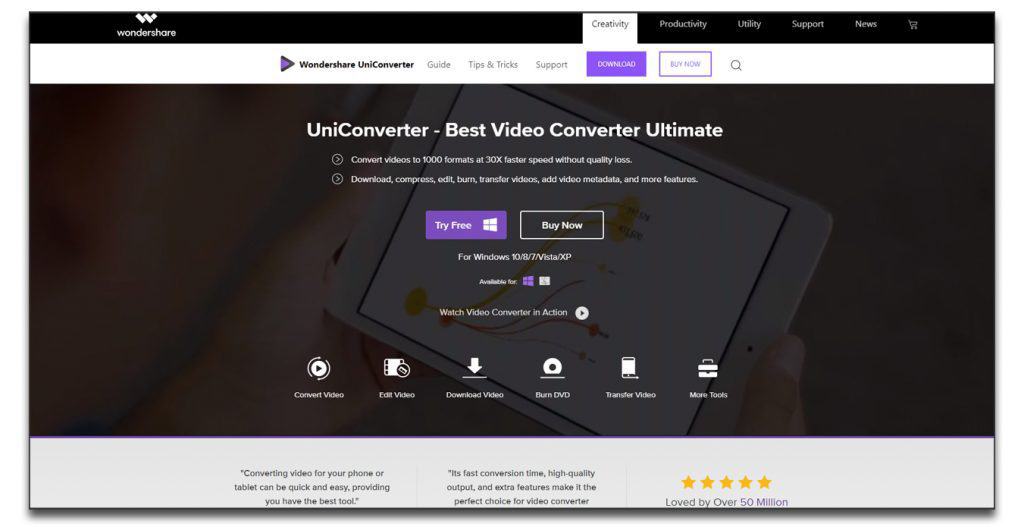 UniConverter from Wondershare is one of the best YouTube to MP3 converters around. Built to function on both Mac and PC, it allows you to download and convert videos for a wide variety of uses. It also includes a large number of compatible sites aside from YouTube. Converter options include Facebook, Dailymotion, Vimeo, and TikTok to MP3, to name a few.
UniConverter claims to be 30x faster than its competitors when it comes to downloading and converting videos of all file types. The user interface is intuitive and simple to use, even with so many options available.
For instance, this program works on a wide range of file types. Some of the most popular converter options include AAC, AMR, MIDI, CDA, OGG, MOV, and M4P to MP3. But it does not limit itself there.
Besides these file types, UniConverter also includes a large array of DVD templates. Their DVD toolkit allows you to edit and create DVD files, including Blu-Ray files, in the system. (Please note that the Blu-Ray options are only available on Windows operating systems).
More tools include a video compressor, screen recorder, VR converter, and image converter, among many others.
Once you have downloaded and converted your videos, you can then stream them from host systems such as Macs or PCs. Receiving devices include gaming systems, Roku, Chromecast, or Apple TV.
The cost of such an expansive, inclusive system ranges based on your needs. Because of the host of features, including effective security systems, this is one of the most expensive converter kits on the market. Plans include:
"Annual" plan for $29.95
"Lifetime" plan for $59.95
"Business" plan for $161.91
They also include a plan specifically aimed at educators, which costs a mere $7.96 in comparison. All plans come with a 30-day moneyback guarantee if you're not satisfied with the software.
Y2mate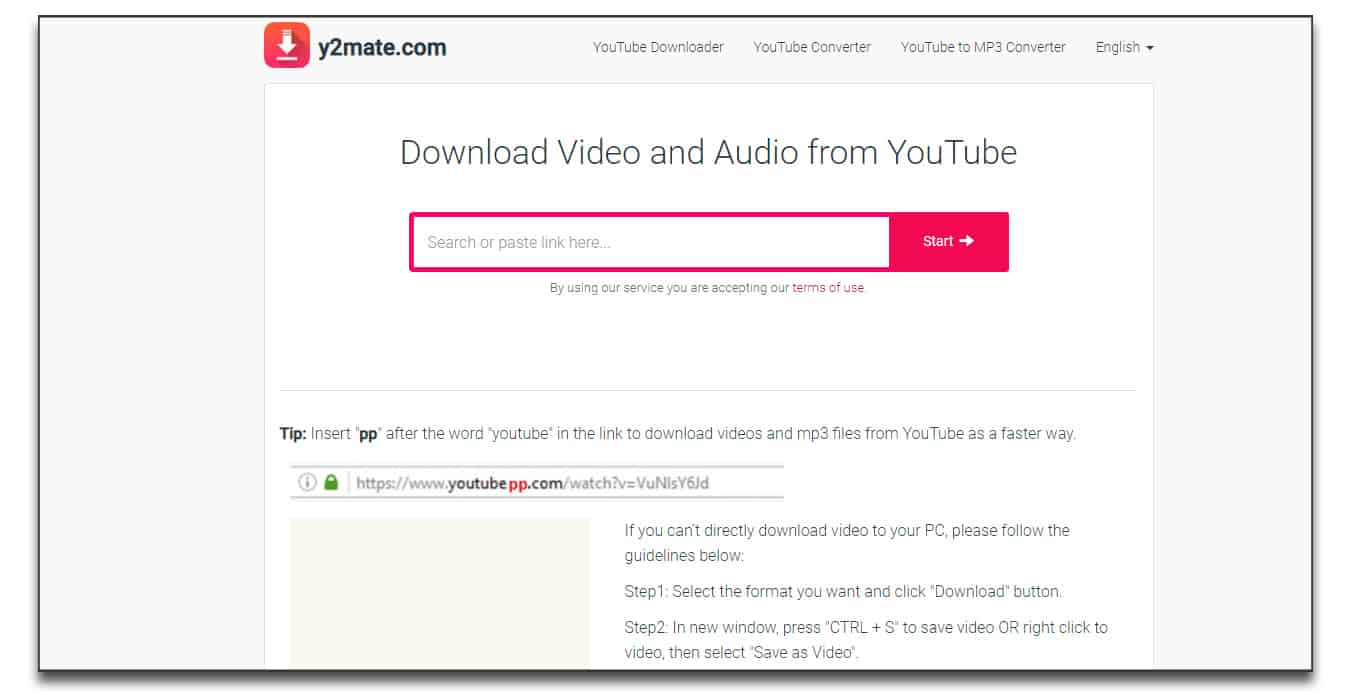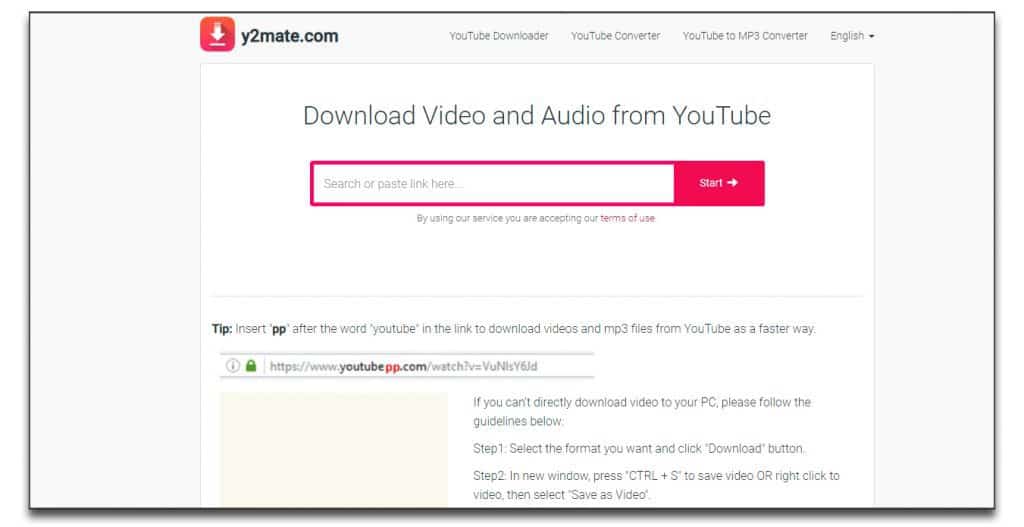 Y2mate is another 100% free YouTube to MP3 converter with a rich array of features and uses. Unlike some of the options on this list, it's also compatible with all browsers currently on the market. Moreover, this software has built-in protections against viruses and malware.
The user interfaces itself is smooth and quick. The process itself is clean and doesn't include pop-ups, which further protects against malware. This tool is also a 100% online YouTube to MP3 converter, which means that you don't have to install software to use it.
The program itself is easy and quick to use. To download with this tool, all you need to do is copy the URL and paste it into Y2mate's text editor. After that, you click "Convert," and ta-da! Your download will begin.
To make the process even faster, you can elect to install browser extensions, as well. With these, you'll be able to one-click your downloads, speeding up your conversion abilities if you want to work on entire playlists at a time.
While it doesn't have a full range of conversion options like some of its more expansive competitors, this site can still serve most personal needs. Some of the conversion capabilities include an MP4, AMR, M4P, and AAC to MP3 converter, to name a few.
But this free site does come with a few issues, starting with speed. Y2mate is one of the slower conversion sites available. This means it's not ideal for large-scale or corporate use.
For instance, if you're looking to convert video formats instead of pure audio, you can expect to wait a longer period of time. Additionally, the optimum conversion speed is not available for videos that exceed 10 minutes long, which makes downloading videos such as podcasts or webinars a slow process.
YTD Video Downloader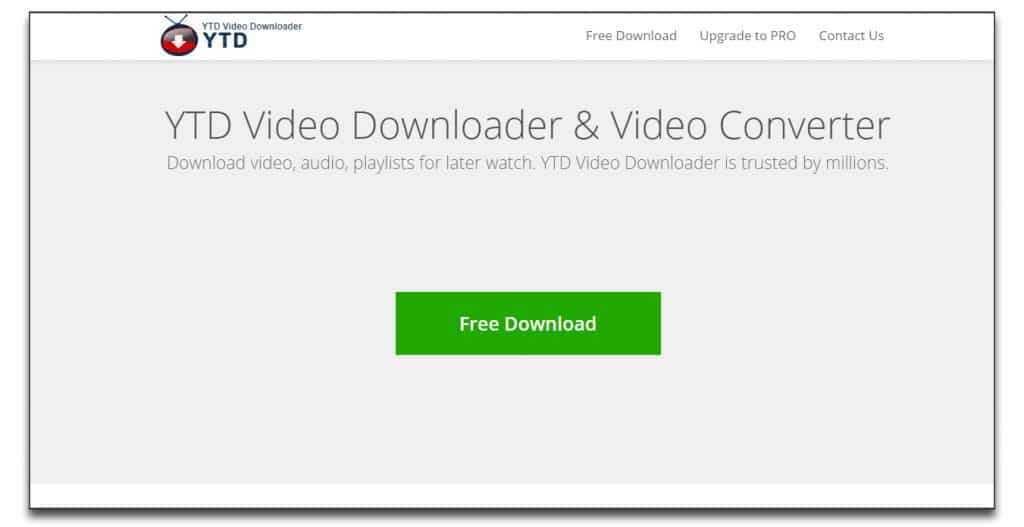 YTD Video Downloader is a simple platform built for Mac operating systems. Unlike some of its competitors, the interface is simplistic and neat. That doesn't mean that the system is lacking in functionality, though. Their advanced panel interface allows you to track all activities and downloads on a single page.
Supported sites include a Facebook, Vimeo, and TikTok to MP3 converter, among others. This site even states which adult sites are compatible with its interface. There is also a link to email and request the software adds new sites, if you don't see a converter that suits your needs.
Furthermore, if you ever have issues with the software, email support is available to all users.
Additionally, YTD Video Downloader includes multi-format compatibility in all its plans, even the free version. Some of the options include an MP4, MOV, and FLV to MP3 converter, among others. You can also enjoy all your downloads in HD quality, so you don't miss a thing onscreen.
While YTD Video Downloader does offer a free version, this plan limits some of the features. For instance, in the paid plans, you can batch download, while the free version only allows one video download or conversion at once. Paid plans also come with faster download speeds and an ad-free experience.
Pricing is set according to monthly and annual plans. The longer your plan, the cheaper your price will be:
1-month plan costs $9.99 per month
1-year plan costs $2.99 per month
2-year plan costs $1.99 per month
Unfortunately, this YouTube to MP3 converter is not an online platform, which means you have to download the software. But, once it's installed, getting started downloading your music is easy. Furthermore, the site has frequent updates, so you can be sure you're using the best technology.
Ytmp3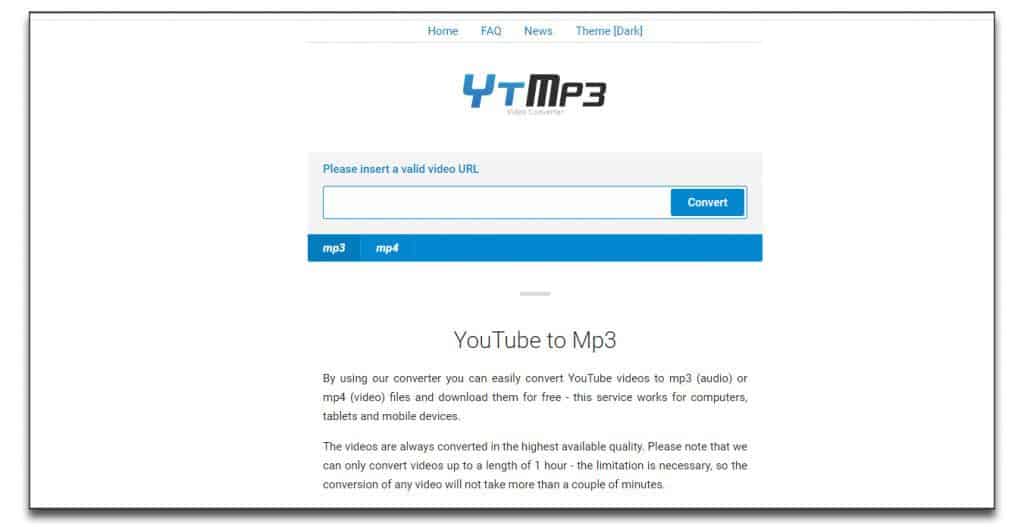 Ytmp3 is one of the best YouTube to MP3 converters online if you need a platform built for personal use. One of the biggest selling points of the service is that it is free and simple to use. All you have to do is paste the YouTube URL into the text box, select your file type, and click "Convert."
After the video converts, you can download the new file to any device. Ytmp3 is compatible with all computers, tablets, and smartphones. The tool includes options to personalize and change the file names at this stage of the process.
But, because the service is free and simple, it does have a few limitations. For instance, they note on their site that you can only convert videos up to an hour in length. This ensures that all videos undergo conversion in less than three minutes.
Furthermore, they limit their options to a YouTube to MP3 and MP4 converter. They also don't allow video conversions for videos that do not lie within public domain laws. Moreover, there is no option for batch conversions.
While these limitations may seem superfluous or restricted, they exist for a reason. Ytmp3 is a simple, easy site built for a single function: to act as a YouTube to MP3 and MP4 converter. In short, the site does exactly what it's supposed to do, for free.
Furthermore, these limitations ensure that all files download at the highest quality. Although you can't adjust the quality yourself, you shouldn't need to, as the website's built-in code adjusts the quality.
Additionally, it's worth noting that this site is virus, advertisement, and pop-up free. There are also no extra toolbars or elements that clutter up the interface. When you type in the site, the front page is what you get – and if you're looking for personal use, you may not need anything more.
Wondershare UniConverter
This tool allows you to get videos from YouTube to wav almost seamlessly. It is very reliable, and you can utilize it not only for converting video and audio files but also for compressing files, editing videos, sharing, and downloading. It has a very simple interface that will allow you to just right in without having to lose too much time.
Wondershare UniConverter is especially good if you need to crop something or to find an ideal length of a video. Most users will do well with the basic version, but if you want some additional features, you can go ahead and register.
SnapDownloader
With this downloading tool, you will be able to retrieve content from more than 900 different websites. Besides big social networks like Facebook and Instagram, to video-dedicated places such as Vimeo, Dailymotion, YouTube, there are lots of different places where you can use this app.
Among others, you can use it to download stuff from YouTube to mp3 on iPhone and from YouTube to mp4 on iPhone. Perhaps the best thing about the tool is that it allows you to get HD and UHD content. The users can choose their ideal content size, which ranges from 144p to 8k. On top of that, you can opt for a specific size, format and put your subtitle preferences if you wish.
DVDVideoSoft
DVDVideoSoft is a simple platform that you can use directly from a browser. The company allows you to convert YouTube videos from mp3 to mp4 format. You can also use it to download mp4 directly to your computer. All you need to do is download these two apps (depending on which one you need), install them, copy-paste the address of the video, and enjoy the content.
Although the app has been around for a while (10 years, to be precise), they've made a lot of updates to facilitate newer video formats. Both of these apps are available on Mac and PC, and they've been downloaded more than 300 million times.
Free Video Downloader for YouTube
Although this app is called a YouTube downloader, it can also work for numerous other platforms. You can use it for several different formats, and when you download a video, you can go with several different resolutions.
As the name implies, the app is completely free, and you can use it at any time. Like most other tools on the list, it is quite simplistic and intuitive. Even if you never used similar tools, you will quickly get the hang of this one.
MP3download
If you need a reliable tool for mp3 and mp4 formats, it doesn't get better than MP3download. You can use this app to get your favorite files from YouTube, but some other platforms as well. All you need to do is copy-paste a specific URL, and you quickly and easily retrieve this file.
MP3download can be used by anyone, at any time, without any restrictions. The tool is completely free, and it can be used within the browser. There are a few additional features that will make your life even easier. For example, you can choose a resolution of the video, as well as some other nifty things.
ClipConverter
ClipConverter is a downloader that gives you a lot of cool options. First off, if you're using a music file, you have to choose if you need mp3, mp4, or AAC. If you wish to download a video, you can go with mp4, 3GP, AVI, MOV, and MKV. It is a simple principle yet very effective.
The app can be used for YouTube downloads, Dailymotion, MySpace, Google video, Vimeo, Metacafe, and numerous other platforms. All you need to do is copy-paste the desired URL, select the format, and click download. ClipConverter will do all the rest.
Online Video Converter
This app is primarily used for audio mp3 files and video mp4 files. Online Video Converter is very fast and provides high-quality files once it finishes. With this free application, you can convert videos and music files to PC, Mac, iPhone, and Android.
The great thing about it is that you won't have to register. There is also no limit to how many conversions you can perform during a day. Lastly, a user will not have to download anything; the tool can be accessed directly from a browser.
Ontiva
Ontiva is a bit more complicated tool. Unlike previously mentioned apps, this one requires some work. In other words, you will need to register before you can use it. But, once you do, you can download as many files as you want.
The platform can be utilized to download files from YouTube to mp3 format and from YouTube to mp4 format. It can also be used to convert files from YouTube to wav.
Safe and Clean Youtube To Mp3 Converter
Use only safe and clean converters. On this list, all the tools should be fine, but that may change quickly as only the top tools like 4k Downloader or aTube remain unchanged, a lot of others may frequently change owners.
HTTPS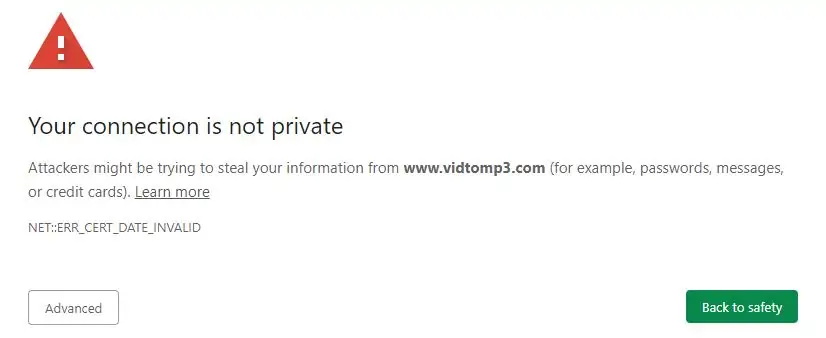 Make sure that the youtube converter of your choice is using HTTPS (instead of HTTP) your browser will tell you if it is not so. That means that they do not have a security certificate on their domain. While it does not have to be the end of the world, there are plenty of services that are secured.
Manual Check
If you are still unsure about your source, before opening the file – check it with antivirus. Just keep in mind that you have to check the file before executing it.
Visual Check
Your file should end with a format abbreviation that you downloaded. So if you picked mp3 it should be file.mp3 or if you picked a wav then file.wav. If you see anything else (particularly *.exe) that is a sure sign that it is a malicious file.
With the tools from this list you should not have these troubles, but still – better safe than sorry.
Also, I have a post about how to download YouTube videos, check it out.
What to look for in a YouTube to MP3 downloader?
While these tools are pretty simplistic and straightforward, there are several things you need to focus on when choosing the right one for you:
No hindrances
Each one of these apps will have a specific method that helps them make money. Most of them will have banners, but there are also those that will open a new window once you try to convert. If you're doing this process in bulk, this can be quite troublesome, costing you a lot of time. So, the first thing you need to consider is how easy it is to use this app, and will you have to worry about annoying pop-ups once you start downloading.
Formats and resolutions
Some of these tools are really bad in terms of resolution options. Occasionally, you won't be able to download or convert a video in more than 480p. This content will be very granulated, completely ruining your viewing experience. Similar can be said for formats. If a platform doesn't have the format that you need, this can be a major problem.
Speed
We should also consider speed. Although most of these tools are really fast, some of them take additional time when processing URLs. They might also start acting up as you download more videos than one. Needless to say, this is also an issue when working with bulk content.
FAQ
How to download YouTube videos?
You can use one of the converters in this list and choose the video download option.
How to convert YouTube to mp3?
Get the URL of the YouTube that you want to convert, and copy it into one of the converters in this list.
How do youtube to mp3 converters work?
Each video has an URL, the converter extracts the URL and separates the video stream from the audio stream then it gives you the audio stream for downloading.