In this post, I will guide you through some of the best live chat software platforms. The importance of live chat is not possible to ignore, and these services provide you cwith a quick and simple solution.
Live chat software can help to make that last step to convert a visitor or it can provide a timely service when your customer needs assistance.
Though there are many uses of the live chat software, it might be difficult to choose the right one. In this post I will do my best to help you with that!
Best Live Chat Software
In this list you will find some of the best live chat software platforms. I will do my best to constantly add new live chat to the list so the guide is full of new live chat software services and up to date!
Paldesk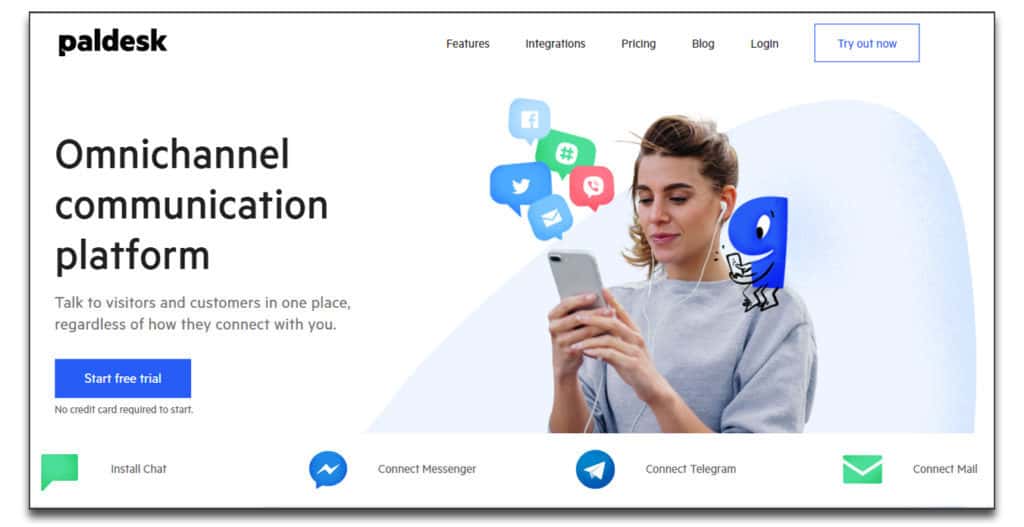 Paldesk is one of the best all-around live chat and helpdesk software hybrids out there. This organizational platform syncs all your conversations into a single app. Whether you use their cloud-based or desktop software, Paldesk can streamline your communication.
Paldesk works with dozens of apps, from social media to email, to create a flawless user experience. In fact, their online live chat software will make your clients feel like they are texting a friend – not a business.
By eliminating the "formal" feel of client-business communication, you can offer a new level of personalization.
Paldesk makes this possible via dozens of software integrations, including WordPress and HubSpot. They also partner with email marketers to merge your communication into a single app.
Paldesk Pros
Apps for Android and iOS
Online training and knowledgebase
Third-party integrations
Visitor tracking
Paldesk Cons
No appointment management system
Limited performance metrics
No workflow management tools
Paldesk Pricing
Paldesk's live chat software offers a free trial to test drive their features. Paid plans range from $9 to $22 per agent, per month, with more features coming in at higher tiers.
Paldesk also offers customized pricing packages for larger organizations.
Freshchat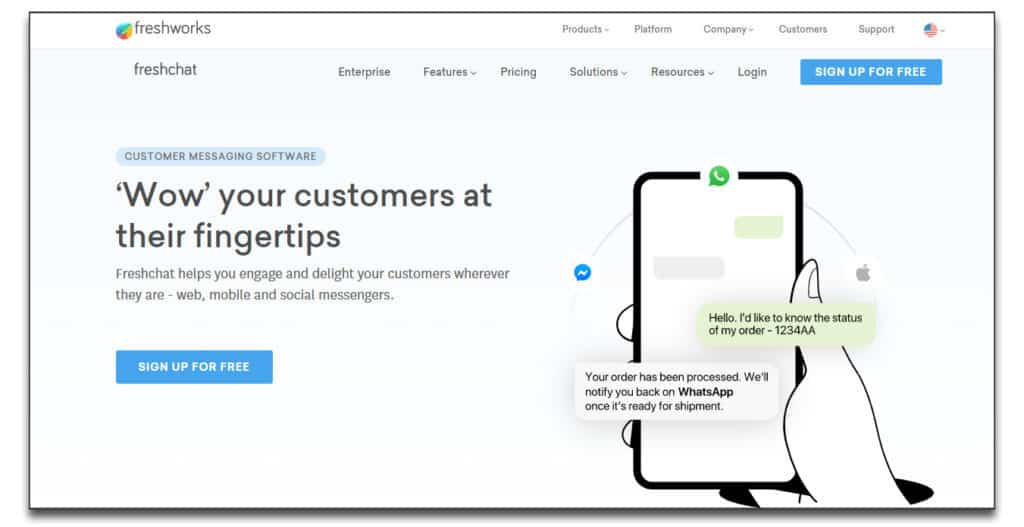 Freshchat is a great live chat support software if you're looking for a great user experience.
With Freshchat, you can support your customer care and sales teams with automations, seamless integrations, and live translate features. Their focus on conversions and sales helps you reach the right customers at the right team.
From there, your crack team can do the rest. Freshchat uses a variety of AI tools to help get the job done. For instance, their service can qualify leads, encourage users to return to their shopping carts, and even trigger messages and email campaigns.
Plus, their omni-channel feature funnels your communications into a single system.
If that wasn't enough, Freshchat also has a top-of-the-line multi-tier security system. Their resilient framework protects your data, your clients' data, and even keep your website within GDPR compliance.
Freshchat Pros
Advanced customization and filtration options for messages
Easy workflow direction and management
Easy integrations
Friendly user interface
Freshchat Cons
Some features have to be purchased as add-ons
Paid plans are a little pricey for what they offer
Freshchat Pricing
Freshchat offers a free version of their live chat software that includes the basics.
For more functionality, you can upgrade to one of their paid plans, which from $15 to $69 per month.
Acquire.io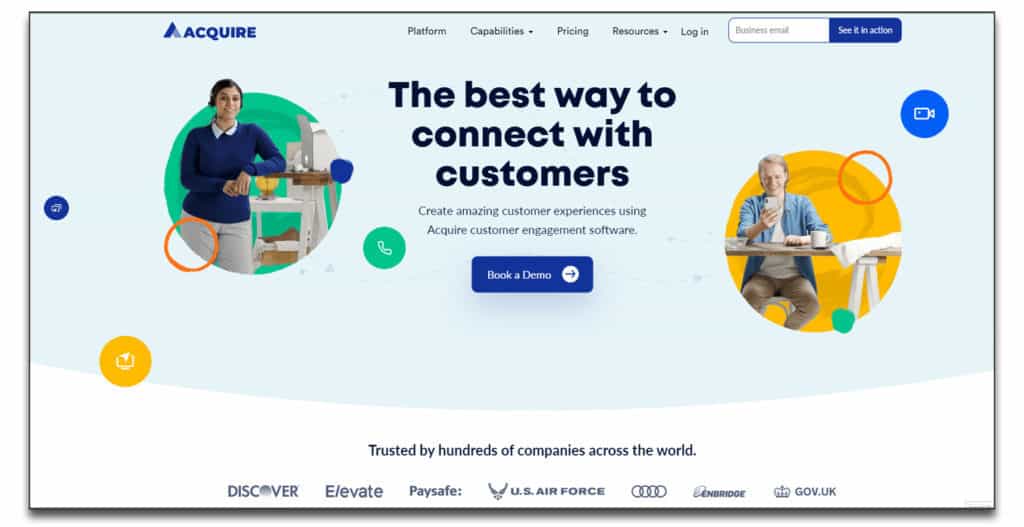 Acquire is a multi-channel communication platform that features both live chat and co-browse software. With this app, it's easy to adjust your customer service to suit both your business and clients.
For instance, Acquire's bots let you prioritize new customer and FAQ interactions. This lets your online live chat agents focus where they're needed: in personalized customer support.
Acquire's live chat software differs from others with its "Co-browsing" software. This function lets your team communicate and share their screens in private. They can even leave notes on customer files to aid in next-tier support.
Plus, Acquire's handy profile management system lets you escalate texts to the appropriate parties. No more waiting in a chat line for hours!
Acquire.io Pros
AI can be programmed to give automated responses
Live chat support can use text, GIFs, attachments, and even audio and video chat
Full analytics dashboard
Over 50 integrations for sales, support, and social media
Acquire.io Cons
Limited marketing channels
No built-in outbound marketing tools
Premium prices can be a little steep for smaller businesses
Acquire.io Pricing
Pricing for Acquire is set on a per-customer model as of 2020. All you have to do is fill out a quick form with some basic information to get started!
Bold360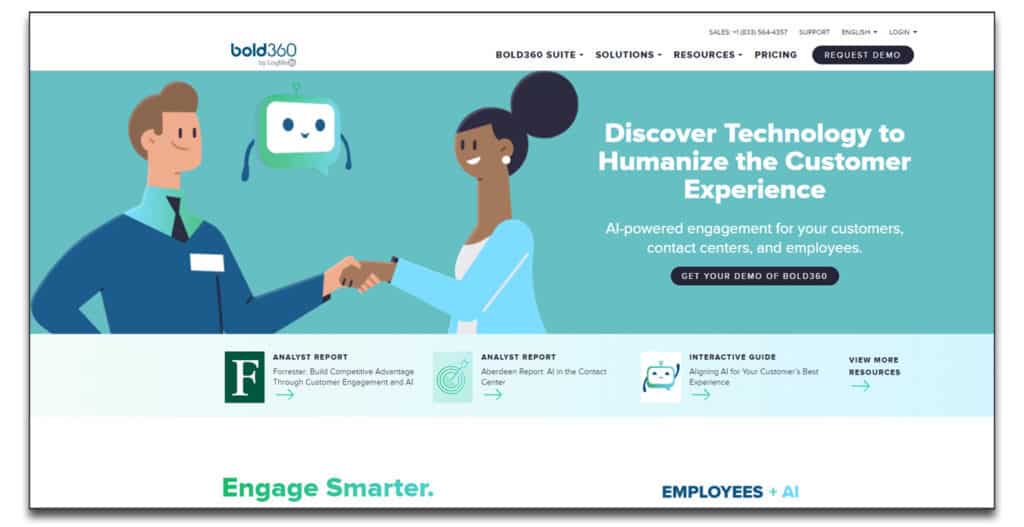 Bold360 is an online live chat software that focuses on AI. By integrating artificial intelligence into your live-agent model, you can streamline customer engagement.
The company offers several chatbots and live chat software to support your business.
For instance, their conversational and proactive AI's answer FAQs and seek out key words in chats. In doing so, they're able to provide your agents with the best information going into any chat.
And, since your agents are able to work faster, they'll have more time to focus on more intricate customer queries.
Bold360's AI is useful to your agents in other ways, too. For instance, their bots can answer your agents' questions in real-time. This speeds up the data highway while providing personalized results to your customers.
Bold360 Pros
Several types of AI and live chat support software
AI consolidates customer data for your sales and marketing teams
Proactive live chat collects customer contact information before chats begin
Bold360 Cons
Implementation can take up to 6 weeks
Limited integrations available
UI and UX are somewhat outdated
Bold360 Pricing
To get a quote from Bold360, you'll have to contact the company via their website. But take note: their plans reportedly can cost up to $20,00 per year for a basic package.
Chaport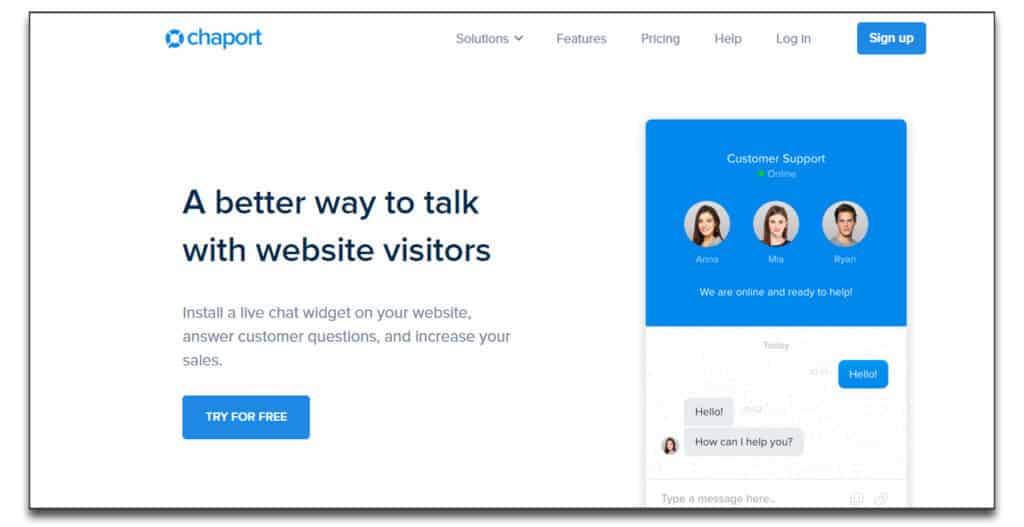 Chaport is one of the best, free live chat support software available to startups today.
This versatile system provides companies with the ability to connect with their clients. With Chaport, you can pursue leads, close sales, and build brand loyalty.
For instance, Chaport automatically collects visitor information when they interact on your site.
And, when you chat with customers, this live chat software makes it easy to send personal greetings and open a conversation. You can even send automatic invites and allow customers to join group chats with your agents.
And, if an issue arises, Chaport lets your agents transfer chats to the right parties. Thus, you can streamline your communication and sales process further.
Not to mention, all these features are available on any device with instant synchronization.
Chaport Pros
They offer a "free forever" plan for their live chat software
Dozens of integrations with CRMs, email marketing services, and social media
Comprehensive reporting and analytics dashboard
Apps for online, desktop, and mobile
Chaport Cons
Downloading files converts chats to text files
Mobile apps have limited functionality
Chaport Pricing
Chaport offers a free forever plan of their online live chat software. But, if you need more advanced tools, their Pro plan starts at $9.80 per month, per operator.
Chatra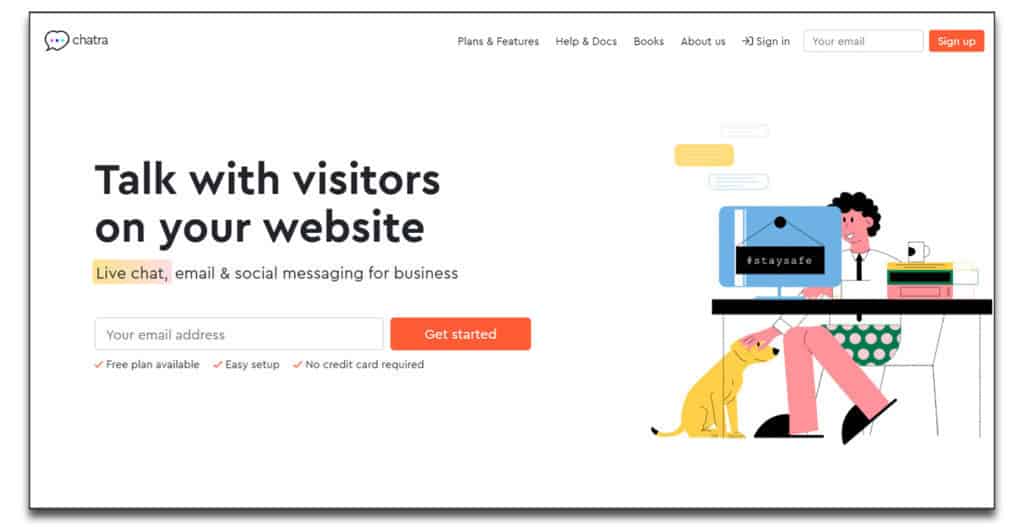 Chatra's live chat software is great if you need a functional support system for your website.
This site covers all the basics, from helping your agents answer questions to building client relationships.
Chatra can be embedded into your website via easy-to-use widget button codes. Once it's live, you can take advantage of tools such as automated messages and multilingual chats.
This live chat software's group messaging feature is especially handy for sales teams. This function lets sales reps loop in agents and managers in real-time to keep the focus on the client.
Say hello to increased sales!
Plus, with their invisible mode, agents can stay online without taking on new chats. Whether you need more time for your current chat or already have several chats lined up, invisible mode reduces distractions so you can focus on the task at hand.
Chatra Pros
Real-time visitor logs
Intelligent chat queues
Mobile apps for iOS and Android
Chatra Cons
Apps are not optimized for all iOS devices
No options to archive messages
Chatra Pricing
Chatra offers a free, basic version of their live chat to test out the software. If you need full functionality, you can upgrade to their Pro plan for $15 per agent, per month.
ClickDesk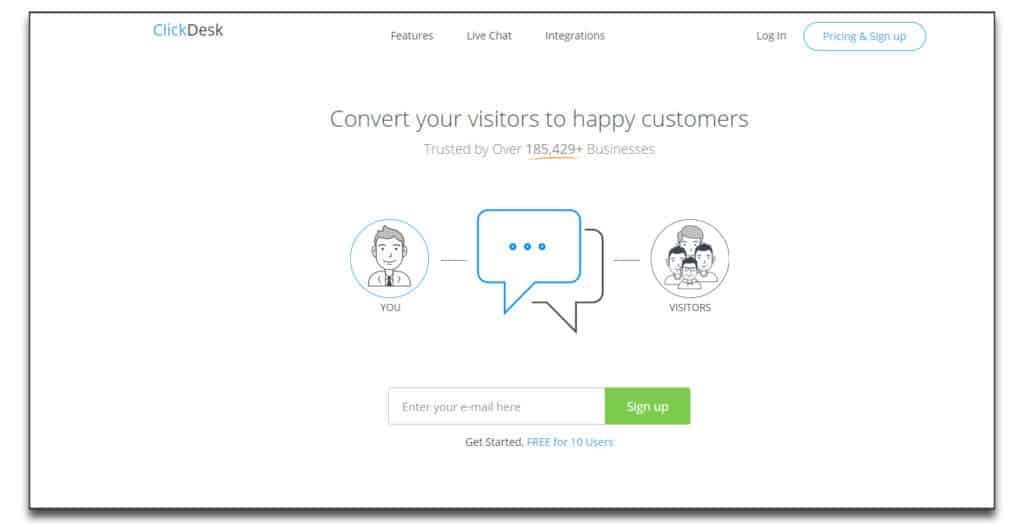 ClickDesk is an online chat software that provides an emphasis on voice and video chat. And, rather than confining itself to a live chat software, it also functions as a customer support system.
For instance, ClickDesk offers a variety of features to improve the customer experience. Ticket management, interactive visitor maps, and pre-chat surveys make finding leads a breeze.
Plus, ClickDesk integrates with dozens of third-party apps. This includes social media platforms, marketing services, and various ecommerce sites.

ClickDesk also makes it easy for you to assist customers, call in managers to a group chat, and conduct simultaneous chats at once. You can even transfer conversations to maneuver your visitors to the right parties.
From the initial inquiry to close, ClickDesk has a tool to make the process easier.
ClickDesk Pros
Daily and weekly chat statistics
Unlimited websites
Translations into 90 languages
ClickDesk Cons
User configuration can be unwieldy to learn
Some users report poor customer support
ClickDesk Pricing
ClickDesk offers a free live chat support plan that includes 10 users and audio calling. Paid plans range from $14.99 to $39.99 per month for an annual contract.
Comm100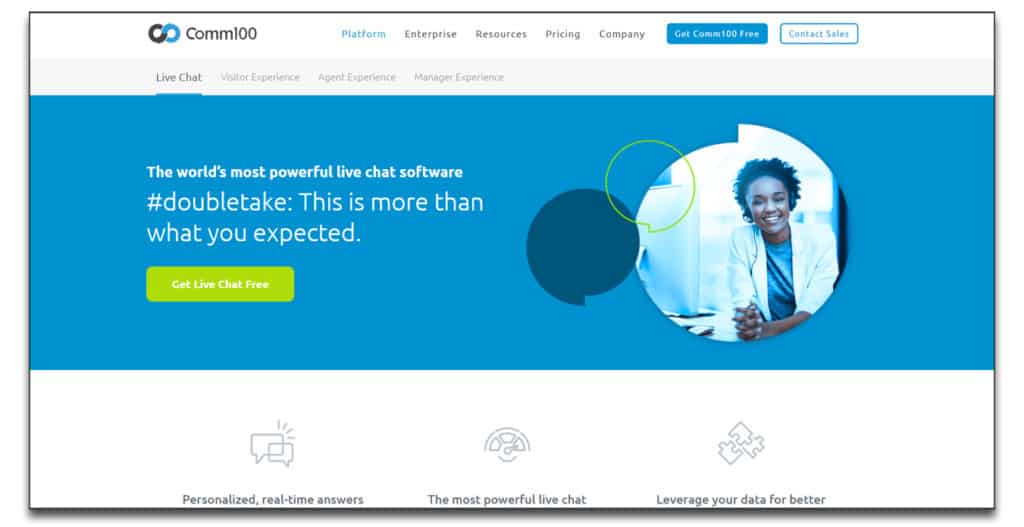 Comm100 Live Chat is one of the most popular live chat software for enterprise-sized customers. Their multi-media experience helps users:
Generate leads
Answer FAQs and concerns
Manage live chatbots and agents in real-time
Grow your business
This is possible via their cloud-based routing engine, which captures customer data to improve your brand's efficiency. You can deploy live chatbots and other tools across teams and websites from a single console.
Users of Comm100 Live Chat can take advantage of seamless cloud-based and onsite deployment and pre-integrations with CRM and analytical platforms. And of course, they will find the usual features such as web, desktop, and mobile apps or in-depth analytical reports to help analyze performance.
Plus, their scalable pricing plans make Comm100 a great value for any competitive enterprise!
Comm100 Live Chat Pros
Auto-translation into more than 100 languages
Comprehensive CRM platform
Live website monitoring
Canned live chatbot messages
Comm100 Live Chat Cons
Some of their CRM software integrations can be buggy
Limited troubleshooting tools
You can't adjust user time zones in-site
Comm100 Live Chat Pricing
Comm100 Live Chat offers 3 pricing plans for their chatbot software, tiered based on the features they offer:
Team costs $29 per agent/per month for the basics
Business costs $49 per agent/per month for advanced options
Enterprise – contact sales directly for a personalized quote
They also have a very interesting Free offer which will allow 3 agents to work with tools available in the Business package.
Drift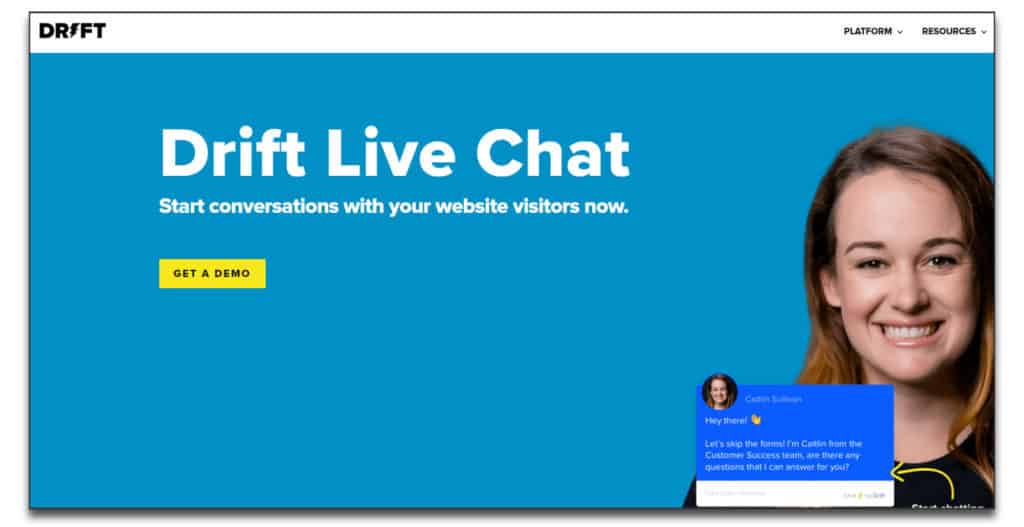 Drift is one of the best live chat software for marketing and sales teams. This site helps funnel your communication into a single portal while providing a chatbot alternative for FAQ and basic queries.
Drift's software lets you automate parts of the chat and time management process. Items such as qualifying leads and booking meetings can be taken care of with Drift's AI.
Thus, you can spend more time personalizing your relationships and drawing in customers.
For instance, with their live chat software, you can prioritize certain accounts. These VIP targets can then receive personalized messages when they visit your site.
Drift also offers dozens of integrations to streamline this process. By linking with sites such as HubSpot or Salesforce, you also link your client database.

Drift offers a host of other features, as well, including:

An analytics dashboard to track agent productivity
Automated sales workflows
Dynamic routing abilities
Drift Pros
Playbooks to build and automate chat flows and bots
Support chat included
Easy to create customized user experiences
Drift Cons
Limited customizations for images
UI can be difficult to master at first
Drift Pricing
To get a price estimate, users have to submit your business email through Drift's platform. From there, Drift's own chatbots will direct you to the correct department!
HelpCrunch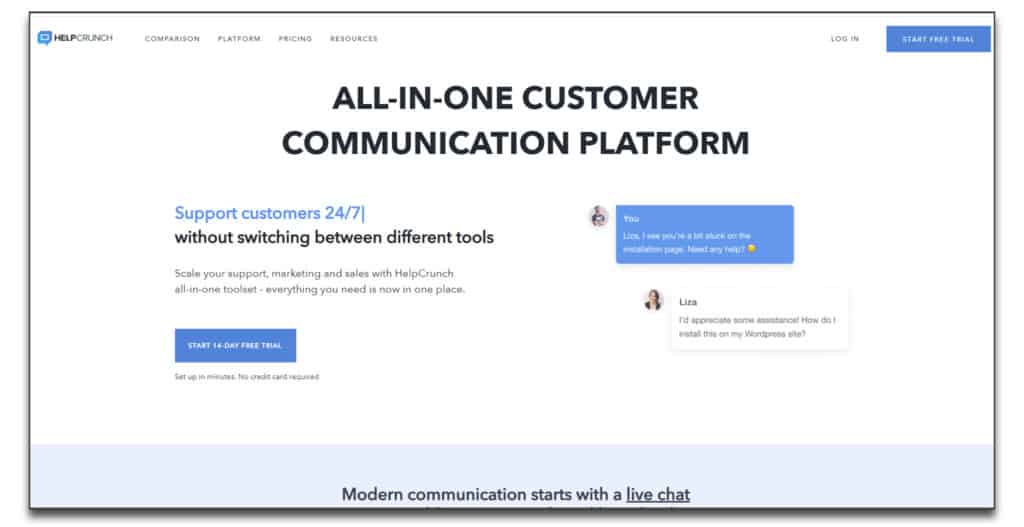 HelpCrunch is a live chat software that helps your sales team capitalize on their leads.
By managing your customer lifecycle from click to return, it increases loyalty and provides you with plenty of data in the process.
This online live chat software is jam-packed with features to help you grow your business. From ticketing and automation to marketing and email campaigns, HelpCrunch is there to help you leverage communication to your advantage.
HelpCrunch makes this possible by collecting and using customer data wherever possible. Their software automatically saves responses, tracks live behavioral data, and analyzes customer responses.
Plus, HelpCrunch provides chat transcripts of all conversations to your sales team. This means they can easily analyze where they went wrong – or right – for future chats.
By doing this heavy lifting, this live chat software lets your sales team focus on other ventures.
Help Crunch Pros
User-friendly interface
Automatic pop-ups and follow-ups
Advanced personalization options for lead generation
Help Crunch Cons
Lower pricing levels lack some basic features
Mobile apps can be fiddly
Help Crunch Pricing
HelpCrunch pricing ranges from $12 to $20 per month for their live chat plans. For enterprise-level businesses, they also offer personalized quotes to fit their product to your needs.
HubSpot Live Chat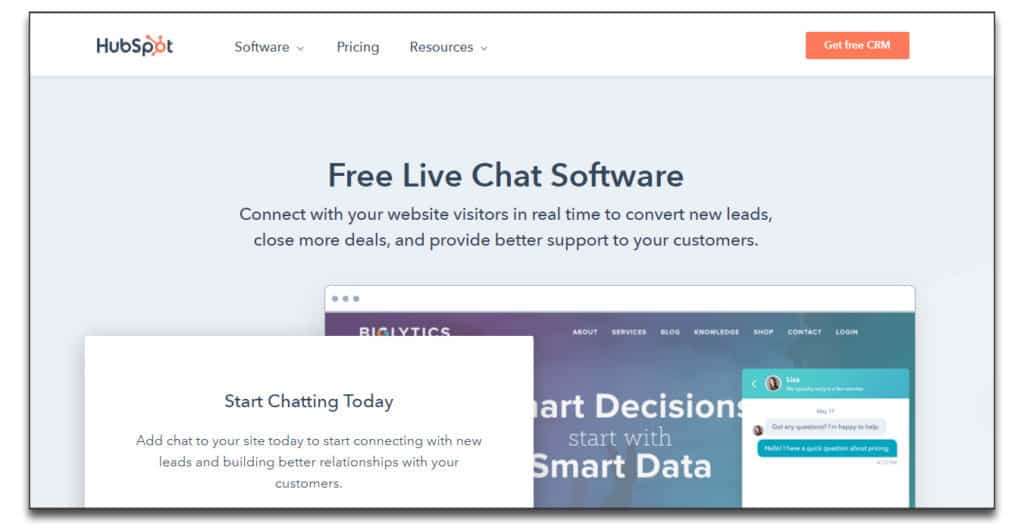 HubSpot Live Chat is part of HubSpot's free forever CRM software. It includes everything you could ask for in a free live chat software, including:

Targeted messaging
Chatbots
Automatic meeting scheduling
This site is optimized for user experience, both for your business and your clients. For instances, you can route conversations to the right people with the click of a button. Or, you can whip up a deal in seconds straight from your live chat box.
HubSpot Live Chat also includes easy custom branding for your messages. By making your chatboxes stand out from the crowd, you add an extra level of personalization for your customers.
Furthermore, HubSpot Live Chat comes pre-integrated into their CRM tool. This loops all your chats into a single inbox, so you don't have to switch between platforms. Plus, by keeping your live chat and CRM software in the same system, you'll always have access to your customer history.
Hubspot is a multi-tool platform and you can also read about its email marketing service.
HubSpot Live Chat Pros
Customizable live chat widgets
Easy, automated chatbots
Extensive collaboration tools
HubSpot Live Chat Cons
Poor integration with non-HubSpot CRMs
Free software is somewhat limited
HubSpot Live Chat Pricing
HubSpot Live Chat is free forever – making it one of the best deals in this entire list.
FAQ
Why do I need live chat software?
Visitors and customers prefer a personal touch to their experience. Live chat provides that bridge of being there when they need you.
How can live chat software help me?
More sales, increased conversions, email submissions, more trial accounts, customer service quality and many more reasons to give live chat a try.
Is it difficult to install a live chat?
No. Most of the platforms offer a very quick implementation which does not require any IT knowledge.
Can live chat help with customer service?
Of course, it is one of the most popular reasons for using live chat. It allows users who are lost to quickly get their answers.
Will live chat increase my sales?
If you play your cards right – yes. Live chat may be that exact step that is needed to help your visitor with their decision