Why do you need reputation management software? Well, in online business, the perception of your brand and your reputation is everything. That is why you need to closely monitor it and solve any issues even before they cause damage.
Did you know that over 87% of potential customers read online reviews? Imagine how damaging and detracting might be just one negative comment that is left without your reaction.
If you are serious about online business, closely monitoring, protecting, and improving your online reputation is a must. But how do you keep track of all the platforms where your brand is discussed? TrustPilot, Google Reviews, Facebook, Yelp, G2…the list goes on.
In this post, I will help you to tackle that problem. To make sure that you are on top of all the buzz that is going on around your site, you need good reputation management software!
Best Reputation Management Software
Below you will find my top software picks to help you monitor your brand online. At the end of this review, I will also discuss some main criteria to look for when choosing the best option.
Brand 24
Brand24 is an online reputation management software for small and mid-sized businesses. They specialize in social media and review site monitoring to provide insights into your public image.
Brand24 starts you off with tons of social and online monitoring and analytics. In particular, it scours the web to collect and analyze keyword mentions from:
Customer reviews and review sites
Positive and negative feedback
News and blog sites
And even podcasts and videos
Then, you can examine your findings to determine factors such as your brand reach and public sentiment. You can also pinpoint the most influential and popular sources of information. (And in the process, learn more about your target audience.)
Of course, you may not want to track a single keyword or business. To that end, Brand24 lets you set up several projects at once, so you can segment by campaign, brand, or keyword.
This makes it easier to keep tabs on your competitors, too. And with their built-in comparison tool, you can check your results side-by-side.
One of the best things about Brand24 is that it collects all this data in one dashboard. But you can also set up your Slack, mobile apps, or email to receive daily or weekly reports, as well.
Brand24 Pricing
Brand24 offers three pricing tiers to cater to all sizes of business:
Plus for $49 per month
Premium for $99 per month
Max for $199 per month
Reputation.com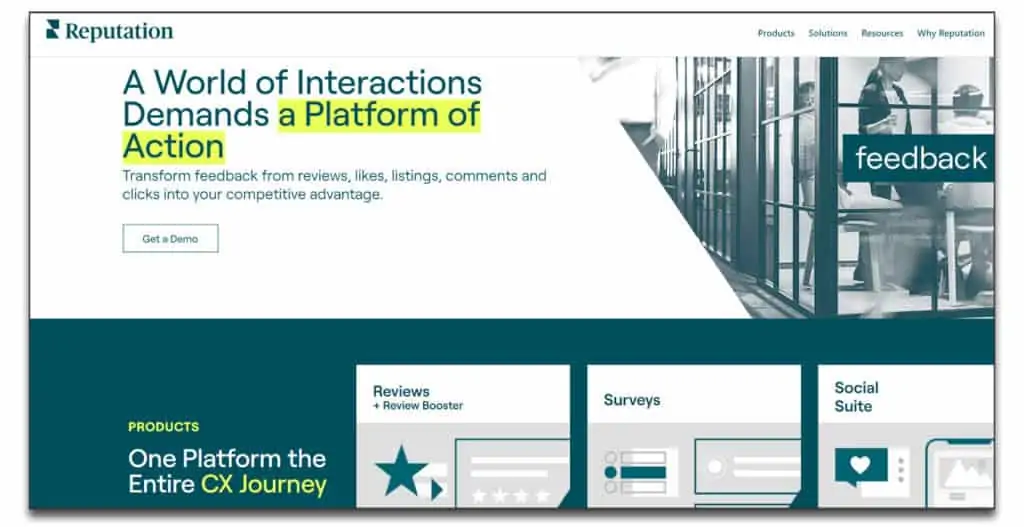 Reputation.com is the "inventor of Online Reputation Management." As such, they are one of a few platforms to offer a comprehensive solution for enterprise-sized businesses.
They aim to help businesses rank higher and examine their successes – and failures – with social media monitoring, updated listings, and top-notch reporting.
One of Reputation.com's premiere features is their proprietary "Reputation Score." Using nine unique factors, they provide insights into:
How customers find your business
Why customers choose your business
The customer experience with your brand
Outside of their Reputation Score, this platform also helps users send out surveys, track and respond to review sites and social media input, and appear at the top of local business listings.
And with their competitive reporting tools, you can see how you stack against your competition with detailed insights. Using their platform (or one of their 1,000+ integrations) you can:
Break down customer sentiments
Analyze feedback
Identify trends
Recognize and address pain points in real time.
But it's worth nothing that Reputation.com is built for specific services and industries. If your business falls outside their wheelhouse – or heightened sense of scale – the investment will not be worth the cost.
Reputation.com Pricing
For a personalized quote, contact Reputation.com directly or sign up for a free demo.
Mention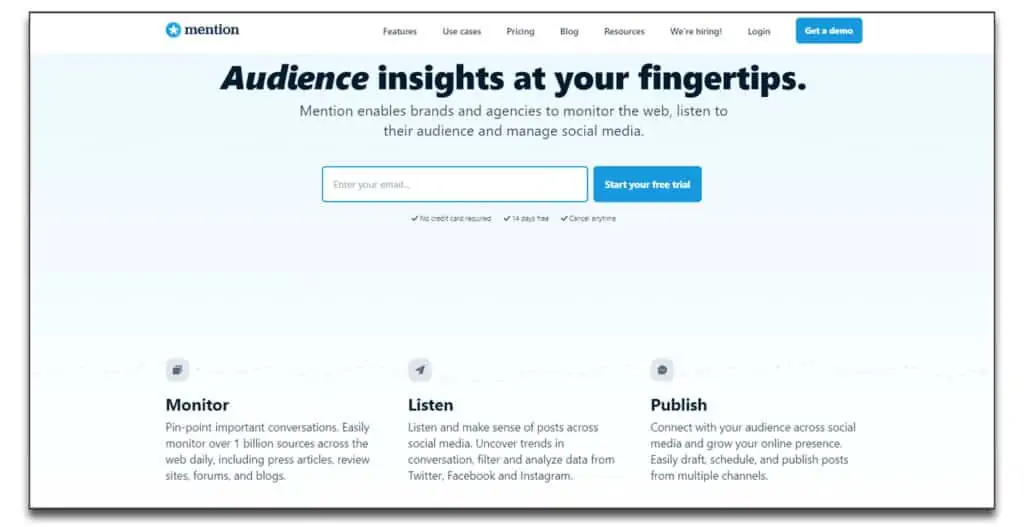 Mention is a reputation management software for social media-heavy organizations. If Facebook, Twitter, and Instagram are your main connections to your target audience, Mention is made for you.
Currently, this platform services over 750,000 users in 125 countries. Though they're a good fit for almost any size of business, some of their most notable clients include Microsoft, Spotify, and MIT.
Mention helps you run a solid offense when it comes to reputation, including:
Identifying conversation trends, influences, and hashtags
Data filtering
Publishing and re-publishing content with internal drafting and scheduling
Assigning customer mentions
But that's not all – with their convenient dashboard, you can run a robust defense, as well.
For instance, Mention mines social media and online forums to alert you when someone talks about your products or brand. They even provide tools to crawl competitors' brands and levy outside insights in your creative process!
All this data boils down into detailed, brand-specific intelligence that revolves around your goals. And with automatic reporting and a smooth interface, you can analyze and share results at the click of a button.
Mention Pricing
Mention offers four plans on both monthly and annual contracts:
Solo for $25 per month
Pro for $83 per month
ProPlus for $167 per month
Company starting at $450 per month
Chekkit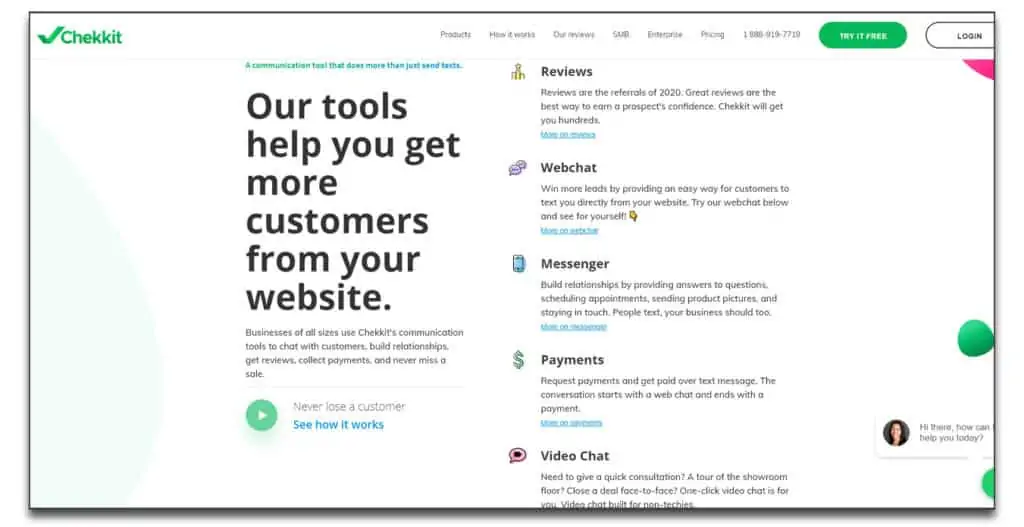 Chekkit's review management software is designed so you can check in with your customers. This platform helps local, service-based companies, such as dentists and chiropractors, manage their reputations and earn more reviews.
The end goal is to help you chat with customers, earn positive reviews, and even collect payments. With Chekkit, the hope is that you'll never miss a sale – or lose a customer.
To reach this goal, Chekkit includes plenty of simple-to-use features, including:
Gathering reviews via text message
Customized alerts for new reviews and private messages in their built-in messaging app
Templates to help you ask for more reviews, fast
Smart reminder drip campaigns to encourage customers
Web chat and text message-based payment requests and receipts
And to top it all off, Chekkit provides built-in video chat. Whether you need to give a consultation or close a deal, their chat is "built for non-techies" who want to see their business succeed.
Chekkit also provides a number of integrations, including Google and Facebook. But they also branch out into industry-specific review platform integrations, too, for clients with granular needs.
Chekkit Pricing
Chekkit offers a pay-as-you-go policy, which means you can cancel anytime with no hassle. They only provide two pricing plans: Essentials for $99 per month and Premium for $199 per month. But if you pay for a full year upfront, you can enjoy a 15% discount!
Swell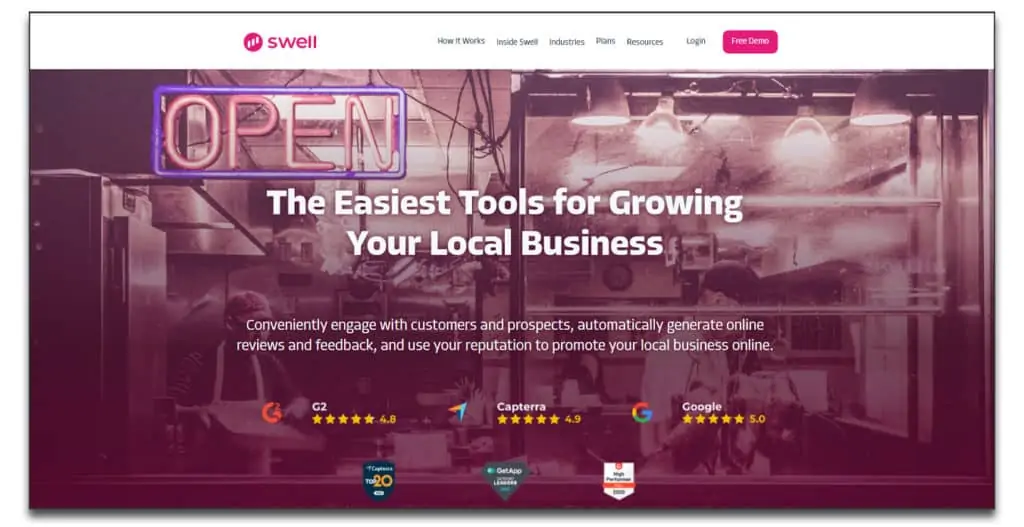 Swell is less a reputation management software and more a "growth" platform. Although they focus on small, locally owned businesses, their features can work well for midsize companies, as well.
They aim to help you grow by "turning your online reputation into a marketing machine." Simple enough, right?
Swell works by connecting with your customers via customizable messages. You can use a template – or create your own – to encourage good reviews.
You can even automate these messages to go out after a customer interaction! For instance, you might want to request a review after an event such as a purchase or an appointment.
Back on your end, Swell then helps you find and respond to customer reviews with their built-in tools. This increases local engagement, brand visibility, and – of course – your reputation.
We should note that, unlike some of the other software on this list, Swell works best for brick-and-mortar establishments. They tailor their products to customers in the real estate, fitness, retail, and restaurant industries.
Swell Pricing
Swell currently offers two pricing plans: Annual for $199 per year, or Monthly for $249 per year. (Just under $21 per month.) For businesses with several locations, Swell also includes a "volume pricing" option.
Chatmeter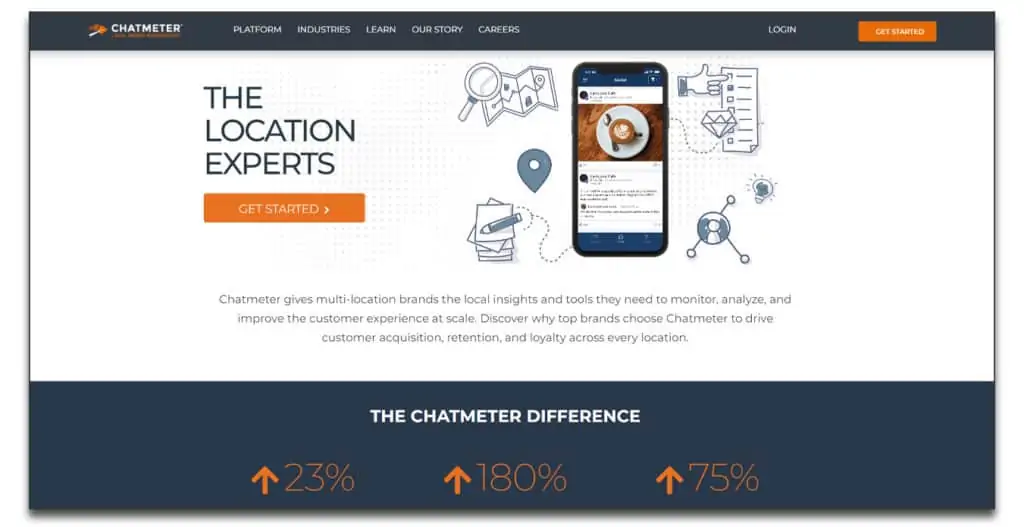 Chatmeter is a reputation management software that helps brands ensure consistency at every level. This platform serves chains, franchises, and multi-location businesses that want to:
Monitor their performance
Keep local reputation in line with corporate values
Track (and beat) the competition
Keep track of the quality and quantity of customer engagement
Chatmeter uses a combination of listing and review management and monitoring to achieve these goals. You can analyze performance and create segmented reports from one dashboard. Plus, Chatmeter lets you create store comparison charts to examine locations side-by-side.
When it comes to reviews, you can monitor mentions on over 20 local search and review sites. Their internal dashboard helps you analyze rating trends and even measure your performance against your competitors.
For those businesses looking to get ahead of their reviews, Chatmeter provides custom feedback surveys so you can monitor your customers' wants and needs. And, of course, their review responding tools help you engage customers online, as well.
At the end of it all, Chatmeter boils all this information down into a single visibility score. This gives you an idea of how your online brand presence compares against the competition.
Chatmeter Pricing
To receive a pricing quote, you'll have to contact Chatmeter for a free brand audit.
BirdEye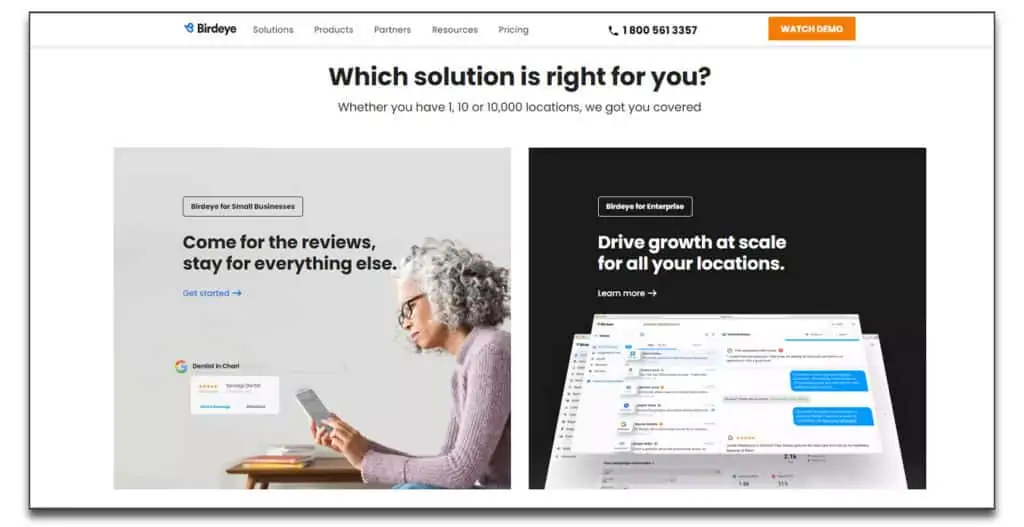 BirdEye bills its reputation management software as a "customer experience platform." With BirdEye, you can keep a birds' eye view on your customers with a wide variety of features.
To start, BirdEye offers customer experience tools such as:
Local listing management
Review tracking
Customer surveys, WebChat, and engagement tools
Insights and competitor benchmarking
The focus for BirdEye is to help you build and manage your review base. They make this easier with email- and text-based customer review requests. Plus, you can set automatic alerts to pop up whenever you receive negative feedback online.
The end goal is to help you drive new reviews, monitor your online presence, and enhance marketing practices. Plus, with social media monitoring and business insights, you can keep a handle on your organization from the inside-out.
But BirdEye is not a perfect platform. For instance, their monthly fees are some of the highest out there. Additionally, many customers have had issues with onboarding, customer service, and even billing practices.
BirdEye Pricing
BirdEye offers customizable pricing quotes at three levels:
Standard, which includes listings and reviews
Professional, which includes listings, reviews, messenger, and WebChat
Premium, which includes the whole BirdEye package
Podium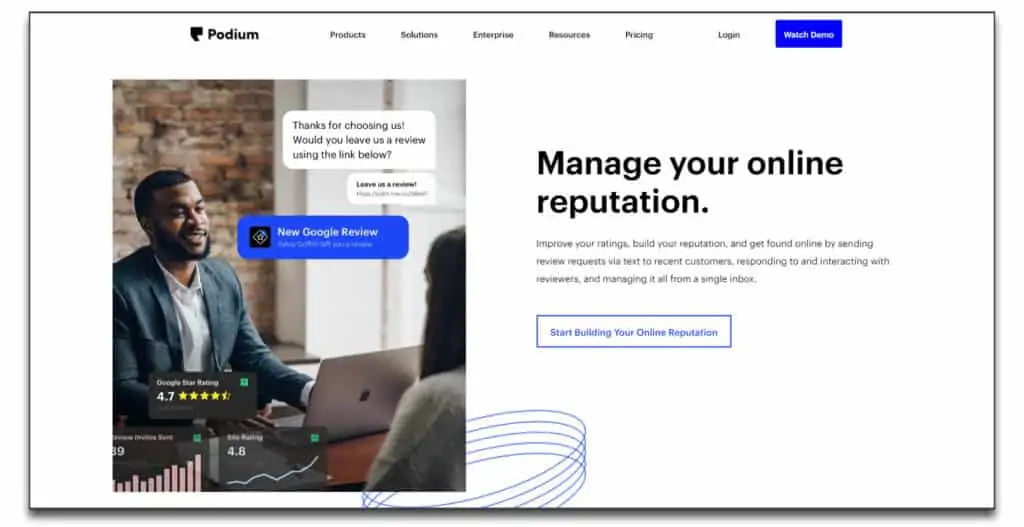 Podium is a customer interaction management platform for local businesses. Currently, they help over 40,000 businesses manage interactions "from search to sold."
Podium is more comprehensive than some of the other reputation management software on this list. One of their most unique offerings is their payment tools, which allow you to:
Maintain PCI compliance
Process payments and issue refunds
Handle all manner of customer payment methods
Payment receipt via text messaging
In addition to Podium's payment features, they offer tons of reputation management tools. You can request reviews, send out surveys, respond to customer feedback, and manage your customer support.
Plus, Podium includes webchat, team chat, and inbox features to encourage. And some of their chat tools include customizable branding to enhance your brand.
As far as customer service goes, every account works with a client success manager. Your rep will walk you through onboarding, customer support, and customer success tools.
Podium does have a few downsides, though.
For instance, they don't include local or business listings management in their toolkit. And their Feedback feature is more limited in survey features than their competitors. Additionally, their WebChat feature costs an extra $100 per month.
Podium Pricing
Podium offers pricing on a case-by-case basis. But many customers note that the platform starts high – in the hundreds of dollars – with extra costs for add-ons.
ReviewTrackers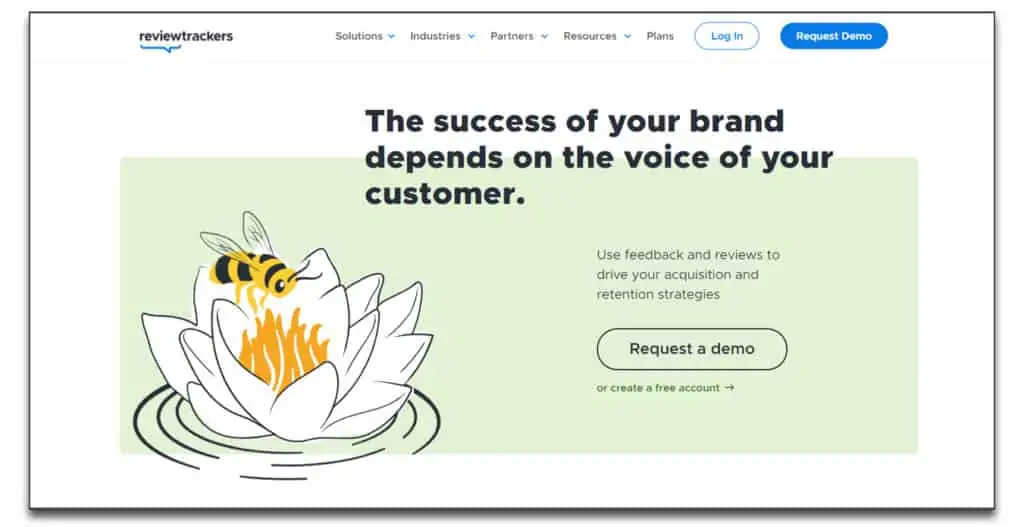 ReviewTrackers is a popular reputation management software for businesses with several locations. With this platform, you can gather, analyze, and manage customer reviews from over 100 sites.
From a single dashboard, you can gather reviews and gain insights into your products and services. ReviewTrackers enables you to put positive reviews in public-facing arenas. But at the same time, you can work to address issues in your negative reviews, too.
At the end of the day, it's not just about getting good reviews – it's about improving customer experiences.
Some of the tools that ReviewTrackers gives you include:
Feedback collection and management
Survey requests and analytics
Customizable templates
Keyword tracking
Email notifications
The end goal of ReviewTrackers is to help businesses determine where customer problems and pain points arise. Plus, you can monitor and rate the performance of all locations with enterprise-grade features and reporting tools.
Unlike some of the other platforms on this list, ReviewTrackers works on every type of device. This includes Windows, Linux, and Mac, as well as mobile devices. They also provide email, ticketing, and phone support.
ReviewTrackers Pricing
ReviewTrackers offers monthly pricing scaled to each individual business. Contact the platform for a personalized quote.
Sprout Social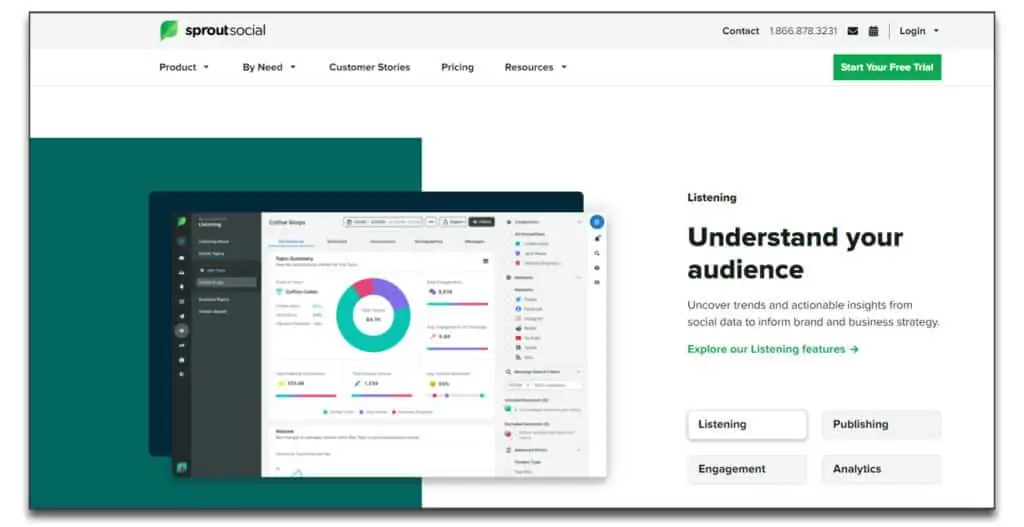 Sprout Social is a popular web-based reputation management software for your social media needs.
While they work best with small-to-midsize service-based businesses such as restaurants and hotels, they can scale up to enterprise customers, too. Some of their biggest customers include Shopify, Subaru, and DreamWorks.
But they're ideal for customers who don't require a lot of advanced reputation management. For these customers, Sprout Social fulfills three primary functions: publishing, customer engagement, and data analytics.
The end result is a platform that helps businesses communicate, market to their target audience, and manage their public brand. And in all this, Sprout Social helps your business listen and respond to your customers with:
Keyword and mention monitoring
Excellent analytical reports
Company comparison tools to rate yourself against the competition
Automated social media posts
A publishing calendar with Optimal Send Times
And because Sprout Social is focused on social media, you can manage all your social media management campaigns from one dashboard. From here you can tag messages, compose workflow, and analyze trends.
Sprout Social Pricing
Sprout Social starts you off with a 30-day free trial – no credit card required. Paid plans range from $99 to $249 per month.
Main Features of Reputation Management Software
There are many platforms that will help you manage your reputation so everyone will find what fits best for them. In this section, I would like to go over some main features based on which you could make your final pick.
Efficient Dashboard
I love a clean and comprehensive dashboard. There has to be a good balance between data saturation and presentation. You do not want a dashboard where it is hard to find the info that you looking for. When comparing various options, work with the dashboard for a bit to see how quickly you can access the details that you need.
Real-Time Data
If you got a negative review and you will discover it in a week, chances are it is already too late. Customer remained angry and many others seem their "truth" without your reaction. That is why having real-time updates is so important. It allows you to react imediatelly and mitigate any potential damage.
Review Tracking
TrustPilot, Yelp, TrustRadius, BBB, Capterra, TripAdvisor – these are just a few of the platforms where a customer can leave a review. Make sure that your online reputation tool is able to constantly check them for reviews and comments related to you and alert you if your action is needed.
Sentiment Analysis
Facebook, Twitter, Instagram are buzzing with chats and comments all day long. If there is a trend (public sentiment) that is not favorable for your brand your reputation management software should immediately let you know so you can take action and turn the situation in your favor.
Summary
As you can see there are many areas that you need to monitor so you have a close grip of the way your brand is perceived online. It is nearly impossible to do manually, so this is where the tools listed above will help you.
What our potential customers read about us plays a critical role as it might be the only point of contact before they make their final buying decision.
Even one negative comment that is left without reaction, can become a significant detractor and put a small but persistent doubt in the mind of your customer whether they should trust your business at all.
Having a tool that will monitor the mentions, reviews, comments, and trends related to your brand is a must in the digital business era. Your online reputation is everything.
FAQ
What is as reputation management software?
It is a tool that helps you to monitor all the comments, reviews and other mentions that are related to you brand and reputation.
Why is reputation management important?
Over 80% of customers make their decisions based on comments and reviews related to your company or website. Even one negative mention left without a reaction may cause quite a bit of damage to your sales.
Why do I need an online reputation management software?
There are many online platforms where people can leave a comment or rate your business, monitoring them all manually would take too long and you would react too late. Reputation management tools monitor everything for you.