Online course platforms had arrived in style. You can learn anything you want online and vice versa – you can leverage your skills through online course platforms.
In this list you will find the best options to start an online learning program.
Best Online Course Platforms
In this section you will find some of the best online course platforms. Compares on their pros and cons with price.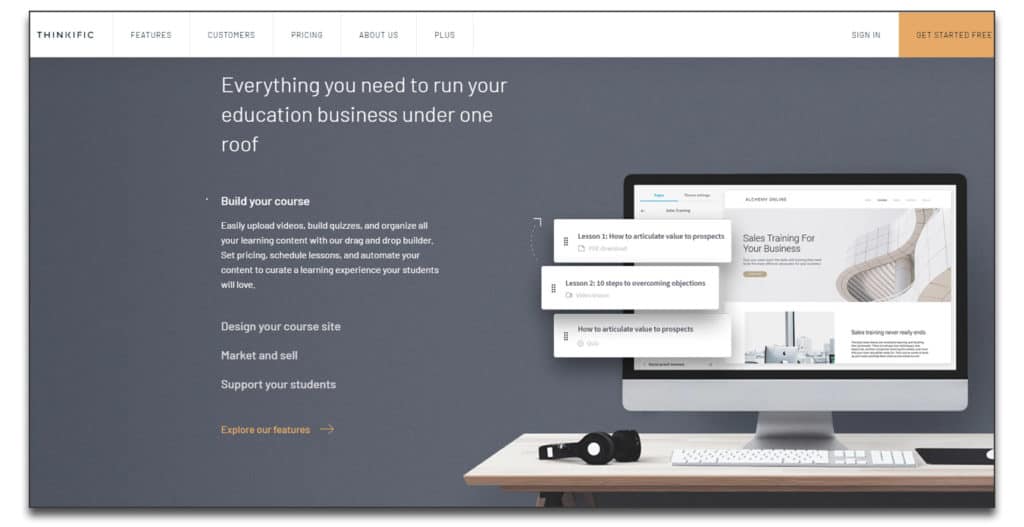 Thinkific is one of the best online course platforms. Whether you need a basic course creator or more advanced options, they have the tools to suit most needs.
Thinkific Main Features
Thinkific starts you off with a host of pre-built templates to get your courses ready. Their drag-and-drop editor allows for plenty of customizations. Moreover, they integrate with over 1,500 apps to provide you plenty of options.
With their Pro Plan, you can create unlimited courses via their online platform. Thinkific supports many types of content, from videos to text to PDFs. This lets you teach your students how they learn best. You can also test your students in a variety of formats, such as quizzes, surveys, and tests.
Once your courses are ready to go, you can take advantage of Thinkific's advanced marketing tools. While Thinkific doesn't have the same sales funnel options as their competitors, they do have:
Email marketing
Membership site integration
Learning certificates
Advanced business tools
For teachers who offer specialized courses, you can even create specific learning paths. This gives you the ability to lock your lessons or require proof of previous classes to join. Furthermore, all this is available without a need to code – so you can focus on your lesson plans instead.
Thinkific Pros
Several themes to choose from
Course compliance features
Inbuilt support for advanced testing
Bulk sell courses
Student management tools
Zero transaction fees on all plans
Thinkific Cons
No mobile app
No live chat support
PayPal is not supported for recurring payments
2-step checkout process may reduce conversions
Thinkific Pricing
Thinkific's online learning platform starts at $49 per month for basic features. For more advanced options, you can switch to the Pro plan for $99 per month. Or, if you want to try out the core features, you can test drive their Pro plan free for one month.
Best choice for an online course platform.
Kajabi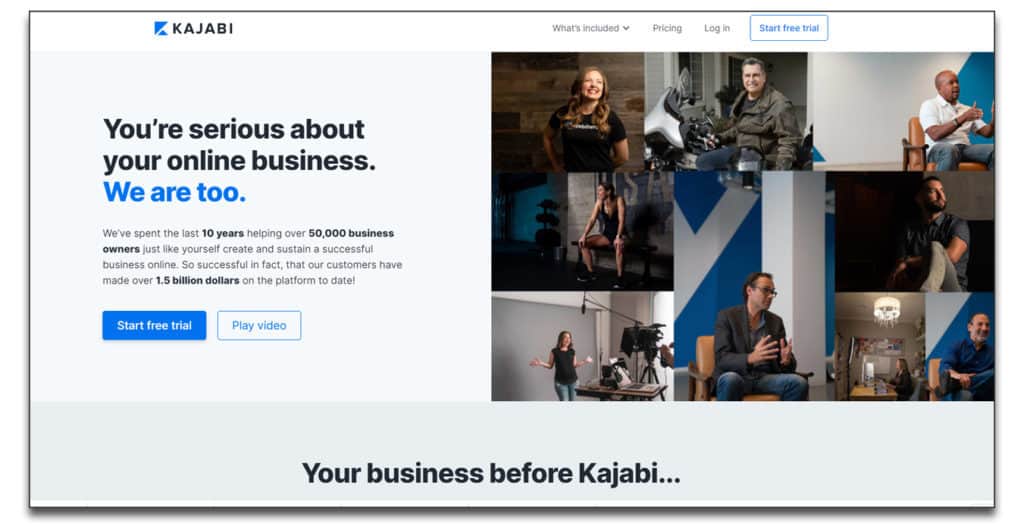 Kajabi is another fantastic online course platform for high-end users and professionals. Whether you need to teach your employees about your company or launch a course aimed at professionals across the globe, Kajabi can make it happen.
Main Features
Kajabi starts you off with 10 pre-built site themes to design your course around. With this program, you can launch and host all types of content, including videos, audio, and text. They even make it easy to build teaser courses to draw in potential students.
Besides your evergreen content, you can boost student engagement using several methods. For instance, you can build learning paths, assign tests, and create a community forum.
This online learning platform also includes tools to monetize your courses more efficiently. These include features such as:
Email marketing automation and integrations
Professional, branded messages
Course and content upsell abilities
Customizable checkout experiences
Marketing tools and membership-based products
With Kajabi, you can even take advantage of their built-in blogging tools. You can use this to market your courses, offer free information, or keep in touch with your customers.
Kajabi also includes a sales pipeline builder so you can create workflows. Whether you need to capture leads, launch products, or hype your attendance, this online learning platform makes it easy to rake in the cash.
Pros of Kajabi
All-in-one functionality bundles many tools into a single platform
iOS/Android mobile apps available
10 pre-designed themes make it easy to launch your first course
Inbuilt sales pipeline and marketing automation
24/7 customer support
Cons of Kajabi
No native certificate builders
No advanced testing options such as randomization or question banks
The starting price is high even after the 20% annual discount
Kajabi Pricing
Kajabi starts at $119 per month for one website, three products, and three pipelines. You can also create unlimited landing pages and emails for up to 1,000 members or 10,000 contacts. Higher tiers increase the number of contacts and sites you can use to build your student base, starting with the Growth plan for $159 per month.
Kartra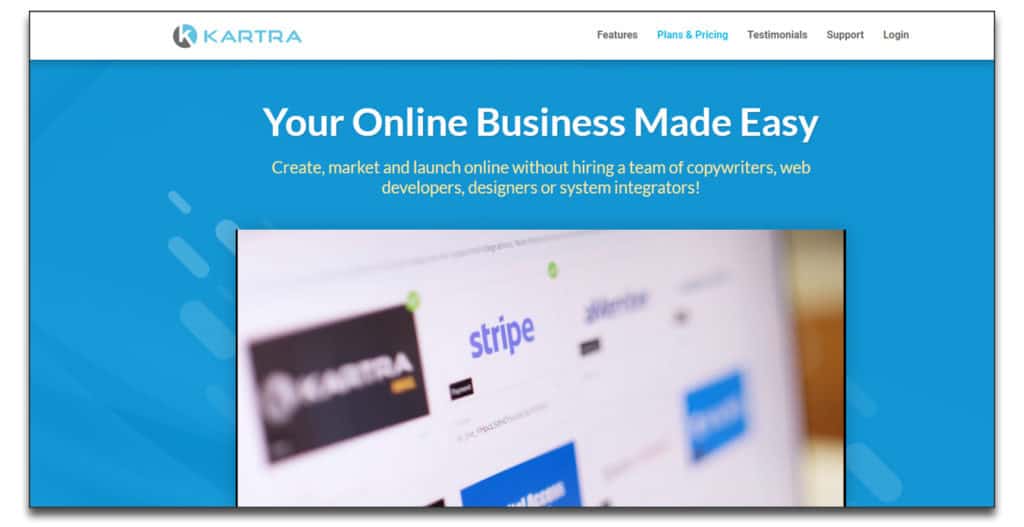 Kartra is one of the best online course platforms if you're looking for a feature-rich site you don't have to code. This site is great for those who want to branch out from courses and videos into the digital product space.
Kartra Main Features
Kartra is jam-packed full of features, such as membership abilities, sales funnels, and a calendar for booking and managing customer appointments. You should note that this site does not have advanced course creation or test options. Thus, it's best for those who need basic video hosting and lead capture tools.
But, Kartra does offer plenty of marketing muscle for your site. Their online platform is perfect for running a business with course creation on the side. For instance, you have access to:
Multi-dimension sales funnels
Marketing, sales, and landing pages
Email marketing abilities and integrations
Shopping cart options
Affiliate management
Membership site hosting at several pricing tiers
Users can also enjoy a comprehensive analytics dashboard. You can view your sent emails, video reviews, and all aspects of your sales funnels and page actions. This puts all your essential data in one location, so you don't have to hunt it down.
When it comes to email automation, you can select from a variety of templates and components. Whether you need content blocks, countdown timers, or even video thumbnails, Kartra offers all the above. The same is true for any landing or sales pages you need to market and sell your products.
Kartra Pros
Easy to add and edit sales funnels
Categorize emails and leads for efficient marketing
Pre-designed templates to serve every need
One-click upsells to monetize your site
Kartra Cons
Less a course creator and more a marketing and sales creator
Some of the "advanced" options are limited
Designs are not autosaved, so you have to save often
Karta Pricing
Kartra starts at $99 per month for a basic package with one custom domain. Or, enjoy their 14-day $1 trial period to test out their features.
Learndash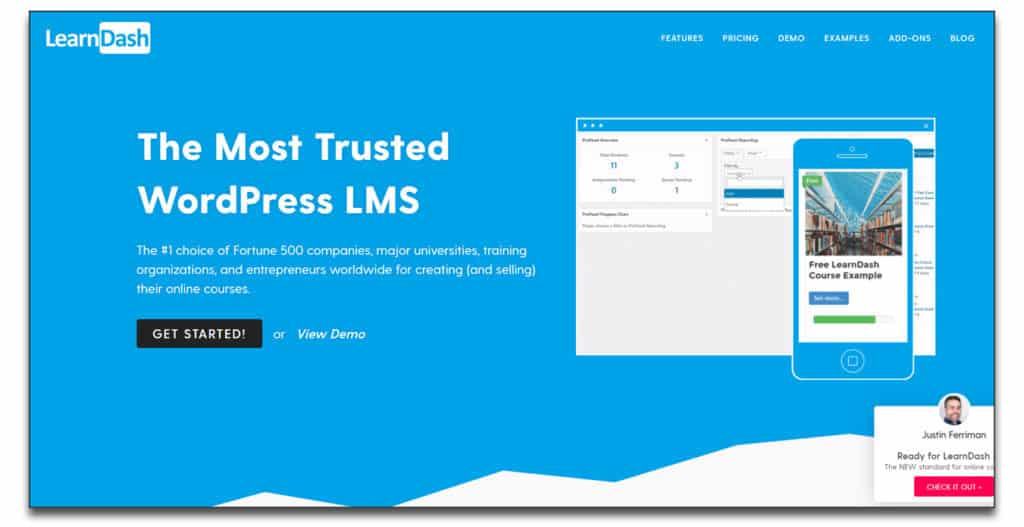 Learndash is one of the best online learning platforms for those who use WordPress. This learning management system is one of the most popular plugins for businesses, training centers, and universities alike.
Learndash Main Features
Learndash is an online course platform built for WordPress integration – and it's easy to see why it's so popular. The core plugin includes plenty of features to get educators excited, such as:
A drag-and-drop editor
A myriad of testing tools
Prerequisites and lesson lock abilities
Community forums
Email drip campaigns
Furthermore, Learndash offers a course builder that integrates with their email drip campaigns. Not only can you use their built-in tools to design a dynamic layout, but you can match your content with your email campaign, too.
This allows you to send lessons on time to the right students. With Learndash, anything you can do to automate the process lets you focus on your content.
Learndash also has a great Gradebook that allows students to look at their grades. At the same time, it also lets teachers create a weighted average to help their students.
Learndash also incorporates awards, badges, and certificates into their programs. And, for students who have a tough time getting into the material, Learndash offers "Focus Mode." This feature blocks distractions while students complete their coursework.
If these tools aren't enough, there are dozens of free and paid add-ons to extend your site's abilities, as well. As the new generations say, "There's an app for that!"
Learndash Pros
Easy payment with Stripe or Paypal, as well as other integrations
Drip campaigns make assigning lessons easy
WordPress functionality lets you add Learndash into an existing site
Learndash Cons
Too many options can make for a steep learning curve
Some features don't allow advanced options
Learndash Pricing
Learndash starts their pricing as low as $159 per year for a single license or $189 per year for 10 licenses. Each license comes with full functionality, although you may pay for premium plugins.
LearnWorlds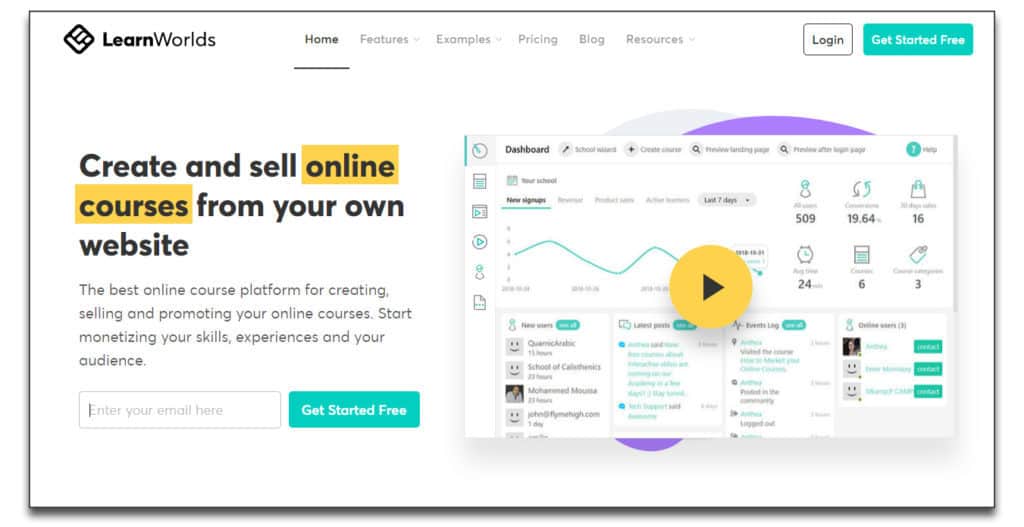 LearnWorlds is a good online learning platform if you want to connect with your students. This site lets you build a host of courses while engaging your students in discussions.
LearnWorlds Main Features
LearnWorlds offers a fantastic variety of easy-to-use tools in their online course platform. From page building to marketing, they have from-home educators covered. You can add several teachers, create lesson plans, and even make a course catalogue.
The multiple-teacher function is a bonus for places that want to teach many subjects on a single site. While every teacher can make their own plans, the lead site manager will control the settings.
LearnWorlds also offers apps for both Android and iOS. These apps can be used by both educators and students to further the learning process. You can even test that your uploaded files are functional on these apps before going live.
Speaking of files, this online learning platform lets you upload content from a multitude of sources. Options include Microsoft Office, YouTube, and SoundCloud to round out the educational experience. This also works to increase engagement between students and educators.
These are a taste of the features that LearnWorlds incorporates into their site. Other customizations include:
Note-taking, highlighters, and certificates for students
Custom domains and white labels for educators
Social media integrations
Membership site creation and integration
An analytical dashboard to optimize sales
LearnWorlds Pros
24/7 customer support
Interactive video players and e-book readers
Advanced testing options
Copyright protection
In-app branding app builders
Sales pages for specific courses
Native blogging tools
LearnWorlds Cons
Bulk uploading is not supported
Basic course reporting tools
No built-in themes
Clunky checkout process can reduce conversions
LearnWorlds Pricing
LearnWorlds' pricing is somewhat cheap compared to the competition. A basic package starts at $24 per month for a custom domain and unlimited paid courses. This does not include the $5 transaction fee per sale. However, if you upgrade to the $79 per month plan, the site will waive transaction fees.
To get a taste of what this online course platform has to offer, you can try their free 30-day trial today!
Podia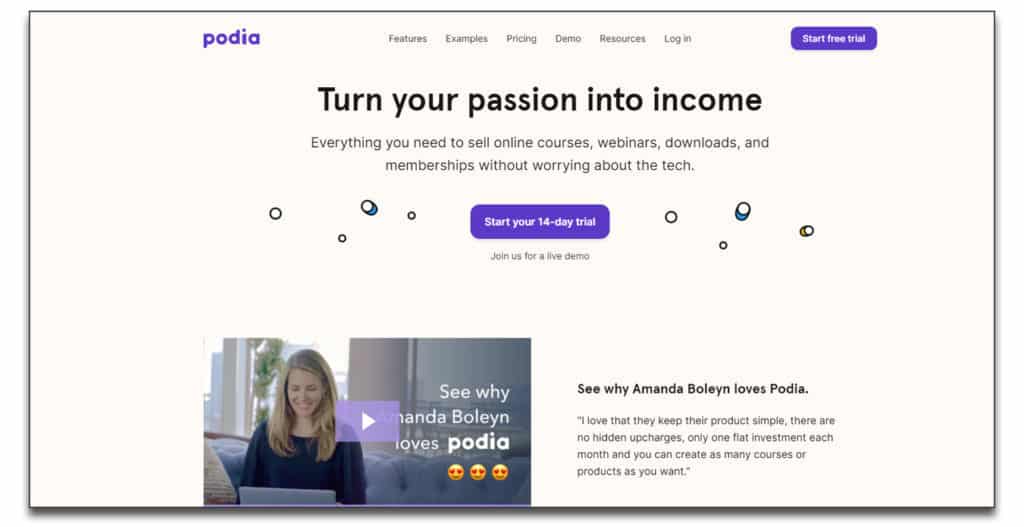 Podia is one of the best online learning platforms if you do a lot of business through digital downloads and webinars. This website offers an all-in-one solution to get your course up and running in no time flat.
Podia Main Features
This online course platform, previously known as Coach, comes packed with all the features you'll need to get your courses ready to go. Their three-step process and lack of fees make Podia an easy, attractive option. (Note that there is a transaction fee of 2.9% + 30 cents via their payment processors).
Website creation is easy, and you can even include sales pages to boost your conversions. As far as building your online courses goes, this platform includes multimedia options. It can handle videos, text, and audio, plus downloadable content.
When you're ready to sell your course, you have plenty of options to choose from, such as:
Pre-launch course abilities
Drip course options
Membership opportunities to bundle products and tiered plans to the appropriate students
Live or on-demand webinars for your customers
Podia also allows you to create an affiliate program within the site. This option bundles your affiliates, analytics, and payments into a single program.
Podia Pros
Easy to use with a modern design
Can embed Podia checkout on any site
Full membership functionality
Affiliate program built within the platform
Podia Cons
No cloud import and limited flexibility
Graded quizzes, certificates, and course compliance are not supported
No mobile apps
You can't build your own website for your courses
No sales funnels or landing pages
Podia Pricing
As far as pricing is concerned, you can get started with a free 14-day trial of Podia's online course platform. Or, if you're ready to dive in, you can check out their Mover plan at $39 per month or the Shaker plan at $79 per month.
Ruzuku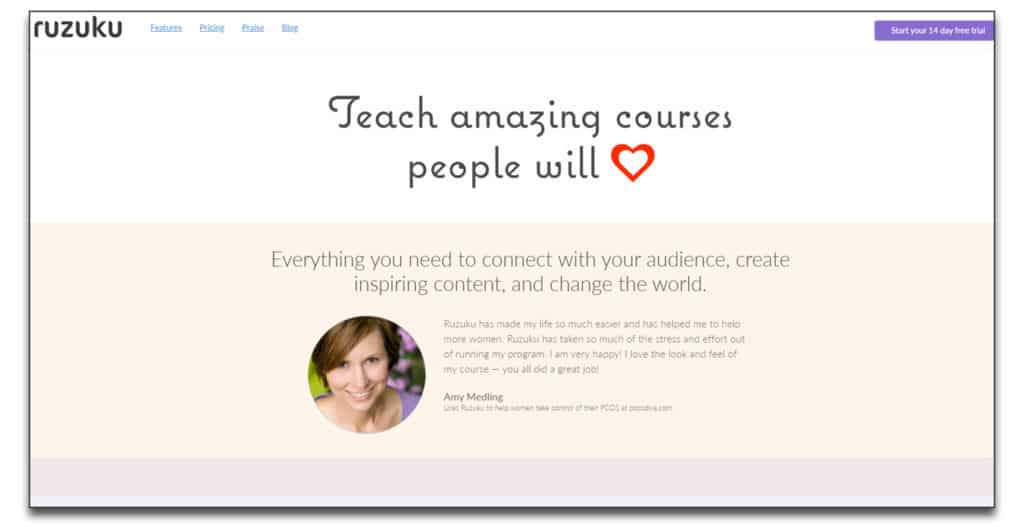 Ruzuku is an excellent online learning platform if you're in the market for something easy. In fact, they even call themselves "the ridiculously easy course creator."
Ruzuku Main Features
Ruzuku's online platform lets even the greenest of beginners build a learning course. You can create step-by-step plans, edit and reorder your courses, and put together an outline in an hour. This site's goal is to get you up and generating sales as fast as possible.
Not only that, but when you buy into Ruzuku, you're joining a team of teaching experts. This online learning platformhas several renowned teaching boards where you can share ideas and get help with your courses.
To help you get started, Ruzuku offers dozens of integrations with automation tools and payment gateways. As an added bonus, they don't charge transaction fees regardless of if you prefer PayPal or Stripe!
There are many other features as well, such as:
Unlimited courses and students on paid plans
Multimedia file uploads
Achievement tracking
Daily backups and support options via live chat, email, and social media
Ruzuku also includes the ability to create both live and evergreen webinar courses. By bundling this content with your email automation, you can build drip campaigns to teach your students at their pace, rather than yours.
Ruzuku Pros
0 transaction fees
Multiple price points for every course
Audio, video, and text supported
Plenty of student features to keep them engaged
Ruzuku Cons
Payment options limited to Stripe and PayPal
Not the cheapest option out there (though not the most expensive)
Somewhat basic tools for experienced instructors
Little direct contract between students and instructors
Cheapest option does not include webinars, polls, or quizzes
Ruzuku Pricing
Plans range from $74.75 to $125 per month, depending on which features and how many instructors you need. Or, take advantage of this online learning platform's free 14-day trial.
Teachable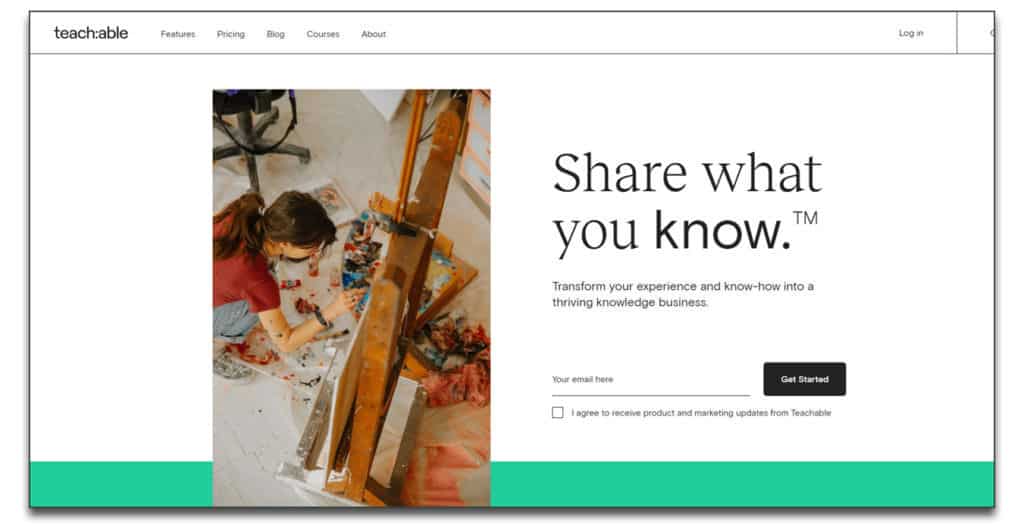 Teachable is one of the best online course platforms if you need a host of features at a low price. This cloud-hosted site is great for beginners and those with some experience who aren't ready to scale up.
Teachable Main Features
Teachable makes it easy to customize your platform for yourself and your students. You can edit your course, upload content, and engage with students in the same location. Like Thinkific, Teachable focuses on providing the core features. This means they cut out a lot of the froufrou of more expensive platforms.
This does mean that Teachable's site building tools are somewhat limited. For instance, you can't alternate themes, and customizing your site is pretty basic. But the teaching tools are robust, as we'll explore below.
For instance, course delivery options from Teachable are vast, and include the ability to:
Drip your courses
Create certificates in-house
Add several types of content
Manage course compliance
Offer "Coaching" to individuals or groups
You can also market your site with a host of professional marketing tools. Options range from landing payments and coupons to email marketing and affiliate programs. Furthermore, their analytical dashboard offers tons of data.
Teachable Pros
Statistically the largest online learning platform
Powerful analytical tools
Excellent marketing options
Solid content delivery systems
Take payment in 130 currencies
Offers a custom domain
Teachable Cons
Limited site building features
No built-in community support forums
No advanced testing options
Limited integration options
Pricing tiers cut features on cheaper plans
Teachable Pricing
Teachable's pricing ranges from $29 to $249 per month. Their "Basic" plan offers features such as a custom domain, drip course content, and marketing tools. But it comes at a cost: specifically, 5% of every transaction. You can also explore this online course platform via their free trial if you're not ready to make a commitment.
Teachery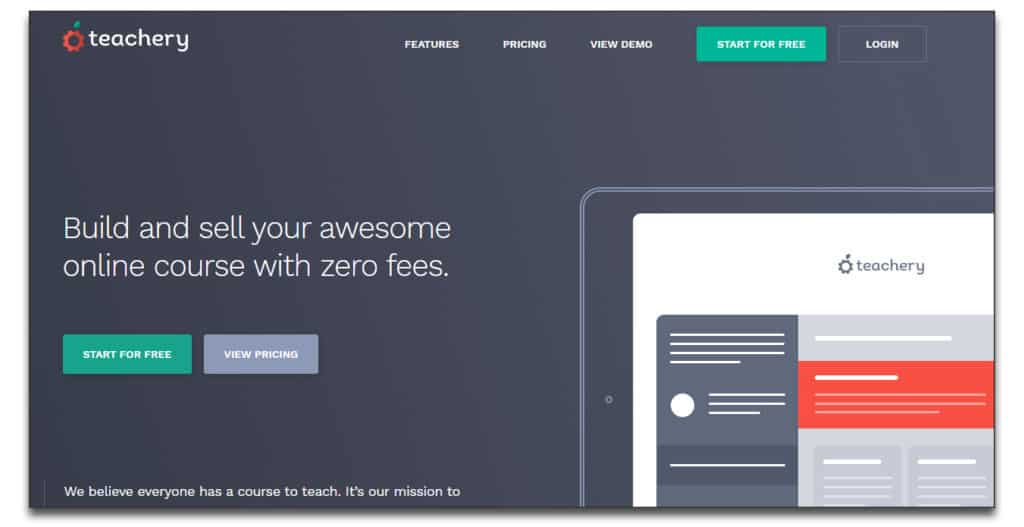 Teachery is one of the best online learning platforms if you're in need of the basic features at a low price. If you desire no transaction fees or impending thoughts of "I'll have to upgrade soon," Teachery is for you.
Teachery Main Features
Teachery is another site that cuts out the excessive optimizations in favor of the learning process. While their UI is a bit basic, it offers everything you need for a decluttered teaching experience.
The first thing Teachery does when you sign up is walk you through every step of course creation. This makes them not only easy to navigate, but good for novice teachers nervous to get their foot in the door.
Once you're ready to get started, you can take advantage of their full – but simple – features, such as:
Simple templates to create a professional-looking site
Easy-to-use course creation tools
Unlimited file uploads for your courses
Payment and membership creation options for students
Marketing tools such as sales and landing pages
Furthermore, Teachery offers some features that even larger competitors such as Teachable do not. For instance, you can create and publish courses for several sites or businesses on one plan. And, you can design each site to your preferences without having to know coding languages.
Not only that, but this may be the only teaching site where the co-founder is the one answering your support tickets. So, if you have a question, you have a chance to get information directly from the source.
Teachery Pros
No added or transactional fees
Unlimited file uploads and courses
Built for simplicity
Solid third-party integrations
Great for beginners
Teachery Cons
Limited customization for themes and layout
No video hosting (though you can embed videos)
No quizzes or discussion forums
You can't remove Teachery's logo
Teachery Pricing
Pricing starts at $49 per month for full features or $470 per year for the same features.
Yep, that's it. They only offer two plans, both of which offer full features.
If you're not sure whether this site is worth the money, though, you can get started with their 2-week free trial first.
Zippy Courses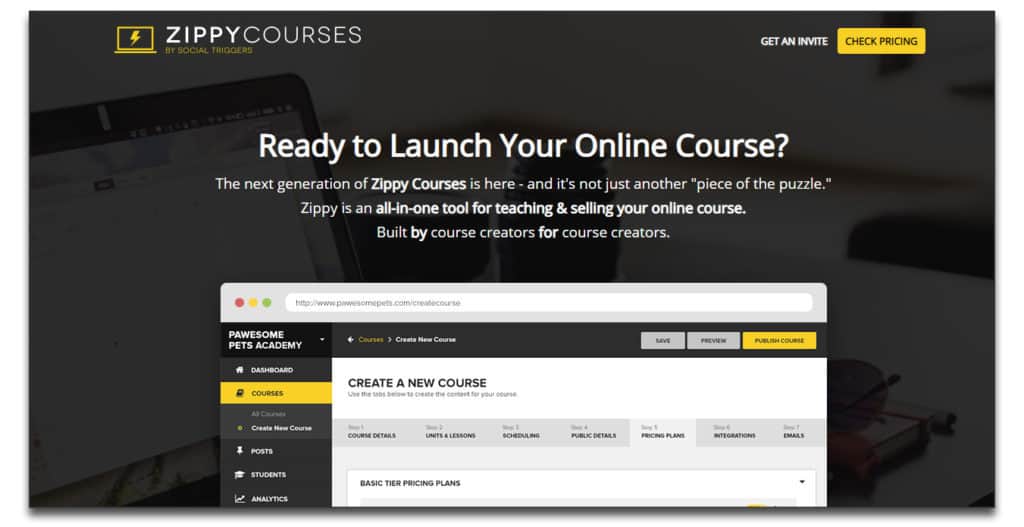 Zippy is one of the best online course platforms for instructors who want an easy-to-use site. This complete set of tools started as a WordPress plugin and soon moved to its own site.
ZippyCourse Main Features
Zippy Courses lives up to its name in that it's fast and simple to get started. This site was designed by digital teachers to make it easy for course creators to launch content. As such, it bridges the gap between course creation and marketing.
Zippy Courses lets you simplify the course building process while branding your content. You can build sales pages, customize your material, and enjoy fine-tuned marketing. Their drag-and-drop editor and simple-yet-professional starting themes makes all these tasks effortless. Or, if you want to create your own theme using HTML and CSS, you can do that, too.
Once you have your content customized, you can get started dripping your courses. Whether you want to use evergreen material for all students or compartmentalize your content into tiers based on payment plans, Zippy Courses makes it easy to design your program.
And, when you're ready to assess your students, you have access to advanced testing tools. The complexity of their quizzes lets you get a better picture of how your students are faring.
On the whole, their UI is sleek and simple, with an intuitive dashboard the lets you navigate the platform with ease. Solid choice for an online course platform.
ZippyCourses Pros
Professional appearance on both front and backend
Several payment options
Excellent customer support
ZippyCourses Cons
One of the more expensive options on this list
No discussion or advanced online communication options
Limited tracking options
No conferencing or webinar software
ZippyCourses Pricing
Zippy Courses starts at $199 per year and ranges up to $299 annually. You also get a 30-day moneyback guarantee, with no transaction fees for marketing and selling your course.
Best Online Learning Platforms
In this section are great online learning platforms choices. You can of course use them as an online course platform to create the course too!
Coursera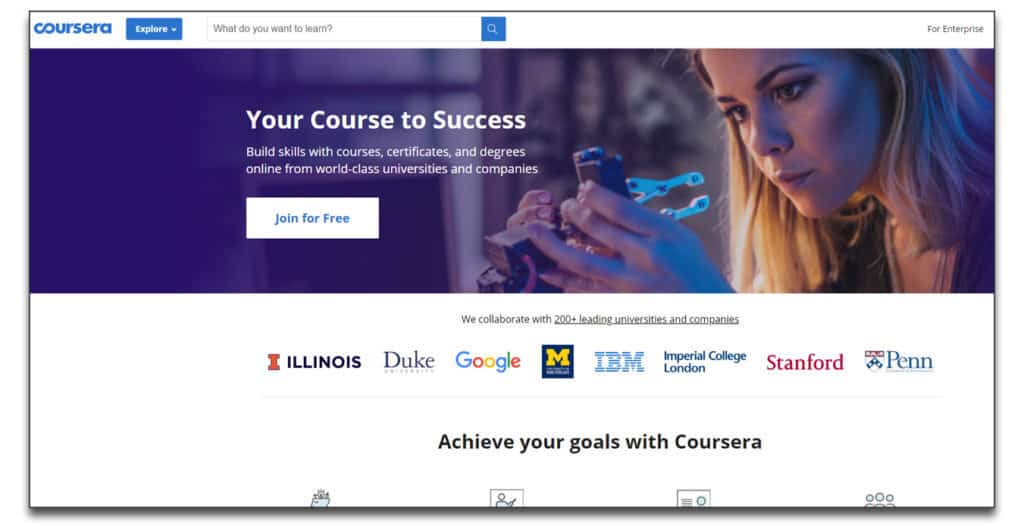 Coursera is an online course platform that focuses on providing higher education. As such, this online learning platform is best for instructors in high-demand fields.
Coursera Main Features
Coursera is one of a few online learning platforms that is free to join. Instructors offer one of three types of courses on the site:
Main courses take 4-6 weeks to complete and cost under $100 per month for basic coursework
Specialized courses help students master a specific skill over longer periods of time for up to $80 per month
Online degree programs partner with universities for advanced degrees. These take up to 3 years to complete and cost up to $25,000
Like its competitors, this course platform operates online and offers an impressive range of courses. Unlike these other sites, though, Coursera offers real-life rewards and certificates to students. Whether the course you offer is free or carries a hefty price tag, your students will walk away with skills they can use.
Due to the advanced nature of this site, Coursera is best for those who want to sell real skills to their students. Niches such as IT, AI, tech engineering, and other in-demand jobs sell well on Coursera.
Also as a result of the nature of their business, Coursera offers some advanced learning tools.
For instance, besides robust behavior tracking tools, they also use AI to match students to the best instructors. On the teaching side of things, they use cloud management systems to let you upload, organize, and share your content.
Coursera Pros
Instructors teach at prestigious universities such as Duke and Stanford
Courses can range from 4 weeks to 3 years
Active community discussion forums
Several integrations with third-party tools
Real-life awards and certificates
Coursera Cons
Best for qualified, experienced instructors
Competition can be intense
Courses require more work to maintain
Coursera Pricing
Coursera is free to join and browse, and you have to have an account to view personalized pricing options. To get started as an instructor, apply through the Coursera website today!
LinkedIn Learning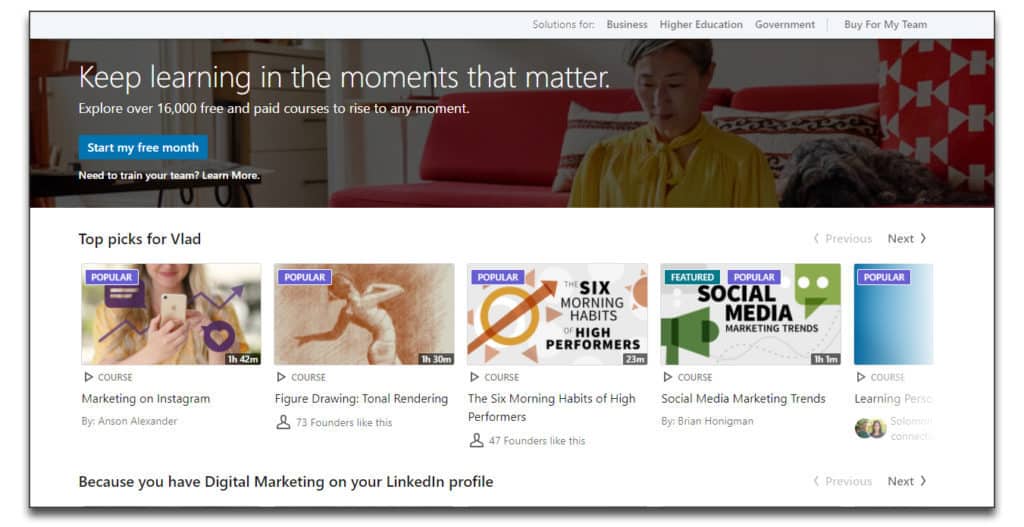 LinkedIn Learning, formerly known as Lynda, is an online course platform for professionals. For those who want to teach others modern skills, LinkedIn Learning is a great place to start.
LinkedIn Learning Main Features
LinkedIn Learning focuses on offering topics that keep business professionals in business. Topics such as web development, marketing, and management courses sell well.
This site offers a wide variety of easy-to-use features to get instructors started. For instance, you can upload videos, collaborate with other professionals, and market your courses through LinkedIn. Furthermore, you can customize LinkedIn's templates for a unique feel.
One of the pros and cons of this site is that they only accept high-quality videos. While this is great for students and professionals, educators who don't have access to great equipment will have to find workarounds.
But it all comes together to create an excellent experience for the students. And, at the end of the day, the students should be an instructor's main concern.
Another note about LinkedIn Learning is that it focuses on immersive social learning. While you're responsible for providing content, there's also a host of community forums for your students to network and communicate with like-minded professionals.
LinkedinLearning Pros
Add certifications to your LinkedIn profile
Ready-made student base through LinkedIn's site
Instructors are held to a high standard
Offered in 7 languages
Plenty of templates to customize
LinkedinLearning Cons
Specialized for business professionals and related skills
Not ideal for beginners or those with poor equipment
Editing learning paths is not a simple process
Instructors do not have to provide individual help
LinkedIn Learning Pricing
LinkedIn Learning's monthly fees are tied to their premium membership. To become an online instructor, you have to apply via the learning platform. If your application matches LinkedIn Learning's needs, the site will contact you to discuss developing your course with them.
OpenSesame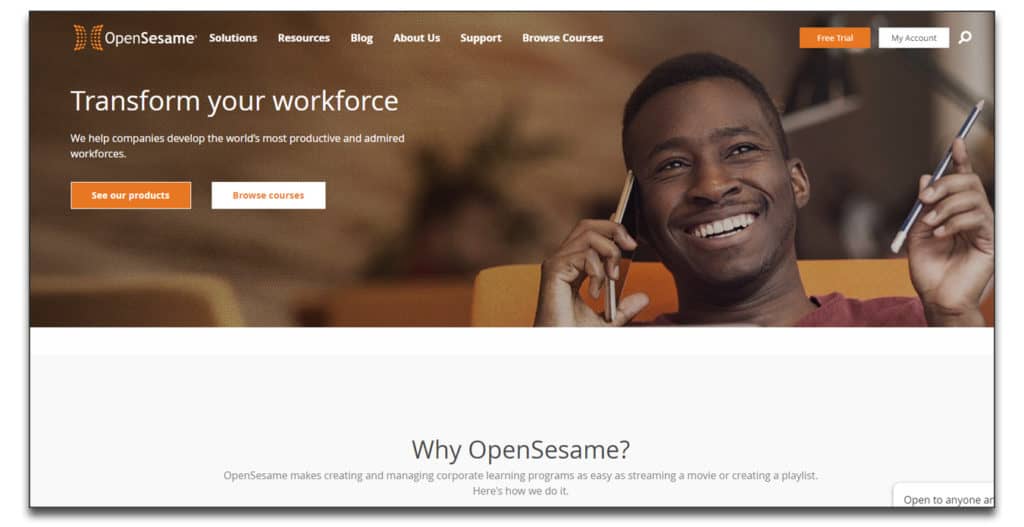 OpenSesame is an online training platform for large businesses. As a corporate learning program and facilitator, they aim to help train employees for enterprise-sized organizations.
OpenSesame Main Features
OpenSesame's cloud-based learning management system is one of the best in the business. To get started, all you have to do is create a profile and upload your content. After your subjects are approved, the site will list them for sale.
One of the best perks of this site is that once your courses go live, any companies on the site can view your course. This has the potential to get your content noticed by large organizations. In some cases, they may be willing to pay for hundreds or even thousands of licenses for your course.
Furthermore, because these listings cross different learning management systems, this can boost your numbers even more.
Unfortunately, while this process sounds easy, OpenSesame is best suited for true experts. If you are an expert in your field or manage a training firm, you are one of the best candidates to get approved.
This also means that smaller, less polished educators may not receive approval to sell through this online training platform.
On the other hand, because this site holds such high standards, they have a team of curation assistants. If you need help putting together your course, you can contact OpenSesame for live, personalized help.
OpenSesame Pros
Supports multilingual capabilities
Customers have access to a dedicated customer success manager
Customer support is available via phone, email, and live chat
Several LMS integrations to make your content widely available
OpenSesame Cons
Best for training firms and experts
Courses are subject to OpenSesame's approval process
OpenSesame Pricing
OpenSesame is free to upload content and browse. However, when you start raking in the dough, OpenSesame charges a 50% commission on all sales.
Skillshare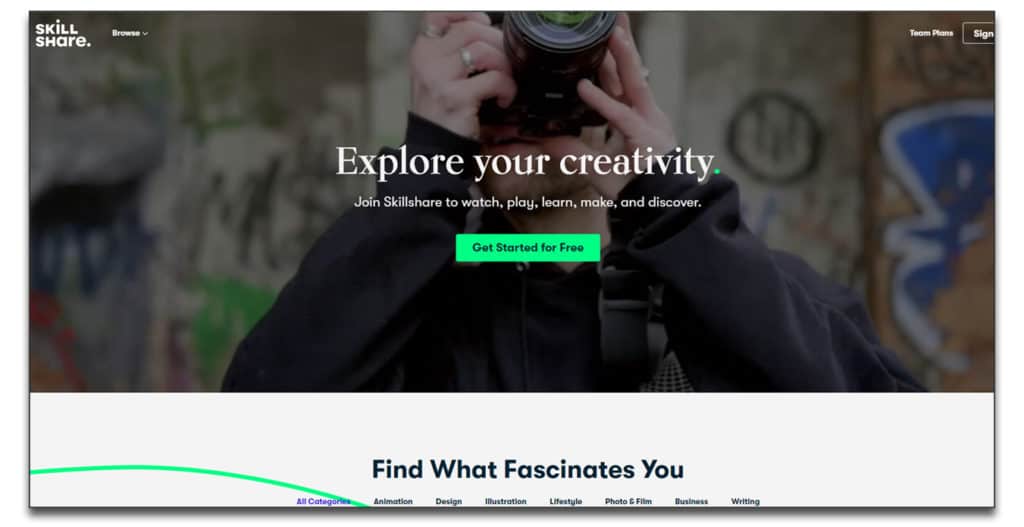 Skillshare is a great online course platform for beginners who want to get started now. With this online learning platform, you have access to everything you need to start making and publishing your creative courses.
Skillshare Main Features
You may be most familiar with Skillshare as a place where you can go to share practical knowledge. Bakers, musicians, and graphic designers have all found great success on the site. But traditional courses such as math, science, and English can do well on this site, as well.
Like Udemy, Skillshare imposes a few restrictions on your courses. For instance, your classes should range from 10-60 minutes. They should also include shorter plans, projects, or assessments.
Skillshare also offers an open discussion forum, which is especially beneficial for creative topics.
As a bonus to those in premium plans, Skillshare will help you with course planning and production. They even have a studio in New York dedicated to helping online course creators.
However, Skillshare has a major downside compared to other online learning platforms. In order to see any revenue from your course, you must enroll at least 25 students. Furthermore, once you cross this threshold, you only earn $1-$2 per enrollee, per course.
But once your join their Partner Program, you can earn up to $10 per new Premium member through your Teacher Referral link.
Skillshare Pros
Active engagement platform design encourages student success
Mobile apps allow students to learn on the go
Access to a built-in audience
Provides decent passive income
Skillshare Cons
Royalties are limited to premium members
Moneymaking potential is low for non-premium members
Best for creators who focus on video production
Customer support is limited to email tickets
Skillshare Pricing
Skillshare starts at $10 per month for their Pro plan. Right now, you can sign up for a Skillshare Premium account and get two months free!
Treehouse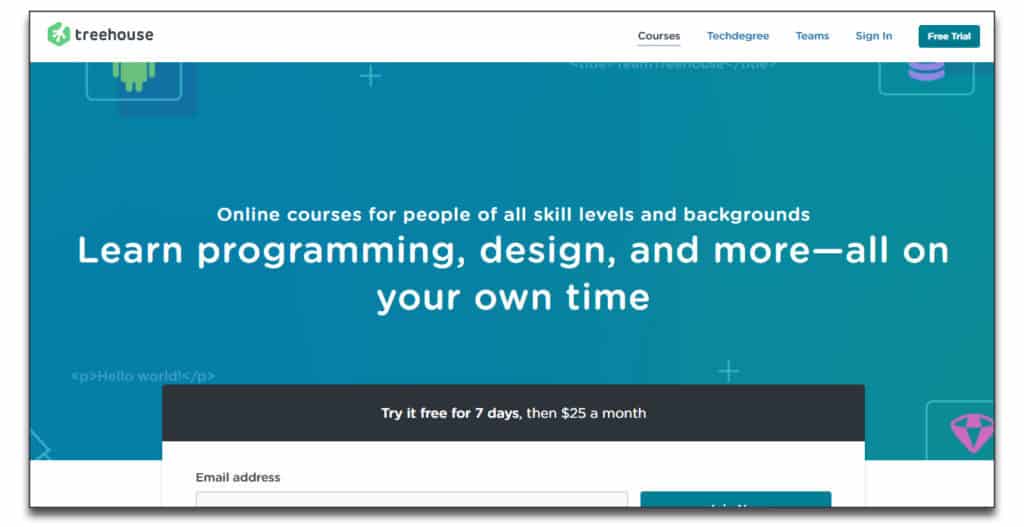 Treehouse is a newer online course platform that aims to provide a solid education to all. They partner with major players in the tech industry to help deliver your content. Affiliates range from Microsoft to Amazon and even Google.
Treehouse Main Features
Treehouse caters primarily to students who want to learn web design and development. This makes it a great platform for teachers who want to share their love of coding and graphic design.
But because Treehouse is a bit of a niche site, it's not ideal for, say, archaeology or cooking instructors. While these courses are allowed on the site, they may not generate the same returns as on other sites.
Furthermore, due to the technical nature of the site, it's best for instructors who have a vast knowledge of the subject.
For those with the skills to do well on this site, Treehouse offers a robust platform. For instance, you can design learning tracks to keep students on track in your course. Your teaching options range from visual to text presentation. There are even gamification abilities for learning and testing purposes.
Furthermore, you have access to a robust analytical dashboard to track student progress. And, when students have completed the necessary modules, you can hand out badges to mark progress.
Treehouse Pros
Massive student pool
Dedicated iOS and Android mobile apps
Perfect for coding and web development instructures
Full analytical dashboard
Gamification functions
Treehouse Cons
Geared primarily toward the tech industry
Best if you're familiar with coding
Somewhat technical to learn and operate
Treehouse Pricing
Treehouse's pricing starts at $25 per month for a basic plan and ranges up to $199 per month. This online learning platform also includes a free seven-day trial.
To become an instructor, get started by submitting a teaching request on their website.
Udemy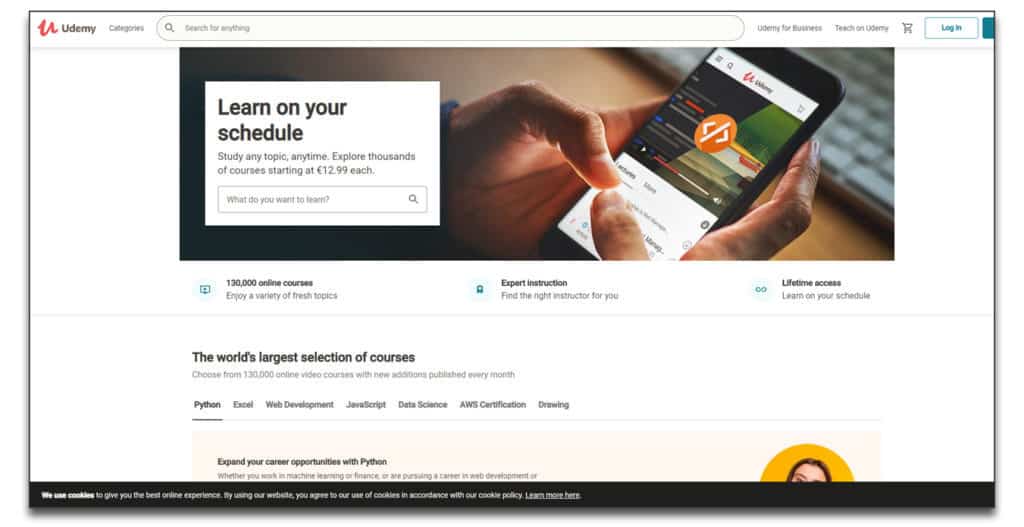 Udemy is one of the best and most well-known online course platforms out there. They serve a variety of needs and provide access to an enormous student marketplace.
Udemy Main Features
Udemy is a huge marketplace with over 80,000 courses on offer at any given time. To get started on this platform, you first have to sign up as a premium instructor. Once the site approves your application, you can put together your first course.
Unlike many other online learning platforms, Udemy imposes certain limits on content. For instance, videos must be at least 30 minutes long. Furthermore, your courses must include at least five lectures apiece.
While these guidelines aren't impossible to work around, they do limit those who prefer text-based courses. But you can still upload PDF and text-based content for your students, as well.
Once your course is ready to publish, you can take advantage of their onsite marketing tools. For instance, you can opt-in to discounts, join the affiliate program, or request a spot in their marketing emails. When students are ready to pay, you can allow any type of credit card, which broadens payment options.
Udemy Pros
Access to an enormous user base
Reliable technology
Free 24/7 support
Udemy Cons
No guarantee of sales
High fees on organic searches and paid marketing
You're responsible for getting your name out (or paying for it)
Intense competition
Lenient return policies for students, which can decrease your sales
Udemy Pricing
Udemy is free to sign up, but they charge a variety of fees, such as:
3% of your revenue through instructor coupons
50% of your revenue from organic searches (SEO)
75% of your revenue from paid search marketing
While this tiered pricing model works well for some, forking over ¾ of your earnings before taxes is a lot to ask. Thus, it's important to ask yourself how you plan to market your courses before you get started with Udemy.
Learning Management Systems
These learning management systems provide even more complexity in terms of their features and what they can do for you.
Academy of Mine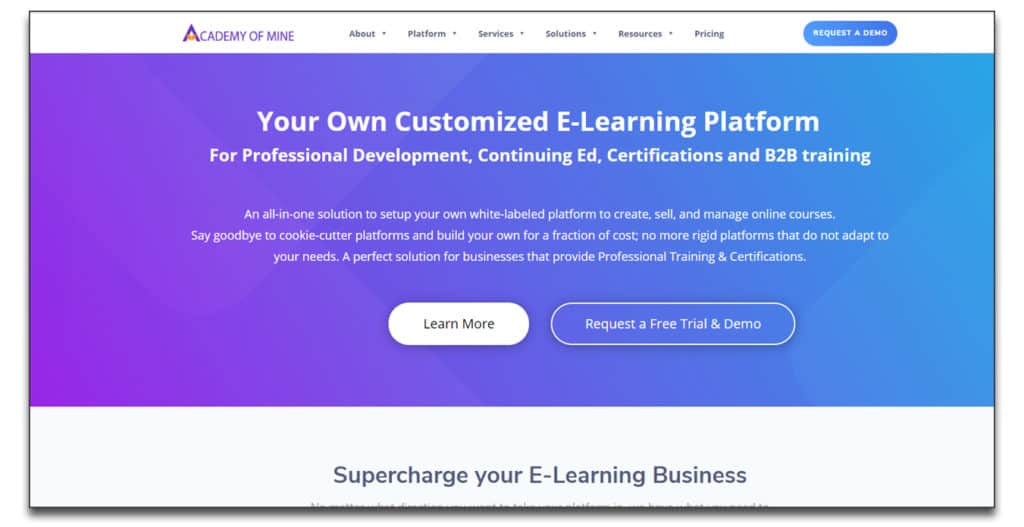 Academy of Mine is one of the learning management platforms for Enterprise users. If you have dozens of students to teach at once, this online course platform is built to suit your needs.
Academy of Mine Main Features
Academy of Mine is high-end learning management system built for success. This service is unique in that they offer free development hours with any plan. During this time, they will help you set up and launch your course. They'll even build you a full website to host and sell your learning aids.
This online learning platform is all about personalization. Whether you're a healthcare company needing to continue employee education or an insurance company that needs to update users on legal code, Academy of Mine has a plan to suit your needs.
For instance, this platform offers a full gamut of features, such as:
Learning management software
Gradebook and organization tools
Discussion forums
Certificate support
Gamification abilities
Full assignment and testing abilities
In fact, Academy of Mine will even help you set up customized integrations and sell your course. While some of this is hands-on, the rest you can do on your own with their built-in marketing tools and full analytics dashboard.
Academy of Mine Pros
100% hosted
PayPal and credit card payments accepted
Email marketing included
Live webinars included
Sell video, audio, and text in the same course
Academy of Mine Cons
One of the more expensive course creators on this list
Overkill for the average user
Not all features come at every price
Academy of Mine Pricing
Pricing starts at $9,997 per year. Note that at higher price points, you can unlock some new conversion features. For instance, you can sell subscriptions and even share revenue with other teachers.
To get started with this online course platform today, check out their 30-day free trial.
iSpring Learn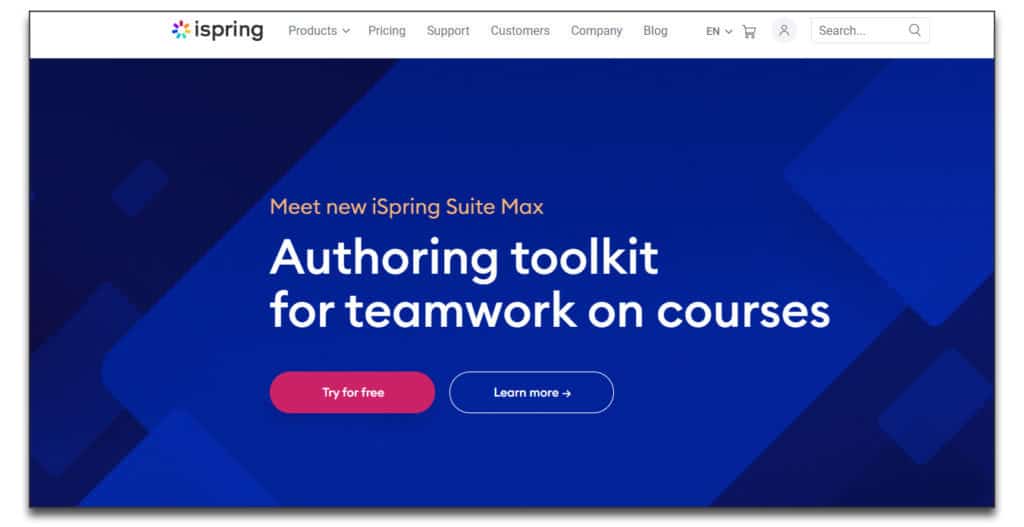 iSpring Learn is a learning management system that helps you onboard or provide continual training in your company. With their wide variety of learning resources, you can train anywhere – even offline.
iSpring Main Features
iSpring Learn is a powerful online training platform best for Enterprise-sized companies. Their range of user features makes it easy to adjust your courses for specific jobs and lesson plans. Plus, their analytical dashboard lets you keep track of employee performance.
You can even set goals for the company and track your progress company-wide!
One of the best features about this learning management system is its accessibility. For instance, iSpring Learn offers native iOS and Android apps. These let your users complete modules and check their progress from anywhere.
Furthermore, users who download these apps can even access their courses offline!
Training comes in several formats, such as webinars, documentation, and teleconferencing. You can also activate their gamification features to make your courses interactive and engaging.
This blended learning format lets you adjust your courses for your exact content. Learn also include built-in course authoring for prime customization.
Once your employees have gone through their content, you assign tests to check their progress. For those who pass their courses, you can handle certification management in-house.
And, if you need help setting up any of these features, you can contact their 24/7 live or online support. You can also contact iSpring Learn for a free 15-minute consultation before getting started.
iSpring Learn Pros
Easy to use
Learning Path lets users combine lessons into chapters
Can set user permissions and course rules
Integration with major software to combine learning tools
iSpring Learn Cons
No alerts for users who aren't logged in
No sharing desktop/chat feature
Limited advanced functionality
Minimal customization for the user portal
iSpring Pricing
Prices start at $366 per month for up to 100 active users or $1,410 per month for 500 users. If you need more than either of these plans offers, you can request a customized package.
ProProfs Training Maker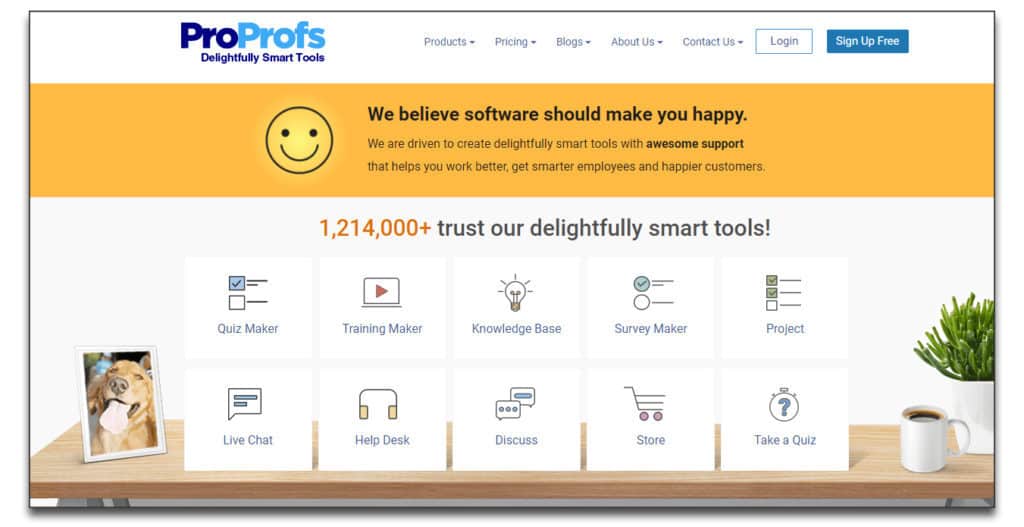 ProProfs Training Maker – ProProfs for short – is an online training platform that helps businesses train their employees. This software can handle 20,000 learners at a time, which makes it great for larger enterprises.
ProProfs Training Maker Main Features
As an enormous learning management system, ProProfs has one of the most comprehensive platforms on the market. While ProProfs markets this system for employees, you can use it to serve clients, too.
Furthermore, as this software is cloud-based, you can use it on almost any system. Not to mention, their system is mobile-friendly for instructors and users alike.
When you're ready to start building your courses, you can take advantage of their various tools, such as:
An easy-to-use course builder
Learning and discussion communities onsite
Video hosting capabilities
Advanced tracking and reporting tools
Additionally, you'll have access to other ProProfs software solutions. These include apps such as Quiz Maker, Knowledge Base, and Survey Maker. They even come integrated into the system so you can optimize all your courses.
Another cool feature about this learning management system is that your account comes with a library of ready-made courses. These cover several topics, such as Workplace Training, HR, and Compliance.
These cover select topics, such as various Workplace Training courses, as well as HR and Compliance modules. Furthermore, all these courses are editable, so you can change them to include your data.
ProProfs Training Maker Pros
Good security controls
Automatic grading
Customized branding options
Excellent analytical dashboard
ProProfs Training Maker Cons
The best features are locked at higher pricing plans
Some features have limited customizations and branding
Limited integration options
ProProfs Training Maker Pricing
As far as pricing is concerned, this learning management software has a free plan with the basics for 10 learners. Or if you're ready to upgrade to a paid plan, they're currently priced at $1 or $2 per month when paid annually in light of the COVID-19 pandemic.
TalentLMS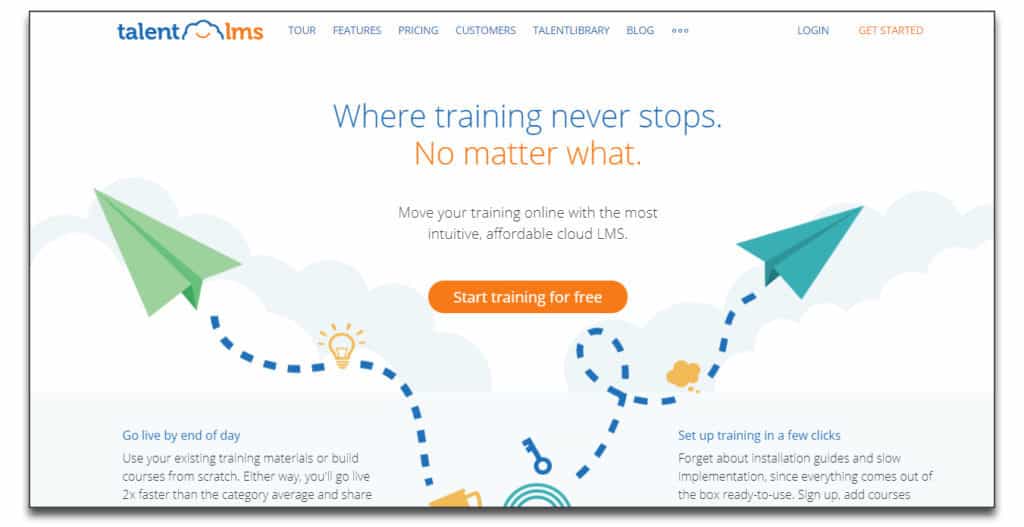 TalentLMS is one of the best learning management systems for small to midsize companies. This cloud-based site caters to businesses of all stripes through their customizable options, from tech to retail.
TalentLMS Main Features
TalentLMS is a platform that allows you to train employees, clients, and customers. They include multilanguage options so you can teach across language lines. Furthermore, their mobile-responsive software lets to use the platform wherever you are.
If you're looking to white label your content, you can take advantage of your own domain and branded theme. You can even upload a logo to your custom design and content type.
One of the most unique features about TalentLMS is that you can create both courses and branches. This lets you further diversify the content in your program. But this feature can be a little complex to use – so be sure to take advantage of their customer support.
TalentLMS also integrates with sites such as Salesforce, Zoom, and Shopify, so you can adjust to your needs. If you're looking to monetize your site, you can add Stripe or PayPal to take payments.
Furthermore, this online training platform offers a full analytical dashboard. Using this data, you can fine-tune your content to best suit the learning styles of your students. Additionally, you can use their marketing tools to capitalize on your courses.
TalentLMS Pros
Cloud-based servers store data
Flexible editing
Blended learning and assessment tools
Comprehensive analytics dashboard
Gamification options
TalentLMS Cons
Live Chat isn't available with cheaper plans
Gradebook isn't integrated
Limited testing options
Advanced tools can be confusing to learn
TalentLMS Pricing
This learning management system offers a free plan with 5 users and 10 courses. If you need more features and users, though, their started plan offers a more robust system at $59 per month when billed annually.
This concludes our review, for now, I will be adding some more ideas later to give you even more information on online course platforms and learning systems.
If you are interested – have a look at a guide on email marketing services, in-depth guide on web hosting, or a review of landing page builders!