Vimeo Livestream, now part of Vimeo, is one of the best platforms for corporations and large events. Whether you need enhanced security, an end-all solution from hardware to software, or a range of access devices, Livestream has it all.
In fact, the company's portfolio is so impressive they've partnered with giants in other fields. Their professional contacts include Nikon, Sony, LinkedIn, and Toyota, to name a few.
The company has grown over the years from a consumer option to an Enterprise offering. Their acquisition of Livestream has helped them expand operations even further.
Livestream offers plans to service a wide variety of needs, from corporate meetings to government town halls. They even have subscriptions geared toward houses of worship.
No matter your industry, profession, or audience, Livestream can help you connect. And, just as important, they can help you keep tabs on your performance.
In this Livestream review, we'll touch on the features that make the platform great, as well as pricing, customer support, and more.
If interested you may want to also check my guide 23+ bst webianr software services.
Table of Contents
Vimeo Livestream Main Features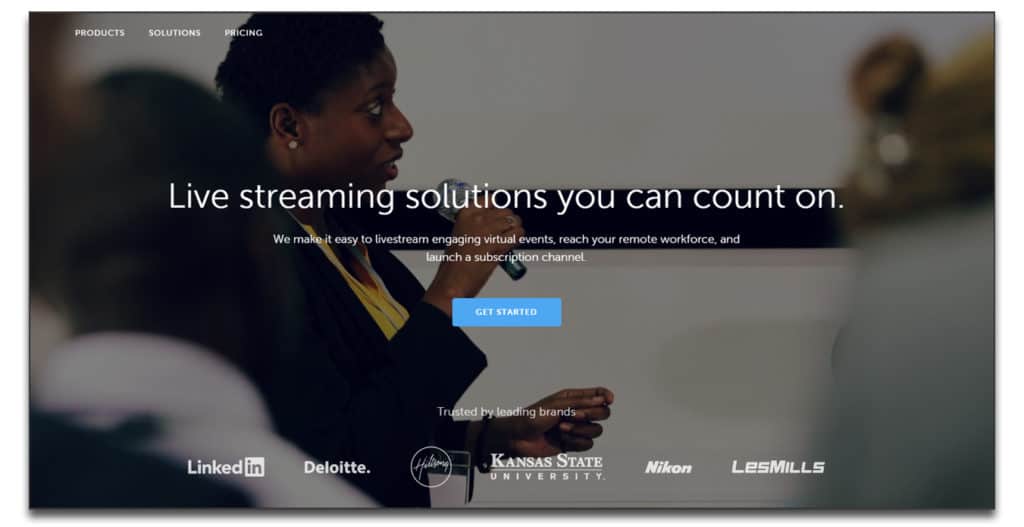 Livestream's interactive, versatile platform is jam-packed with features from start to finish.
For starters, you can enjoy full 1080 HD live streaming to every viewer. All plans come with "Unlimited live events" so you can reach your full potential at any price point.
Not to mention, with Livestream, every broadcast is ad-free. This means no interruptions and no cheap-looking branding from your livestream host site.
And, with their flawless adaptive streaming, you can adjust your broadcasts. This ensures you deliver the clearest possible picture at all times.
Plus, their eCDN allows corporate users to enjoy seamless viewing while reducing network stress.
Once your events are over, you can use Livestream's auto-archive feature to store content in their video management system. This central hub gives you full control of your livestreams and on-demand content.
You can also take advantage of this system to monetize your brand. For instance, you can charge a fee for users to view your catalogue of prior videos. Or, you can charge a premium for pay-per-view live services.
Alternatively, you can monetize with Google DFP ads, instead.
Or, for customers who want to go all-in, you can build a paid channel with Livestream's OTT service.
All this comes on Livestream's ultra-secure platform. They offer enhanced security measures for your safety, such as:
Private live streaming
Password protection
Player embed restrictions
Higher payment tiers also come with more comprehensive measures. These include single sign-on authentication, geo blocking, and IP restrictions.
Plus, all your viewer and engagement data is available in your dashboards. Though the analytics are basic, they include everything you need to gauge how you're doing.
Presentation and Audience Interaction
Livestream's presenter and moderation tools are also comprehensive.
For starters, their embeddable video players are also fully customizable. Their brand control options let you incorporate logos, change the colors and design, and include thumbnails. You can even address nitpicky details such as adjusting the playbar and speed.
This feature is especially useful for corporate users who want to keep branding consistent across teams.
Plus, since their players are embeddable, you have your choice of hosting options. Livestream does allow you to host on their platform, but you can also choose to post content to your own website. Or, as we reviewed above, Livestream also lets you host events on your social media.
And that's just the start.
When it comes to running your broadcast, you have access to a wide range of audience interaction tools, too. These include live polls, audience chat, and Q&A features.
You can also choose to direct many camera feeds at once or split screens, depending on your needs.
And, their graphical overlay options let you include items such as:
Video transitions
Onscreen logos
Moderated live polls
Green screen effects
Except for the more technical tools, all this is available at your fingertips. With Livestream, you can review everything you need – from participants to the whole event – right in front of you.
Compatibility and Integrations
Livestream is compatible with any device, including mobile, desktop, and even television apps. They can also host your videos or link to your own website or social media accounts.
Thus, whether you're a Twitch gamer, a Facebook Live enthusiast, or a die-hard YouTuber, they can livecast your broadcast wherever you cast.
You can also review Livestream's extensive marketing and registration tools.
Their site connects to such leading event registration services as Eventbrite and Splash. As such, you don't have to worry about building your landing pages from scratch.
Plus, you have access to customizable CTAs, as well as a handy lead capture feature. Besides pulling viewers in, you can collect information like email addresses and social media accounts.
Whether you want to use their API to integrate with your CRM or use their built-in system, you can save data for your marketing team to use later.
Vimeo Livestream Pricing and Customer Support
Livestream pricing starts at $75 per month for their Premium plan. This includes basic features such as embeddable players, white labeling, and lead generation. They also offer essential security features such as password protection and private link sharing. 
For more features and security, you can upgrade to their Enterprise plan. To get a quote, you have to contact the company with your specifications.
Their Enterprise option is the service that really shines, as it comes with onsite and virtual training as well as priority and event support. It also includes options such as:
Advertising revenue
Subscription services
Pay-per-view monetization
Plus, you'll gain access to their API to make changes and integrations as you need.
Customer support is available via phone, live chat, and their extensive FAQ and tutorial pages on all plans. Livestream Enterprise also comes with an uptime SLA and a dedicated account manager to ensure your needs are met.
And, if you want to look at Vimeo OTT, you can build a Netflix-style app to host your content. From iOS and Android to Amazon Fire and Roku, their distribution options are vast.
This concludes my reviews on Vimeo Livestream!