In this post, I will cover the green screen software and chroma key software so you can step up your video production!
If you need to quickly know what is the best green screen software is it Adobe Premiere Pro for Windows and iMovie for macOS (it is free!) – read more below.
People like to be comfortable and the saying goes that "a picture can tell a thousand words" – so imagine how many words can a video tell 🙂 It does not come as a surprise that video popularity is continuing to grow. Hubspot reports that over 54% of viewers would like to see more videos from their favorite brand or product (and we are not even getting started on rocket growth of platforms like Youtube, Twitch, or Vimeo).
Green screen may be a differentiator between you and your competition or it can just that extra tool that you need to fully express your ideas and creativity.
Whatever it may be, after reading this post I am sure that you will choose the best option !
Best Green Screen Software
Below you may find my pick of the best chroma key software. There is no exact rank to it, all the tools are comparable due to the variety in prices and features.
Adobe Premiere Pro
Adobe Premiere is ideal for professional-level video editing. This green screen software offers the best editing tools and a one-stop platform for almost any editing you can think of. It has the best range of editing features and options on the market.
With Adobe Premiere you can easily import video and audio files by using the Media Browser. Once your project is uploaded, it takes a few clicks to import assets from After Effects, Photoshop, or Illustrator. You can also use the motion graphic templates offered with Premiere Pro.
The Timeline panel makes it easy to assemble videos, set edit points, add transitions, and refine sequences. All in almost no time at all.
Adobe Premiere Main Features
The main features of Adobe Premiere include:
color and sound adjustment
importing special effects or graphics
importing footage in any file format
easily adding video files with drag and drop feature
multiple screen editing
precision footage trimming and clip extension options
adding text and animation to your videos
creating motion graphics & adding After Effects
using or creating templates
Chroma key features
Adobe Premiere works on Windows, Mac, and Linux.
Adobe Premiere Pricing
Adobe Premiere Pro offers a free 30-day trial. As for pricing, you get 3 options:
Annual plan (paid monthly) — US$20.99/mo
Annual plan (prepaid) — US$239.88/yr.
Monthly plan — US$31.49/mo
iMovie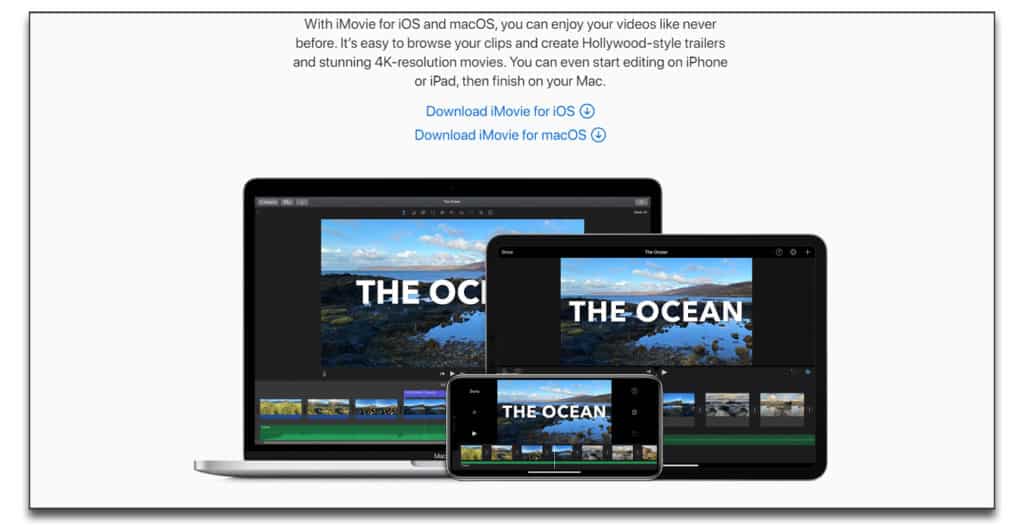 For Apple enthusiasts, iMovie offers some of the best green screen software editing tools. Plus, you don't even have to download it. It is pre-installed on Mac devices.
This chroma-key software works best when used with products from the Apple suite. iMovie offers a great selection of features for both mobile and desktop devices.
You can use it to easily import files, add text and audio, and add narration. The editing options for color grading, effects, and background image are simple and easy to use.
Moreover, iMovie is great for organizing and simultaneously editing your video projects.
iMovie Main Features
The main features of iMovie include:
easily import photos and videos to projects
multiple features for trimming clips
adding seamless transitions and fading audio
13 high-fidelity filters with an intensity adjustment option
extra-special effects like picture-in-picture and split-screen
80 soundtrack options that match the length of your movie
built-in sound effects or adding voice-over
creating trailers
green screen special effects
multiple sharing options via Messages and directly to Instagram and YouTube
iMovie Pricing
Perhaps the best feature of iMovie is that it's completely free. The only box you'll need to check is owning an Apple device.
Lightworks
Lightworks is another great option for free green screen software. It has been around for a while and has awesome features to take your video project to the next level.
With Lightworks, you can easily add real-time effects and edit your green screen videos with professional-level tools. Image enhancement, color grading edits, inbuilt real-time effects are just some of this software's top features.
This chroma-key software may take some time to get a hang of. I'll admit to that. But once you do, Lightworks will help you create amazing videos. Once you're done, you're only a click away from easily sharing and uploading your projects.
Lightworks Main Features
The main features of Lightworks include:
custom definable sequence output formats
social media templates for sequence output
asset grouping associations
intuitive user interface
access to royalty-free audio & video
multiple editing & trimming options
lo-res proxy workflows for 4K
audio & video effects
exporting options for YouTube and Vimeo
direct access to over 100 included FX's and stock video from Audio Network and Pond5
content in any format (SD, HD, 4K)
Lightworks Pricing
The Lightworks green screen software is free. The only limitation relates to output and export formats.
As for Lightworks Pro, the pricing plans are as follows:
Monthly €23.99
Yearly €161.99
Outright €405.59
Lightworks Pro options include Boris Graffiti and FX packages as well as export options for all formats and resolutions.
OpenShot
OpenShot is a free, open-source video editing software. For green screen videos, it has great chroma-key and 3D effect options.
With OpenShot, you can add video transitions, slow-motion and 3D effects. It supports numerous audio and video formats. Plus, it has an animation framework that you can use to create your own 3D animations.
OpenShot works on all devices (Mac, Linux, Windows, and FreeBSD). It's easy to use and intuitive. However, because it's an open-source editor, its optimization isn't always error-free.
OpenShot Main Features
The main features of OpenShot include:
cross-platform video editing options
full support for Linux, Mac, and Windows
multiple video trimming and slicing options
powerful animation framework
unlimited layers for watermarks, background videos, or audio tracks
video editing and effects like background removal and color inversion
option to visualize audio files as waveforms
easily adding titles using templates or creating your own.
3D animation titles and effects
slow motion and time effects like reversing or speeding up video
70+ languages
OpenShot Pricing
OpenShot is available at no cost. Simply download it from their website and start using it. It's as easy as that.
They also have a donation option for users that want to support the cause.
HitFilm Express
HitFilm Express is ideal for free video editing. It uses VFX tools for Mac or PC. Using it will give you access to the knowledge and support of millions of filmmakers.
When it comes to green screens, this chroma-key software has amazing options. It gives you full control over color correction, edge details, and spill replacement. Creating ultra-realistic videos is easy with its advanced chroma key features for high-quality removal.
Additionally, it has matte cleaning and spill suppression, as well as auto light wrap features. These options are topped off with 2D and 3D layering features that help you create amazing green screen composites.
HitFilm Express Main Features
The main features of HitFilm Express include:
green screen actor extraction options
broadcast-quality chroma keying
high-quality removal from blue or green screens
advanced keying features
matte cleaning tool for high-quality composites
spill simulation for unwanted light reflections
light wrapping for realistic effect
built-in voice recorder
2D and 3D compositing
410+ effects and presets
unlimited tracks and transitions
compatibility with most audio and video formats
HitFilm Express Pricing
HitFilm Express is free to download and use on Windows and Mac systems. You will have to pay separately for add-ons for some green screen background editing options, as well as sci-fi effects.
Packages include:
Starter Pack – $9
Content Creator Pack – $19
VFX Artist Pack – $39
OBS Studio
OBS Studio is an open-source video recording and live streaming software. It is also free and works on Windows, Mac, and Linux.
You can use OBS Studio to create and mix your video and audio projects in real-time. You can easily add scenes from multiple sources such as images, text, browser windows, or webcams.
Using this green screen software, you get a seamless transition between unlimited scenes.
The intuitive modular Dock is effortless and has multiple configuration options. Other features include an intuitive audio mixer with pre-loaded filters, VST plugin support, and support for all top streaming platforms.
OBS Studio Main Features
The main features of OBS studio include:
multiple screen management tools
regular updates and community support
customizable transitions between scenes
hotkeys for different actions, like switching scenes or stopping streams
scene preview with Studio Mode
Multiview option for monitoring up to 8 different scenes
chroma-keying capabilities
OBS Studio Pricing
Just like most open-source software, OBS Studio is free to download and use and offers users the possibility of donating to support the project.
VSDC Free Editor
VSDC is an easy-to-use video editor that you can use as chroma-key software for free. It supports most video formats and has many video and audio effects.
Unlike other video editors, VSDC is non-linear. What this means is that you can use it to place scenes in any order or position on the timeline. No matter their size.
Its visual and audio effects are available in five different categories. Categories include:
color correction
transformation
filters
transition effects
special effects.
The color blending mode is very useful for quickly editing videos. As are its Instagram-like filters. However, you can also create your own edits by adjusting the parameters as you wish.
VSDC Free Editor Main Features
The main features of VSDC include:
masking option for hiding, blurring, or highlighting video elements
motion tracking tool for tracking object movements
easy social media export options
subpixel accuracy for smooth animation
multiple format support
4K and HD export options
preconfigured profiles for specific multimedia device creation
3D diagrams
video library
video stabilization tool
YouTube uploader
built-in DVD burning tool
video file converter
desktop video capture
VSDC Free Editor Pricing
VSDC is free but also has a Pro option available at $19.99.
Wondershare Filmora
Wondershare Filmora is a very intuitive video editor. With it, you can take your green screen videos to a new level of realism.
This chroma-key software has keyframing options for custom animations, as well as motion tracking features. Other great features include audio fade, video effects, and multiple green screen background options.
You can also use the color match option to quickly correct settings across several clips at once. Or, the keyboard shortcuts for hotkey commands.
Wondershare Filmora Main Features
The main features of Wondershare Filmora include:
intuitive interface
multiple video rotating, merging, and trimming options
split-screen views
drag-and-drop filters and coloring tools like Auto Color Matching and Color Correction
preset or custom animations
music and sound effects via the royalty-free library
built-in video effects
Wondershare Filmora Pricing
Wondershare Filmora has two paid options.
Filmora X comes with the following pricing plans:
annual plan for Windows $39.99
annual plan for macOS $44.99
perpetual plan for Windows $69.99
perpetual plan for macOS $69.99
Filmora Pro comes with the following pricing plans:
annual plan for Windows or macOS $89.99
perpetual plan for Windows or macOS $149.99
Camtasia
Camtasia is a professional-grade green screen software. It's easy to use and intuitive and has an impressive library. Users get access to over 900,000 royalty-free stock videos, as well as music and other customizable assets.
Camtasia is one of the best chroma key software options out there. It has screen recording, presentation importing, and multiple pre-built video templates. For green screen videos, it is ideal for pan animation, as well as zooming in and out. Plus, it comes with a variety of editing options.
Camtasia Main Features
The main features of Camtasia include:
pre-built video templates
custom templates
easy share options
access to libraries and themes
quick access to frequently used tools and effects
websites, software, video calls, or presentation recording options
drag-and-drop editor
pre-built royalty-free assets
audio recording (mic + system)
simple video, audio, or image file import
adding transition and animation options
cursor FX for highlighting
option to create brand themes for a consistent look
quick background replacement for green screen videos
audio FX
instant upload to YouTube, Vimeo, Screencast
Camtasia Pricing
Camtasia comes with 4 pricing plans:
Individual $244.53/user
Business $244.53/user
Education $166.27/user
Government & Non-Profit $219.09/user
Adobe After Effects
Adobe After Effects is a dynamic video editor. This green screen software is loaded with great chroma key options. From transitions, object removal, and adding effects to animating logos or characters. It also has a 3D space navigation and design feature.
After Effects had numerous presents for animating titles and credits plus the option to create your own. It has amazing effects to help you change scene-setting, add moving objects, or adjust colors. On top of this, you can use it to create VR videos.
Camtasia Main Features
The main features of After Effects include:
import options from Photoshop, Illustrator, and 300+ others
3D design space for 3D projects
3D Transform Gizmo for scaling, positioning, and rotating layers
Roto Brush 2 for selecting and tracking objects and isolating them frame by frame
simple removal of objects
Camtasia Pricing
Adobe After Effects comes with a 30-day free trial and 3 payment plans:
Annual plan (monthly) — US$20.99/mo
Annual plan (prepaid) — US$239.88/yr.
Monthly plan — US$31.49/mo
Free Green Screen Software
Vast majority of the listed chroma key software that you can find here are free or have a trial option. Alternatively they will provide you with a free version that will cover the vast majority of your needs and you can pay for additional features later.
What Is Green Screen Software?
Green screen or chroma key software are tools that filter out the green background and help you to put anything else instead of it.
This helps brings your creative ideas to life, even from the comfort of your home or an office!
Why Is Green Color used in Chroma Key?
The green color is used as a background as it is very easy to filter. Notice that it does not really look naturally green, but quite artificial. That helps the software to identify where the background is, filter it out and put something else in its place.
Summary
So there you have it. All the tools listed in this post will serve you well, the main differentiators are of course price points and some special features.
If you are just starting out with a green screen, you may want to try out the free tools on this list and move upwards when you will need more sophisticated software.
FAQ
Is it difficult to use green screen software?
No. All the tools allow you to use the simple functions easily, with more sophisticated features if needed.
Are there free chroma key tools?
Yes. There are free green screen tools and chroma key tools, more in my post.