9+ Best Podcast Software For Beginners, 2022
In this post, I will go over the best podcast software to help your podcast find its audience. We will speak about their main features pricing and other aspects so you can make a good final decision.
Podcasting is accelerating its growth, in some sectors growing by 32% yoy, so it is no wonder that new participants are entering the field every day.
The barrier of entry is very low. You just choose any of the podcast hosting platforms, set up your profile and you can start your podcast in a matter of minutes.
But this is only where the fun begins. As you grow your audience you strive to be the best you can, every incremental improvement counts – as it adds up to your podcast being successful or not and raising above others.
That is why choosing the right podcast recording software is so important. It will give you the right environment to create the best version of your podcast from the materials that you created.
Best Podcast Software
In this section, I will review some of the best podcast editing software, platforms, and tools that are available. Each section will go over the main features
Adobe Audition
Adobe is one of the top names in the game and their Adobe Audition is easily one of the finest products you could buy when you are looking to make a name for yourself in the podcasting world.
What was originally started as Cool Edit Pro back in the early 2000s, Adobe Audition is part of the Creative Cloud suite so you may already have access to it if you are a subscriber to that. If not, you can pay a separate monthly fee to use Audition and it would be money well spent. This piece of software is brilliantly designed for podcast production and editing. It includes many easy-to-follow tutorials and custom features that you cannot find in other programs. It also has certain benefits like customizable templates and hotkeys incredible background noise reduction techniques too.
Benefits of Adobe Audition:
Free access if you already subscribe to Creative Cloud
Online tutorials to master it
Many cutting-edge features and advanced abilities
The Cost of Adobe Audition
As mentioned, you already have access to Adobe Audition if you are a subscriber to the Creative Cloud suite offered by Adobe. However, if you are not then you can still gain access to Audition for just $20 a month.
Auphonic
When you are looking to get into the world of podcasting but do not want to break the bank while still creating a great show with high-quality production then Auphonic is right for you. This podcasting software comes at a cheaper cost than most of its competitors but still offers a lot of features that are paramount for making a great show.
Auphonic levels your audio, an essential tool for a good podcast. That way the eardrums of your listeners are not blown out every time you release a new show. But Auphonic does more than just that. It also adds ID3 tags, exports straight to YouTube and allows you to create a whole series of presets, which makes editing your show easier and easier every time you do it.
Benefits of Auphonic:
Super user-friendly with many great and intuitive features
Web-based software, which allows you to easily export and not lose your progress
Great pricing structure
The Cost of Auphonic
Auphonic's pricing structure is based on how much audio you create monthly. The good news is that if you use less than two hours a month, you can use Auphonic for free! After that, prices start at $11 and go all the way up to $100 if you are using up to 100 hours a month.
Alitu
If you are just getting into podcasting and are looking to make something quickly but maybe not as professionally as others, then Alitu is right for you. But make no mistake, Alitu can create some really nice podcasts and couldn't be any easier!
This easy-to-use program is perfect for novice podcasters. It is best for shorter recordings and sometimes has a few hiccups such as disconnections or low audio quality. But all in all, this is a sublimely simple and effective way to start your podcasting career. All you need to do is upload an audio file and Alitu can do the rest. You can add music to the beginning and ending of each podcast and upgrade the quality of your recordings. The entire process is almost all fully automated and couldn't be simpler.
Unfortunately, Alitu has yet to release a mobile app for their product and their pricing isn't necessarily cheap at $28 a month. Still, Alitu is reliable and allows you to really record audio anywhere.
Benefits of Alitu:
No desktop app is needed, you can upload straight into the site
The entire process is almost entire fully automated
A wonderful start for beginners looking to start their first show
The Cost of Alitu
Alitu costs you $28 a month for the service, or $280 if you want to pay annually. If you plan on releasing shows often, $28 a month isn't too bad at all. However, if you are not planning to publish new content regularly, that price can seem a bit steep. However, it comes with a free 7-day trial so you can test it out before you commit!
Hindenburg Journalist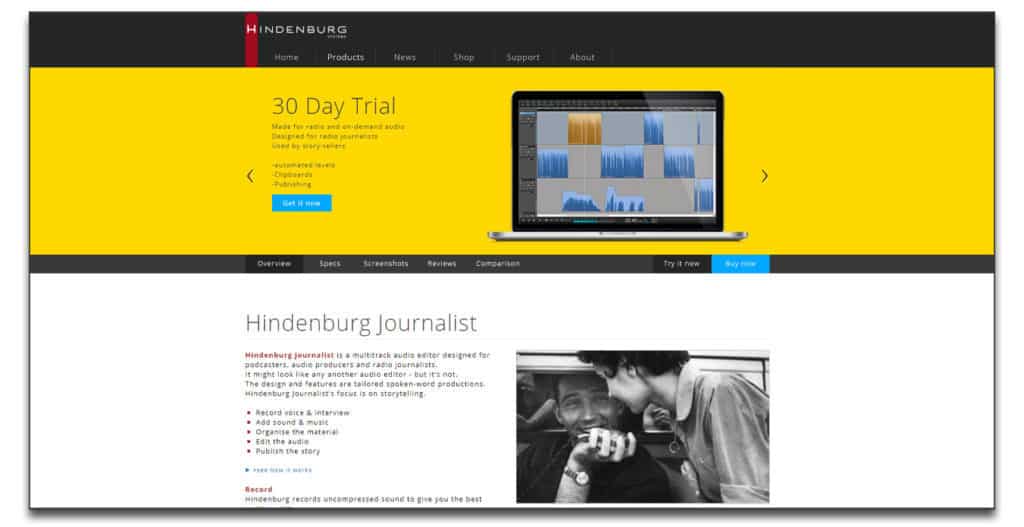 Some people say that Hindenburg Journalist is the best podcasting program around. It is comprehensive, in-depth, professional and features all the best techniques and add-ons you need to make a top-of-the-line podcast.
Hindenburg really is a smooth, sleek, and professional piece of software. It features a multitrack audio editor and high-quality sound control too. It can be used on both Windows and Mac and has very advanced editing features. Hindenburg will take your podcast, adjust the loudness level automatically and export an incredibly impressive-sounding result. From there, you can easily upload your show straight to your podcast provider. There are tons of built-in features that make Hindenburg next level excellency. This feels like the stuff that only the most professional podcasters use.
The price tag isn't cheap, however. The Hindenburg price plan starts at $95 a month, which is not a chunk of change. The most expensive plan can set you back $500 monthly. While that is a steep fee, you have to remember that Hindenburg Journalist give you the best quality sound and some of the most impressive features around. If you are really trying to make a career in podcasting and want your content to shine, this is the way to go.
Benefits of Hindenburg Journalist:
Impressive audio quality and wonderful editing features
Multitrack audio editing, so you can fill your show with a chorus of sounds and voiceovers
Uploads directly to Libsyn and others
The Cost of Hindenburg Journalist
This is an expensive podcast editor and starts at $95 a month, with various plans going much, much higher than that. But you need to remember the amount of quality you get for that price point. Plus, Hindenburg does offer a free 30-day trial so you can really sink your teeth into it before you decide to buy.
Audacity
Audacity is terrific, professional, comprehensive, and free. That's right, free. The app has always cost no money and that is one of its most attractive features. But there is more to Audacity than its non-existent price point. The app is also easy to use and can seamlessly edit and upload multiple tracks at once. You can record directly into the app and the mix or digitize your recordings.
Best of all, Audacity supports almost all modern audio file formats so there are any number of songs and audio clips you can insert into your podcast. Plus it works with both Windows and Mac. Sadly, Audacity has not yet launched an app in any app store so you have to directly download the application onto your computer to use it. Also, it lacks the feature to upload your finished product straight to your podcast host provider. Still, there are other elements that make this application so attractive.
It may not have all the powerful features that other podcasting apps do but it has enough to get by. There is more than enough here to expertly edit a high-quality podcast again and again. That's why it is no surprise that Audacity has remained so popular over the years. People are truly loyal to this program.
The Benefits of Audacity:
Completely 100% free, free, free.
It works on both Windows and Mac
Supports multiple audio file formats
The Cost of Audacity
Did we mention this one is free? It's true, this application costs zero dollars and zero cents.
Reaper
Reaper is a Windows-friendly podcasting application that allows you to import any audio file and MIDI and compose, edit, mix, master and do a whole lot more. There are a lot of options and possibilities when using Reaper and that is what makes it one of the best ways to create your show.
It is a powerful piece of software and looks sleek and modern and easy on the eyes. It is also relatively inexpensive and runs quickly, lacking much of the sluggishness that comes with many other audio editing programs. It also features the ability to go live on streaming platforms, something that is pretty much non-existent with other applications on Windows. That is why if you are recording your show on a PC, you might want to really consider Reaper.
This is a lightweight program and that helps it move quickly. However, it is lacking some of the more robust and intensive features you might find on other podcasting applications. Plus, it lacks any sort of tutorials so you may be poking around in the dark at first before you find your rhythm and figure out what you are doing. Still, once you get the hang of it, Reaper is pretty darn great.
The Benefits of Reaper:
Allows you to live-stream, even if you are using it on Windows
Fast app! It rarely slows down or crashes
Great user interface that is very attractive
The Cost of Reaper
Reaper comes with a free 60-day trial. After that, you will have to pay $60 to register your program, $225 if you are looking for a commercial license. That one-time fee is very attractive to podcasters who are used to spending a sum every month.
Cast
Cast is a little different from many of the other podcasting programs we have listed. Why? Because Cast is a recording app. It allows you to directly record up to 3 guests at one time. That is a great feature that is made incredibly easy by Cast's simple interface and intuitive design.
But Cast does more than just record your audio. It can also upload your recording and publish your episodes through Cast too. And before you do that, there are some editing and publishing tools too. So it isn't just a cut-and-dry recording tool. Plus, once you have released your podcast, Cast grants you a huge number of analytic features so you can see how well your podcast is doing once it has found an audience.
You run Cast straight from your browser and it is best to use Google Chrome when you are recording, editing, and publishing your show.
The Benefits of Cast:
Incredibly easy to use
Allows you to record three people at one time
Upload and publish straight through Cast
The Cost of Cast
Cast starts at just $10 a month, which is a great and easy-to-swallow fee for podcasters, especially up-and-coming ones. There are higher price plans but you can get a lot out of just $10 a month.
Descript
Descript offers something that other podcast maker apps do not: a transcription service. This happens at the recording stage of the process. Descript creates an incredibly accurate and reliable transcript of your show. That is extremely helpful and something that other programs just don't offer. Better yet, it allows you to edit directly through the transcription service. Think of it as editing a word document: when you cut out a word in the transcription, Descript cuts it out of the show. How cool is that?
Descript also allows multi-track recording and editing and comes with tutorials that show you the ropes and help you create your first show. You can add music, sound effects, and a whole lot more with Descript.
Descript also has an Overdub feature. With this, you can copy and paste a text document into the editor, select a stock voice, and Descript will then convert your written words into dialogue. This is a ground-breaking feature that means everyone – even those lacking the ability to speak – can now be podcasts hosts.
The Benefits of Descript:
Edit your show using a unique word-processing-style document editing system
Overdub feature allows you to turn the written word into a narrated product
You can publish your show straight to multiple hosts
The Cost of Descript
There are multiple pricing levels for Descript. There is a free level that allows you to record, edit and mix one project. After that, you can spend anywhere from $10 to $24 with various levels of functionality.
Podcast Recording Software For Mac
In the previous section we discussed podcast software that can be used on both platforms, now let's have a look at editing tools that are only available for Mac
Logic Pro (MacOs)
Logic Pro is one of the most popular audio editing programs on the market. It is a staple mark of any audio editor who uses an Apple computer and is a wonderful tool if you are looking to start a career as a podcaster.
Logic Pro has a whole slew of professional advanced tools that will help you create expert-sounding audio. In fact, some people think it is a bit too powerful a program to use when you are simply trying to make a podcast. However, you can rest assured that your show will sound absolutely great when you are using Logic Pro. This is a program that professional music producers use to create records, it will treat your podcast with respect and true care.
One of the best things about Logic Pro is that it seamlessly works with Garageband, an application that many people use to record their shows. You can feed your Garageband files straight into Logic Pro with complete ease.
The Benefits of Logic Pro:
Incredibly professional quality application with the most cutting-edge advanced tools
Works well with any Apple program, including Garageband
Comes with a one-time cost
The Cost of Logic Pro
Logic Pro comes with a one-time fee of $200. That definitely is not a cheap price but it is easily one of the best audio editing programs on the market so you are paying more for its quality. This is an application you can truly dive into and get lost in, don't be surprised if you spend hours figuring this one out.
Garage Band (MacOs)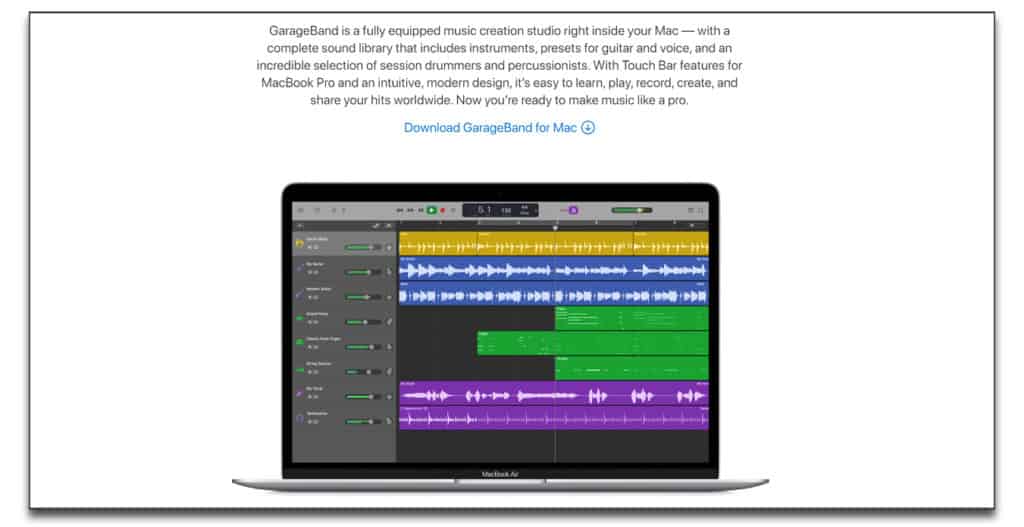 GarageBand is one of the best ways to record audio. Not only is it great because it is easy to use. It is also great because it creates truly fantastic-sounding output. You can make music or podcasts that sound truly top-of-the-line with GarageBand and it is no surprise that so many people flock to the application again and again. Its following is loyal.
You can record and edit multiple tracks at once with GarageBand, and the controls are intuitive and easy to understand. Apple has always been good about making their programs user-friendly and GarageBand is no different. They have put great care into a product that looks amazing, runs smoothly and rarely ever crashes.
Plus it fits seamlessly into Apple's other applications, such as Logic Pro. That means that everything can work hand-in-hand and you can use the entire body of Apple products to make your podcasts even better.
The Benefits of GarageBand:
Works great with other Apple apps, such as Logic Pro
Multi-track recording and editing
Free for anyone with a Mac
The Cost of GarageBand
GarageBand is a free application that can come with any Macbook or Apple computer. You do not have to spend a dime to use it. It is also featured on their iPhones and iPads but the features there are different than the ones on the computer.
Summary
There you have it, best podcast hosting software for editing and recording. These tools will make your podcasting life much easier. The right editing can turn a boring talk into an engaging podcast that will go viral. So make sure to choose the right one for you.
All of the podcast software offer unique features, but each of them can deliver their main task exceptionally well.
FAQ
Do I need a podcast software?
Yes, if you are serious about your podcast you will definitely need it.
What equipment do I need?
It records you voice and helps you to edit your whole podcast.