Picking a logistic software program may be quite a daunting task, as there is a wide variety of logistic software tools that you can use in your business. In this post, I will go over the best tools that are available and try to help you to pick the best one.
It is impossible to run a business of any size without a proper logistics system in place. In the life of any growing business, a time comes when it has to properly plan its logistics operations, otherwise, it can die from its own success.
Developing your own solutions is rarely an option due to time constraints and lack of know-how, it is much easier to pick one of the third-party logistics providers and integrate them into your supply chain.
So without further ado, let's get into it.
Best Logistics Software Programs
Below you can see my pick of the best tools for your supply chain and logistics management that are available on ht market.
Onfleet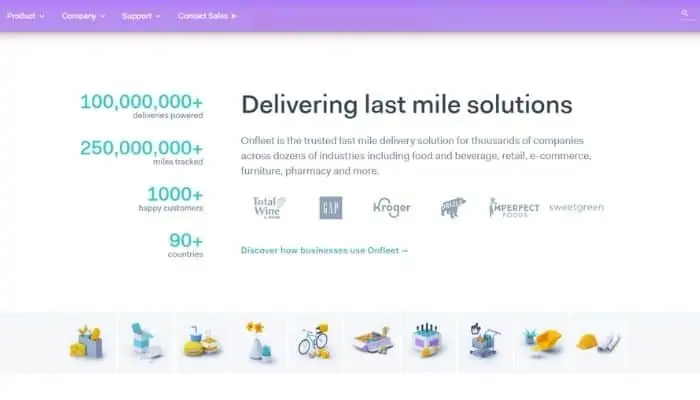 If you're looking for third-party logistics software, it doesn't get much better than Onfleet. With its modern design and solution, the program allows couriers to micromanage their local deliveries, as well as to analyze the results.
The logistics management software also comes in the form of a smartphone app, which makes it great for drivers. Dispatchers can rely on its real-time online dashboard, and there are also SMS notifications that will reach your truck drivers automatically.
The tool also has an API that allows clients to combine this platform with various other systems. What's even better, you can use it in more than 60 countries. There is a free trial for all the potential users, which will allow you to mitigate business risks before purchasing a subscription.
Among its best features, it needs to be mentioned that Onfleet is very flexible. It can be utilized regardless of the company's size and industry. For example, it is good for multinational courier delivery services but also for small retailers, distributors, as well as delivery startup companies.
This is a cloud-based logistics tracking software available on Android, iPhone, and iPad. The company provides various types of support and training, so you will never feel lost when using this powerful delivery management software.
Onfleet pricing
You can choose between 4 unique plans: Starter ($149 per month), Basic ($349 per month), Premium ($799 per month), Professional ($1,999 per month).
Fretron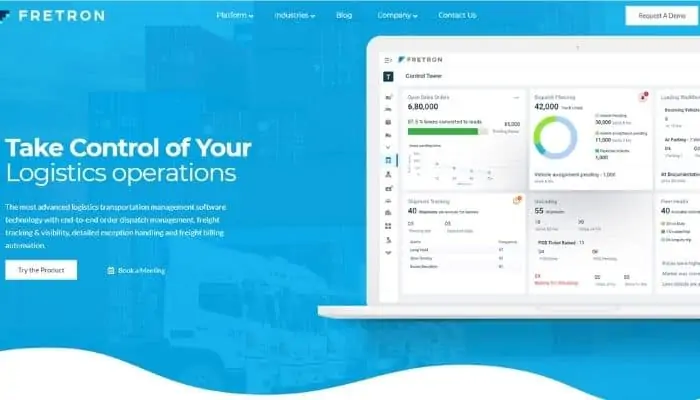 This logistic program allows full management of the process from one end to another. It can be a great help for carriers, shippers, and vendors, as they try to streamline and automate logistics. Among others, you can use it for ordering and dispatching, freight tracking, simplified billing, etc.
Its main features are yard management, automation of order planning and dispatching, full freight visibility, and complete optimization of the logistic process. Some automation options will drive your costs. With order management, you will be able to track the vendor's KPIs. A very interesting feature of this logistics system is its ability to find bottlenecks that would allow you to eliminate delays.
With its great reports, you are able to get valuable insights into all business processes. The software can increase your company's productivity several times, and you can use it to leverage self-service portals as well as rule-based automation. As a result, you will attain greater visibility and coverage.
The software can be integrated with chatting programs such as WhatsApp. Fretron can be utilized for sending purchase orders to vendors or for uploading expenses. When you use the software, your whole billing cycle will be reduced by more than 15 days.
Fretron pricing
You need to contact the company for a quote. (In October 2021, it seemed that they have an ad injection on their site, if you click to empty space, it opened other websites).
FreightPath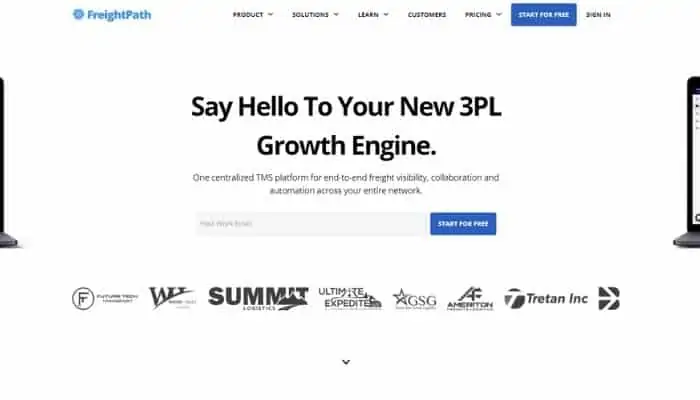 If you're looking for transportation logistics software to help you with digital paperwork, it doesn't get better than FreightPath. This program is also very good for dispatch management. It has a customer portal that you can access with one click. There, you can check the status of deliveries, locations, paperwork, and so on.
Most people love this fleet management software because of how it works for documentation. You can use it to create bills, invoices, and so on. You can upload files and store them in one dashboard. The logistics management software comes with a scheduling app that would prevent the booking of two drivers for the same delivery. There is also advanced GPS that would allow monitoring of every process.
Larger companies simply love this tool because it allows their stakeholders to keep in touch with the business with easily shareable digital documentation. The analytics features are quite simplistic, and you don't need coding skills for customization. Given that the platform works in real-time, you can notice issues as they appear and fix them as soon as possible.
You can customize the platform by uploading the company's logo and adding brand colors. That way, you will see them within the program as well as emails.
FreightPath pricing
The software comes with 3 plans: Essential ($24.99 per month), Business ($49.99 per month), and Enterprise ($99.99 per month).
Infoplus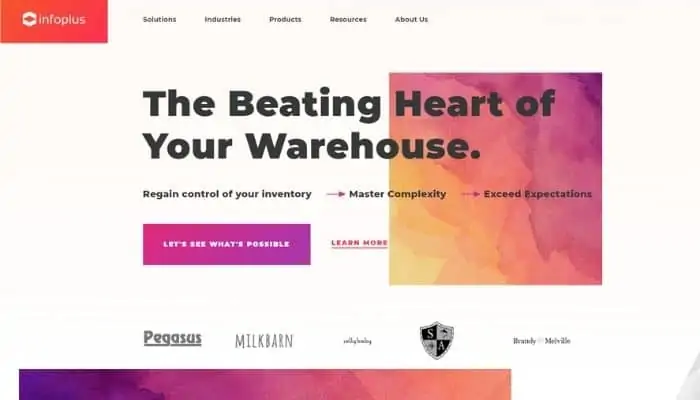 Infoplus is one of the best logistics software for streamlining a company's invoicing and inventory management. It is a wholesome warehousing program that will help you with inventory in several ways. You can use it for warehousing, billing, integrations, shipments, and reporting. Besides that, there are numerous other functions that can be utilized for managing and monitoring logistic processes.
This third-party logistics software is amazing for warehouse processes such as shipping, picking, and packing, inventory control, inbound receiving, etc. It has an open API, and a lot of companies pair it up with financial tools.
It has a flexible core that can be utilized to create custom workflows but is also important for automation and scalability. Moderators can assign roles and limit accessibility to team members. A user can transcode and customize data and SKUs. There is also support for 1D as well as 2D barcodes, customized paperwork, integration, scanning, printing, and GS128. Lastly, Infoplus is simply amazing for real-time procedures.
Infoplus pricing
There are 3 plans at your disposal, including Infoplus Startup ($395 per month), Infoplus Warehouse WMS ($695 per month), and Infoplus 3PL WMS ($895 per month).
Rose Rocket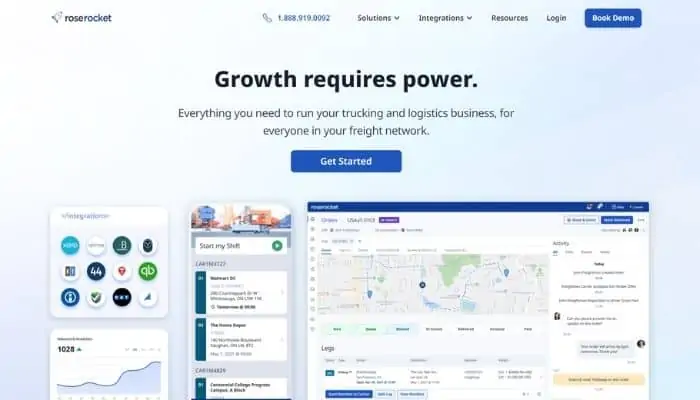 Many experts mention Rose Rocket as the optimal logistics tracking software in terms of automatic synchronization with third-party tools. As you can presume, it is an open platform that can be modified in several ways. Like other platforms on this list, the software can be utilized for communicating with drivers and clients. You can utilize it for billing, dispatch, and order management.
Your logistic processes will be that much better when you integrate the program with various other software. Perhaps the best example is integration with electronic logging devices that would allow you to create more comprehensive workflows. That way, your drivers will be able to manage, track, and share information on the go.
Rose Rocket provides data synchronization with some of the best business platforms. You can combine it with Microsoft Dynamics, QuickBooks, Slack, Oracle, and so on. If this wasn't enough, you could improve the platform by adding AI and machine learning features.
One of the main reasons why you should try this software is because it can connect office workers with truck drivers, regardless of truck drivers' position on the world map. You can also use it for connecting with partner carriers and brokers. There are portals that can only be utilized by your partners, and it will do wonders for your supply chain management.
Rose Rocket pricing
A potential client will have to contact the company for pricing.
Track-POD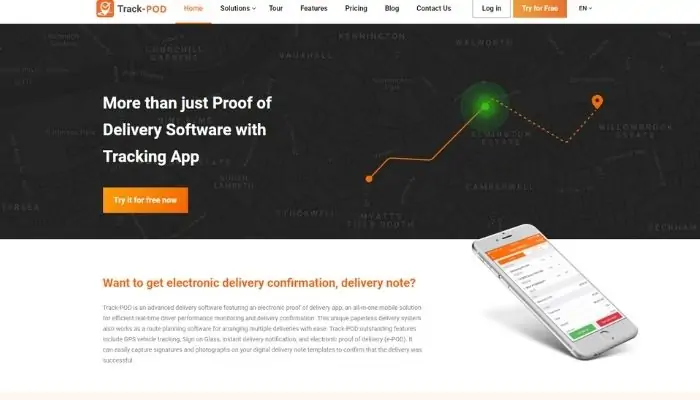 Track-POD is great for all advanced logistics operations. You can use it to plan daily routes for your trucks and to find proper depots. It relies on a powerful artificial intelligence protocol that will allow you to find the optimal roads for deliveries. It is especially great for larger fleets of trucks as it can significantly reduce the time required for shipping the goods.
Among others, you can use the logistics software for performing security checks, integrating last-mile delivery, performing vehicle and truck maintenance, or creating a supply chain that would eliminate the traditional paper trail.
Track-POD can be utilized by all logistics providers and freight forwarders for any part of the supply chain. However, it shows the best results for companies that perform frequent deliveries, pickups, and other services. It is especially great for situations where your vehicles have to make several stops throughout the day or to change routes frequently. So, it is good for all logistics companies, various distributors and courier services, manufacturers, equipment and food delivery, etc.
The platform is deployed on various devices and systems. The company provides excessive training and support to all users.
Track-POD pricing
You can choose between 4 plans: Standard ($29 per month), Advanced ($49 per month), Advanced Plus ($69 per month), and Enterprise (contact for a quote).
Ramco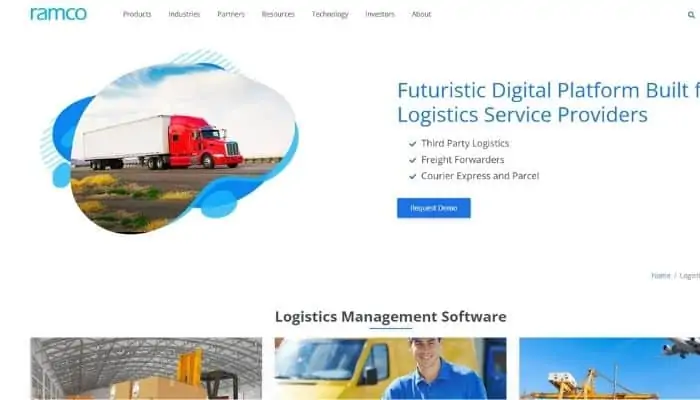 Like many others on this list, Ramco is a cloud-based supply chain management software that you can use for all processes from one point to another. It is meant to safeguard your deliveries and optimize the operations. The software is great for any logistics company regardless of its size, but it has shown the most potential for delivery services.
Among its best features, we need to mention networking and communication. You can utilize the logistics management system to relay instruction to your staff members on the field, notifying them of any potential changes. It can also be great for communicating with clients. By combining these two functions, you will know what the delivery team has brought to the clients so far and how much more time they need.
The freight forwarding function is great for monitoring the operations including the warehouse management. It is especially good if you wish to micromanage processes and optimize incomes. With its 3PL services, the cloud-based software can help you grow business relationships by paying more attention to clients' needs and delivering required goods in time.
Ramco pricing
Ramco offers potential clients a free trial. After that, you will have to call the company for a quote.
CargoWise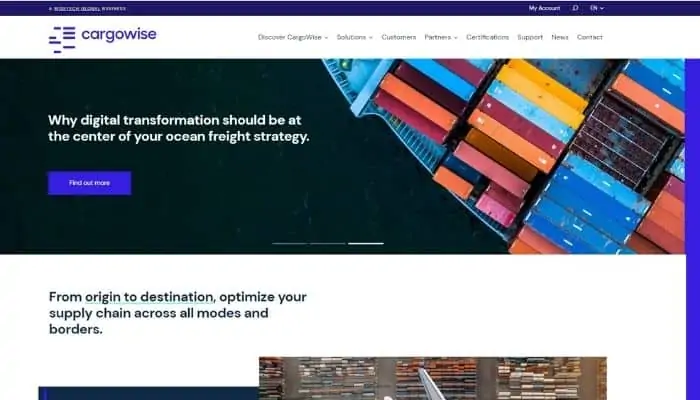 Multinational freight forwarding companies have much more things to worry about than national enterprises. Among others, they need to be compliant with all the laws and regulations in various countries. This is where CargoWise comes into play.
This is probably the best platform on the list for international businesses. You can use it to perform daily operations and to monitor the progress from a sign database. It is especially great in times of turmoil as it will compensate for regulatory changes, changes in taxes and tariffs, margin pressures, etc. CargoWise can be utilized across numerous users and offices, but it can also be great for people who are speaking different languages.
With its web tracker, you can track every shipment. There are also alerts that will notify the clients of the shipment's progress. Among others, the platform is great for sharing data and other real-time updates. Lastly, there are automated accounting features that will allow you to stay compliant through various accounting systems.
This is a great logistics software if you wish to reduce delays and fines. Due to the complexity of international business, CargoWise will allow you to stay atop things with its accurate data.
CargoWise pricing
Contact the company for a quote.
Logistically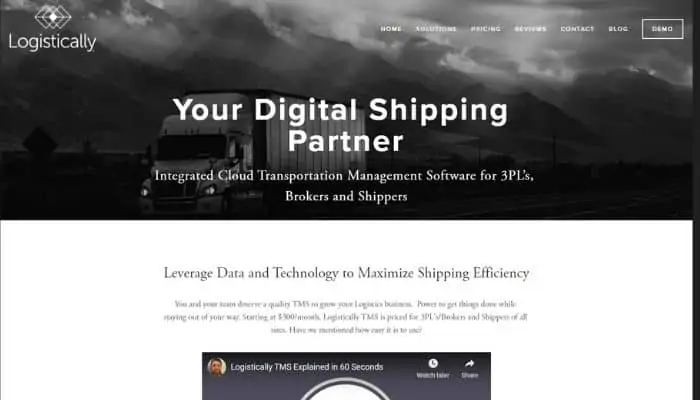 Logistically is a transportation management system and logistics software. It can be utilized by shippers, 3PLs, as well as brokers. The platform is great for managing and monitoring deliveries and reducing associated costs. Like most other good logistics management software, it is based on a cloud so that the whole team can use it regardless of their location.
The logistics software will help you every step of the way. From sale to delivery and billing to customer service and accounting, you can rest assured that the program will allow you to track every operation.
Its accounting functions are especially great. You can use it to perform audits of bills, create branded invoices, automate invoices, and many more things. As one of the better logistics software solutions, it can be integrated with numerous tools and apps such as DAT, Faxing Services, RMIS, ProMiles, etc.
Logistically pricing
Logistically has a very complex pricing system. It starts at $300, which increases as you add features.
FreightPoP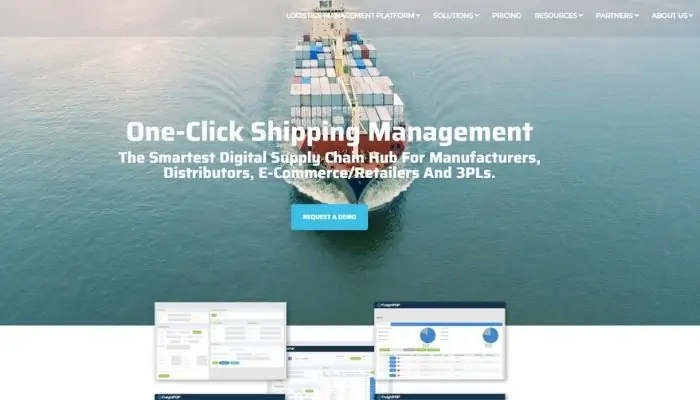 As one of the better warehouse management systems, FreightPoP allows you to manage the whole shipping lifecycle. The platform is great for shipping, tracking, and analyzing performance as well as any other part of the delivery process. One of its best features is that it allows you to find the best rates for carriers. Trucking companies simply love this freight forwarding software!
You can use it for centralized tracking from one dashboard, managing multiple warehouses, performing shipment management in air/water, doing freight invoice audit and rate shopping, importing and exporting data, etc.
The platform can be integrated with more than 300 apps. Among others, you can combine it with inventory systems, ERPs, CRMs, WMSs, and everything else that logistics service providers otherwise use. There is an option of combining several tools in order to create one custom platform that will suit your exact business needs and allow you better cost control.
To an extent, the software can be utilized for international business. You can create various international paperwork, such as packing slips, invoices, customs forms, etc. Lastly, you can also use it to perform an account audit.
FreightPoP pricing
Customers can choose between 4 plans, all of which are quote-based: Parcel Only, Starter, Professional, and Enterprise.
Key Features Of Logistics Management Software
At this point, you have skimmed through several logistics software tools that will make your supply chain management much more efficient, but what to look for when you have to pick the one that will be right for your business?
Easy of Use
First and foremost, the logistics management software of your choice should be easy to use. No feature that you will be using daily should be more than a couple of clicks away. The interface should not be overcrowded with buttons that you will never need, it just clutters your vision and makes searching more difficult.
There is not really any other way how to handle this than to give a try to the logistics software that is close to the solution you need.
Integration
Supply chain management is a complete process, that includes many various platforms and tools. No matter if you are doing everything yourself or plan to use logistics service providers and cloud-based software – integration with your most important tools is critical.
For example, your logistics software should communicate with warehouse management seamlessly, it should be connected to your inventory control system, and in case you are outsourcing – be able to communicate with trucking companies as well.
Reporting
To be on the top of your carrier management and fleet management – reporting is crucial. First of all, make sure that you see the level of details that you need to see. Also, generating the right reports just with one click may save you a bunch of time in your transportation management process.
Summary
Hopefully, by now you have already an idea of which logistics software you will try out. Give a shot to a couple. do not connect them to everything just yet -+ the idea is to check out the functions and the interface before moving them to an actually testing trial