The lead generation software market is a crowded one, with both new startups and well-established companies vying for your attention.
The result of this competition is lead generation software that just keeps getting better and better! In this blog post, we are going to review the latest lead generation software on the market so you can decide which one will work best for you.
Best lead generation software
Below you will find some of the best lead generation and marketing automation tools that are available on the market. They are not really ranked, just compared based on their pricing and features.
Some of them will have a free trial, give it a shot and see how the software is working for you.
Leadfeeder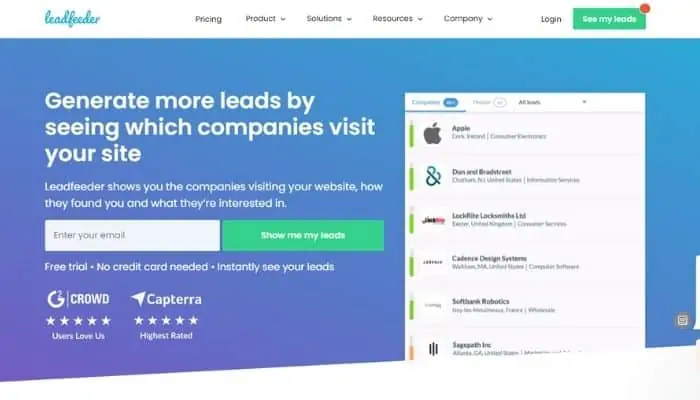 Leadfeeder is the best lead generation software if you need streamlined operations with CRM. It is a cloud-based platform that can be utilized for finding potential clients and closing them. Aside from lead generation, it should also help your company to track website visitors and perform account-based marketing.
Among others, you can use it to check people who visited the site and where they came from. You can see all their interactions with the website, for example, which pages they clicked on, what they wanted to accomplish when browsing, etc. The lead software relies on rich data and customer tracking tools to accomplish this task.
Leadfeeder does everything in four steps. First, the program identifies website visitors. Then, it qualifies them and creates priority lists based on interactions with the website. Lastly, it connects to the visiting company's decision-makers and sends these leads to your own company.
With this B2B lead generation software, you will be able to remove companies that you don't want to work with. You can segment these lists even further, and you can get instant updates if the target company performs any action towards your site. As mentioned, the data can be channeled from this software to the CRM and back.
You can integrate the tool with some of the best business software on the market, including Zoho, HubSpot, Pipedrive, Mailchimp, Slark, ActiveCampaign, etc.
Leadfeeder pricing
Keep in mind that this is free lead generation software. That is if you take the Lite plan. Otherwise, its Premium plan starts from €63 and upwards.
Leadpages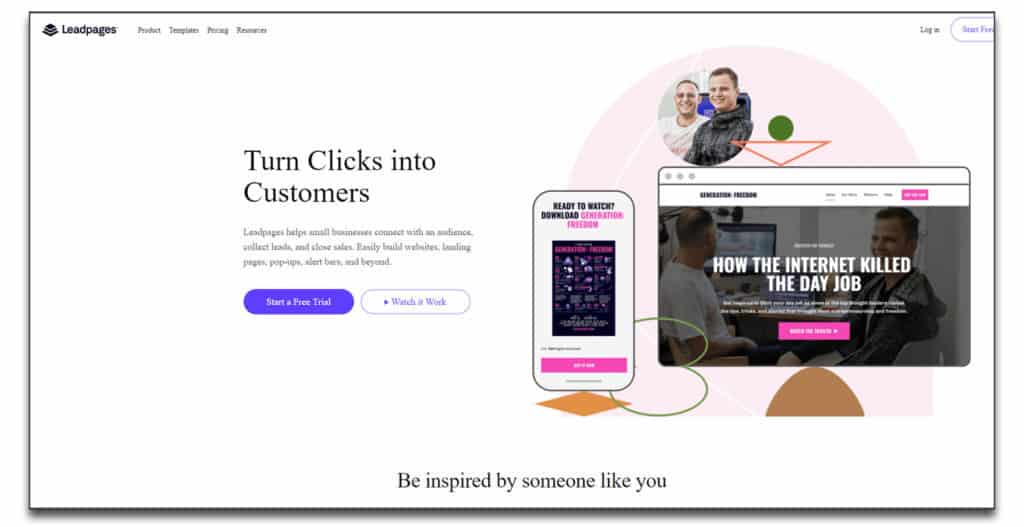 This is one of the better lead generation tools if you wish to publish new web pages. It is commonly utilized as a method of creating new leads and transforming all the website interactions into potential contact and, eventually, clients.
There are lots of different things that you accomplish with this program. Among others, you can use it for Facebook ads, landing pages on your website, and various social networks. It is even better for new companies that are just getting their foot in the door. The tool is utilized by more than 50,000 people all over the globe.
Among others, the company also provides great customer support. That way, if you ever have a problem along the way, you can contact them for a piece of advice. Leadpages is great for optimization, making sure that every click, every lead, is properly utilized.
You don't need any technical skills to utilize this tool. It has quite an intuitive interface, and you will find your way around very quickly. Users are not limited in the number of pages. There are also no limits in terms of how many leads you can squeeze from it.
Leadpages pricing
Users can go with 3 different plans: Standard ($27 per month), Pro ($59 per month), and Advanced ($239 per month).
Unbounce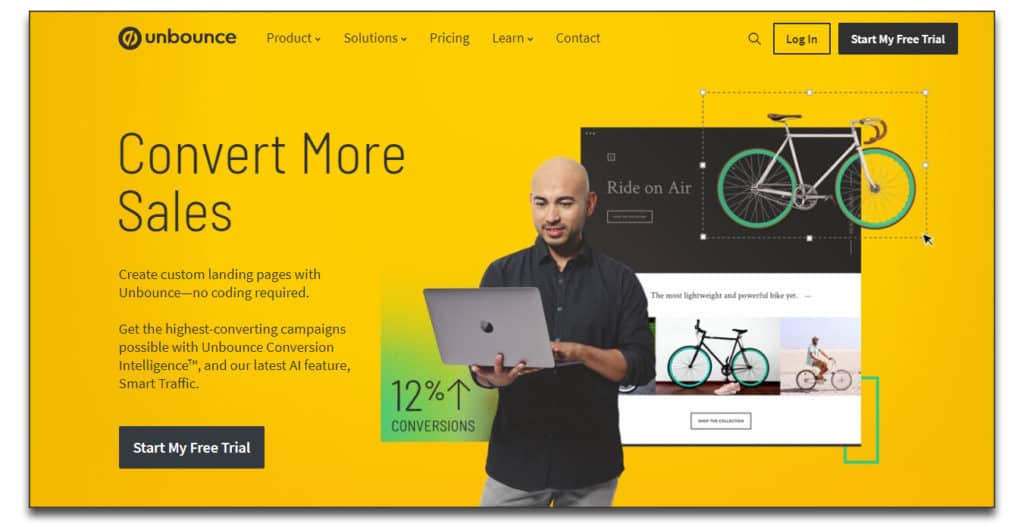 As one of the better automatic lead tools for personalized pages, Unbounce will help you create an awesome user experience that will reduce the loss of leads. The platform is useful for any type of organization that relies on conversion. Most commonly, it is utilized by web agencies, companies that deal with SaaS, eCommerce companies, etc. Among others, it is a great tool for paid campaigns, as well as email marketing.
Unbounce allows you to create landing pages from scratch. Alternatively, you can utilize some of its templates and modify them to make your own customized pages. Its drag-and-drop builder is simply amazing, and you don't need much technical knowledge to get started.
The lead generation software has more than 100 different templates you can choose from. As mentioned, you can either modify them or use them as such. There are also various grids that will help you out. As if that wasn't enough, there are more than 85,000 images that you can utilize during the website creation.
Another neat feature comes in the form of popup and sticky bar creation. These elements are often neglected by the website owners, but they can also have a positive impact on your conversion rates.
Unbounce pricing
There are 4 plans you can choose from: Launch ($80 per month), Optimize ($120 per month), Accelerate ($200 per month), and Scale ($300 per month).
OptinMonster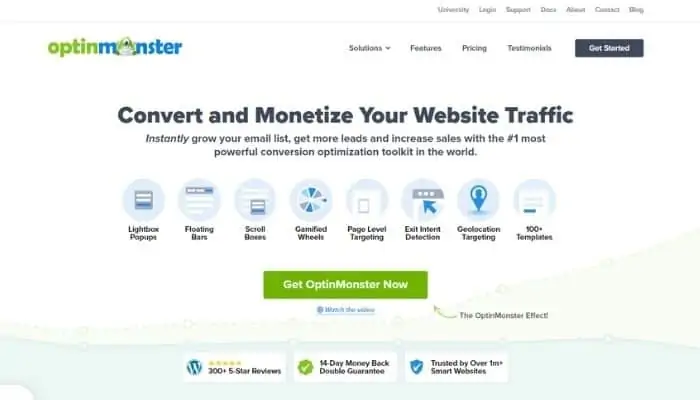 A/B testing is a big part of marketing. OptinMonster is one of the better lead generation tools if you want to find the best options for your company. This is an email app that will help increase the conversion of visitors who have abandoned the page, turning them into subscribers.
There are more than 100 different templates you can choose for lead generation, increasing email subscriber count, reducing the number of abandoned carts, etc. The user can add floating bars, pop-ups, wheels, and many other elements to try and increase the conversion rate. Among other features, it is worth noting page-level targeting, scroll boxes, geo-targeting, and exit-intent detection.
Like with some other lead generation tools on the list, this software can be utilized to create templates from scratch. Everything works under the drop-and-drag principle. The tool relies on behavioral automation to refine its conversion processes. By tracking the behavior of website visitors, you can find the right lead and the right time.
OptinMonster has an amazing traffic redirection feature that will allow you to transfer visitors from less important pages to more important ones. If that wants enough, you can add a CTA button to provide users with additional options and to give yourself another way of converting them.
OptinMonster pricing
You can choose between 4 plans: Basic ($9 per month), Plus ($19 per month), Pro ($29 per month), and Growth ($49 per month).
Intercom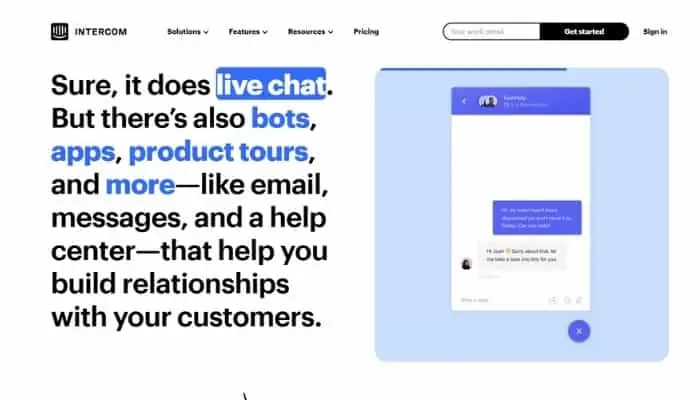 If you're looking for new ways to interact with visitors in real-time, you need to try Intercom. The platform focuses on chatbots as a way of communicating with potential leads and starting the initial contact. With this lead generation software, you can automate and scale pitching without having to involve lots of manual labor.
Whenever a person lands on your site, a bot will send them a personalized message. They have the ability to chat with the visitors and get valuable information that will allow you to close these leads later on. Among others, bots can squeeze out phone numbers and even schedule a meeting.
Besides the bots, you can utilize the program to organize and customize the team's workflow. What's really great is that the tool can align your business goals with conversation topics.
The platform's best features include customer self-service, tracking customer behavior, automating email campaigns, as well as automating numerous other procedures. If you wish to get some more functionality from the platform, you can combine it with Marketo, Google Analytics, Salesforce, Shopify, and Clearbit Reveal.
Intercom pricing
The company has 2 basic plans that can be segregated into 3 new versions with several add-ons.
Prospect.io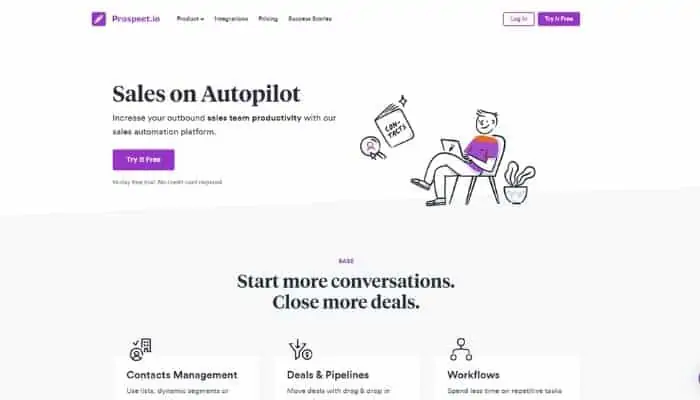 This is probably the most useful platform for creating email lists. It focuses on automation that would allow you to create email campaigns from scratch, identify prospects, manage leads, and capture them. Prospect.io is especially great if you wish to streamline emailing and follow-ups, social posting, and managing several platforms or accounts at the same time.
You can also rely on its reports for monitoring all the sales and making sure that you're meeting the quota. Clients can integrate the lead generation software with Zoho, Slack, HubSpot, Salesforce, etc.
There is an Interactions section that helps you with lead conversion. Here you can send prioritized emails and create tasks, update fields, receive notifications, just to mention a few features. Most people utilize the software for A/B testing. It can be great for segmenting prospects and creating templates. You can also utilize it when you wish to track click rates, open and bounce rates.
Prospect.io pricing
Customers can go with 2 different plans: Essential ($89 per month) and Business ($149 per month).
LeadFuze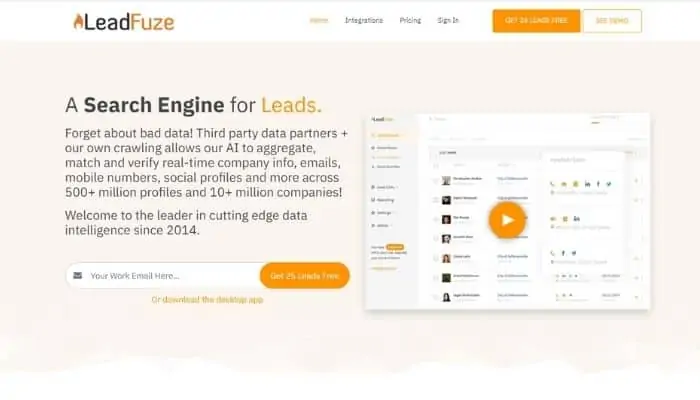 Like all other platforms on the list, the primary goal of LeadFuze is to automate and streamline your lead generation processes. The software focuses on potential clients at the top of the funnel. However, it might also help out during the lower parts of the funnel when you're about to close the company.
LeadFuze can be utilized by any organization regardless of its size and industry. It can also work for individuals, although it might be a bit expensive. The software can help you out during every step of campaign management.
Its prospecting tools are really great and somewhat unique. You can use it for capturing leads and distributing them. Also, you can use a platform for targeting and retargeting, focusing on specific audiences, and so on.
Besides using it to increase sales, it is also amazing for recruiting and marketing. With LeadFuze, you can pinpoint just the right individuals with account-based searches. The software is great for building lists, verifying emails, ignoring unwanted people, and reducing the chance of duplicates.
LeadFuze pricing
Customers can choose between 3 plans: Starter ($132.30 per month), Scaling ($447.30 per month), and Custom (contact the company).
Agile CRM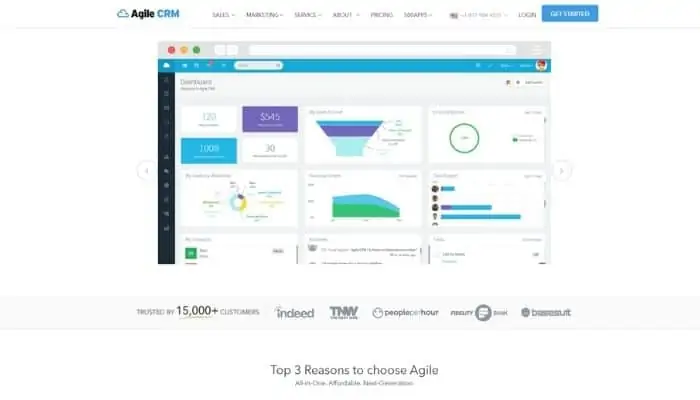 This is a great platform that can be used for various industries. For example, you can use it as a real estate lead generation software or for some other businesses where conversion rates are really low. However, based on all the data, it shows the biggest potential for small and medium organizations.
The platform is stored on the cloud, which makes it ideal for international customers as well as teams that work remotely. There is no need for updating or similar procedures. You can use Agile CRM for various tasks within the contact management sphere. It gives you telephony tools, and you can rely on its great appointment scheduling feature.
Of course, the main purpose of the software is to simplify and streamline your lead generation. It can be a good solution for all those organizations who are struggling to convert on the internet. You can utilize the platform to access as well as record potential client's data when you need to. It can also be integrated with some of the best software on the market.
Agile CRM pricing
There are 4 pricing options you can choose from: Free, Starter ($8.99 per user per month), Regular ($29.99 per user per month), and Enterprise ($47.99 per user per month).
LeadsBridge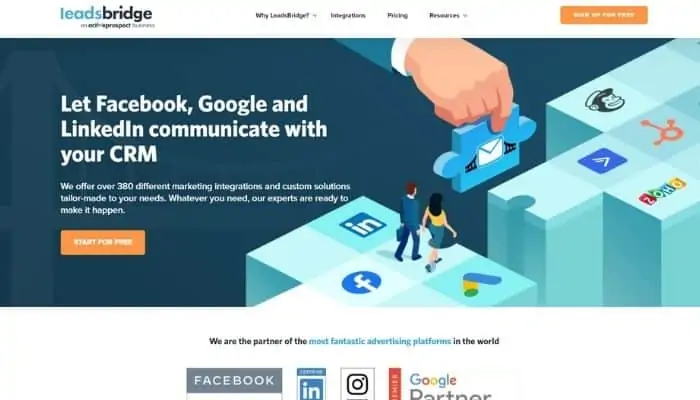 This leads generation suite can help you in several different ways. It is a one-stop-shop for all your client generation needs. The software is especially popular for its ability to integrate with other apps. You can combine it with more than 240 different tools.
If this wasn't enough, users have an amazing support team at their disposal. You can easily synchronize this software with CRM and email programs.
LeadsBridge can be utilized for just about everything. It is great for creating landing pages, inboxes, webinars, events, and numerous other elements. The software works well for social media and, in particular, Facebook.
Among its best features, I need to mention the ability to import and export contacts, capture leads, classify them, and nurture them.
LeadsBridge pricing
There are 4 pricing options you can go with: Marketer ($29 per month), Hero ($51 per month), Guru ($111 per month), and Business (from $699 per month and upward).
Datanyze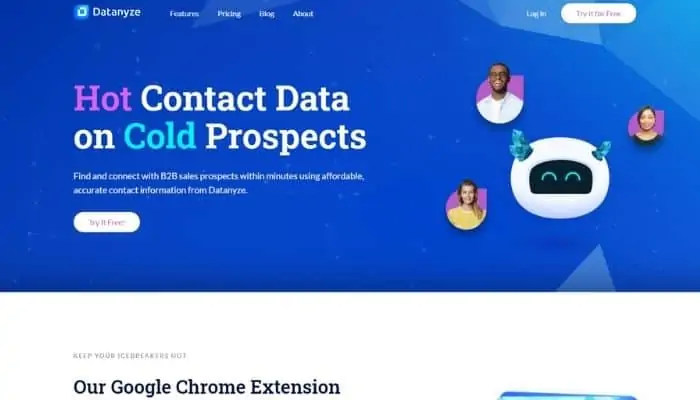 Datanyze is a software that shows its true colors for B2B lead generation. You can utilize the platform to connect with potential customers, get their information and business info. It also has features that would help you out during cold outreach.
Datanyze collects information from various places such as news outlets, social media, blogs, and other sources. The platform is very sophisticated, allowing you to get very precise results. That way, you will have a major head start before even starting a conversation with a lead.
The lead generation software has some great email options. Besides its cold outreach function, you can rely on its follow-up feature. On top of that, you can utilize it for tracking all the conversations in the past or currently.
Datanyze pricing
There are two subscription options for clients: Nyze Lite is free and Nyze Pro costs $39 per month.
Why do you need leads generation?
Any business needs sales and that is exactly why leads as so important. Each sale starts with a lead and leads are the ones who will give you a chance to sell your product or service.
The more leads you generate into your sales funnel, the more sales you will make. That is why lead generation is so critical to every business's success.
Why should lead generation software be your priority?
Simple answer, missing out on quality leads. Every hour, your competitors make a sale that you could have made. The only difference is that their lead capture was better than yours and they are getting qualified leads quicker.
Lead generation tool will enable you to organize your leads, make your lead capture process more efficient, and therefore your sales process more successful.
The number of your sales is directly related to the efficiency of your lead gen. So you must make sure that your lead management is in as perfect shape as it can be.
Also, US spending on digital lead generation is steadily increasing…meaning that it works
What is lead generation software and what does it do?
Lead generation software is a tool that helps lead management. It organizes your leads, makes lead capture faster and more efficient, and ensures sales process success by providing accurate lead data to the person in charge of following up on those leads.
In a lot of cases the software has several tools in it, things like email marketing tools, settip up of marketing campaigns, live chat tools, and many other features that may be a part of it.
Still, the main objective of lead generation software is to…generate leads (duh!). Or rather sort them and make sure that you are working with them in an efficient manner.
Lead generation software allows for seamless a / b testing. Goes without saying that is can work email addresses and contact information in the ways that your google sheets never could.
What are the benefits of using lead generation software?
Below are some of the main advantages that a lead generation tool will bring you.
Activity Tracking
With a lead management tool, you will always know about the lead activity. You can always see how often the lead was contacted and what actions he/she took in response to your marketing campaigns.
Lead Scoring
Lead scoring is an important step in the lead management process, but it's not easy to track this manually for a large number of leads on your own. With lead generation software you will be able to efficiently create lead scores for your leads.
Lead Filtering
With lead management software, you can filter your list of leads based on the criteria that you want to use. This will help make it easier and faster to find what you're looking for in a lead generation tool.
Comprehensive Reporting
You excel sheet can only take you that far before you start to get lost in the table. With lead generation software, you will have a lead report that can be customized to your needs and is easy to read.
Automated Processes
Lead management is tough enough before adding in the other tasks of running your business on top of it all. With lead generation software, processes are automated so you don't have to manually delegate tasks one by one. You can create rules and further improve your sales and marketing processes.
How can lead generation software help your business?
Would more sales, faster lead generation, more quality leads, improved sales and marketing help you business? If the answer is yes then lead generation software might be the solution you've been looking for.
First of all – sales increase. When you get the best tools on the market to store contact information, monitor customers, convert leads and serve as an automation platform for your sales teams – your bottom line starts to improve.
A more efficient sales team with the right marketing tools translates into more sales leads, with translates into a better sales pipeline. If your team is able to generate more leads, they are also able to generate more sales, and that is what it is about.
The second reason is cost savings. Freelancers, small businesses, big companies – everybody wants to spend less and earn more. The lead generation tool will help with that. With the use of the marketing automation processes that I've described, your sales rep will be able to save time and focus more on leads and customers. Doing twice as much work as before at the same time.
What to look for in the best lead generation tool?
The final pick will depend on the individual needs of your business, but here are some things that you should focus on when thinking about the future of your lead management.
Collaboration
it goes without saying that your lead generation tool will have the possibility to have multiple users. But make sure that you can set various rights and access authorizations for your team members.
Analytics
lead generation software will increase the efficiency of lead prioritization by providing useful metrics on lead conversion rates for different marketing strategies, lead quality scores across time periods, and more that will help you get your lead gen to another level. Make sure that you can see the relevant information and do not need to dig for it – comprehensive analytic are important
Integration
You are already using many marketing and CRM tools to help you keep track of everything and serve as your sales navigator. Or you used a landing page builder and now you want it all connected in the lead generation tool – make sure that the tool of your choice integrates with other marketing tools from your arsenal.
Ease of use
This is very individual, but you want your tool to perfectly fit your working style. While all of the lead generation tools presented here have many good functions, the tool of your choice should be intuitive and not require you to click through myriads of options to get to where you want to be.
Customization
Good lead generation is all about the proper lead capture on your landing page. So to get the most of your b2b lead generation software you need to have a simple but efficient landing page builder with customizations to make it all your down. Drag and drop is probably the most efficient way to create a simple landing page without any big hassle.
Automation
Apart from lead capture, another goal of good lead generation software is to automate processes. Generating leads is much easier when they are delivered to the decision-makers (sales team rep) through rules on the automation platform. When the leads are captured and entered their email addresses and phone numbers, you can for example set a rule that your email marketing platform would send out an email, and if they would click on something, that would be logged into CRm and your SR will receive a contact list of potential qualified leads from this campaign.
Landing page
We slightly touched on this topic already, but I would like to cover it separately.
Price
This is a tricky one. Good thing is that a lot of the lead generation software platforms provide a free trial to test if everything is as you want it to be. On this platform, the price is usually paid in a form of a monthly subscription. You can give the platform a shot for a couple of months before committing to a whole year's payment.
Conclusion
So, we've looked at the different lead generation software options on the market and I've given you a breakdown of what to look for in each. The main concluding point won't come as a surprise – you need to test it for yourself. Lead gen is a process that needs constant tweaks and improvement, and from time to time even switching of sales and marketing tools.
Fortunately, there are various free trial offers that these platforms have. Test them out and see which ones help you to generate leads the most.
Lead Generation Software FAQ
How do I generate leads automatically?
You can point incoming traffic to your lead gen landing pages. If everything is set up correctly, you will be getting new sales leads every day.
What is a lead generation system?
A group of tools that create your lead gen funnel. It guides your lead from cold traffic coming onto your site to a happy customer, therefore, forming your sales pipeline.
How can I generate leads for free?
Find a free traffic source to point to your landing pages and you will have free leads. Social media are a good source of such traffic but require quite a bit of work.
What is lead distribution software?
Qualified leads in real-time. Sometimes there is no time to store the lead and get back to it. For example, when call centers is working with the lead, they need to move it forward in real-time and this software helps.