Free webinar software is a great way to start using webinars for your personal or business needs. These webinars platforms come in all shapes and sizes.
You can do automated webinars, pre-recorded webinars, or live events. I discuss the advantages of webinar software in a different post, so here we will focus primarily on free webinars free trials and just various free options to get you started.
All these web conferencing tools have either a free trial or are completely free to use, so without further ado let's get into it.
Free Webinar Software
Below you may find some of the best free webinar platforms that I managed to find. Keep in mind that in some cases, free webinars come with some limitations so while I do my best to compare their features – you will still need to test them for yourself.
Zoom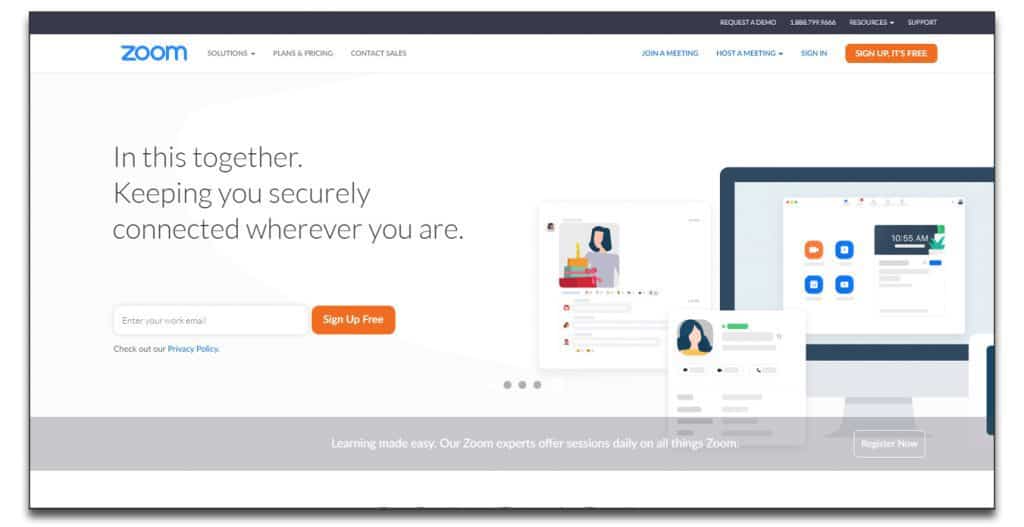 Today, Zoom is regarded as probably the best free webinar software. It is a platform that has experienced enormous growth since the onset of the pandemic, and its value keeps on climbing.
There is a lot of advantages to this webinar tool. First off, it is renowned for its ability to host numerous attendees. While its free version is not completely free (you have to remake sessions after every 40 minutes), it is a great way to create webinars if you're on a tight budget.
The webinar service works by sharing screens as well as breakout rooms. The great thing about the platform is that its free version also provides online support. On top of that, you are unlikely to encounter any issues as the number of attendees increases, which is a major bonus when hosting massive events. You can use Zoom for up to 100 participants.
Once your live streaming is over, you can save the file and create recorded webinars. This is especially great for organizations, or for influencers who want to provide their fans on-demand webinars. The feature is also great for remote employees who encountered technical difficulties during the meeting or weren't able to be present due to some other unexpected issues. Keep in mind that this feature is only available for the paid version.
As one of the best webinar software, the tool provides numerous features to its users. This includes alternative virtual background, joining meetings via phone, screen sharing, live webinar, recording a live video in MP4 or MP4A format, various plugins, voice screening, and HD screening, etc.
Zoom pricing
Video conferencing platform offer 4 plans: Basic (free), Pro ($140 per year), Business ($190 per year), and Enterprise ($223 per year).
Google Hangouts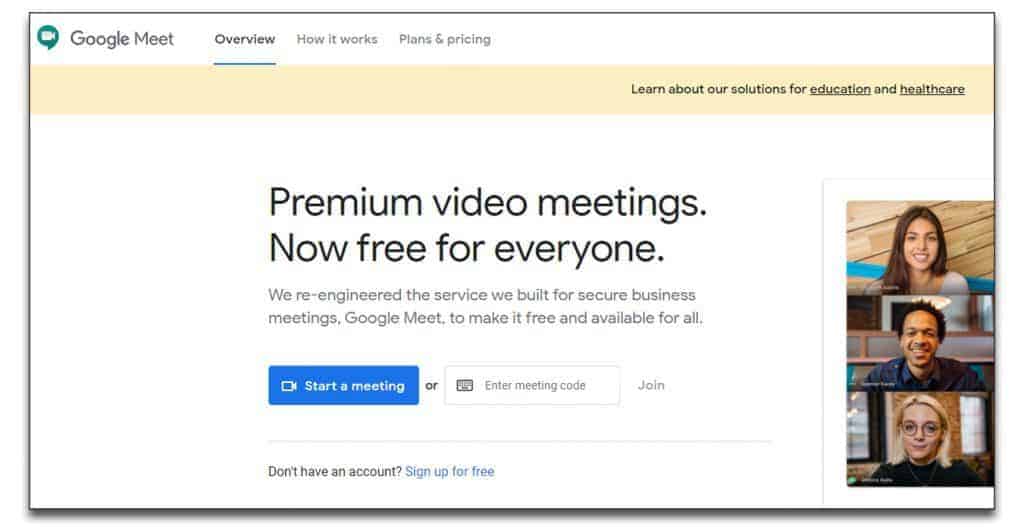 When talking about free webinar services, it is hard not to mention Google Hangouts. Like most other tools created by this company, this webinar platform is very simple, easy-to-use, and stable. The webinar software is free for group meetings of up to an hour.
This is probably the best webinar tool for users and companies who just want a straightforward way of creating webinars. The great thing about the software is that you can easily integrate it with other Google products. Of course, this is an added benefit for companies and individuals who heavily rely on Google apps.
Among its best features, we need to mention voice calling, instant messaging, and video calling. It is one of the best free webinar platforms if you need a flexible approach for getting in touch with other team members. The software is also amazing for its quick live chat feature, which is why it can be used for daily communication besides hosting webinars.
The two biggest issues with the tool are that its pricing plans are a bit convoluted, and the program is only for personal use.
Google Hangouts pricing
There are 3 versions of the product: Google Meet (free), Google Workspace Individual ($8 per month), and Google Workspace Enterprise (contact the company for a quote).
GoToWebinar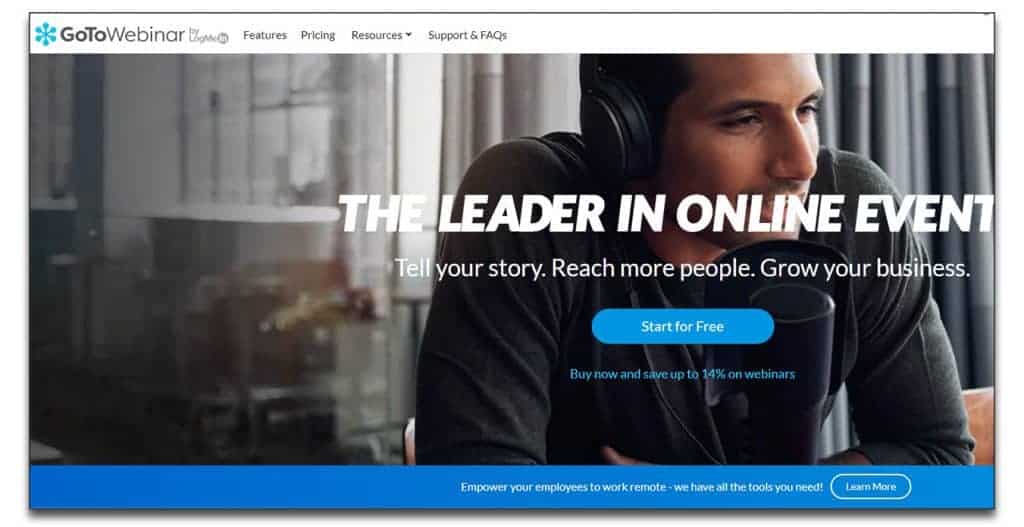 This one is a free webinar recording software that has lost a lot of its shine in the last few years. GoToWebinar is a related product of GoToMeeting, and you can use both platforms simultaneously. However, with the rise of all these platforms, the GoToMeeting/GoToWebinar combo is no longer the best choice for an optimal webinar experience.
These two apps are similar in many ways. They have numerous joint features such as screen sharing, automated transcripts, VoIP, private chat with the host, webcam video sharing, drawing and highlighting on the screen, ability to record webinars, saving of the chat logs.
But, there are also a few reasons why you might consider getting both of them.
GoToWebinar is for one-way video seminars only. A person talks in the mic, and everyone has to listen. Furthermore, you will only see the host's screen. By default, all attendees are muted. You can use it to create polls, analytics, and share files.
GoToWebinar pricing
This isn't exactly a free webinar platform like some other ones on the list. However, it does have a free trial that lasts 7 days. After that, you will have to choose between one of 3 plans: Starter (89 euros per month), Pro (199 euros per month), and Plus (429 euros per month).
Join.me
Join.me has one of the best free plans out of all the webinar platforms on the list. It is especially great if you need to scale the processes. Paid plans are very flexible and cost-efficient. All of this makes it one of the best free webinar tools for companies that are just starting their entrepreneurial journey.
The free webinar software can show 10 screens at once. Out of that, you can turn on 3 of them simultaneously. And this is only the basic plan! The advanced versions have more features and personalization options.
Unfortunately, there are also a few flaws with this video conferencing tool. For example, you can access its whiteboard feature only on iOS devices. If you go with the Lite plan, you won't get access to webcam feeds, which can cause issues in some situations.
Join.me pricing
There are 4 pricing options for the users including Join.me Free (free), Join.me Lite ($10 per user per month), Join.me Pro ($20 per user per month), and Join.me Business ($30 per user per month).
Eyeson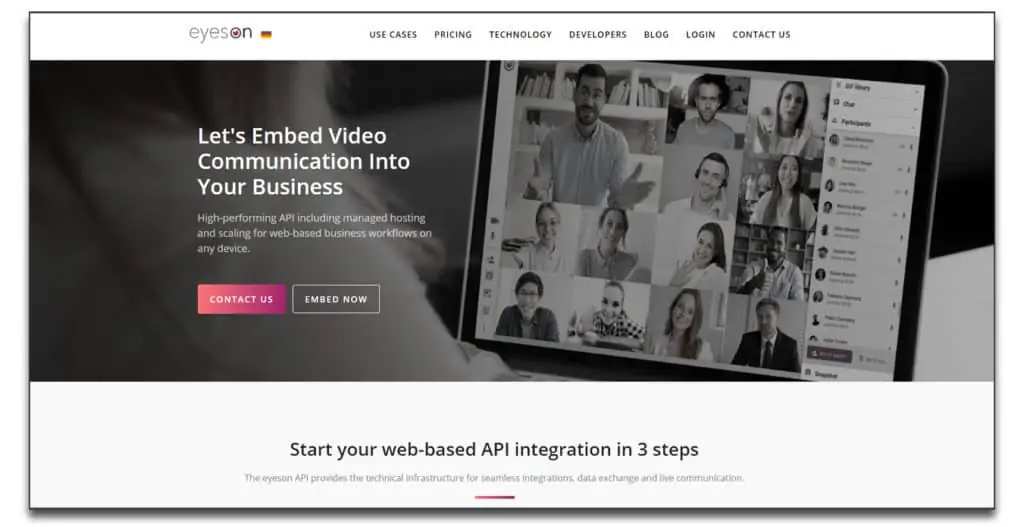 According to the company that created the tool, Eyeson is a tech leader within the cloud video communication field. This is a bit farfetched statement, but we cannot neglect its awesome features and functionality.
One of the great things about this webinar tool is that it has API allowing you to integrate it with various other platforms. In order to maximize user experience, the company offers its clients a cloud capacity management service. The company can also help you out with data management and video coding performance. The tool can scale really well which makes it ideal for larger events.
Perhaps the tool's best feature is its stability. The stream will have constant quality regardless of the number of participants. Based on several tests performed by review companies, its bandwidth rarely wavers regardless of the situation. Lastly, you can use this platform on any device whether it's mobile or desktop.
Eyeson pricing
The company has a rather simplistic and straightforward pricing scheme. You can choose Pro plan (from $9 per host), and Corporate (contact the company for a quote).
StageTen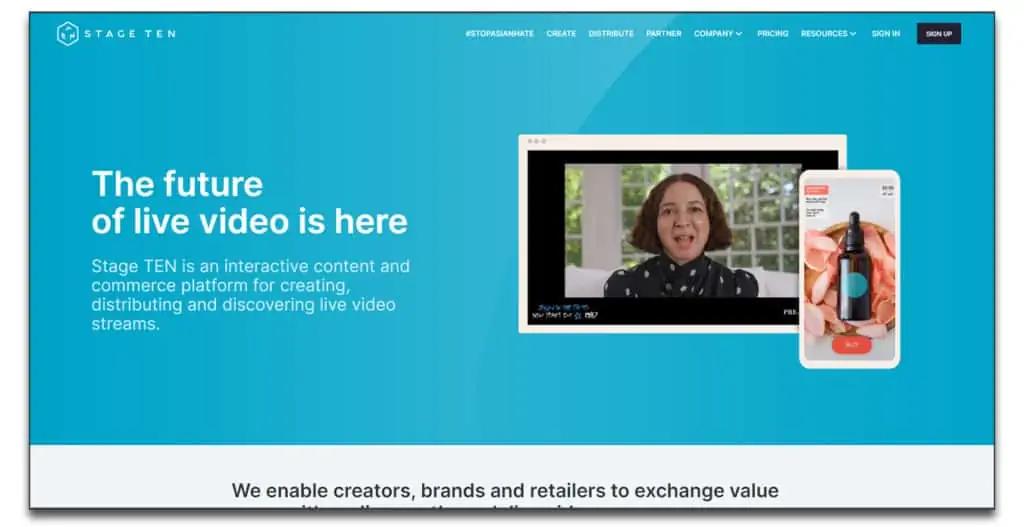 This free webinar software is so simple that anyone can use it even if they never tried similar tools. It allows users to create advanced videos, which can be then streamed on Facebook, YouTube, Twitter, and Twitch. All of that is done within a Chrome browser.
The platform works under a drag-and-drop principle. You can use its feeds from webcams, smartphones, screen share, game supplies, studio feeds, to make professional streams.
StageTen offers its users numerous customizable options. You can change its media clips, graphics, and music to add flavor to your free webinars. Whether you're doing this for your company, or if you're an individual entrepreneur, these features will make you stand out in the sea of interchangeable webinars. This is especially great if you're catering to the audience that is used to these events, as they will quickly notice the difference in the quality of your webinars and everyone else's.
There are a few neat features that you can apply when creating a live stream. Once you create a video, you can post it on social media thus creating a unique brand image.
StageTen pricing
The customer can choose between 4 plans: Free, Starter ($15 per month), Creator ($60 per month), and Business and Enterprise (contact for a quote).
GoBrunch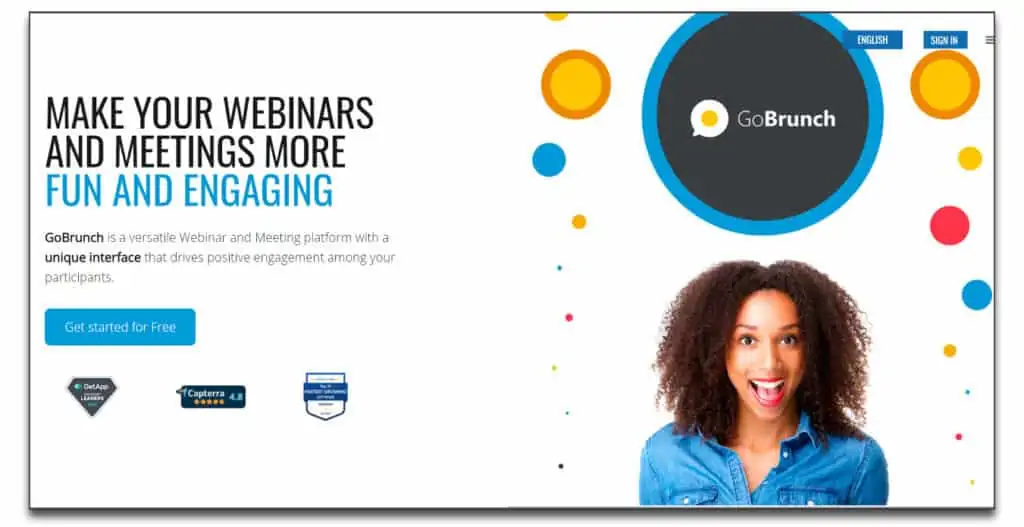 GoBrunch is among the best platforms in the world for creating training webinars. Its numerous features allow you to make virtual classrooms that can be attended by more than 500 people. On top of that, there is no time limit or any other constraint that would affect the user experience.
Like many other platforms on the list, you can utilize this tool to record your webinars and replay them later on. When you attend a virtual webinar, you can pick a seat, and you're also able to interact with other attendees. If you wish, there is also an option to invite other people to attend this stream.
GoBrunch has become popular because of its attendee scalability. Unlike some other tools, which utilized protection protocols and all of these features that prevent others from joining, GoBrunch is much more inclusive. People also like it because of all these options that would allow you to interact with other participants during the event.
You can quickly access some of the tool's basic controls (whether you're a host or participant) by simply pressing a few buttons. Everything works on the cloud, so there is no need for installations or updates.
GoBrunch pricing
You can choose one of the 4 options: Free, Gourmet ($10 per month), Prime Chef ($30 per month), and Enterprise (contact for a quote).
Facebook Live
Facebook live is one of the most popular webinar software on the market. It is great for people who have a company, but it can be utilized by everyone else as well. The product is especially great for increasing customer engagement if you don't have a well-built social media presence.
The platform allows you to create streams that go for hours, which can be good for live product and service presentations. All of this would eventually lead to increased sales.
Unfortunately, there are also a few issues you need to be mindful of. For example, Facebook Live quality (whether we're talking about video or audio) can shift significantly during sessions. That can be a major problem for commercial enterprises that want to look as professional as possible.
Facebook Live pricing
Contact the company for pricing plans.
Youtube Live
YouTube Live is the extension of the company's regular service. It shows the best results when utilized by YouTubers who have a large following. This platform gives them an additional source of revenue and allows them to connect with fans in a bit different way.
With this event software, you can create schedules and promote streams in advance. That way, if you have large followership, you can make sure that they all get the message and that you maximize your audience for every session.
The tool allows you to create lists so that only selected audiences can watch your streams. When all is said and done, you can download this video and post it on your YouTube so that all subscribers who missed the event have another chance to watch it.
Lastly, this software gives you another option for monetizing off of your subscribers.
YouTube Live pricing
This feature is completely free for content creators, but you need to have 100 subscribers and a verified account.
This completes our list of free tools that should cover all your webinar needs. Considering that a lot of the free webinars listed here have a very high number of attendees limit eve nin their free trial – it should be enough to get you started.
Which free webinar software is the best?
The ultimate question, as You would expect the answer is – it depends. Depending on your business, the personality of the host, the type of the events you are planning, the interest of participants and attendees – the perfect pick for the events that you have in mind will always be individual.
The main consideration when choosing a starter free webinar software is the limitations. You want to make sure that the tools of your choice will be able to host the needed amounts of attendees that you are planning for.
After that, I would consider what tools will you need to use to improve your marketing but also to provide a great webinar experience in real-time. Will you be using polls, what type of analytics will you want to use and how interactive do you need your webinar to be.
FAQ
Can I do a webinar on Zoom for free?
Yes. Zoom has a starter package that is free to use. Zoom is not exactly
Is there a free version of GoToWebinar?
They have a 7-day free trial, but after that, you have to pay.
How can I get a free webinar?
You can use a free trial or one of the free webinar starter packages that are in this post.