WebinarJam has quickly become one of the most popular webinar software tools out there. In this post, we will go over WebinarJam pricing and review their services!
WebinarJam is an excellent platform to turn to for many users. Whether you want to market products, teach students, or consult with clients, this tool does it all.
Where this platform excels is with their marketing tools – but they don't stop there. WebinarJam offers everything from in-webinar advertisement to countdown timers and sales pages.
In this WebinarJam Review, we're going to cover all the basics, including:
An overview of the WebinarJam platform
WebinarJam Pricing
How WebinarJam compares vs Zoom
Disclaimer: You may come across an affiliate link, if you would decide to purchase service or product I would receive a small commission that is completely free to you, meaning there is no additional cost for you.
WebinarJam Review: Overview
WebinarJam is a cloud-based broadcasting and webinar software. The purpose is to allow users to connect with their target audience. This system is chock-full of features, such as:
The ability to Livestream to YouTube
Customizable templates
Video injection into live broadcasts
Advanced analytical tools
HD audiovisual quality
A host of scheduling, reminder, and follow-up abilities to support interaction
Before we touch on these features, let's review one of the big perks of WebinarJam: their Broadcast Distribution Technology.
This universally-based software is top-notch in the industry. It allows users to broadcast and view webinars on almost any device. Compatible options include desktop and laptop computers, tablets, and mobile phone connections. This makes it easy to host your webinar even if you encounter technical difficulties.
Furthermore, because WebinarJam is cloud-based, there is no need to clutter up your device's memory with a download. The platform works well on all major web browsers. Options include Internet Explorer, Safari, Chrome, and Firefox. This is another big part of what makes WebinarJam stand out from the crowd.
But, because the software is online, the quality of your webinars depends on your broadband. Thus, those with poorer internet connections may experience lag time or choppy video.
If you're using the software for business – especially marketing and product sales – it's important to ensure your bandwidth can handle high-resolution broadcasting.
Let's now review WebinarJam– and the features we mentioned above– more in depth. In this section, we're going to cover 8 essential features of any webinar platform:
Presenter Options
Audience Interaction
Recording and Video Capabilities
Scheduling
Setup and Communication
Monetizing Your Broadcasts
Behind the Scenes
Customer Service
WebinarJam has a great proposal of 14 Day Trial for $1.
Presenter Options
As a presenter, the pressure is on you to make the webinar enjoyable and actionable. But, having access to a whole host of presentation tools makes this job easier. With WebinarJam, presenters have several options to build and customize their webinars.
For instance, users can import PowerPoint and Keynote presentations into their webinars. Moreover, once you have uploaded the files, you can customize these slides further. As an example, presenters can add new transitions and unique overlays.
This is possible through WebinarJam's Drawing Board feature. The tool makes it easy for users to customize their presentation and screen – and even other presenters' screens.
Video injections are yet another way for a presenter to customize their broadcast. With this tool, presenters can add videos at any point in the presentation, be it live or pre-recorded. This is especially useful for marketers who want to add testimonials. Teachers who need to include video learning may also find this option helpful.
WebinarJam also sets itself apart from some competitors via its "Handout" option. Among other things, this can be used to:
Give homework assignments
Send out business cards and brochures
Provide written literature on a topic or broadcast
Share marketing and product forms
All you have to do is upload the file into your presentation at the desired time. After that, your participants can download the files at will!
Last in our review of WebinarJam's presenter options is their password protection feature. Whether you're a business, a freelancer, or a teacher, even those who don't monetize their webinars can protect their content.
Audience Interaction
One of the most critical features for many webinar hosts is audience interaction. This is especially true in the marketing industry. This is one of the areas where WebinarJam shines, as they provide plenty of features to increase audience participation.
Some of these options include:
Live Chat and Q&A features
"Sticky announcements"
Live polls and surveys with real-time results
A range of commenting capabilities, such as:

Private and live comments
Highlighted comments
Moderation abilities
Many webinar platforms include some of these options, but not all. Having all these at your fingertips is a powerful marketing advantage.
Furthermore, WebinarJam includes an "Attendee Spotlight" ability. This feature allows you to invite any member of your audience to speak as a temporary presenter. Hosts can activate this option with the click of a button.
Once your attendee is in the spotlight, they will be able to share their thoughts and screen. They can broadcast with their webcam and interact almost like a presenter. Once they're through, all the presenter can click a button for the member to "return to their seat," so to speak.
This leaves control of the broadcast with the presenter while still allowing participation.
All these tools come together to form an interactive experience for your audience. By encouraging participation, your ability to capitalize – financially and otherwise – increases with WebinarJam.
Recording and Video Capabilities
All webinars run through WebinarJam are guaranteed to be HD quality at 30 FPS (frames per second). It's important to note that this is contingent upon a stable internet connection. If your broadband is poor, the platform won't be able to stream in the highest quality.
Furthermore, because WebinarJam is only online, your audiovisual components go through a compression stage as you record. This is due to the fact that all broadcasts route through YouTube Live. Thus, they are not saved to your recording device.
This means that, even with the best internet possible, your video quality is somewhat lessened compared to a downloadable software. But the quality is still quite good for an online broadcast system.
Another important ability is that you can record and save live broadcasts as a video file. Once your live broadcast is over, you can activate the "Replica Replay" feature. This will mimic and replay the webinar in its entirety! This includes:
Timing of surveys and polls
Product offers
Q&A from the audience
Attendee Spotlight moments
Video interjections
The end result of this setup is that your webinar will feel "live" even days or weeks after the live event. You can even schedule these webinars to replay at certain times to capitalize on your best works.
But this is not the same as an evergreen webinar feature. One of the downsides to WebinarJam is that they don't offer true evergreen capabilities. To automate this type of content, you have to buy their evergreen platform as well.
Scheduling
Scheduling your webinars is very easy with WebinarJam. When you reach the setup page for your broadcasts, you'll see four options:
Broadcasting immediately with a login link for attendees
Scheduling a single session with a registration page for participants
Planning a series of webinars with registration pages for each webinar
*An "Always-On" room for presenters and attendees to join whenever need arises
(Note that access to the "Always-On" room is dependent upon which plan you sign up for).
After you select which option you'd prefer, all you have to do is prepare for your webinar broadcasts and you're all set!
Setup and Communication
After you schedule your webinars – assuming you're not going live now – your first step is to set up a landing page. (If you're running a webcast series, you'll need one page per webinar).
To get started, WebinarJam provides a library of pre-built templates. The drag-and-drop editor allows you to customize any of these. You can change the color, add images or logos, and alter text. While the templates are simplistic, the process makes it quick to set up nice landing pages.
Moreover, if you're torn between two designs, you can activate both for split A/B testing. This feature lets you use two landing pages at once. It provides data on how your audience interacts with them, so you can find out which page performs better.
Furthermore, WebinarJam allows for one-click registration. This reduces potential bounces from those who don't want to complete a signup form. All the host has to do is send an email with an invitation link. Users that click the link will be automatically registered for events – easy as pie!
This system works with any autoresponder and most CRMs. This means that even if you don't use WebinarJam's tools, you can maximize registration potential.
But, as any webinar host knows, registering attendees for an event is not the same as getting them to show up. WebinarJam also makes this process easy with their email and SMS system. You can schedule text and email reminders for broadcasts to remind participants of upcoming events.
Additionally, you can build several post-webinar responses depending on how attendees react. For instance, if an attendee failed to show, you can send a "We Missed You!" email. On the opposite side, if someone left the show early, you can request feedback on your performance.
Monetizing Your Broadcasts
Depending on your business, there are a few ways to monetize with WebinarJam.
For instance, Active Offers is an easy method for a presenter to boost product buy rates. Hosts can throw a pop-up offer into the recording at any time. The offer will remain there until the host cancels it or the webinar ends. Active Offers also allow you to set a timer or limit availability to encourage users to buy now.
But not all broadcasters sell physical products. In fact, for many, the broadcast is the product. For instance, those who sell educational videos, coaching tools, or consultant work may sell their webinars.
If this is the case, you can set up your webinars to charge admission before accessing the broadcast. (This is also the simplest way to monetize your webinars. With this method, the money is already in your account before you start recording).
With either of these options, the payment process is simple and easy. Hosts can either accept credit cards or route payments through PayPal. Either way allows secure, hassle-free monetization.
Behind the Scenes
Setting up and performing for your webinars is only half of the webinar experience. Some of the most important action takes place behind the scenes. WebinarJam provides helpful tools here, too.
For instance, WebinarJam allows automated integrations with most major autoresponders and CRMs. This makes it easy to use email marketing campaigns within WebinarJam's site.
Furthermore, you can use integrations to track registrants, move individual accounts to various mailing lists, or assign them tags to receive specific emails based on certain actions (leaving early, missing a webinar, etc).
Analytics are another important part of WebinarJam's review process. You don't have to wait until the end of your session to find out how you're performing. Their analytical stats show up in real-time. You can track registrations, show-ups, dropouts, and other important metrics as they happen.
You can even break down your information into financial terms. For instance, you can see your dollar-per-registrant and dollar-per-attendee stats. These tools are a few of the analytical abilities that WebinarJam allows its hosts to use.
Customer Service
Last but not least in our WebinarJam overview review, is the company's customer service.
WebinarJam provides an extensive FAQ and knowledgebase to help customers get set up. These contain dozens of written answers and video tutorials. The materials review every step of getting started with WebinarJam.
Furthermore, if you need more help, you can contact the company 24/7 via their online ticketing system. There is also a phone number you can call if you prefer phone service versus the online helpdesk.
WebinarJam also has a Facebook community chock-full of users from around the world. This is another place that WebinarJam customers can go to get answers to their questions. Users can also utilize this forum to share creative ideas in a group brainstorming setting.
WebinarJam Pricing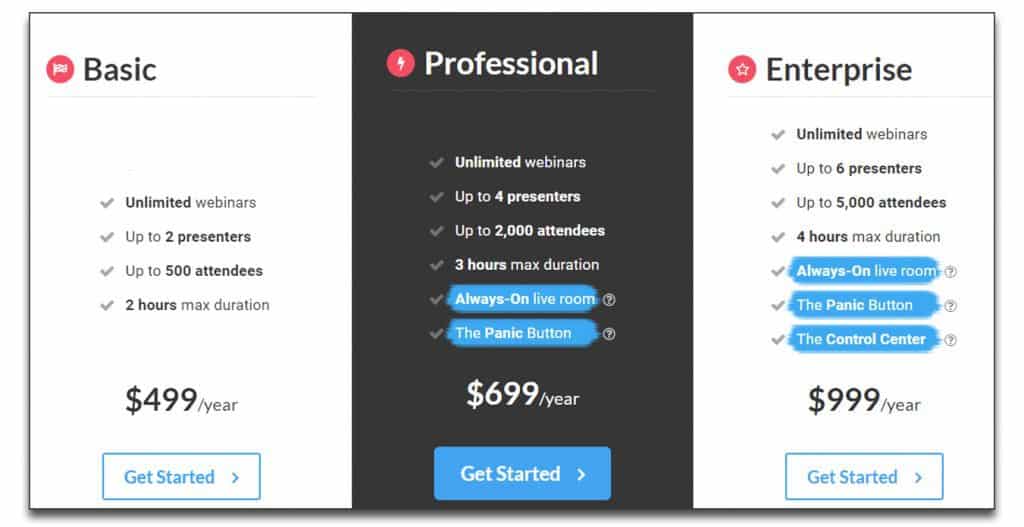 Pricing is often an important factor when selecting for a webinar software. WebinarJam is no different. More important than pricing, however, is what features come with the price.
A quick review of WebinarJam pricing plans shows they offer a great number of features at every price point.
For instance, every plan comes with:
Live Chat, poll, and survey options
Audience interaction tools
Monetization capabilities for the webinar and products
Email and SMS alert systems for scheduling and reminders
WebinarJam also has a $1, 14-day free trial to all new users. Furthermore, if you want to try any of these plans for a full month, the site offers a 30-day moneyback guarantee. This makes it easy and hassle-free to explore the service in depth before you make a final decision on any of the following plans.
Basic Plan: $499 per year
The Basic Plan is ideal for freelancers and small businesses. It comes with all the above features for 2 presenters at a time and 500 attendees per webinar. While you can schedule unlimited webinars at this price point, each webinar has a max duration of 2 hours.
Professional Plan: $699 per year
WebinarJam's Professional Plan is the best deal for mid-sized businesses or entrepreneurs with a large customer base. Besides increasing the head count to 4 presenters and 2,000 attendees, webinars can last up to 3 hours.
Moreover, this plan includes an "Always-On live room." This means that you can log in anytime, anywhere, and start presenting immediately.
Furthermore, the Professional Plan includes a "Panic Button" that allows you to immediately move your entire presentation into a new room in the event of technological difficulties.
Enterprise Plan: $999 per year
The Enterprise Plan is for large businesses who use webinars as a mainstay in everyday operations. This plan allows for 6 presenters and 5,000 attendees for up to 4 hours at a time. WebinarJam's Enterprise Plan also includes the Panic Button and Always-On live room.
One of the biggest benefits of the Enterprise Plan, though, is the Control Center. This option allows the presenter to focus on their presentation at hand and outsource running the webinar to a team of staff members. These behind-the-scenes members can run the chat and Q&A, manage purchases, and tend to attendees one on one.
In case you still need additional argument on why to give a shot to WebinarJam…look no further. On WebinarJam site you will be greeted by this proposal: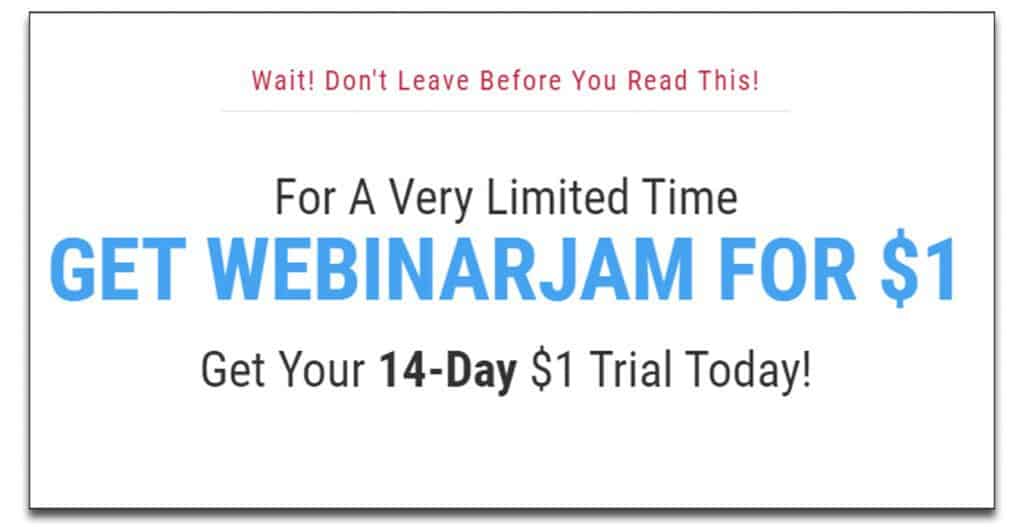 WebinarJam Vs Zoom
When choosing a webinar or meeting software, it's important to select the option that fits your needs. One of the most popular alternatives to WebinarJam is Zoom. This is partly because Zoom has somewhat comprehensive tools and good video quality. But how do they actually compare?
To start, it's worth noting that Zoom focuses on providing a meeting space. On the other hand, WebinarJam specializes in business and marketing needs.
Webinar Setup
One of the ways this difference presents is in the webinar setup pages.
In Zoom, setting up a meeting is as easy as the click of a button – short and sweet. But this is due to the fact that Zoom only has one real broadcasting option.
WebinarJam has a ton of options for presenters to review before activating a webinar. The sheer number of features means that setting up a webinar can take several minutes. This compares to less than a minute for Zoom.
But the tradeoff of ease versus options means that you lose some features along the way.
Attending a Webinar
Attending a webinar in Zoom is also a very different experience than with WebinarJam. When you click to join a webinar in Zoom, first-time users are prompted to download the software.
This is a downside compared to WebinarJam, which hosts meetings only online.
It's worth noting that because WebinarJam is online, attendees may see one of its main drawbacks: technical difficulties. While recent upgrades to the platform have fixed some issues, not having a downloadable software means not all issues can be taken care of. Specifically, those with poor internet connections may suffer pixelated video or audio trouble.
But, the same issues will be present in Zoom, though a little less so, if the issue is poor internet connection.
The issues with video quality extend to recording the webinars as well. Because Zoom records webinars on your computer, there are no compression issues.
On the other hand, WebinarJam streams via YouTube live. This means the audiovisual elements compress as you record. While this isn't always a turnoff, it does mean that the quality of your videos can suffer compared to Zoom's.
Platform Pricing
One of the areas where Zoom and WebinarJam are similar is in their pricing – until you dig deeper. Zoom's basic package costs around $40 per month, while WebinarJam comes out to about $42 per month ($499 per year divided by 12 months).
But Zoom caps your audience at 100 attendees, regardless of plan price. If you have a larger audience, you will have to buy "blocks" of 500 or 1,000 attendees for an extra cost.
On the other hand, WebinarJam allows up to 5,000 attendees in the largest plan (which costs about $83 per month). While the price is double the cost of Zoom, the number of attendees is increased times 50. With WebinarJam, there is no need to buy extra spaces for overflow participants.
When it comes to options, Zoom offers almost all its features at every price point. While you have drawing board and other basic abilities, these features pale in comparison to WebinarJam's.
WebinarJam Vs Zoom: Which Platform is Right for Me?
If you're not in the teaching or marketing industry, Zoom may suit your needs. This is true for those who want to host weekly staff meetings or connect with family. If you're looking for a basic platform with only simple tools, WebinarJam may be more than you need.
However, for most marketers, Zoom's tools won't stand up to scrutiny – or the price. This is where WebinarJam excels. Whether you want to sell products – or your webinars – this is a platform built for the needs of business and marketing.
You may also want to check a comparison of over 23 webinar software platforms.