Which Is Better Thinkific vs Teachable 2022
Thinkific vs Teachable is a tough question, they are one of the best platforms from which you can create and sell your own online courses. These sites make it easy to share your expertise with the world – and make a nice profit, too.
The best part is, you don't need technical skills to get started! All updates and maintenance are taken care of by the hosting platform.
And, unlike platforms such as Udemy, they are not course marketplaces. This means that you're in charge of setting your prices and policies from the get-go.
Everything is prepared for you to leverage it for your success. And in times of an immense online courses growth, this maybe be the perfect opportunity to get you started!
In this Thinkific vs Teachable review, we're going to cover some important features of each. If you're looking for the best platform for your needs, we should be able to help you narrow down your options.
Thinkific vs Teachable: Main Features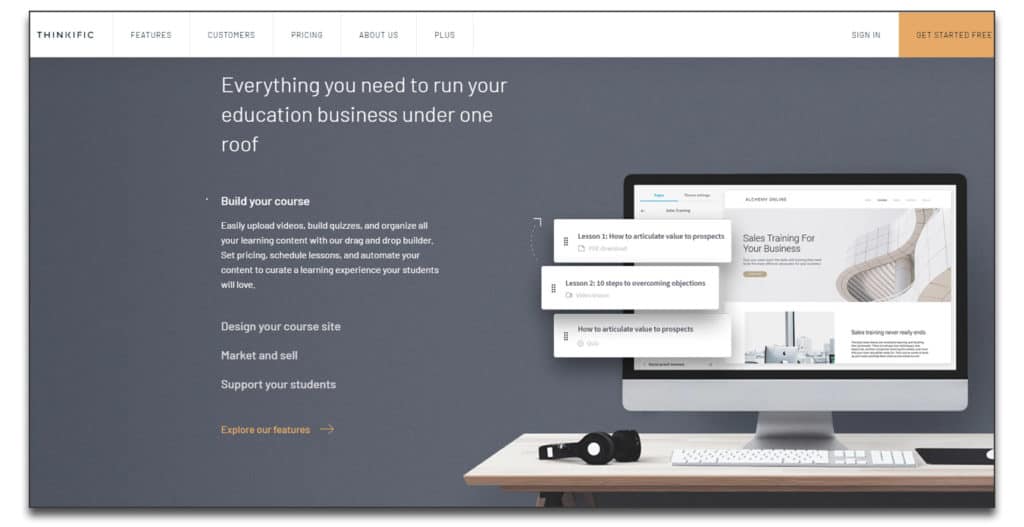 Teachable and Thinkific offer a variety of similar features to help users succeed.
For instance, they both include unlimited video hosting and plenty of third-party integrations. You can also upload or create a bunch of content, such as quizzes and tests.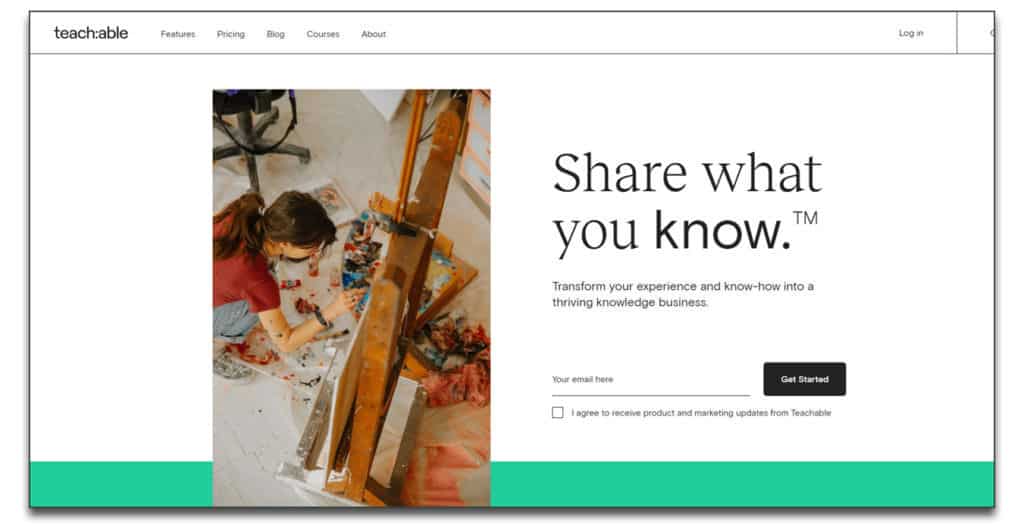 And, of course, you can track student progress, send certifications for course completions, and take payments.
Plus, they both offer quick customer support and active Facebook groups.
But, once you dive into the specifics of Thinkific vs Teachable, you find two very different platforms.
Course Content and Delivery
With both Thinkific and Teachable, you can bulk upload a variety of media. These include A/V content, text, images, and PDFs. Once they're online, you can organize them into lessons and modules. Plus, both platforms can drip your content based on preset student qualifications.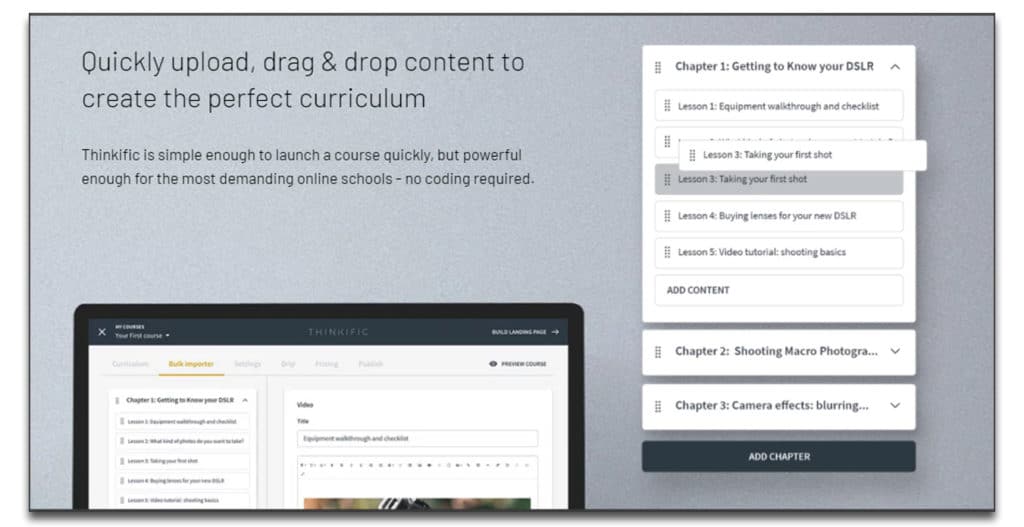 One of the big differences here is that Thinkific lets you import Captivate and Storyline files, which Teachable does not offer. They also include a video library that stores all your uploads in a single location.
On the other hand, Teachable makes it easier to build your courses from scratch. Plus, their editor is more flexible when it comes to including media in your lectures.
But, instead of a built-in video library, you have to store your content in Google Drive or Dropbox.
Teachable's delivery is somewhat more modern than its competitor, with a sleek player and comfortable UE. It's also easy to navigate between lessons, view comments, and access plans from their iOS app.
When it comes to actually handing out assignments and giving quizzes, Thinkific is the more advanced option. You have access to features such as:
Randomized question banks
Imported questions
Images and videos
Integration with exam sites
Native surveys
Teachable, though, only offers plain text quizzes. Furthermore, they lack native "Assignments" capabilities. Instead, you're limited to using Dropbox or Google Docs again.
Student Engagement
Student engagement is essential to build an active learning environment (and good course reviews!).
Thinkific, for one, lets you build separate communities in which your students can engage. You can also attach these communities to specific courses.
However, this feature is still under development, so you may run into glitches from time to time.
Or, you can open a Discussion for questions and comments. But since you can't attach this to individual courses or lectures, the discourse may get lost in the shuffle.
With Teachable, you instead get a native comments system between instructors and students. You can answer questions – or pose your own – within your platform. Or, you can attach a comment block to single lectures to keep the conversation on-topic.
Website and Design
Another essential aspect of any course creation platform is their website capabilities. Both Thinkific and Teachable will host your website in-house. Additionally, both include an SSL certificate. And, you can access a free subdomain (or pay for a custom domain) with either option.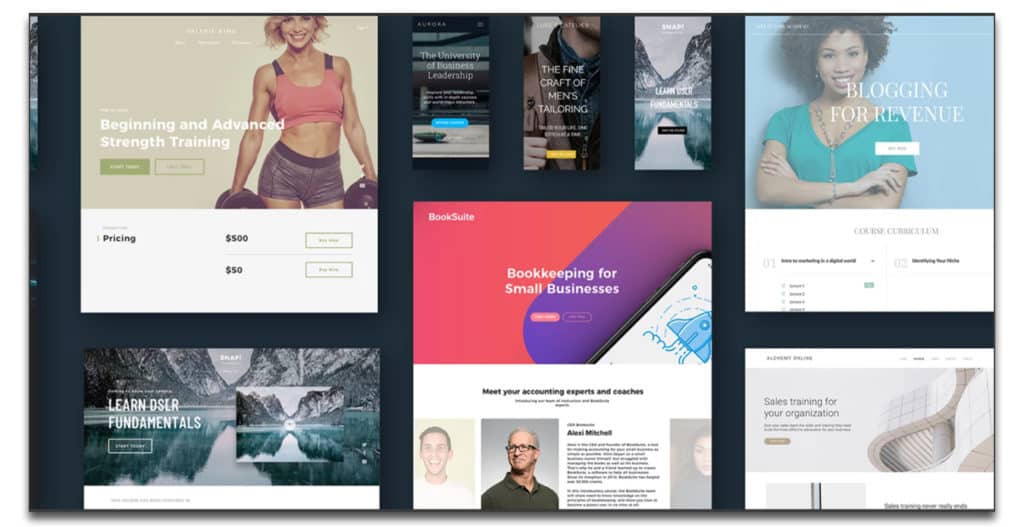 When it comes to editing your website itself, both platforms let you use their drag-and-drop editor to customize:
Fonts
Stylized layouts
Built-in themes
Backend code
But, there are some crucial differences between Thinkific vs Teachable, too.
For instance, whereas Thinkific includes a theme library with three templates, Teachable only offers one. Plus, Thinkific has several versions of each theme to give you more choices.
While Teachable lets you upload your own logos and use their "Power Editor," your options are more limited. Not to mention, you can't upload outside themes.
One more difference between Teachable vs Thinkific is that Teachable offers a basic blog. On the other hand, Thinkific doesn't include blogging abilities at all.
Course Marketing
Marketing is essential to your success as a course creator, and both Thinkific and Teachable include a robust set of marketing tools, such as:
Course bundles
One-click upsells and coupons
One-time or recurring products
Affiliate programs
But their checkout and payment processes have some critical differences.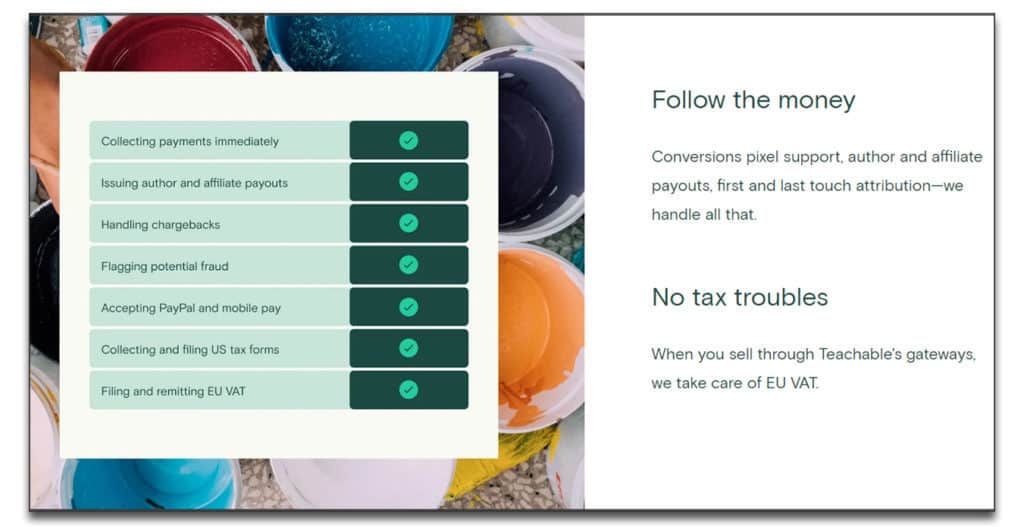 With Teachable, their 1-step checkout process lets users enter their payment and personal information on the same page. You can also include marketing features like moneyback guarantees and testimonials.
With Thinkific, on the other hand, you have to use a 2-step process where your students create an account, then buys your course. Plus, their checkout design features are lacking in diversity and functionality.
When looking at payment gateways, Thinkific comes out on top. You hook up your Stripe or PayPal account and receive instance payout when someone buys a course. But you're responsible for paying affiliates and authors.
Teachable lets you use their payment gateway or a custom option, like PayPal. But, these plans are only included on more expensive packages.
Thinkific vs Teachable: Pricing
When it comes to investing in a course platform, balancing features against pricing is important.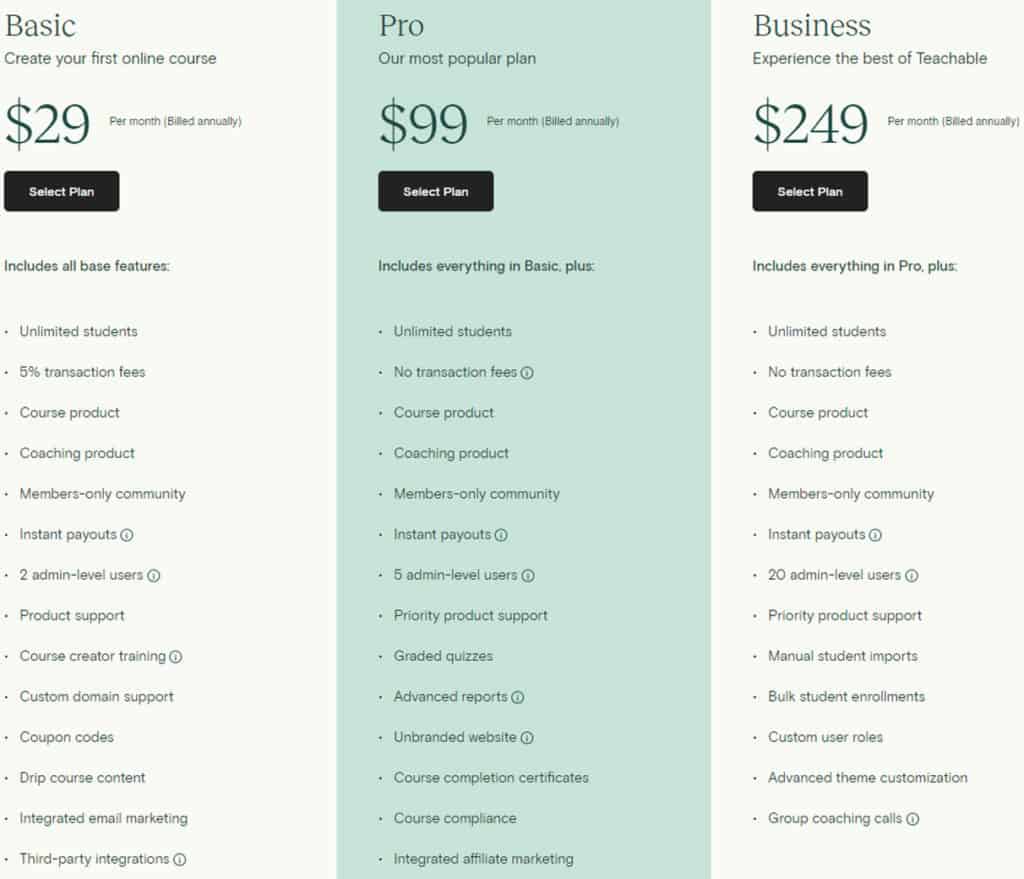 All paid Teachable pricing plans include unlimited students and courses. Their plans range from $29 to $249 per month. Their cheaper plans also include transaction fees.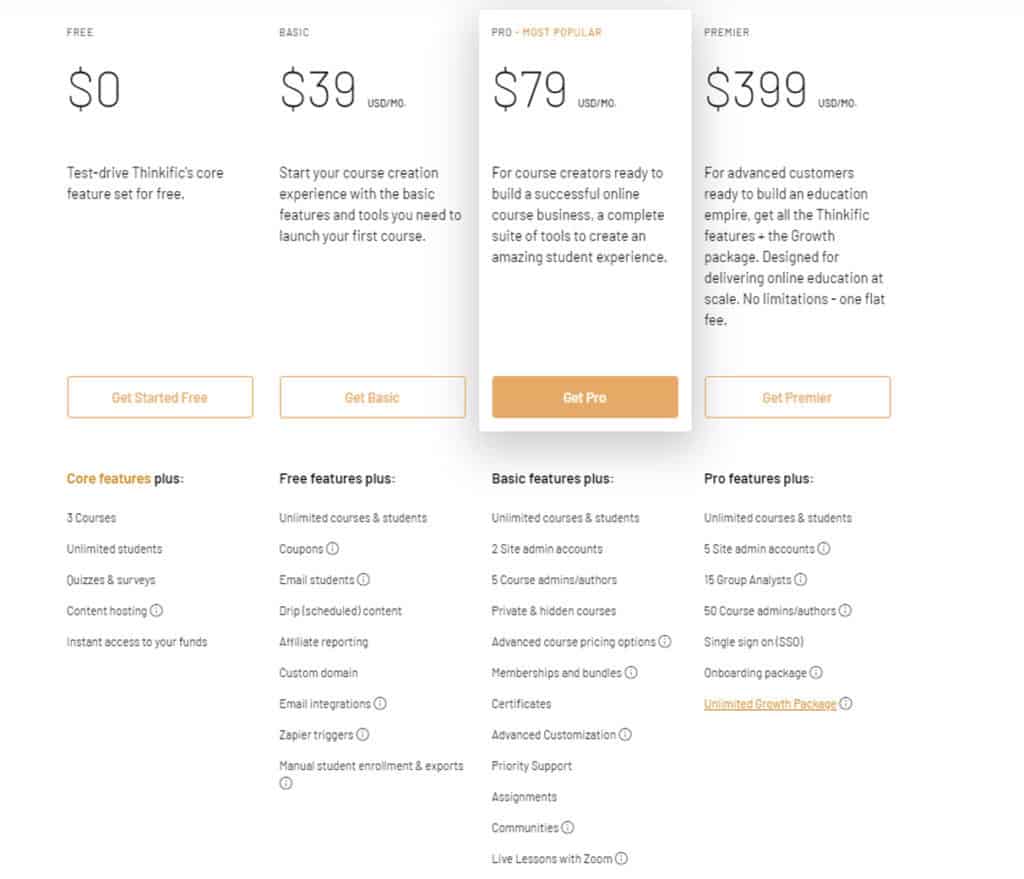 On the other hand, Thinkific limits your features based on which pricing plan you buy. But they have no transaction fees on any plans, which range from free to $399 per month.
Teachable vs Thinkific: Which is Better?
Both Thinkific and Teachable offer plenty in the way of features, though there are some key differences. Ultimately, the better platform is the one that best serves your needs.
With Thinkific, you get:
More assignment and testing support
Community forums
More membership options
No transaction fees and cheaper pricing plans
On the other side, Teachable offers:
A native iOS app
Better course reporting
Wider course building abilities
A better optimized checkout process
Well, and that seems to be it. For more information and services – head to my up-to-date comparison of online course platforms.