A short answer to what is SEO writing could be that it is a critical part of your success to rank in search engines. In this post, we will get a deeper look into that.
Even if you are not a full-time digital marketing professional, you've heard about SEO which stands for Search Engine Optimization. But to understand why SEO is important, let's have a look at a couple of numbers.
The market monopoly on searches belongs to Google, which holds over 85% of the total market share. This translates into 5.6 billion daily searches. Yes, you are reading it correctly that is a billion with a b., and yes – daily.
Google's first page has 10 results. The first result gets over 30% of all the traffic that is coming through the Google search. Results on page 2 (position 11 and onward) receive nearly none.
What was the last time you went to second page on Google?
This results that everybody is competing for are a couple of spots at the top. In this post, we will go into detail on one of the key aspects of success in ranking and dive deep into what is SEO writing.
What is SEO Writing?
Search Engine Optimization, or SEO for short, is a complex and techy process. Its main purpose is to optimize a web page to increase its search engine ranking. So, when we talk about SEO writing, where does the writing fit in?
The association of these two terms is simpler than you may think. In order for a page to be optimized for search engines, it needs to have content. And how else would content be created if not by being written? Web content is optimized with the use of on-page SEO tactics and SEO writing.
Whenever you perform an online search, the first links you will see on the search engine results page are the most SEO friendly. If they've earned a top spot it's because the SEO writing behind them was optimized to include the right keywords and drive authority and relevance.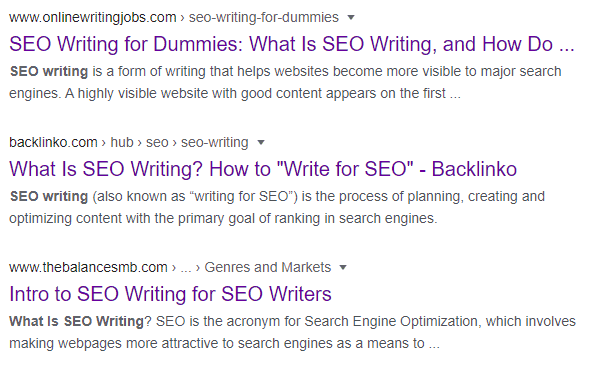 The major difference between writing in general and SEO writing is that the latter is done by using certain SEO practices that can boost a content's visibility and crawlability and help it rank well in online searches.
If it sounds a bit complicated, it's because it is. Simple keyword stuffing used to work back in the day. SEO writing was all about finding the right keywords and using them enough times in your content to get the page to rank higher in the search results. Well, not anymore. Search engines have learned to evaluate and rank web pages in a different manner. So nowadays keyword stuffing will get you deranked if anything.
SEO writing practices have become more complex and many more factors need to be counted in to create good SEO content. Things like relevance, authority, increasing the time users spend on the page, backlinks, and on top of all quality are very important aspects of SEO writing.
What Are The SEO Content Types?
To get a better picture of what SEO writing is about, let's start with the most popular types. There are several types of SEO content, that make up what is known as content marketing. The main focus of all of them is to drive a web page's visibility and build its authority to get better search engine rankings.
Blog Posts
Blog posts are definitely a favorite type of SEO content. They are widely used as part of content marketing strategies to boost a webpage's search engine rankings and attract leads. SEO writing for blog posts is focused on providing educational, valuable content that attracts a high number of users and shares. The main focus is building authority.
Blog posts can be organized in a series on a particular topic, or they can take the form of lists or product reviews. Guest blogging is also a great SEO tool where you will have to provide quality SEO writing for partner sites to accept it.
In essence, everything is a blog post. Bur rather than a lengthy comparison or a "how-to" guide, imagine a daily post with tips, personal thoughts, news etc.
Guides
Guides are also a popular form of SEO content. They also play on the idea of offering search engine users a densely packed tidbit of information on a particular topic. They are similar to blog posts but often more elaborate. They are structured in a way as to cover a topic more extensively and in more detail, providing more value to users.
The popularity fo the "guide" form of content is based on people searching for "how to" very frequently.
Reviews
Here are top three results for "best earbuds".
Notice anything weird? I will give you a hint, there are no earbuds producers, only reviews and comparisons list. When a person is looking for a product, they want to compare and see what their options are.
Internet marketeres know that, and that is why in most cases you will never see a final product in the top results. Rather a reviews or comparison of best products.
SEO writing is the essence of good pages, while design can be done in one of the landing page builders, SEO content is a more complex task.
Best Practices for SEO Writing
In this section we will go into more detail on how to write an SEO article.
1. Keywords
Keywords are the key ingredient of SEO writing. They represent the SEO part of this term.
Incorporating the right keywords into your content is how you let search engines know your content is relevant to a searcher's query. They can be simple words or entire phrases and how specific they are will determine the amount of competition your content will be up against in the fight for search engine rankings.
Ideally, the keywords you include in the SEO writing process are broadly used by searchers. However, the more used they are, the fiercer the search engine result competition will be for that word or phrase. For best results, your SEO writing practices must include keyword research.
This way, you can determine what keywords would work best for your target audience and narrow down your keywords to more specific ones to avoid facing too much competition. For example, why compete with the entire internet for the keyword "ice cream" when you can only compete with other pages using the word "vegan ice cream shop in Detroit". Provided that is what you sell, of course.
If we would take this post as an example, as the first step – I did a bit of research and found a keyword that has medium difficulty, a topic that is a good fit for my blog, and good search volume in US.
So these will be the keywords in the post which I will be writing for SEO purposes (noticed what I did there? 🙂 )
2. Headlines
In SEO writing, headlines are very important. They need to be compelling, inviting, and show the content's value right from the beginning. Click-through rates are mostly determined by headlines. So, allocating enough time in your SEO writing process to come up with good headlines is well worth it. Your headlines need to include your relevant keywords, attract attention, and encourage action (that is, the user clicking through)
There are a few popular strategies you can apply to your SEO headlines. Using numbers is one of them. For instance, instead of writing "Dessert Recipes" you can choose "10 Best Dessert Recipes".
Going one step further, your headline should address the reader and emphasize the content's value.
Following the same example as above, the headline would sound like this: "10 Best Recipes You Can Wow Your Guests With". In this case, the reader can immediately understand how many recipes they can expect to find and what results they can expect from following the said recipes.
"How To" headlines are also popular since they align with user intent. Many people use search engines to find answers to how to do different things. Incorporating this phrase into your headline when you are SEO writing will help search engines determine your content's relevance to the searcher's query.
Keep in mind that you keywords must appear in the preferably at the beggining of the title or close to it. So they can be clearly seen.
3. H1,H2,H3
You may have noticed that there are various headline numbers. These numbers mark the importance of the particular headline to search engines.
H1 – will always be your post title, it may appear only once on every page.
H2 – will be various sections of your post.
H3 – subsections of H2, etc.
Let's take this post as an example:
H1 – What is SEO Writing, Explained, Guide for 2020.

H2 – What is SEO Writing?
H2 – Types of SEO Content

H3 – Blog posts
H3 – Guides
H3 – Reviews
In H1 I am using "What is SEO Writing" which is the keyword of this post. It is in H1 so search engines see to which keyword the content is related.
With H2s I am breaking down the topic while using primary but mostly secondary keywords. The goal is to keep supporting the main keyword but also catch the smaller traffic volumes on sub-keywords.
H3s are subcategories for H2. That can go on as much as needed. H1 and H2 are most important to search engines. With H3 and onwards you are showing the SE that the content is worth pointing out but it is slightly less important than your other headline levels.
4. Content Value
Useful content will keep people on your website longer and generate more user engagement. It will encourage more shares and links to your content. All these are search engine ranking factors. So, the primary purpose of your SEO writing needs to be the creation of informative, educational pieces that offer as much value to visitors as possible.
Your content needs to answer a question or a set of questions, provide solutions, give in-depth information about a particular topic. The type of content you produce needs to be tailored to your audience and their search intent.
5. Links
Links are an important part of good SEO. The ideal links are the ones from high authority websites in your niche. It shows search engines that your page is a trusted source of information and builds your online authority.
However, including links to other pages in your SEO writing is also considered good practice. You can add links to other pieces of your content or external pages. This shows search engines that you research your topics, you work to build associations, and you share useful content with your readers.
5. Lenght
This will very individual, depending on your niche and type of website but it seems that Google prefers longer posts. Aim for 1500 – 2000 words for each post to really use all the keywords and provide value to the visitors.
SEO Content Structure
Before you jump into writing your long-reads you should consider the bigger picture – your content structure.
One of the simple and most popular ways how to approach this matter is to use content silos.
Imagine that your ranking in search results is based on "SEO credits". Now let's say you main page has 100 credits and 10 links to various content, some more and some less related. That is dissolving your main page credit and also sending only 10 credits per link. This is weakening your link structure.
What you wan to do is keep all the credits where they matter. So you would have the parent page and link only to related pages that are about the same topic. Those page would only link back to the parent page. This way you are trying to ensure that your SEO credit is not watered down, Google notices your "SEO credit hub" and ranks you higher.
Content silos are those isolated content hubs which help you to keep the SEO credits at once spot and move all your pages in that hub higher in the search results.
Here is how a content silo keywords research may look like (after each keyword there will be search volume and ranking difficulty):
Pancakes (parent topic) 159k, KD62

Potato pancakes (sub-topic) 76k, KD35
Banana pancakes (sub-topic) 67k, KD30
Keto pancakes (sub-topic) 56k, KD39
Now we established the topics that you will need to write about. You would have the main page – Pancakes and then sub-topics to support that page.
Physical Content Silo
In this type of silo you are creating pages and physically creating the structure you are going after so the final result may look like this:
domain.com/pancakes
domain.com/pancakes/potato-pancakes
domain.com/pancakes/banana-pancakes
domain.com/pancakes/keto-pancakes
In WordPress you would be making pages to achieve this type of structure.
Virtual Content Silo
If you are more into posts, or you already have content where you can not change URLs, you can do the following:
domain.com/pancakes (1)
domain.com/potato-pancakes (2)
domain.com/banana-pancakes (3)
domain.com/keto-pancakes (4)
The whole silo would be created by internal links. So 1 is linking to 2,3 and 4. 2,3,4 are linking back to 1, and between themselves where needed.
That is pretty much it, at least for the base on how to create content silos. If you want a great example of SEO content strategy check out this research about Canva.
Using Keywords in SEO Writing
Since keywords are, as mentioned, the essence of SEO writing, choosing them and where to use them is critical.
Keywords are typically included in the titles, headlines, subtitles, and within the actual content. For best SEO results, they are also included in meta-descriptions, URLs, image titles, and descriptions.
As search engine algorithms keep evolving, the importance of keywords varies. However, there is no question that they should be used frequently enough to let search engines know what your content is about but rarely enough as to not attract penalties for keyword stuffing.
There are a few places in your SEO writing where you definitely need to use your keywords.
The title and headlines are a must, as are the first paragraph or the first 100 words of your content. You can use the keywords or alternative versions of them to avoid repetitions. From here, keywords should be included in SEO writing where they come naturally. The text needs to have an even flow and please readers. Ideally, your keyword density should be between 3%-7%.
Tools like Yoast SEO will help you monitor primary and secondary keywords in your post.
Creating a SEO Writing Strategy and Calendar
To make the most of your SEO writing, remember to focus on search engines, as well as your target audience. They are equally important to your SEO success.
Your content should keep people engaged for as long as possible and encourage them to share or comment. Bounce rates, engagement rates, and the number of shares are very important ranking factors.
To achieve this, you will need a good strategy and if you want to scale it up – also content marketing tools. You can't just be writing random posts or guides. You will need structure, as well as discipline in your SEO writing process.
Define Your Goals
First, you will need to define your SEO writing goals. This will determine not only what you write, but how and what keywords you should use. For example, do you want to build authority? In this case, you can write "how-to" guides on your topic of expertise and offer free information to searchers. Creating and offering this type of content can cement your position as an industry expert and attract leads based on your popularity.
On the other hand, if your goal is to sell more products, your SEO writing and overall SEO efforts should focus on the quality and ranking of your product or landing pages. Then, you can create supporting blog posts to go into more detail about your product's benefits or uses.
If you want new attendees on your webinar software event about speedreading, focus on creating guides on that topic, "10 Best Tips" lists, and "How To" posts. If this is a part of a long-term strategy do not hesitate to target long-tail keywords that have low volume but can get you ranked quicker due to low competition.
Define Who You Are Writing For
Before you start writing, you need to know who your content is for. It's one thing to write for experts in the chemical industry and another to write for soon-to-be moms. Each will expect something different.
Once you've determined who you are targeting with your SEO writing, you can build a relevant list of topics around that persona. You will be able to not only adjust your content list but also your SEO writing style to fit the needs and expectations of your ideal customer.
Create and Follow an SEO Writing Schedule
Consistency is part of your content's quality. You need to know what you'll be posting when you'll be posting it, and why. For instance, if you have a travel agency and you want to attract more leads, you could make a weekly post about weekend getaway ideas every Thursday.
Having and following a content calendar can help keep your audience engaged and build your page's authority. It helps you avoid repetitive topics and keep things fresh.
It also helps you align your SEO content with any product launches or other events in your company calendar.
A content calendar can help you organize posts in dedicated series. This will increase the value of your content by offering your audience a package of complex and complete information. Organizing your posts in a calendar will also allow you to evaluate when you can turn a series of posts into a guide and use it to market your product or build an email list.
Conclusion
There are a lot of ways to get traffic immediately. SEO is not one of them. SEO and SEO writing is a long process where you see no results of your work for many months. You must enjoy the process, as it is hard to repeatedly do something that is bringing nothing back.
So why do it? Because at the end of this tunnel is free, targeted organic traffic that will keep flowing on your page while you stay at the top positions. It is like digging a canal to a river. It takes a lot of sweat and tears, but when you are there…the water just starts flowing.