In this Penji review, we will go in-depth into the workings of on-demand graphic design service.
If you are wondering if images are as important as everyone says there are, I suggest you will have a deeper look at something called the picture superiority effect.
Humans are by nature visual creatures, so visual that we can remember over 2000 images.
Just remember the last time that any text seemed familiar to you. Now, what about images? Happens several times each day that you see something that you have seen before.
The visual component has a huge impact on our decision-making. It shapes the way we feel about a particular brand or product. It can lead our attention to a particular part of the page.
That is why graphic design is so important in online marketing. It is a huge part of our communication to a potential customer or just a reader.
While you can do a couple of simple designs yourself, it becomes very time-consuming when you have to create several of them on a constant basis.
If you need to focus your attention elsewhere, this service might be for you. So without further ado let's dig into the review of the Penji graphic design service.
Penji Review – Table Of Contents
What is Penji Graphic Design Service?
Penji is an unlimited graphic design service for a flat monthly fee that varies according to your needs.
Unlimited graphic design means that you can get as many design concepts and revisions as you need.
The only catch is that your graphic design projects are fulfilled one at a time. This means you can create a queue of graphic design projects and they will be handled by a dedicated designer one after the other.
You can also have more than one project handled at a time if you choose the pricier Agency plan, where you get 2 dedicated designers.
The main benefit of Penji's graphic design service are:
It saves you the time and effort required to find a suitable designer for your projects.
Benefits of an outsourced service versus hired staff.
No need to commit to any sort of contract.
You are free to cancel anytime.
For agencies, bloggers, and startups, this kind of on-demand service is a lifesaver.
You don't need to worry about hourly or project fees. The flat monthly fee is the same no matter the number of projects you have. And it takes the guessing out of how much graphic design is going to cost you.
Who Is Penji's Unlimited Graphic Design Service for?
Penji's service is great for marketers, marketing agencies, and business owners. Or for bloggers and digital publishers. Basically, for anyone with consistent graphic design needs.
If you have constant graphic design projects and are paying above the cost of the Penji plan, it makes sense to opt for a subscription.
Penji helps you to get great work in less time than on other platforms like Fiverr or Upwork. 
Even if you do have an in-house designer, Penji is a great option for when you need additional help without having to hire new staff.
The platform is easy to use, communication is simple, and the content created by Penji's designers is high-quality and delivered on time.
Here are a few examples of graphic design projects Penji can deliver:
Infographics
Graphic images for blog posts and articles
Custom social media graphics
Graphics for PPC campaigns
Facebook banners
Illustrations
Magazine covers
Logos
T-shirt designs
Website and landing page designs
Apps
You can also browse the project gallery on Penji's website if you want to see some of the work.
How Does Penji Work?
Let's move to a more practical part of our Penji review.
Graphic Design Project Stages
There are four major steps in Penji's process for delivering the graphic design you need. The first one is a form you will fill in with the details of your design project. This form helps Penji understand your specific requirements.
The more details you provide, the easier it will be for the designers to deliver the best content. You can also upload any attachments the designers could use. Mention the brand's colors, the target audience, examples of what You like, etc.
The second step is getting assigned a Penji designer that best fits your project. Penji does this automatically based on the details you filled in in step one.
All of their designers are vetted and brought on board following a rigorous screening process. Communication with designers happens on the Penji platform.
Step three is where you get the first draft of your graphic design. The usual turnaround time is 24-48 hours. You can then submit any feedback. There is no limit to the number of revisions you can request if you are not 100% happy with the design.
The platform also provides an integrated revisions tool. So, you can easily show the designer exactly what you want to change and how.
Once you are completely satisfied with the design, it belongs to you. You can download it from Penji and use it for whatever you need.
Setting Up Your Penji Account
Creating a Penji account is quick and easy. You will have to provide a few details about your company so Penji can match you with the best designer for your industry. But other than that, the signing up process is very intuitive and fast.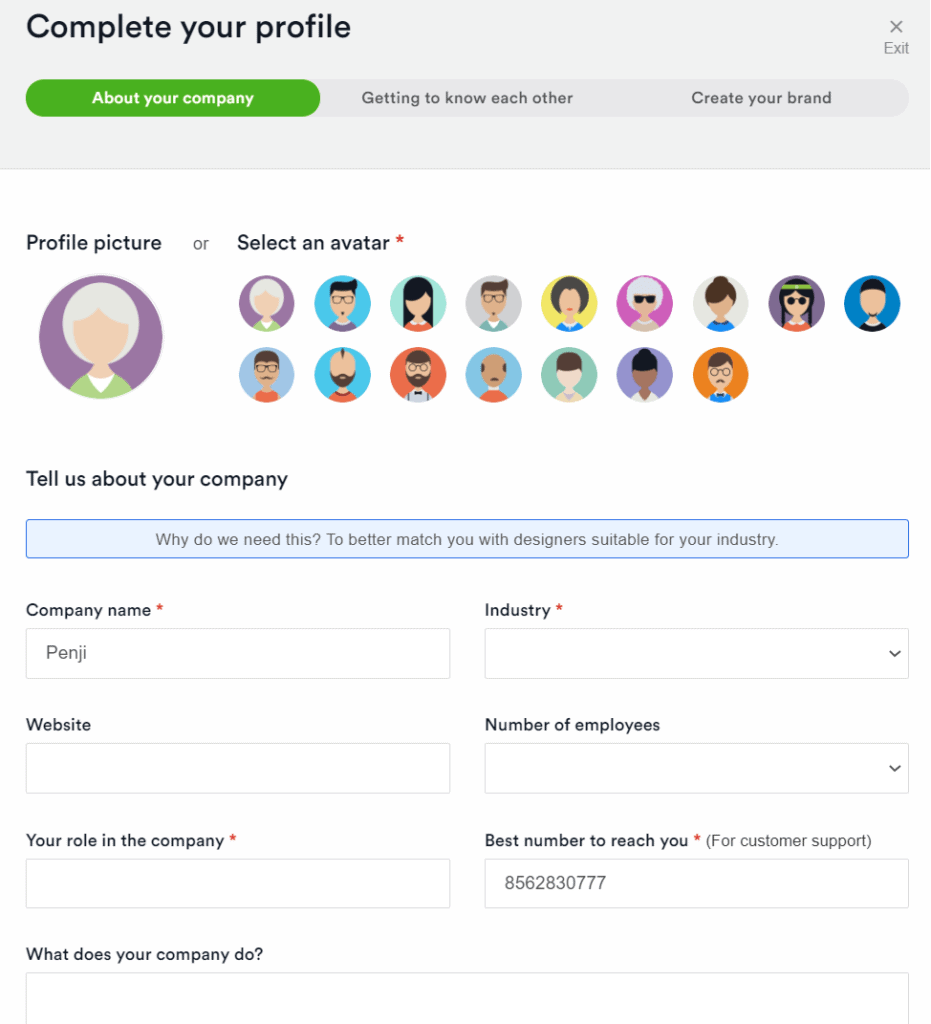 If you have any questions doing the signup process, the customer support team will guide you through the steps and answer any questions you may have via chat.
The checkout process is also very simple so it will take you mere minutes to get started.
Communication via Penji's Online Portal
All communication between you as a customer and your dedicated designer is done via Penji's online portal. That is where you receive the first draft and also where you submit your request for revisions and get back the edited versions.
It's also where designers can ask you additional questions to get to know your project and your needs better.
The Team and Pro plans also come with a dedicated account manager that you can chat with via the online portal if you run into any issues or complex situations.
Submitting a Request for a Design Project
To submit a request for a new project all you have to do is click the "+New project" button on the project board. Then, you are taken to a new page where you can select your project's design category. As you type, Penji will suggest existing categories you can choose from.
If your project doesn't fall under any of the existing categories, you can also create a custom one by clicking "Create a custom project".
If you, for example, need a social media post, you are then asked to choose the social media platform the post is for.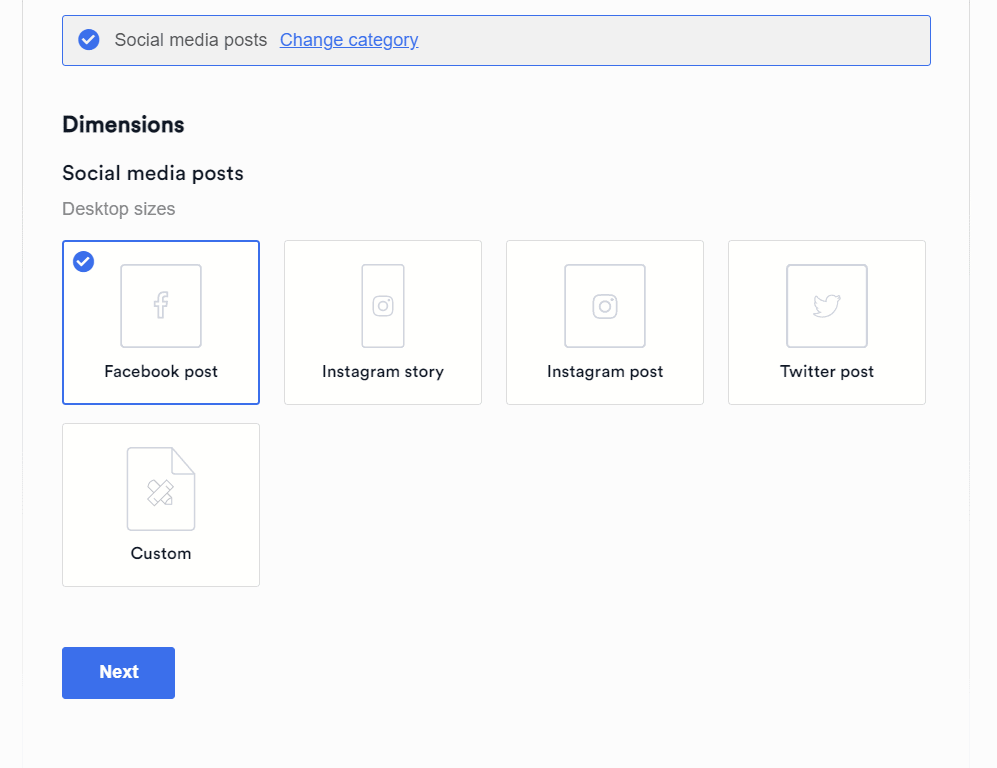 Every step is pretty intuitive. And you will get a few additional questions for each type of project.
Next, you will fill in a short form describing your project. You are asked to provide details about your brand, target audience, references, details about preferred colors.
You should add every detail you feel is important to your design. No matter how small.
Then, just choose the level of customization and the type of deliverables you need, and your job is done. Next, it's the designer's job to come up with the first draft.
Turnaround Time
The turnaround time for a graphic design project is usually between 24 to 48 hours. It depends on the project's complexity. The same turnaround time applies to any revisions you may need.
UX/UI projects or very complex infographics may take longer. But the designer will always let you know what turnaround you can expect.
Revisions
Ideally, you'll love the first draft and, voila! That's it. But, in real life, you will probably need a few revisions.
The revisions tool lets you mark any changes directly on the first draft. Plus, you can also use the platform to communicate the changes you want directly to the designer.
Your revisions will then turn into a second draft. If, for any reason, you find that you don't resonate with the designer and you've been through multiple drafts without hitting the right mark, Penji will assign another designer to your project.
The turnaround time for revisions is typically 24 hours. More complex projects or revisions may require 48 hours.
Let's move to the closing sections of our Penji review.
Penji Review: Pricing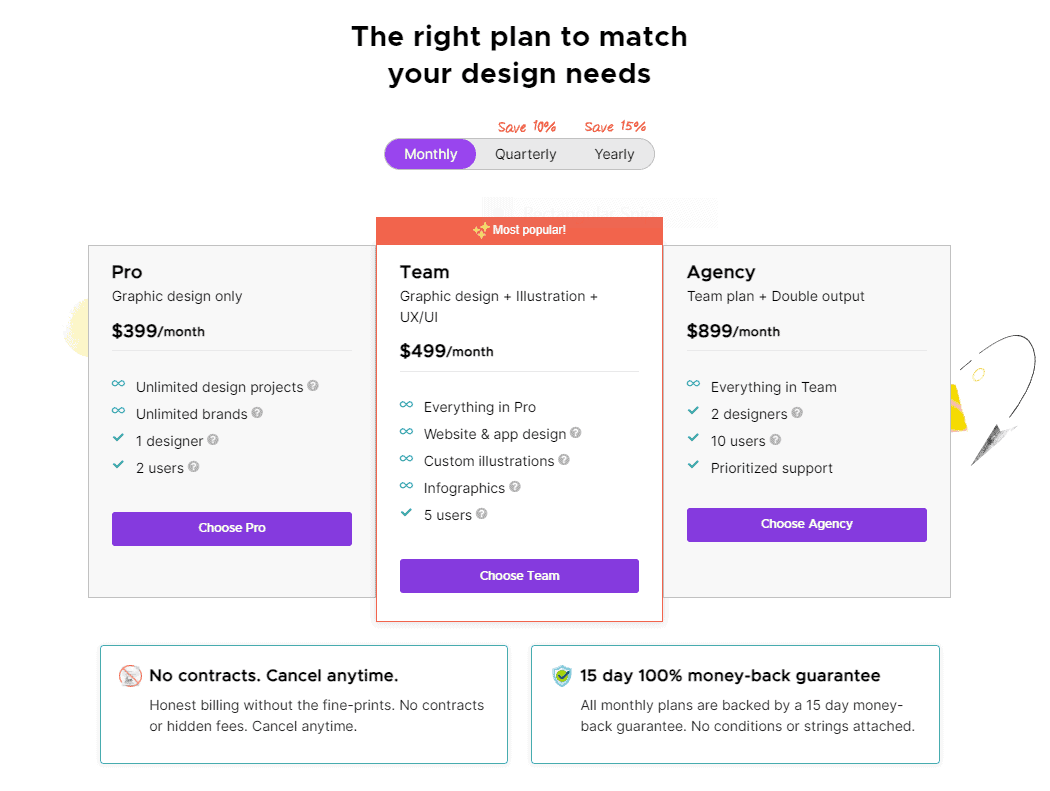 Penji's graphic design service comes with 3 pricing options:
The "Pro" plan for graphic design only costs $399/month. It comes with a dedicated designer for no more than 2 users.
The "Team" plan costs $499/month and can be used by a maximum of 5 users. In addition to the Pro plan, it also includes illustration and UX/UI design.
The "Agency" plan costs $899 per month and includes 2 dedicated designers. It can be used by up to 10 users.
Penji Review: Conclusion
So there you have it, a complete and detailed Penji review, that will hopefully help you to make your decision about the graphic design services.
If you worked in Photoshop for the last 5 years and are able to do even the most intricate designs yourself – this might not be for you. But in this case you would be reading this post, would you.
This service is for people who need to focus on the important parts of their business. Developing a product, talking to customers, expanding their business, making strategic plans etc.
In this case you just do not have time (and it is not your job) for designing your own graphics or spending hours on Upwork (or Fiverr) searching through hundreds of designers and making sure that they do not deliver a shitty visual after two weeks of back and forward.
Penji is closer to "set and forget".
To give you a better idea of what you can expect if you choose Penji for your graphic design needs, here's my list of pros and cons:
Pros
No contract and no hidden fees
Innovative business model that delivers a good quality/cost ratio
Unlimited designs for a flat monthly rate instead of losing time shopping around for bargains
Vetted and tested designers that deliver quality work
Fast turnaround for first drafts and revisions
Streamlined communication with customer support and designers
Intuitive platform where you easily see ongoing projects
Revision tool that makes showing the designer your desired edits easy
Additional support for a successful project from a dedicated account manager
Easy to upgrade if you need more designers over a given period or downgrade/cancel your subscription anytime
You can also create separate folders for your different brands and upload your brand guidelines
Cons
If you don't need several design projects each month, the cost may not be worth it. Still, you can always cancel the subscription when you have less consistent needs.
There is no call option. You can only chat with your dedicated designer.
Albeit not likely, you could run into a designer that is not in line with your style and may have to start the project over with a new designer. That may put a dent in your deadlines and in the number of projects you complete in a month.
FAQ
What is Penji?
Penji is an on-demand graphic design service that allows unlimited revisions.
What is on-demand graphic design?
You can get your graphic designs anytime, no need to screen designers and compare prices.
Does Penji offer unlimited revisions?
Yes. You can make revisions with your designer until you are happy with the result.
How much does Penji cost?
Starting unlimited package is at $399 per month.
Can I switch designers in Penji?
Yes. You can ask for a different designer to work on your project.
What types of designs does Penji offer?
All that you can imagine. Ranging from standardized templates to unique designs, Penji can provide it all.
Can I provide colors, brand book, example to the designer?
Yes, it is welcomed if you can provide as much details as possible so the first draft will be great!