If you're an economist or in the streaming business, you've probably wondered what Netflix's strengths and weaknesses are. Netflix SWOT analysis provides a detailed picture of the company and the challenges it faces.
The main reason why this streaming service grew so quickly is that it was able to capitalize on its opportunities. However, they might not remain the dominant force within this field for long. As Disney Plus and Amazon Prime continue developing their services, Netflix finally has legitimate competition.
Brief History of Netflix
Before we go through the SWOT analysis for Netflix, let's do a brief company overview.
The brand has managed to attract more than 167 million subscribers from all over the world. At this moment, it is the biggest internet streaming service in the world.
There are several reasons why they're in such a strong strategic position. Besides the fact they were the first on the market, the quality of the program cannot be overlooked. Netflix is ideal for binge-watching, and according to data, about 70% of its users' binge-watch series on a constant basis.
The brand was founded back in 1997 by Marc Randolph and Reed Hastings. Although Netflix is now a global giant, the initial plan was quite modest. Upon establishing the company, Randolph and Hastings focused on mail rentals and DVD sales. After a year, they decided to focus on DVD rentals exclusively.
Netflix finally had its big break in 2007 when it created its streaming service. But, they didn't want to relinquish their rental service. In 2010, they decided to go even bigger by introducing the service to the international crowd. As you can guess, this led to a major increase in profits.
SWOT analysis of Netflix
Although this sounds like a perfect story, the company had its ups and downs. It was really hard to build up such an innovative platform from nothing. Even today, the brand has a major debt that might come back to bite them.
Netflix faces a lot of challenges and threats. Piracy, conservative regulation in certain countries, increasing competition are just a few things they need to consider. This Netflix industry analysis will give you a better picture of the company, its potential, and organizational drawbacks.
Netflix Strengths
Strengths refer to things that a company does better than its competition.
Great reputation
According to Forbes, Netflix was the 4th most reputable company in 2019. The brand has a great reputation, not only in its own industry but in the global economy as a whole.
Original content
What made Netflix stand out is its ability to produce great, original content over and over again. Simply put, the streaming service provides something that you cannot find anywhere else.
Global reach
The main reason why the company grew so big is due to its ability to tap into international markets. Nowadays, they rely heavily on these profits to sustain and grow their business.
Focus on customers
Over time, the company has provided its users with all sorts of nifty solutions to their problems. For example, they've introduced a download feature allowing clients to watch Netflix programs wherever, whenever. Even after experiencing enormous success, the brand is still driven by the users and their needs.
Loyalty factor
Given that Netflix was the first company to provide this service, they've built enormous loyalty with its consumers. Nowadays, the brand has become a part of pop culture. People use "Netflix" to refer to relaxing, chill activities.
Flexibility
The great thing about this service is that you can watch its program on all platforms. Whether it's PC, iPad, TV, or mobile devices, Netflix is easy to access and enjoy.
Competitive pricing
Another reason why Netflix remains so competitive is due to its pricing. If you're into movies and series, getting a Netflix subscription is more than worth a while. They have 3 plans: Basic ($8.99), Standard ($13.99), Premium ($17.99). Even if you go with the Basic one, you will still have access to all the company's titles.
Numerous awards
Over time, Netflix has gained numerous awards and accolades. This is another reason why it is so attractive to its users. Furthermore, in 2020, the company has received more Emmy nominations than any other traditional TV network.
Netflix Weaknesses
Weaknesses refer to all the internal issues that an organization might have. This pertains to technology, employees, procedures, intellectual and physical properties, etc.
Increasing debt
As you can presume, Netflix didn't grow out of thin air. They required major financial support to do so. In 2020, the company was $14.17 billion in debt. A lot of this debt has to do with its international placement and expensive production costs. What's even worse, the company wishes to increase this debt to fund its future projects.
Pricing plans
Speaking of money, the business is often criticized for its pricing plans. Customers think that having just 3 pricing categories is not enough for people with flexible requirements. In fact, this might be one of the reasons why new subscriber numbers are stagnating as of late.
Increasing prices
Not only are their pricing plans inflexible, but they are also continuously increasing in price. This can pose a major issue, especially if you consider that their direct competitors Disney Plus and Amazon Prime, have much cheaper, basic plans.
Copyright issues
Another criticism of the platform is its lack of original content. Most of their programming is taken from other studios for a limited time period. After it expires, it will start appearing on other channels. This reduces the need for subscribing to Netflix.
Dependence on the US market
While the company makes a lot of money from its international markets, the biggest piece of the pie comes from the US and Canadian consumers. In fact, approximately 50% of its total revenues come from North America. Although they're able to make significant profits from this market, it is almost saturated, which could stifle future growth.
Neglecting environmental initiatives
Nowadays, major global companies put a lot of emphasis on green initiatives. Netflix seriously lacks in this department. They don't rely on renewable energy, nor do they have any plans of incorporating environmental solutions in the near future. They've been criticized for these practices over and over again, and it affects their overall brand image.
Lack of support
Netflix's weaknesses were further exposed during the pandemic. As many people stayed at home, they were forced to rely on Netflix shows as one of the main sources of entertainment. Numerous accounts were hacked during this period. On top of that, the business reduced its support teams and working hours. As a result, customers had to wait for hours to resolve their issues leading to increased frustration with the brand's policies.
Increasing operational costs
If you check the Netflix SWOT analysis, it quickly becomes obvious that the company is facing a lot of financial issues. In order to counter their competition, the company is adding a lot of new, original content. The main way they mitigate these production costs is by increasing subscription fees. It is still not enough, as their debt continues growing.
Netflix Opportunities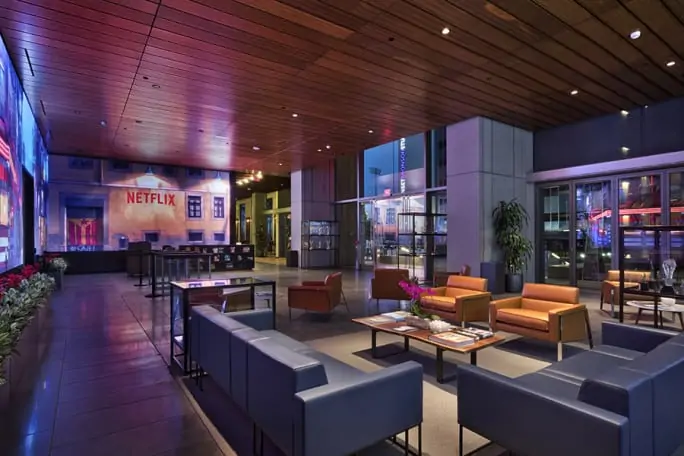 Opportunities refer to outside opportunities that the company might take. It often refers to the market situation, marketing, acquisitions, and so on.
International markets
Netflix has almost explored all its options on the domestic market. Nevertheless, there are a lot of new opportunities internationally. Keep in mind that the brand doesn't even have access to numerous markets. If this changes in the near future, they will experience a major surge in revenues.
Mobile streaming
The company has considered developing a cheaper mobile version for the international markets. According to the initial projections, this service would go as low as $3 per month. This will provide a major increase in profits but would also help them compete with Amazon and Disney.
New titles
Although this Netflix SWO analysis focuses on financial aspects and long-term feasibility, we cannot neglect the content. In the end, movies and series are the main reason why people subscribe or unsubscribe to this streaming service. There is an opportunity for the brand to increase its library by making new deals with movie distributors. They might also consider increasing the amount of original content they produce each year.
Advertising opportunities
Nowadays, most platforms rely on ad revenues as the main source of revenue. Netflix has yet to adopt this model. For the longest time, the streaming service has to avoid relying on ads. However, they still have the opportunity to capitalize on this revenue source.
Niche content
Netflix made a few major hits when creating content for specific regions. Besides having numerous shows in English, they also started producing originals in Spanish, Indian, and other languages. This would allow them to increase the subscriber base in some of the most populated countries of the world.
Potential partnerships
As a media/tech company, Netflix can explore numerous partnership opportunities. They can team up with television and radio stations, telecom providers, and other related businesses.
Supporting minority communities
The brand has the opportunity to improve its brand reputation with various initiatives. Recently, they've pledged to give 2% of its holdings to black communities. It is just the first step, and they have a lot of other chances to grow with moves such as this.
Annual subscription
One of the major issues that the company is facing comes in the form of annual subscriptions. Most people subscribe to Netflix for a month, binge-watch all the latest content, and then unsubscribe. This way, the company is losing a lot of revenues. Furthermore, there is no penalty for such behavior. If the company finds a way to implement attractive annual plans, they would be able to dissuade people from canceling their subscription after a month.
Netflix Threats
Treats refer to outside issues that a company might face. It is an important part of Netflix SWOT analysis that focuses on regulatory and market changes, supply chain issues, and other potential problems.
Piracy
Piracy is a major problem, not only for Netflix but all other streaming services. This issue is especially present in foreign markets, in countries where there isn't a lot of regulation.
Increased competition
After seeing Netflix's initial success, numerous companies have decided to create their own digital streaming service. Nowadays, you can choose between Apple, Disney, Amazon, HBO, and other providers. Although you can use all these services simultaneously, sooner than later, Netflix will lose a big chunk of its revenues due to competitive pressure.
US market saturation
When performing Netflix industry analysis, the company is especially worried about the North American market saturation. Basically, there isn't much room to grow in this market. A lot of homes already have Netflix, and as such, their growth in North America is starting to stagnate.
Regulatory issues
Besides the fact that Netflix has already saturated the North American market, the business might face expansion issues due to regulatory restrictions. For example, one of the biggest global markets, China, doesn't allow foreign media companies to participate. They are worried about their content, which is why Netflix is unable to expand in this part of the world.
Environmental issues
While Netflix's environmental policies are not that big of a deal right now, they might come back to bite them. As more and more countries dedicate themselves to environmental solutions, there is a chance that streaming service will be banned in some of them. Keep in mind that streaming services generate 1% of global carbon emissions, and Netflix is a big part of that.
Hacking
The lockdown has demonstrated a major issue in the company's system. Simply put, it is too easy to hack into user accounts. While the hacking doesn't have a direct impact on the brand's revenues, it might lead to problems down the line. For example, a lot of users might transfer to streaming services that are better equipped to deal with this problem.
Conclusion
This list covers the most important aspects of Netflix SWOT analysis, but of course, it would be possible to come up with more angles. Still, these could be considered the main pillars of Netflix SWOT, at least for now.
You might be also interested in:
FAQ
What is Netflix SWOT analysis?
SWOT is an analysis of company strengths, weaknesses, opportunities and threats.