Since you are looking for details on Kartra pricing and its review, chances are, you know the name Kartra (and if not, welcome to my Kartra review!).
As the brainchild of the minds behind WebinarJam, this integrated, cloud-based software is one of the most well-known marketers on the…well, market. They provide everything you need in a one-stop-shop, from sales funnels to helpdesks.
Thus, you can get your campaigns up and running in hours, rather than days.
Kartra is one of the best platforms for newcomers to digital marketing. (Not to mention, seasoned marketers will enjoy their advanced options). Plus, they're a great platform if you're tired of integrated your marketing platforms every time you sign up for a new one.
This Kartra review will cover its main features, pricing, and the platform's pros and cons.
Disclaimer: In this post, you will see affiliate links. If you purchase a product or service through them I will receive a small commission at no additional cost to you.
Kartra Review
So what is Kartra? As mentioned above, Kartra includes an entire suite of tools for your business. In fact, their all-in-one marketing packages consist of 11 different platforms!
Mail sends emails and SMS
Checkouts arranges online payments
Pages builds your landing pages
Leads optimizes your customer database
Forms maximizes your leads
Funnels and Campaigns well, markets
Memberships lets you design courses, training manuals, and other content
Videos meets your audience head-on
Helpdesks gives your customers support
Calendars integrates your schedule
Affiliates maximizes your earnings
Kartra Main Features
Reviewing every feature of every Kartra platform would be a daunting task – so we won't. Instead, we'll focus on the features that make them a great investment for small- to midsize businesses.
One of Kartra's best features is that they include all these platforms from one dashboard. This means that all your marketing platforms integrate with the rest from the start. Better yet, a single dashboard means that you can centralize your marketing suite.
For instance, you can use Campaigns and Funnels to market to the leads captured by Forms. Then, Mail can subscribe your leads to your mailing list.
And, if any of your customers want to get paid to promote you, they can sign up to become affiliates! (Don't worry – you can make questionnaires and Terms of Agreement mandatory).
Plus, having all these platforms in one means you have everything you need to run your business.
For example, having your Mail and Helpdesk systems integrated makes it easy to answer support tickets.
And, you can view how you're performing across platforms from a central dashboard.
From tracking platform performance to the nitpicky details of which Kartra affiliate made the most sales, everything is available at your fingertips.
All these platforms include a few features that are more or less universal, including:
Drag and drop interfaces
Pages of simple, yet comprehensive pre-made templates
Ready-made sales and marketing funnels
Advanced and customized options for those who can code
Split A/B testing
Kartra Marketing Funnels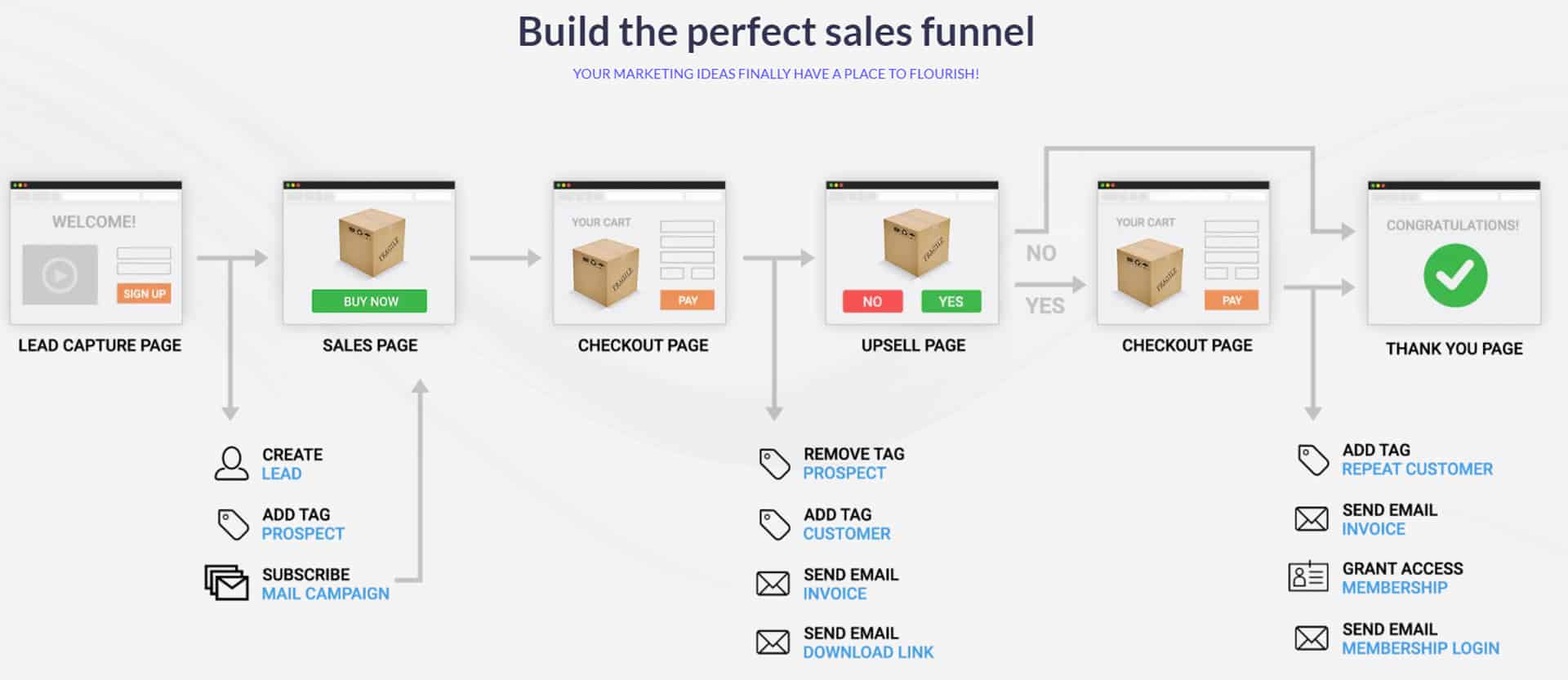 Of course, it's Kartra's marketing funnels that are the most impressive.
With their Funnels and Campaign platform, it's a quick process to set up your marketing campaign and send it into the world. Kartra even includes 5 pre-made marketing funnels, so you don't have to lift a finger!
Or, if you want to do the heavy lifting yourself, they give you access to a robust selection of integrated tools to get started.
For instance, you can use their email marketing and sequencing to set up comprehensive workflows. Then, you can segment your email list and build customized pages and forms to suit all your needs.
Plus, with their checkout system integrated into these other tools, you can add your shopping cart anywhere it's convenient. (It even integrates with Helpdesk to help your customer support team bill clients!)
Kartra Customer Support
Kartra offers top-notch customer support to help you get started on their platform. When you first log into your account, you'll be welcomed with a video that explains some of their features in more detail.
Then, you'll be able to peruse the Kartraverse, their network of tutorial videos and blog articles that breaks down the site one step at a time.
If you get lost at any point, you can also submit a support ticket or live chat request.
You can also join their private Kartra Facebook group to mingle with other Kartra users (even for the $1 trial!). Plus, the group is chock-full of other marketing professionals.
Or, if you feel overwhelmed by the process, you can sign up for the Kartra concierge service. For a one-time fee of $150, they'll set up your entire marketing funnel for you!
Kartra Pros
As an all-in-one software, Karta comes with plenty of upsides, such as:
The ability to access your analytics from one platform
A host of third-party integrations (including Zapier)
Customer support and onboarding, plus an active Facebook group
Hundreds of pre-made templates – including marketing funnels!
A video platform to embed video content across social media and other websites
Inspirational sales pages were written by marketing master Frank Kearns instead of default text
Kartra Cons
However, no marketing software is perfect, even one as robust as Kartra.
For instance, they offer a less-than-comprehensive sequence builder for their Mail platform, despite their emphasis on marketing.
Plus, while they don't require coding expertise, it's helpful in accessing some of their more advanced features.
Let's quickly review where else Kartra falls short of expectations:
Their email marketing platform has some lagging in the editor and sequence builder
They offer limited engagement features in some platforms, such as Memberships
Their forms builder allows far fewer edits than their landing page builder
Some of their editing and design abilities are clunky or inflexible
Kartra Pricing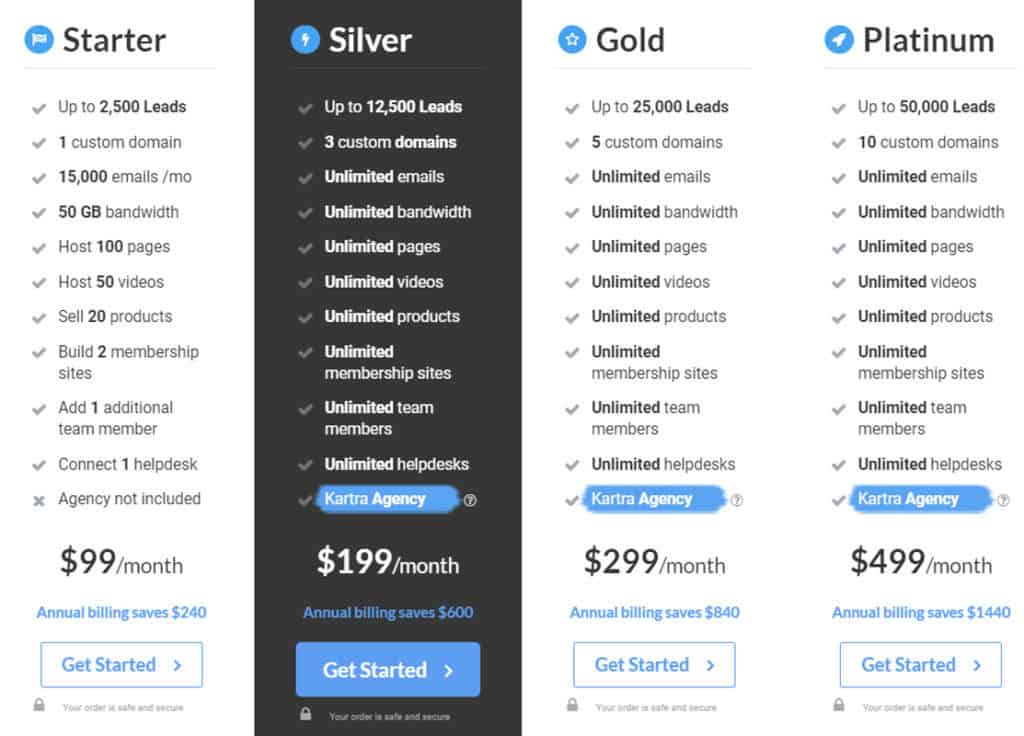 So how much does Kartra cost? Kartra offers five monthly subscriptions at different pricing tiers. Each package comes with access to the full suite of tools, so you have everything you need to get started. However, Kartra Agency is only available with the Silver pricing plan or above.
Kartra Starter: $99 per month for 2,500 contacts and 50GB bandwidth
Kartra Silver: $199 per month for 12,500 contacts, 125GB bandwidth, and Kartra Agency
Kartra Gold: $299 per month for 25,000 contacts and 300 GB bandwidth
Kartra Platinum: $499 per month for 50,000 contacts and 500 GB bandwidth
Kartra Enterprise: call Kartra customer support for a personalized quote
If you want to test Kartra's features before you buy all-in, they also offer a 14-day trial for $1.
FAQ
What is Kartra?
Kartra is an affiliate platform. It allows you to build your product funnel from start to finish with all the tools at once place.
How much does Kartra cost?
Kartra pricing depends on the package that you choose, check the pricing section for detailed info