In this post we will go over several ways on how to make money with Patreon.
I will do my best to give some interesting info to those who know Patreon really well and also those who are just starting to think about monetization and Patreon seems like an interesting alternative.
Patreon History
Before we take a deep dive into ways on how to make money with Patreon, let's quickly stop and check the history and about how the platform actually works.
Patreon is a membership platform that was created in 2013 by Sam Yam and Jack Conte.
The driving force behind this idea was a need to create an income stream for the work they did on Youtube.
They very soon discovered that they are far from the only ones who have such monetization issues and in just 18 month they got their first 128,000 patrons.
At the end of 2014, they already gathered enough Patrons to reach $1mil in donations to Patreon members.
Now Patreon is a hugely popular way to support your favorite creator.
For big and popular creators that might mean an additional income stream that will add to their profit from Youtube ads, affiliate sales, merch etc.
In the case of smaller creators, Patreon might be a life-changer.
If they are in a particularly narrow niche, the common monetization methods may not be available.
In this case, Patreon is literally the main income source that keeps them making the content.
For our purposes that is enough history let's move on.
How Does Patreon Work?
The idea is pretty simple. When you are creating content, you are most likely looking to make some profit.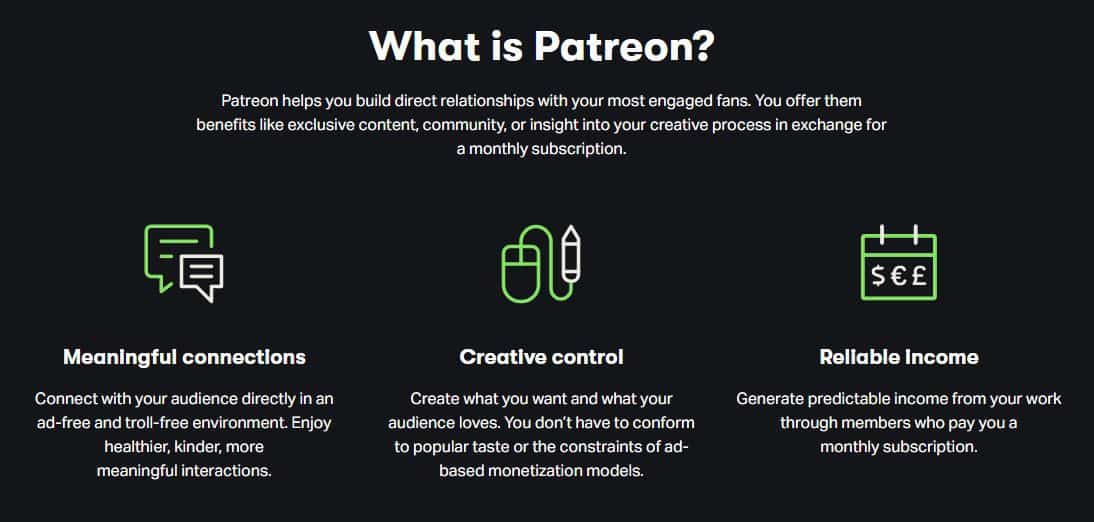 Even if you are really doing it just because it is your passion – additional income never hurts as it can be used to further extend that passion or just as a side hustle.
This where Patreon comes in. It is a platform, where your followers and fans can financially support you and by extension your content.
So you concentrate on creating more, and worry less if you have more classic monetization options like affiliate marketing, selling merch, paid promotions etc.
Or maybe, a channel that you've built with sweat and tears just got demonetized. Now what? Patreon helps here too.
How To Get Started On Patreon?
The setup process is very simple.
You create your account, fill it out with relevant content about you so your fans know that they landed on the right page. You can even choose from various popular "templates" that Patreon prepared.
The important part is to set so called Tiers.
Tiers are packages that you Patrons can subscribe to. For example they can look like this:
Tier 1 – $1 – Monthly newsletter with the best picks.
Tier 2 – $10 – Priority access to videos before they are released.
Tier 3 – $50 – Special production videos just for Patrons.
Tier 4 – $100 – Direct discussion about new content ideas with me.
This is just the basics. You can of course be much more creative with those. Let's now move to the main part of the post.
How To Make Money With Patreon?
We established how Patreon works, and one thing is now obvious. In order to make money with Patreon, you need to sell Tiers (aka subscriptions).
The more of these subscriptions you will sell, the more money you will be making on Patreon.
Let's have a look at steps you would need to take to start making money on Patreon.
Step 1 – Pick Your Niche
You would start here if you have no online following. Maybe you already have something in mind, but still let's brainstorm a bit:
What are you good at?
What do you enjoy doing?
Do you have a hobby?
Can you something that nobody else can?
Do you have any marketable character traits?
These are some of the areas where you need to start digging. There are comedians, artists, musicians, athletes – making money with Patreon.
Even if it may seem that you do not have anything special that you could offer – you just do not know it yet.
Just start somewhere and pivot if it does not work out.
For instance one of the top Patreon members is True Crime Obsesses. It is a podcast about true crime (as the name implies) and they make close to $200,000 per month.
You would be surprised how many similarly minded people you will find on the internet!
Step 2 – Choose Your Platforms
Now it is time to pick a platform that is best suited for your niche.
If you are into photography, Instagram seems like a good start along with various sites for professional photographers. Later you can expand into Youtube and show how you create there.
If your specialty is drawing, various concept sites may be a good start, again in combination with major media platforms.
Maybe your thing is more related to talking, in that case, podcasts are where you will create your virtual HQ. This again goes great in combination with Youtube as you can promote your content twice.
In any case, you will not be staying on one platform as the main component of how to make money with Patreon is – audience.
Step 3 – Building Audience
In order to see any money from Patreon, you will need loyal fans who are ready to pay for your content. This part is the most important, without an audience you will not move anywhere, here are a couple of tips on how to make sure that you see growth.
Be consistent. Create a content calendar and stick to it. Commit to the frequency at which you will posting content and keep doing it. Pewdiepie (one of the most famous Youtubers) was posting every day for over 10 years. We are talking a fully edited, engaging video – every. day.
Make a promise. You can even go as far as publicly saying that you will be posting each day this year, or three times a week – whatever makes sense for your content. That way your audience will know when to expect new stuff from you.
Create a challenge. Make a bold statement that will make people follow you on your path. Like the mentioned above "content each day for 365 days" or "getting 100k subscribers in 12 months". The audience likes a challenge, everybody is interested to see if you fail or not.
Don't be scared to pivot. It may take time before you find your angle. Do not be afraid of testing new ways how to show your creativity. Change of style, or moving to another discipline – whatever it takes to get some traction.
Promote everywhere. When you are starting out you are at point 0. So how do you build from there? Your social networks, forums, Reddit, Quora, specialized groups – everything is a chance to let people know about you. Your content should speak for itself, but you must let people know that it exists.
Communicate with your audience. As you are starting out, you will have few followers. Engaged in direct discussion with them, react to their comments, or maybe even create content based on their suggestions. As you will get bigger, you will lose this luxury but in the beginning, this is one of the ways to keep followers engaged and attract new ones.
Swap audiences. Outreach to others in your niche, who are in a comparable growth stage as you are. Discuss possible collaboration. You would promote them to your audience and they would do the same for you. This way you will grow a bit together. You need to get that snowball rolling to get bigger.
Step 4 – Move Audience To Patreon
Let's assume that you already have a small but loyal audience. So how do you make money with Patreon when you reached that point?
Here are a couple of tips on how to promote your Patreon account, without being too intrusive while still getting new subscribers to your Tiers.
Ask for audience support. There is nothing wrong in saying that Patreon helps you to keep doing what you are doing and that you would appreciate it if your followers would check it out.
Make a sacrifice. Nothing major, do not worry. For example, you can shut down YouTube ads and ask your audience to consider supporting you on Patreon in return.
Exclusives. Make content that is for Patrons only, or you can delay the release of the content while Patrons will get it before everyone else. A direct chat with you about your craft, just something that is on level up from what everybody else is getting.
Thank your Patrons. This a subtle way of Patreon promotion. You are keeping existing Patrons happy, while at the same time indicating that the names of the new patrons could appear here next time.
These are just some of the popular ways how to attract your audience to your Patreon page and consider supporting you. But I am sure you can choose a combination of options from that list!
Step 5 – Decide on Tiers
Now you are getting views on your Patreon page, but that is not all. You gained the attention of your audience, and now it is time to convert it.
This is a part where you can experiment and A/B test. But let's look at some examples: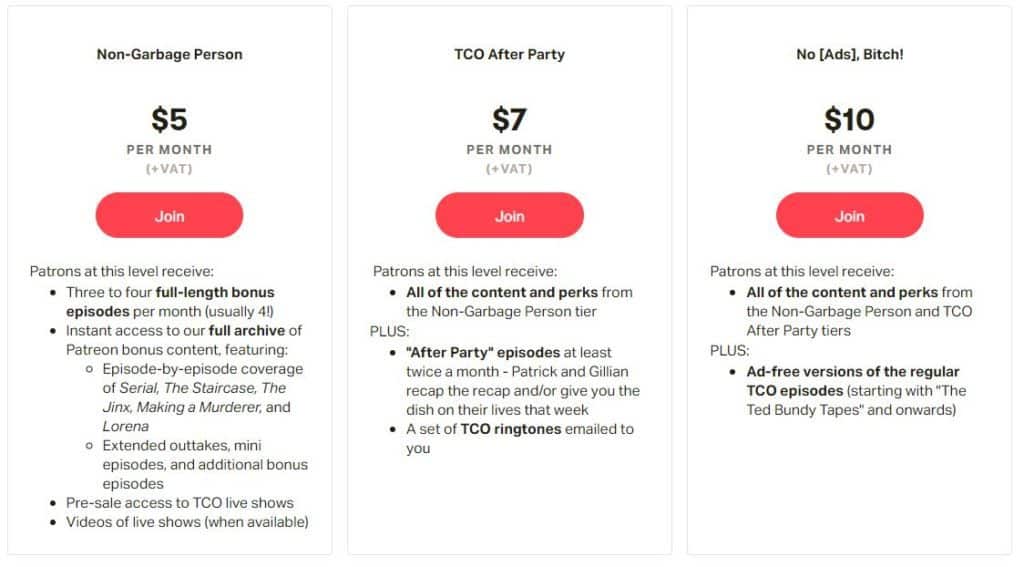 Here is how Tiers of True Crime Obsesses looks like. They have over 40,000 patrons, do the math yourself 🙂
You will usually see that most of the Tiers on the top Patreon accounts are between $5-$15. This seems liek a good balance between the cost that your visitors can handle and the value you can provide.
Sure you can make a $100 or $1,000 Tier, but what would you give in return?
The prices taht we usually see are same as for a coffee or a quick lunch. So you have a higher covnersion rate.
You want to diversify your income base. It is better to have 1,000 patrons for $5 each than to have two for $2,500.
The concentration is just too big, and if one of those big whales decides to jump the ship, you are suddenly -50% month on month.
Patreon Pricing
How much can you keep from the money you make? Well, nearly all of it.
Patreon will of course take a share of the donations that you get from your Patrons but it is not so big considering that they provide you with the platform itself and give you various tools (depending on the pricing tier).
You might say that 8% seems like a lot. Well, YouTube takes 45% so 12% is really not that much.
Conclusion
Now you know how to make money with Patreon.
Start with your niche.
Create profiles on the right platforms.
Build audience.
Lead them to Patreon.
It is ok if you do not get it right the first time. Make sure your brand allows you to pivot to something different.
Do not get discouraged. Building a loyal following takes time. But it might surprise you how quickly you will manage to do it.
Do not compare yourself. No matter how similar others can be or the path may seem the same – you will walk your own unique road.
Take it one step at a time and just keep moving forward.