How to create a webinar had became a hot topic lately. The reason is simple, webinar statistics are showing The great thing about webinars is that they provide you with an additional method of communication with the audience.
Most companies use them for lead generation and sales, but you can also utilize them as a way of increasing brand awareness apart from many other things.
Given that the number of people working from home has significantly increased in the last 2 years, it makes much more sense to pitch potential clients through social media or a live webinar.
Even if you're in a different time zone, viewers can access your content long after its recording.
In this article, you will read how to create a webinar, and we will go through some of the best practices.
Create a Business Goal
The first thing to consider is what you want to accomplish with this webinar. This will have a direct impact on the subject matter, webinar topic, webinar format and the way you will promote your webinar.
Nowadays, most companies create these events to generate new leads. During the presentation, you can talk about the brand's products and services, but also turn attention to your business model.
The main reasons for creating actionable webinar goals is so you can:
Create a direction
Measure webinar success
Motivate and align team members
Simplify management and monitoring
Compare webinars with similar goals
Keep in mind that a lot of people cannot differentiate between goals and objectives. While these two might seem the same, there are some major differences between them.
To be more specific, a webinar goal refers to the main intent behind a webinar. Webinar objectives are used to describe specific results that you want to achieve.
While goals are more of guidelines, the objectives can be measured and analyzed. So, if you set up proper goals, you are more likely to achieve the objectives.
For example, a goal of a webinar can be to provide actionable tips and tricks on a specific topic. That way, you can set yourself up as a thought leader.
The objective of that same webinar would be to achieve an 80% satisfaction rate. In other words, the only way people will start perceiving you as a thought leader is if you achieve these high marks during a webinar.
Among others, companies often utilize webinars to achieve goals such as sales increase, specific conversion rate, growing an email list, and so on.
If a company doesn't set up proper goals beforehand, it will be very hard to execute the event. You might struggle with things such as choosing the right topic, the right webinar format, and so on.
Nowadays, most companies focus on how to create a webinar, while forgetting the other important aspects. As a result, they are ultimately unable to grow their business through webinars.
Go Over Webinar Statistics
In order to analyze webinar performance and to set up proper expectations, you will have to go through webinar statistics. They will also give you a helping hand in case you are still wondering if you should host a webinar or not. Keep in mind that this data can help you before and after creating a webinar.
According to statistics, here are some of the things that webinars can help you achieve:
These events are more engaging than some other types of content. An average participant will watch a webinar for 57 minutes. This is the golden number that your events need to reach. Every minute above that is gravy.
Perhaps the best thing about these events is that they can guide a potential customer throughout their journey. As a result, webinars should provide much higher conversion rates compared to all other marketing channels. In fact, this is the main reason why they have become popular in the last few years. If your webinars are not your best-selling tool, you might want to rethink your strategy and improve their quality.
Not only do webinars bring in leads, but they should also bring in high-quality leads. By the end of a successful webinar, a host should be able to sell their products to 2% to 5% of the audience. Even if you don't sell on the spot, you can do so by collecting engagement and lead data and sending it to your sales team.
Webinars are a great way to teach the audience something new about the product or service. Studies show that 30% of attendees will feel more engaged if they learn various things during the event. This is why your focus should be on providing new information. Companies that are able to teach their participants usually end up with higher conversion rates.
In the last 2 years, the conversion rates of webinars have increased significantly. Besides increased sales numbers, the number of registrant-to-attendee also increased by 61%. If your numbers are below that, you should try to increase them by sending reminder emails and providing other incentives to registrants that ultimately decide to join the event.
Pick a Webinar Software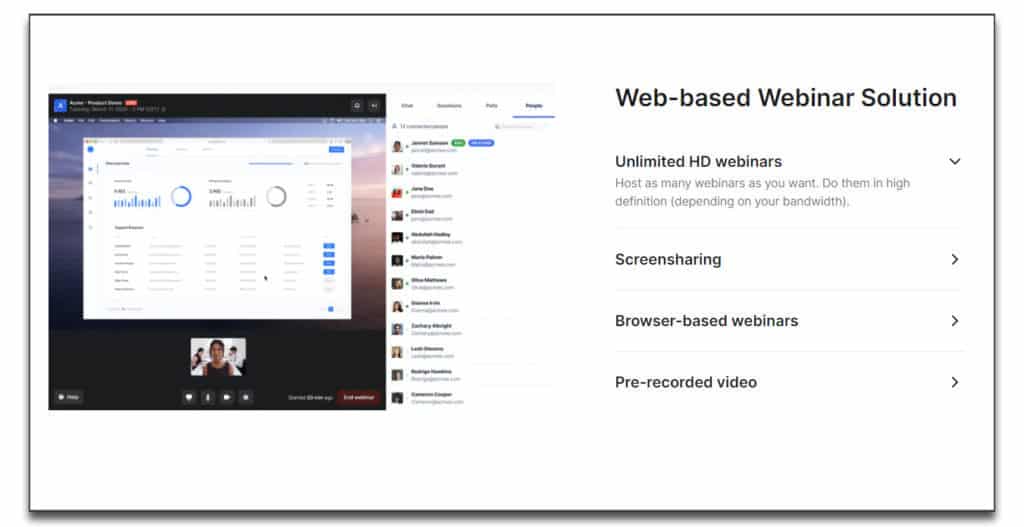 As you probably know, most companies use Zoom to connect with their audience, but that might not be enough, as it lacks a lot of features that you could get with a webinar platform.
Great platforms are WebinarJam or Livestorm, What's even better is that most of this webinar software is completely free to get started, allowing small entrepreneurs to create their first webinar without having to invest a dime.
In order to choose the ideal webinar platform, you will have to consider your goals and objectives. How many people do you want to attract, and what would be a suitable sales conversion? If you don't make sales, could you still consider it a successful event? If buying a webinar tool subscription would increase your profits, would this be a worthwhile purchase?
The last and biggest question is whether this software is actually suitable for the type of webinar that you wish to create? How many people can participate with this tool, and does it have extra features such as chat and Q&A?
Prepare the Equipment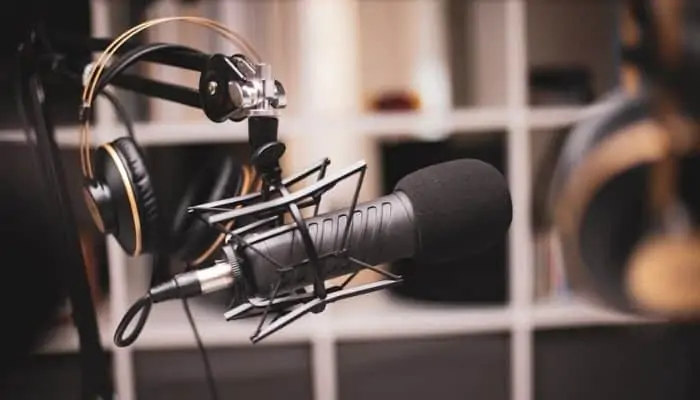 Finding the right equipment and space can have a major impact on the quality of webinars. Small teams and entrepreneurs often neglect this factor and then, they're confused as to why their events are not performing as they should.
First off, you need to find a space where you will be fully isolated. During the time of the pandemic, we've seen numerous bloopers where people get interrupted by their dogs and cats. While this might seem funny if you're a news company, it will seem very unprofessional for a webinar host. As a result, such interruption will lead to lower conversion rates
The best place for hosting these events is in conference rooms. If you get a green screen, you can create them in almost any larger room. Keep in mind there shouldn't be background noise or anything else that would interrupt the streaming.
Of course, you will also need top-notch equipment to stay professional. Things such as a great microphone, camera, and a computer will be crucial during these presentations. Headset microphones and landlines can provide one major benefit: they can't be cut off during the conference call.
As dumb as this might sound, make sure that your laptop is fully charged. I've seen several cases where people completely ruined their webinars due to this mistake. Furthermore, make sure to have a spare, charged laptop if anything goes wrong with your computer during the webinar. You will also need all the same presentation data on this spare PC.
Unfortunately, it can be hard to determine how much money you need to spend. Most companies try to cheapskate it with the equipment, and it comes back to bite them. The best thing you can do is to create a few webinars with low-tier or, even better, borrowed equipment. If you manage to reach your objectives and it seems that webinars can become a powerful marketing tool for your organization, then go ahead and invest some money in proper equipment that will provide even better results.
Prepare Your Presentation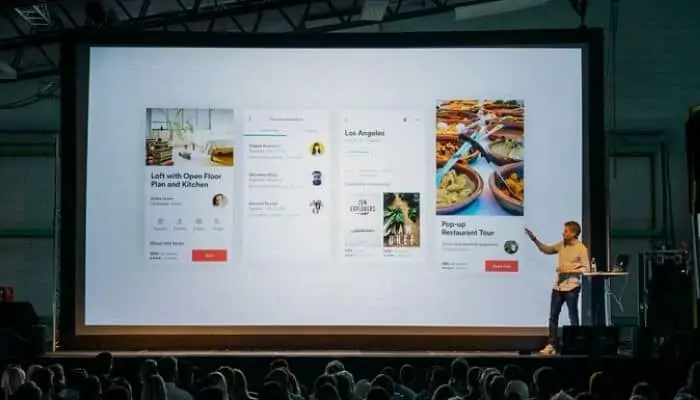 If you never spoke in a microphone or in front of a large audience, it is normal to have jitters. The best way to overcome this issue is by practicing and doing more and more of these events.
There is one additional trick to improve the experience of the audience from your live event – a presentation or slide deck.
Among others, experience is very important for creating the right type of presentation. As previously mentioned, entrepreneurs should provide new and interesting information to the participants. But, they also need to ensure that the attendees are engaged throughout. Nowadays, webinar hosting platforms and apps provide lots of virtual solutions that will help you create an interactive experience for your viewers.
All these tools and gadgets will add to the engagement level. But, you also need to find the right topic to talk about. The safest bet is going with the popular, trendy topic. But, going with a more obscure, niche presentation can allow you to reach an audience that you couldn't have otherwise.
Before creating a presentation, you will also need to ask yourself, what kind of webinar should it be, what kind of webinar content will I show? Is it a PowerPoint presentation where you go through various data, or will it be an interactive Q&A panel?
Always bear in mind that different types of content usually require different preparation and proficiency. For example, PowerPoint presentations are pretty easy as they allow you to go through things uninterrupted all the while reading from a premade script. Q&A is much harder because you will need to know a lot about the topic and to be certain that your responses are the right ones.
When creating live discussions, you will need to plan speakers ahead of time and promote them on your social media and website. Make sure to gather all the questions before the start of the webinar, so you can plan the layout of the event.
Get Webinar Landing Page Ready
Everything starts with a promotional post showcasing your webinar. If you met all of these previous requirements, you are ready to set up the webinar landing page.
Although you cannot have a good webinar without proper equipment and content, an event will fail if you are unable to promote it from the get-go. And, the promotional process starts by setting up a visually appealing registration page.
Not only should your landing page be visually appealing, but it also needs to be creative enough to differentiate itself from the competition. Nowadays, a lot of companies rely on webinars as a way of selling their services, so the competition for the audience's attention si getting tougher by the minute.
Some of the most important things to consider are adding a sign-up form, target keyword, and optimized text. In order to get even better results, you should be able to integrate the landing page with marketing tools and forge it into a kind of registration page. That will help you increase the conversion of registrants and place them into lists.
This does not have to be anything too complicated, even a blog post about hosting a webinar will be enough to convert those who are interested.
Promote Your Webinar
The last step of the way is to promote this webinar. You can do this via social media channels, or by sending email invites. If you have long-lasting relationships with some of the potential participants, you might even have their phone numbers, which would provide you with another, more intimate way of getting in touch.
Most webinar hosts will promote their sessions via email. These direct messages are ideal ensuring that everyone learns about the event. Here are the steps you need to take:
Start by creating automated email reminders. These messages will go to all the prospects who have not yet registered for the event.
If you had previous contact with a potential attendee, you might send them a more personal message. These emails have exponentially higher conversion rates. Even if a person doesn't participate, they will appreciate the notion.
The last thing you need to do is prepare automated emails. These particular emails will be used by sales representatives notifying them that one of their leads has decided to attend the webinar. Then, sales representatives can decide when and how to pitch them.
Webinar Recycling
But that is not all! When making your live webinar, make sure that you know how to record a webinar too!
This will allow you to recycle your webinar for repeated use and promotion through social media and other marketing channels.
When promoting a recorded webinar, you are now not bonded by date and time and can serve your content to attendees anytime so they can watch it when their schedule allows.
How to create a webinar FAQ
In the section below are some of the most frequently asked questions that will help you to create a webinar.
How do I create a free webinar?
Head to my free webinar software post and get yourself a platform that will handle a free webinar for you.
How do you plan a webinar step by step?
The steps to take to host a webinar are explained in this post or you can also check my post on how to host a webinar.
How do I make and sell a webinar?
You start by picking a webinar platform, then by creating a presentation and driving traffic to that presentation while taking payments. All these steps are explained in my webinar software section.
What are the materials needed for a webinar?
A well-prepared PowerPoint presentation will be enough to get a webinar ready.
Conclusion
This guide has given you a glimpse of what to do and how to go about creating your own webinar, in this section I also have a great post about how to host a webinar, so you might want to check it out too.
One last tip, before going live in front of your audience in the specified date and time – make a dry run. This will help you to make sure that
You may feel overwhelmed, but don't worry – we are here for you! Let us know if there is anything else in the future that will help with this process or any questions on our part. We want to assist you in getting started as soon as possible so that you can see results from all of this hard work!