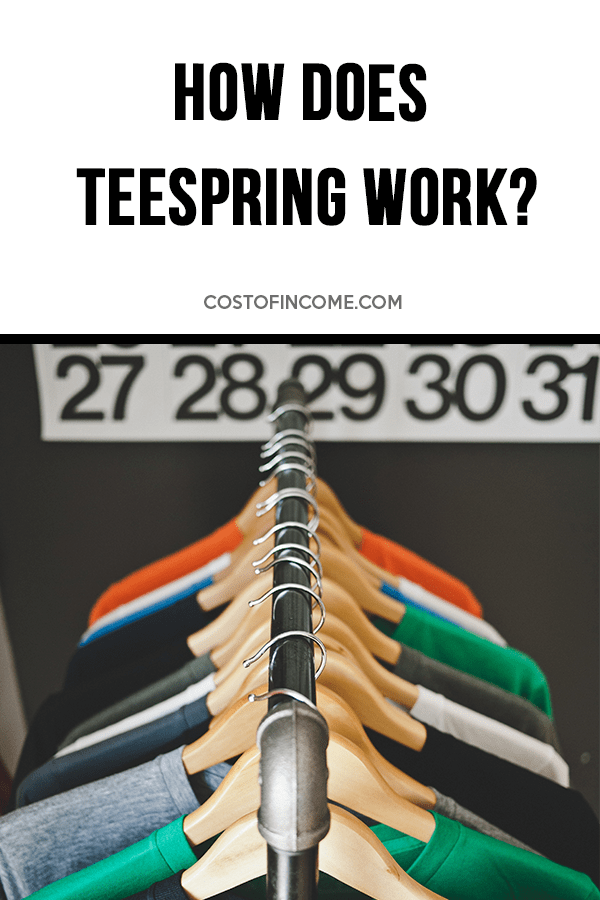 Many of you know Teespring, but do you know how does Teespring work?
In this post, we are going to over exactly this topic.
First I will explain how Teespring works from the perspective of a buyer. After that, we will quickly get into the more interesting part – the perspective of a seller.
Before we get into the details, for those who do not know, let me present what Teespring actually is.
Teespring.com was founded in 2011 and it is a platform that mainly sold Tshirts, hoodies, and pullovers.
At least in their early days. Now, they also sell socks, leggings, mugs, phone covers, etc.
The main idea that differentiated Teespring from other t-shirt sellers is the method of their early work.
Founders made a webpage that gathered orders before actually making a final purchase.
So only after 200 people ordered a particular design – was the t-shirt put into production.
First, they used this concept to make t-shirts to commemorate a local bar. But soon, other organizations started to require the same service.
Williams and Stites decided to go into business fulltime.
But enough of history.
How Does Teespring Work If You Are a Buyer?
The days when Teespring has set its minimal "bulk" orders are gone. Now your merch will be delivered even if you are the only one who is buying.
The variety of products also expanded significantly. As had the design.
On Teespring, you can now find nearly anything that you would be looking for to wear, in terms of design. Funny, motivational, trendy. There is a design for everyone and everything.
It seems that many people search for Teespring reviews. Maybe they are worried if the platform will deliver their order.
They will.
I worked with Teespring for quite some time (will explain in the next section) and I want to confirm that they are a legit business.
So no need to go around the internet looking for relevant Teespring reviews. If you order – you will receive it.
Teespring has all the cancelation policies and customer service to keep you comfortable.
As for the actual process of buying, it seems pretty self-explanatory. You will search for the design that you like, choose the item, size and proceed to checkout.
Usually, it takes around 2 days to put your shirt into production.
That's it.
If you will have any trouble just contact Teespring and they will help.
Let's get to the more interesting part
How Does Teespring Work If You Are a Seller?
Here is where I think it gets interesting for you. How does Teespring work on the "other side" of it 🙂
Teespring is actually a really great platform to make some money on the side. Hear me out.
If you are a seller on Teespring, you can take your design, put it on apparel and start selling in a matter of minutes.
No upfront costs, no long setup, no difficult tech stuff.
You can have your small (and later maybe not so small) online clothing store in a matter of minutes.
Let's get into details of how does Teespring works in terms of sales.
First of all the design – you must have a high-resolution png (preferably) that you will upload on Teespring.
Then you will choose the type of clothing you want to sell and put the design on it.
Teespring helps you to properly place it and informs you when something is wrong.
After that is done you will set the price. Teespring will show the profit that you will be getting after each purchase.
You can add multiple products with the same design and after you confirm ta-da, you have your own online shop ready to go.
Then you just take the link to the item that you would like to promote and start sharing it.
Where to share it? Well, this will be a topic for a whole news post but – all the usual suspects. Facebook, Google, Pinterest, Twitter – whatever will bring you converting traffic.
Teespring even provides you with an option to have your design promoted through their own platform. I got a couple of sales like that, but be advised that the profit for the items sold through Teespring search traffic is really small.
You will be much better at getting your traffic from external sources.
In the settings of your account, you may set up a variety of tracking pixels. Definitely do it if you are serious about making money on Teespring.
Also, do not forget to link your Google Analytics account. Sure, Teespring will provide you with a report of their own, but you will not be able to distinguish the very important details. Like time on-site or detailed explanation of traffic sources.
How Does Teespring Design Work?
As for the design. That's one of the tricky parts. You can put a short text and sell like crazy or have an elaborate design and sell nothing.
It will take some adjustments and "market feel" before you will be able to strike the right combinations.
There are several indicators on how to know if your design is working and you should keep going. Or if people are just not interested in the design that you are selling.
You can design your shirt yourself or ask a third party to do it. Fiverr or Etsy are great sources for some cool merch designs.
Try to get inspiration for your next design can from Google Trends. Just see what people are now searching for …and try to make a design around it.
You can make very interesting money with Teespring. You can even use free traffic sources to generate a couple of first sales.
If there will be interest, I will gladly prepare a post on how to make money on Teespring.
We could go into details and discuss how to choose the right design, how to market it, how to set your Teespring merch campaigns, and so on.
Let me know if you would like to read more about that!
FAQ
How does Teespring make money?
They take a commission for every item that is sold on their platform.
Can you really make money on Teespring?
Yes. If you are starting in ecommerce giving a shot to print on demand is one of the best way to dip your toes while investing minimal amounts.
Is Teespring.com legit?
Yes. It is a very popular print on demand platform.
Why is Teespring so expensive?
The prices are set by the sellers, Teespring is a print on demand platform and just takes a comission from each sold item.
How do you get Teespring to work?
Create a design, drive traffic to it (social media work very well). More in the post!