EverWebinar is the browser-based brainchild of another popular webinar software: WebinarJam. Although these platforms come from the same company, they do have a few key differences.
EverWebinar's services are perfect for:
Bloggers
Business-to-business operations
HR teams
Educators
And even ecommerce businesses
In this EverWebinar review, we'll cover some of the software's perks and main features. We'll also look at its pros and cons, as well as the EverWebinar pricing plans.
You might also want to check my guide on over 23 webinar software services.
Table of Contents
EverWebinar Review: Main Features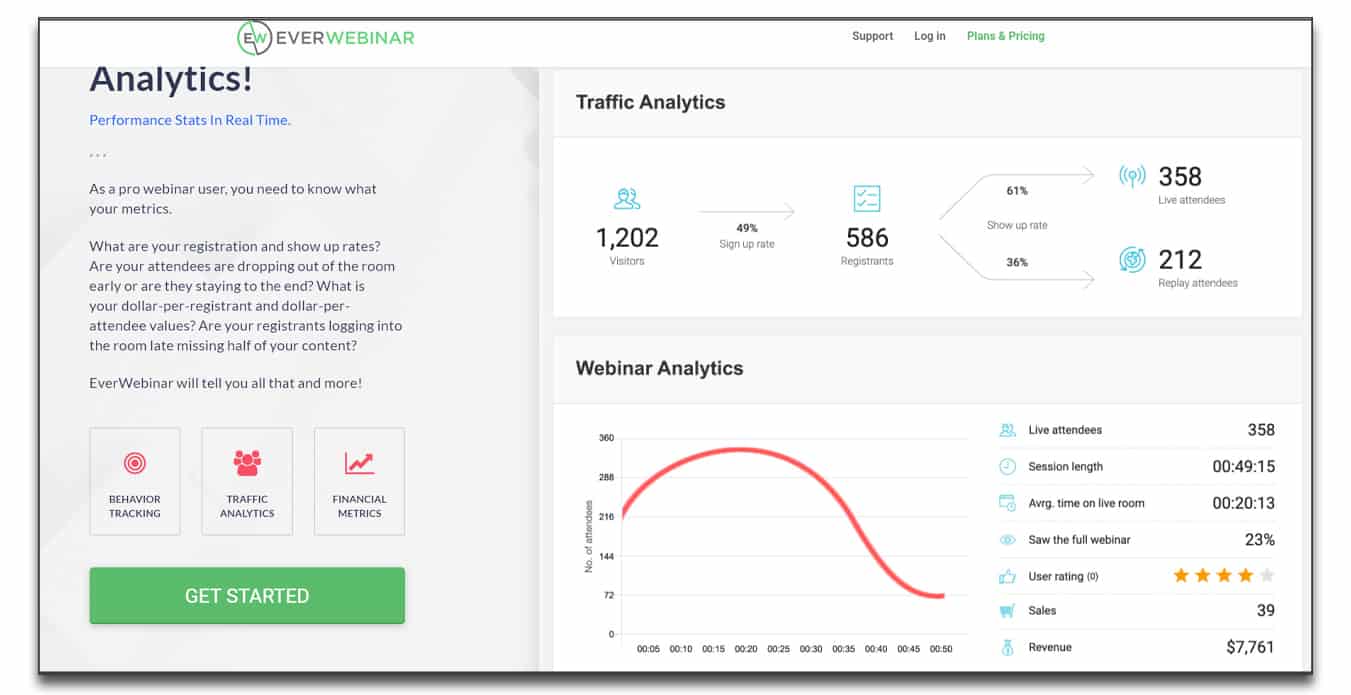 EverWebinar makes it easy to build evergreen and automated webinars. In fact, their campaign wizard lets you get your first webinar up and running in a mere 10 steps!
These prerecorded videos allow you to avoid the hassle of hosting live content. All the while, you can still provide an interactive experience to your audience!
And, because everything happens in your browser, you don't have to burden your viewers with downloading an app or plugin on their device.
With EverWebinar, you can record your presentation and add all the features you need, such as:
Automated and hybrid live chat
Polls and surveys
A sense of urgency via scarcity counters and timers
Live sales alerts
Slideshow presentations
Links and screenshares of videos
Not to mention, all presentations are played in HD, 30 FPS video and high-quality audio broadcasting.
Plus, with their scheduler, you can set your webinars to play on your schedule (or your viewers').
One unique feature about EverWebinar is that they work hand-in-hand with WebinarJam. (WebinarJam is sold separately). If you subscribe to both platforms, you can import all your live content – including their add-ons.
You can also download content from outside sources, such as YouTube or Zoom. Once these videos are in EverWebinar, you can add a variety of live features to make your videos feel fresh.
Furthermore, it's possible to integrate dozens of third-party platforms such as CRMs and autoresponders. You can also use their smart API connections to integrate with apps and platforms of your choice!
These tools and tricks are only the start with this webinar marketing platform. Let's review a few of EverWebinar's best features in-depth.
Registration and Landing Pages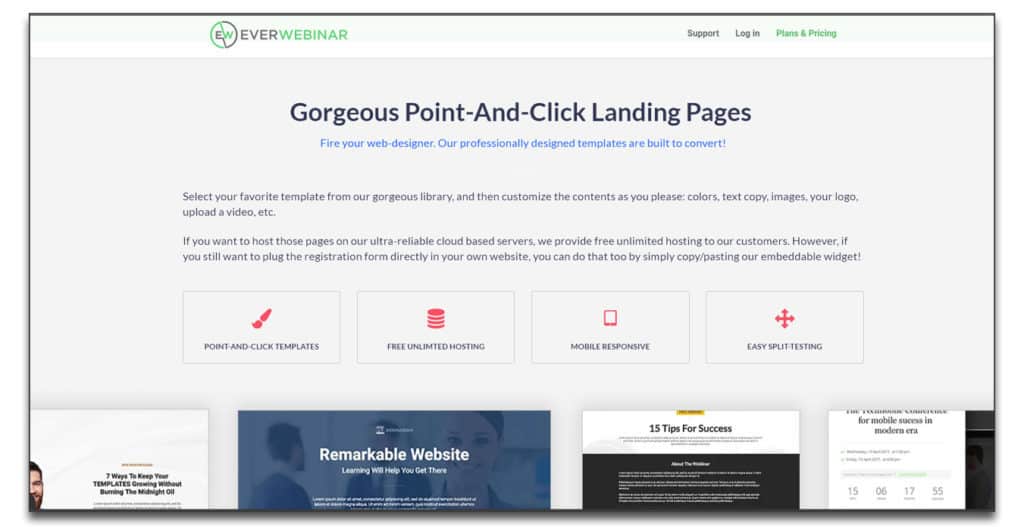 EverWebinar comes with a set of pre-designed landing page templates to make your job even easier. You can then customize your selection with their drag-and-drop editor. And, when you're live, you can use their cloud-based server to host your landing page for free.
Or, if you want to embed the registration form in your website, you can copy-and-paste the code.
EverWebinar also lets you rotate two landing page designs in real-time and track their performance. Thus, you'll be better prepared for your next marketing campaign to rake in the registrations.
After your registration page goes live, you can use EverWebinar's built-in email marketing to send notifications for upcoming events. And, after the show, you can send a recorded replay or thank-you message to all your viewers. Not to mention, EverWebinar has full SMS communication capabilities, too!
Audience Interaction Tools
With EverWebinar, you can use tons of options to make your prerecorded content feel live and actionable. For instance, you can schedule options such as:
Automated live chat to pre-schedule questions and anticipated answers for your viewers
Hybrid live chat to interact live with your audience
Pop-up product offers to promote special prices and products
Live sales alerts to induce a sense of urgency that others are purchasing products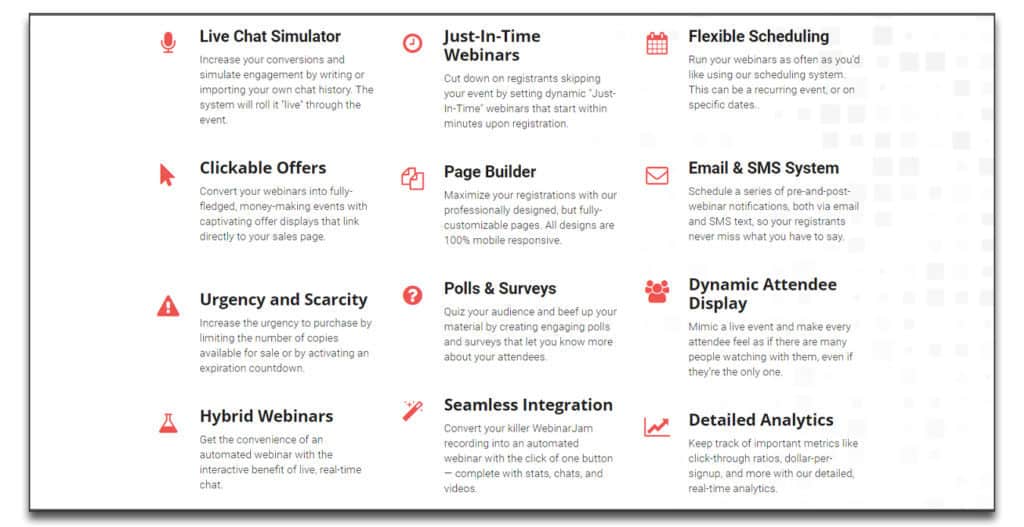 Plus, you can set up polls and surveys to gain insight into your audience. By simulating a live webinar, your audience will feel like you're talking to them in real time.
Throughout your webinar, you can also use their live performance tracking tools. Is your audience checking out early? Are they interacting with your polls? How many are purchasing via your product offers? You can track all these – and more – live from your dashboard.
Scheduling Options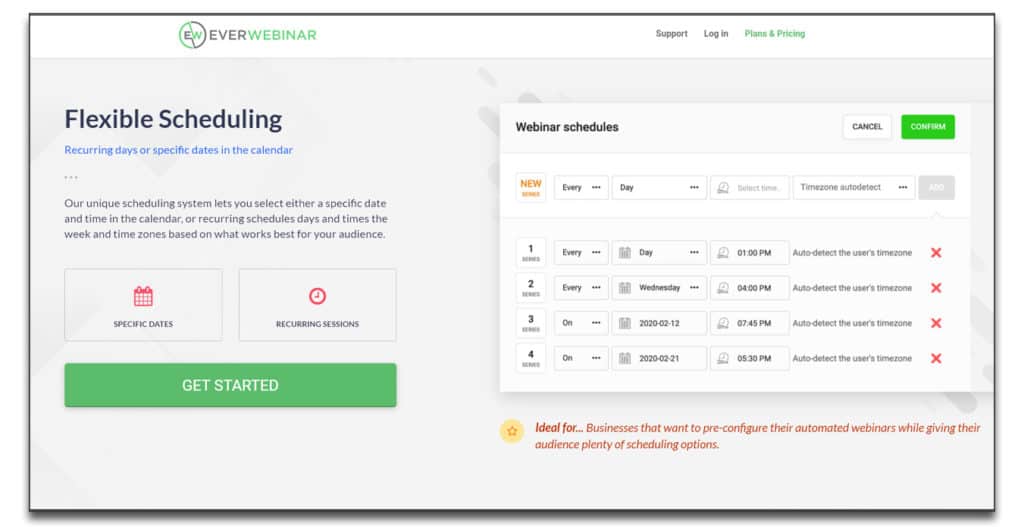 Next in our EverWebinar review, let's cover one of the most important features of any evergreen webinar: their scheduling options. This is what allows you to promote your content anytime and to anyone – both on your schedule or theirs.
EverWebinar offers plenty of features to make their webinars flexible and versatile. For instance, their customized scheduling lets you set up your webinar to play:
Multiple days a week
Several days per week
Continuously with their "Just in Time" feature
The ability to adjust for viewers' time zones
Or, you can give your attendees the choice of which webinar they want to watch with immediate replay or their Join In-Progress scheduling options.
Not to mention, while your attendees are waiting, you can send them pre-recorded videos. This lets you get personal with your viewers by sharing a piece of yourself or your company.
Once your viewers are live, you can also take advantage of the dynamic attendee function. Whether you want to add 40 members or 400, your audience will never feel like they're alone.
EverWebinar: Customer Service
EverWebinar has some of the best customer support in the business. Not only is their support team fantastic, but they also have an active Facebook community of nearly 40,000 members. Their ticketing software gets you answers in a few minutes to a few hours.
Plus, you have access to free training to use the software when you sign up!
If that's not enough to solve your problem, you can also use their Documentation Wiki to find answers to your questions.
EverWebinar: Pricing Packages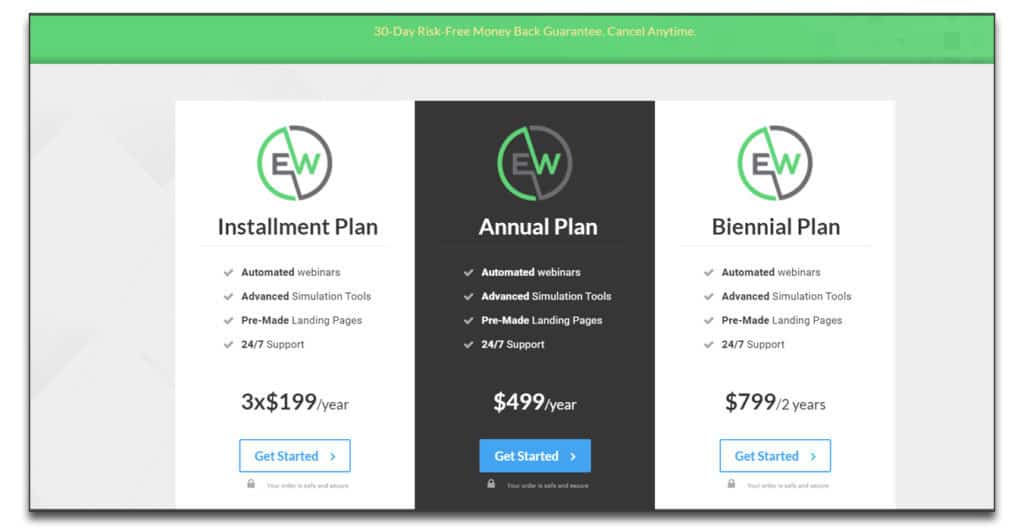 EverWebinar offers three pricing packages:
The Installment Plan comes at 3 payments of $199 per year for a robust set of basic features. This plan is ideal if you need a webinar service but don't want to commit to an annual plan.
Their Annual Plan costs $499 per year for advanced features and a slightly lower payment than the Installment plan.
EverWebinar's Biennial Pricing Plan costs $799 for a two-year plan. This package comes with their full suite of features – not to mention $200 in savings compared to the annual plan.