In this post, we will in detail review the EasyWebinar platform, along with its main features, pricing, and other aspects!
Webinars have become hugely popular, and it is not a surprise as connecting with individuals or a group of people from all over the world, in just a few clicks, is definitely a great thing to have.
Disclaimer: In this post, you will see affiliate links. If you purchase a product or service through them I will receive a commission at no additional cost to you. I have affiliate links only to the products that I have personal experience with and can recommend them.
EasyWebinar's cloud-hosted webinar service. The site does offer comparable prices and a fair number of customizations, which arguably comes at the cost of a slightly difficult interface and package limitations.
However, if you don't mind a slight learning curve, they deliver on their options for the price and come as one of the best automated webinar services.
Plus, they're easy to access, as they're available online, via a desktop app, and on iOS and Android devices.
In our EasyWebinar review, we'll cover their main features, pricing, and more.
Table Of Contents
Main Features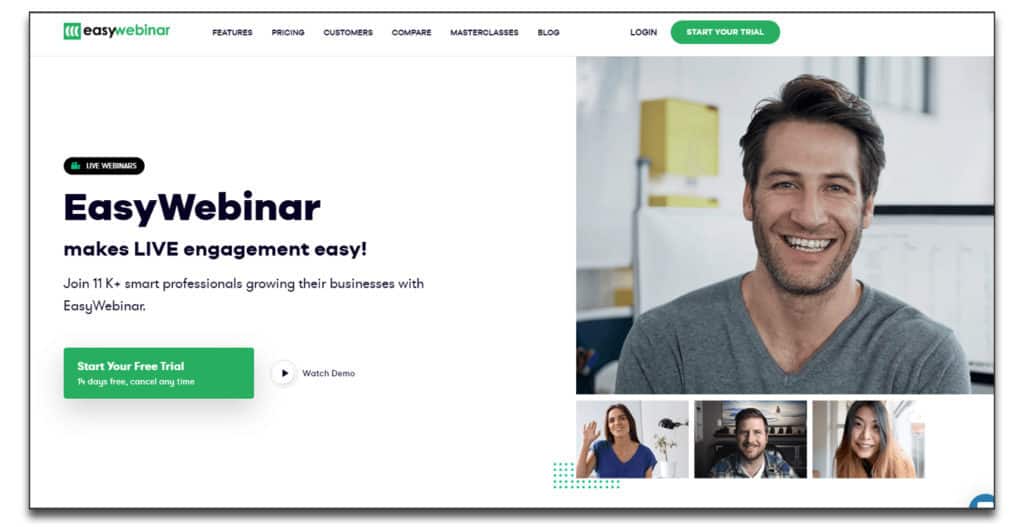 When you log on to EasyWebinar, the first thing that strikes you is their basic, unintuitive interface. New users may have to use their (admittedly enormous) library of tutorials to get around at first.
But once you're up and running, the options open up.
For instance, you can produce one of a half-dozen types of webinars, from live to automated to hybrid. You can even take advantage of their partnerships with YouTube and Facebook to livestream events.
Their webinar scheduler is one of the most flexible things about their site, as you can schedule webinars at unlimited dates and times. Plus, with their "Right on Time" system, you can run webinars in 15-minute increments.
Or, their "Go Live Now" button lets you start an instant room.
No matter how you cast your event, all video is recorded and streamed in high-quality HD. And, EasyWebinar uses TrueVoice Technology to reduce noise and delivery crystal-clear audio.
Uniquely, EasyWebinar also offers the ability to simulate up to 300 attendees in your replayed broadcasts to make viewers feel part of a group.
Their tools fall a little flat when it comes to audience interaction, though. They also have a few shortcomings in their marketing funnels, too.
But they do offer dozens of integrations to make up for their shortcomings, including:
Email marketing services
CRM software like HubSpot and Salesforce
Landing page builders
Another feature definitely worth mentioning is the possibility to switch between life and an automated webinar instantly.
EasyWebinar Automated Features
Platform offers both solutions and has a robust offer of features for those who plan to use its automated webinar functions.
EasyWebinar Live Features
Launched in the second wave of development Easywebinar now also offers a full scope of live webinar features.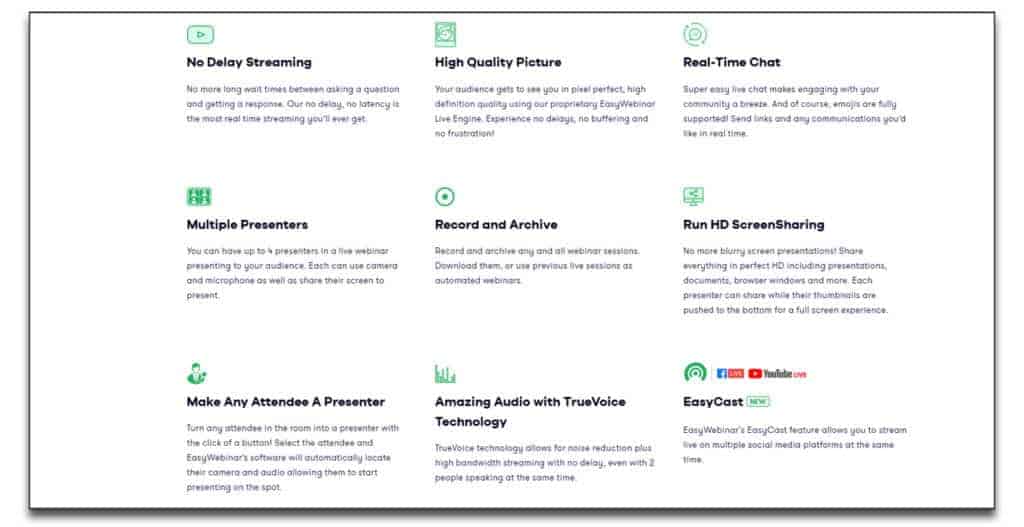 Easywebinar Speed
One of the most important aspects is speed. EasyWebinar is a standalone platform, and though I had not directly compared it myself, they claim that their latency is on the same level as with Zoom.
That is definitely a strong statement as the webinar latency has a significant impact on the experience of the attendees. The interaction with Easywebinar is seamless, so it feels like a real life conversation.
Now that we've reviewed the EasyWebinar basics, let's cover some of these features more in-depth.
EasyWebinar Funnels
EasyWebinar's funnel are simple, yet attractive. Though they only include 4 templates, you can customize them any way you want with their editor.
However, as we mentioned above, their editing system is blind.
But you can take advantage of their code editor if you know CSS. You can also edit several aspects of SEO, such as meta titles and descriptions.
You can even insert tracking pixels from Google or Facebook into the header, body, or footer of your pages. Then, you can send messages to your attendees based on their actions – or lack thereof.
When it comes to editing your pages themselves, your options include:
Adding images and videos
Customizing fonts and layout
Adding custom question boxes
Including a gift on thank-you pages
But if you don't want to mess with the landing page builder, you can connect your own custom registration page, instead. 
Don't Forget Email Marketing!
Email marketing is an essential aspect of your webinar funnel.
With EasyWebinar's built-in system, you can review messages and design emails in-house.
Or, you can use their simple (if somewhat outdated) templates to speed up the process. Once again, their user interface proves to be somewhat unintuitive.
However, if you know CSS or prefer plain text emails, this will suit your needs just fine.
Presentation Tools
EasyWebinar offers a decent suite of presentation tools, though they do lack some functionality. Their interface is simple but clean, which allows you to keep the focus on you.
When it's time to present, you can include up to 4 co-presenters. You can also invite your audience to participate with the click of a button.
But, when it comes to their slideshows, you may run into issues. Chief among these is the fact that you can't minimize your slides – you have to exit the program altogether.
Plus, you can't host YouTube videos in your webinar. Instead, EasyWebinar suggests you host your files elsewhere and include a link.
Thankfully, there's an easy solution to both problems: all you have to do is screenshare your presentation.
Audience Interaction Features
Next in our EasyWebinar review, we'll cover an important aspect of your webinars: engaging your audience.
EasyWebinar skimps a little on the functionality here. Although you can include polls, chats, and offers, they don't offer a Q&A or hand raise feature.
Plus, the chat functions piles new submissions on top of each other, which means you may lose comments in the pile.
Their polls are also basic, as they only follow the multiple-choice design.
But their offer feature is more advanced. You can include images, scarcity timers, and even tags that link back to your CRM software.
Not to mention, you can add moderators to manage all of these features during your broadcast.
Data and Analytics
Unfortunately, on review of the data and analytics dashboard, EasyWebinar falls short.
For one, they offer no data about your registration pages at all.
Plus, they include only basic attendance analysis.
Their engagement analytics are more comprehensive. You can track metrics such as poll participation rates, chat logs, and offer clicks.
Plus, you can export a full review of your EasyWebinar analytics, including:
Attendee contact information
Custom question answers
Live webinar attendance
Webinar replay attendance
EasyWebinar Pricing and Customer Support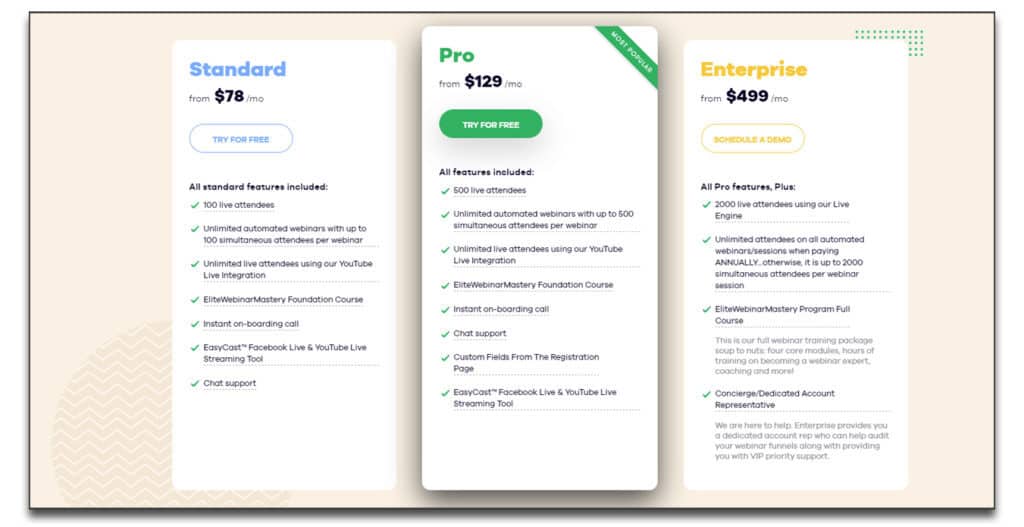 EasyWebinar's pricing starts at $78 per month for their Standard plan (if paid monthly). This includes 100 live attendees, unlimited automated webinars, and livecast on Facebook and YouTube.
For up to 500 attendees and more features, you can also try EasyWebinar's Pro pricing plan at $129 per month.
Or, Enterprise customers can pay $499 per month or more for full features, including:
A comprehensive webinar training package
Dedicated account representatives
Up to 2,000 live attendees
Unlike some competitors, EasyWebinar offers customer support at all tiers. Their fast service is available 24/7 via their live chat software. They also offer phone support, as well as a one-on-one onboarding call on all plans.
Plus, they have an active Facebook Group with 5,000 members to share ideas, groupthink solutions, and solve issues.
You might be also interested in checking out my guide comparing 23 webinar software platforms.
EasyWebinar FAQ
Is EasyWebinar easy to use?
Yes, though you may encounter some limitations in design options.
Can I mark chat questions in EasyWebinar?
No. At least at the date of writing of this post.
Is EasyWebinar cheap?
Prices are competitive with other platforms.
What are other webinar options?
Is EasyWebinar tracking good?
Yes. The platform tracks many metrics.
How fast is Easywebinar?
They claim it to be faster than Zoom in terms of latency and that is a very strong statement.