Demio is one of the most modern, seamless webinar services on the market today. Although they're a little pricey, they offer plenty of webinars and automation options to make up for it.
Whether you're looking to generate leads, maximize attendance, or engage your audience, the Demio webinar has the tools to help. Plus, with their easy-to-use interface, you can launch your first webinar in minutes!
This review will touch on the main features Demio offers, as well as pricing and customer support. If you are looking for more webinar reviews make sure to check my extensive guide on webinar services.
Table of Contents
Demio Main Features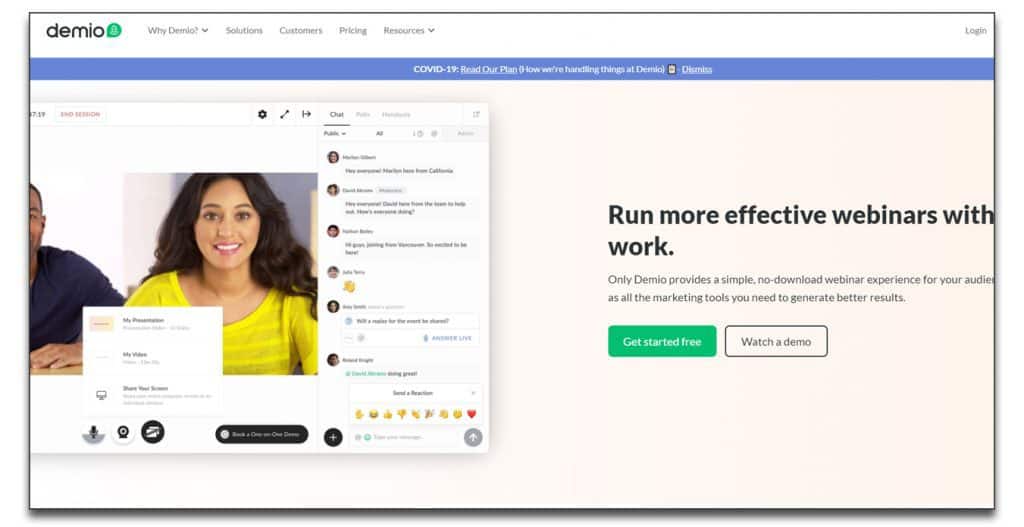 Demio starts you in their modern, easy-to-use interface right off the bat.
The entire platform is cloud-based, which means that users, attendees, and coordinators can access the site anytime, with any browser, from any device.
There are also no downloads required for this service – for you or your attendees – ever. But, if you want to access your account from your phone, Demio does offer a mobile app for iOS.
Upon review, Demio webinar offers a full slate of options. These include live, automated, hybrid, replay, and on-demand webinars. Whether you want to launch your webinar now or schedule them out months ahead, your choices are vast.
And, with every webinar option, you can host up to three webcams or co-presenters at the same time. This increases creativity, interactivity, and insights for both you and your audience.
Plus, your webinars are automatically recorded and saved in Demio's online cloud. These recordings come with a shareable URL, so you can send out past webinars to new audiences.
To get started, you can build a landing page or let your audience join with one-click access.
Not to mention, viewers can sign up to "Stay Registered." This option lets people to sign up to your ongoing series and receive reminders on the next launch.
When it comes to streaming, all webinars are available in real-time, HD video. Their platform is optimized to reduce delays in both video and audio streaming.
And, at the conclusion of your webinars, you can track your performance with their built-in analytics dashboard. The interface is simple to use and easy to read, so you can gauge your webinar results accurately.
Furthermore, Demio webinar offers several integrations with major third-party tools. These include sites and services such as:
GetResponse
Drip
MailChimp
AWeber
ActiveCampaign
Ontraport
Plus, Demio also includes a full API with Zapier, so you can integrate your account with other services!
Demio Marketing Tools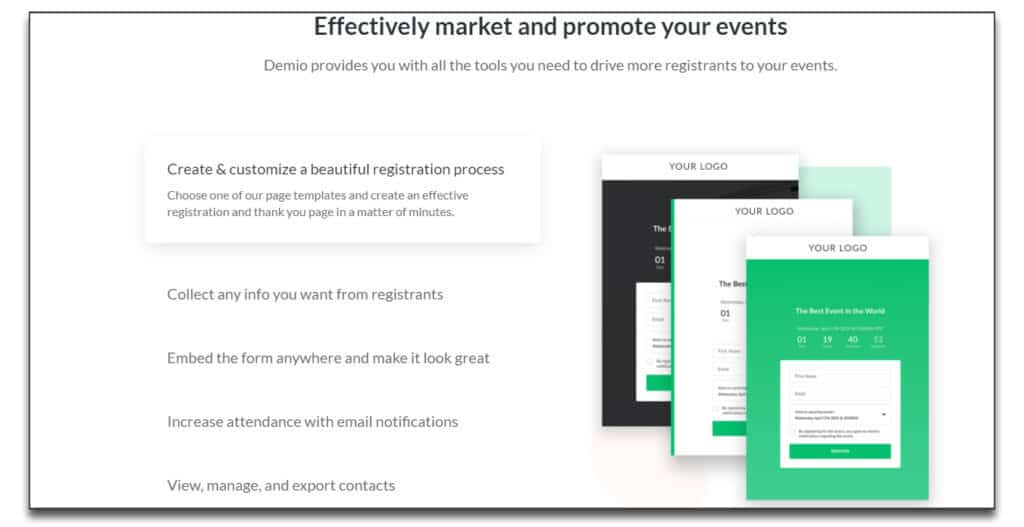 No Demio review would be complete without covering their marketing tools. After all, the Demio platform was created with marketing and sales funnels in mind.
As such, they offer a comprehensive range of services and customizations to market your brand.
First off, they offer a full set of registration landing page management tools. Whether you use a pre-set template or build your page from scratch, their editor makes it easy to set up your forms.
You can customize elements such as:
Information capture fields
Embeddable elements and forms to other pages
Changing colors and fonts
Adding logos to your pages
Or, if you don't want to use their in-house customizer, you can link to outside landing page builders.
Then, once your marketing team has captured leads from your registration pages, you can use Demio's CRM segmentation tools. These allow you to customize your automated email reminders based on your audience.
Plus, your marketers can contact prospects or clients right from the CRM platform!
And, if all these options weren't enough, you can set up your email system to send a recording of your webinars to your viewers. This lets your audience relive your webinar on their own time. (Which may help to increase your conversions!)
Demio Presentation and Audience Interaction Tools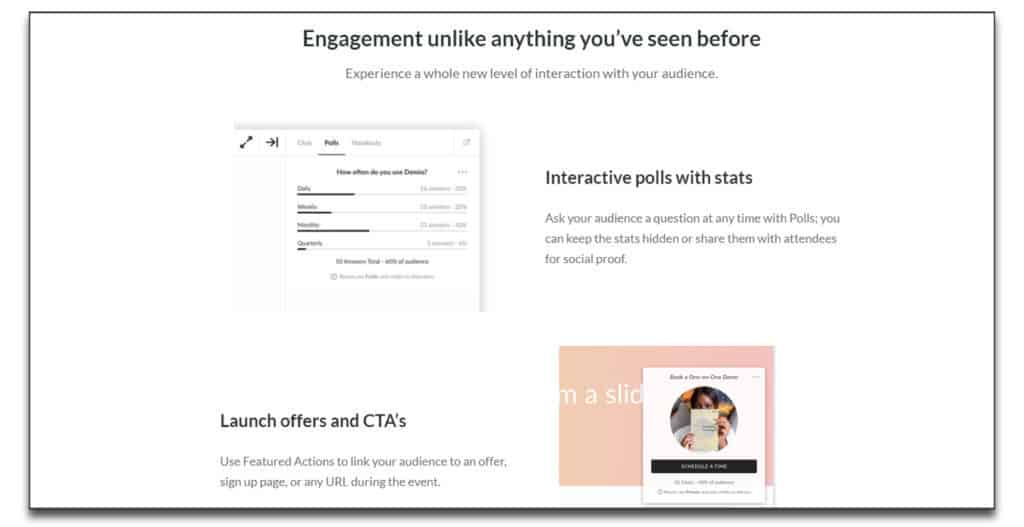 After you generated an extensive sign-up list, it's time to go live (or on-demand) with your webinars. And, since your audience doesn't need to download the software to attend, there will be no delay in joining you!
Once more, Demio's presentation and interaction tools let you customize the user experience. For instance, you can put your logo right into your webinars, as well as your marketing pages.
You can also add other custom elements, such as CTA buttons, gifts, and even bonuses to your webinar. These increase the interactivity of your sessions and help engage your audience.
Plus, Demio webinar offers a wide variety of tools to get your audience involved in your sessions. Public chats and polls, for example, let you collect data on your viewers in real time. Or, you can make your chats private to offer one-on-one attention and reassurance to audience members with concerns.
They even offer an @mention tool so you can respond directly to viewers. Thus, you can adjust your strategy to best fit their needs (and see those conversions roll in).
Not to mention, you can launch a live Q&A session with organization options. This lets you keep track of your audience – not to mention important questions and answers.
Also, if you need to share documents or videos, you can attach these as handouts in your webinar. Or, you can upload slides, link to videos, or share your screen, right there in-webinar.
And let's not forget about face-to-face audience interaction. Whether you want to add testimonials or just make your webinar more interesting, Demio makes it easy to bring attendees onstage with you.
And, at the conclusion of the webinar, you can download the file in MP4 format to store away for later.
Demio Pricing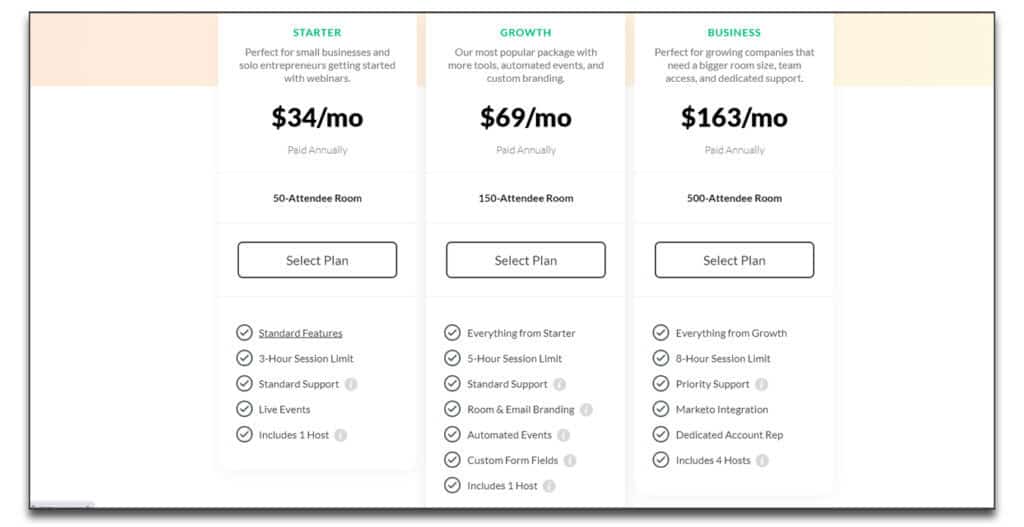 To conclude our Demio review, let's cover their pricing options.
All Demio accounts come with a free 14-day trial to test their features. (Plus, Demio includes a 30-day moneyback guarantee on all pricing tiers, too.)
If you're ready to get started, their Starter package includes 50 attendees and unlimited webinars for $34 per month. Their Growth package starts at $69 per month for 150 viewers. The most expensive tier, their Business plan, starts at $163 per month for 500 audience members.
All plans come with advanced webinar setup and 24/7 chat and email support. But, if you upgrade to their Business plan, you'll also gain access to a dedicated account representative and priority-level support.
You might want to compare it to other great webinar services detailed in my 23+ Webinar Services Guide.