Whiteboard animation software is one of the easiest and cheapest ways how to make your video more entertaining and make sure that the viewers do not skip it.
Not so long ago, you needed a professional animator to make such videos for you. No need to say that this required quite a big financial investment and also time.
This changes in the last few years.
Whiteboard animation software allows literally anyone to create videos that are easy to follow, keep the attention of the viewers until the end, and can have a lot of information in them.
A perfect mix for educational, sales, motivational, explanatory, or any other kind of videos. They are also a great addition to a webinar or can be used as an explanatory tool in an online course.
Table Of Content
Whiteboard Animation Software
On this list you will find the best whiteboard animation software, compares based on their main features and price.
Everybody will look for something a bit different, depending on their needs, but I hope that you will find a great fit amongst these best whiteboard animation software!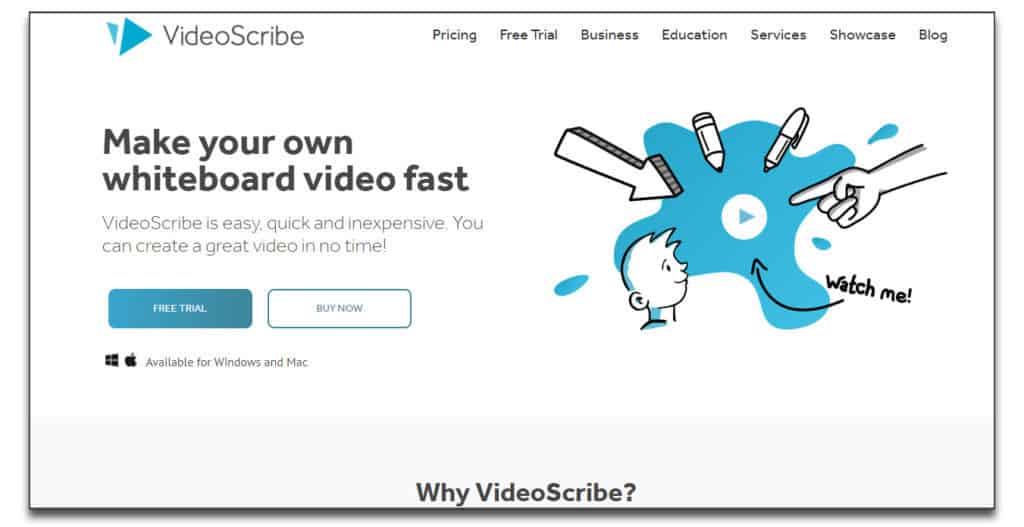 Videoscribe is a popular option amongst beginners. In fact, it's one of the best whiteboard animation software on the market, period. This is especially true if you're looking to create quick, easy videos at a very affordable price.
To get started with your first animation, all you need to do is:
Select your preferred template
Customize with images and texts with their drag-and-drop editor
Add your voice-over
Publish your video
It's that easy!
Plus, Videoscribe offers an enormous library for you to take advantage of. Whether you need images, music, or videos to spruce up your animation, they've got you covered.
All these features are available on their online site. But if you're a person who prefers to work from your mobile device, VideoScribe's downloadable app is even faster and more secure. Plus, it comes with the same functionality as the desktop app!
VideoScribe Pricing
VideoScribe offers a free version of their whiteboard animation software. But if you want full functionality, you'll need to invest in one of their paid plans. Their monthly plans start at $35, or $14 if you pay for a full year. Or you can invest in a full license for a one-time payment of $800.
Vyond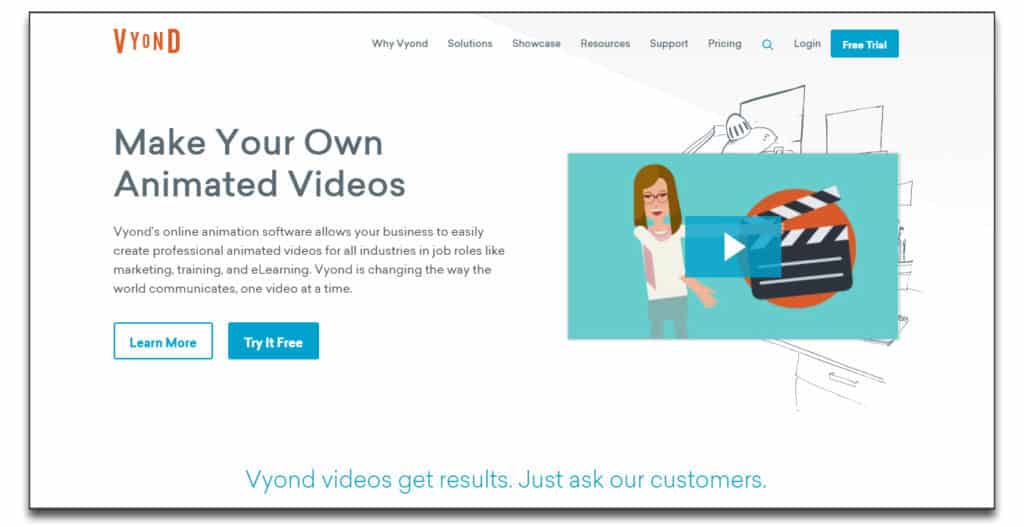 Vyond is a great whiteboard animation software if you need a versatile platform for your business. Their professional software lets you create all types of content, including:
HR and Training modules
eLearning opportunities
Marketing teams
As such, Vyond provides a wide range of features to help you really nail your brand voice. You can customize every animation with your own logos and branding. Plus, their LMS system supports audio and video uploads.
Or you can use their vast built-in library of resources, which includes:
Animation templates
Audio and video files
A full library of "props"
Thousands of characters, colors, and even movements
You can edit any of these additions with their click-and-drop editor. Plus, with their automatic lip sync tool, you can really make your characters pop off the screen.
Not to mention, Vyond is one of the best whiteboard animation software if you're worried about security. With their GDPR compliance and online certifications, you can be sure your data is safe.
Vyond Pricing
Vyond offers four basic pricing tiers, each with added features:
Essential for $299 per year for 1 user
Premium for $649 per year for 1 user
Professional for $999 per user/per year
Enterprise – contact Vyond for your free quote
Plus, this whiteboard animation software also includes a free 14-day trial to get started.
Adobe Animate CC
Adobe Animate CC is one of the best whiteboard animation software if you need videos for onscreen media and entertainment. Their interactive software lets you create:
Moving banner ads
Marketing videos
Social media ads
Infographics
And even video game backgrounds!
Adobe Animate CC comes with several advanced features to help you build your brand. Their Asset Panel, for instance, helps you put together videos with pre-existing templates, characters, and colors. Plus, their "Asset Warp" lets you spruce up your characters and other shapes.
One of their coolest features is Adobe Fresco. This tool lets you liven up your videos with lifelike movements. Your characters can be made to talk, move around, and even blink.
Or you can switch to their "Layer Parenting" tool for simpler – but less customized – animation.
Once your videos are ready, you have several options to share your latest creation. They support several online platforms from Flash to SVG. And, you can even share your videos as AR (augmented reality) experiences. Plus, every video can be instantly sent to your social media accounts.
Adobe Animate CC Pricing
Adobe Animate CC offers three pricing plans for their whiteboard animation software:
$20.99 when you pay monthly for an annual contract
$239.88 per year up front
$31.49 when you pay month-to-month
Animaker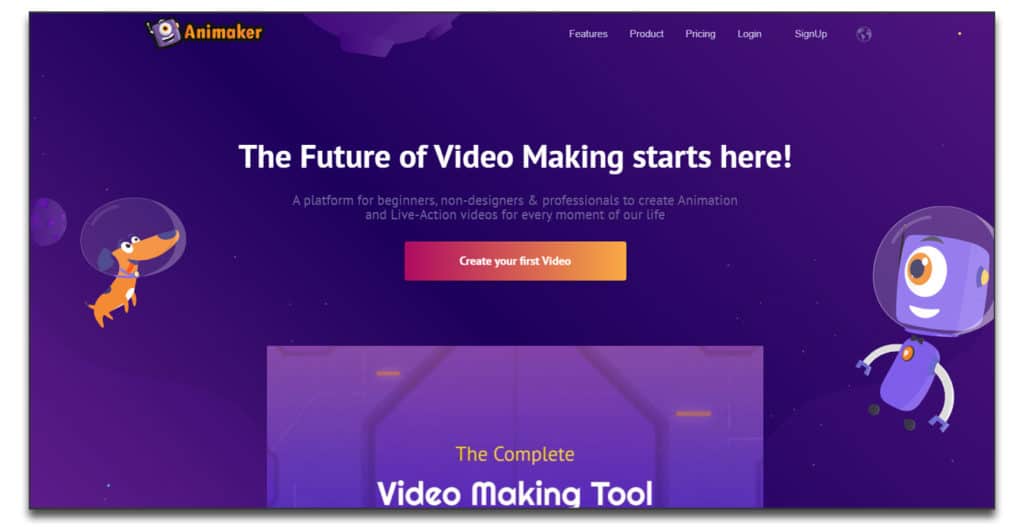 Animaker is a great free whiteboard animation platform if you're looking for an open-sourced software. A single account can develop up to 720 videos – which is more than enough for most casual users.
(Plus, it's free. If you need more videos, all you have to do is make another account!)
Animaker lets you make several styles of video, including whiteboard, blackboard, and glassboard. After you've made your selection, their drag-and-drop tool will help you edit and your content.
And let me tell you, your editing options are almost never-ending.
This whiteboard animation platform has an enormous library, including:
One billion characters
100 million pictures and videos
1,000 templates
15 facial features with 20 expressions
With so many options at your fingertips, you can storyboard and create videos for your needs. Plus, this software is designed for beginners and non-designers, so you don't need any prior expertise to look like a pro!
And, once you're ready to publish, you can send your videos to all corners of the internet. Their resizing options even let you optimize your content for your preferred platform, from Facebook to YouTube.
Animaker Pricing
Animaker is one of a few free whiteboard animation software out there. To get started, all you need to do is register and make your first video!
Camtasia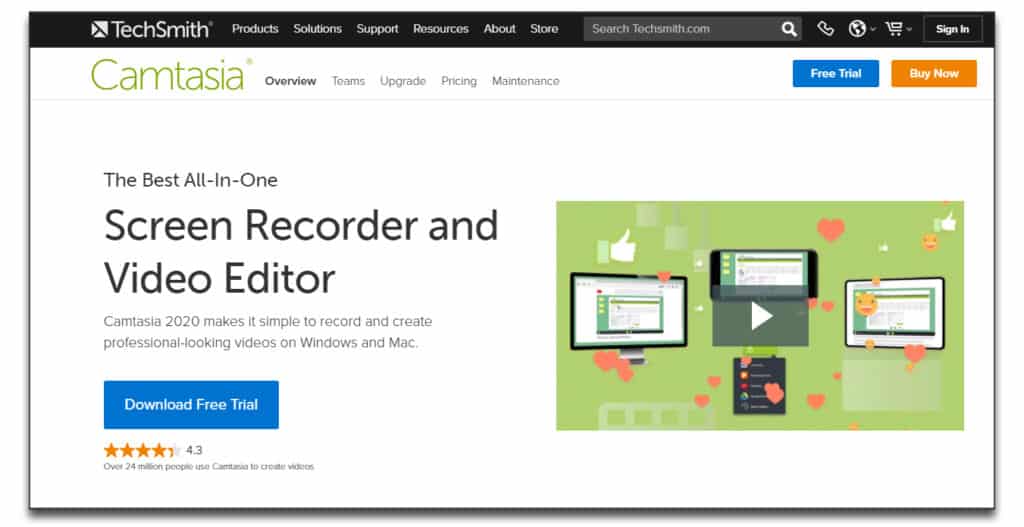 Camtasia is one of the best whiteboard animation software for users who like templates and screen recording-based videos. With this software, all you have to do is select a template or desktop recording and customize away.
As such, this is one of the best whiteboard animation software for tutorial and "how-to" video makers.
Camtasia's animation features include:
Customizable templates with pre-set effects
A drag-and-drop editor
Over 500,000 royalty-free music clips, videos, and images
Interactive animation, such as camera effects
Plus, you can add transitions and audio effects between scenes to keep your audience's attention. And, of course, you can upload your own voice-over and edit the track in-house.
When your video is ready to be shared, you can download it as an MP4 file to embed it on your own website. You can also upload it straight to a video sharing site such as YouTube or Vimeo.
Camtasia Pricing
Unlike other video animation software, Camtasia doesn't have monthly or annual plans. Instead, users pay a one-time license at $249.99.
Thus, we recommend that you take advantage of this whiteboard animation software's free trial before you dive in. (Camtasia also provides a 30-day moneyback guarantee if you change your mind).
Doodly
Doodly is a great drag-and-drop doodle and whiteboard animation software. With Doodly, you can make videos for professional and personal projects in minutes, such as:
Social media ads
Training aids
eLearning and course platform videos
Video marketing advertisements
Explainer videos for YouTube
This whiteboard animation software is compatible with both Windows and iOS systems. Plus, it comes with several installations on the same device.
To get started, all you have to do is upload your drawings or images to the platform. Then, Doodly will turn the picture into a doodle for you to use in your video. They also have a vast collection of premade doodles, backgrounds, and characters for you to choose from.
And, with Doodly's "Smart Draw" technology, you can select a wide range of hand types to "doodle" your animations in real time.
When you're satisfied with the visuals, you can go in and add one of its dozens of royalty-free audio tracks. Any voice-overs can be recorded in-house with a single click of your mouse.
Doodly Pricing
Doodly offers two pricing plans for users:
Standard costs $20 per month for an annual plan
Enterprise costs $40 per month for an annual plan
If you change your mind in the first month, you can exercise their 30-day moneyback guarantee.
Easy Sketch Pro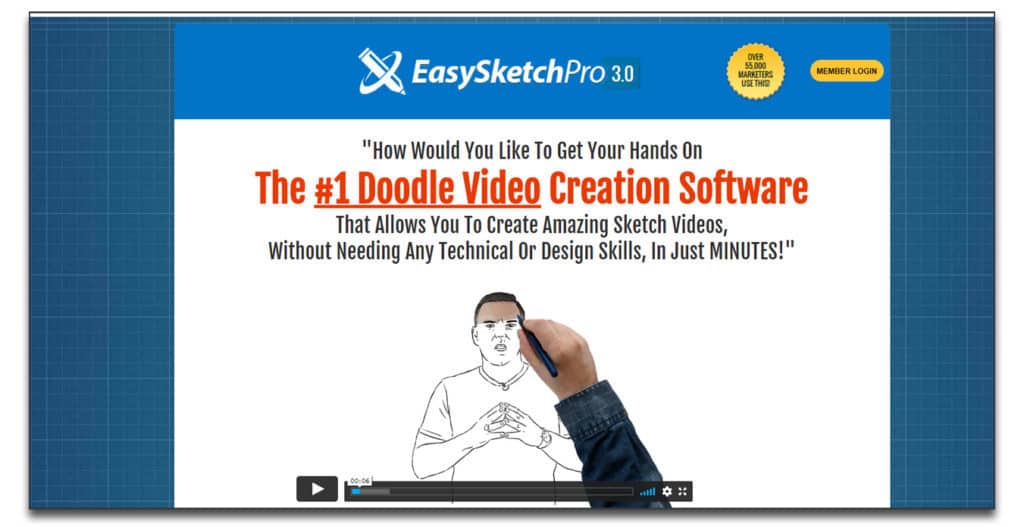 Easy Sketch Pro is another doodle-based whiteboard animation software. True to their name, you can use their service to create tasteful sketches with no coding experience.
To get started, you can use their drag-and-drop editor and library of images to put together a video. (Don't worry – they also offer plenty of professional canvasses for inspiration).
Next, you customize your video with pens, brushes, crayons, and other animation tools. Then, you can lay over a vocal track, such as music or a script, to complete the process.
If you're worried about your design skills, Easy Sketch Pro offers another option to make a doodle video. All you have to do is upload a previously made video file from another platform. Then, the Easy Sketch software will turn your video into a doodle.
With this feature, you maintain full control over your video. You can set start and stop points for the animation and add in other images, videos, etc. Thus, you can design a seamless transition from drawing to live video.
Easy Sketch Pro Pricing
Easy Sketch Pro offers three licensing options:
Starter charges a one-off fee of $37 with Easy Sketch Pro's branding
Business costs a one-time fee of $67 with no branding
Business Pro costs a one-off fee of $97 for additional images and soundtracks
Explaindio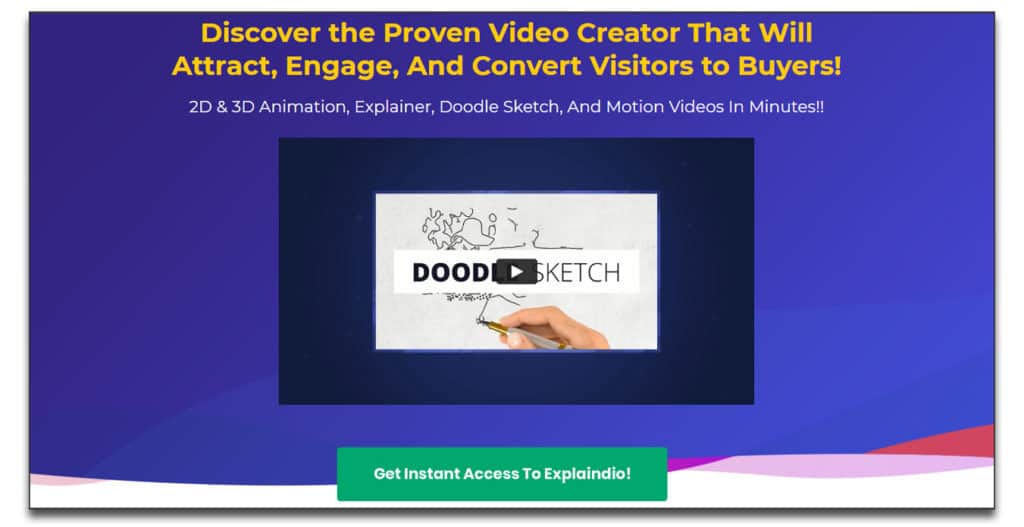 Explaindio is one of the best whiteboard animation software if you're looking for a balance of affordability and features. With this drag-and-drop video editor, you can create unlimited:
Full-motion videos
Whiteboard animations
Doodle videos
Explainer and "how-to" videos
This is possible with their full library of built-in animations, templates, fonts, and even pre-made animated scenes. And their animations come in both 2D and 3D renderings, so you can make it as complex or simple as you want.
Plus, with multi-timeline editing, you can create videos even faster.
But Explaindio is not as comprehensive as some of the other options on this list. For instance, its library of 6 animated characters falls far short of most. Its image library is based on a Pixabay integration, so it also has fewer built-in images than some options.
Explaindio is available for Windows and iOS systems. You can also download their desktop version to edit content in offline mode, too.
Explaindio Pricing
Explaindio has a rather expensive monthly plan at $37. Their yearly plan, though, is far cheaper at $67 for twelve months of access. You can also buy the platform outright for a one-time fee of $497.
MySimpleShow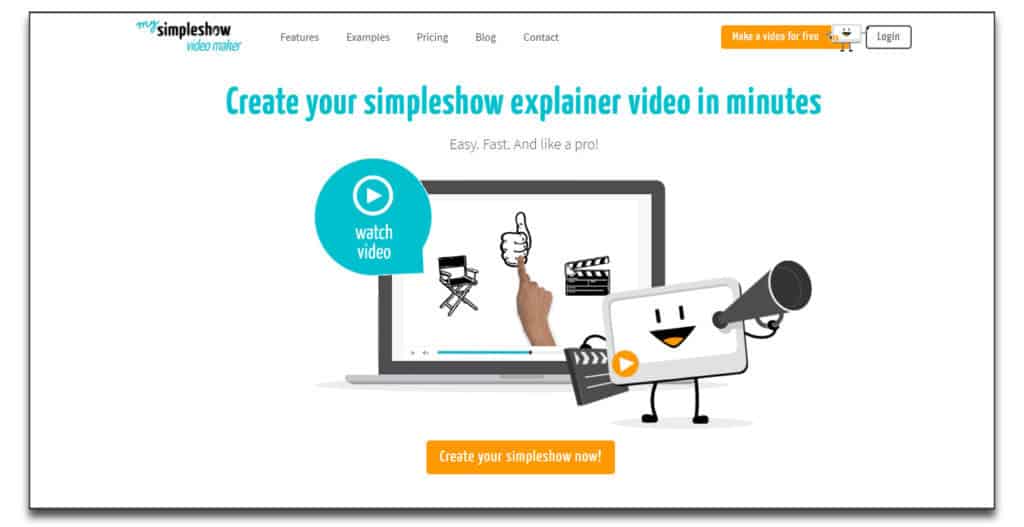 MySimpleShow is one of the best whiteboard animation software on the market – and one of the most expensive. This platform is made for quick, high-quality videos that you can create with ease.
In fact, MySimpleShow walks you through the process step-by-step.
You start with one of its 16 available video templates across a variety of needs and disciplines.
Then, you input your needs, with MySimpleShow offering relevant suggestions and giving advice along the way. You can upload logos, images, and text, or take advantage of their tailored selection for more variability.
Next, you can use the Explorer Engine to find alternatives to your current design and bring your video up to high standards.
If you want to include audio or a voiceover, you can upload and edit your tracks. Unlike many of its competitors, MySimpleShow also has a high-quality text-to-speech feature built into the platform.
Last, you download your video and voila! Or you can export your latest creation right to YouTube to share it immediately.
MySimpleShow Pricing
MySimpleShow offers a basic free plan for their whiteboard animation software. Or you can switch to one of their paid plans:
Business for $129 per month
Pro for $499 per month
Enterprise – contact the platform for your free quote
Renderforest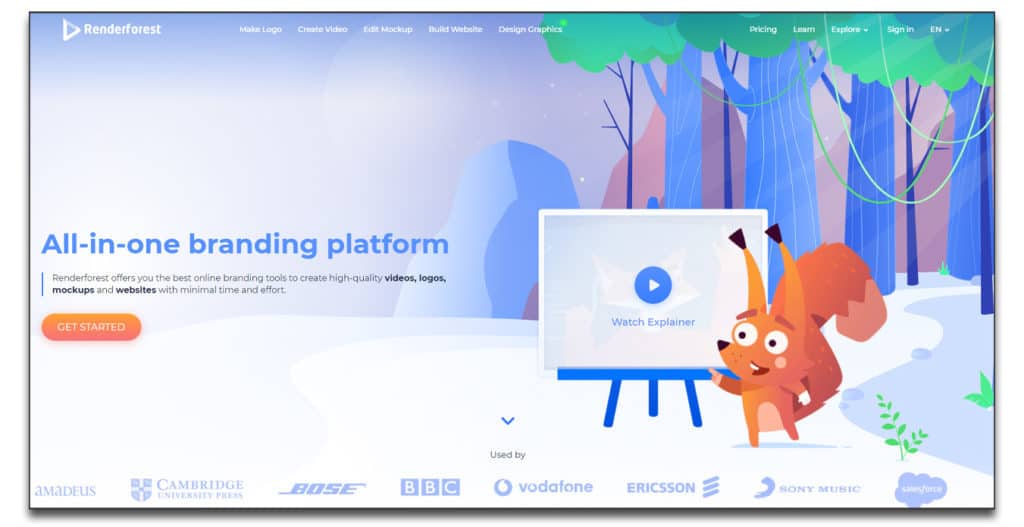 Renderforest is one of the best whiteboard animation software on the market, period. They excel in story-based and explainer videos for a large variety of businesses and industries.
Best of all, every feature is available right in your browser – no downloads necessary!
With Renderforest, you can kickstart your journey with one of 50,000 premade scenes. Then, you can use their Explainer Animations tool to generate effortless content in 3 steps:
Upload or design your scene
Load your presents
Add in text
Renderforest will use this base to process your flat image into a beautiful animated explainer video.
If you prefer to do the work yourself, you can also edit their premade scenes extensively. From color schemes to text blocks, the editing world is your oyster. You can even use Renderforest to generate customizable logos for your videos and business.
Renderforest Pricing
Renderforest includes a "Free Forever" version of their whiteboard animation software. With this plan, you can make quick 3-minute videos to test their extensive features.
Their paid plans start at $6.99 per month for videos up to 5-minutes. This plan also drops the Renderforest watermarks on most of your content.
The rest of their pricing plans range from $9.99 to $49.99 per month with no watermarks, more storage, and longer videos.
What Is Whiteboard Animation Software?
Whiteboard animation software allows you to easily create engaging videos. They can work an as quick time span showing the animator drawing, or use pre-set elements to make it feel like the images were drawn by hand.
This type of software can be used for basic animation but also for sales, education, and other uses.
Why Use Whiteboard Animation Software?
Whiteboard animation allows you to create highly engaging videos. It makes it much easier for the viewers to consume your content and reach the end of the video without getting bored – as there is something going on in the video every second.
These tools are great for sales when you need to explain your product or service and it would take too long in a normal video or a presentation.
Whiteboard animation is also a great choice for educational videos, as it allows you to explain complex concepts in a simple and interesting manner.
In any situation which requires explanation or presentation of longer informational
What Features Are Important?
Voice – make sure that the tool that you choose supports a voice over. It is much easier to use one tool for everything than to do animation separately from voice.
Templates – many whiteboard animation software will offer a variety of templates and drawings that you can you in your narration. Even such things as various "drawing hands" may matter.
Interface – this is a very individual matter, but use what suits you. Sure, you can get used to anything, but if you feel that the interface is slowing you down – just give a shot to another trial on a different platform.
FAQ
Why use whiteboard automation software?
It allows you to create simple and engaging animations quickly.
Can I do a voice over on the software?
Yes, some whiteboard automators have this feature.
What is the best whiteboard automation software?
Check this list of 10 software to find the one that suits you the best!