In this post, we will go over the best screenwriting software, review them compare them, and discuss why you need it!
In the internet age, you don't have to fly to California to pitch your screenplay. More and more, new creators are starting with nothing more than a laptop and a good idea.
Of course, once you have your idea, you need to write and edit your script and export it into an industry-standard screenplay. For that, you will need professional quality screenwriting software.
Best Screenwriting Software
The Industry Standard Screenwriting Software
All the biggest names in TV and film are using this screenwriting software. Animation studios like Dreamworks and primetime studios like Showtime rely on FinalDraft.
You have probably watched a film or series that was written with this software. If you are looking for a tool that's comparable with that used by film industry titans, you want FinalDraft.
Buying FinalDraft gets you and one other collaborator a ton of features.
Text-to-speech
One-click templates
Interactive changelog
Auto-saving and backup
97 languages currently supported
Brainstorm and collaboration tools
Consistent with current professional standards
Compatible with Apple and Windows operating systems
FinalDraft is professional quality screenwriting software.
With this software, you may actually make it to your final draft (pun itended)!
David Lynch, Edward Norton, and James Cameron all recommend it to their colleagues and peers.
FinalDraft Pricing
Pricing starts at $99.99 for educators and $199.99 for a full licensed copy for two users. You can try it out for 30 days for free to make sure it suits your needs as a creator.
Trelby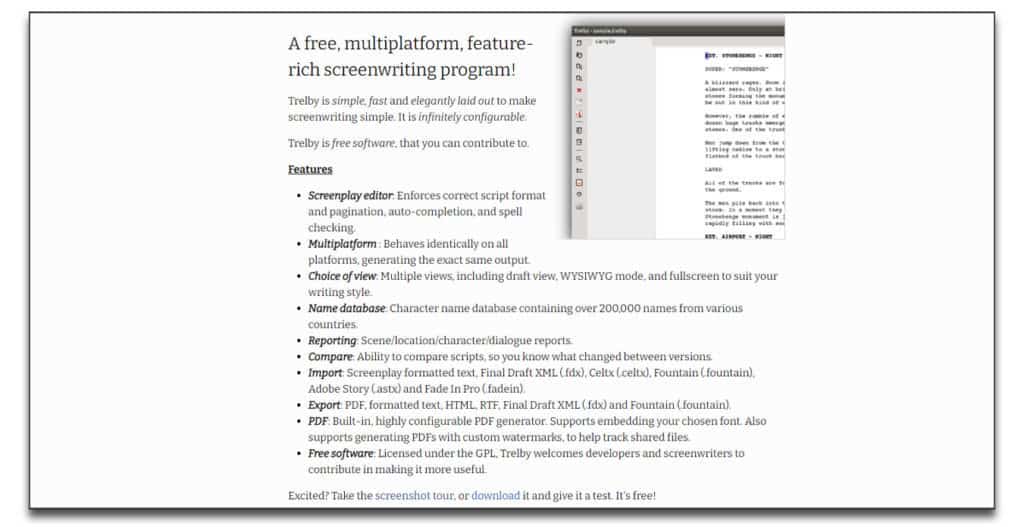 Best Free Screenwriting Software
Trelby is the go-to option if you need open-source software for Linux or Windows.
This software is available through Github. Trelby is great for a student or someone who hasn't had much work in the industry.
This screenwriting software has a spellchecker, automatic formatting, and .PDF generation built-in.
Trelby free screenwriting software is accident-proof because of all the formatting assistance. That said, experienced screenwriters might feel like Trelby is stepping on their toes.
This tool is only supported in English and does not support online collaboration. It does not allow rich-text editing, either.
If you are working with a large team, it isn't the best choice though Trelby is full of features for the solo creator.
PDF generator
Built-in spell-check
Lightweight program
Automatic formatting
Linux and Windows support
Import Compatible with .fdx, .astx, .fadein and .celtx
Trelby screenwriting software is perfect for a student or self-starter. If you are a solo creator who needs a barebones screenwriting software free build, you should try this software.
Trelby Pricing
It is free.
Celtx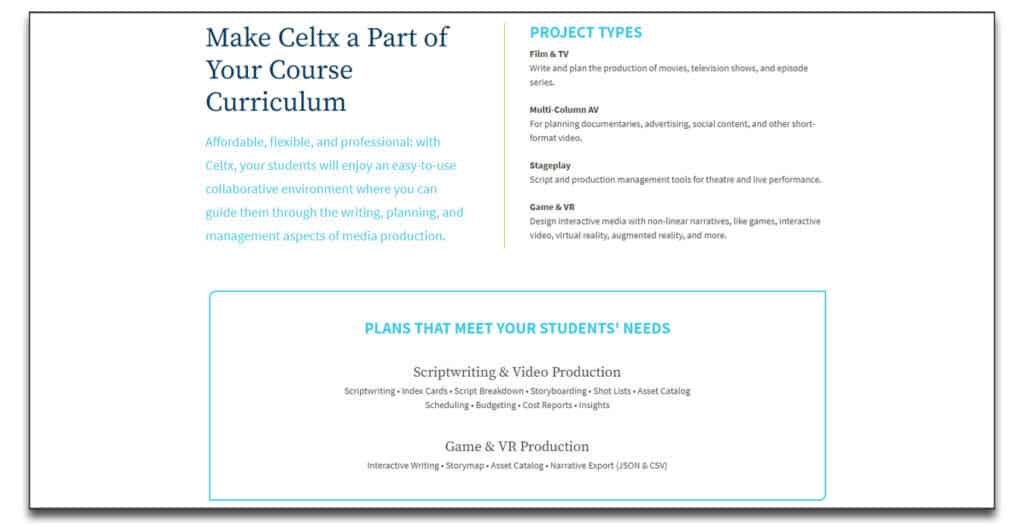 The Best Online Screenwriting Software
Celtx is the only online screenwriting software that is 100% cloud saved.
This is the best screenwriting software for the writer on the go. With easy access from any device, digital nomads will be able to write, edit, and share with ease.
Celtx is one of the more affordable online screenwriting software platforms currently available. It is cross-platform, cloud-based, and built for collaboration.
Celtx Pricing
Pricing starts at $15 per month for the scriptwriting plan. Buying a year at once nets you a nice discount.
That price includes the following tools.
Budgeting tools
Integrated call-sheets
Two full-access users
Auto-populated scheduling
100+ Storyboarding templates
Free viewing to an unlimited number of collaborators
It can be a hassle to buy a software license for every member of a team. This is the lightweight, cloud-based alternative. It is cross-platform and available anywhere you and your team create.
Celtx is perfect for teams that work on the go rather than in the studio.
WriterDuet
Best Screenwriting Software for Real-time Collaboration
WriterDuet is a customizable screenwriting software for large teams with many collaborators.
This software features built-in tutorials and an intuitive user interface. It's the ideal choice for those learning the ropes or working on their first professional project.
WriterDuet lets you try before you buy. New users have three full-service scripts for free. That's three projects they can write, edit, and export before deciding if they want to buy the software.
Pricing
There two pricing options to choose from. The all Access plan is $11.99 per month, and the full software license, including all future updates, is $199. WriterDuet is definitely a budget option, but still full of features.
Free tutorial
Offline editing
Informative blog
Real-time collaboration
Easy export to cloud storage
Customizable with plug-ins
Protected by SSL certification
This is the ideal choice for a first-time user or a student who needs a budget option compatible with industry standards.
WriterDuet is lightweight and easy to use. It is the first choice software for lots of big-name writers. Christopher Ford (Spiderman: Homecoming) says he recommends it to every screenwriter he meets.
WriterDuet is the perfect online screenwriting software for anyone learning the ropes.
Fade In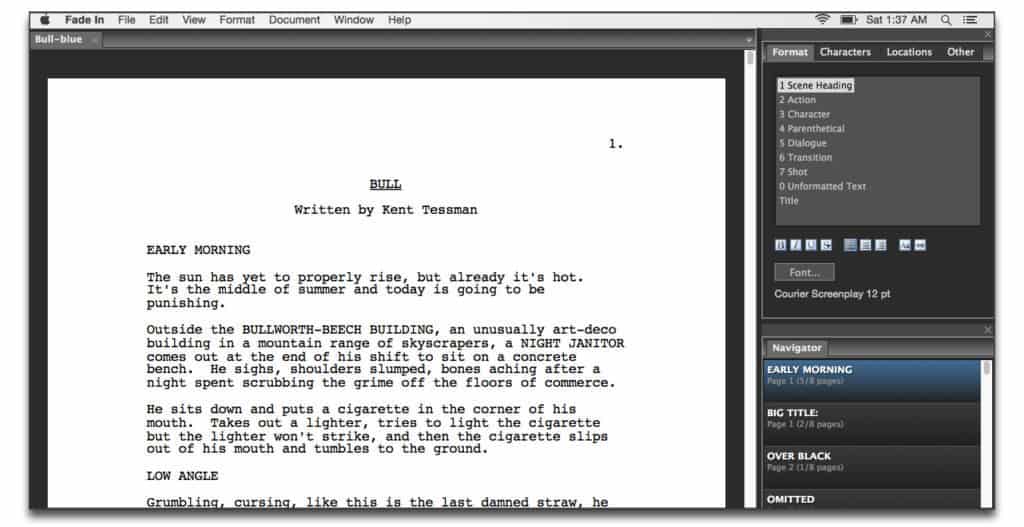 Most Advanced Screenwriting Software
Fade In doesn't have the templates and idea-generating tool suite that FinalDraft offers.
Instead, this software is aimed at creators who are working with text first and foremost. The tool suite keeps the focus on writing.
By isolating scenes and dialog, Fade In helps perfect your language use throughout your creative process.
It has real-time collaboration and cloud storage, which FinalDraft lacks. It is also Linux compatible. Other standout features include:
Cloud storage
Automatic formatting
Real-time collaboration
Built-in screenplay skeletons
Custom autocomplete for repeated phrases
Dialog tuner for isolating individual characters
Windows, Android, Linux, Mac, and iOS compatibility
Fade In Pricing
Like FinalDraft, Fade In is used by industry professionals. However, it comes with a much smaller price tag of $79.95. Even though this software is much cheaper, it doesn't lack features.
Ultimately, it is very similar to FinalDraft.
FinalDraft doesn't have more features, but different features. The choice comes down to priority and preference. FinalDraft is scene and image-focused, where Fade In is the best option for digging into text.
Fade In is the best choice if you are looking for professional quality software that supports your writing.
StudioBinder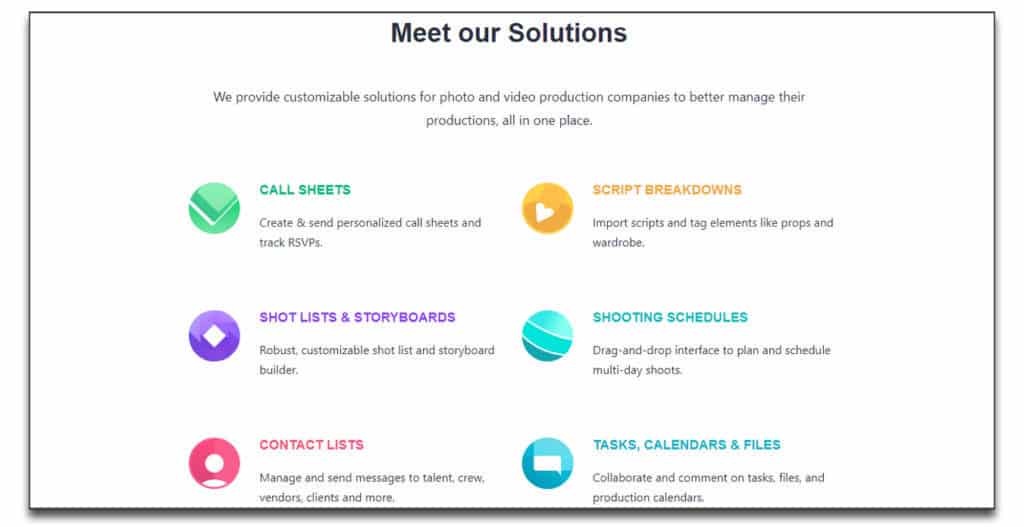 Most Versatile Screenwriting Software
StudioBinder is the high tech option for creators working in television and film. This software features a whole suite of tools for large scale production management along with writing and editing tools.
It is a lot more than just screenwriting software. Large teams use it to keep the writing, shooting, editing, and even financials all in one place.
A full list of features would take this whole page, but some of the standout features are:
Custom call-sheets
Collaborative taskboards
Import and export to PDF
Intuitive script breakdowns
One-click integrated scheduling
Dynamic contact list for vendors, actors, and crew
StudioBinder Pricing
Those complex features come with a big-league price as well. The full studio version runs $99 per month. There is an indie build available for $29 per month, but if the cost is a barrier to entry, you may be better off with one of the other choices on this list.
The good news is, StudioBinder has a free screenwriting software build. Unfortunately, the free version lacks most of the features that make StudioBinder worthwhile. The free version does allow students a chance to familiarize themselves with the software without paying the high price.
StudioBinder is an incredible piece of software. Unfortunately, it is more oriented towards video production than screenwriting.
If you can afford it, it's certainly worth the value. If you are an indie studio or a startup, you might be better off investing in something at a lower price.
The StudioBinder free build is definitely worthwhile for students.
Highland 2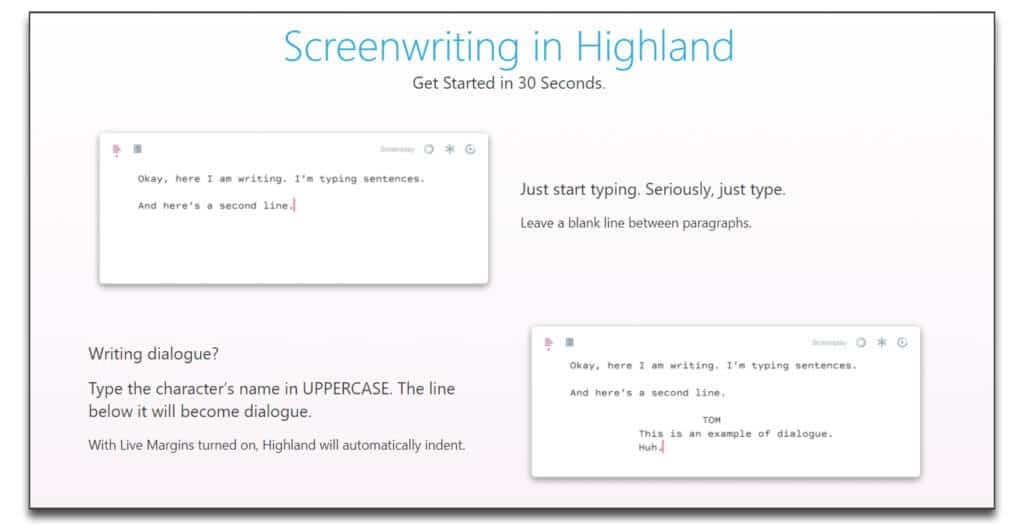 Best screenwriting software for apple users
Highland 2 is one of the easiest programs to use.
Currently, this software is only supported on Macs, which is the main drawback. If you and your team are Mac users, Hyland 2 is one of the best choices out there.
This screenwriting software free build has as many features as some of the paid options on this list. .PDF generators, templates, and theme editors make storyboarding easy.
Exports to PDF
Colored changelog
Dozens of shortcuts
Automatic formatting
One-of-a-kind gender analysis tool
Custom templates (full version only)
Highland 2 Pricing
The full version is reasonably priced at $49.99. Only the project lead needs to pay for the software. All other collaborators can work from the free version. Those collaborators can still use the custom templates and other premium features unlocked by the project lead.
As full of features as Hyland 2 is, it's hard to recommend software that is Mac exclusive and has no mobile support. That said, for a screenwriting software free build, Hyland 2 is easy to use and of professional quality.
Movie Magic Screenwriter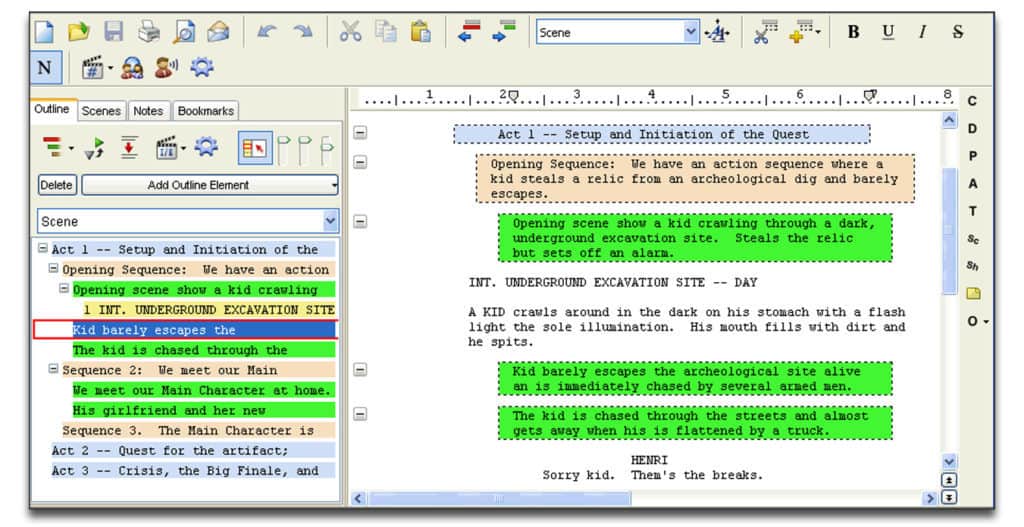 Movie Magic Screenwriter is another great program used by professionals in the film industry.
Jon Cassar, director of the hit series 24, says, "I can't imagine working in the business without Movie Magic Screenwriter!"
He is just one of the many producers who have used this screenwriter for over a decade and continue to use it today. Movie Magic Screenwriter has received steady updates during that time. It is still one of the best screenwriting software options available.
Unlike some other tools, Movie Magic Screenwriter is function over form. The retro look isn't as attractive as some screenwriting software. Even so, it has all the industry-standard features.
Embedded notes
Color-coded scene cards
Real-time collaboration
100 included templates
Automatic formatting
Character and location tags
Switch views with the tab key
Movie Magic Screenwriter Pricing
The latest build is available for Windows and Mac operating systems and costs $169.00 for three activations. Because each license supports three full-access users, it is a more affordable option for creators with a large team.
Movie Magic Screenwriter is the cheapest studio-quality option with three or more collaborators.
At the moment of this review, the product seems to be quite out-dated with better modern options on the market (like the top three on this list).
KIT scenarist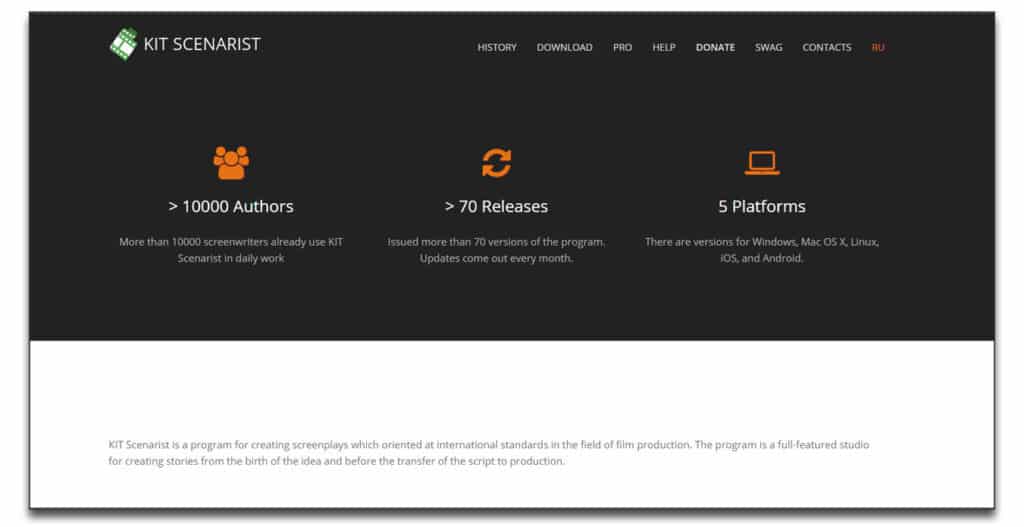 The Freemium Screenwriting Software
KIT scenarist bills itself as a top free, open-source screenwriting program. That claim is about half true.
The price isn't as high as some services, but it is barebones. This software is primarily a scene card filing system with some rich-text options. KIT scenarist is still in development, so more features could be coming, but so far, there isn't much on the roadmap.
The pros are:
Mobile-Optimized
Optional Darkmode
Cloud-based storage
Built-in rich-text editor
Exports to .pdf , .fdx, .fountain and .docx
Available on Linux, Mac, iOS, Android, and Windows
KIT Scenarist Pricing
While there is a free version, its most attractive features are hidden behind a paywall. Cloud storage and collaboration features are a subscription fee of $4.99 per month, with a slight discount for paying in advance.
Ultimately KIT scenarist is a fine choice if you are looking for free online screenwriting software.
If you are hoping for cloud storage and collaboration, you will need to pay for the subscription. At that point, you would be better off paying just a little more for one of the other options.
Page 2 Stage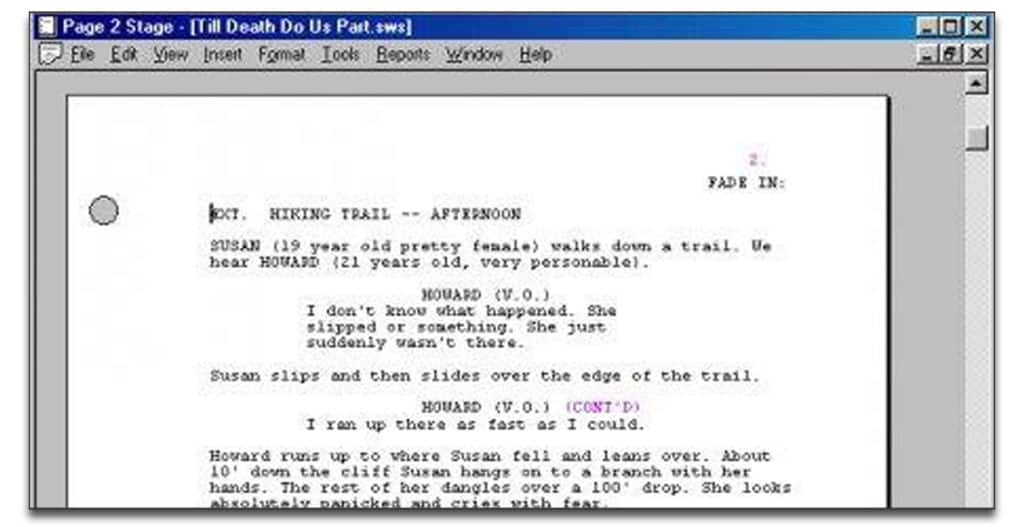 Best Free Screenwriting Software
Freelancers, small businesses, and indie creators should all look at Page 2 Stage to get started.
While it doesn't boast the same features as the big-budget options, this software still ensures proper formatting.
Page 2 Stage is the best option if budget is a barrier. If you discover that you need more high tech software, it's easy to export and move your project to another screenwriting software.
Exports to .PDF
Intuitive interface
Support for 30 languages
Auto-saves every 20 seconds
Built-in grammar checker and spell checker
Unfortunately, this software is only available to Windows users and does not offer 24-hour support. That's only fair, considering it is completely free.
This is definitely the most simplistic and easy to use option. If you are unsure about your needs or are looking for the best free screenwriting software, Page 2 Stage is your best option.
Page 2 Stage Pricing
It is free.
What is Screenwriting Software?
Screenwriting softwre is a specialized tools that will help to create the best scenario that you can.
Movies, music clips, games, sketches, plays – all that need includes several people working together based on a document that we usually know as script or a scenario.
Screenwriting software allows to better capture all the ideas that you have and most importantly is helps you interconnect all the events and heroes so nothing is left hanging.
It is a platform that stores all that you have in your mind and helping you to not forget anything. Every scene, hero, dialogue, piece of plot, characteristics nd details can be stored and marked on timeline on a good software.
Why do You Need a Screenwriting Software?
You might think that word or Google docs is enough to write a screenplay. Well…try it.
Let's imagine your morning. All the details, timeline, interactions, dialogues, reactions, feelings, items – everything that would give a third party a clear view on how it went.
No imagine you would have to write it down in such a coheret manner that if I read it – i could replicate it 1:1 to what actually happened.
It is quite challenging to store all that information in such a way, doesn't it.
Screenwriting tools help you with that. They are nowhere near being a basic document editor, they offer much more.
All that I listed above can be marked in the screenwriting tool. Characteristics and goals of your hero follow you as you create your script, you can connect scenes and events or even work on this complicated entanglement with your team.
It provides a complete roadmap full of signs, marks, tips that in the end will compile your screenplay.
Free Best Screenwriting Software
There are several options when it comes to screenwriting software. Keep in mind that some of them have limited functions, while others receive no updates or do not have a team or a timeline function.
What to look for in Best Screenwriting Software
So how to choose the best screenwriting tool for you? Let's check just a couple of points that you should check.
Team collaboration
While you can start writing your script completely on your own, down the road you will maybe need some help. Somebody to check the consistency of the story or a specialist to write a scene, maybe a new writer to complete a character that you were struggling with. Or just plain and simple somebody who will correct the grammar 🙂
Without team collaboration, you would have to export the file, send it to your colleagues and get back 3 new versions. Or they would have to take turns at editing it.
That is why an option to have multiple users using the screenwriting platform is so important. You can all work at once, comment, approve etc.
Multi-platform
Make sure that the tools that you will choose can be used on many platforms. You do not want it to be Mac only just to discover that you editor is using Windows.
SO before making the final decision, check that it will work on notebook, PC, tabled, smartphone Android, Mac, Windows – just all the combinations that can happen.
Clean interface
You want your screenwriting software to have a very clean and easy to use interface.
When you are writing out the story, you are in the zone. The words are flowing and you cant just take 5 minute to search for a particular button or function.
Most of the tools in this list have a trial option that you can try so make sure to give it a shot before buying.
Brainstorming
You need ideas flowing. Before buying check if the platform has some tools for efficient brainstorming with your team. Somewhere everybody can drop their ideas for you to later filter and choose the best ones.
Visualization
For example Final Draft offers a timeline. That is a fantastic tools that you can use to visualize how the events are happening after each other.
When the timeline is done you can tweak and improve it further. The main point is that everything is there right before your eyes.
Summary
So there you have it a lit of best screenwriting software that are available on the market.
The final decision will be on yours, my hot candidate is Final Draft and now only because it helped to create many great movies that I like.
But try as many your want. Just get the trial or download a free version and write a silly scene. Who knows, maybe that is how the idea for your globally successful movie will be born!
FAQ
What is the best software for screenwriting?
FinalDraft seems to be one of the most popular options amongst professionals.
What software do screenwriters use?
Opinions vary, FinalDraft seems to be very popular amongst professionals.
Is there any free screenwriting software?
Trelby and Page 2 Stage, but be way about limited tools available and compare them to some of the paid tools.
Is Celtx free for students?
Is Final Draft better than Celtx?
Final draft predictability features (it autofills texts and some of the characters) gives it a slight advantage over Celtx.
Can you sell a screenplay?
Yes. It takes a lot of work though as the competition is tough and getting in front of a decision maker is difficult.
How do you write a good script?
Have an idea and most importantly work on it, develop it and polish it until it is perfect.
How much does Final Draft cost?
$199.99 with 30 ay money back guarantee.
Does Final Draft has a trial?