In this post, I will go over some of the best drawing software that you can use when you need to capture your inspiration.
Because when you suddenly have this vision, idea, an image in your mind – you can't lose time with tools that are not perfect for you.
Digital art had fully established itself and is continuing its expansion into our daily lives.
Starting from simple drawings and sketches to virtual museums, professional animation, concept art for movies, and much more – digital art is pushing the boundaries of drawing.
With a drawing software you can have the same tools as artists from Pixar, Disney, Ghibli (and many more) in a matter of minutes.
After that it is just a matter of your style and imagination.
Table Of Content
Best Drawing Software
Below you will find a list of some of the best drawing software tools on the market.
It is always hard to say if the tool will fit your needs, so I advise to try out a couple (most of them have free versions or trials) and decide for yourself.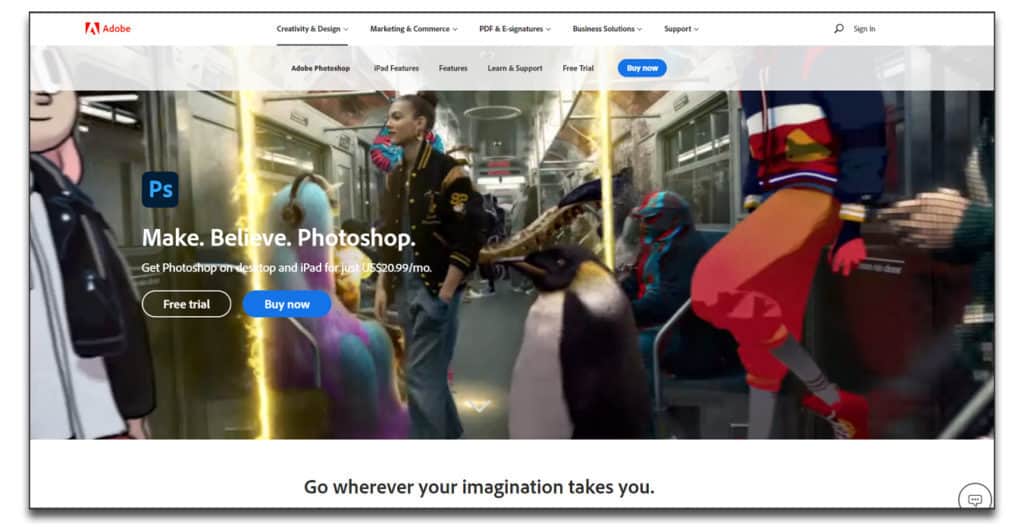 Adobe Photoshop CC is still the best digital and 3D drawing software on the market by many standards. This tool for Mac, PC, and Windows is a staple in the art community – and for good reason.
Its comprehensive toolkit includes:
Presets such as patterns, gradients, layers, and shapes to get started
Adobe Sensei, a built-in AI to enhance your speed and drawing abilities
Tons of paintbrush, insertion, and transformation tools to unleash your creativity
Functions such as crop, undo, enter text, and even customizable grids
With all these tools at your fingertips, you can design, draw, and update almost any image. From designing mobile apps to restoring old photos, the creative world is your oyster. You can even edit videos or create new animations from scratch.
One of the best parts about this digital drawing software is it's easy enough to use that beginners can cut their teeth with it. At the same time, industry professionals can use its features to create whatever comes to mind in a flash.
Adobe Photoshop CC Pricing
Adobe Photoshop CC offers a 7-day free trial, after which users can choose from three basic pricing plans:
The annual plan paid monthly for $20.99 per month
The annual prepaid plan for $239.88
A month-to-month plan starting at $31.49
CorelDraw is a graphic design and vector drawing software for Windows, PC, and Mac. You can select your platform-specific license to suit your device from the get-go.
Once your download is complete, you can get started enjoying its intuitive interface. This tool offers a wide variety of digital design tools, such as:
Photo editing abilities
Intelligent vector illustration with AI assistance
Royalty-free content, fonts, and templates
Color correction for consistency across media
With this digital vector drawing software, you can make your creative ideas come to life. Whether you want to turn basic shapes into complex, 3D works of art, design logos or brochures, or transform ideas across media, CorelDraw has the tools to make it happen. Plus, with CorelDraw's built-in LiveSketch app, you can bring your ideas straight to the screen.
CorelDraw is for both creative amateurs and business professionals. Whether you dabble in graphic design or make a living designing business-related media, it has features that cater to your needs.
CorelDraw Pricing
The CorelDraw Graphics Suite comes at a one-time price of $499 for all 6 apps. Or you can select a one-year subscription for $249, or $20.75 per month.
You can also enjoy their free trial offer if you're not sure you're ready to take the plunge.
Adobe Illustrator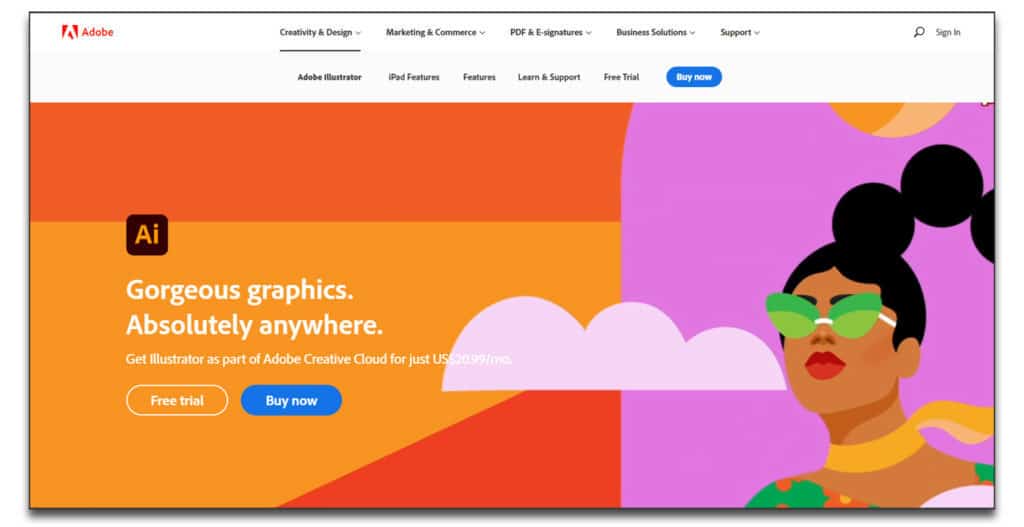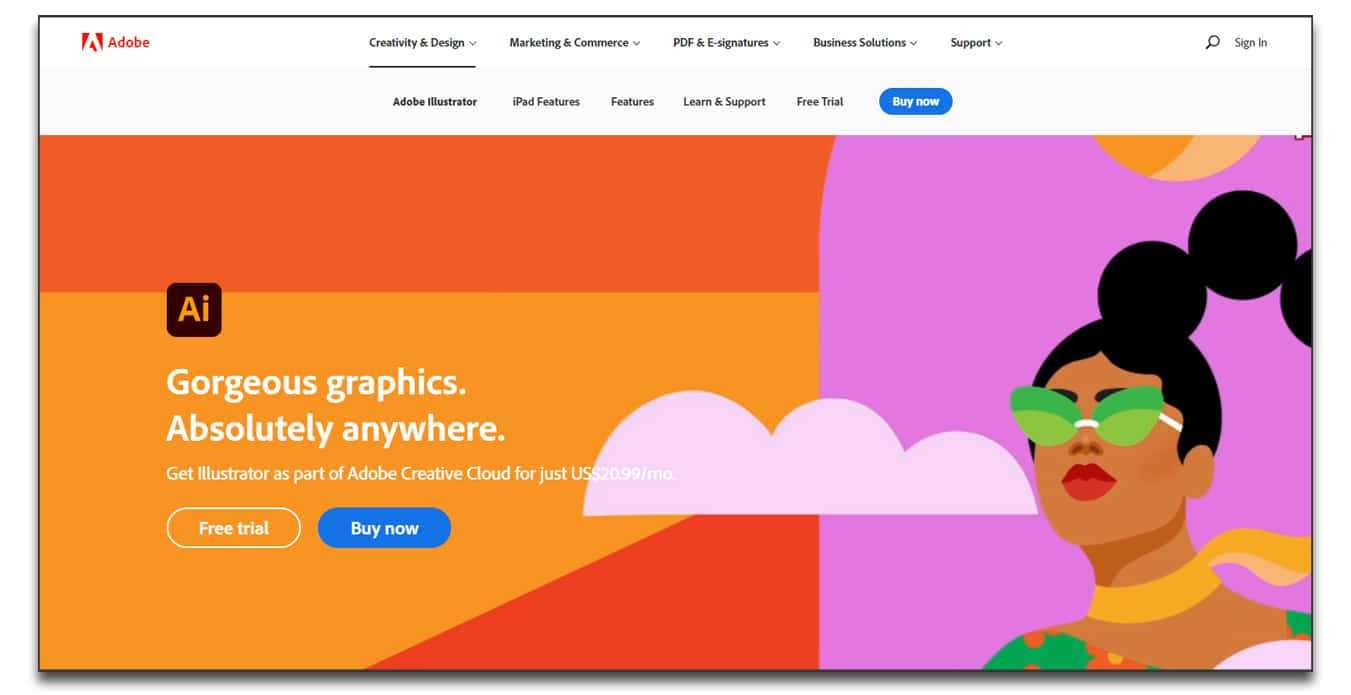 Adobe Illustrator is another digital vector drawing software popular in graphic design circles. Unlike its "big brother" Adobe Photoshop, this software focuses on illustration and design. Artists of all stripes enjoy its vast features, including web designers, book illustrators, and videogame makers.
One reason this tool for Mac and PC is so popular is that it can produce stunning designs with ease. Plus, it has one of the biggest libraries of templates and graphics on the market – over 80 million presets!
This digital drawing software comes packed with features to help artists fulfill their creative potential, such as:
16,000 different fonts
Vector graphics functionality
Shape-builder Freeform Mode to make ideas come to life
Scalable illustrations
SVG export abilities
Tools to design beautiful, dynamic websites
Plus, Adobe Illustrator Draw comes with an iPhone app for creative professionals on the go. With this, you can use their mobile editing tools to plan, sketch, and finalize ideas wherever you are.
Adobe Illustrator Pricing
Adobe Illustrator can work standalone or as part of Adobe's Creative Cloud. Plans start at $20.99 per month for annual subscriptions and run up to $31.49 per month. You can also buy an annual prepaid plan at a slight discount for $239.88 per year.
Autodesk Sketchbook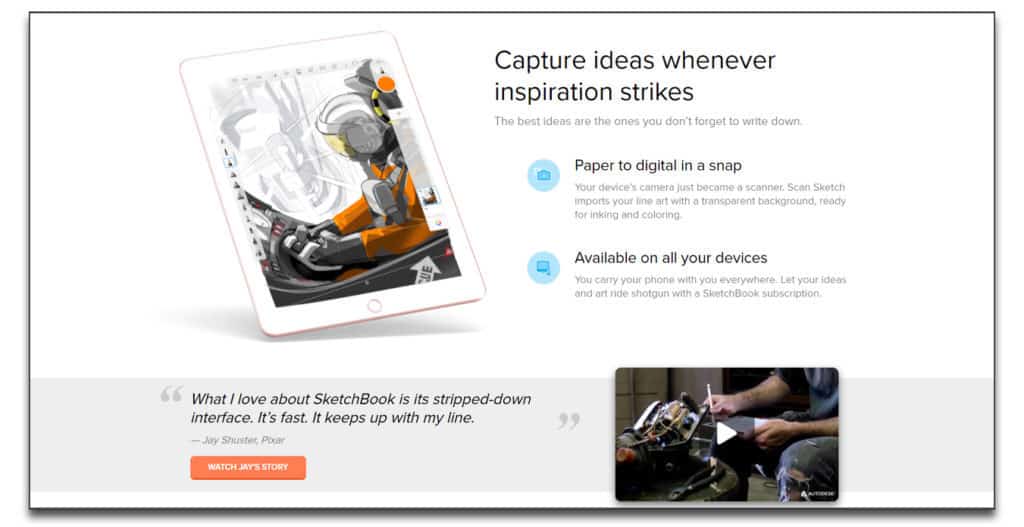 Autodesk Sketchbook is one of the best free drawing software for Windows, PC, Mac, and Android. With this graphic design platform, artists can create and customize on almost any device. Thus, you can bring your inspiration straight to the canvas whenever – and wherever – it strikes.
One unique feature of this digital drawing software is that your tools don't appear onscreen until you need them. This gives you the ultimate creative control by maximizing your workspace. But when you're ready for them, you can access a full array of drawing tools, such as:
Image import straight from your device's camera
Dozens brushes and pens (with a focus on sketching tools)
Predictive stroke
Ellipse guides
Radial symmetry features
With these tools, you can design, draw, and edit illustrations and sketches of almost any type. Although it functions best as a sketchpad, there are plenty of ways to take your drawings to the next level.
And when it comes time to export your work, Sketchbook offers several formats, even PSD. And rest assured: the integrity of your work – as well as the format – will be expertly preserved in the process.
Autodesk Sketchbook Pricing
Autodesk Sketchbook offers a free plan of its drawing tool for individual users. Businesses and enterprise users have to pay $85 per year for a license.
Sketchpad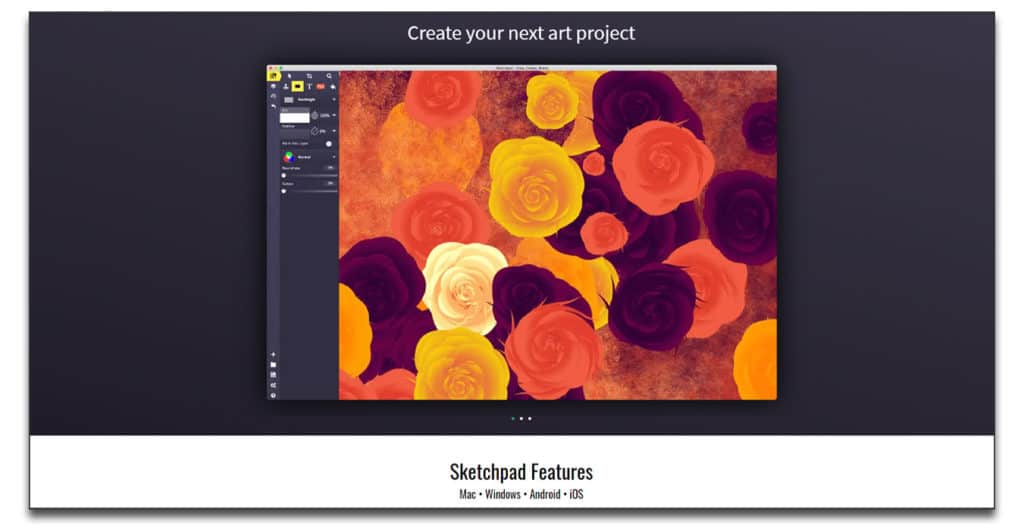 Sketchpad is a solid – if basic – free drawing software that users can access via their web browser. Chromebook users can also download Sketchpad as a PWA, or progressive web app. (You can also enjoy the features of this app offline, but it works best in-browser.)
Sketchpad's digital drawing platform includes everything a budding artist needs to gain a feel for the tools of the trade.
Plus, it doubles as a vector drawing tool, with plenty of line and path tools to work on realistic artistry. If you have a knack for either sketching or vector design, this is a great app to start with.
This digital drawing software includes everything you need to get started. It comes with a full range of starter features, including:
Layering and coloring tools
18 different brush styles
Over 5,000 vector images
A well-stocked, royalty-free clipart collection
Over 800 fonts
Photo import and editing tools
On top of these tools, artists can also edit many of these images, fonts, and features. You can adjust your alignment, set up grids and spacing, and blend colors and images. And when you're ready, you can print your images to see them on paper or save them to a Chromebook.
Sketchpad Pricing
Sketchpad is a 100% free drawing software that runs online. Users can access it anytime, from any desktop or laptop device, at no cost.
Krita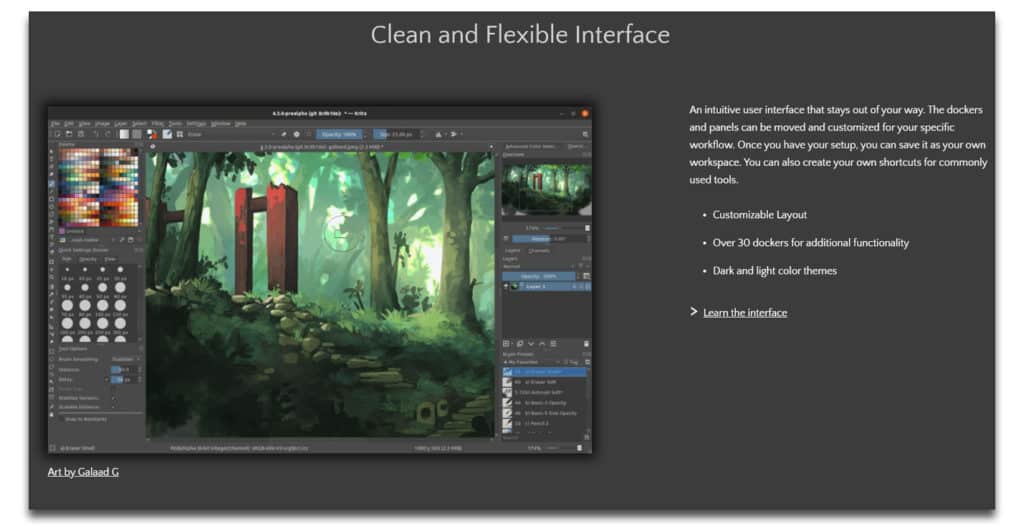 Krita is one of the best free drawing software for Windows, Mac, and Linux on the market. It was created by artists, for artists, to give beginners and pros alike a free alternative to pricey digital drawing tools.
One of the best features about this powerful tool is that it runs on open-sourced software. With a few keystrokes, artists can customize the entire platform to their preferences. Plus, it works on both desktop and tablet devices, so you can work in the best medium for you!
Although Krita has many uses, some of the most popular include illustrations, concept art, and comics. It offers a seamless experience and a wide array of features (especially considering that it's free!). Some of its most impressive features include:
9 customizable brush engines (with over 100 brushes!) and a brush stabilizer
Wrap-around patterns and textures
Tools to blend, render, mirror, layer, and otherwise alter drawings
Import options to bring in additional textures, images, and more
To get started, all you have to do is download the Krita platform and get to work. This comes with the source code, as well as a variety of options for builds and shell extensions.
Once you've decided which version(s) you want, you can get to work editing the source code – or get right to drawing your next masterpiece.
Krita Pricing
Krita is a 100% free plan drawing software for Windows and Mac.
Paint Tool SAI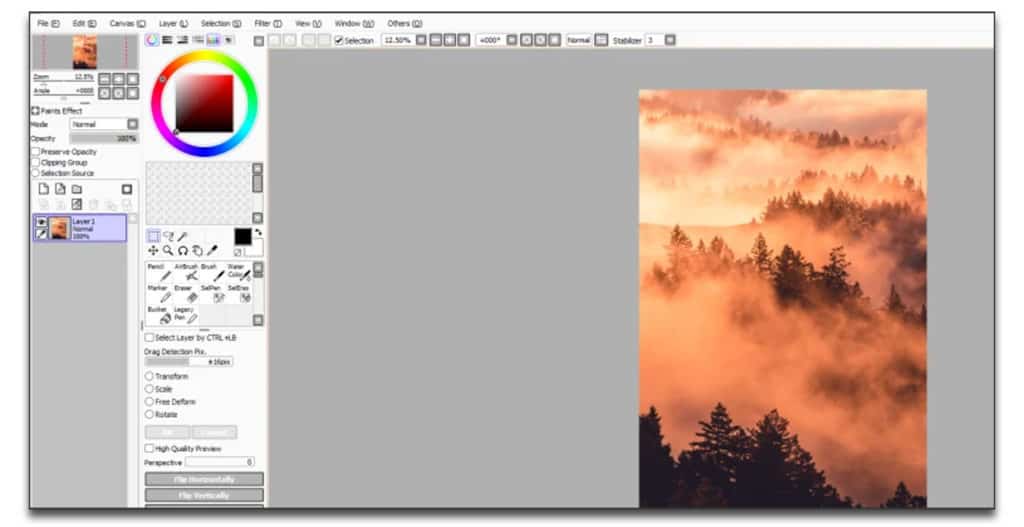 Paint Tool SAI is a drawing software that works on PC, Windows, and Mac. This easy-to-use solution is compatible on a variety of devices. Your options include desktops and laptops, mobile, and tablets.
Plus, it's jam-packed full of cool toys, as it comes with a lot of similar features to Adobe Photoshop – without the high price tag. Some of its tools include:
Layering and deletion tools
Tons of brushes and brush transformations
A wide range of colors, shades, saturation, and lamination
Image locking and distortion minimizing abilities
Plus, you can rest at ease knowing your data is safe, as Paint Tool SAI comes with privacy protection. Whether you're a student, a website designer, or a full-time artist, there are plenty of tools here to help you find your creative niche.
Paint Tool SAI is optimal for colorized illustrations, such as anime/manga, cartoons, and comics. But for professionals with a little know-how, it's well served for other types of drawing, too.
Paint Tool SAI Pricing
Paint Tool SAI is one of the cheapest paid options on this list – though don't mistake its lower price tag for a lack of features.
To start, users can take advantage of its 31-day free trial period to test out its features. Once your free trial ends, you'll be prompted to upgrade to a license (in the form of a digital certificate) for a one-time payment of $50.81.
Affinity Designer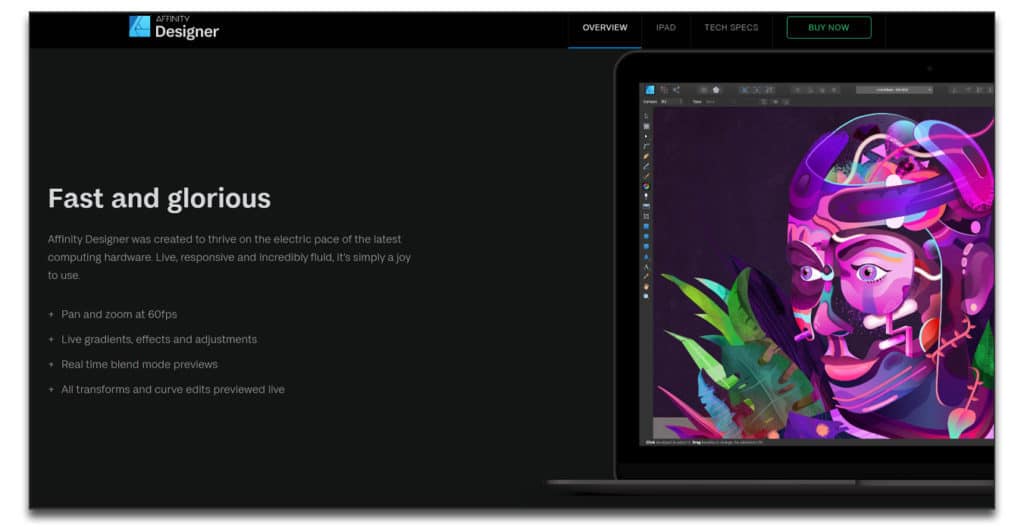 Affinity Designer is a powerful, affordable digital drawing software for Windows and Mac. This platform is designed to provide a seamless experience for its end users – the artists. As such, it hosts a line of graphic design tools that are perfect for creating everything from sketches to websites.
Plus, even though it's chock-full of advanced tools, it's comprehensive enough for both new artists and long-time professionals to enjoy.
This is possible due to its incredible speed and efficient workflow. Affinity Designer's drawing tool works with the latest Windows and Mac systems to provide a responsive experience from A to Export.
This digital drawing platform is also one of the most accurate on the market. Users can enjoy such tools as:
A zoom feature that magnifies up to one million percent
Advanced grid features
A vector drawing workspace built into the software
A powerful core engine with multi-file compatibility
Photo editing features
Affinity Designer Pricing
Affinity Designer is available in desktop format for Windows and Mac users for a one-time price of $49.99. iOS tablet users can buy the software from the App store for an even lower price of $19.99. It also offers a limited time free trial.
Clip Studio Paint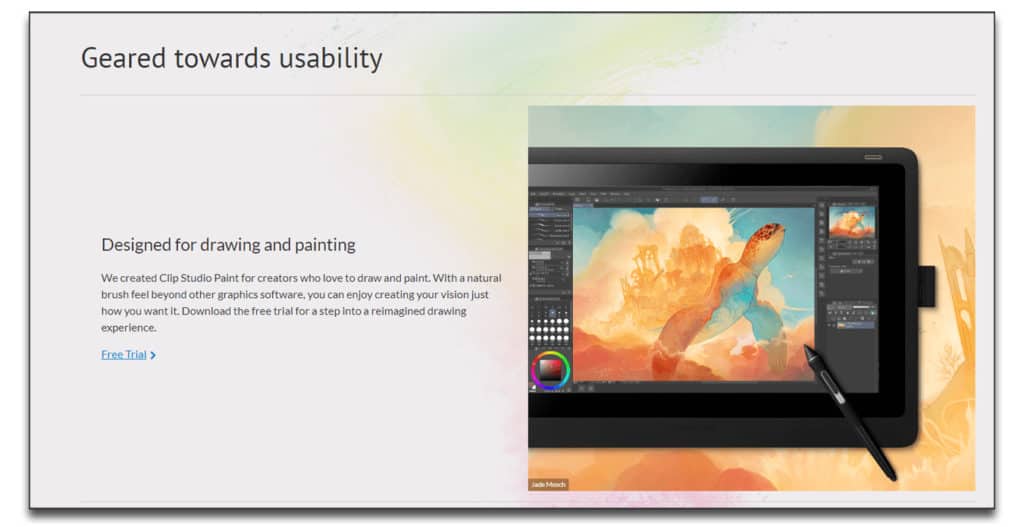 Clip Studio Paint is one of the best painting and digital drawing software for manga and comic artists. Users can enjoy the perks of this 3D drawing software on Windows, Mac, and PC.
Clip Studio Paint boasts a traditional feel to digital drawing, and lets users feel like they're painting in-app. The result? Stunning, effective creations that bring an artist's vision to life – with a little skill, of course.
The key is in Clip Studio Paint's advanced pen pressure detection. With a tablet and stylus, users can sketch realistic pen strokes with ease – not the airbrush-looking strokes of a mouse-and-desktop setup.
Whether you want 2D images, 3D renditions, or even moving animations, this app can make it happen with:
AI colorization to polish and complete your drawing
Easy 3D image and figure import
Animation tools such as camera movements, music and sound effects, and timelines
Vector layering and drawing abilities in-software
Clip Studio Paint Pricing
Clip Studio Paint offers a free trial for users on the fence. Artists can select from one of two paid plans:
Pro, which includes basic features and functionality for a one-time cost of $49.99
Ex, which offers more advanced features at a one-time cost of $219
GIMP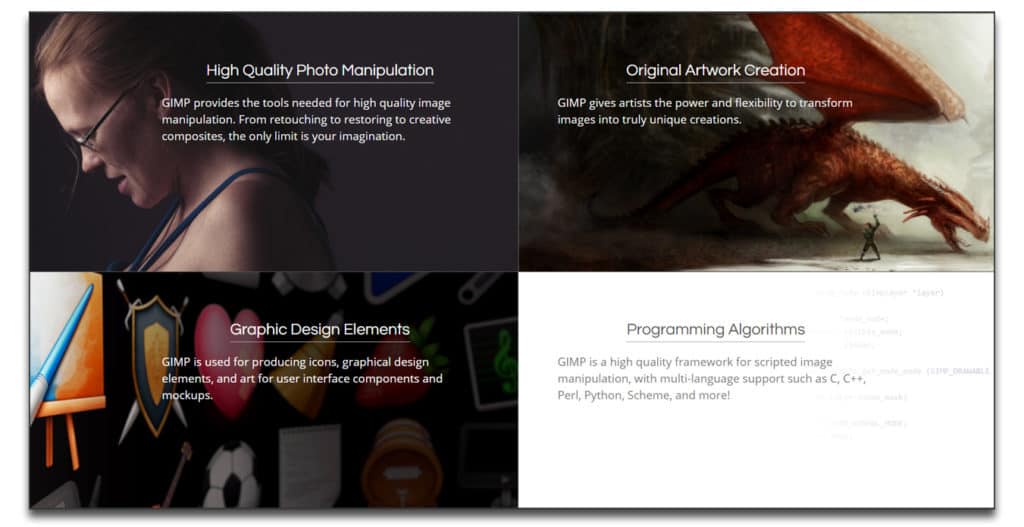 GIMP stands for GNU Image Manipulation Program. This cross-platform drawing software is one of the best free plan options for Windows, PC, and Mac alike.
In fact, GIMP is one of the best free drawing software on any platform (though it was originally built for Linux). This is due to its high customizability, as users can edit the source code itself. This also means that users can edit their images in script language, including C and C++, PERL, and Python.
However, because it's more advanced than other free software, it's best for professionals such as graphic designers and illustrators. And it has tools for each of these professions, too, including:
Sketching, drawing, and painting tools
Filters and layering
Noise reduction
Downloadable animation packages and supports
"Open as Layers" commands to map images within images
Plus, it covers all of the basic features, too. Artists will find plenty in the way of color and gradient tools, brushes, patterns and grids, and more.
GIMP even has a full editing suite with high-quality photo manipulation features. Whether you want to crop, retouch, or restore your photos, GIMP lets you do it all in-house.
GIMP Pricing
GIMP is a free digital drawing software.
Best Free Drawing Software
If you are just starting our, maybe you do not want to pay for a full-scale professional tool, in that case here is just a quick recap of free drawing tools that you can try:
You also have GIMP, but personally I am not a huge fan of the interface.
What is Drawing Software?
Drawing software is a class of application software (duh), which substitutes many tools that artists have to use.
Everything is going digital. You send email instead of a letter, you watch Netflix instead of renting a DVD (or going to the movies), we use mobile phones, webcams etc.
Art is also getting digital. Drawing tool provides this digitalization of art and at the same time is extremely convenient for the artists.
Why Do You Need Drawing Software?
It makes your life much more easy.
Let's say that you want to draw a picture. You would need paper, various color sets of pencils, erasers etc. That is already expensive.
You start drawing, and you suddenly need to make a fatter line, now what? Well, either you would have to cut your pencil in a special manner, of you would need a different pencil just for this one line.
What about colors? You would have to use a huge color set or mix colors to get the one you want. What if you want to redraw a part of the picture? Now what? Start from the beginning?
This is why you need drawing software. You pay once, you have all the drawing tools that you can imagine – available to you.
You can save multiple versions, edit, erase, go a few steps back and convert the image into the format that you need.
How To Choose The Best Drawing Software For You?
There are several areas to consider when making the final choice on your drawing platform.
Interface
While there are different features to every tool, ease of use is of top priority when it comes to drawing.
To get on that inspiration flow, you need to have your tools fast. So if clicking through various settings and brushes etc., does not feel natural or quick enough – that is maybe not the best choice.
Having that said – the more you use the tools, the easier it will be for you. When I started using Photoshop I was lost. There are so many things that you can that it is just too much.
After couple of weeks are I was already acquainted with it enough to remember keyboard shortcuts.
Consistency
You want the quality of image and its color to remain the same no matter in which format you save it.
The top tools in this review have this by default. Make sure to test the free tools before you commit to using them full-time.
Platforms Support
You want your drawing tool to be with you all the time. On you PC, Laptop, tables and maybe even smartphone.
First of all, you want to be able to draw whenever the opportunity presents itself and when you get that strike of inspiration.
Second, you want to continue where you left. So when you start a drawing on a PC and you now have to travel for a hour on a train – your tablet should allow you to continue in your work.
The support of multiple platforms and cloud savings are both great things to look for (Adobe has it for example).
Replication
Let's say that you draw something on paper, and now you would like to continue working with it on your drawing tool. You would need to scan the picture and upload it to your drawing software.
This is when you need an option to replicate your image into a digital environment, or better said you need a tool that will recognize the patterns and be able to work with your scanned image.
Integration
If you predict that you will need to frequently export, update and do other things with your image that are linked to other tools – checking if you can integrate it is a great idea.
Summary
So there you have it – the list of the best drawing software for your to test and choose from!
Do not be afraid to take 2-3 tools to trial and test them all. No matter what my or review of others will tell you – you need to get that first hand personal experience with them.
Look for the important features that we discussed, check if the tool sits well with you – and that is it! You can let your imagination run wild!
FAQ
What program do most digital artists use?
Varies on their industry but Adobe Photoshop is a hugely popular tool.
What art software is the best for beginners?
It is good to start learning on a tool that you will stick with. So it does not matter if you are a beginner or not. But possibly Sketch could be a good start to try out your skills.
What is a good drawing program for free?
Autodesk Sketchbook has a free plan with a lot of tools that can use without any limitations.
Do Windows have a drawing software?
Yes, Paint – but it does not compare to the quality of dedicated drawing software.
Is digital art easier?
Only in terms of tools availability. You can switch between various options instantly and erase, re-do without any limitations. It will give you a chance to practice more but will not make you a better artist right from the start.