Best data migration software will help you to move your data seamlessly. So the dreaded migration on-premises or into the cloud will become a breathe when you choose the right data migration tool.
Sooner or later everybody needs to migrate the data. There are many reasons for that but the most frequent ones are security and of course having a backup (or several backups in my case).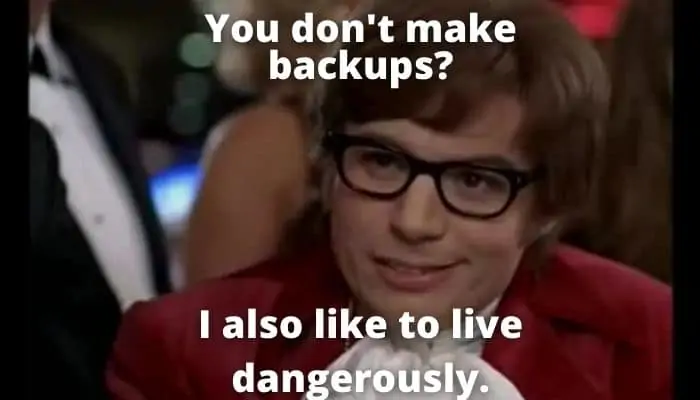 There are also some situations that you want to be prepared for, like a fire destroying 10 datacenters.
In this post, I will go over various solutions as there are many features that data migration tools can offer. Some of those features are cloning, transferring operating systems, shrinking the hard drives so they fit on SSD, and more.
As you can see there is a lot to cover so let's get right into it!
Best Data Migration Software
In this section we will go over some of the best data migration software that you can find and help you make the final choice!
Acronis True Image
True Image by Acronis is a software suite that is designed to do everything that you need to help make handling your data so much easier. For example, you can use this software to help back up all of your files and folders while also replicating any local backup in the cloud.
When it is time to work on data migration, True Image has a feature that can make this as easy as possible. This feature is known as Active Disk Learning which is designed to create an exact copy of the Mac or Windows system while you use that operating system. This is a unique feature that allows you to still use the system while data is migrating, rather than having to stop and reboot the whole system.
Overall, True Image is one of the best data migration software to use. It gets the job done quickly and efficiently while making the data transfer, from the files, applications, settings, and operating system, easy. You can even continue working while the data transfers.
Benefits of True Image
Migrate your data while you continue your work.
Compatible with Windows and Mac systems
can replicate folders over to the cloud.
True Image Pricing
The cost of this program is really affordable. It costs just $49.99 per year to sue it on one computer and scales up from there. If you need to backup or migrate between three computers, the cost is $79.99 a year, and for up to five computers, the cost is only $99.99, making it more affordable to do this on multiple computers if you have lots of data that is shared between them.
MiniTool Partition Wizard Free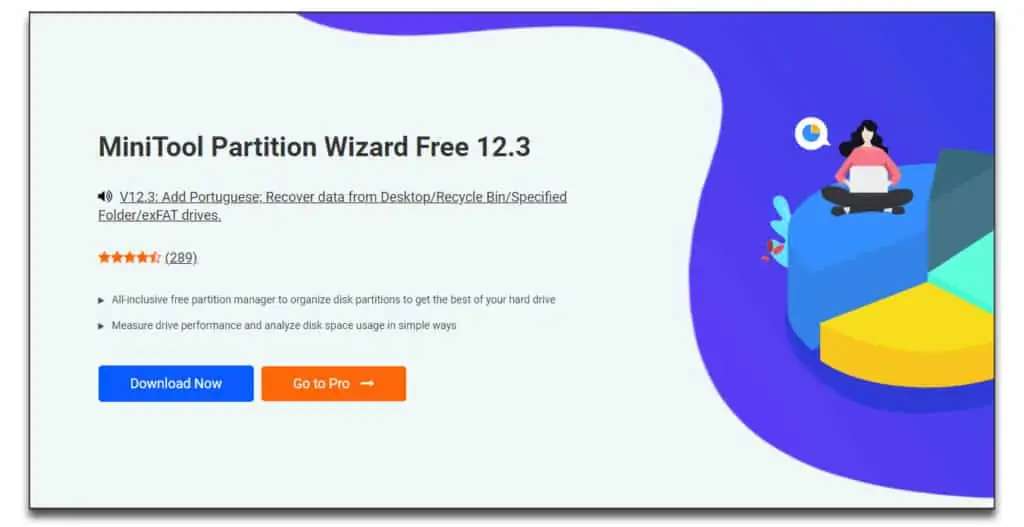 If you question whether this is one of the best data migration tools to use, then ask the more than 10 million people who choose to work with MiniTool Partition Wizard. This software is unique to use because it is going to provide all of the partition-related support that you may need while migrating your data. It is also very conscious about security to make sure your data is safe while it gets moved.
The Migrate OS to SSD function is useful during the data migration. It is designed to help optimize the performance of Windows 10 by migrating the whole system over from a hard disk to your SSD. It also supports the migration of all data from almost every version of Windows from XP and newer so it is easy to make the data go where you would like.
That is just one of the features that you will see when it comes to working with this data migration software. You can also enjoy that it has the ability to manage the partitions and disks, to look at the file systems, to migrate the operating system to the SSDs, and align the partitions in the exact way you want.
Benefits of MiniTool
It can check and align the systems.
Provides wide support for the disk format
Easy to migrate the partitions
MiniTool Pricing
MiniTool has seven different models based on the work you would like to use. The most basic option that helps simply move information off a personal computer is free. There are also options like Pro, Pro Deluxe, Pro Ultimate, Server, Enterprise, and Technician, all of which will provide a variety of options based on your needs. These plants range from $59 to $699 a year.
DAEMON Tools Pro 8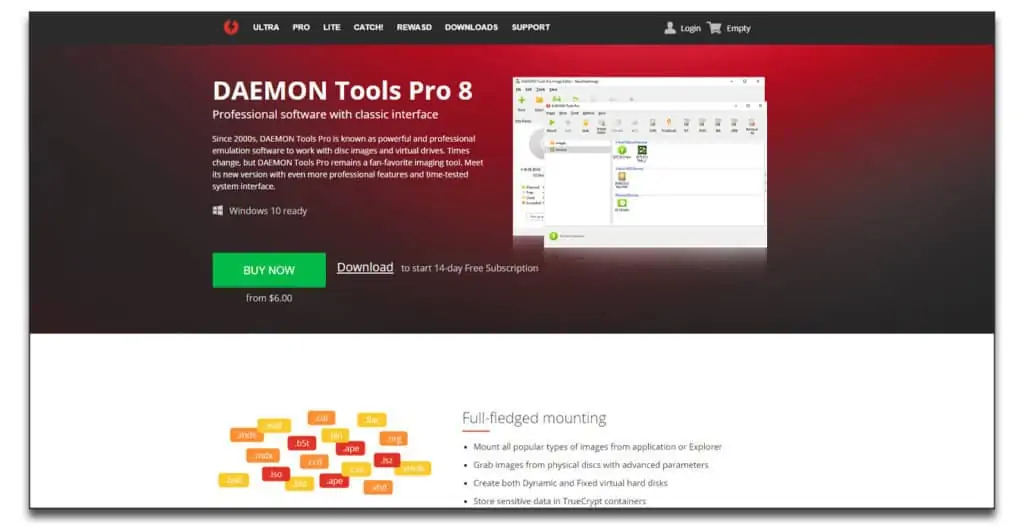 DAEMON Tools Pro 8 is one of the best imaging and emulation tools that can handle your virtual drives and disc images. The program is also great at cloning and then migrating all types of security technologies if you need. While the data migration happens, this software is able to keep the media in the exact same order so it will run well when you need to use it on the new system.
This is the right tool to use to help you mount any type of image format from either application or Explorer. You can also collect the images you need from disks and then create a new hard disc and store all sensitive data in a secure fashion.
The easy to use interface is designed to have a classic look that you will love. you can easily use all of the features with the help of Windows Explorer with the ability to customize the main window and Image Editor the way you would like along the way.
Benefits of DAEMON
Ability to edit and create Audio CDs and Data images.
Protect the files that are sensitive and important.
Migrate data with ease.
DAEMON Price
The cost for this program is very affordable. It allows for a 14-day free subscription to try out the service. If you like it, you can pay month by month for $6 each, get 6 months for $30, or do 12 months for $48.
DriveImage XML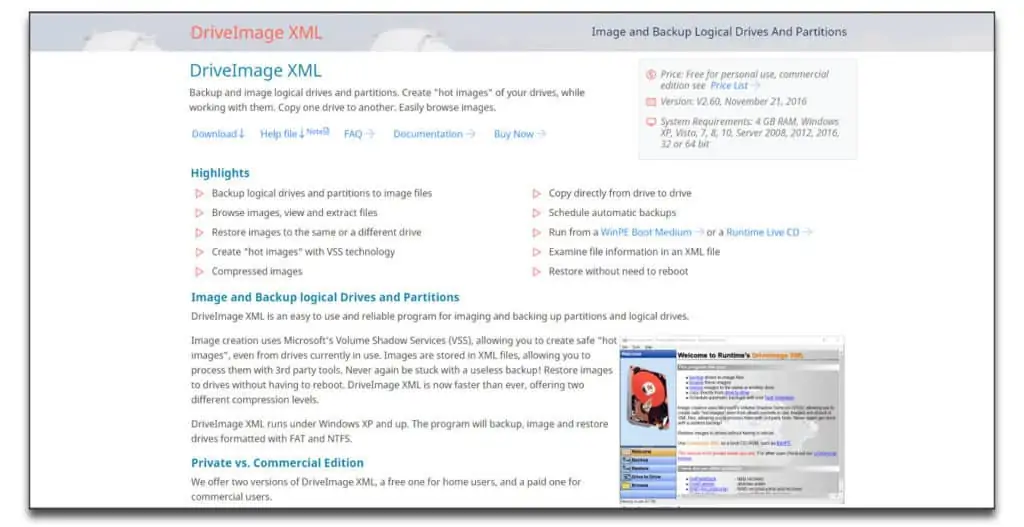 This is another great data migration software that will help you with imaging as well as backing up the images, logical drives, and partitions that you need to set up to protect your data. It is compatible with any Windows version XP and newer. There are a variety of different tasks that you can do with this software including migration, restoration, data cloning, and backing up.
This tool works so well because it is going to use the Volume Shadow Services from Microsoft for image creation so you can create backups in a safe manner. it will help you to restore images without having to reboot the system and all the files that you want to back up will get stored in XML documents.
If you do need to go through and handle those files, it is possible to do so with a third-party tool. What's even more important is that this data migration software allows you to clone from one drive straight over to another.
The Benefits of DriveImage
Allows you to plan the necessary automated backups
Restores the images to either a different or the same drive.
Clones from one drive to another.
DriveImage Price
If you are using this to back up and move some of the data on your own personal computer, then this program is free of charge. There is no support provided for this version. If you are a business who wants to use this, there are different licenses available based on how many people will use it, from five to 100-user licenses.
Clonezilla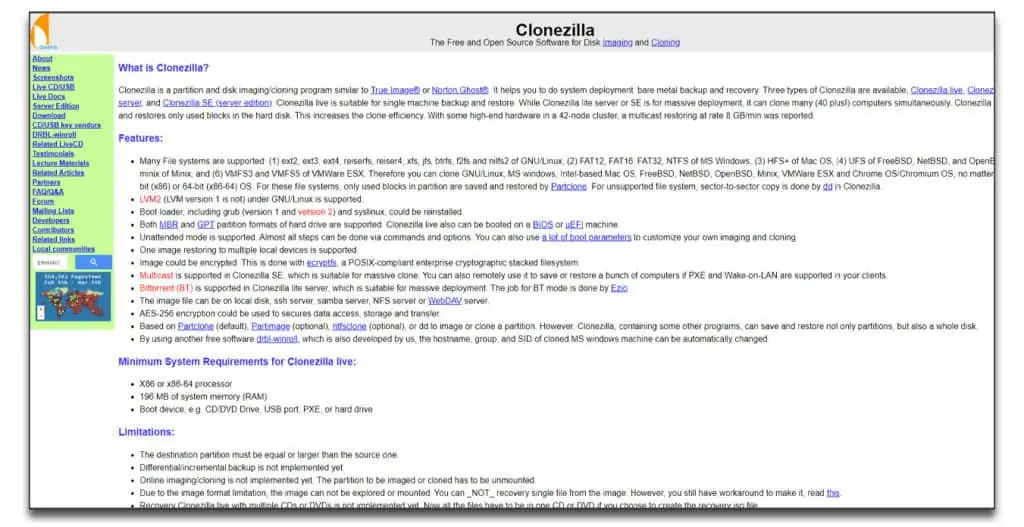 Next on our list of the best data migration software options is Clonezilla. This is a good option if you need something that does not cost a lot and can get the work done well. It is a partition that is free and open sourced as well as a disk imaging and cloning program to help with data recovery and migration. It is also great on system deplo9yment and can be used on all major operating systems.
This data migration software comes with three versions based on what you would like to use it for. If you are looking to clone and migrate quite a bit at the same time, then you need to go with Clonezilla Lite Server and Clonesilla SE. These are able to do 40 systems at the same time. Clonezilla Live is able to handle the restore and backup of individual systems as needed.
The Benefits of Clonezilla
Saves and restores only the used blocks of the hard drive.
Works for all file systems and all operating systems.
Encrypts the data to keep it safe during transfer.
Has three versions so you can choose the one that is best for you.
Clonezilla Price
Clonezilla is an open-sourced program that anyone is able to use. This means that it is free to use for anyone who needs to backup or migrate their data to another source.
Laplink PCmover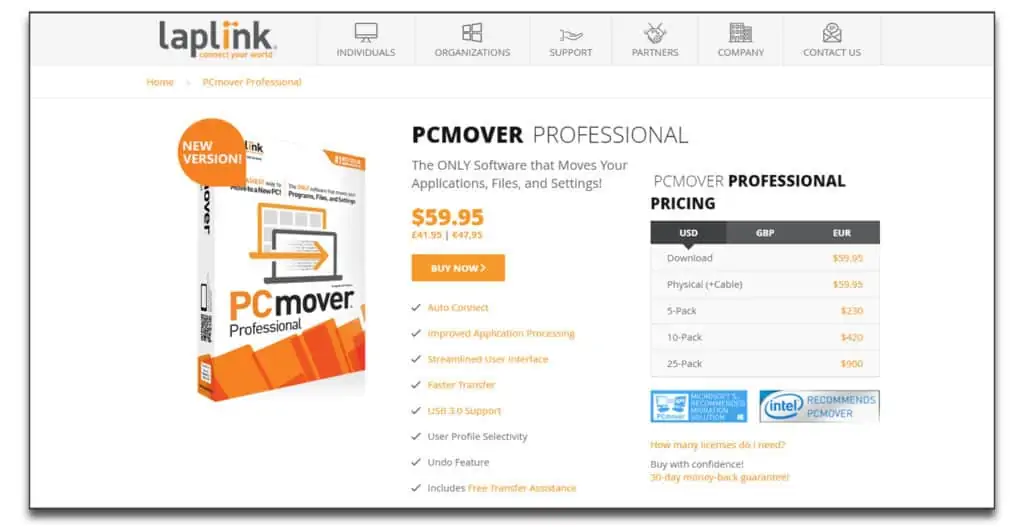 If you are looking for a new data migration tool that has high recommendations from Intel and Microsoft, then Laplink is a good option to use. It was designed to be as easy to use as possible to transfer settings, files, and apps between two or more computers.
To make this software work, you just need to install it on both of the computers that will share the data, click on a few buttons to have it set up, and then, in just a few hours, everything can transfer over where you would like.
Laplink has tremendous support so if something goes wrong, you can easily get in contact with one of their migration experts. They are available 24 hours a day so you do not need to wait. You can either choose to work with the software license and have it automatically download to both PCs when you purchase, or you can get a physical copy that provides you with free SafeErase software and a high-speed transfer cable to get it done.
The Benefits of Laplink
Able to transfer all settings
Easy to use
Recommended by both Intel and Microsoft.
Laplink Price
It is possible to get this migration solution through a download on their website. It is currently available for $59.95 to anyone who would like to have the easy transfer and all the other great features in this software.
Macrium Reflect 7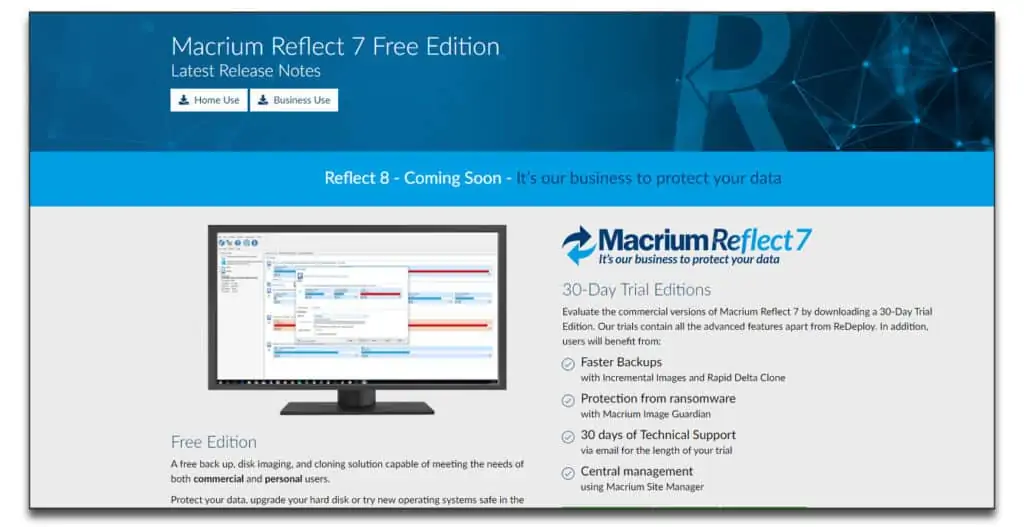 Macrium Reflect 7 is a great data migration software that is image-based and provides disk imaging, cloning solutions, and backup for all your files. the tool builds an exact replica of the hard disk or you can set it up to do partitions that you can use during the disk restoration. If you do run into some system failure, this system will allow you to get back all the folders and files that you need.
The migration system on this one is able to support the USB drives, network drives, and the local drives so you can easily move everything around the way you would like. It also works well for both business and home use as well.
The Benefits of Macrium
This software comes with the integrated viBoot 2 that helps to virtualize the backup images as needed.
Provides options to help with image compression.
Makes it faster to compress the images. you need.
Macrium Price
This product is available through home and enterprise editions. The home edition is available for a 30 day trial if you would like to see how it works. It then has a single license for $69.95 or you can get a four-pack license for $139.95.
NovaBACKUP PC
Next on the list for our data migration software is NovaBACKUP PC. This is a good backup software to use on your Windows PC that can make it easier to migrate any disk, operating system, and individual files that you would like to preserve. this one comes with local as well as cloud storage and you can utilize both to make sure your data is always safe.
This is a good software to use for IT people and small companies who need to protect all the data for their customers, but do not want to spend hours backing the data up like other traditional methods. The backup and disaster recovery plan that comes with this option is one of the features you will use the most. It is great for protecting any computer from data loss by allowing data recovery and automatic backup.
Even better. this software is able to help you meet all of the data protection requirements, including the big ones like GLBA, FERPA, and HIPAA. If your company needs to preserve the data of your customers, then this is the best one to use.
The Benefits of NovaBACKUP PC
Lots of backup options: You can do either an image or file backup if you would like. you can even do the full PC or individual fires.
User-friendly for everyone. Even if you do not have any experience with doing these backups.
encryption options: There are four types of encryption options to make sure your data is safe and sound for the customers.
Fast disaster recovery: This makes it easy to save your data when disaster strikes.
NovaBACKUP PC Price
There are a few different prices based on the exact product you would like. Customers can give the free trial a chance to check this out. Then the NovaBACKUP PC is available for $49.95 a year, the NovaBACKUP Server is for $199.95 a year, and then NovaBACKUP Business Essentials is for $299.95 a year. There are discounts for those who get more than one package at a time.
Paragon Drive Copy Professional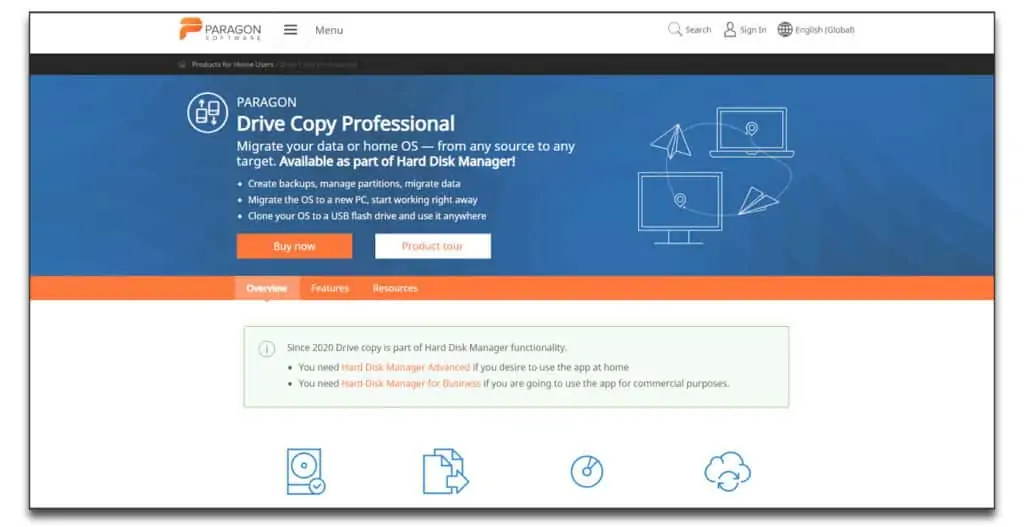 For those who are looking for an affordable data migration solution, the Paragon Drive Copy Professional is one of the best. It now also supports Windows 10 and can do any type of migration, regardless of the target or the source. One of the best things about this data migration software is that it is able to finish the migration fast without having to re-install any of the operating systems.
When you purchase this software, it will ship with full support for all major virtual machines. There is also a cool new tool, the Recovery Media Builder 3.0, which is able to create a bootable recovery medium with a few clicks. This makes it a great option if you want to do these backups but you do not have the necessary experience to use some of the other options.
The Benefits of Paragon
You can migrate your data to different sector sizes
Provides virtual machine support
Provides fast data migration
Paragon Price
Compared to a lot of the other options on the market, this one is pretty inexpensive. It is available for just $39.95 for the whole package of backing up your data.
O&O DiskImage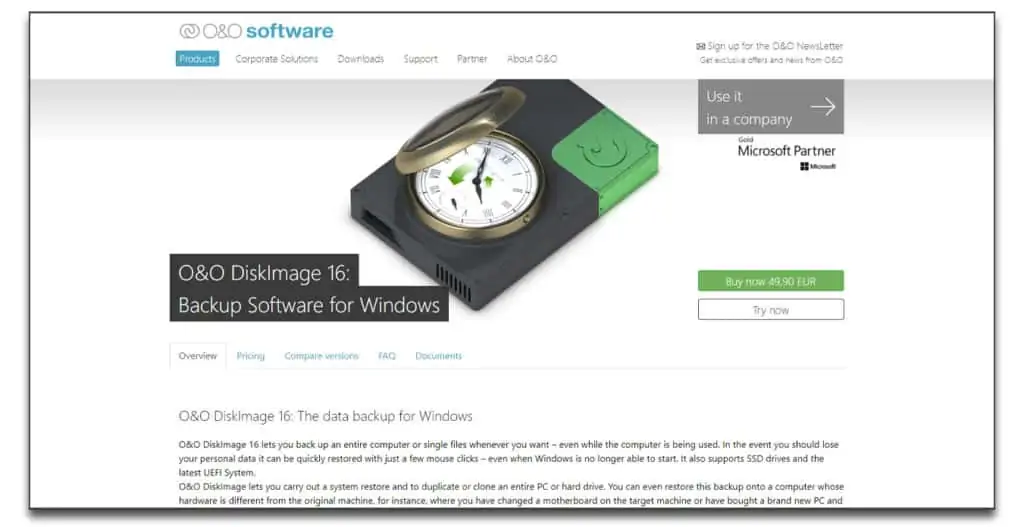 This is a data migration tool that can help you to backup any information that you would like. You can even use this when you finish your work and the system is still in use. It will help to store the essential data while also protecting it, recovering it, and cloning. It even allows you to restore the data when the Windows system is not able to start.
O&O DiskImage makes it easy to clone the data so you can access it easily from any other system that you want on a USB or CD as you want. The migration tool will help you to get all of the work done that you want done while saving your data and getting it back when you want. Whether you want to restore the data when something goes wrong or you just want an automatic backups, this data migration software can help you get it done.
The Benefits of O&O DiskImage
You can monitor and check the security risks.
Supports Windows 8 and up.
Can make it easy to do a direct creation of VHDs.
Us the plug and play option to help you automatically back up the different folders and files that you want.
O&O DiskImage Price
The cost of this data migration software is pretty affordable, coming in at only $49.95 for all of the features that we mentioned above. This is for the professional edition on one computer. There are other discounts on pricing as well, such as a license to use on up to five computers for only $69.95. Customers can also get the O&O PowerPack for just $59 total. All of these come with a money-back guarantee.
Main features of Data Migration Software
With the main part of the review behind us, let's cover the main features that you should look for in your tool of choice.
Purpose
If you want just a simple backup you may not need HD shrinking features, so why pay for them? If you budget allow, it is of course to get the tool that might serve you in the future too. But some of the features may just be too much for you.
Support
Make sure that there are communication channels to contact the developer and that they have a dedicated support team. In the matters of data backup and security help may be critical.
Security
Goes without saying that you must only choose verified and secure products. Usually you will find the information in this in various reviews but also on the page of the company which will probably have a couple of security certificates
Performance
If you are considering getting a special migration tool, chances are that you are working with a lot of data. That is why the performance of the product is so important. While it is hard to tell which is best (as all of them claim so) you can take advantage of the trial version and test on some dummy data before making the final purchase.
Price
No need to overpay for the features you will not be using. Find a tool that fits your needs, check if it has a trial that you can experiment with, and start your own testing there.
Conclusion
While I covered a lot in this there are still many specialized tools that I am not covering there. But the ones in this list will be able to cover the vast majority of data migration needs!
On this list I already picked some of the most popular and established options, but make sure to choose the one that fits your needs. Also, making sure that there is a trial and support ready to help – will definitely be advantageous while making your final decision.
FAQ
Why do I need data migration software?
Security and backup. When you site is small, you can do it manually but as You grow there are more difficult tasks that would take to long to handle by yourself.
What may types of data migration tools are there?
On Premise, Open Source and Cloud based.
Is data migration hard?
No. With the tools that I listed in this post it is quite simple.