With the use of the best beat making software, it is very simple to get your start in music with just a program and a laptop. In case many famous rappers and producers did exactly that.
No need for expensive equipment and studio time, that all may come in later. You can create great beats from the comfort of your home. No matter if it is just for fun or you are planning to become a professional beatmaker – just chose from this list of best beat making software, and you can start!
How To Make Beats?
The proces of making your own beats is now asi simple as it can get. You just need a laptop or a PC and you can start.
Step 1. Choose one of the best beat making software, and get it installed.
Step 2. Start your beat by establishing a strong base. Particularly drums and 808s are great at setting the overall theme and speed of your beat.
Step 3. When your base is established, start playing with it. Create drops, add instruments, just keep listening for what gets you going.
Step 4. Have a look at what you created. Make sure that there are no redundant parts that you should probably delete.
Step 5. Listen to it again, maybe later, and keep tweaking and testing until it is the banger that you were looking for!
Best Beat Making Software
In this list, you may some great beat-making software. Many of them have a trial version or free use with limitations and there is even one free beat making software on the list.
Hope it helps you to choose and start making some great beats.
Maschine MK3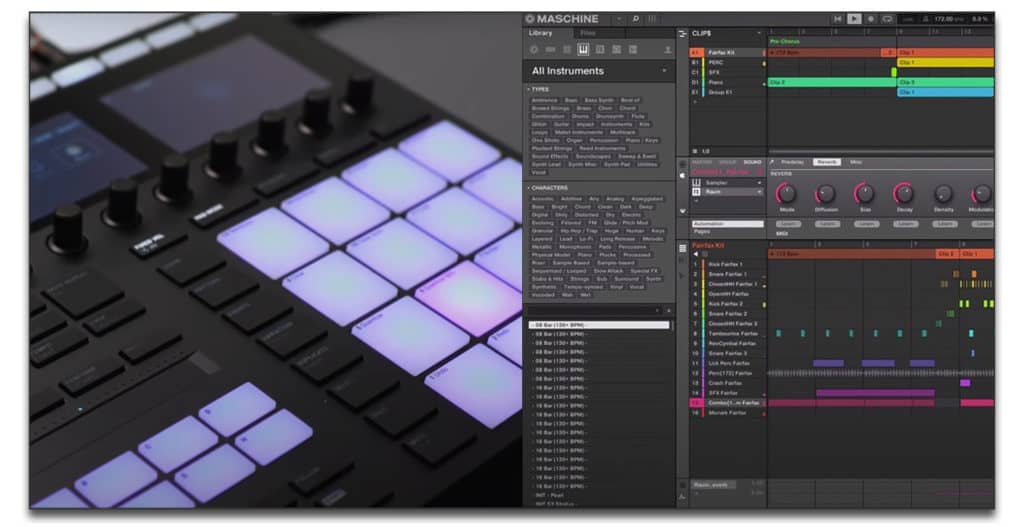 Maschine MK3 is one of the best beat making software if you're after the full package at a full price. This hardware-software combo from Native Instruments gives producers the feel of hardware in their hands with the ease of software at work.
Additionally, this beat making software works for both Windows PC and Mac. So, no matter what OS you prefer, you can rest assured Maschine MK3 is compatible.
With this platform, users will enjoy such features as:
25GB of sounds and 25 pro effects
Both VST Instrumental and FX Support
Hands-on software control (via included hardware controller)
Easy export of full audio or track out of separate instruments
And this is just the tip of the iceberg.
Maschine MK3's beat making software also includes a variety of tools to make the process easier. For instance, their colored drum pads and MIDI important broaden your creative horizons. And let's not forget the pro-grade audio recording interface (unique to their flagship product).
But beginners be warned: due to the hardware-software combination and advanced options, this beat making software is best if you want to create the music yourself.
Maschine MK3 Pricing
Maschine MK3 is a flagship offering from Native Instruments – and one of the most expensive. This beat making software clocks in at $649 for the full hardware-software bundle.
Magix Music Maker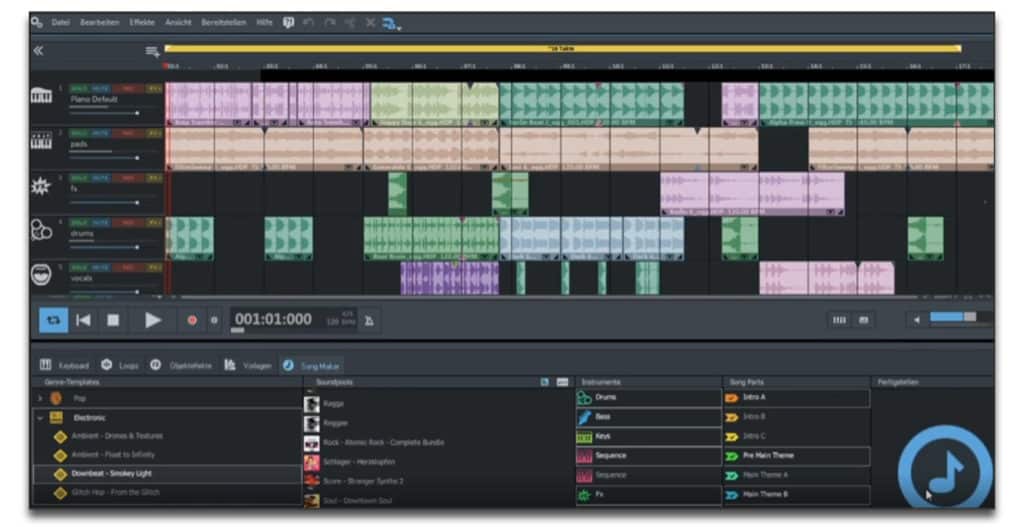 Magix Music Maker is the best beat making software for Windows-based beginners and hobbyists. If you're looking to learn the art of making sick beats without getting technical, this program is a great intro.
This beat making software comes with a host of beginner-friendly options, such as:
Instant downloads
Online tutorials and training
SoundPools (sounds and features) included
The ability to choose which features you want
Full audio recording capabilities
And, depending on which version you select, you can pick between 4 to 8 virtual instruments to start making beats directly on your PC. (Unfortunately for Mac users, this beat making software is only for Windows on PC).
Fitting with the beginners-based theme, this software features drag-and-drop creation features and a library of musical collections. Thus, you don't need to worry about being an expert in music theory before you start.
But, if you want a software with more power and control, it's best to go with a beat making software with more advanced options.
Magix Music Maker Pricing
Magix Music Maker offers a free beat making software for PC and Windows users. However, it limits music producers to 8 tracks and effects with about 400 music loops. If you want premium features, you'll have to shell out the full $129.99.
FL Studio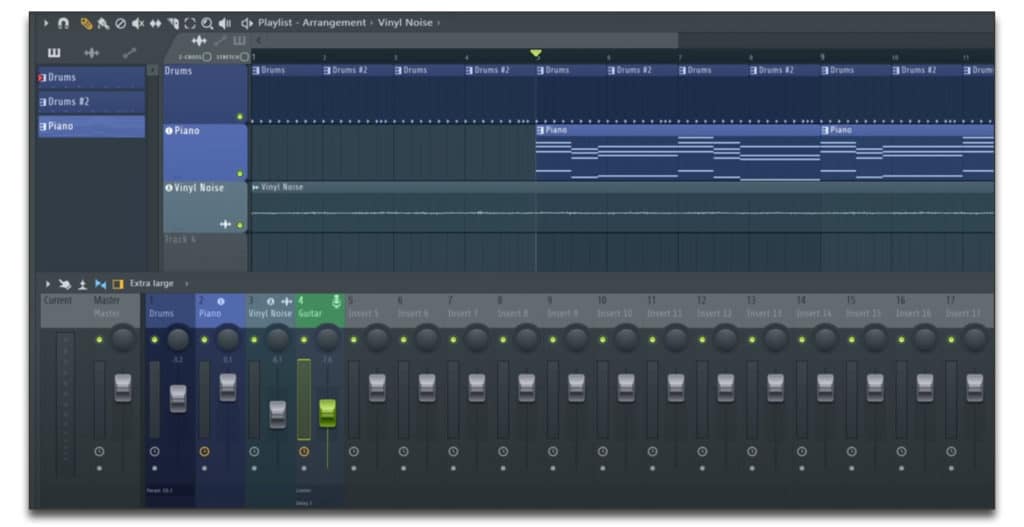 FL Studio – once known as Fruity Loops – is a popular beat making software in music production circles. In fact, this is one of the best beat making software for both Windows/PC and Mac users.
This fully functional powerhouse of a system comes with:
Streamlined workflows for serious beats makers
Up to 125 send and insert tracks
10 FX slots per channel
Audio recording functionality (in some packages)
Up to 103 input/output audio options
Full integrations with hardware (optional)
All features considered, this software is great for hip-hop and electronic-based music makers. While it has optional audio recording and hardware features, FL Studio really stands out with its mouse-keyboard workflows.
Thus, FL Studios is one of the best beat making software if you emphasize the software capabilities over hardware options.
FL Studio Pricing
One of the best parts about this beat making software is its free lifetime updates on all software. Plus, it offers a free trial for those beat makers who aren't set on a particular software yet.
If you're ready to shell out the cash, FL Studio offers packages ranging from $99 to $899. (Or, if you're willing to wait, FL Studios "All Plugins" Edition often goes on sale for half-price around the holidays).
Reason 11
Reason 11 is a great beat making software for Windows, PC, and Mac alike. This monster standalone platform comes with a ton of features for every level of user, such as:
VST and third-party virtual instrument plugins
A full library of instruments, samplers, synths, FX, and more
Comprehensive editors, arrangers, and mixers
MIDI support and compatibility
Complete channel strip controller
One of the reasons that this beat making software makes our list is the comprehensiveness of their platform. Advanced users can still employ plenty of customizations – without users getting lost in the fray.
Plus, as an all-in-one, there's no need to spend additional money on plugins or sound packs.
At the same time, users of all levels will enjoy their easy workflow and intuitive interface – especially since hardware controllers are not required. (Though if you do add third-party controllers, beware: you'll have to map your own parameters).
At the same time, it's important to note that this platform is not for those who need audio recording functionality as a core component. If you're looking for a long-term solution to advance your career, an option such as Maschine MK3 (above) may be better.
Propellerhead Reason Pricing
Reason Studios offers three core plans at one-time pricing points:
Intro for $99
Full for $399
Reason 11 Suite for $599
Ableton Live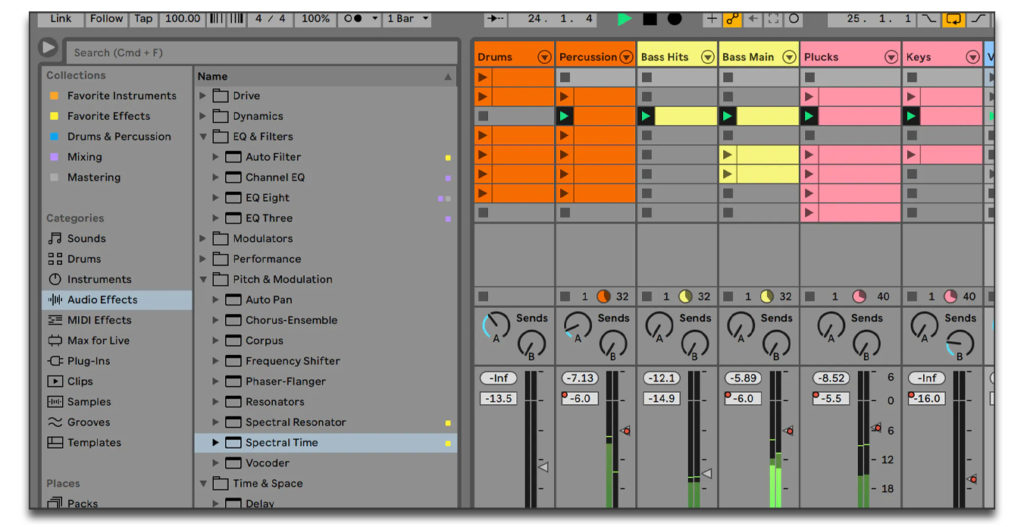 If you're looking for an in-the-box solution for composing and performing live music, Ableton Live is for you. This beat making software has some key differences from traditional DAW platforms. But there's still plenty to be excited about – in fact, you may even like the "Live" experience better.
Some of the best features of Ableton Live include:
Powerful automation and composition workflow
Clip-based live performance
Tons of sample material to start
Everything fits on a single screen with no additional windows
For those coming from a traditional DAW system, the Arrangement function will feel very similar. This can help ease the transition.
The differences begin with the Sessions function. Essentially, this is a "sketchpad" system for you to create, manipulate, and input audio and MIDI clips in real time. The best part is, everything happens in real time, so you don't have to stop and start your tracks.
If you want even more functionality, you can pair Ableton Live's beat making software with their hardware controller, Ableton Push. But it's not required to create professional-sounding performances.
Ableton Pricing
Ableton Live comes at three one-time pricing plans:
Intro, which includes the stripped-down basics for $99
Standard, which allows you to create unlimited tracks for $499
Suite, which includes 70GB of sounds and advanced functions for $749
Splice Sounds
Splice as a platform is well-known in music circles for their VST plugins. But have you heard about their free beat making software?
If you haven't, let us introduce you to Splice Sounds, one of the best free beat making software for beginners and hobbyists.
This intuitive online software is simple to use. All you have to do is click on the grid interface and press the space bar to hear your creation. That's it! (On the downside, there is no musical typing compatibility, so you can't use your laptop keyboard to make the next big hit).
Of course, there's plenty of additional functionality to enjoy, as well. For instance, you can list to beats uploaded by other artists to inspire your new creations. Or, you can experiment with the myriad of sounds, beats, and samples in their royalty-free library.
Plus, Splice even lets you store your beats online with previous version recovery. Thus, you don't have to worry about having space to download your tunes – or losing them.
Splice Sounds Pricing
Splice Sounds is free as a baseline tool. But, if you want more out of your beat making software, you can upgrade your account with a variety of Splice plugins, including:
Free plugins
One-time rentals
Plugin purchases
Rent-to-own installment plans
Soundtrap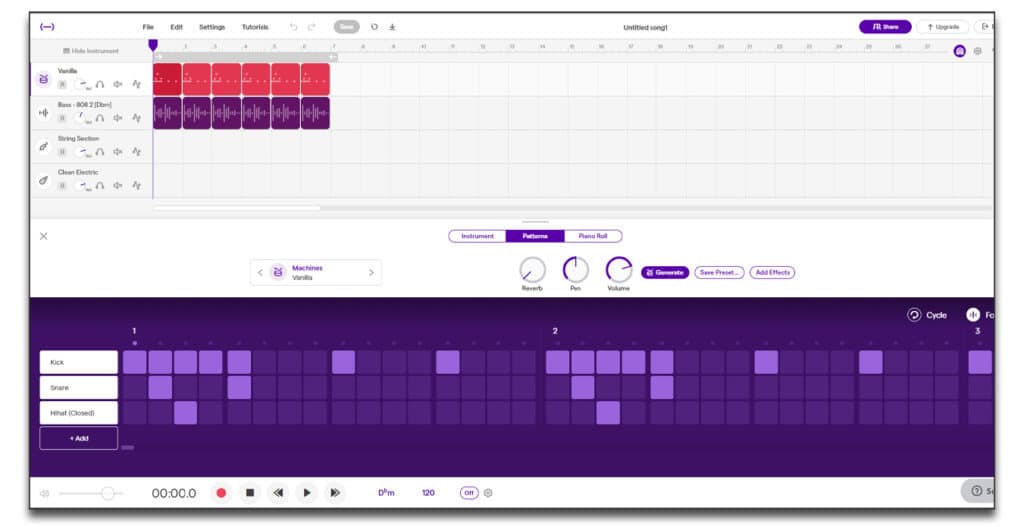 Unlike some of the beat making software on this list, Soundtrap is a DAW, or digital audio workstation. This platform is designed for both learners and industry producers, so you can create a variety of beats at almost any level of expertise.
With the power of this cloud-based musical tool in your hands, you can:
Record your own instruments
Create beats and songs
Automate your workflow process
Collaborate with other artists in real time
Similar to Splice (above), you can use this platform by click your mouse over squares on a grid. But, unlike Splice, this beat making software does allow for musical typing.
Plus, you can take advantage of their extensive library. Whether you need instrument loops, samples, or sound FX, Sountrap's library is even larger than Splice's.
One of the downsides of this platform is that it only works with its own plugins and sounds. Not to mention, Soundtrap is a simple platform compared to some of the big dogs on this list. However, this lack of customization makes them a great place to learn.
Soundtrap Pricing
Soundtrap comes with several pricing plans, ranging from $7.99 to $13.99 per month. They also have a "Storytellers" plan for $11.99 per month for podcasters and similar collaborators. Plus, there is also a free trial of this beat making software
Serato Studio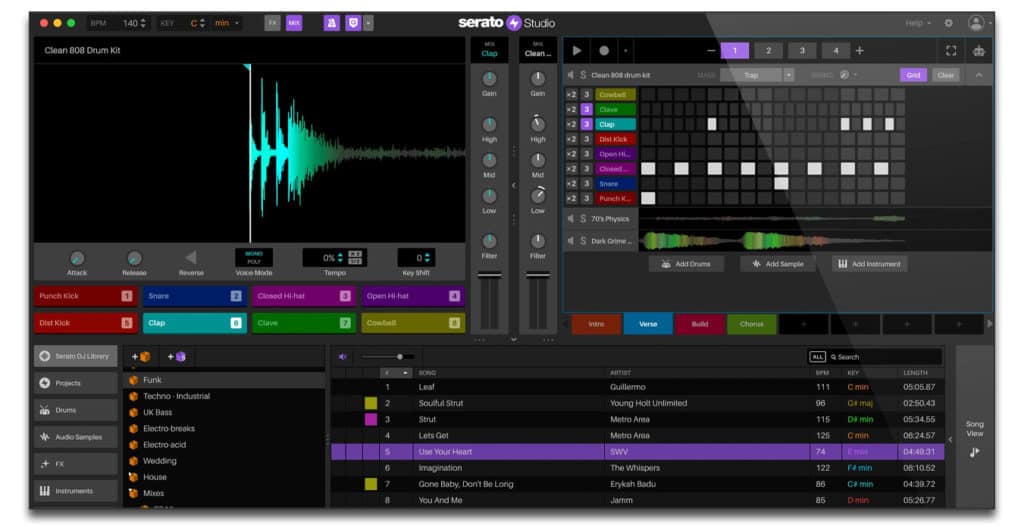 The Serato brand has made a name for itself since 1999 as a premier audio software and digital mixing platform. Their Serato Studio is a DAW (digital audio workstation) that capitalizes on their expertise – now, it's one of the best beat making software for DJs out there.
While this program can be used for new DJs looking to enter production, it's best for working producers with experience.
Users can enjoy a variety of features such as:
BPM sync
Built-in drum patters
Master Key to program all new sounds into the same key
Free, regular software updates and sound pack additions
VST plugins and third-party support
However, this beat making software does come with some limits. For instance, you have little to no control over EQs, compressors, limiters, and the like. But, this program still works well for DJs who can't afford more expensive software.
Serato Studio is designed to be used with other Serato products – especially their DJ equipment. For longtime Serato users, this provides them a way to work with the tools they already know.
Serato Pricing
Serato offers a "free forever" version of their beat making software for beginners. You can also subscribe for $9.99 per month for advanced features and full sound packs. Or, you can buy the program outright for $199.
Intua BeatMaker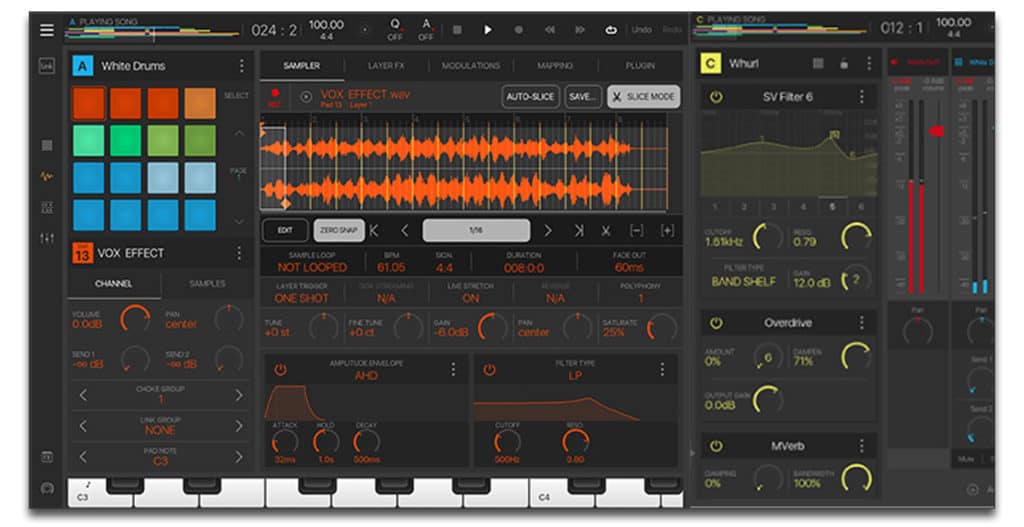 Intua BeatMaker is a great beat making software for Mac users – even if it is only available as an iOS app. But, it's important to note that you get what you pay for with Intua BeatMaker.
One of the most important things to consider is that this is a budget app for those familiar with music theory. While this beat making software works quite well, it's also more complex to use than some of the others on this list.
That said, this well-integrated app has plenty of features to enjoy, such as:
MIDI capabilities
Precision sequencing to add and edit audio tracks
FullAUv3 and IAA support
Multi-channel recording and input/output via USB
Intua BeatMaker also lets you make detailed edits in your songs, including individual beats and instruments. Plus, the flexible scene mode means that there's more to play with in live or display mixes.
And the library is growing all the time – this beat making software frequently updates with new sounds and FX.
You can use all these features with their detailed, streamlined workflow that helps you turn a few notes into full-scale productions. With advanced macro tools and 128 banks of 128 sound pads, you can even make your own instruments and sounds.
Intua Pricing
Intua BeatMaker 3 is the current edition available on iOS for $26.99. You can also make in-app purchases such as extra sound packs.
GarageBand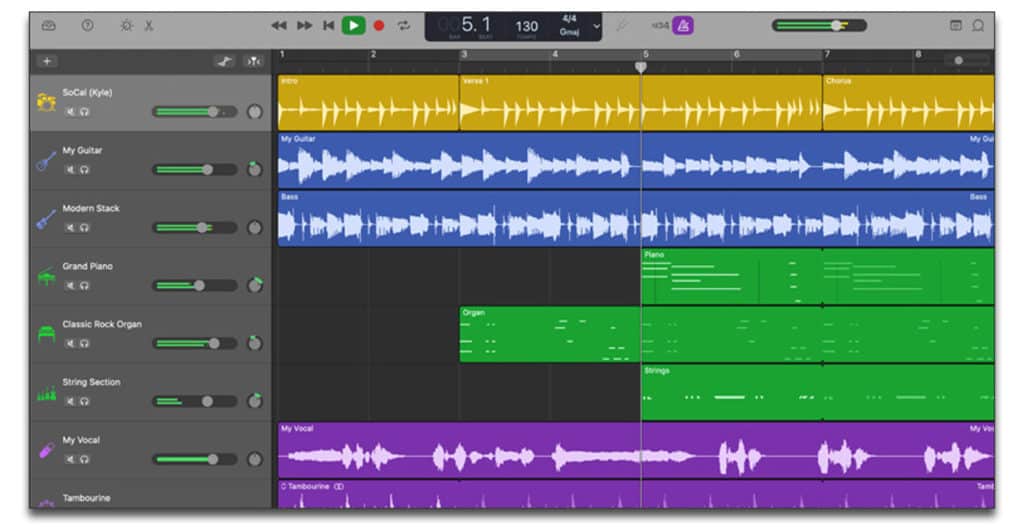 GarageBand is one of the best free beat making software for Mac, hands-down. This simple-yet-intuitive system is perfect for beginners who have never touched a DAW before. But at the same time, it still has plenty of features that pros will enjoy.
With GarageBand, users have access to all kinds of beginner-friendly features, such as:
Free, built-in instrument and artist lessons
A comprehensive (and growing!) sound and loop library
Real instrument recording capabilities
A range of "smart instruments" to push music out faster
Not to mention, GarageBand sports a fully functional beat sequencer with grid interface options. This makes it quick and easy to layer complex drum beats into your songs with a few buttons.
Plus, GarageBand comes in both desktop and app formats, so you can mix tunes wherever you are.
One of the downsides to this program is that doesn't have a wide range of advanced options. While learned producers will enjoy their EQ, there is no mixing console view, high-level master tools, or advanced instruments.
GarageBand Pricing
GarageBand is one of the best beat making software for Mac if you want a free option – and it is completely free. However, it's only available for iOS systems.
This completes the list of best beat making software. Hope you found the one that you needed. Below is also a quick FAQ to help you if needed. You might also want to take a look at YouTube to mp3 converters.
FAQ
What is the easiest beat making software?
From this list, it would have to be Soundtrap.
What beat software do rappers use?
Most popular seems to be Ableton and FL Studio.
Can I make beats with just my laptop?
Yes. Laptop and a simple beat making software is enough to get your started.
Is there any free beat making software?
GarageBand, but its official version is for MacOS.
Can you get GarageBand on PC?
Yes. There are options how to do it, but none of them is official. So proceed with caution.