How can ambient mixer sounds help? When you're working on a complex task or you're on a tight deadline, it can be hard to get in the zone. Sometimes, it can even seem like the more you try, the more you fail.
Luckily, there are at least a few strategies that can help you find your flow, whether it's for work, for your creative projects, or just for your own serenity. Today, we're going to tap into ambient sound mixers.
Tricks to improve productivity often include clearing your mind, cutting out any distractions, and finding your focus. But, oftentimes, that turns out to be easier said than done. I mean if you could clear and focus your mind, you would, right?
Why Ambient Mixer Sounds Help?
Ambient mixers play on the proven ability of certain background noises or sounds to improve levels of creativity and productivity. They work by blocking out unwanted environmental noises (like your neighbors drilling a hole in their wall) while still allowing you to listen to something other than the sound of silence.
And, since each of us has our own preferences as to what background noise is good, ambient mixers do exactly what you'd expect given their name. They allow you the freedom to choose what sounds work best to improve your motivation and concentration skills. Plus, they're (usually) available for free.
To get a better picture of how ambient sounds can help you in your quest for a better, more focused flow, here are the most notable benefits of ambient mixer apps:
They help you tune out any distractions by generating a background noise you are comfortable with
They let you use your favorite mix of ambient noises to help you relax and find your focus
You can use them for better sleep, canceling unpleasant noises, or improving your concentration
You can choose from an almost unlimited combination of sounds to find the one that works best for you
They have mixing, randomizing, and timer options that allow you to personalize your experience
What Are the Best Ambient Sound Mixers?
After giving them a spin and seeing who's who, I put together a list of the best sound mixers available online and in-app stores:
A Soft Murmur
Main features
Created by Gabriel Brady for his own noise cancellation needs, A Soft Murmur has caught on and become an Apple and Android app, as well as being available for use online. It features a wide variety of sounds and mixing options, as well as adjustable sound options.
You can use this mixer app to listen to the wind, birds, coffee shop low chatter and even singing bowl sounds. Or, mix them to create a custom ambient sound for a unique experience. A Soft Murmur also allows you to save your mixes, share them with friends and set the timer to play your favorite ambient noises for as long as you need.
Pricing
A Soft Murmur is available online or for download on the iOS App Store or Google Play. The download is free, but the apps have in-app purchases.
Ambient Mixer
Main features
Ambient Mixer probably has the most complete library of background sounds. It features a wide variety of pre-recorded and pre-mixed sounds plus plenty of options for you to mix and match your favorite background noises.
Apart from paper shuffling, sea, wind, or fire sounds, Ambient Mixer also features special ambient sounds inspired by popular movies or TV series like 'Studying at Hogwarts'.
Ambient Mixer is available for use either with or without an account. You can adjust the settings as you like with both options and even download your customized sound mix, but setting up a free account also allows you to save your mix and even upload your own sounds.
Pricing
Downloading your personalized mix will set you back 5 USD for a 15-minute track, 9 USD for a 30-minute track, and 16 USD for a 60-minute track. IOS and Android apps are available for free and feature in-app purchases.
August Ambience
Main features
August Ambience is a very simple, yet effective ambient sound generator. Especially if you love summer. This totally uncomplicated background sound website offers users the possibility of listening to the sound of summer all year long. The website only features one "Let's Chill!" button which you can use to play the sounds, and an "Aww, Yeah." button that stops the player.
You can use August Ambience online, without the need to set up an account.
Pricing
August Ambience is free for use at Augustambience.
Coffitivity
Main features
Coffitivity's originated as the side project of a team of entrepreneurs, freelancers, and creatives in Richmond, Virginia. They set out to create a tool to help them work better based on their mutual love for the coffee shop vibe. They are continuing to develop its track and sound base to offer users a wider variety of sounds that boost creativity and productivity. You can use this ambient sound mixer for free online, without the need to create an account.
Pricing
Coffitivity is available as a MacBook desktop app (not requiring an internet connection). There is also a Premium version priced at 9 USD/year.
Defonic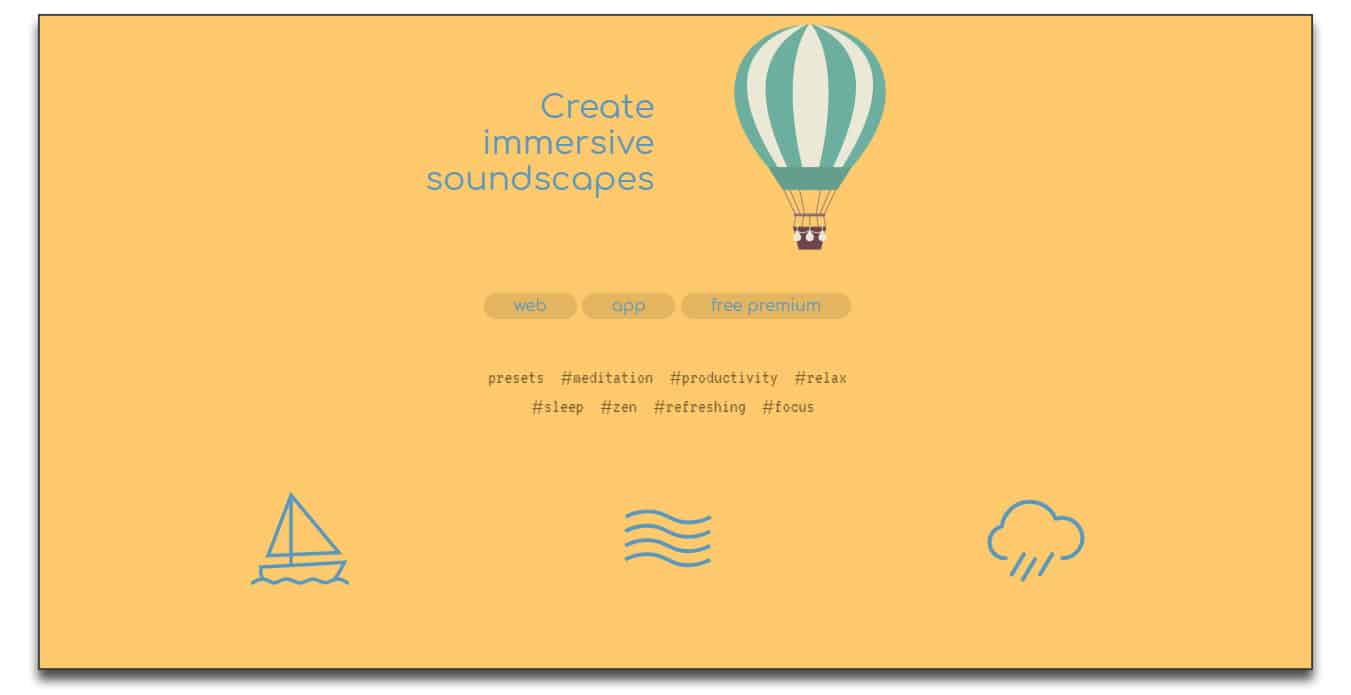 Main features
In tune with its purpose to help you relax and focus, Defonic features separate daytime and nighttime modes. It's designed to protect your eyes from too much light if you're using the ambient mixer while putting in long hours of work. The mixer has 21 free sounds that you can combine as you wish and a 1.5-hour timer function.
Defonic's ambient sounds also include some less common, but funny ones. You can listen to anything from a cat purring to a car driving along a road.
Pricing
Defonic's 21 sounds are available online for free. There is also a premium option that gives you access to more sounds.
Hipstersound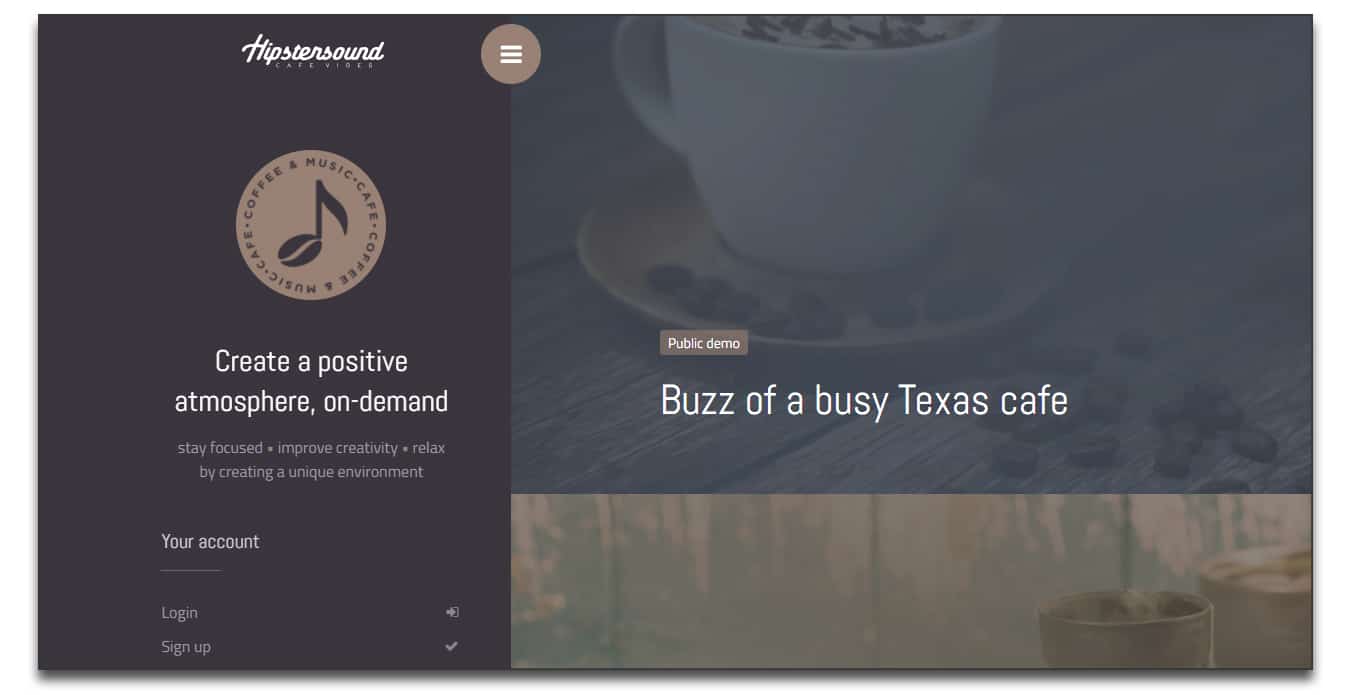 Main features
Hipstersound is perfect for you if you love restaurant and café background chatter sounds. As a fun feature, this mixer also allows you to choose your destination. Play ambient sounds from a Texas or Paris café or from a Danish or Rio de Janeiro restaurant. You can add extra sounds to your ambient mix, like rain, wind or even a co-worker or a piano bar. You can also choose to listen only to the additional sounds, like a jazz club or ocean lounge.
Pricing
Hipstersound's 3 public demos ('Buzz of a busy Texas café', 'Les Charmants cafés de Paris' and 'Gentle hum of a quiet restaurant') are available for free online. For access to extra ambient sounds and features, the premium version costs 29 USD/year.
Jazz and Rain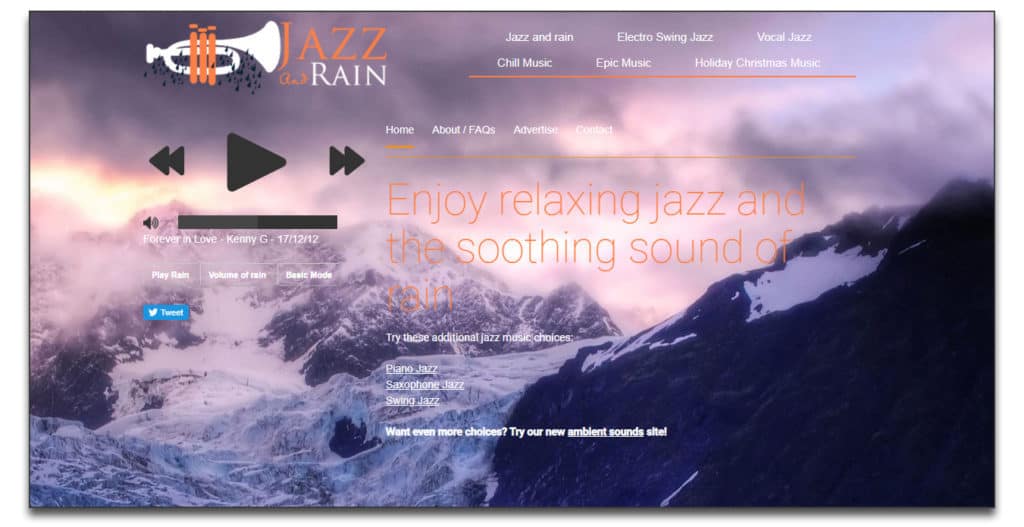 Main features
Another simple but impactful ambient sound mixer is Jazz and Rain. Nothing says relax better than the sounds of jazz and rain, so why not mix them together?
The mixer lets you add rain to a selection of jazz music such as Bossa Nova klassiekers, piano jazz, saxophone jazz, or swing jazz. You can adjust the volume of the rain or choose not to add it at all.
Jazz and Rain also feature electro swing and vocal jazz tracks, as well as chill music, epic music, and holiday Christmas music. It is available online for free and doesn't require a user account.
myNoise
Main features
MyNoise features background noises and interactive soundscapes. It has a wide selection of ambient sounds from natural to synthetic noises, tonal, vocal, or industrial ones. You can listen to tracks mixed by others, or create your own Soundscape.
MyNoise features more complex mixing options. You need to collect 10 individual stems by browsing myNoise to unlock the option of creating a custom generator. Once you've created your Soundscape, you can give it a title, save the URL for later use or share it with other users.
Pricing
MyNoise is available for free online, on the iOS App Store, or on Google Play with in-app purchase options.
Noisli
Main features
Noisli has 28 high-quality ambient sounds available for playing individually or mixing together. Customizing options include adjusting the volume for each sound to create your own Combos and oscillation that gradually changes the volume of certain sounds. You can also make lists of favorites, or listen to available playlists.
Additional features include a text editor and a timer to set how long you want to listen to the ambient sound tracks. If you're into white noise, the app features white, pink, and blue noise options.
Pricing
To use Noisli, you'll need to set up an account. Everything else about it is free.
Purrli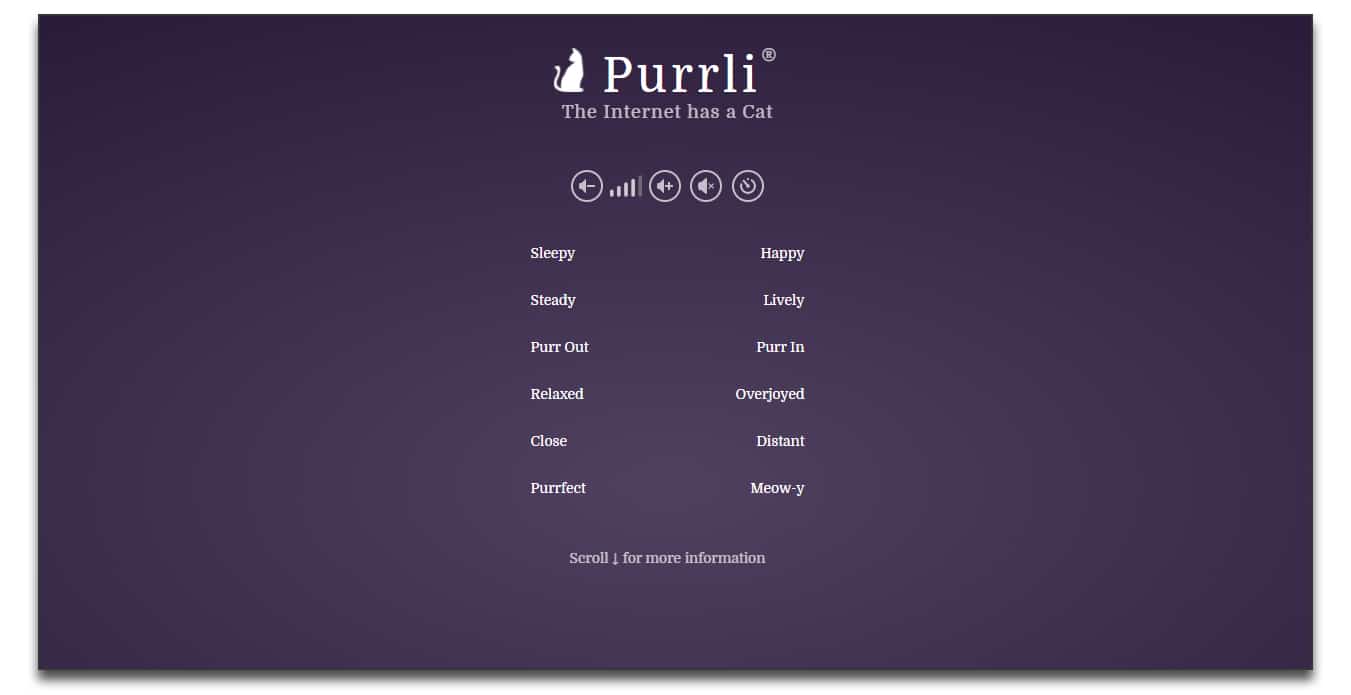 Main features
Who doesn't love cats? That's what Purrli thought, too. After creating myNoise and repeatedly getting requests for cat purring ambient sounds, its creator came up with this dedicated cat purring ambient sound mixer. Purrli lets you control the tone of the cat purring – happy, lively, relaxed, etc. and lets you add the occasional meowing for a bit of extra fun.
Purrli also features volume adjusting and mute controls and a timer function.
Pricing
Purrli is a free website, which you can support with a donation. That will unlock bonus features, such as allowing you to upload a picture of your own cat in Purrli's full-screen mode for a full experience.
Raining.fm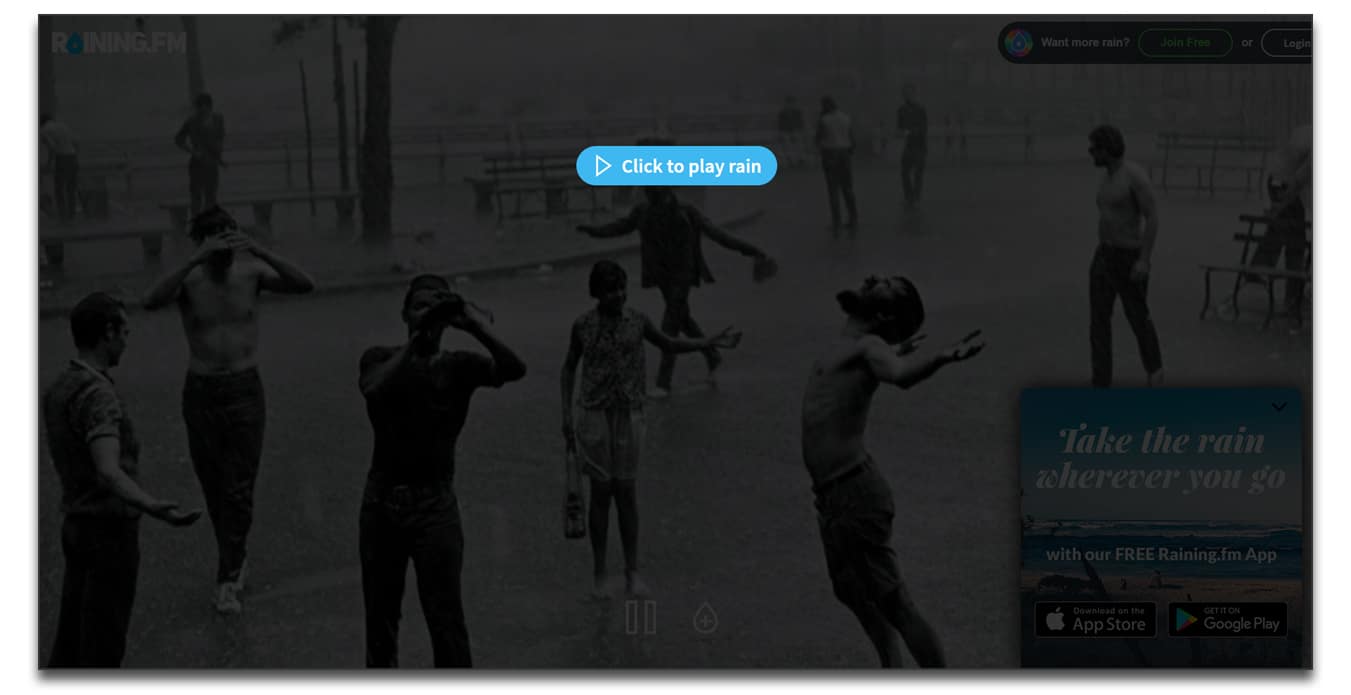 Main features
Yes, rain is a popular ambient sound. And for good reason! That's why Raining.fm focuses on its relaxing and focus-improving abilities. As far as options go, this app features original rain sounds, as well as rolling or heavy thunder background noises. You can also change the background image, adjust the volume of each sound, and use the timer to set how long you want to use the player.
Pricing
Raining.fm is available online, or as an app downloadable from the iOS App Store and Google Play. The apps feature in-app purchases.
Rainy Mood
Main features
Rainy Mood offers a simple solution if you love the sound of rain and that of music. Each day, the app features a different type of music that you can pair the rain sound with. For instance, today's music is Chopin. I can't begin to tell you how well rain and classical music sound together. It's amazingly relaxing.
If you're not in the mood for adding music, you can just leave the rain sounds in the background. Or, you can choose to stop the rain sounds and only listen to the day's music selection.
Pricing
Rainy Mood is available online at Rainymood. You can also download the iOS (for 2.99 USD) and Android (for 2.99 USD) apps.
Showerti.me
Main features
Most people relax when listening to the sound of rain or waves. But don't we all also feel relaxed when we're taking a shower? Showerti.me delivers on just that – the sound of water running in the shower.
You may think that it's similar to rain sound mixers, but Showerti.me features room size, temperature, and pressure controls. And you can also turn the radio on or off and adjust its volume. You can play 'Dancing in the rain' and sing along just like you would in the shower.
Pricing
Showerti.me is available online, requires Adobe Flash Player, and is completely free.
Snowy Escape
Main features
If rain is so popular among ambient sound mixers, then how about some snow? Snowy Escape lets you pretend you're not at work, but enjoying a relaxing winter skiing trip with the family. The background image is that of a mountain cabin with a log fireplace. Outside, you can see snow falling.
The settings allow you to control the volume of the sounds of snow falling and those of the fire burning in the fireplace separately. There is also a mute button and an option to hide the website's name for a more full-screen, wholesome experience of your snowy mountain escape.
Pricing
Snowy Escape is available for free online at Snowyescape.
Snowy Mood
Main features
Keeping up with the snow theme, Snowy Mood is based on the simple concept behind Rainy Mood. It features a slideshow of images of snow-covered settings along with the soothing sound of snow boots treading through the snow. The lack of controls keeps this free website simple and to the point. All you hear are the relaxing sounds of boots walking on snow-covered pathways.
Pricing
Snowy Mood is available for free online a Snowymood.
Study With Me YouTube Channels
I always had problems with concentration. It got even worse when I got the second screen which I thought I will be using to increase my productivity but it was rarely so.
While browsing the Youtube, I suddenly case across a couple of study with me channels and got hooked.
On those channels, people (sometimes even live) are studying for 4,6,10,12 (yes 12) hours!
The most interesting part? It actually helps. When you put somebody on the screen completely concentrate on their task – you get concentrated also.
Particularly when there is a guy studying for 12 hours with a couple of breaks you suddenly feel like if you need to "outwork" him.
Below you may find some of my favourite Study with me channels:
How To Concentrate Better
We all know how it can be. You start working on something and suddenly poof, 3 hours went by and you did 15 minutes of actuall work.
Horrible feeling. Let's fix that.
In this section, we will go over some tips on improving your concentration to be as productive as possible!
Track your time
Do you think that you give it all and work a lot? Try measuring the time of actual work that you do. I use Clockify. When I tried it for the first time I was astonished by the time wasted on unimportant tasks.
Clearly measuring how much time you dedicate to which task – will open your eyes on how you are wasting it. This will also immensely help you to organize it better and stay focused.
Close tabs
Another tip on how to concentrate better is simple. Close all the redundant tabs in your browser.
When you have 20 tabs opened, something will be trying to get your attention. An unfinished article, a video that you paused, etc.
Get rid of it. Leave only those tabs that are essential for completing the task at hand
Use headphones
Sounds are very distracting. Force them out.
The easiest way to do so is to put on headphones (even better if they are light and small so you do not feel their weight) and pick an ambient-mixer.
Some people use lofi music from Youtube, but for me that just does not work that well.
Ambient sounds are both a great isolation from unwanted noises and at the same time they are not distracting.
Create a To-Do list
Plan ahead. It is much easier to stay concentrated when you know that after you complete this task, you have to move to the next one.
Without a proper plan you are just jumping around from one project to another. So while it seems that you are doing something, nothing is really getting done.
Make a deadline
If you give a task infinite time, it will take infinite time. It will never be done.
Put a deadline on it. For instance, if you need to finish a 2,000 words post tomorrow. It must be finished.
You will shorten your lunch, you will eat breakfast quicker but the task must be done.
Take planned breaks
You need to take break. But if you do not plan it ahead, you want to take it every second minute.
This is why techniques like Pomodoro are so popular. You work for a period of time and then you can take a break.
That way you are moving your work forward while at the same time not getting burned out in one day.
Inform your close ones
Make sure that the people you are living with are aware of your schedule. If you have kids and some family obligations chances are that you will have to take an unplanned break here and there.
The goal is to minimize outside distractions. Washing dishes, wishing your friend a happy birthday, ordering groceries – that all will have to wait until your break.
Create a good environment
Clean desk, a glass of water ready, notepad and pencils out, maybe even a small plant – this all helps you to stay a bit better concentrated.
You want an environment that will allow maximal possible focus. Every small item might be a distraction when you are working on a task that is not particularly interesting for you.
Have a look at a guide on email marketing services, in-depth guide on web hosting, or a review of landing page builders!
Additionally, you might want to check a popular post on how to download YouTube videos or Youtube to mp3 converters.
Ambient Mixer Sounds Summary
When you're trying to get a lot of work done and focus on a particular task, background noises can be much more comfortable than music.
Putting on some rain ambient sounds will clearly take your mind off of the fact that it's actually a sunny day and your friends are out having a barbecue without you. You can let the sounds of café chatter drown out that neighbor that's listening to death metal. You can let the sounds of crickets and birds take your mind off of your deadlines and take you to a place of calm where you can actually get some work done.
Don't be afraid to experiment with ambient sound mixers and create your own sounds, no matter how strange or crazy your options are. Or especially then!
FAQ
Why do I need an ambient mixer?
Ambient mixers are great for concentration. If you are working in an open space or just need to isolate yourself – they will help.
What are ambient mixers?
They are tools that create background sounds to help you concentrate.
What are the best sounds to concentrate?
Choose soft sounds, calm cafes, a fireplace, slight rain.
Does ambient mixer help with productivity?
Yes. You need to completely focus to be productive and ambient mixers help you with that.
Which ambience mixer should I try?
Any of the options in the list is a great choice. You will find something for every taste.
I need to work, will ambient sounds help?
They sure will. Concentrating on your work is much easier when you isolate bad sounds and hear just the ones that keep you focused.
I need to study, will ambient sounds help?
Of course. With wide choice of ambient sounds you will be to focus and retain information easier.
What is a difference between ambient mixers and ambient sounds?
Ambient sounds are various background noises while ambient mixers allow you to "mix" several sounds at once, creating a unique background.